It's Chili time! Finally. Chili Sin Carne is an insanely great dish that I have loved for years and can't get away from it. I used to always have the meat option, but since I switched to Vegetable diet I've had to find a great substitute. Lentils? Didn't find it that exciting somehow, especially since there are already a lot of beans in the chili. The solution is the pseudo-cereal quinoa, which is justifiably growing in popularity. Vegan chili is really easy to make and even your "meat-eating" friends will love it.
Vegan chili sin carne that's on the table in 30 minutes?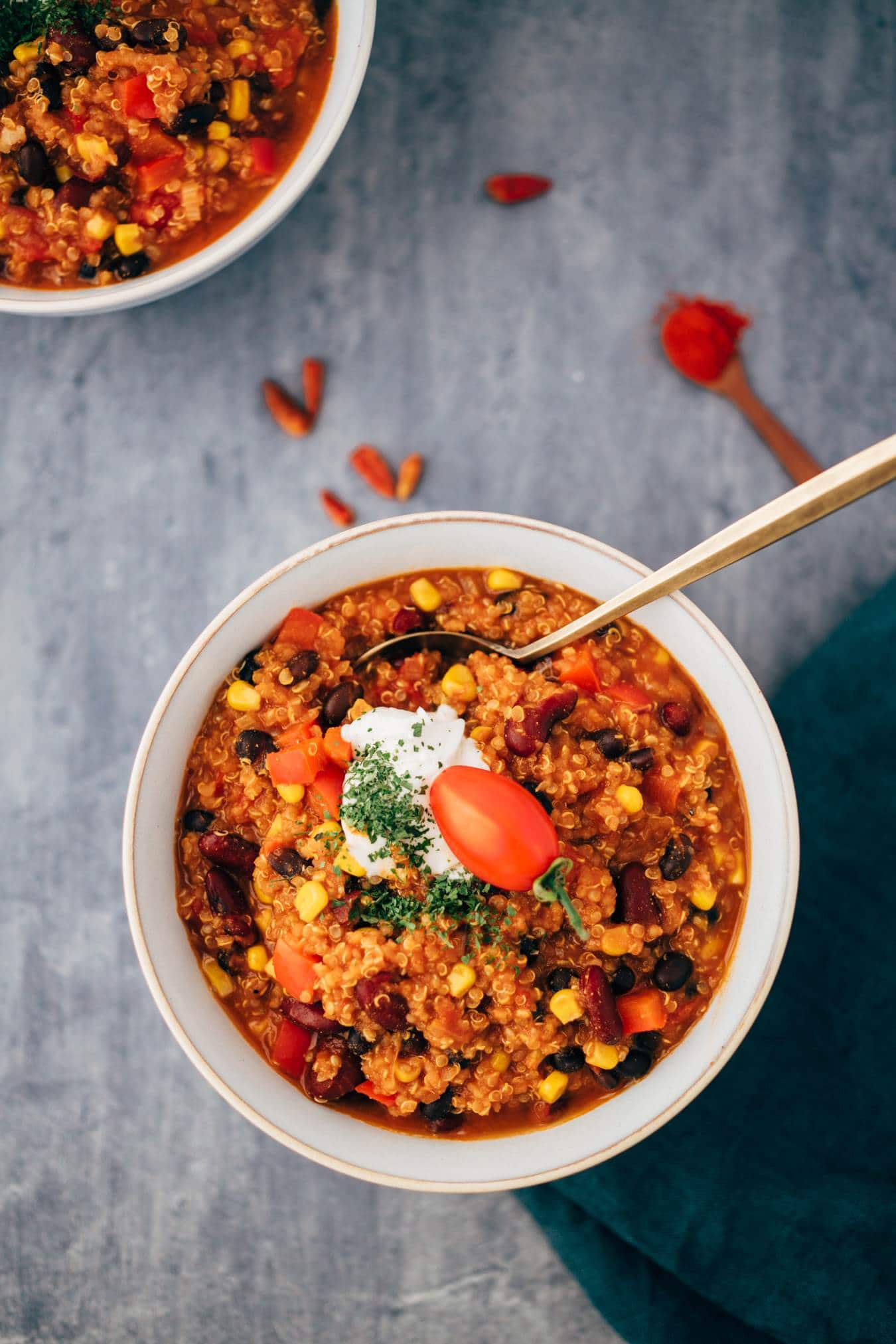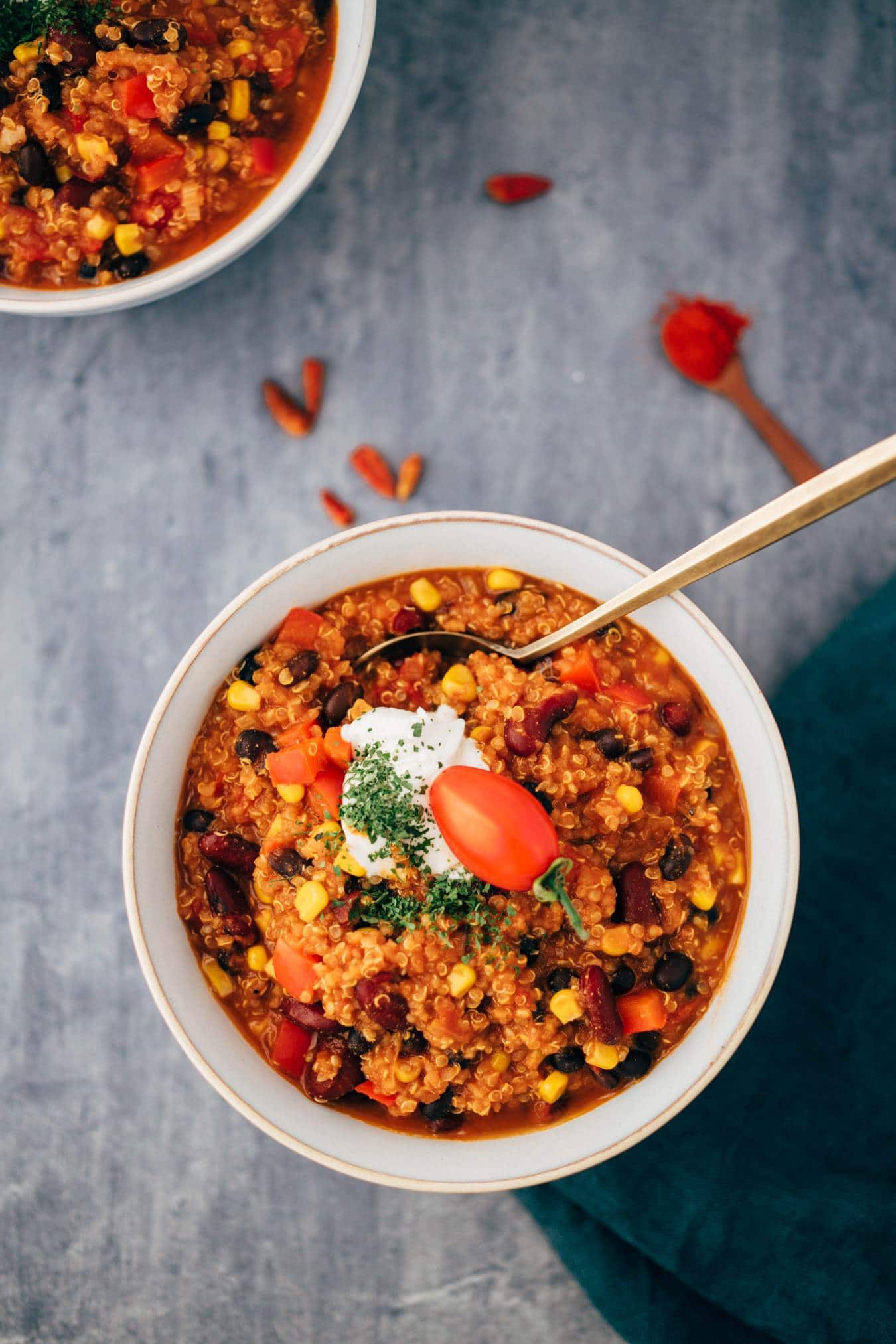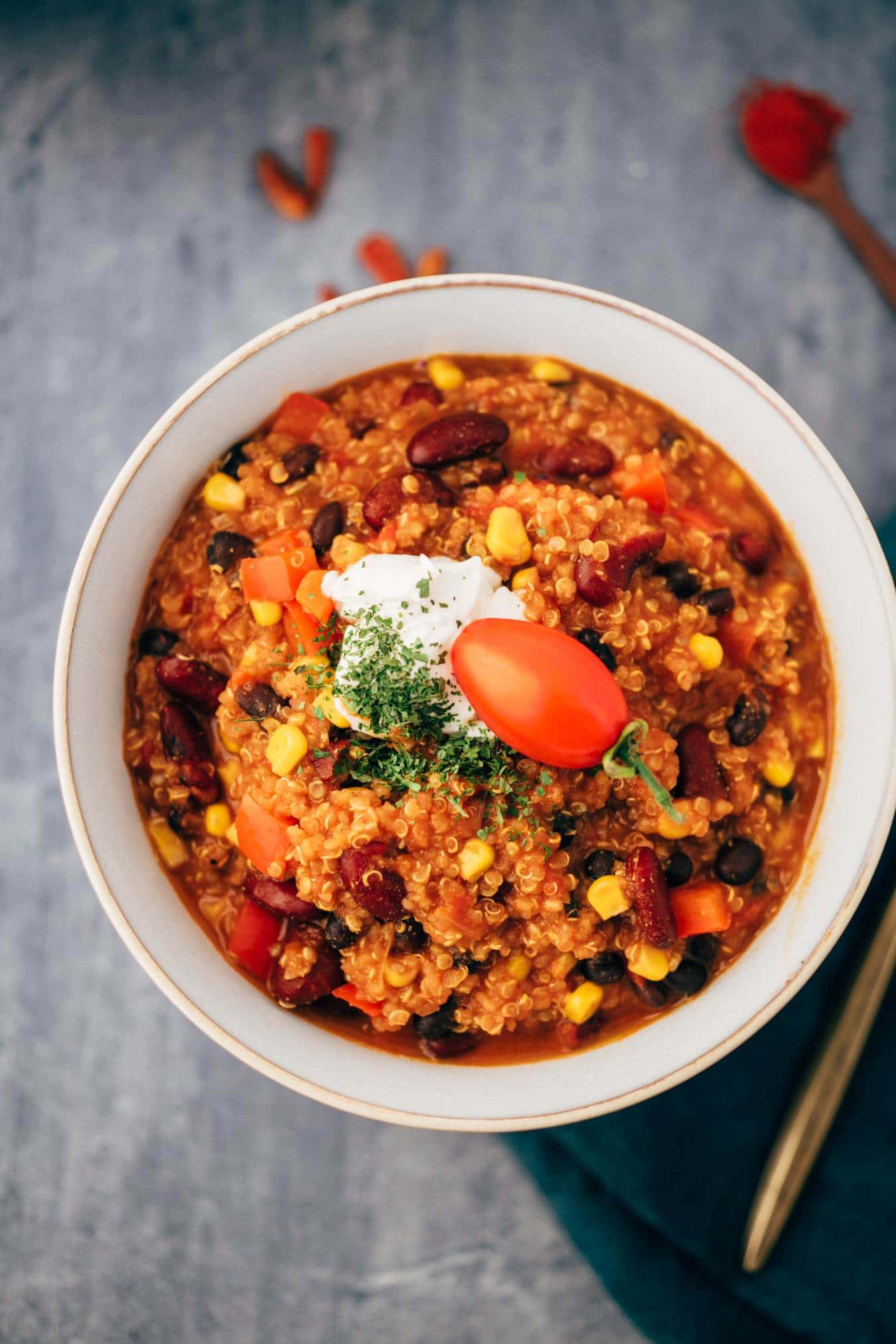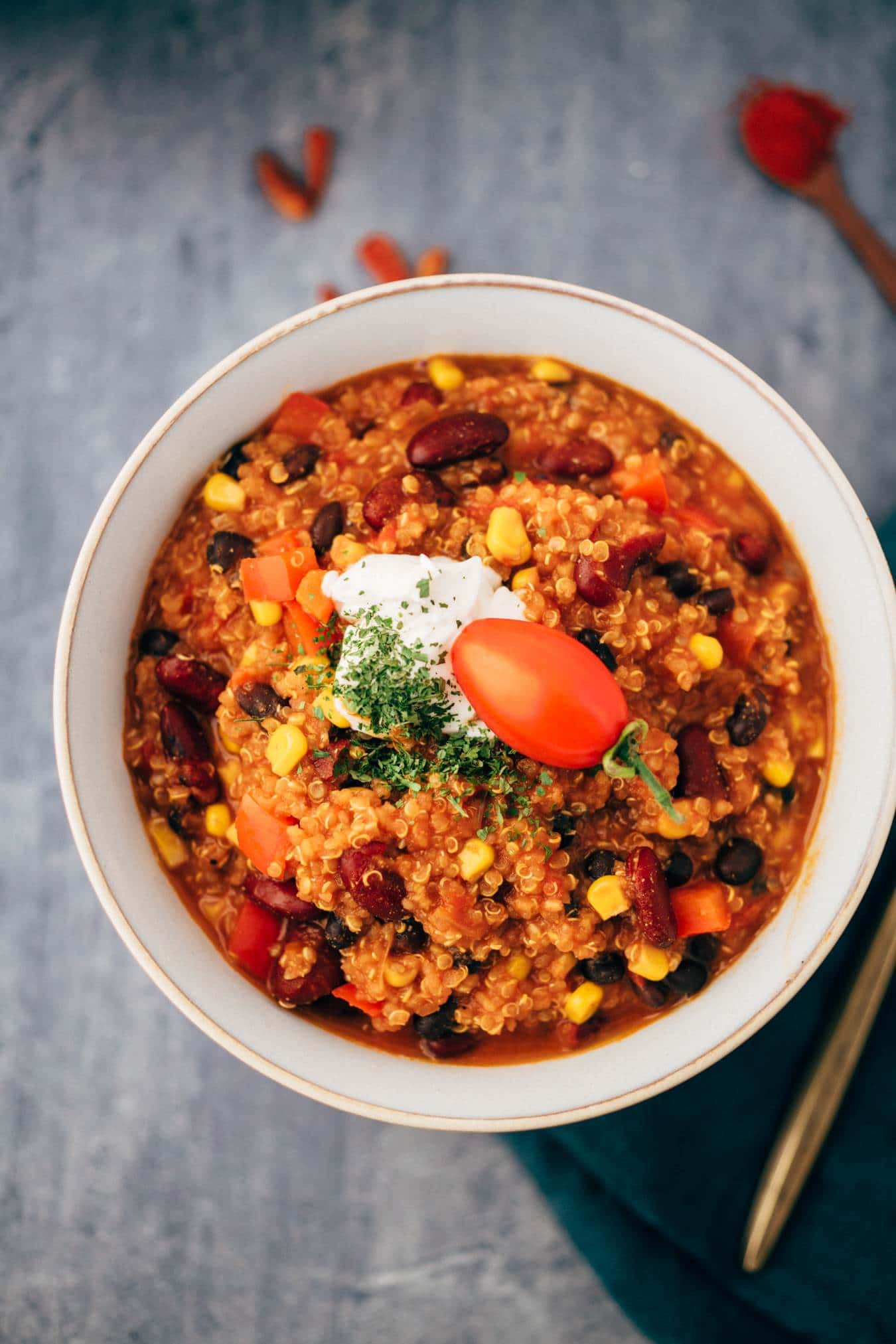 Let's talk about the essence of chili: the spiciness . The choice of the right chilies is the decisive factor. I opted for regular red chili peppers from the organic supermarket for this version and found them almost a little too lackadaisical. Good that I still had a chili cream, as well as Birds Eye Chilis at home, they have me then once again really heated up. Do you have tips on the subject of chilies, or which taste you best in the chili? I look forward to your comments below.
So a little quinoa does really well in vegan chili
Quinoa has meanwhile conquered its place on German plates and not only among health fanatics. The so-called pseudocereal is in fact not a cereal at all and belongs to the goosefoot family, like spinach, beet or chard. Clear advantage of quinoa is that it does not contain gluten very low in calories. The carbohydrates contained are easily digestible and have a low glycemic index. This means that blood sugar rises only slightly.
Here again the most important facts about quinoa at a glance. It contains:
all essential amino acids
above average iron, phosphorus and calcium
15% more protein than comparable cereals
Tryptophan, a precursor of serotonin (good mood hormone!)
Magnesium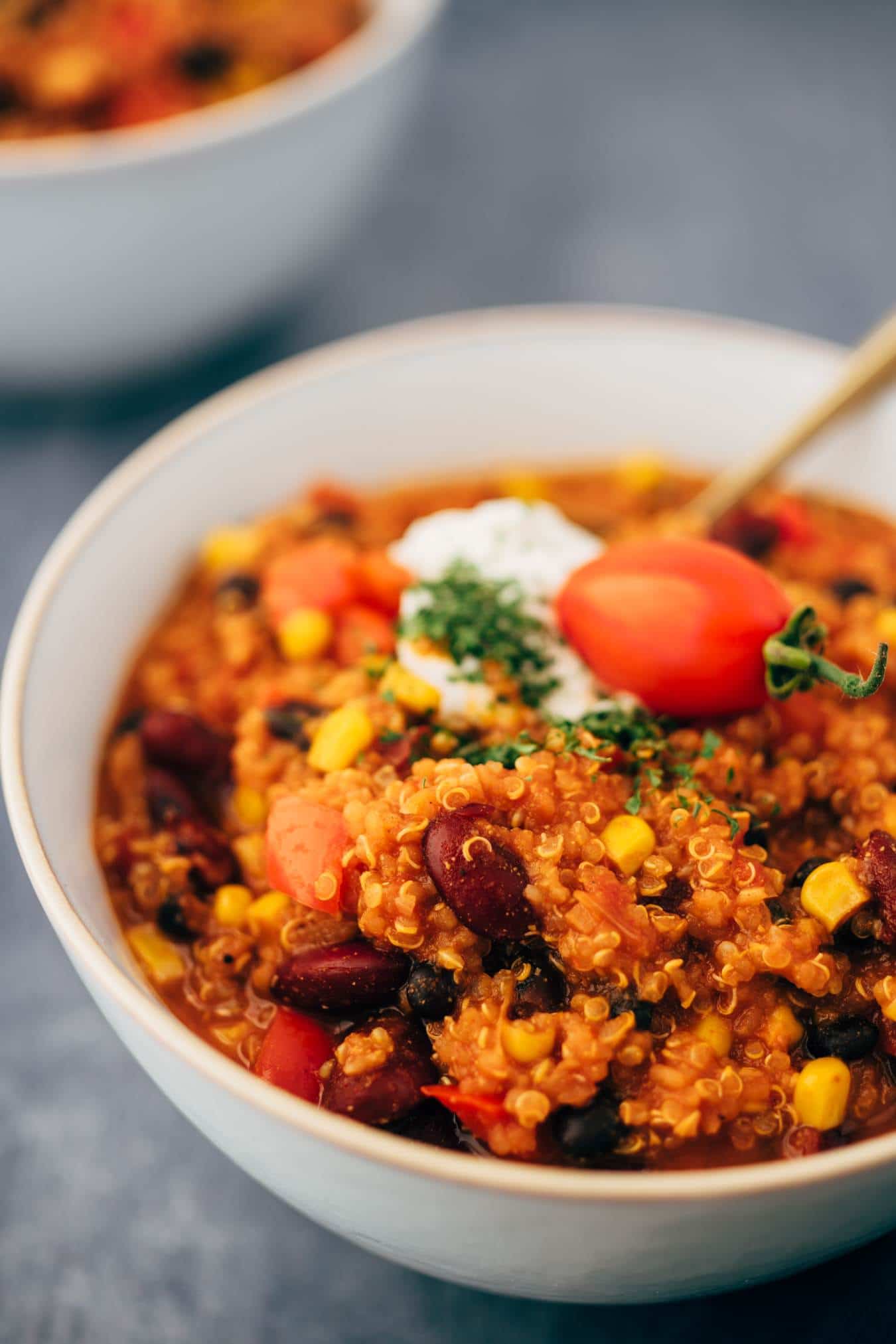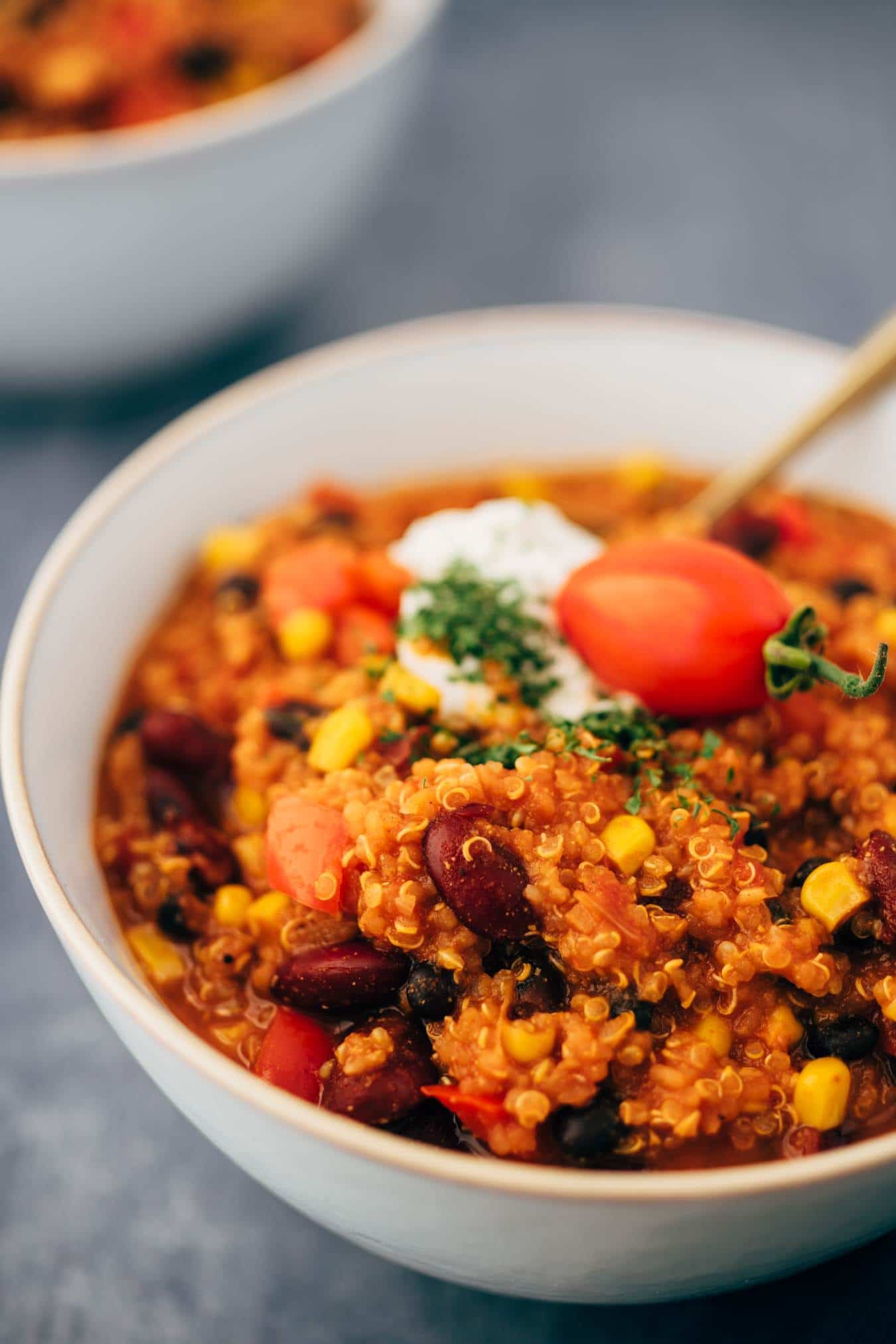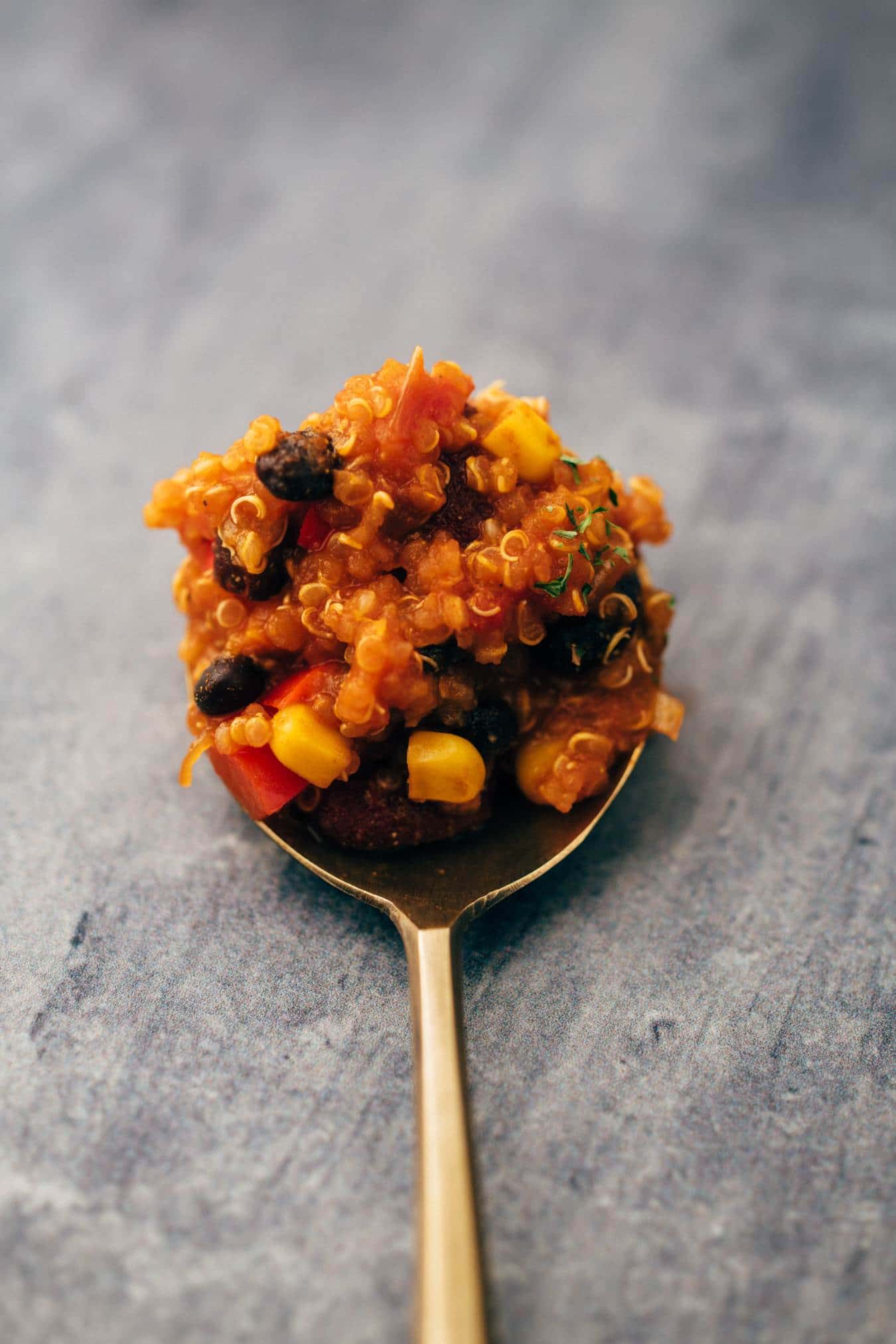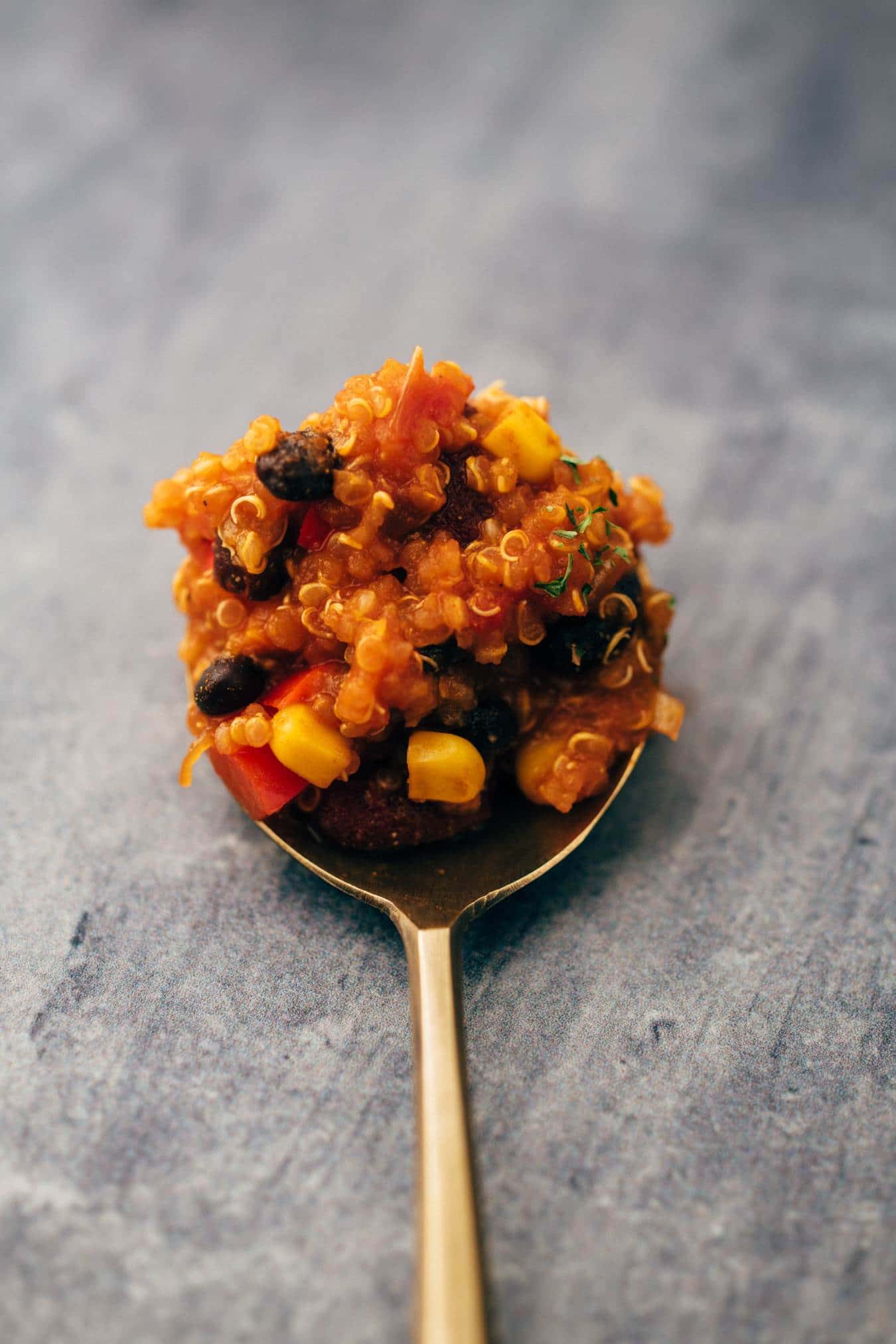 30 minutes and a handful of healthy ingredients make up this dish. Very well goes with fresh baguette (or alternatively my simple Spelt roll ) and a blob of fresh almond-based cream. Cilantro is a must of course, if you can't get fresh then the dried version works wonderfully too.
Simple Chili sin Carne (vegan, gluten-free):
Great sharpness
High protein
fruity-tomato
filling
Easy to make
Are you ready for your chili night? I wish you a lot of fun in recooking and of course a review at the bottom of this page. If you post a picture, use the hashtag #veganevibes.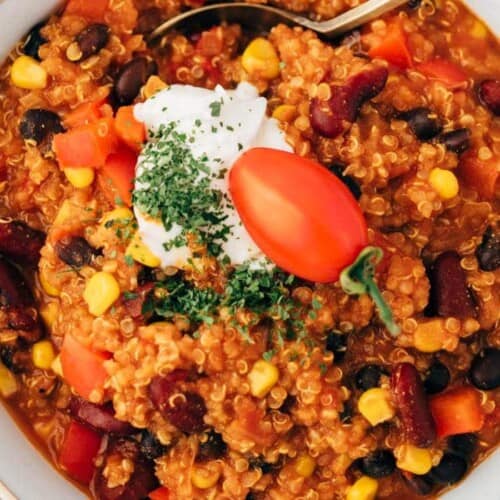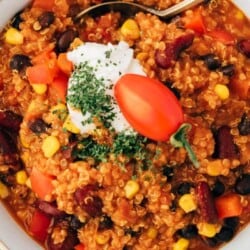 Simple Chili sin Carne (vegan, gluten-free)
Hearty, spicy chili with a mild note from tomatoes and corn. A 30-minute meal that's healthy, fills you up, and warms you from the inside out with its spiciness.
AUTOR: VEGANEVIBES
FOR THE CHILI:
30

ml

Frying oil or other heat resistant oil

1

Piece

white onion

peeled and chopped

4

Piece

Garlic cloves

peeled and chopped or pressed

1

Piece

red bell bell pepper

diced

1-2

Piece

red chili peppers

with seeds cut into rings

14

g

Cumin powder

7

g

red paprika powder

smoked

12

g

Coconut blossom sugar or brown sugar

67

g

Tomato paste

480

ml

Water

130

g

Quinoa

thoroughly washed

400

g

black beans

drained and washed

400

g

Kidney beans

drained and washed

1

small can or jar of corn

drained
TO SERVE:
Fresh almond based cream

Fresh or dried coriander
Anleitung 
Heat a medium frying pan, add oil, sauté onion, garlic and red bell pepper for 2-3 minutes until translucent.

30 ml Frying oil or other heat resistant oil,

1 Piece white onion,

4 Piece Garlic cloves,

1 Piece red bell bell pepper

Add red chili peppers, cumin, paprika, coconut blossom sugar and Birds Eye chilies and stir until well combined. At first, add only 1 to a maximum of 2 Birds Eye chilies, only after the final seasoning add more spiciness (if desired) at the end.

1 Piece red bell bell pepper,

1-2 Piece red chili peppers,

14 g Cumin powder,

7 g red paprika powder,

12 g Coconut blossom sugar or brown sugar,

Optional: 1-2 Birdeye chilies

Add tomatoes, tomato paste, water, quinoa, black beans, kidney beans and corn. Bring to a boil once and simmer over medium heat, 20 minutes .

67 g Tomato paste,

480 ml Water,

130 g Quinoa,

400 g black beans,

400 g Kidney beans,

1 small can or jar of corn,

Sea salt and pepper to taste,

400 g Tomatoes from a can or jar

Pour into bowls, garnish with desired toppings and serve.

Fresh baguette or spelt roll,

Fresh almond based cream,

Fresh or dried coriander

Lasts up to 5 days in the refrigerator or 1 month in the freezer. Ideally, heat in a steamer or in a pot after adding a little water.
Notizen
NOTES /HELPFUL ACCESSORIES:
Nährwertangaben
Serving:
1
large portion
Calories:
710
kcal
Carbohydrates:
114
g
Protein:
34
g
Fat:
15
g
Saturated Fat:
1
g
Sodium:
909
mg
Potassium:
2196
mg
Fiber:
30
g
Sugar:
15
g
Vitamin A:
3370
IU
Vitamin C:
71.4
mg
Calcium:
181
mg
Iron:
14.6
mg