Today I was really in the mood for something breaded. Maybe you have already tried the vegan fish burger already tried? Since then I am a little addicted to "breaded" and wanted but once no Tofu but vegetables for it. No sooner said than done, I immediately took one Eggplant from the refrigerator and cut into slices. After the last few days yes top weather was, I could enjoy this delicious Dish outside on the balcony, together with a classic that I make very regularly: Pasta Alfredo with a delicious creamy sauce of cashews. So the week can start really nice, right?
200 vegan recipes, let's celebrate!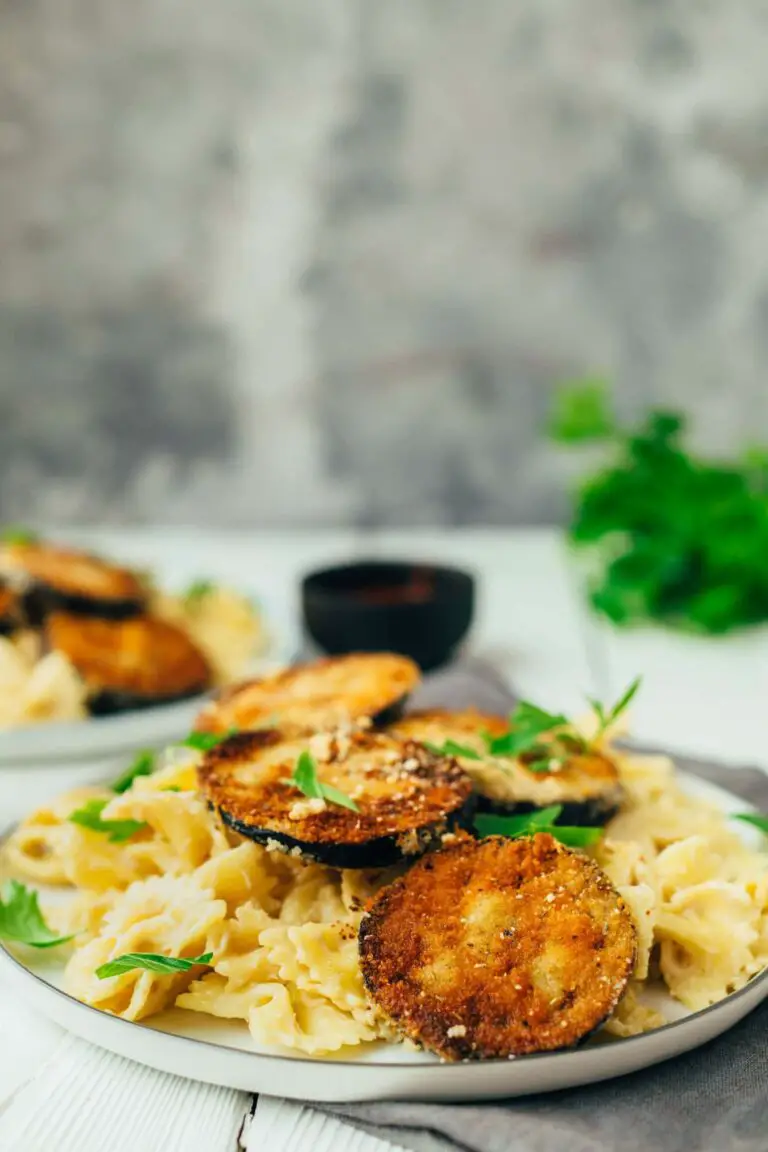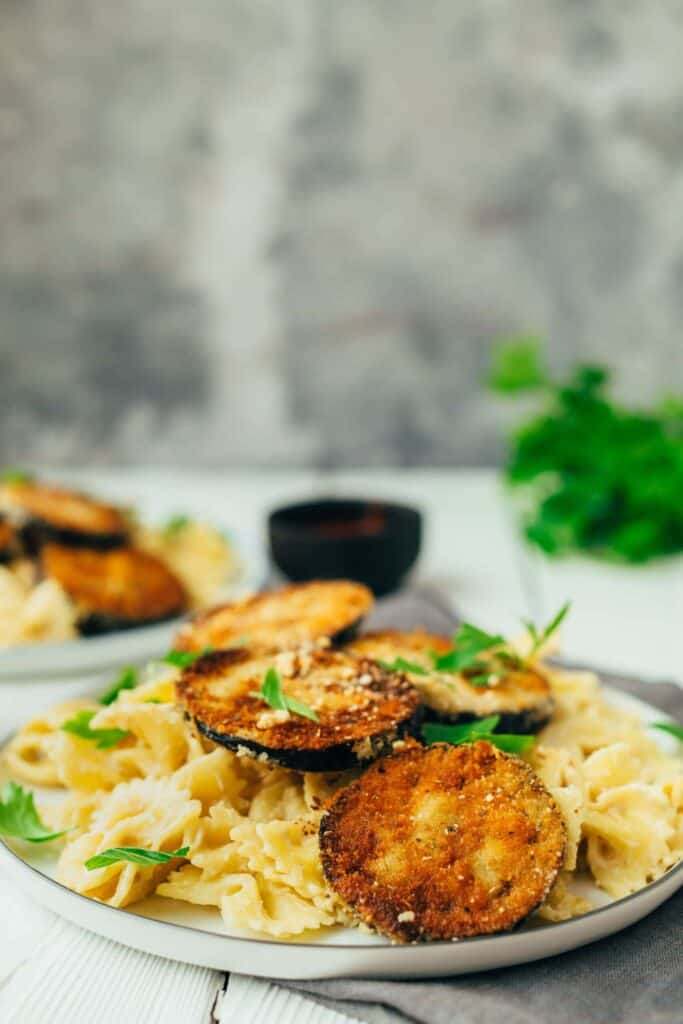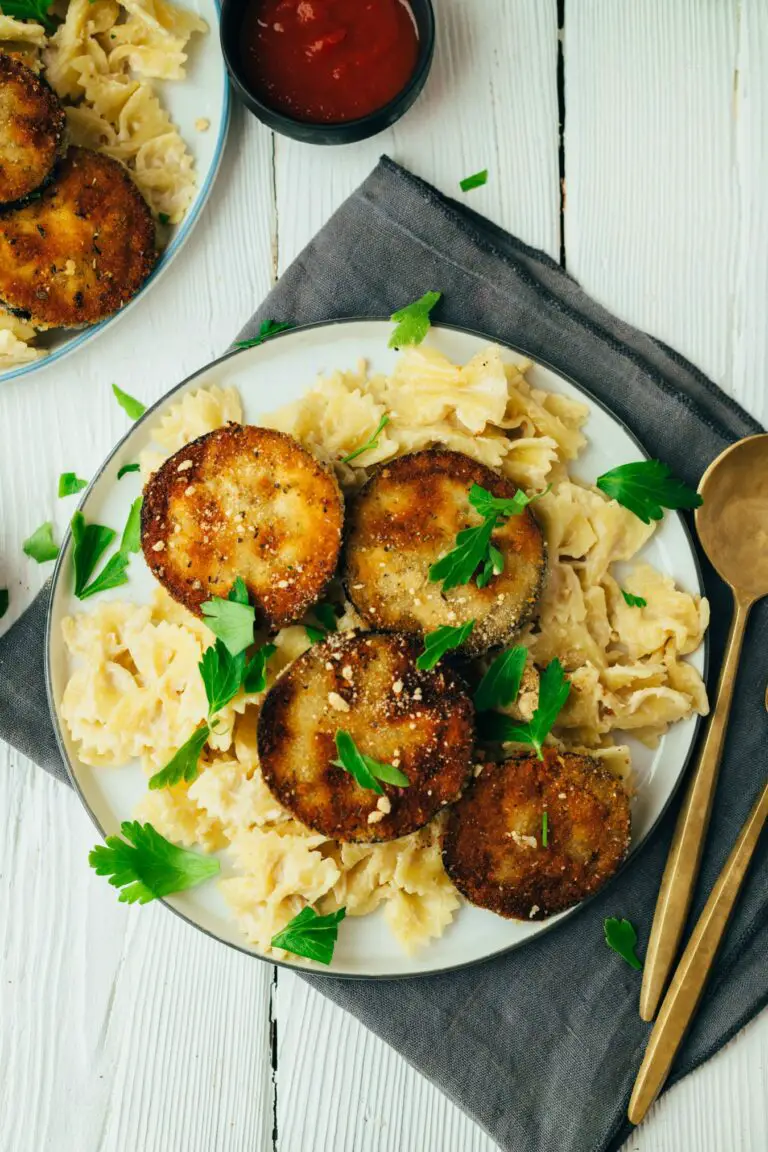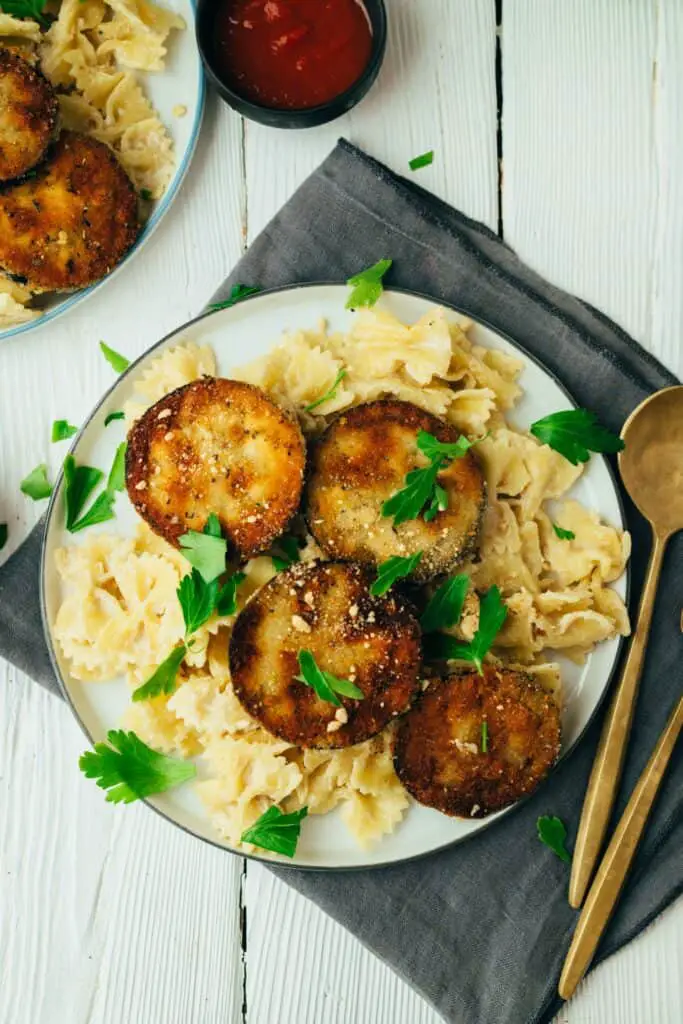 I can not believe it, but this is actually already my 200th recipe . Crass! When I started, it was unimaginable. At that time, I also didn't know how incredibly multifaceted vegan cuisine is. At the same time, I still feel like I'm totally at the beginning and could still discover a million new things. I hope in any case, that you could already discover one or the other great Recipe for you and already subscribed to my Newsletter subscribed?
Eggplant Love My Loved Ones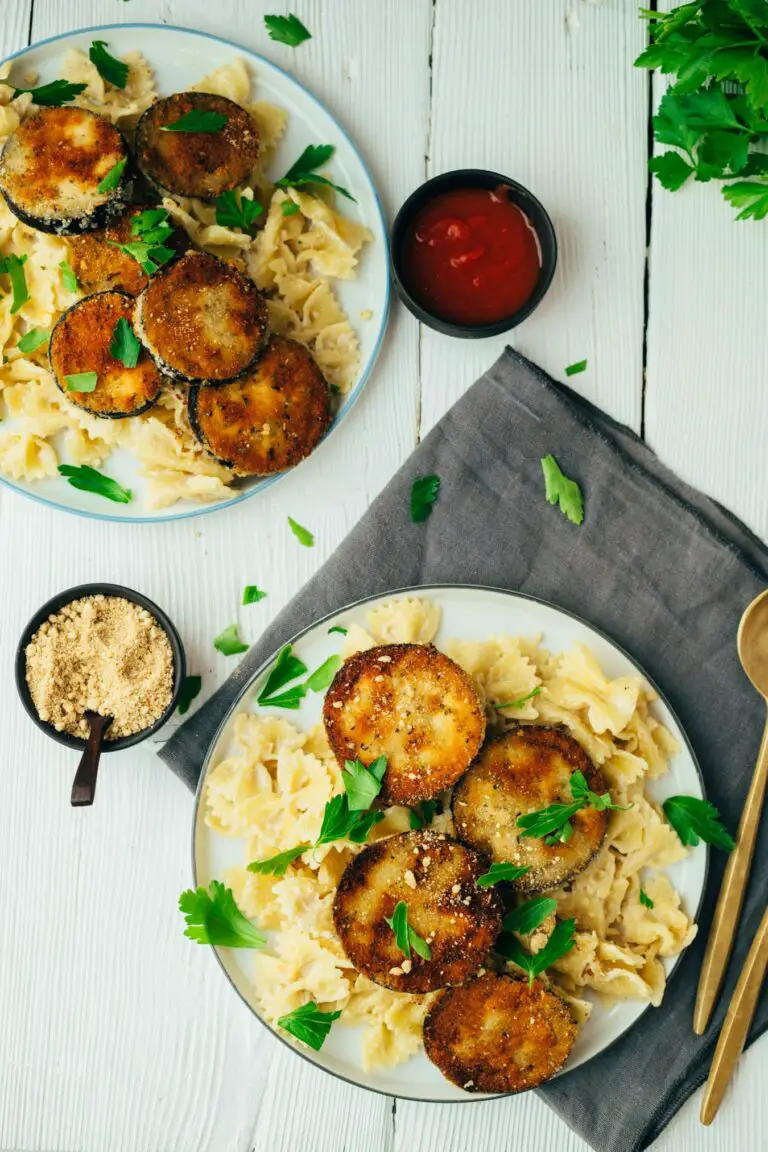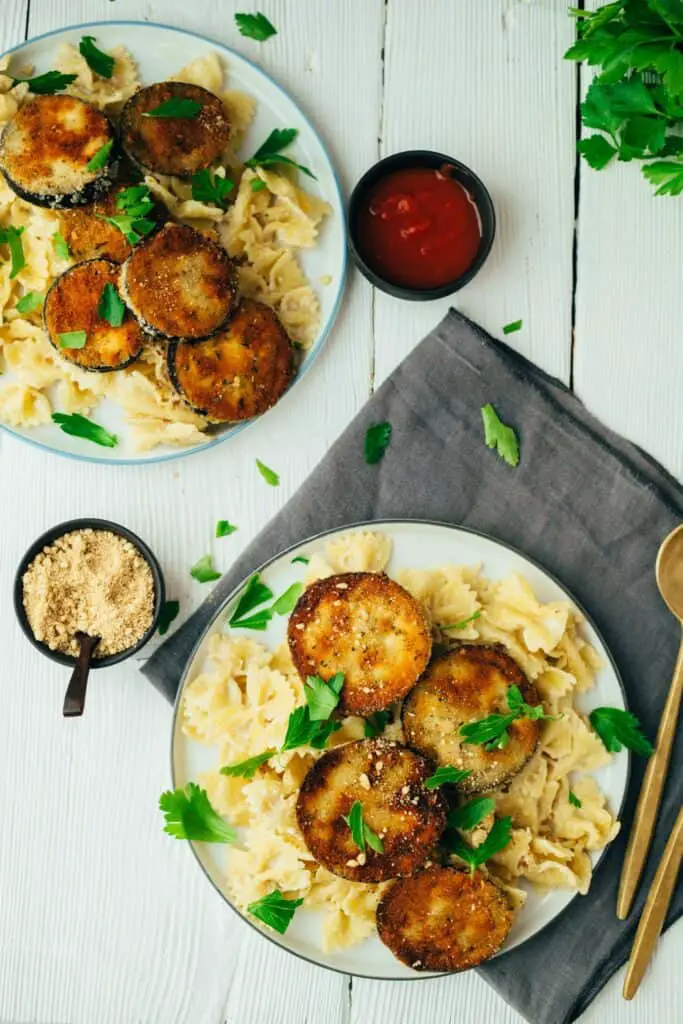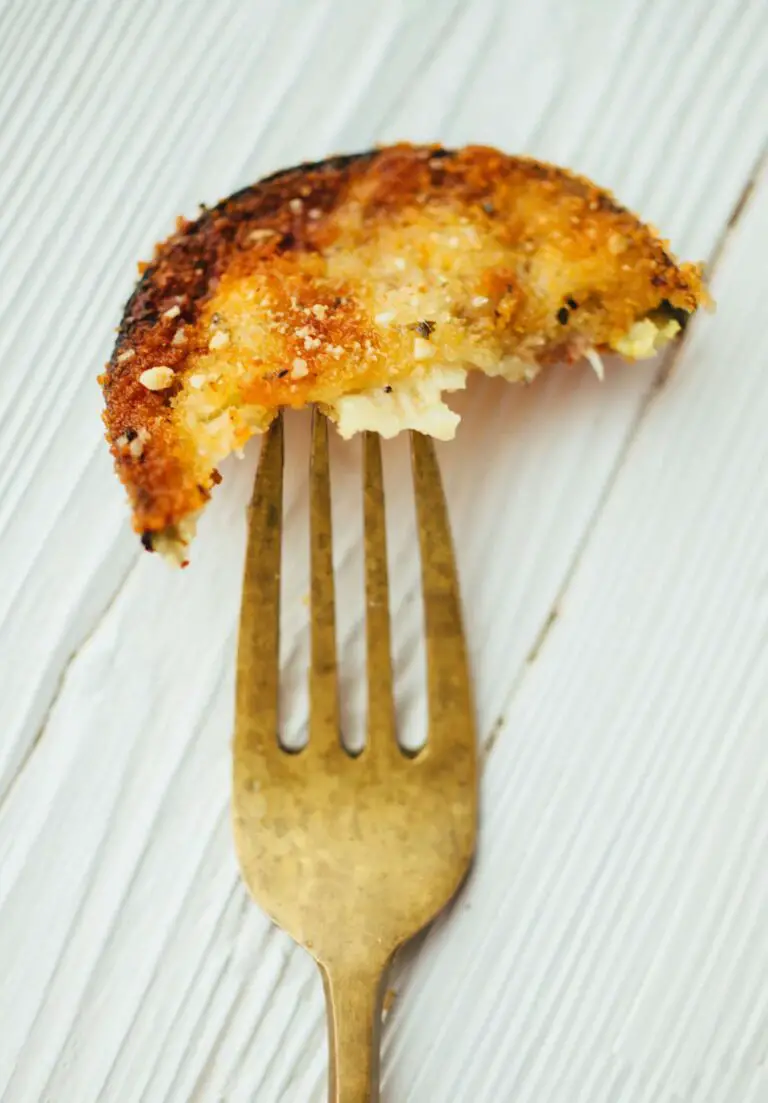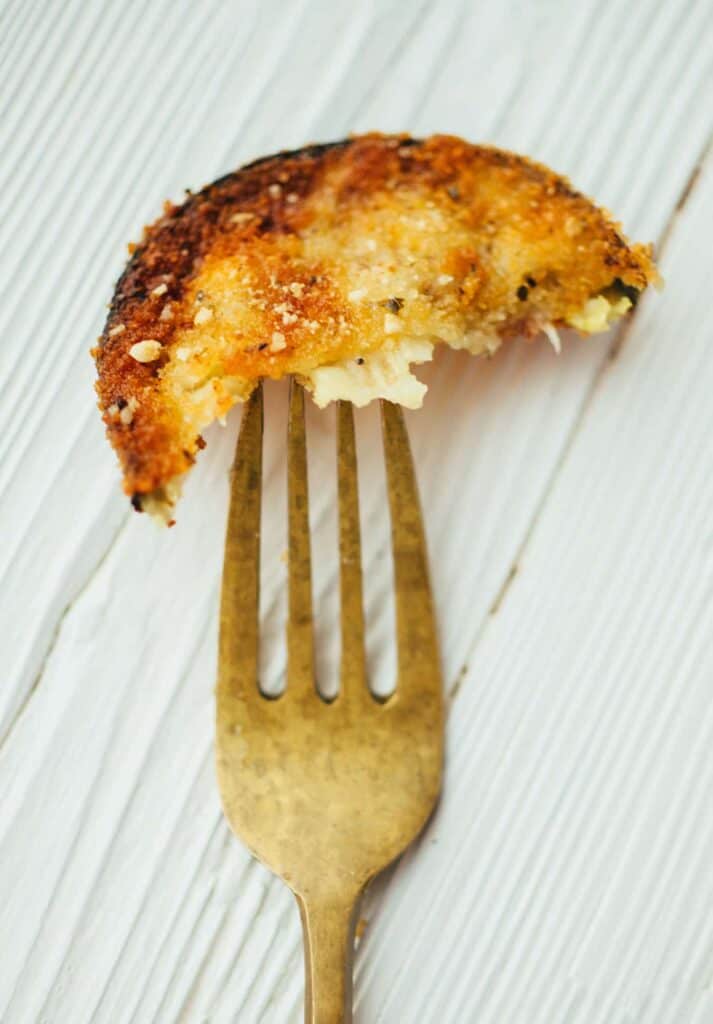 Let's move on to today's recipe, the crispy baked Eggplant . I love this fruit so much because it is very low in calories and versatile. However, when baking it out, it likes to gobble up quite a bit of oil, so it's important to have a really good pan. If you're looking for a new, good pan, I've linked my new one below (no sponsorship). However, if you want to bake completely without oil, then you can Eggplant slices also bake in the oven. Just fry them in the pan shortly before, then they get such a great golden brown surface.
When processing, it makes sense to provide a small station of three trays. Number 1 with a flour mixture, number 2 with a milk mixture and number 3 with bread crumbs. So you have everything processed quickly and snappily and off you go into the hot pan.
The perfect accompaniment is a creamy Cashew pasta tomato ketchup as a side dish and lots of vegan parmesan . Small tip : The eggplant slices can be perfectly breaded the day before and stored in the refrigerator .
For those who eat gluten-free, I've included a few tips below with the ingredients. This way, even a gluten-free breading succeeds in no time at all.
The crispy breaded eggplant with creamy pasta
hearty
Crispy
Juicy inside
simple to be produced
Extremely tasty
Well, did you get a craving for this delicious, vegan dish ? I wish you a lot of fun with the re-cooking and of course I am happy about a review at the bottom of this page. If you post a picture, use the hashtag #veganevibes.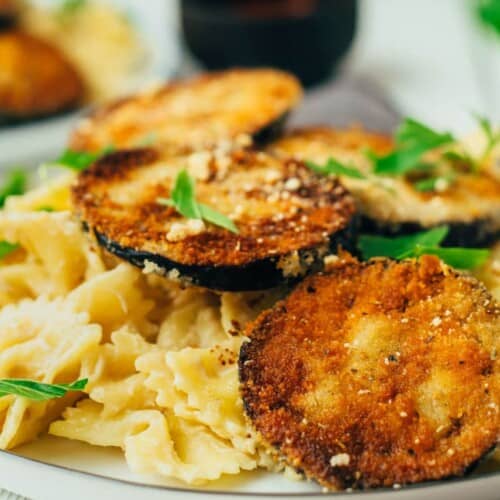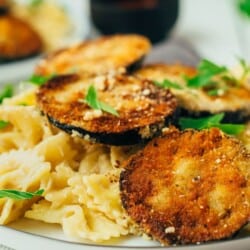 Crispy breaded eggplant with creamy pasta (30 minutes)
Crispy fried breaded eggplant slices served with creamy cashew pasta. Uncomplicated, quick dish for all days and the whole family. Can be prepared very well, also gluten-free possible.
AUTOR: VEGANEVIBES
Step 1: Flour mixture
80

g

Spelt flour or gluten-free flour mix

15

g

Cornstarch
Step 2:
125

ml

Almond milk

or any other plant milk

1

tbspn

Cornstarch
Step 3: Breadcrumbs
80

g

Breadcrumbs

is also available gluten free

½

tbspn

Basil

dried

½

tbspn

Oregano

¼

tbspn

Thyme

¼

tbspn

Rosemary
FOR THE EGGPLANT:
500

g

Eggplant

Equivalent to one medium eggplant

45-90

ml

Frying and baking oil or other high-heat oil
TO SERVE:
Pasta at will

I cooked 250g with it, alternatively vegetable spiral noodles

A portion of cashew alfredo

Parsley to taste

Organic tomato ketchup
Anleitung 
Prepare one serving of Cashew Alfredo.

A portion of cashew alfredo

Cook pasta according to package instructions. Set aside.

Set up breading station. Provide a small deep plate or bowl for each step. For step 1, mix all ingredients well once. Set aside.

80 g Spelt flour or gluten-free flour mix,

15 g Cornstarch,

A pinch of sea salt

For step 2, whisk together almond milk and starch once well. Set aside.

125 ml Almond milk,

1 tbspn Cornstarch

For step 3, mix breadcrumbs well with spices and set aside.

80 g Breadcrumbs,

½ tbspn Basil,

½ tbspn Oregano,

¼ tbspn Thyme,

¼ tbspn Rosemary,

A pinch of sea salt

Cut the eggplant into slices about 0.5cm thick. Set aside.

For breading, turn each eggplant slice once in flour, pressing down well. Pull through the almond milk mixture and then roll in the breading.

Heat a non-stick frying pan and add 1-2 tablespoons of oil. Place eggplant slices in hot pan and bake until golden brown on each side. For me it took about 3 minutes per page.

45-90 ml Frying and baking oil or other high-heat oil

Repeat until all eggplant slices are baked until golden brown.

Arrange on plates and serve together with the cashew pasta, parsley and tomato ketchup, enjoy!

Pasta at will,

A portion of cashew alfredo,

Parsley to taste,

Organic tomato ketchup

Eggplant slices keep 2-3 days covered in the refrigerator.
Nährwertangaben
Serving:
1
Portion
Calories:
230
kcal
Carbohydrates:
25
g
Protein:
4
g
Fat:
12
g
Sodium:
44
mg
Potassium:
286
mg
Fiber:
6
g
Sugar:
4
g
Vitamin A:
30
IU
Vitamin C:
2.7
mg
Calcium:
49
mg
Iron:
1.3
mg