Another day in January and it's cold and gray. Do you also know the feeling of always being cold? My husband is also sitting here right now in a t-shirt and doesn't appear to be cold. I, on the other hand, need a blanket and hot tea as standard equipment when I sit down at my desk. Well, what to do is the question? Putting on a snowsuit may not be the answer either, so in the winter I love warm, nourishing Dishes for body and mind. This oriental-inspired Eggplant -pan is exactly of this variety and I could just lie down in it.
Vegan eggplant tomato pan – Oriental Express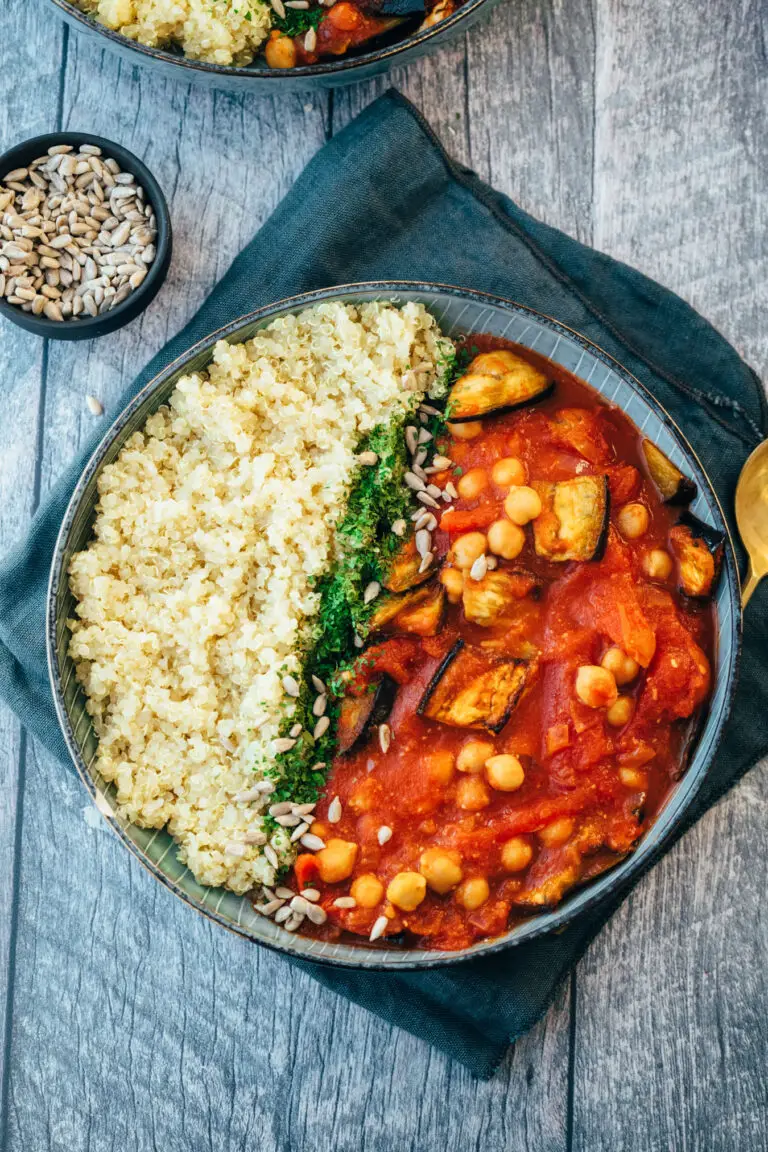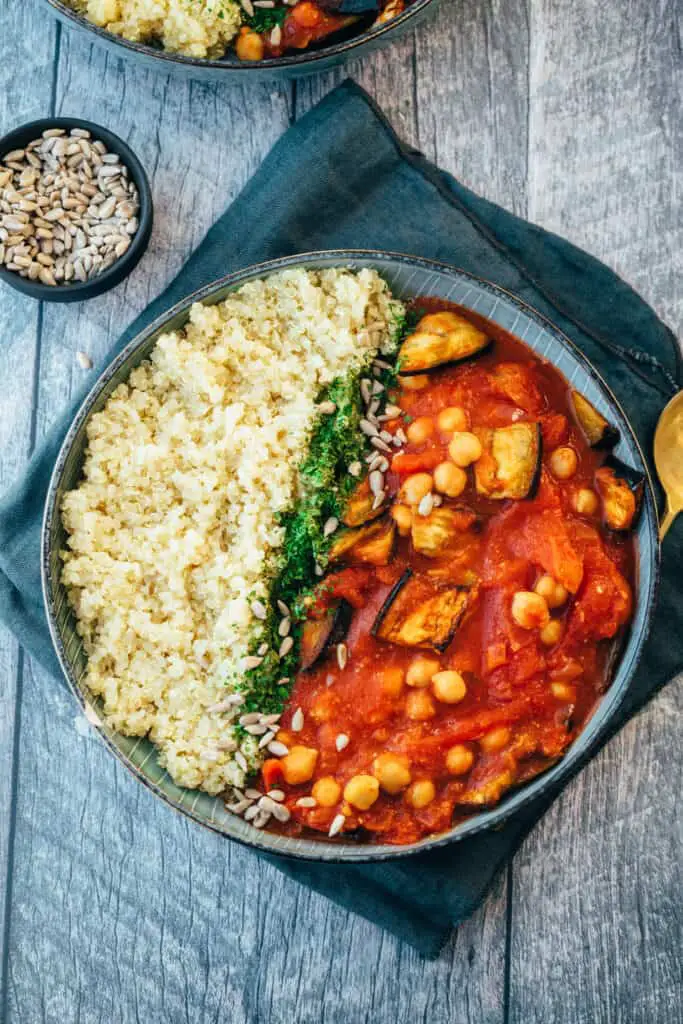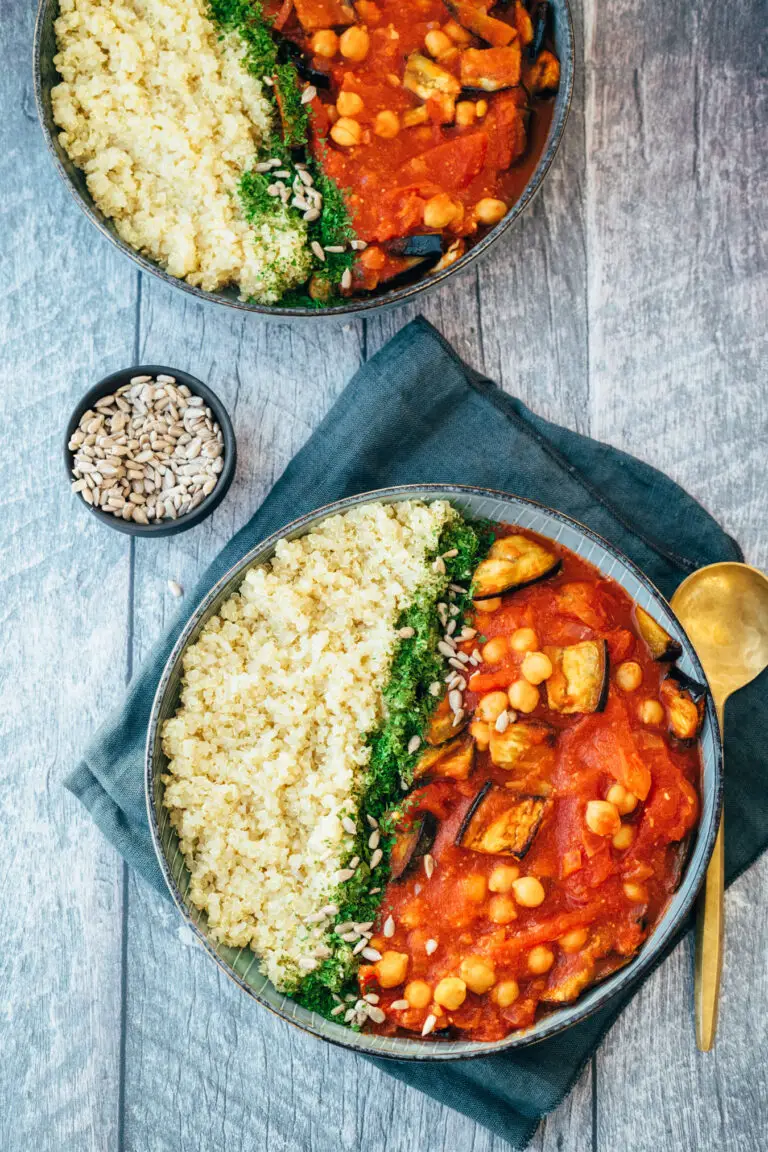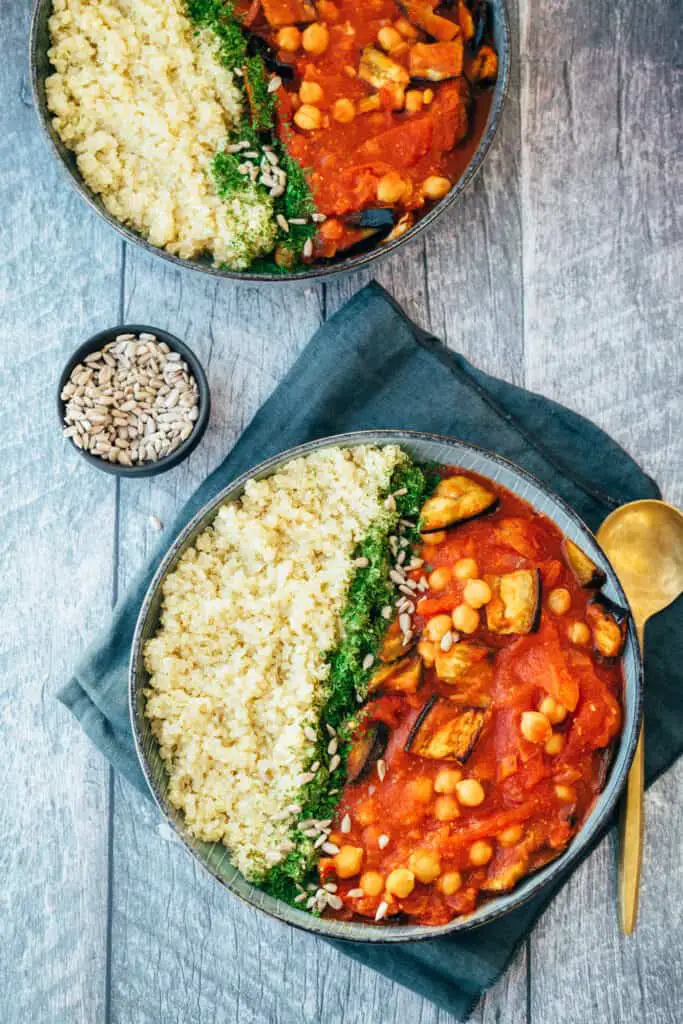 Of course I think with this Court also again to all who have little time. Then preheat your oven to 215 degrees, so that the Eggplant can roast immediately before itself. This is also the first crucial step in this Court . Eggplant halve, cut into rough pieces and place on a baking sheet lined with parchment paper. Mix with a small amount of frying oil and sea salt and put in the oven. Perhaps you are now thinking, I can also fry the eggplant in a pan? You can, of course, but unfortunately you won't get the roasted flavors from the oven with it. In addition, the eggplant gobbles up a lot of oil when it is fried in the pan and we like to save that.
Frying oil, onion, garlic, cumin, smoked paprika, nutmeg, tomato pieces, chickpeas, coconut blossom sugar, harissa paste, a little water to dilute and a pinch of sea salt to taste. The list of ingredients is ready.
If you do not want to lose time, you can Quinoa or precook rice in advance. This saves an incredible amount of time and you can quickly and easily prepare the most delicious dishes. For example, I'm thinking of my Chocolate Quinoa Bowl , Meatballs or the Creamy Korma Curry .
Are you also an eggplant lover?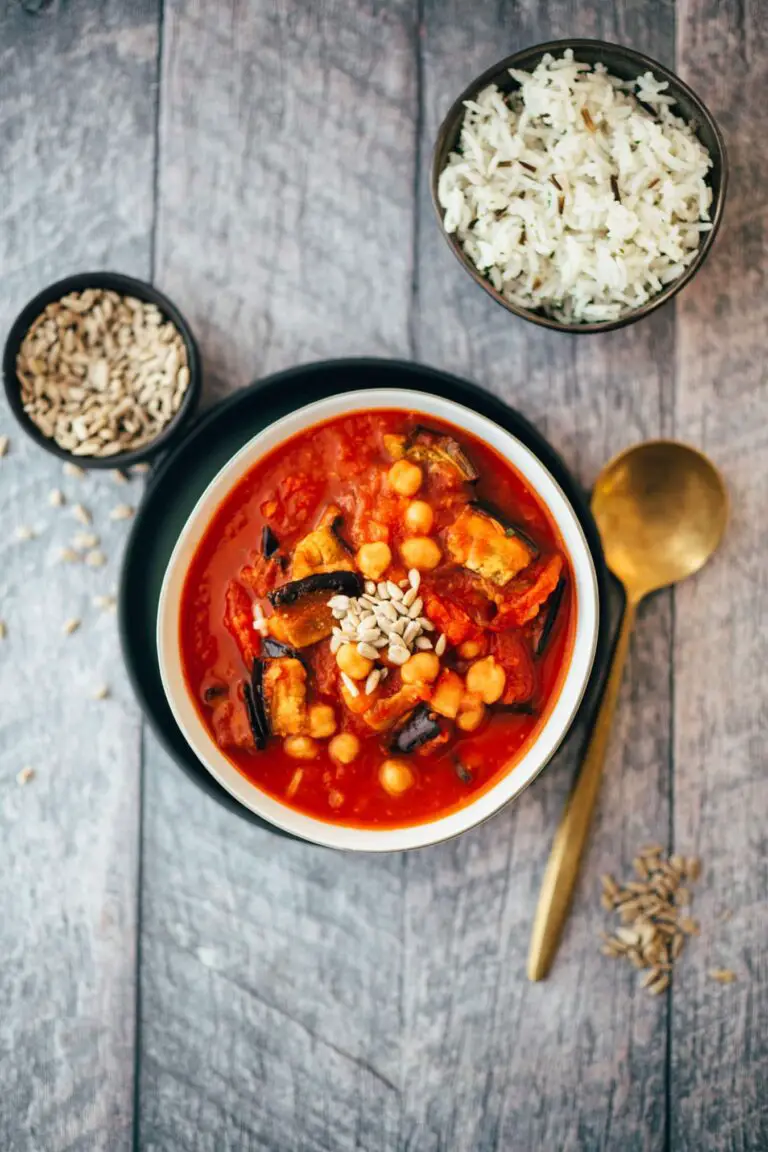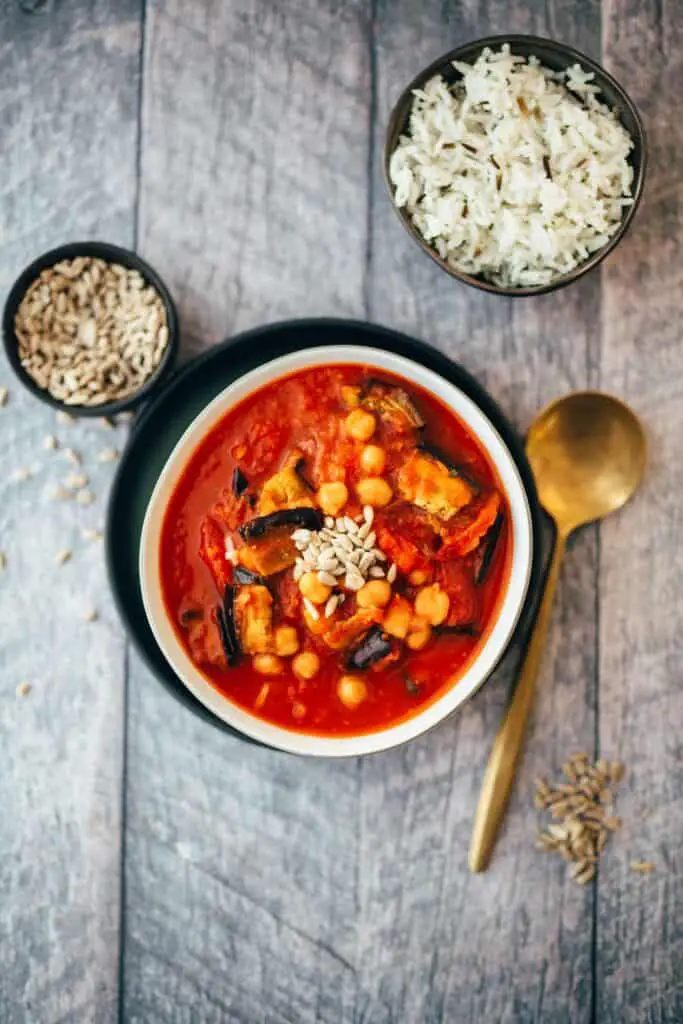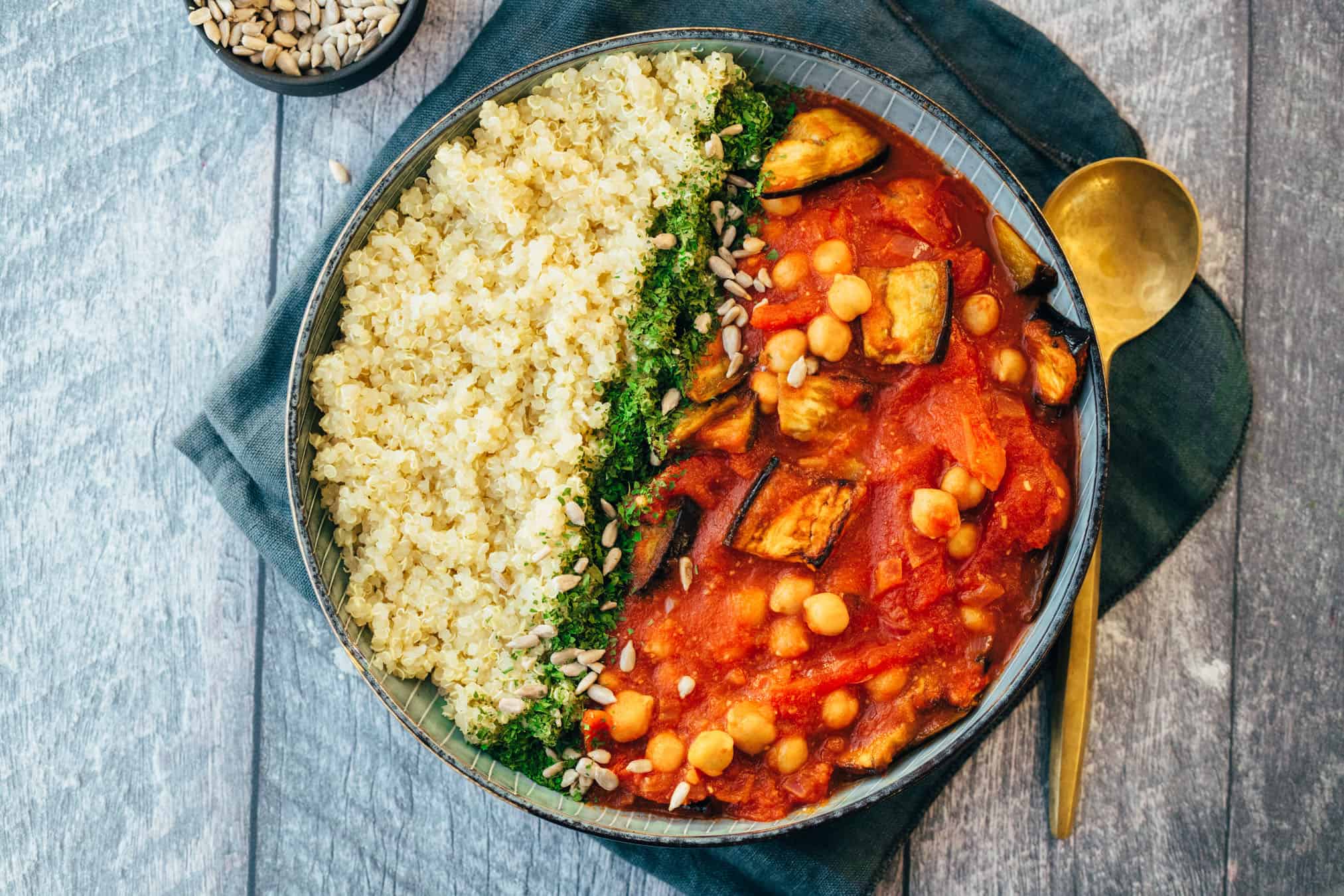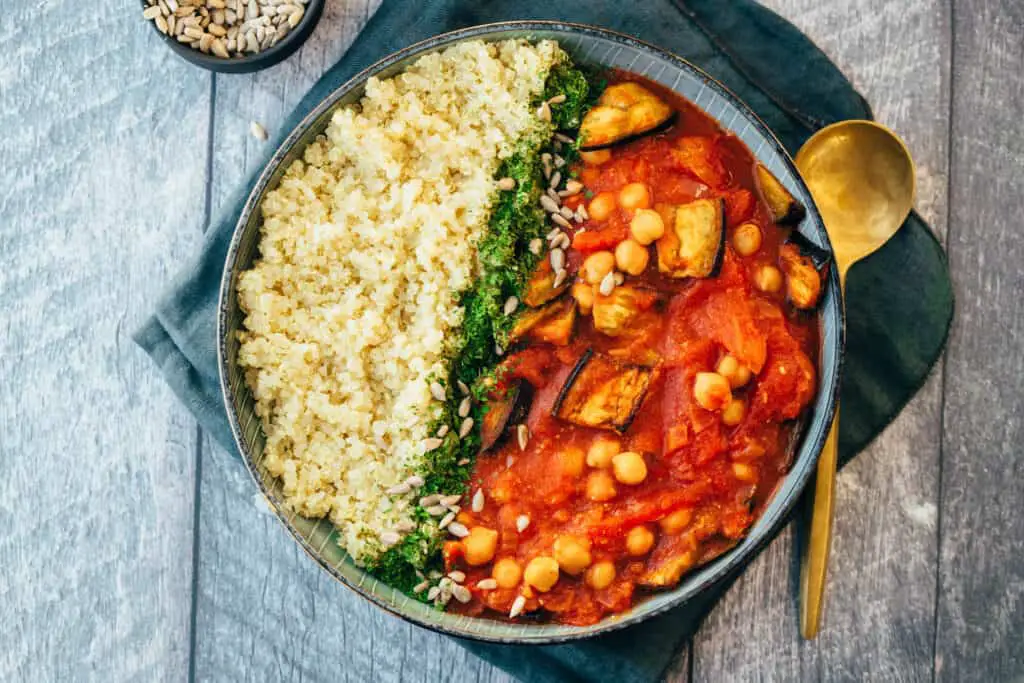 Personally, I have always loved eggplants. They remind me of the delicious antipasti I used to eat with my parents on vacation in Italy. Pickled in extra virgin olive oil, a dream. At the time, I didn't think about whether eggplants were actually healthy? But today I am even more interested in it and I have summarized the most important facts for you. Eggplants are:
Very low in calories with only 17 kilocalories per 100g
Contain vitamins of the B group, vitamin C (especially in the shell) and vitamin C.
Rich in fiber
They are especially delicious when you roast them in the oven. Then return to the pan, stir once, serve and enjoy.
I sprinkle on some extra sunflower seeds to give the dish an extra nutritional boost. For those who are even more interested in the nutrient content in quinoa, you can for this recipe read up a bit more.
The eggplant tomato pan with chickpeas is:
Oriental
Aromatic
Protein & Fiber Rich
Saturating
Easy to make
Let's go with this delicious vegan pan that you'll have ready in an hour. I wish you a lot of fun with the re-cooking and I am happy about a positive review at the bottom of this page. If you post a picture, use the hashtag #veganevibes.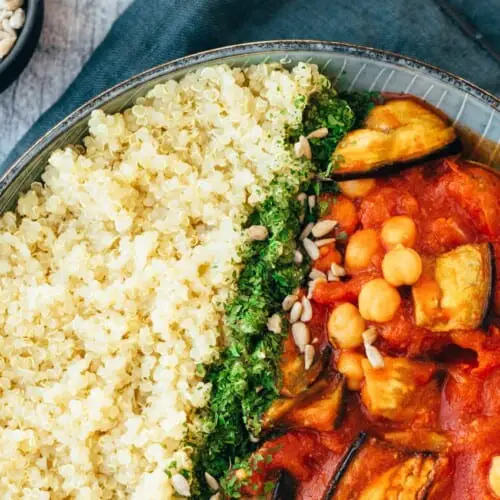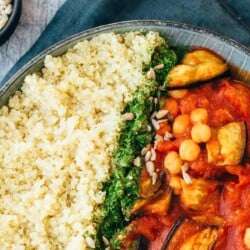 Eggplant and tomato pan with chickpeas
Hearty, incredibly delicious eggplant and tomato skillet with chickpeas. Particularly aromatic thanks to oven-roasted eggplant, rounded off with fine oriental spices. Tastes great plain, with fresh naan, quinoa or rice. Very suitable for the whole family.
AUTOR: VEGANEVIBES
FOR THE OVEN ROASTED EGGPLANT
600

g

Eggplant

cut into coarse pieces, equivalent to one eggplant

½

tbspn

Sea salt
FOR THE TOMATO RAGOUT:
55

g

red onion

chopped

6

g

Garlic cloves

peeled, pressed or finely chopped

2

tbspn

Cumin

2

tbspn

Paprika powder

smoked

¼

tbspn

Nutmeg

800

g

Tinned tomato pieces

alternative tomatoes passata

265

g

Chickpeas – drained*

1 can or jar of 400g, alternatively lentils or white beans

30

g

Harissa

if not at hand season with chili or bird eye chili
TO SERVE:
parsley

fresh or dried

Rice

Seeds and kernels at will
Anleitung 
If rice or quinoa is served, cook according to packaging instructions.

Preheat oven to 215 degrees convection. Line baking sheet with baking paper.

Place eggplant pieces in a bowl, add oil and sea salt and mix well once until everything is combined.

15 ml Frying oil or other high heat oil,

600 g Eggplant,

½ tbspn Sea salt

Place in the oven and roast for 25 minutes, until the pieces have turned a golden brown color.

In the meantime, heat a medium skillet. Briefly sauté onion and garlic until onions are slightly translucent. Add cumin, paprika and nutmeg and stir well once until everything is well combined.

30 ml Frying oil or other high heat oil,

55 g red onion,

6 g Garlic cloves,

2 tbspn Cumin,

2 tbspn Paprika powder,

¼ tbspn Nutmeg

Add tomatoes, chickpeas, coconut blossom sugar, harissa and sea salt and stir well once. Dilute with a little water so that everything can boil down well.

800 g Tinned tomato pieces,

265 g Chickpeas – drained*,

15 g Coconut blossom sugar,

30 g Harissa,

Sea salt to taste

Cover and simmer uncovered over medium heat for 20 minutes.

Remove eggplant from oven and place directly in pan. Stir once more. Taste and season if necessary.

Portion onto two plates, serve with desired accompaniments and enjoy!

parsley,

Quinoa,

Rice,

Fresh naan bread,

Seeds and kernels at will

Keep leftovers covered in the fridge for 2-3 days. Freeze within 1 month.
Notizen
*Save chickpea water to make aquafaba.
Nährwertangaben
Serving:
1
Portion
Calories:
338
kcal
Carbohydrates:
48
g
Protein:
11
g
Fat:
14
g
Saturated Fat:
9
g
Sodium:
429
mg
Potassium:
1190
mg
Fiber:
14
g
Sugar:
21
g
Vitamin A:
780
IU
Vitamin C:
25.2
mg
Calcium:
125
mg
Iron:
5.4
mg