What would life be without(vegan) meatballs that actually succeed. A famous 4-letter furniture chain sells the popular Köttbullar by the millions. So it's time to find a great substitute that tastes gigantic and roasts well (without falling apart). Oh yes, the worst is when the little balls hold but lose their shape in the pan at the latest and blur into an indefinable mush.
Vegan meatballs, or what else should they be called?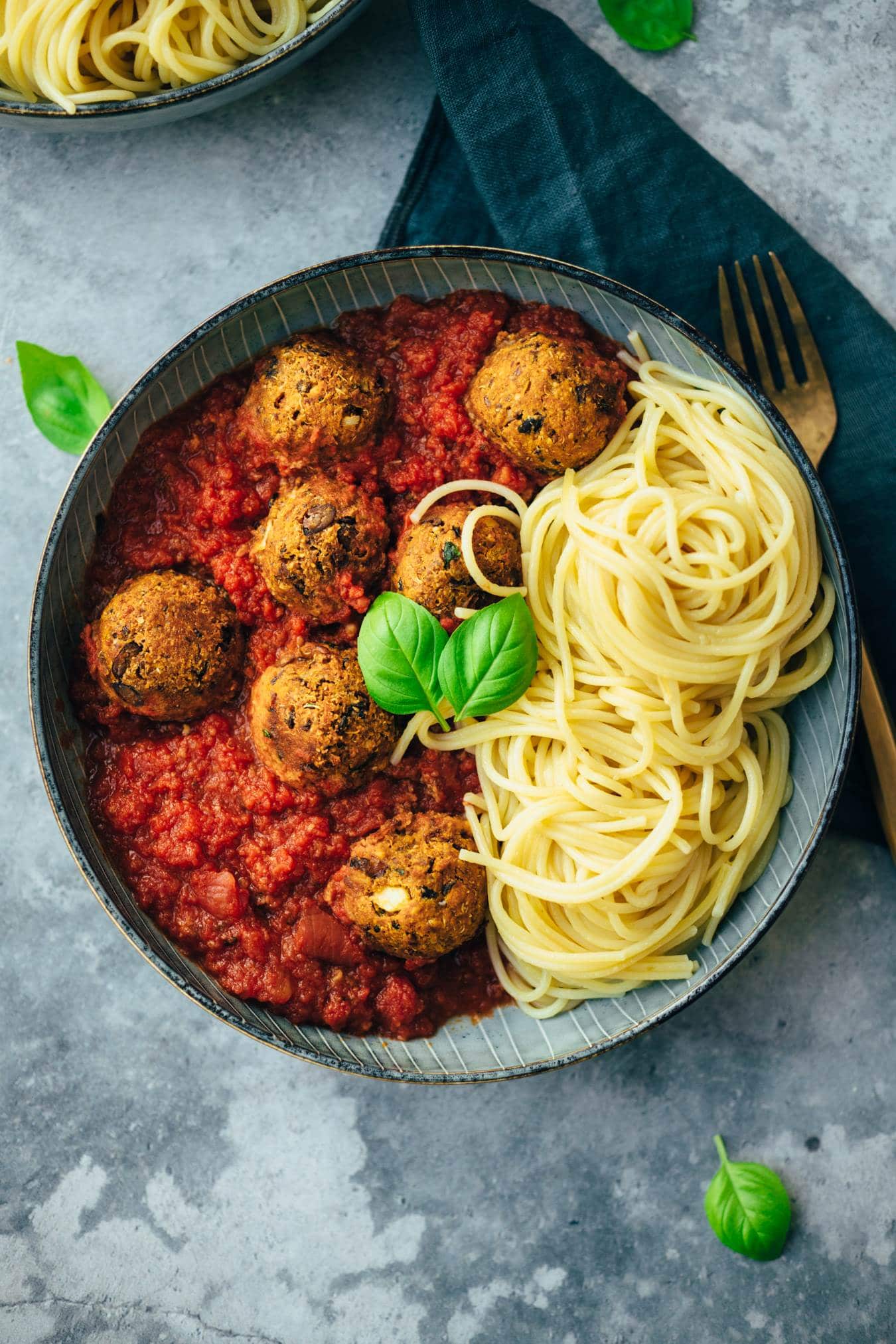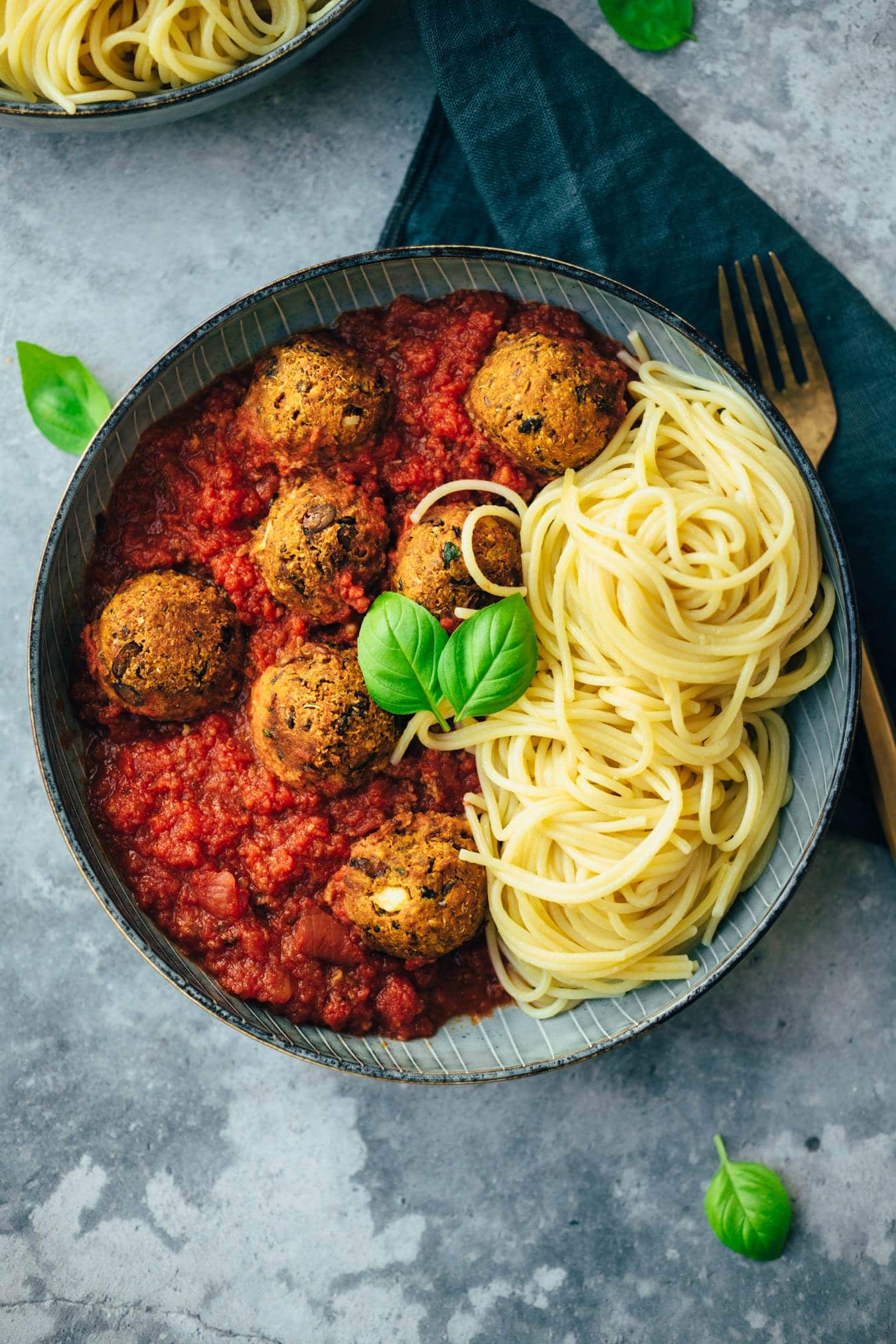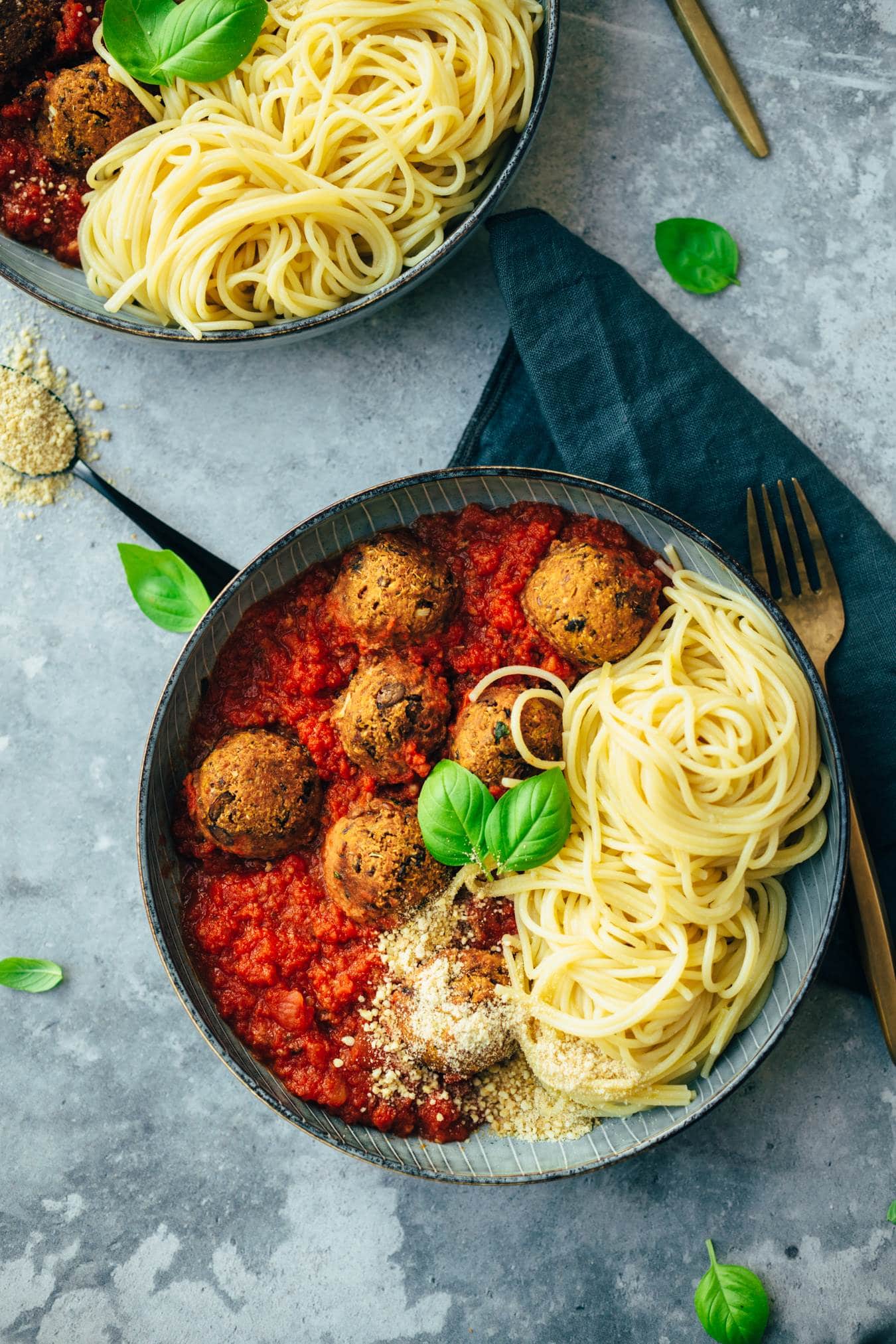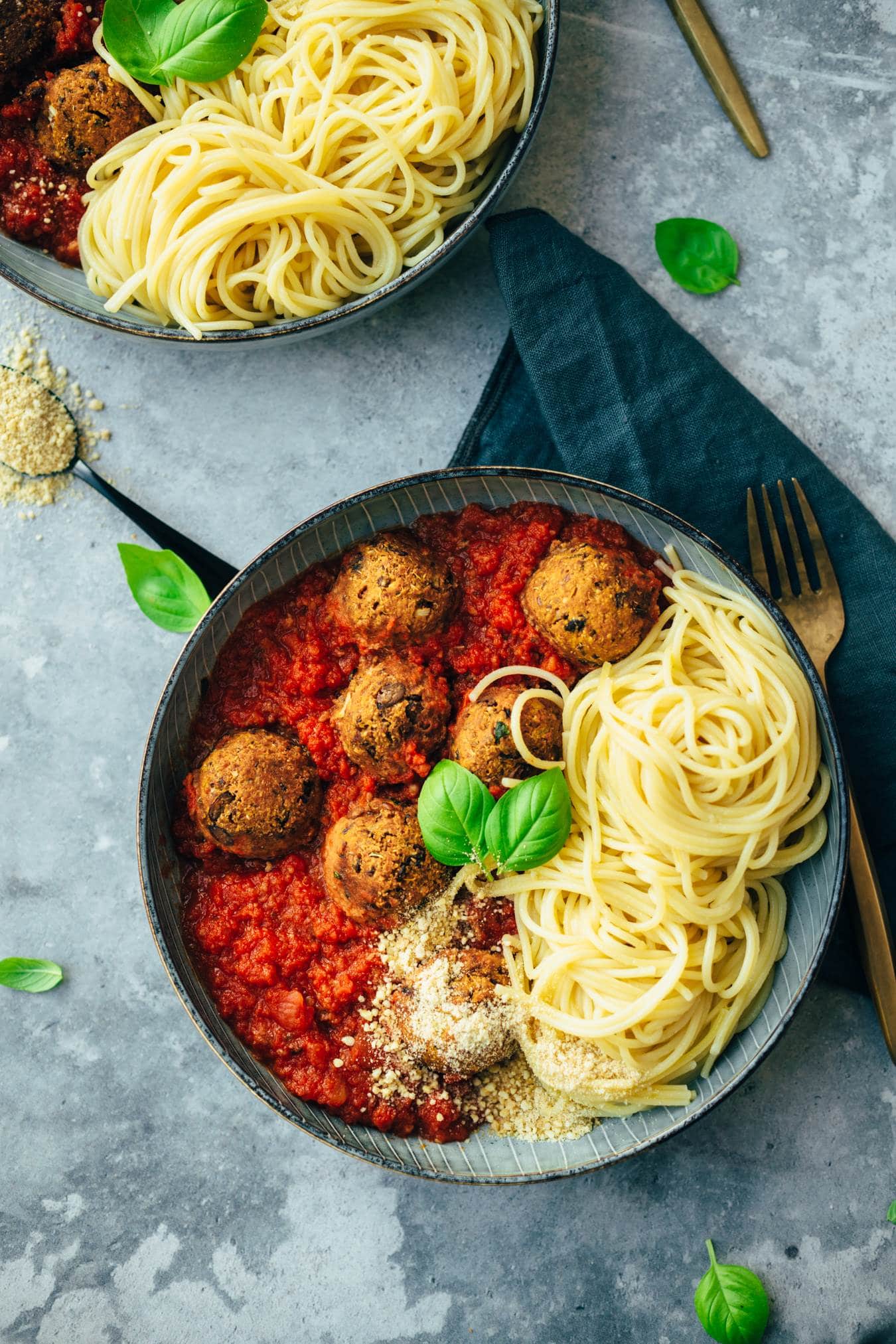 Maybe from today we just say vegan Quinoa -bean balls with it? Or do you have an idea for a great, creative name? Feel free to comment at the bottom of the page. Let's get right to the ingredients, quinoa, black beans, frying oil, onion, garlic, vegan parmesan , oat flour, ground flax seeds, tomato paste, basil, sea salt, oregano, Bird Eye chilies and tamari. Voilà! I am thrilled.
The preparation is also simple and straightforward, knead, roll balls, fry and off to the oven. Finished baking, I serve the balls in a delicious tomato sauce, topped with spaghetti. This time I have something deeper in the pocket and me Emmer spaghetti(attention recipe is then not gluten-free) from Rapunzel (advertising because brand name) treated. Very, very tasty I must say. Whereby I can also live quite well with the classic durum wheat noodles.
Gluten free? Yes, no, maybe?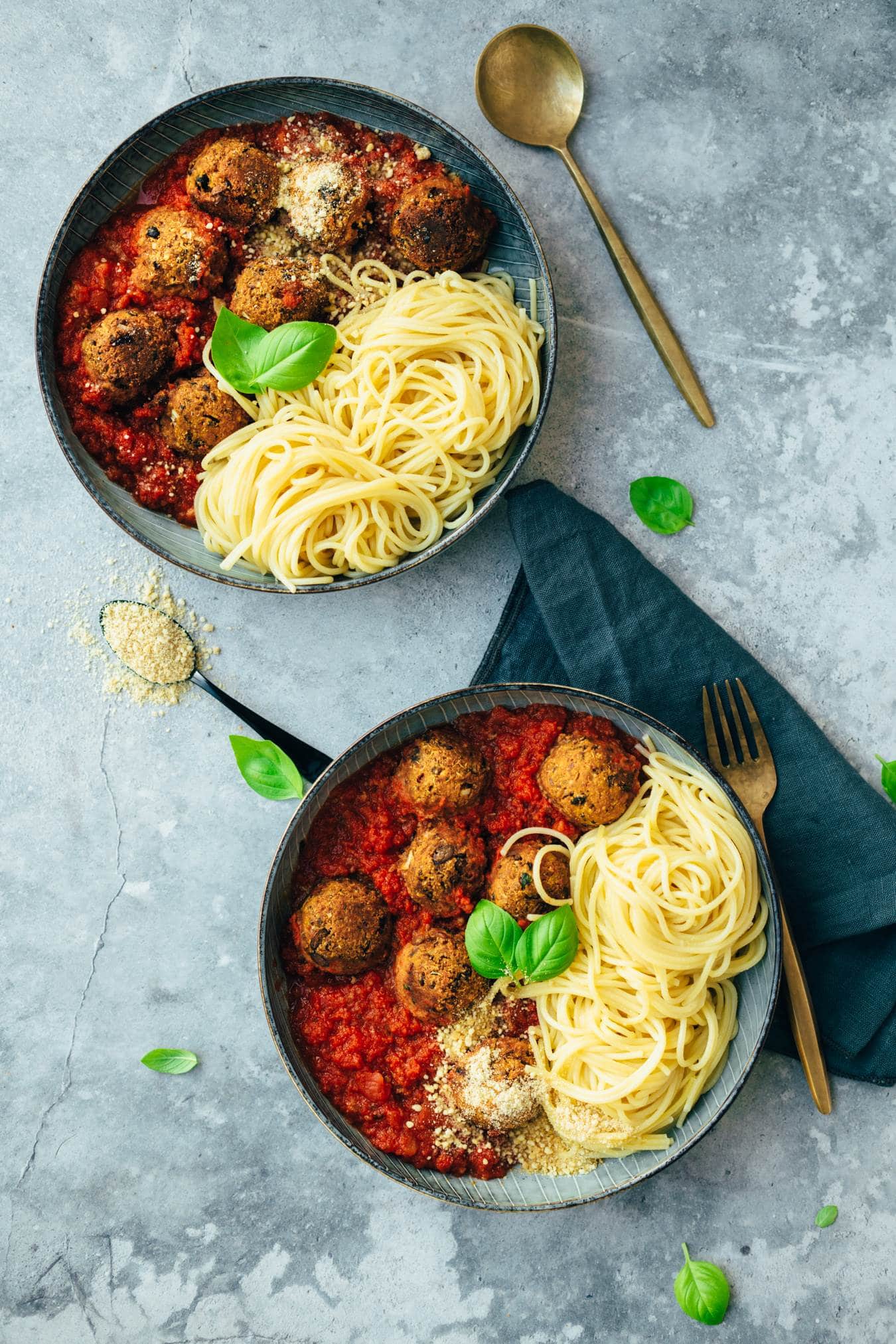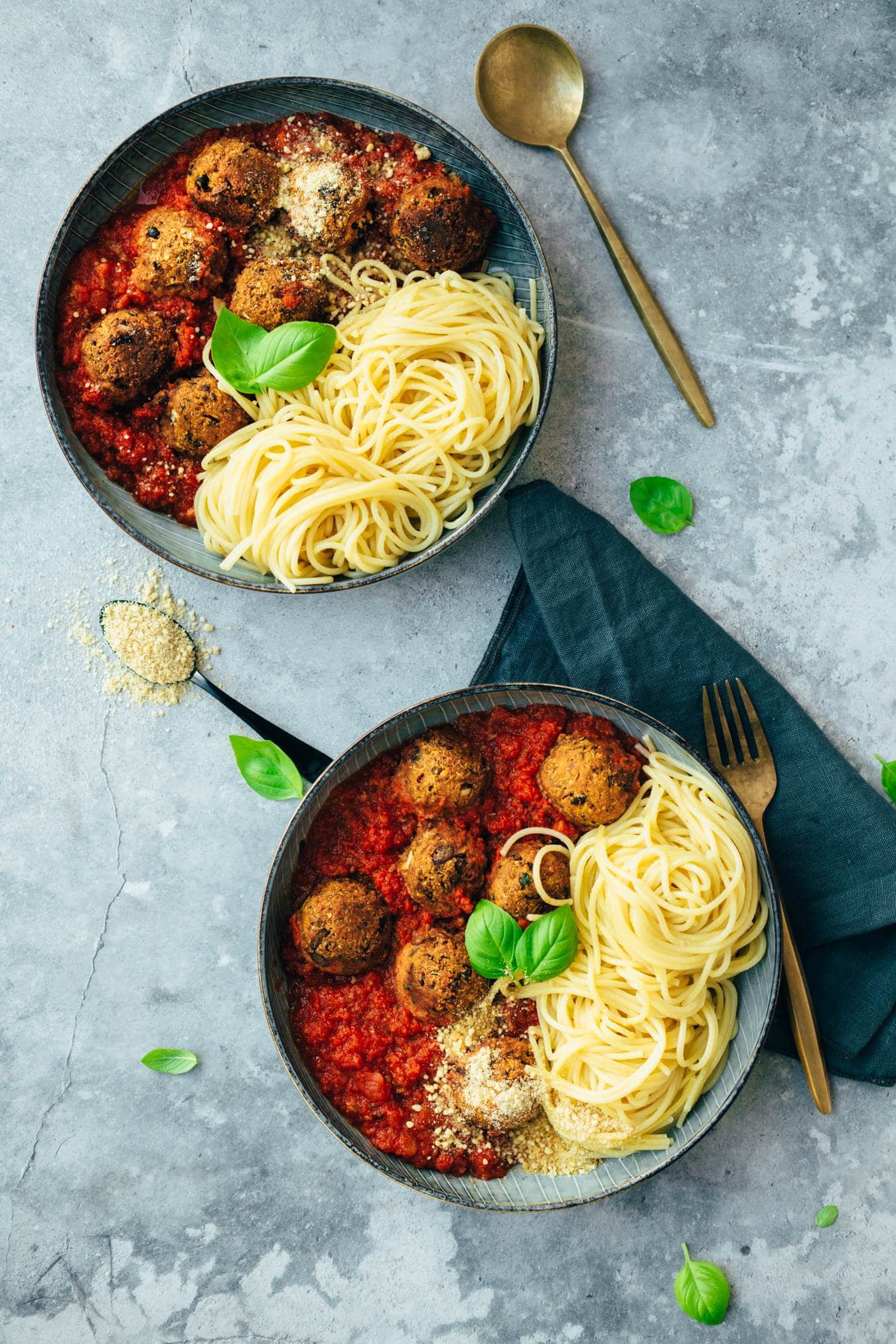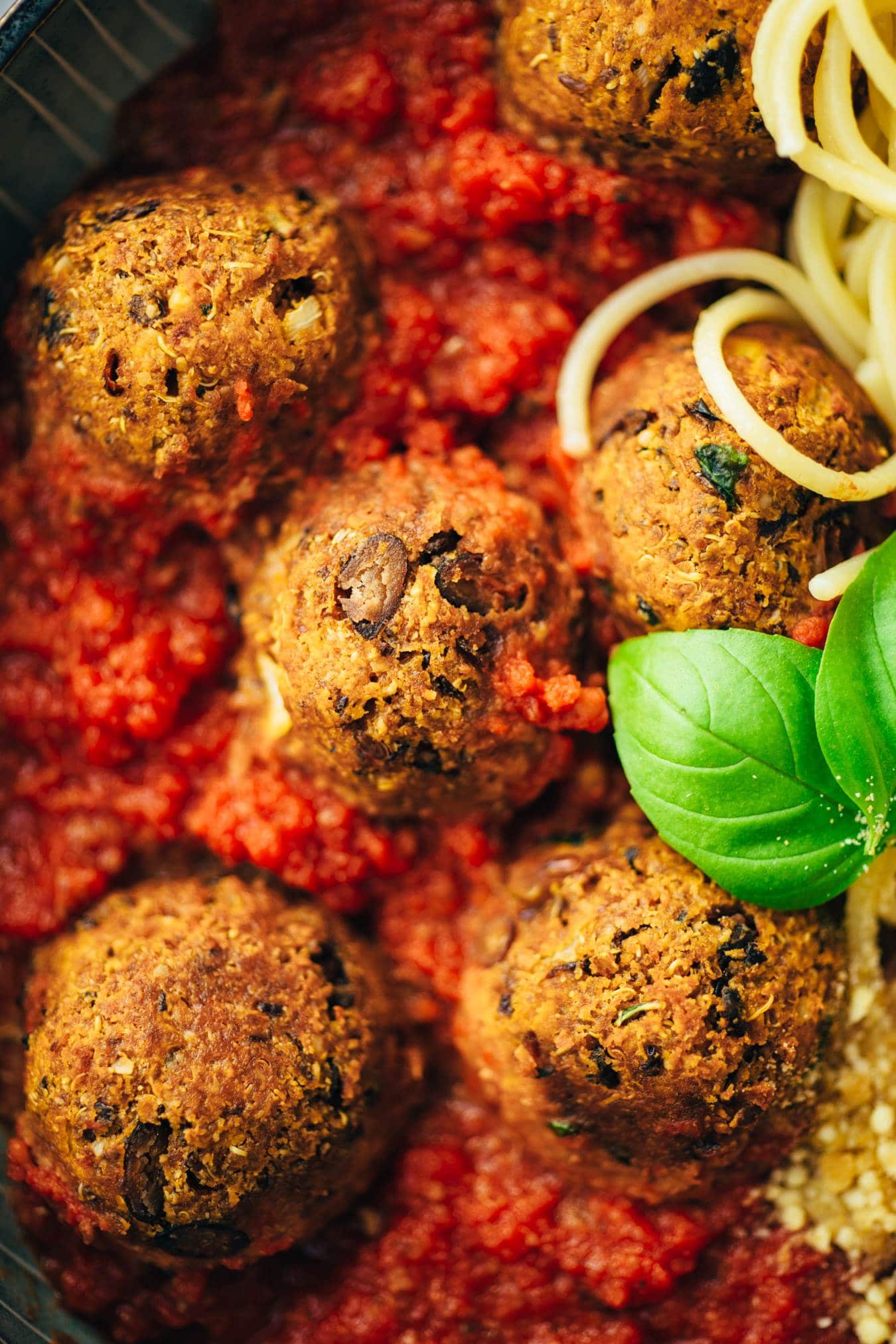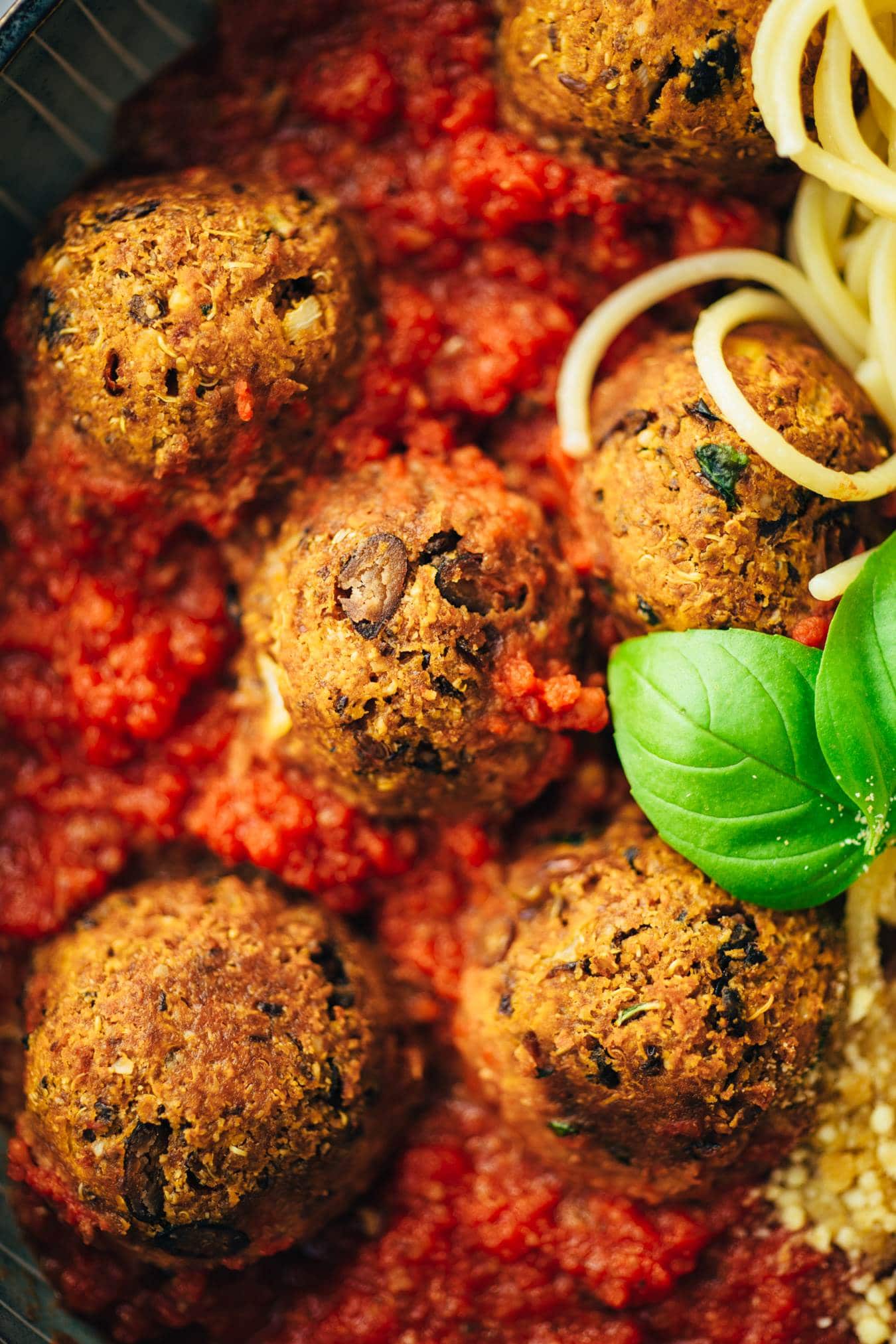 The discussion on this topic is not so simple. Currently, gluten-free nutrition is absolutely "IN" and there is hardly a blogger, nutrition guru or other influencers who are not absolutely pro gluten-free. I have already read a number of books and technical papers about it and have informed myself about the current state of research. My personal conclusion is that I do not give up 100% of gluten-containing grains. But I have to say that I always buy flour at the health food store and use it in a very varied way. Times wheat, spelt, rye and very like my gluten free flour mix . However, if you suffer from celiac disease, I recommend my gluten-free flour mix .
The right binding in vegan cuisine – my TOP TIPS
Here are my top 3 binders for vegan meatballs:
Oatmeal = excellent absorption and swelling properties. You can buy ready-made oatmeal, but I grind it myself with my food processor. Note for intolerances: There are also gluten-free oatmeal in all well-stocked (organic) supermarkets.
Ground flaxseed = not to be confused with flaxseed meal, where the valuable oil has already been extracted. I always grind my own flaxseed in my food processor and put them in a sealable jar. Storage in the refrigerator or freezer.
Black beans = great solid substance and particularly high in easily digestible protein. Contain beans a lot of vitamins, including B1, B2 and B6. In addition, there is plenty of magnesium, potassium, iron and phosphorus.
So, I think you are now perfectly prepared for this extremely delicious dish. But now it's time to invite your loved ones and cook for them, right?
The ultimate, fail-safe "meatballs" (vegan, gluten-free):
hearty
Easy to manufacture
aromatic
versatile
Firm consistency
Extremely tasty
Perfect with a delicious tomato sauce (I admit that in this case I used a ready-made tomato sauce). However, you will find instructions for a homemade tomato sauce in the ingredients. Ideal also with it is pasta, ciabatta and a handful of fresh basil.
Well did you get a craving for these hearty vegan meatballs? I wish you a lot of fun with the re-cooking and of course I am happy about a review at the bottom of this page. If you post a picture, use the hashtag #veganevibes.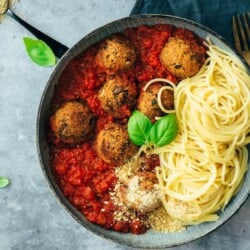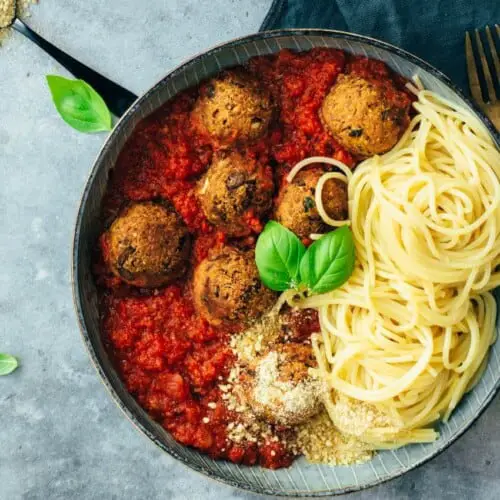 The ultimate, fail-safe "meatballs" (vegan, gluten-free)
Incredibly flavorful vegan meatballs with delicious quinoa and black beans. Ideal for frying thanks to its firm consistency. Crispy, filling, the delicious balls are rounded off with a tasty tomato sauce and pasta al dente.
AUTOR: VEGANEVIBES
FOR HOMEMADE TOMATO SAUCE:
110

g

white onion

finely chopped (equivalent to a medium onion) alternatively shallots

1

Garlic clove

finely chopped

60

g

Tomato paste

240

g

Canned or jarred tomatoes in pieces or whole

10

g

fresh basil

a handful

1

tbspn

Oregano

1

tbspn

Thyme

½

tbspn

Marjoram

optional

½

tbspn

Rosemary

optional

12

g

brown sugar or coconut blossom sugar

1 TBSP.

15

ml

Balsamic vinegar

1 TBSP.
TO SERVE:
Spaghetti or other pasta to taste

Fresh basil

Ciabatta
Anleitung 
Prepare quinoa according to package directions and allow to cool completely.

Place in a large bowl and mix with all other ingredients to form a uniform dough. I work with my hands, so the consistency becomes a little coarser. Alternatively, work with a food processor to get a finer consistency.

190 g Quinoa,

240 g black beans,

30 ml Frying oil or other high heat oil,

110 g white onion,

1 Garlic clove,

40 g vegan parmesan,

30 g Tomato paste,

3 g fresh basil,

2 tbspn Oregano,

1-2 Bird Eye Chili,

90 g gluten free oatmeal,

25 g Replace ground flaxseed,

1 tbspn Tamari

Preheat the oven to 190 degrees and line a baking tray with baking paper. Put the pan on the stove and heat with 2 tablespoons of frying oil.

Shape dough into 14 equal-sized balls using a spoon (or ice cream scoop).

TIP: With the ice cream scoop you get 7 equal portions at first, which you can then divide again. Yes at will you can also form larger balls.

Add to pan and sauté for 2-3 minutes until a golden brown crust forms. Then spread on the baking sheet and put in the oven. Bake for 20 minutes until golden brown.

In the meantime make the HOMEMADE TOMATO SAUCE manufacture. To do this, in the same pan in which previously made the balls, saute the oil together with the onion, garlic and tomato paste until translucent. Gradually add all the other ingredients and cook until the balls are baked.

110 g white onion,

1 Garlic clove,

60 g Tomato paste,

240 g Canned or jarred tomatoes in pieces or whole,

10 g fresh basil,

1 tbspn Oregano,

1 tbspn Thyme,

½ tbspn Marjoram,

½ tbspn Rosemary,

12 g brown sugar or coconut blossom sugar,

15 ml Balsamic vinegar,

30 ml Frying oil or other high heat oil

Remove the balls from the oven and arrange them in the tomato sauce.

Serve together with (optional) spaghetti, ciabatta and basil and enjoy.

Spaghetti or other pasta to taste,

Fresh basil,

Ciabatta

Balls keep (not soaked in tomato sauce) keep 4-5 days airtight in the refrigerator, up to 1 month in the freezer.
Notizen
NOTES /HELPFUL ACCESSORIES:
Nährwertangaben
Serving:
2
Balls
Calories:
145
kcal
Carbohydrates:
19
g
Protein:
5
g
Fat:
5
g
Saturated Fat:
3
g
Sodium:
114
mg
Potassium:
279
mg
Fiber:
3
g
Sugar:
2
g
Vitamin A:
170
IU
Vitamin C:
5
mg
Calcium:
50
mg
Iron:
1.7
mg