I love Breakfast and that in all variations. Admittedly, it is then about monotonous during the week and there is usually a variation with oatmeal or 1-2 slices of rye sourdough bread. Therefore, I went in search of tasty alternatives and came across Quinoa stumbled upon. Most of the time we eat quinoa with savory dishes and rarely as a dessert. Especially for breakfast, however, I love really sweet, chocolatey things that leave such a nice comforting feeling in my stomach. Easy to digest, full of protein and so incredibly delicious. This is our breakfast bowl for today. Yummy!
Chocolate Quinoa Bowl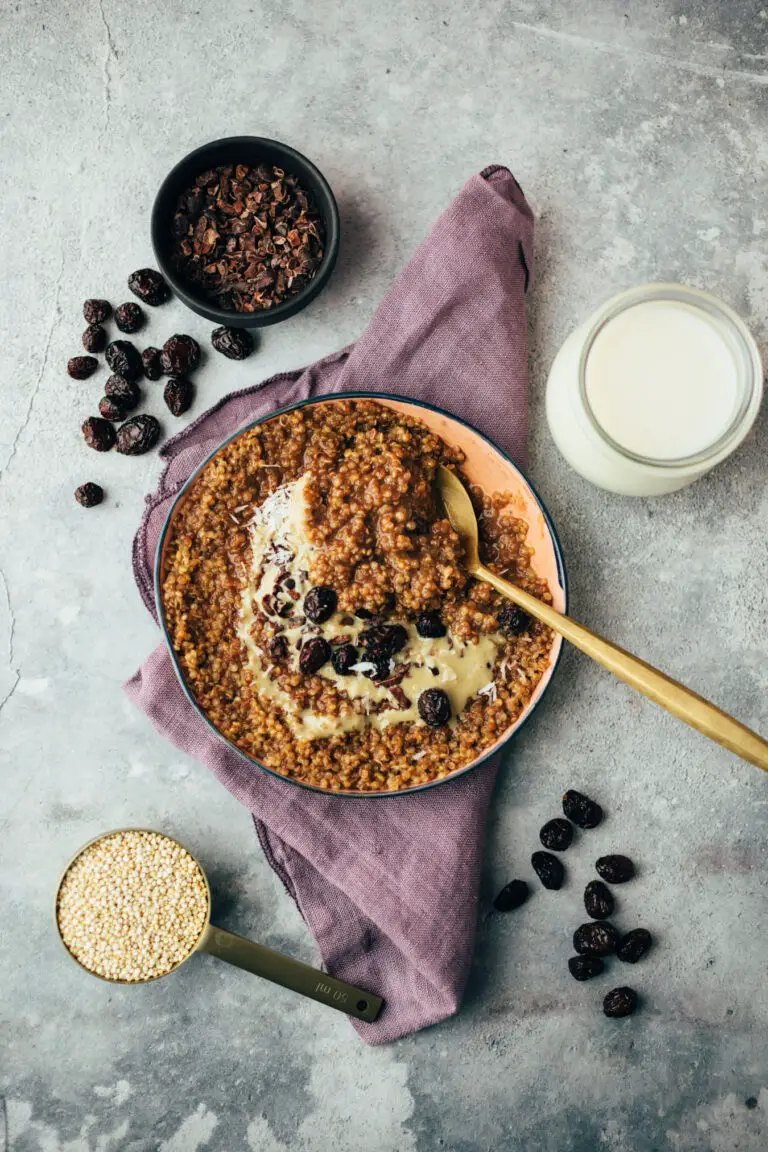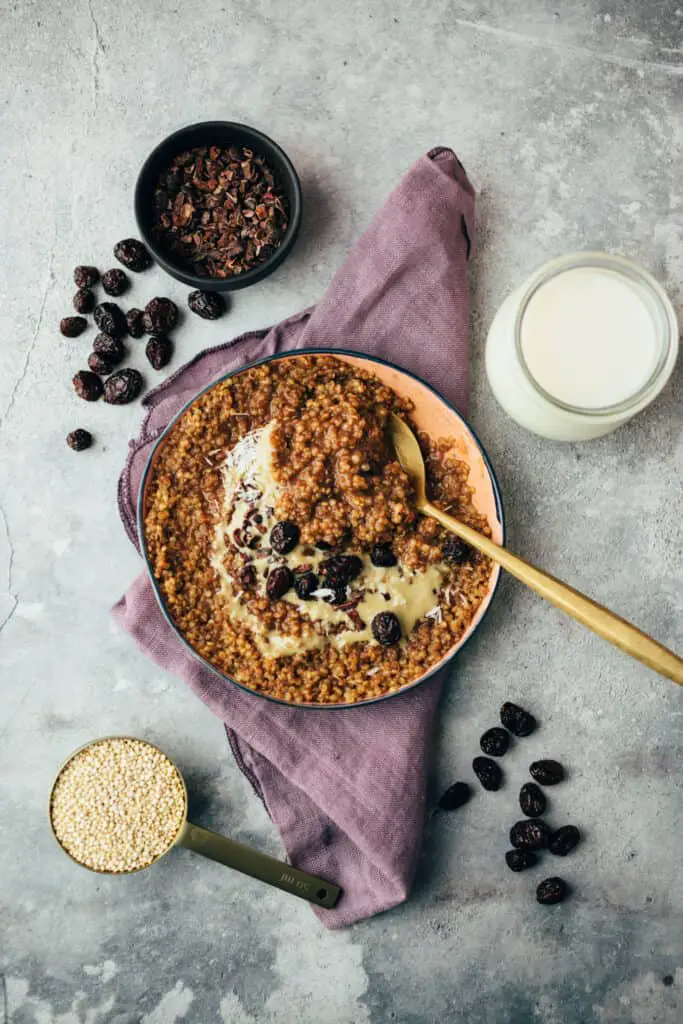 Quinoa up your life!
Admittedly, I was skeptical when I first Quinoa I ate. I can't even tell you why? Maybe it was just the typical defensive attitude towards new things, which one tends to do quite quickly. But since I am generally one of those people who like to jump over their shadows, I incorporated the little grains into my kitchen pretty quickly. Admittedly, they are simply far too healthy NOT to eat them and let's be honest: Always Pasta is boring at some point!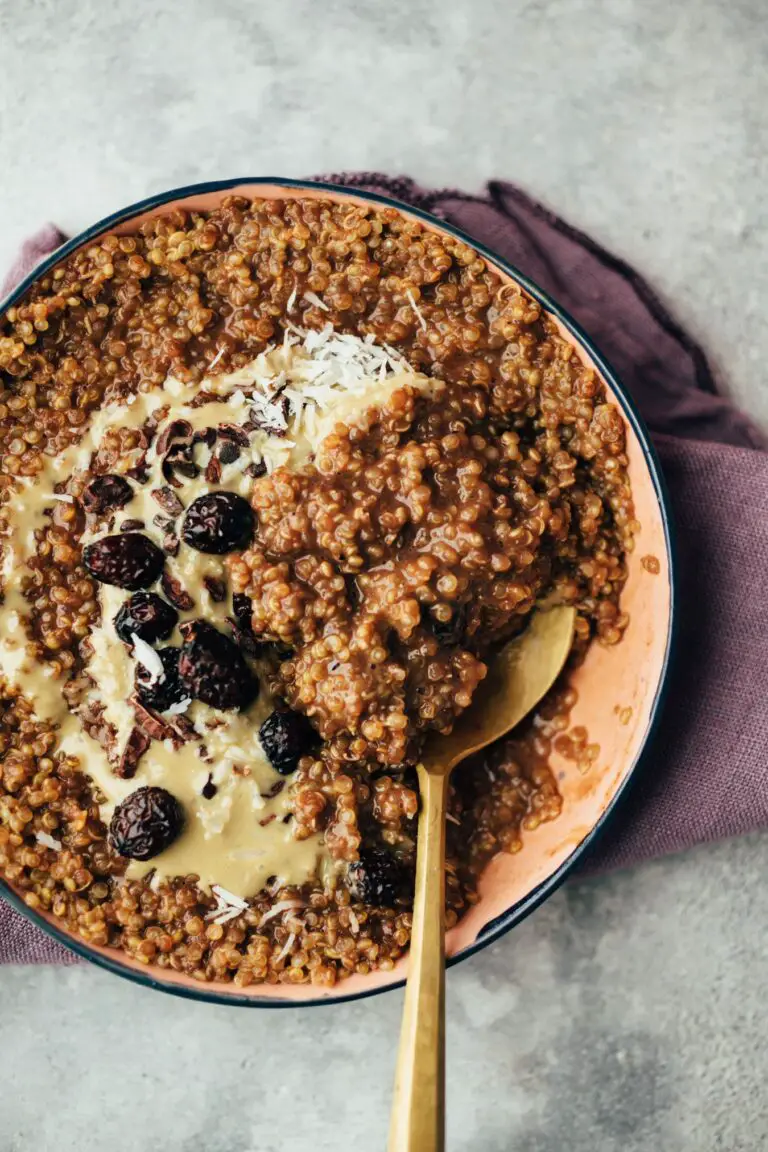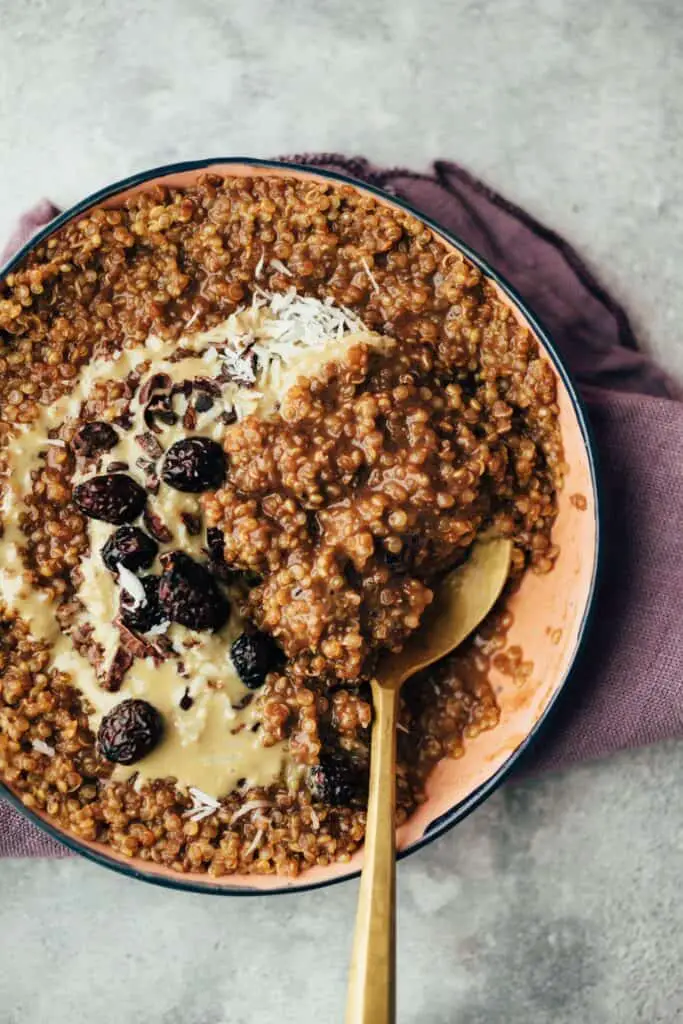 There are now hundreds of sites that describe quinoa as the new miracle par excellence. I think we should not exaggerate here and just look at the facts. Quinoa has quite nutritional benefits and contains:
Essential fatty acids such as lysine, tryptophan or cystine that the body itself cannot produce
Valuable minerals such as magnesium, calcium, potassium and iron
Lots of vegetable protein (14g per 100g quinoa)
Thiamine (B1) and vitamin B6 (building cells and tissues)
Secondary plant compounds (have an antioxidant effect and can prevent diseases)
How do I prepare quinoa properly?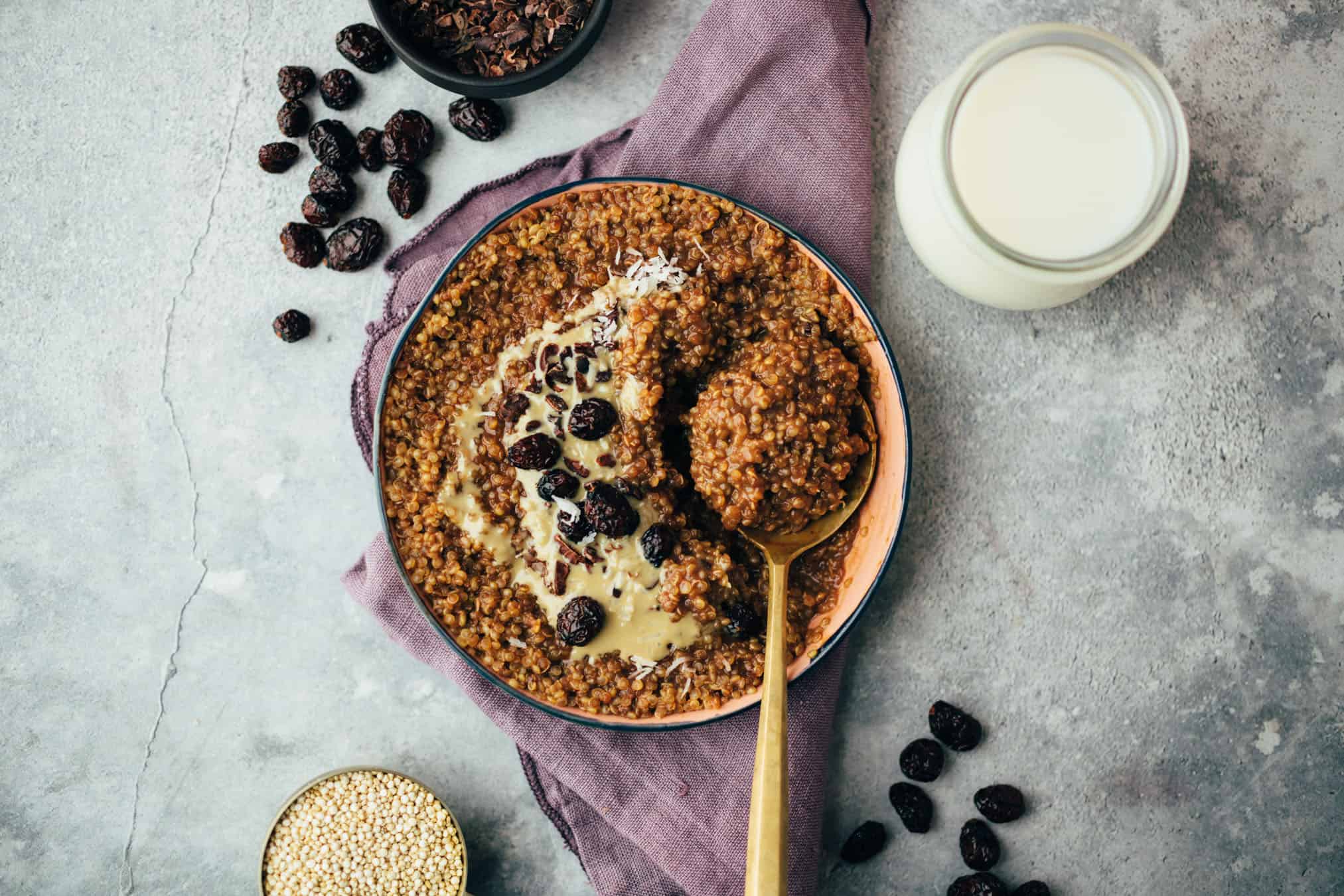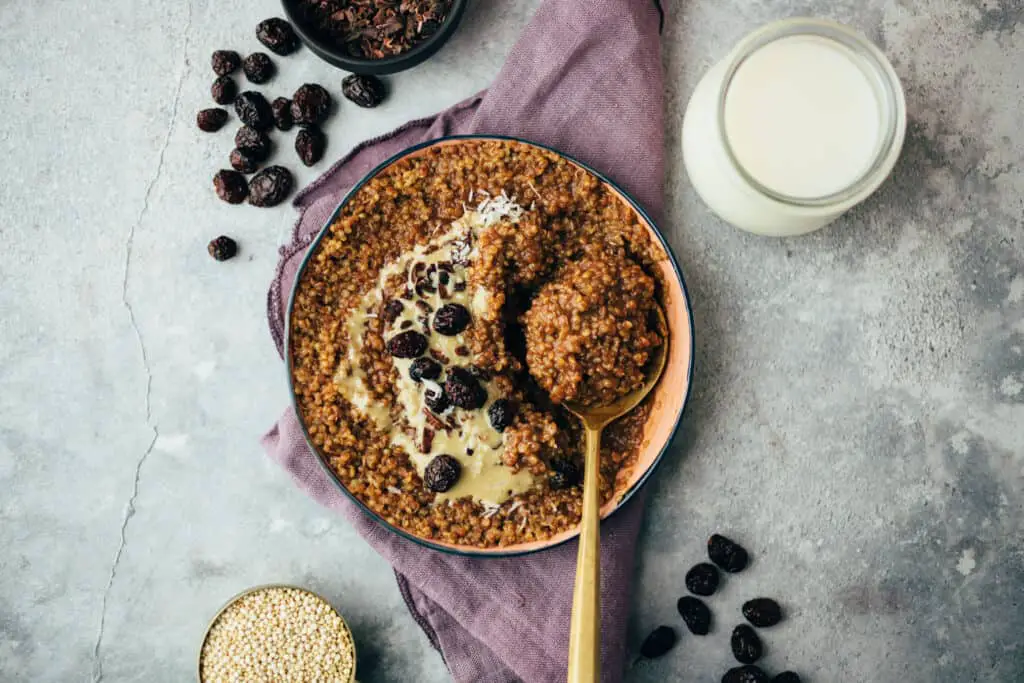 The only question is how to prepare quinoa properly. A tip in advance, I always prepare a larger amount of quinoa for the whole week. So I can quickly and easily reheat the pseudo cereal and prepare the most delicious dishes with it. For example, when I think of the stuffed Portobello mushrooms , Shawarma Bowl , Chili sin Carne or Meatballs my mouth immediately waters.
Here I have summarized the most important steps for you:
Step 1: Wash thoroughly and hot, because the peel contains bitter-tasting saponins that protect the plant from pests. These do not taste very good and are not very digestible. Start the kettle and rinse well once, then you are on the safe side. (Alternatively, you can also soak the quinoa overnight, which additionally reduces the content of phytic acid and reduces the cooking time.).
Step 2: One Put part quinoa in a pot with 3 parts water and heat. Once the water boils, turn down to medium heat and simmer for about 15 minutes leave until the pseudocereal has absorbed all the water. Caution. Not cook too hot, otherwise it may burn.
Step 3: Short Cool and run a fork through. Ready! The quinoa is now ready cooked and fluffy. You can serve it immediately, up to a week airtight Store sealed in the refrigerator or freeze. Warm up best in the Steamer, or in a pot with a little oil and water.
Quinoa with chocolate? Give it to me!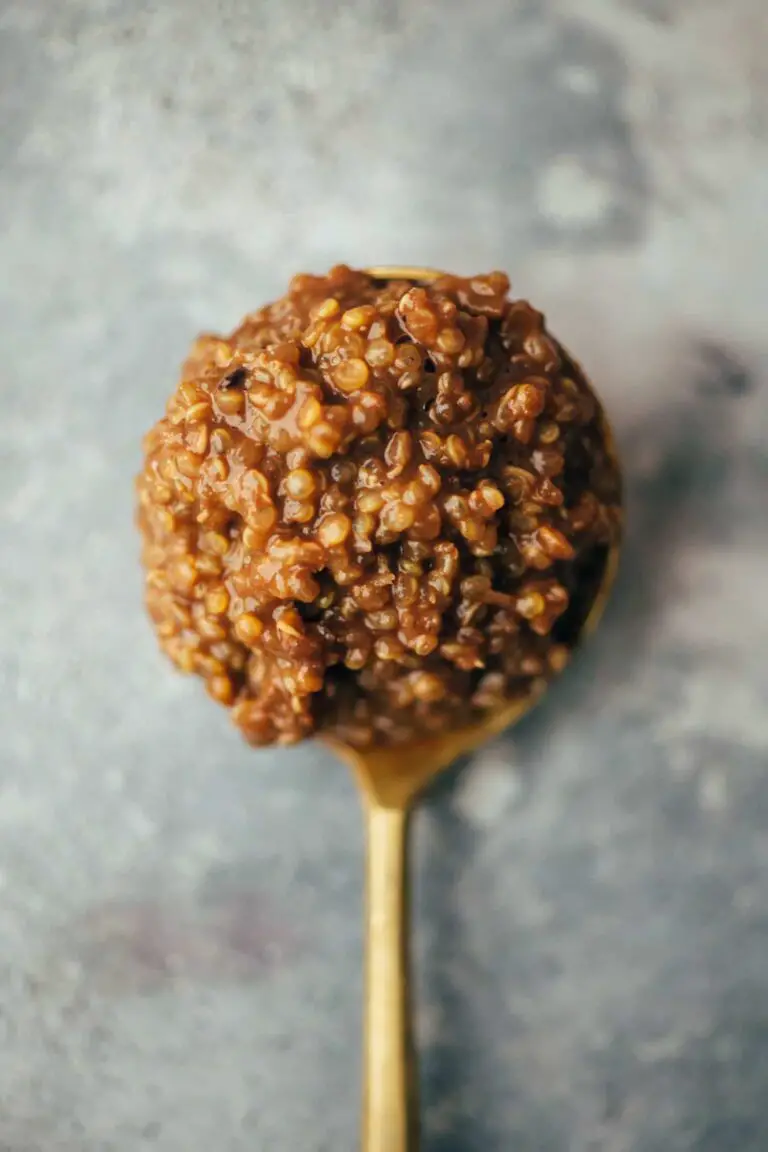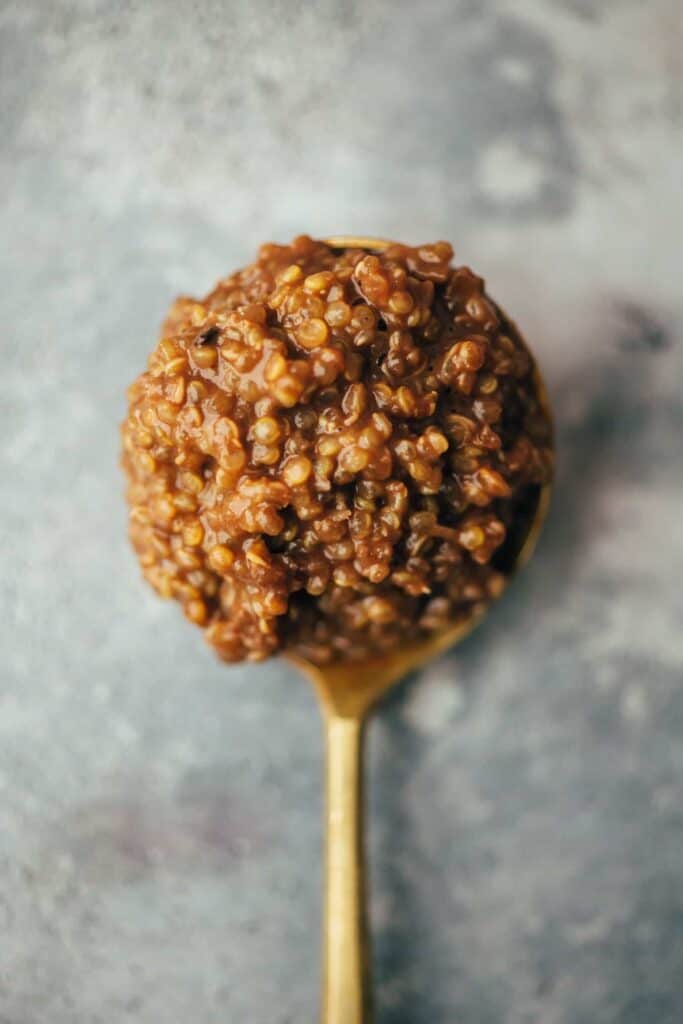 Finally, let's get to our breakfast bowl. Quinoa, Almond milk , cocoa powder, maple syrup, vanilla, sea salt and optionally a good pinch of cinnamon, cardamom and you're done. Bowl. You just need a small pot, a stove and go for it.
With the toppings you are the Queen (or the King) who sets the tone. Bananas, fresh or frozen Fruits, hemp seeds, nut puree or coconut flakes. Your imagination is not limited here Limits set. For those who rely on adaptogens, some Ashwanghanda, Schisandra or Reishi mix in.
The Chocolate Quinoa Bowl (20 minutes) is:
Pleasantly sweet
chocolatey
High protein
Crunchy
creamy
simple to be produced
Let's go with this healthy, chocolaty dream that will sweeten your day already in the morning. I wish you a lot of fun in recooking and of course a review at the bottom of this page. If you post a picture, use the hashtag #veganevibes.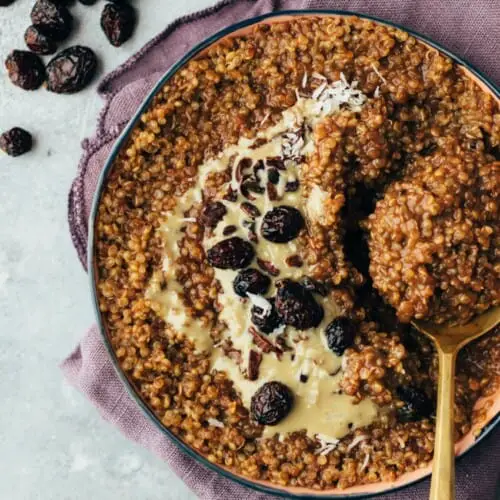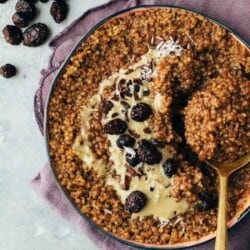 Chocolate Quinoa Bowl (20 minutes)
Filling, delicious and chocolaty quinoa bowl. With delicious almond milk, quinoa and maple syrup, combined with delicious toppings. Perfect for a healthy breakfast, or as a protein-rich snack in between meals.
AUTOR: VEGANEVIBES
86

g

Quinoa

I have used white quinoa

250

ml

Almond milk or another vegetable milk

I have mixed soy and almond milk, If you use pre-cooked quinoa, you only need about half of the amount of milk given

5

g

Cocoa powder

2

tbspn

maple syrup

or another vegan sweetener at will

¼

tbspn

Bourbon vanilla ground

Optional: ½ tsp cinnamon

Optional: ¼ tsp cardamom

Optional: adaptogens like Ashwanghanda

Schisandra or Reishi, stir in only after the cooking process is complete
Toppings (all optional):
Bananas

sliced

Nut puree

Fresh or frozen fruit
Anleitung 
Wash quinoa once hot (see other useful tips earlier in the text). Alternatively, use ready-cooked quinoa, which reduces cooking time to

5 minutes

.

Combine all ingredients for CHOCOLATE QUINOA BOWL in a small pot or saucepan and bring to a boil.

86 g Quinoa,

250 ml Almond milk or another vegetable milk,

5 g Cocoa powder,

2 tbspn maple syrup,

¼ tbspn Bourbon vanilla ground,

1 Pinch sea salt,

Optional: ½ tsp cinnamon,

Optional: ¼ tsp cardamom,

Optional: adaptogens like Ashwanghanda

Turn down to medium heat and simmer for

15 minutes

. Always stir once in between so that nothing burns.

Add a little more liquid if desired.

Pour into a bowl and garnish with desired toppings and enjoy!

Bananas,

Nut puree,

Coconut flakes,

Fresh or frozen fruit,

hempseed

Keeps 2-3 days in an airtight container in the refrigerator.
Nährwertangaben
Serving:
1
Portion
Calories:
188
kcal
Carbohydrates:
30
g
Protein:
6
g
Fat:
4
g
Sodium:
185
mg
Potassium:
242
mg
Fiber:
3
g
Sugar:
2
g
Calcium:
170
mg
Iron:
2
mg