The leaves are turning all colors, it's getting colder and darker faster, time for a pumpkin pie. I long for a really delicious cake with nuts. Juicy, spicy and ideal with my Pumpkin Spice Latte which I am currently sipping with relish. At Autumn autumn I love to make my own Pumpkin puree to make. It's really super easy and incredibly versatile. In the Cake it provides great color and a nice binding, just brilliant for our pumpkin pie today. Do you know the feeling when the Cake cools in front of you and you can hardly wait to eat the first piece? Exciting was then always the question of how long the cake survives (in our case, unfortunately, not so long). Are you ready for some autumnal baking? Then let's get started together.
Vegan Pumpkin Cake – Pumpkin Cake, What?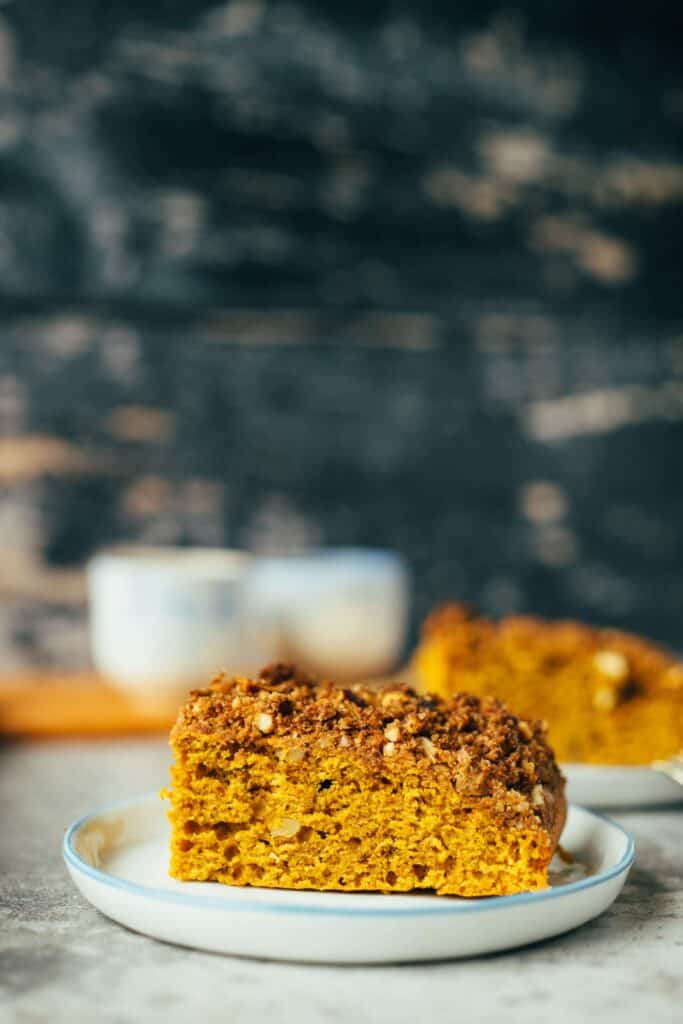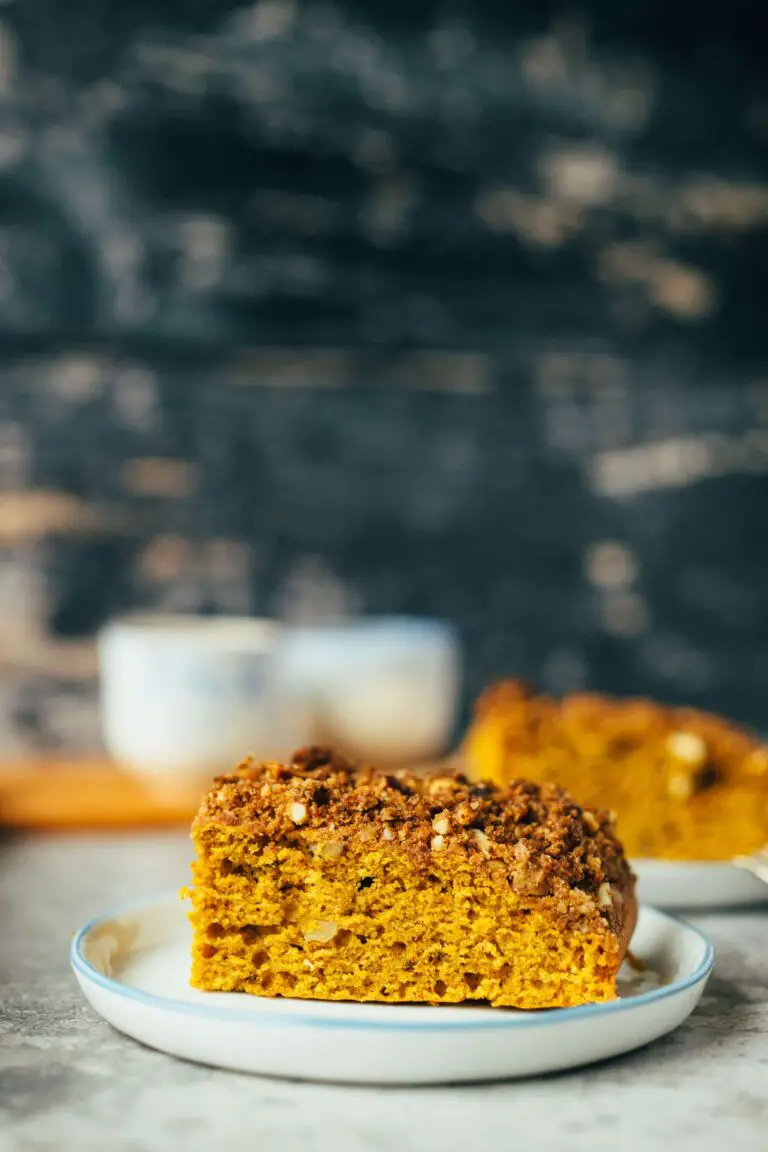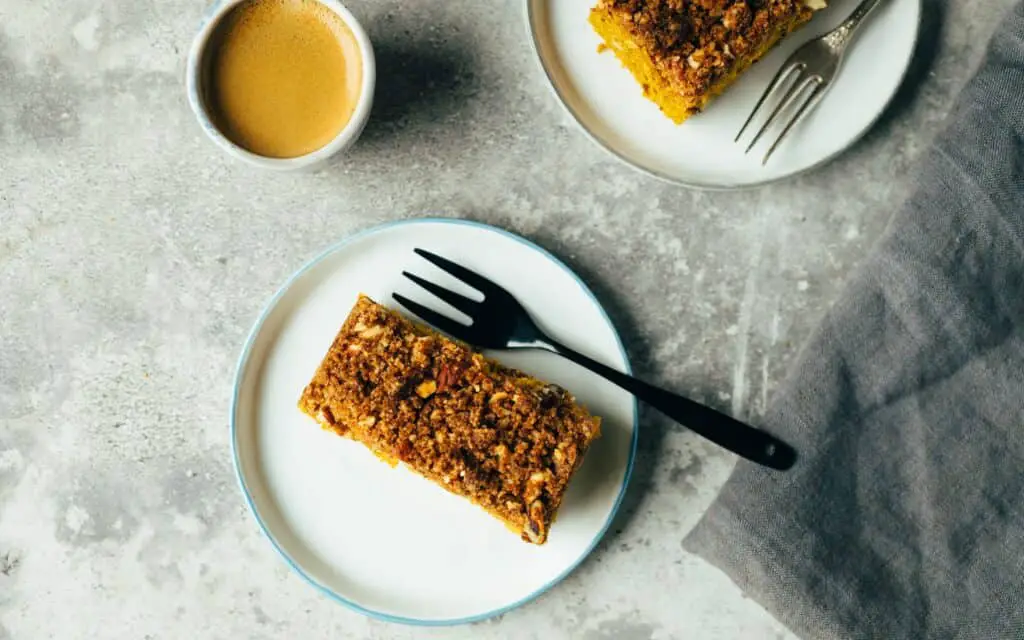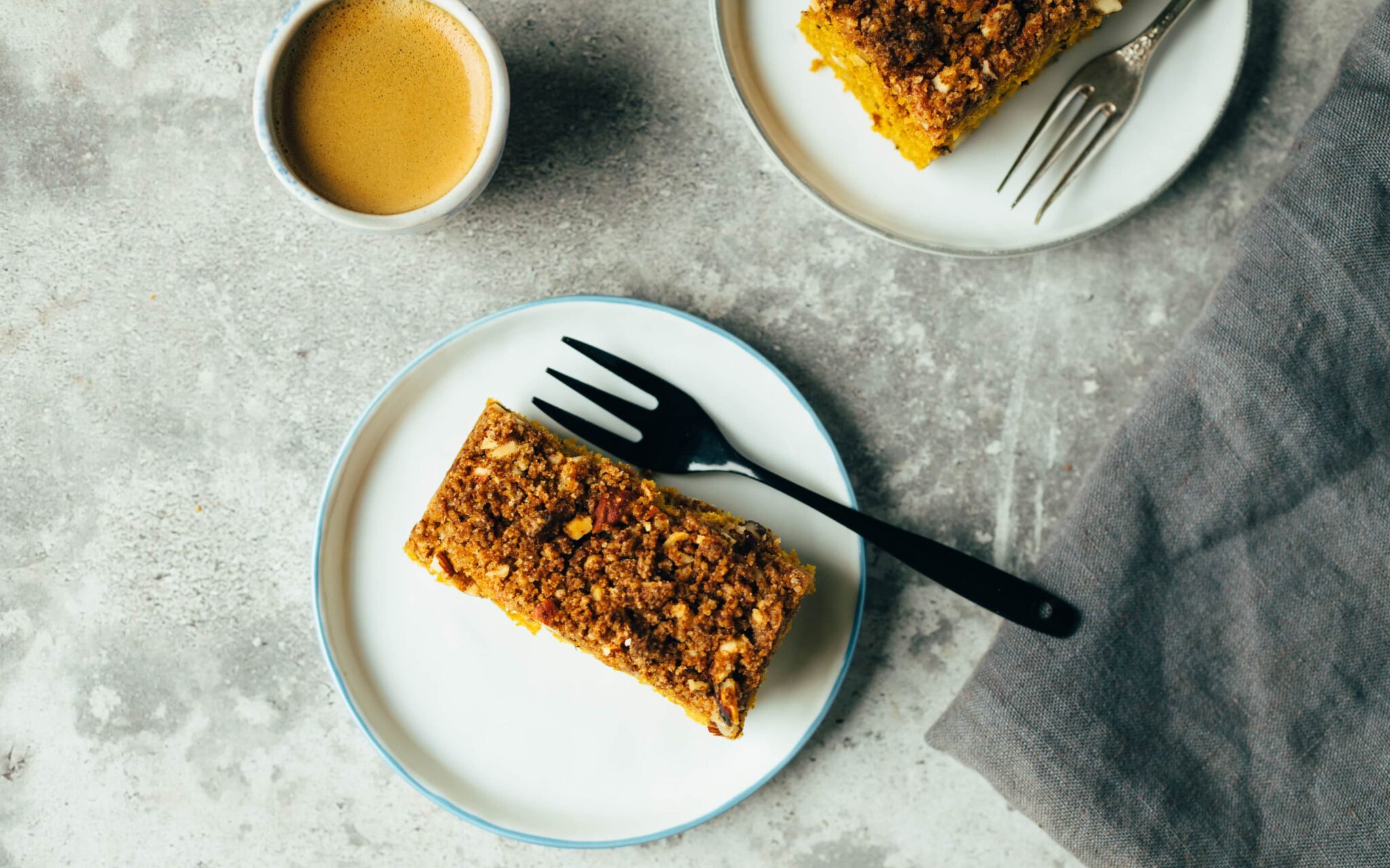 In autumn are Spices at the top of my list, first of all Cinnamon nutmeg, cardamom, ginger, anise and many more. Practical with this Recipe is, if you already mix the spices together in advance to a Pumpkin Spice Mix mix together. Then you always have the perfect Spice blend ready on the spot and you're ready to go.
Our today's Cake consists of two layers, a simple sponge cake and a Crumble . For the dough you need Vegetable milk , baking soda and lemon juice, fine spelt flour (or a gluten free flour mix ), baking powder, coconut blossom sugar, maple syrup, Pumpkin Pie Spice , chopped nuts and a pinch of salt. The crumble consists of spelt flour, coconut blossom sugar, maple syrup, oil, mixed nuts, cinnamon, cardamom and a pinch of salt.
Are you also addicted to pumpkin?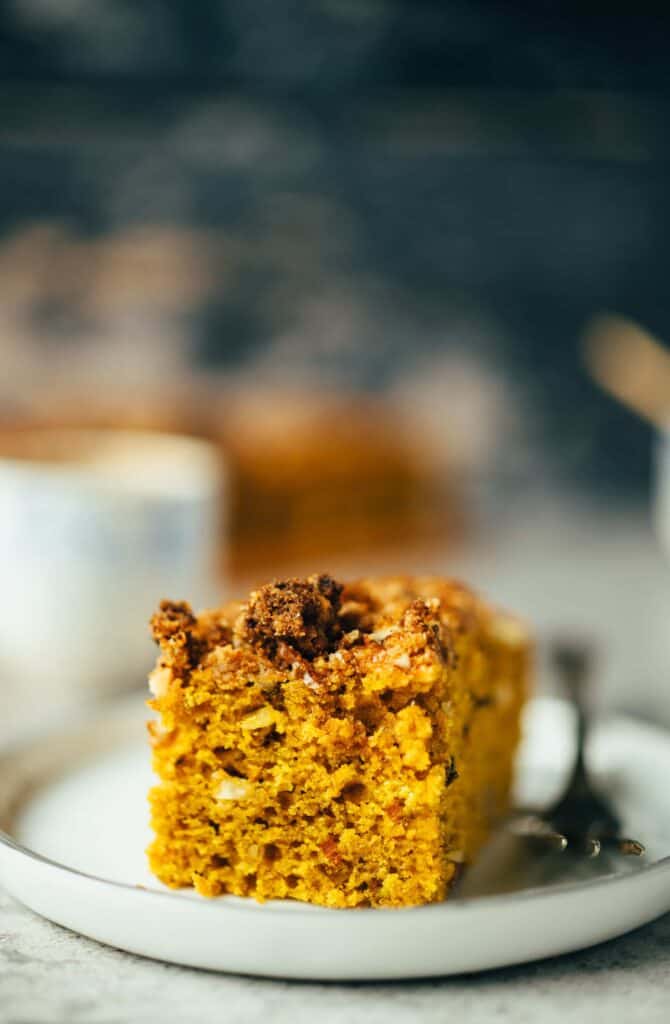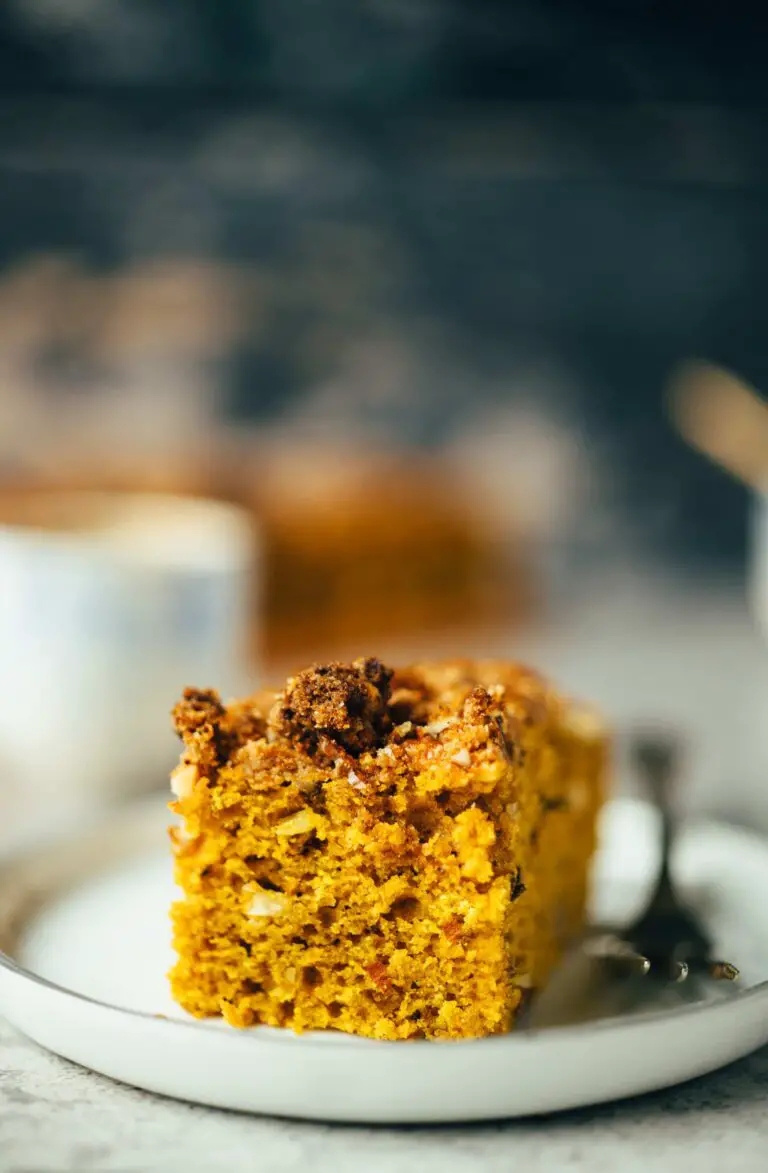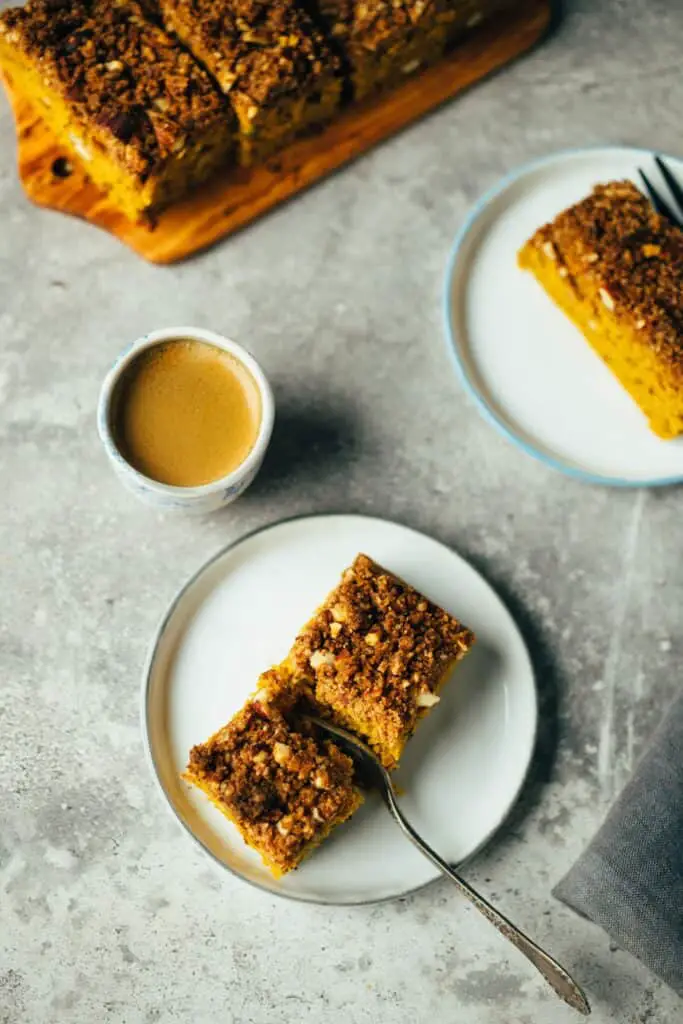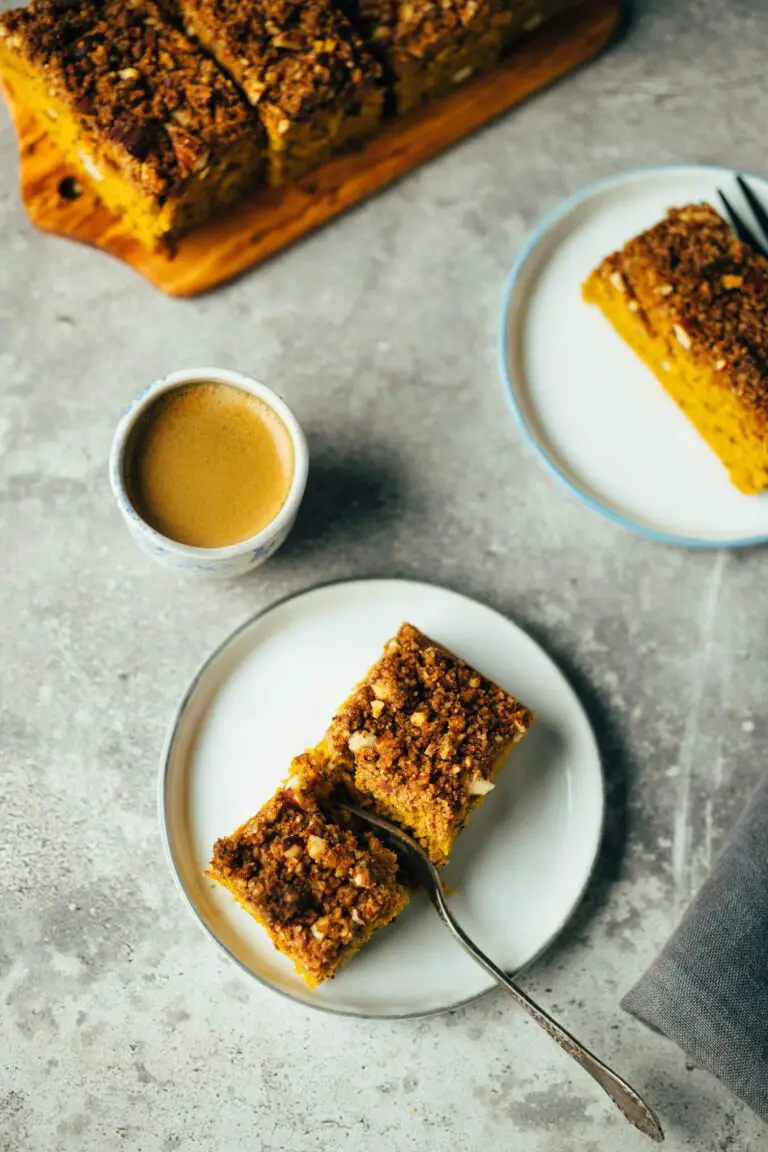 For the Recipe you do not need any special knowledge and can simply bake on it. Here are a few more helpful tips & tricks to make sure you're the star of the vegan coffee party:
Sift flour into the bowl willingly (unless you are working with the dough program of a food processor), otherwise lumps may form, which will not affect the taste, but will not look as nice.
Do not stir too long: Through the baking soda, together with the lemon juice, we create the leavening power for the cake. By stirring for too long, you virtually stir them out of the dough again.
Grease baking pan well and sprinkle with flour. Alternatively, work with baking paper. A good thing is also to buy a silicone mold, with which you do not need to grease or line.
If you are still in the mood for something more Pumpkin then I recommend you my Pumpkin soup with ginger cream the Pumpkin Cake with Walnuts or the Pumpkin Raw Cake . If you can't get enough, top the coffee cake with a serving of Coconut cream . Yipieeee! Jürgen, do you ever make coffee? (laugh).
Let's get started with this delicious autumnal Coffee cake . I hope you enjoy baking and of course about a review at the bottom of this page. If you post a picture, use the hashtag #veganevibes.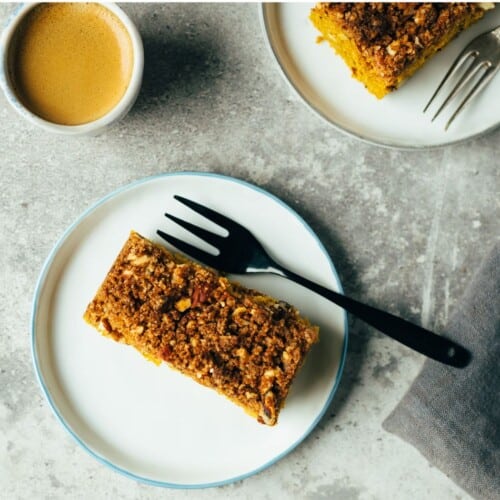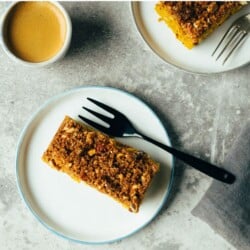 Pumpkin pie with nut crumble
Simple, moist, vegan pumpkin pie, with a delicious topping of nuts cinnamon and cane sugar.
AUTOR: VEGANEVIBES
Anleitung 
Preheat oven to 175 degrees and grease a loaf pan (20x20cm) a little and dust with flour (optional). Alternatively, use baking paper or a silicone mold.

FOR THE SPONGE CAKE Put almond milk, baking soda and apple cider vinegar in a mixing bowl and mix lightly. The liquid should now foam slightly.

125 ml Almond milk,

3,5 g Baking soda,

15 ml Lemon juice

Add coconut blossom sugar, cooking and baking oil, pumpkin puree, maple syrup, spelt flour or gluten-free flour blend, baking powder, Pumpkin Pie Spice, nuts, bourbon vanilla, and sea salt and stir with a spoon or food processor until everything is combined into a smooth batter.

67 g Coconut blossom sugar,

60 ml Frying and baking oil,

115 g Pumpkin puree,

30 ml maple syrup,

190 g fine spelt flour,

2 tbspn Baking powder,

2 tbspn Pumpkin Pie Spice,

31 g Nuts,

½ tbspn Bourbon vanilla ground or 1 tsp vanilla extract,

A pinch of sea salt

If the dough is too firm, add a little more almond milk, if too runny, add a little more flour. The strength may vary from one type of flour to another.

CAUTION: Do not stir too long, otherwise the driving force of the natron will be destroyed.

Pour batter into prepared loaf pan and smooth out.

FOR THE CRUMBLE Mix spelt flour, coconut blossom sugar, mixed nuts, frying and baking oil, cinnamon, cardamom, bourbon vanilla, and salt first with a spoon, then with your fingers to make crumbles.

31 g fine spelt flour,

45 g Coconut blossom sugar,

50 g mixed nuts,

34 ml Frying and baking oil,

½ tbspn Cinnamon,

¼ tbspn Cardamom,

¼ tbspn Bourbon vanilla ground or 1 tsp vanilla extract,

A pinch of salt

Spread evenly over the batter and place in the oven.

Bake for 40-45 minutes.

Wooden stick test: Use a wooden stick to test if the cake is done. When the wooden stick comes out clean, then the cake is ready. Turn off oven and remove cake from oven. Allow to cool completely (preferably one hour).

Cut into pieces, garnish with (optional) coconut cream and enjoy!

Store covered at room temperature for up to 3 days, keep frozen for a few weeks.
Nährwertangaben
Serving:
1
Piece
Calories:
339.47
kcal
Carbohydrates:
38.27
g
Protein:
5.48
g
Fat:
18.68
g
Saturated Fat:
1.57
g
Sodium:
170.77
mg
Potassium:
163.84
mg
Fiber:
4.69
g
Sugar:
11.63
g
Vitamin C:
0.84
mg
Calcium:
77.74
mg
Iron:
1.85
mg