I love Sponge cake and when they are topped with delicious, juicy sweet peaches, I can't help myself. At the moment is yes season for the most delicious Berry n and fruits. Unfortunately, things are looking a bit bleak for us this year, as we have neither Walnuts nor Cherries or Plums . Unfortunately, the weather did not fit and the hail, rain, frost or whatever destroyed the shoots. Well, what can you do? Focusing attention on the positive things. Blackberries ! We have endless blackberry bushes and they will also be ready to go shortly. I am so excited when I finally get to make some delicious recipes can make. Stay tuned.
Vegan fruitcake is just delicious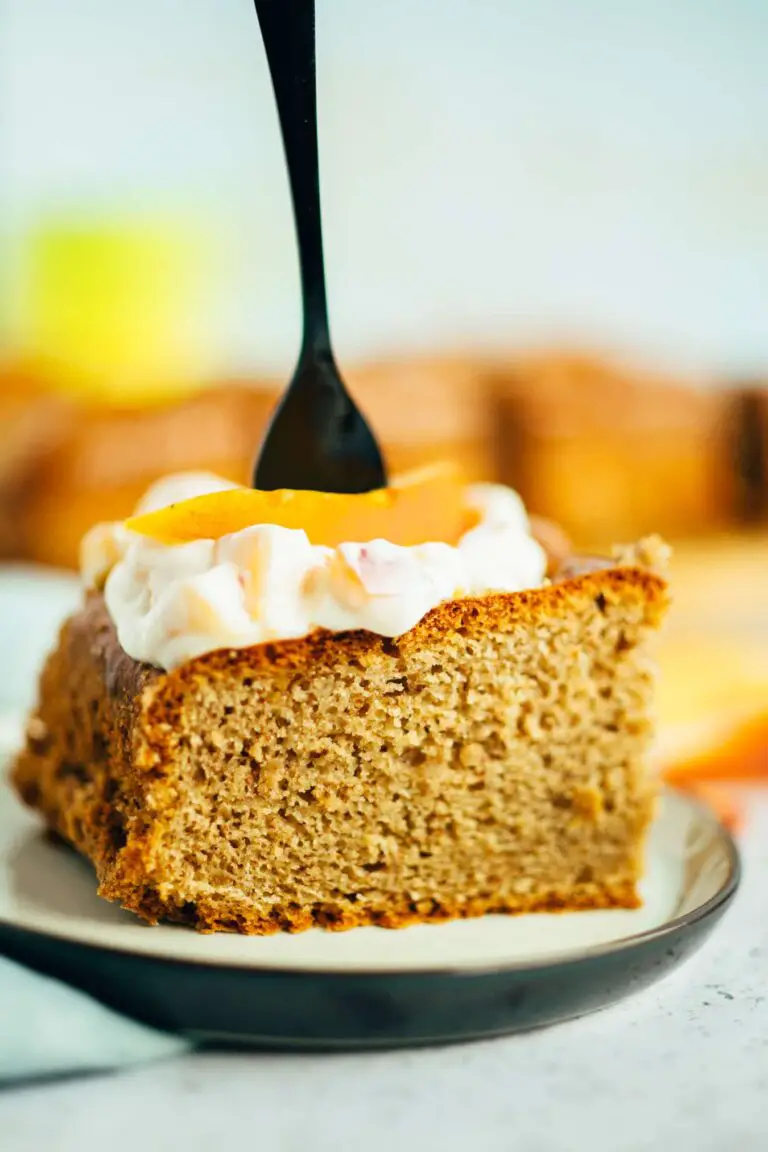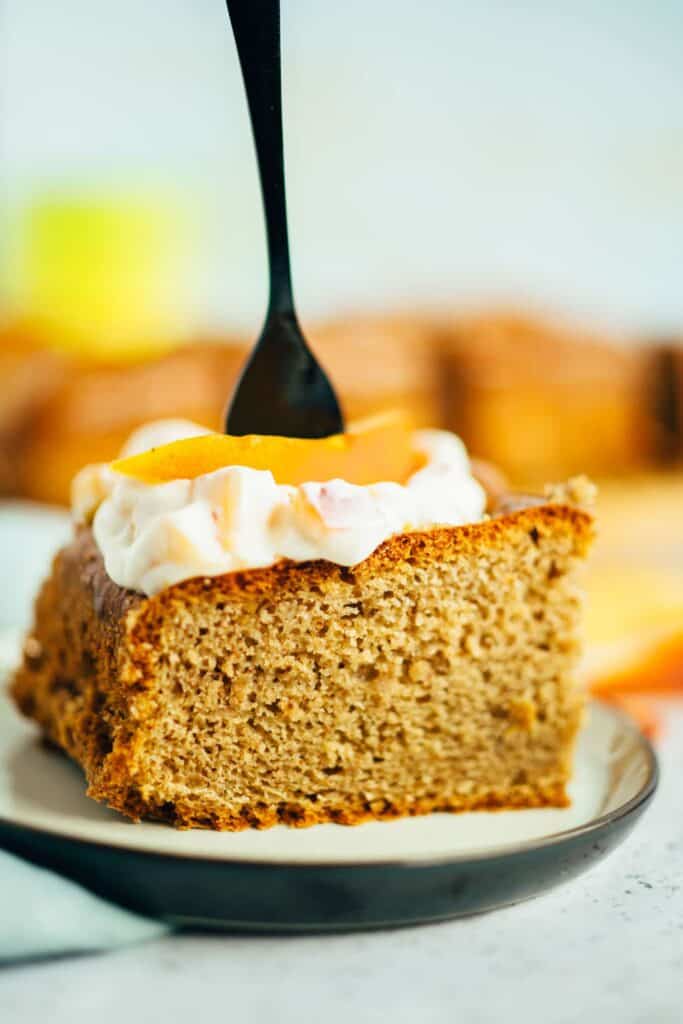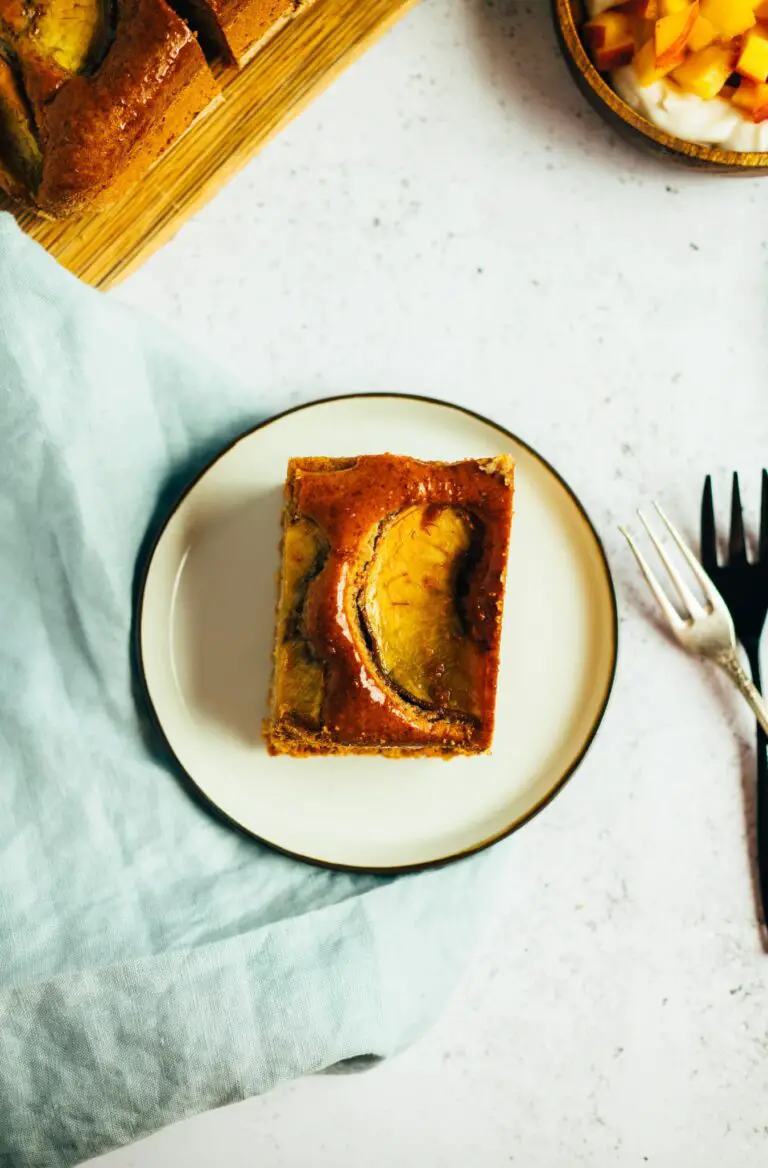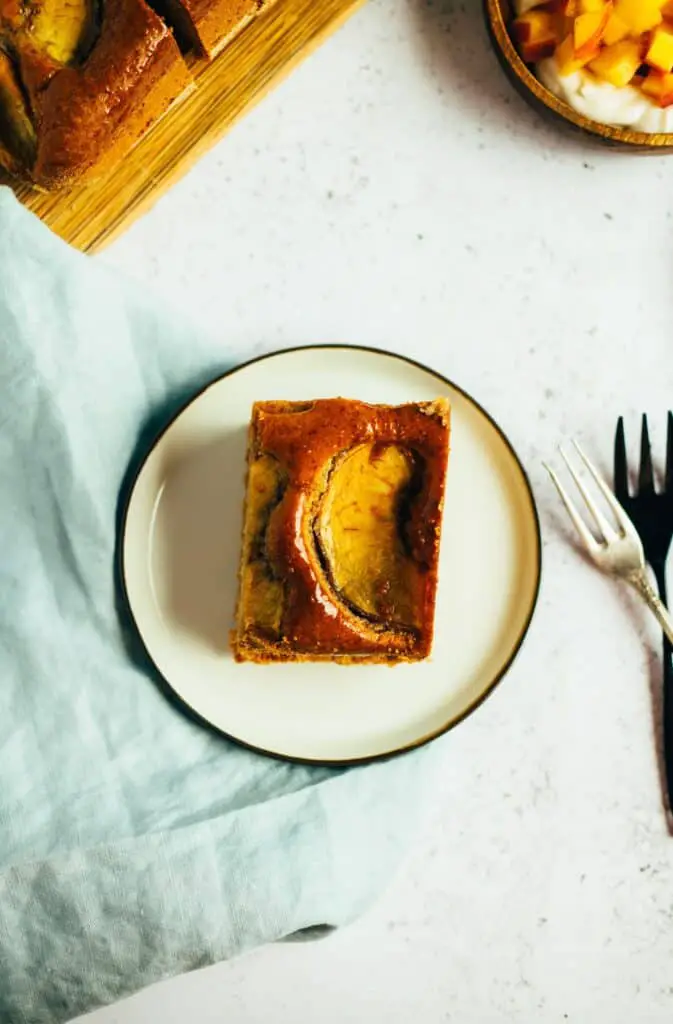 Fruitcake always remind me of coffee parties at grandma's, I don't know why? My grandmother almost never has one, because she rather likes Kiachl (a Bavarian specialty made of yeast dough), which are deep-fried in fat for a long time and then sprinkled with powdered sugar. But today we dedicate ourselves to a slightly healthier cake variant. Admittedly, it is always "even" healthier, but at some point the taste also suffers. That's why I still add sugar and oil to the cake. I am of the opinion that quantity and quality make the difference. That's why I always look for organic quality and seasonal produce.
Oat milk , frying and baking oil, baking soda, apple cider vinegar, flour (I mix whole wheat flour with light flour), ground almonds, starch, raw cane sugar, baking powder, bourbon vanilla and a pinch of salt. This all goes together in a 20x20cm baking dish and is topped with fresh, juicy peaches. Here you can also use other stone fruit or pickled fruit at any time. For the topping, I mix fresh peach pieces with coconut yogurt. This adds a refreshing touch for summer. Alternatively also works powdered sugar or Coconut cream .
How healthy are peaches, actually?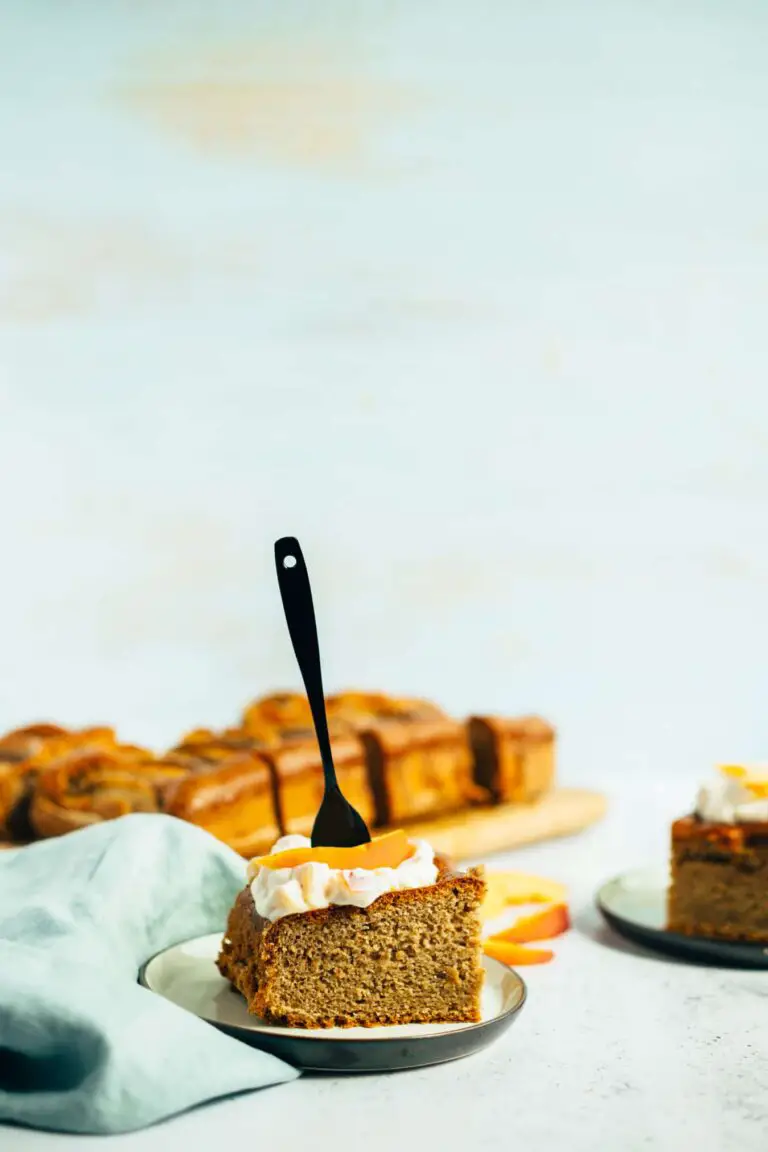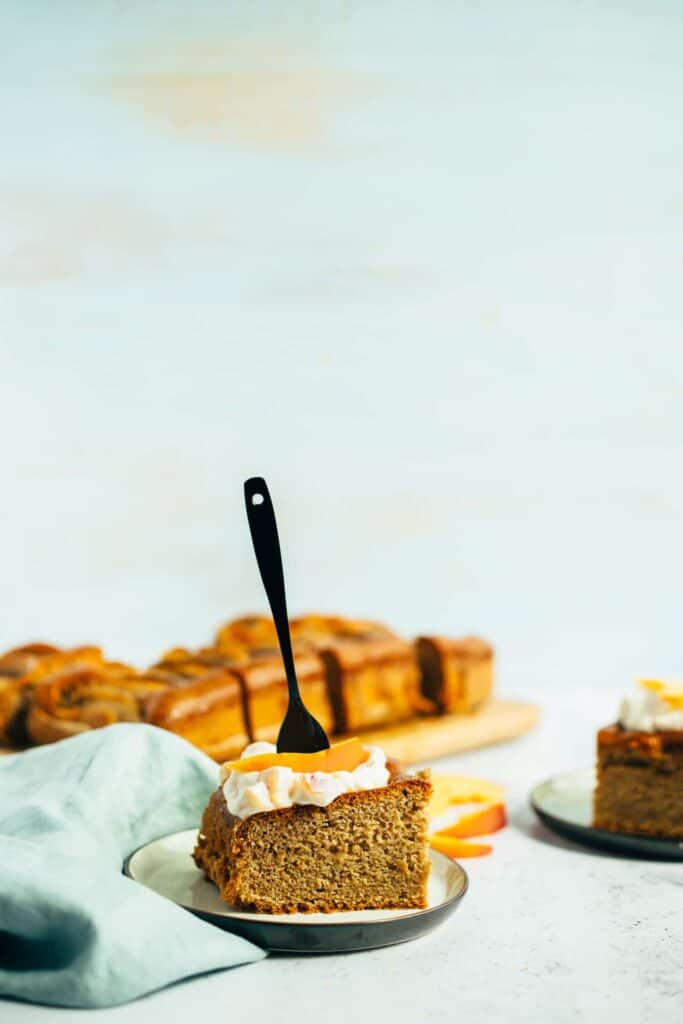 Personally, I'm a really big fan of peaches, preferably a little chilled and super juicy. I could lie down in that. However, you have to be really fast with the delicious fruit, because they are perishable quickly. Never mind, I'll eat them even faster. It's nice that they're so healthy, too:
Contain especially high magnesium and potassium
Vitamin C and E, and B vitamins
Low calorie with 45kcal/100g
Anti-inflammatory effect
Now the only question is what goes with this summery Cake fits? Cream! Best Coconut cream , homemade. Alternatively vanilla cashew cream, or simply powdered sugar. The ultimate topping is then the extra scoop of vanilla ice cream . Yum! I would say the weekend can come?
Let's go with this ingenious Fruitcake . I hope you enjoy baking and of course about a review at the bottom of this page. If you post a picture, feel free to use the hashtag #veganevibes.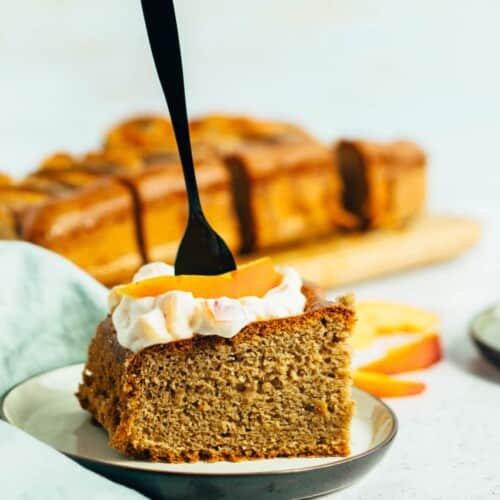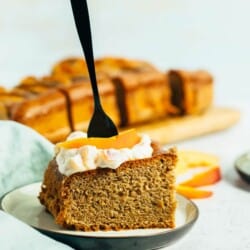 Simple sponge cake with peaches
Vegan, moist sponge cake with fresh peaches. Easy to make, with only a handful of ingredients. Topped with peach yogurt, it makes for a refreshing summer treat.
AUTOR: VEGANEVIBES
AS TOPPING:
250

g

Coconut yogurt

30

ml

maple syrup

1

Piece

Peach

Flesh cut into cubes
Anleitung 
FOR THE CAKE Preheat oven to 180 degrees and grease a square baking pan (20x20cm) with a little oil and dust with flour, optionally line with baking paper.

Pour the oat milk and apple cider vinegar into a large baking bowl and whisk together. Add the baking soda and stir. The liquid should now foam slightly. Slowly stir in the oil (if margarine is used, please melt it first).

250 ml Oat milk,

150 g Frying and baking oil,

½ tbspn Baking soda,

1 tbspn Apple cider vinegar

Place a sieve over the bowl, sift in the flour, then add the ground almonds, starch, cane sugar, baking powder, vanilla and salt and continue to stir until everything has combined into a uniform dough. Alternatively, use a food processor or the dough program of a high-powered blender. NOTE: Do not stir too long, otherwise the leavening power of the natron will disappear.

200 g Flour,

100 g ground almonds,

2 tbspn Cornstarch,

150 g Cane sugar,

½ tbspn Baking powder,

1 tbspn Bourbon vanilla,

½ tbspn Sea salt,

2 Piece large peaches

Pour the batter into the baking pan, smooth it out and put it in the oven. Bake for

50-60 minutes

and test with a wooden stick if the cake is ready. When the wooden stick comes out clean, then the cake is ready. Turn off oven and leave cake in it for another 30 minutes. Only then remove from the oven and allow to cool completely (preferably for at least an hour).

For the TOPPING Place coconut yogurt, maple syrup and peach pieces in a bowl and stir.

250 g Coconut yogurt,

30 ml maple syrup,

1 Piece Peach

Cut cake into 8-10 even pieces, garnish with peach yogurt and enjoy.

Lasts up to 4 days (without yogurt topping in the refrigerator, frozen up to 4 weeks.
Nährwertangaben
Serving:
1
Piece
Calories:
355
kcal
Carbohydrates:
38
g
Protein:
7
g
Fat:
21
g
Saturated Fat:
2
g
Cholesterol:
1
mg
Sodium:
56
mg
Potassium:
121
mg
Fiber:
2
g
Sugar:
20
g
Vitamin A:
67
IU
Calcium:
101
mg
Iron:
1
mg