This recipe has been absolutely missing on veganevibes.de. There is a reason why I waited so long. It just took me so long to find the ideal ice cream recipe. I actually did the first experiments two years ago and it was just never perfect. Once it was hard as a rock, tasted like nothing at all or more like coconut than vanilla ice cream. I will spare you the rest of the "strange" consistencies that I have fabricated. Finally, today is about how to make deliciously creamy, vanilla and above all delicious vanilla ice cream. You don't need much, just a handful of ingredients, a good blender and some patience.
Vegan – plant-based – whateever! The main thing that the ice cream tastes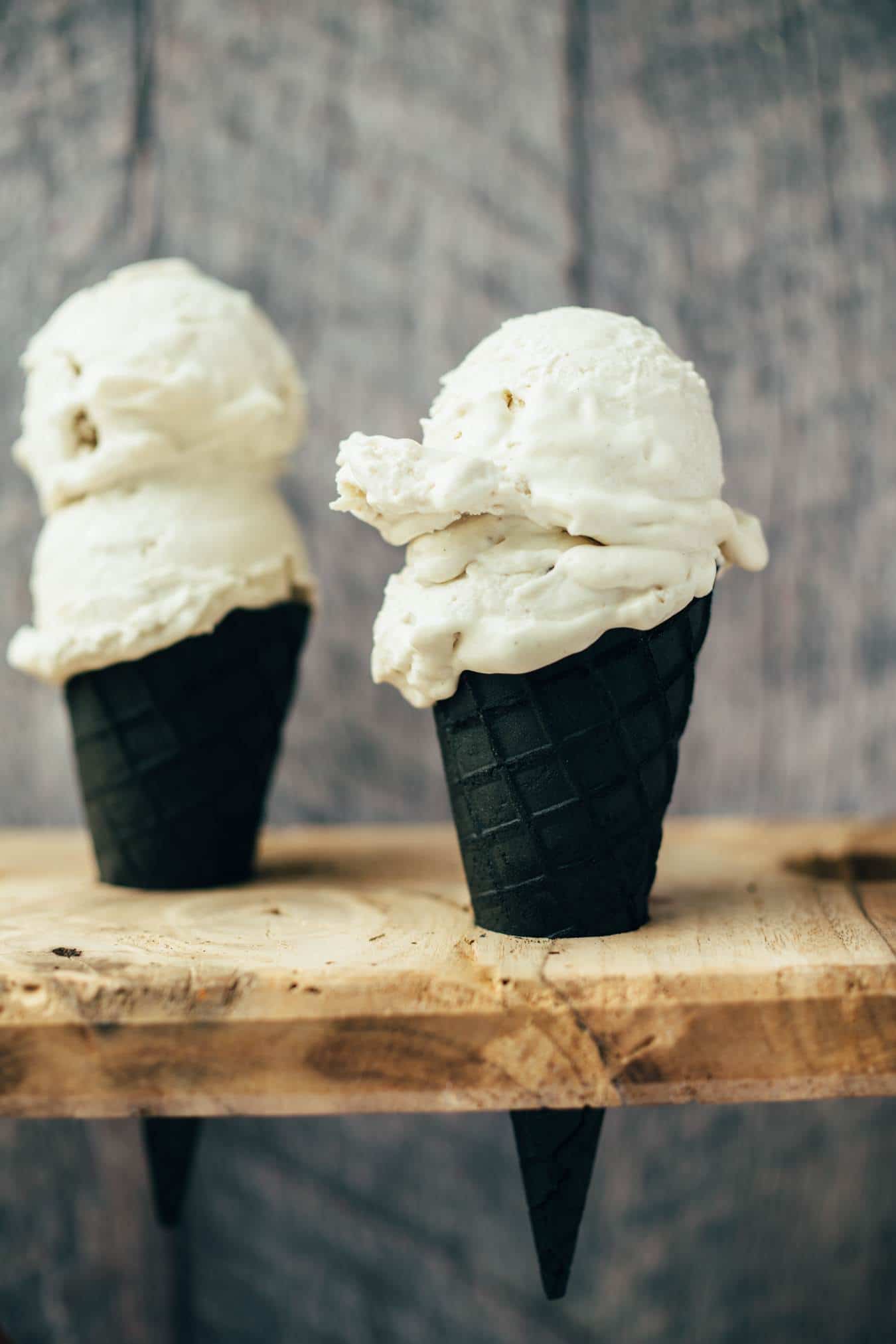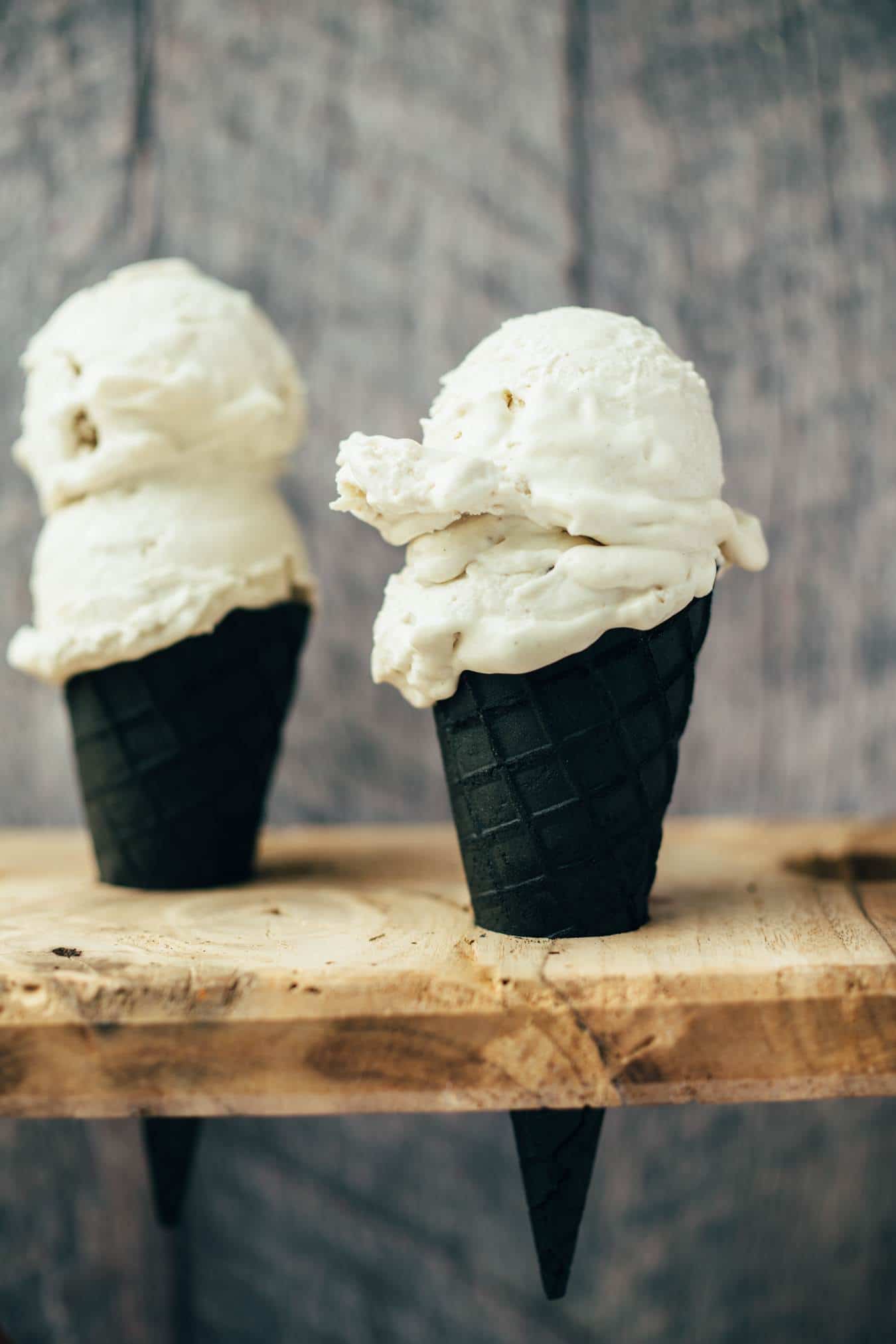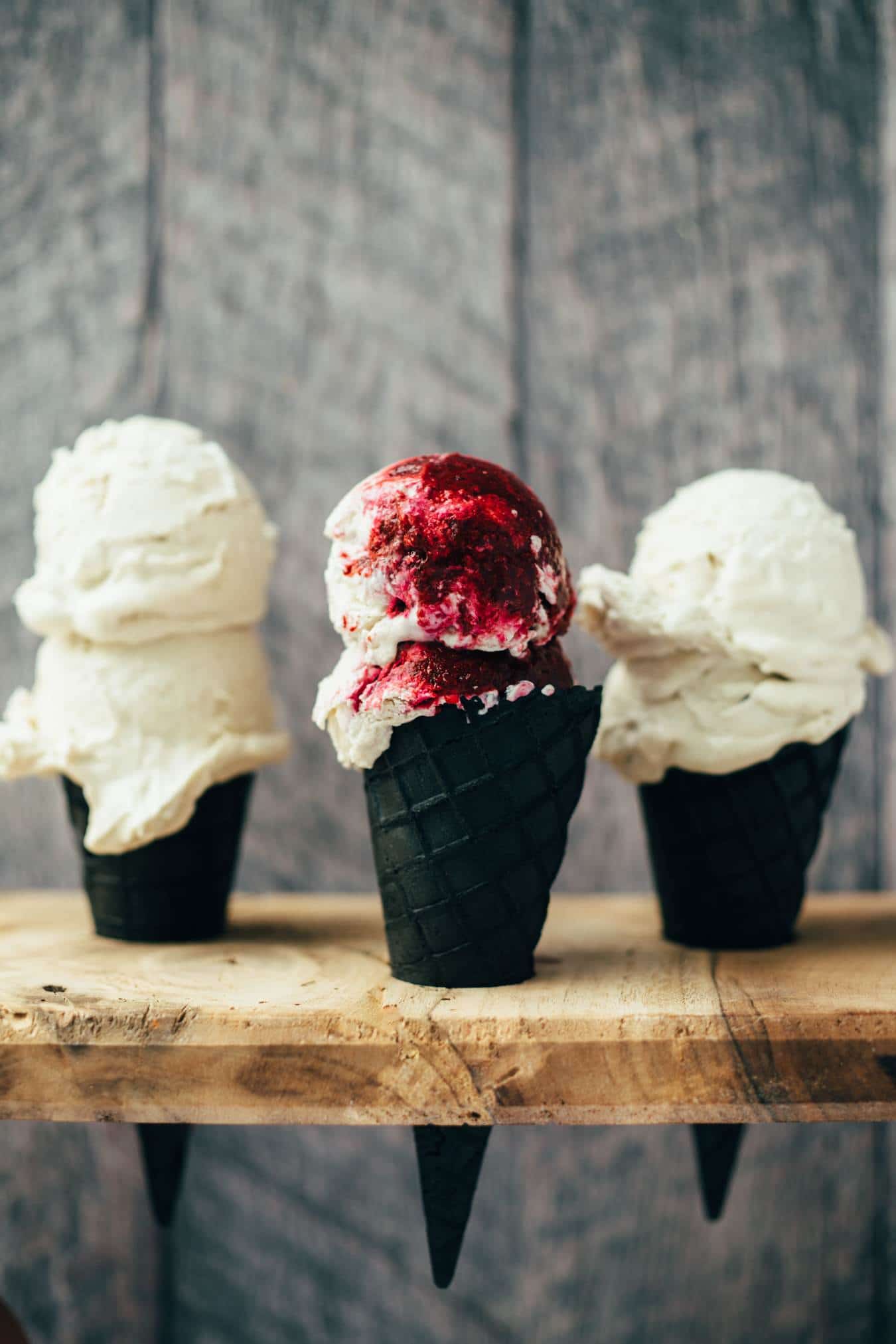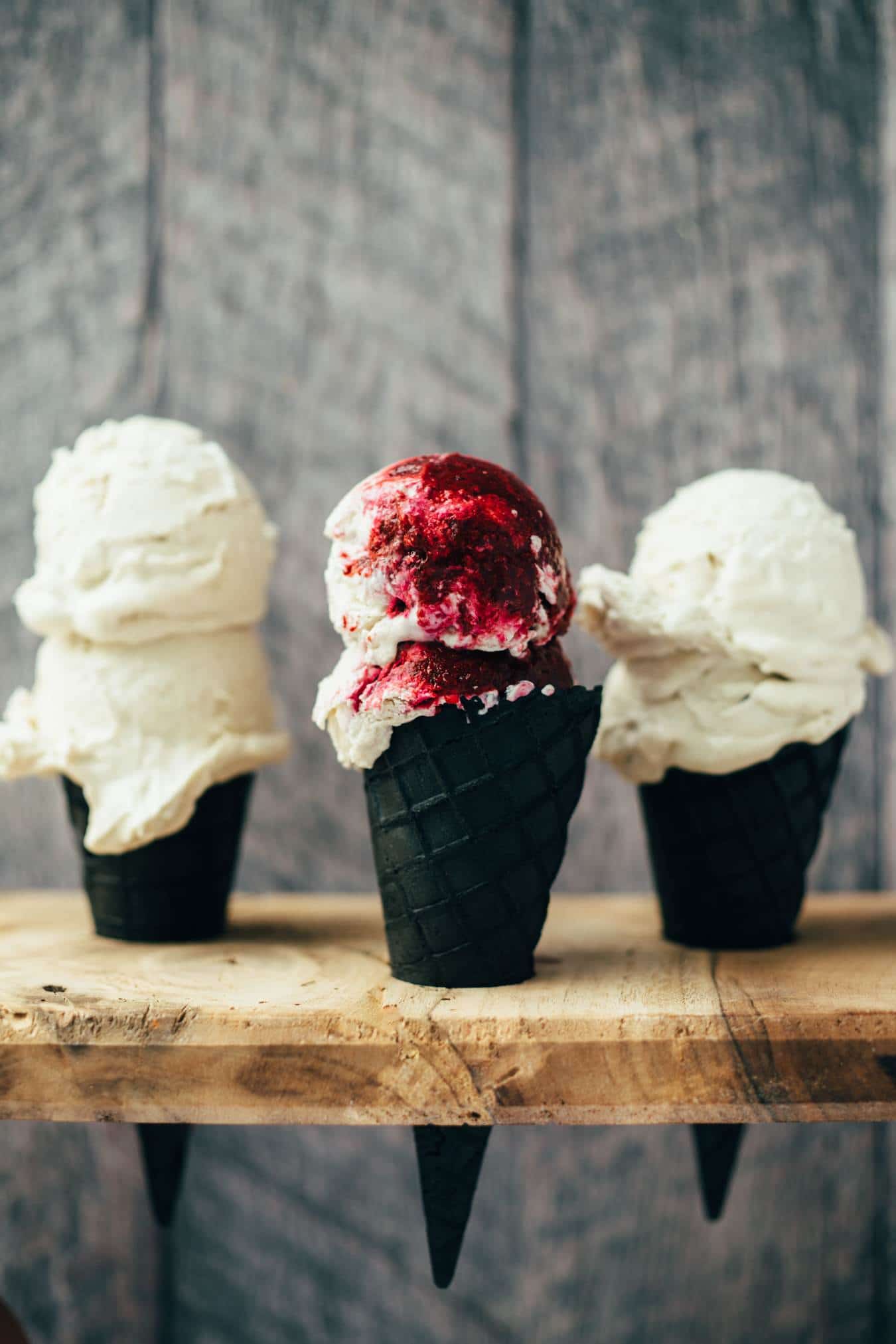 The basis for the Ice cream are once again my beloved cashews, coconut milk, almond milk, coconut oil, raw cane sugar, agave syrup, a pinch of salt, vanilla and Xanthan Gum (Advertising). Now please don't click away right away, because xanthan or E 415 sounds a bit daunting (I felt the same way at first), but it is a natural product. More precisely, it is a waste product produced by bacteria. Xanthan gum is indispensable, because it ensures that the Ice cream becomes really creamy. Theoretically, it would also work without, but I think it just won't be 100% good.
Here are a few words about the other ingredients:
You should definitely soak the cashews if you don't have a really good blender. One hour in boiling hot, or 6 hours in cold water. Drain and process. In addition, the nuts are activated during soaking and are then said to be more digestible. I save this step because they get super fine in my blender.
We need coconut oil because of the higher fat content. I have also tried it without and replaced it with almond milk. However, the ice cream will then not be particularly creamy, but rather a sorbet. For an extra creamy ice cream, we also need a certain fat content.
Sugar! The tiresome topic, since there are so many nutrition gurus who have eliminated sugar from their diet. If you par does not like sugar, you will have a hard time with this ice cream. Ice cream in itself needs a hell of a lot of sugar. I have replaced at least part with agave syrup. Do you have other good suggestions on how to get the ice cream sweet? Then feel free to comment at the bottom of the page.
Ice cream, ice cream, baby!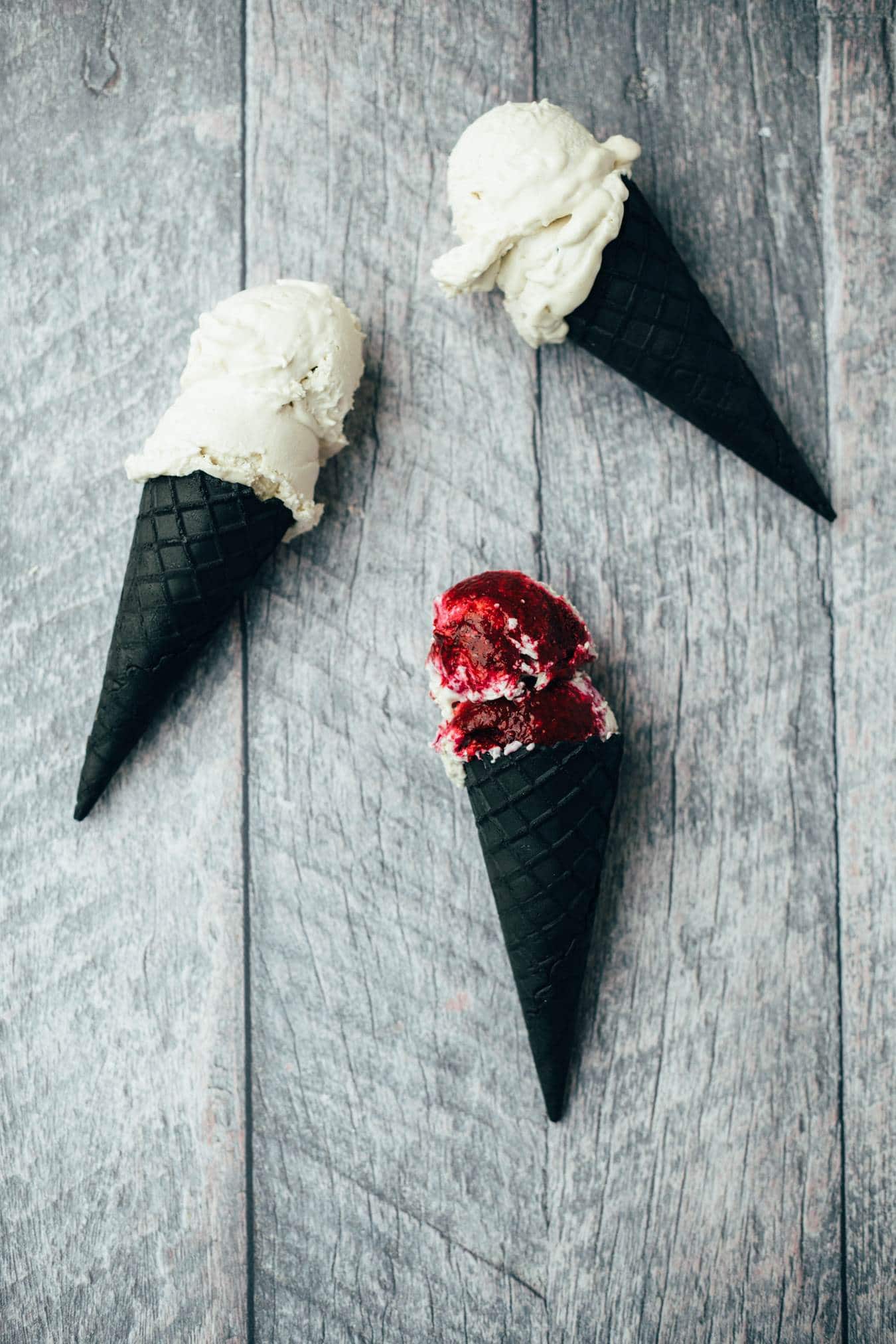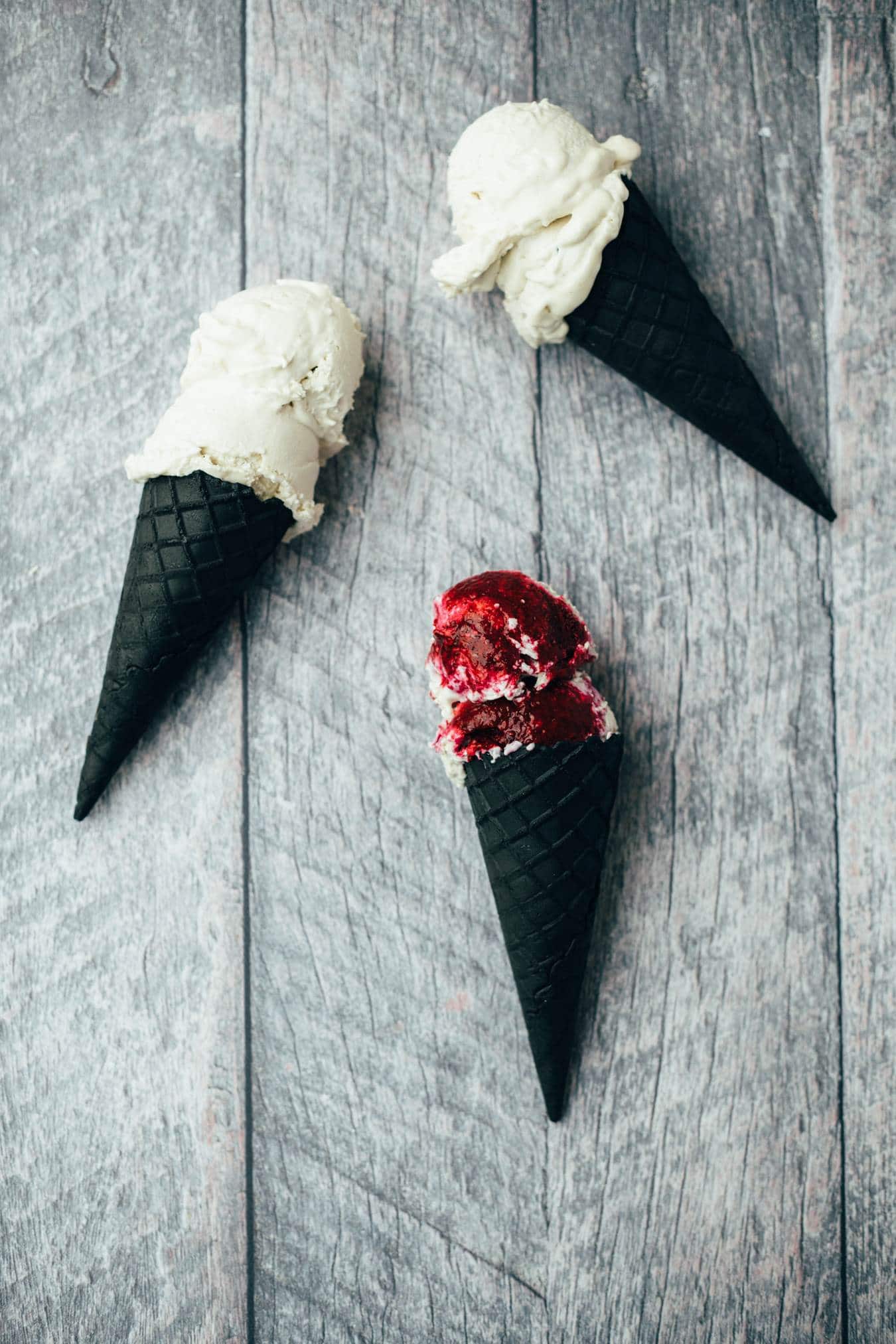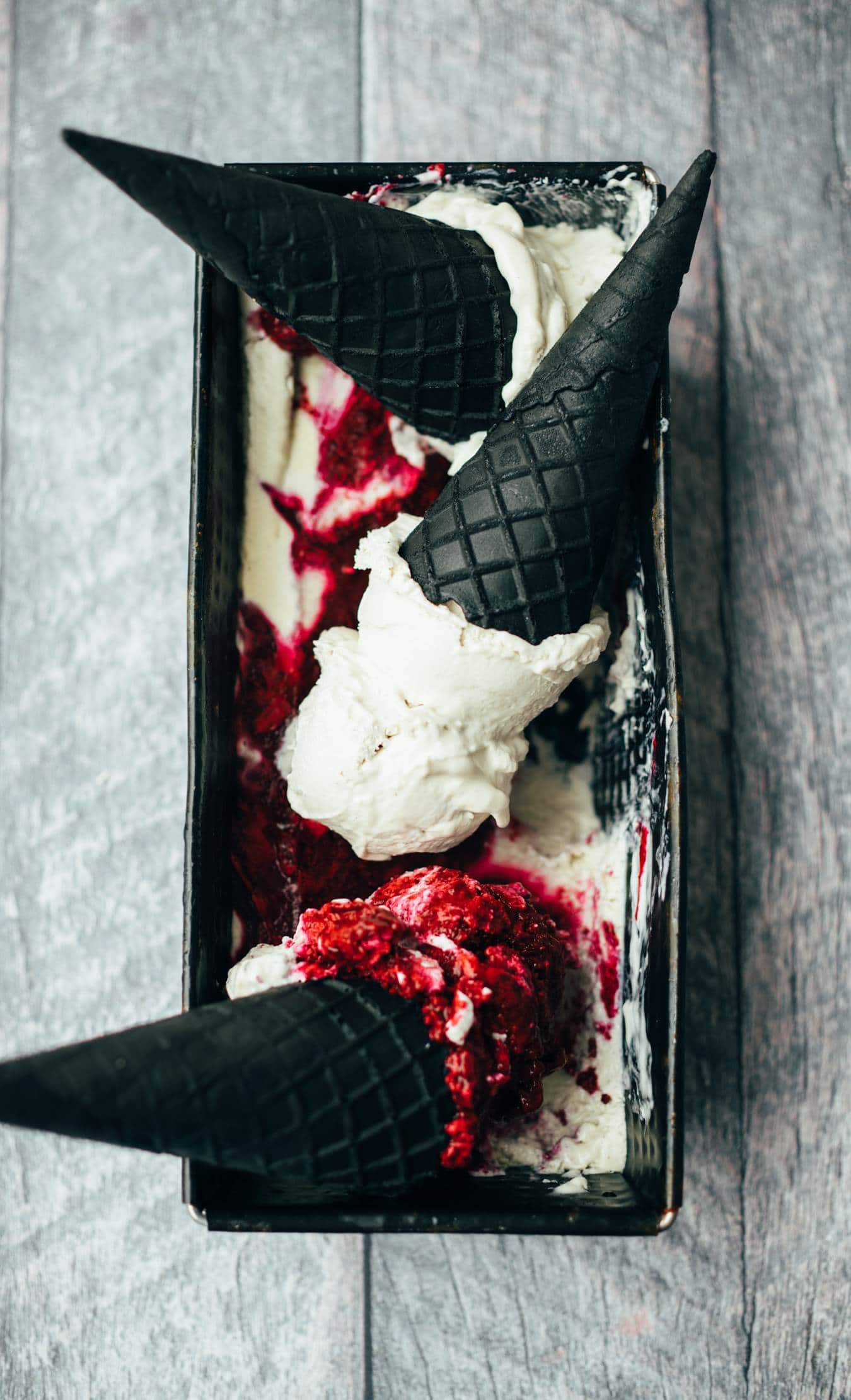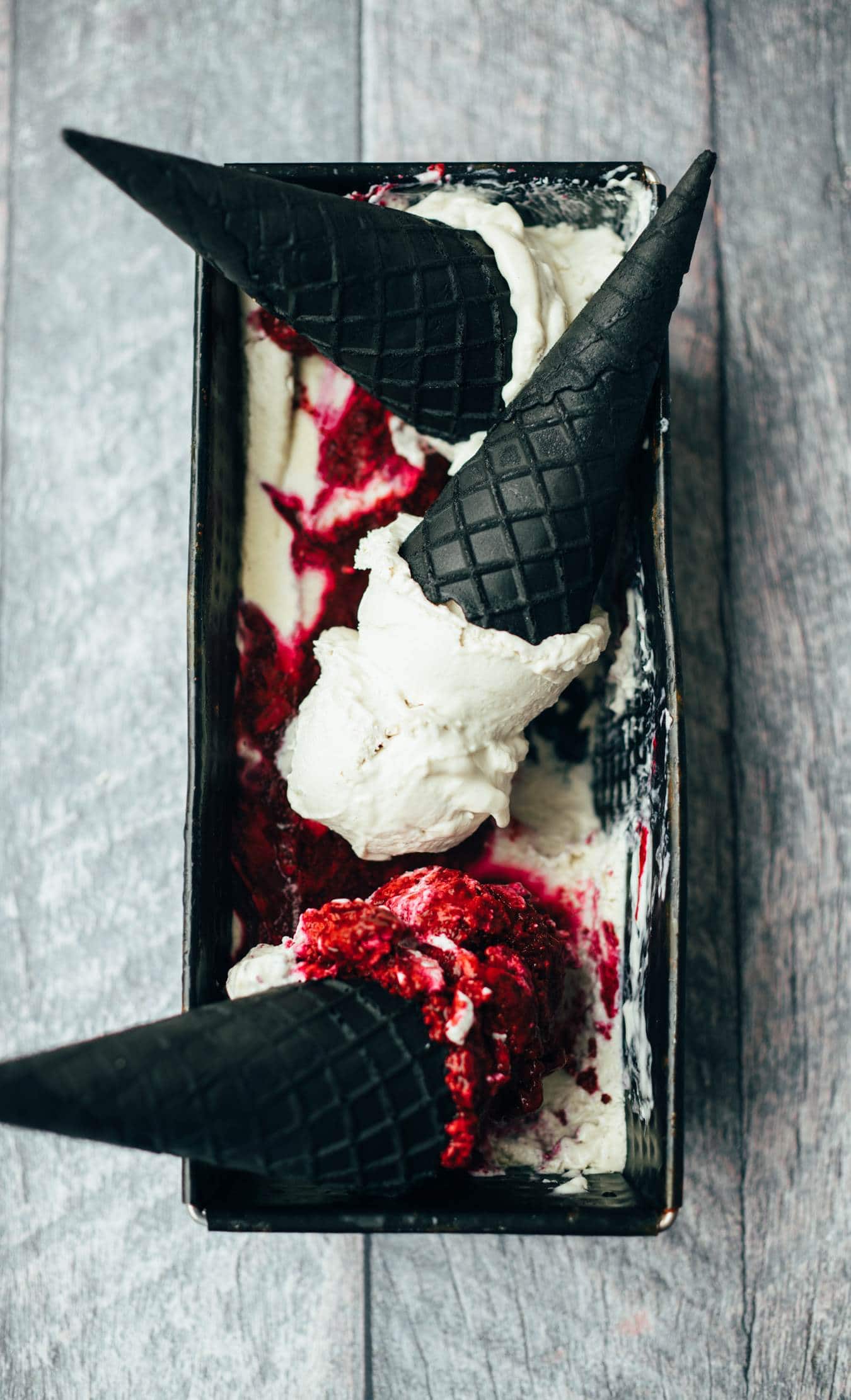 In addition to the ingredients, it also depends on your equipment. Once again, I would like to emphasize how important a good high-performance blender is. Personally, I use a Blendtec (advertising because brand name), which I have linked below. However, any other high speed blender will also work. The second magic device is an ice cream maker, which is not mandatory but makes the ice cream a good touch creamier and above all faster:
WITHOUT ice cream maker the ice cream will not be as creamy, will form more crystals when freezing and will take longer. If a creamier consistency is desired, ideally stir once per hour.
WITH ice cream maker the ice cream becomes really great creamy, in my case a one with star. I have linked you below to the device I use. However, any standard ice cream maker will work for this recipe.
Other than that, there's not much else to consider except that you should definitely be creative when making them and, most importantly, have fun. I made the Ice cream simply made in two parts and mixed in one part some blackberry sauce. So many other fruit sauces or other additions work here, though. Next time I will mix in caramelized walnuts, Yummy!
This vegan ice cream is super creamy, vanilla, and versatile. It goes especially well with a piece of blackberry chocolate cake simple vegan pancakes or the gluten-free chocolate muffins .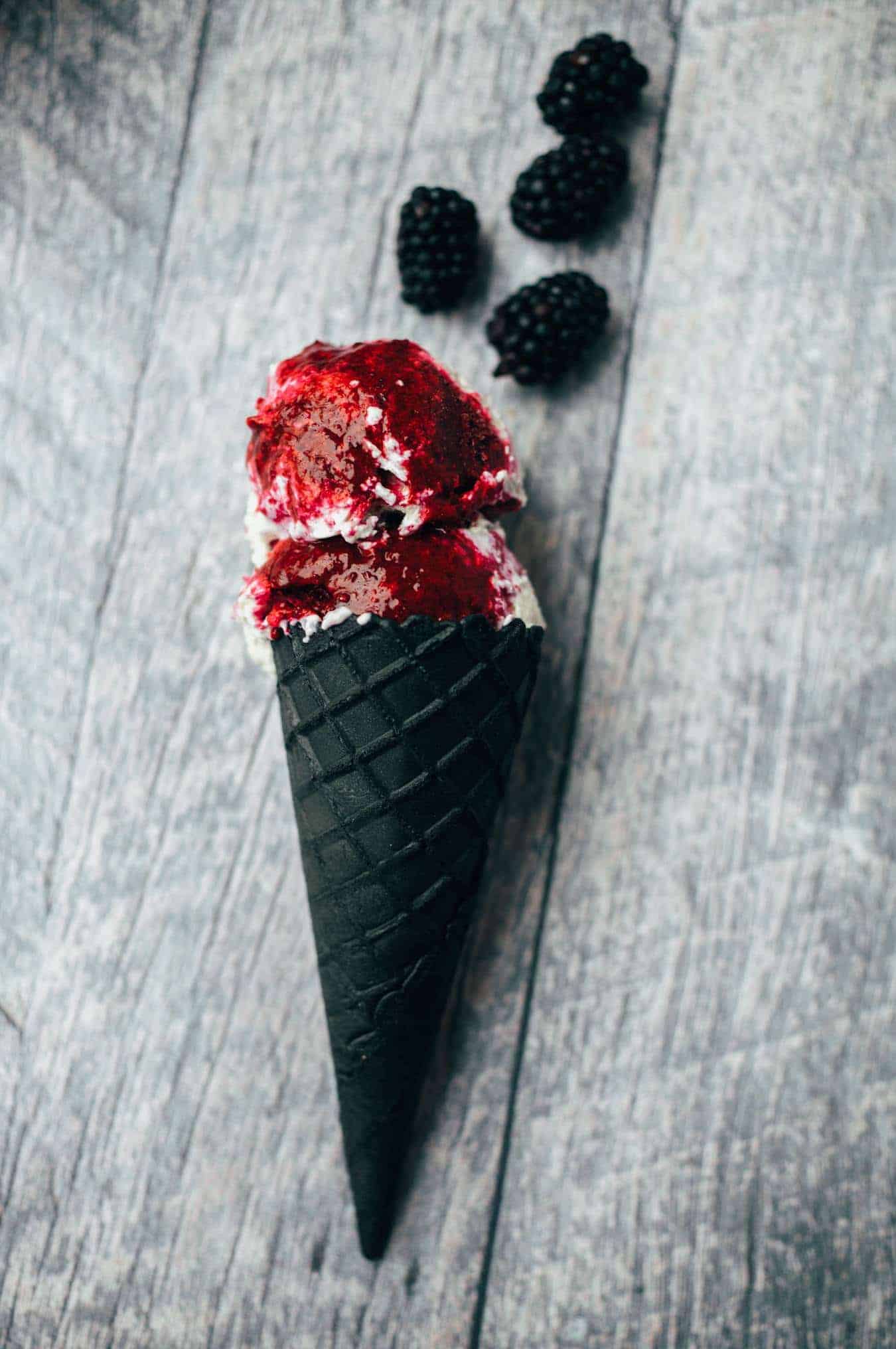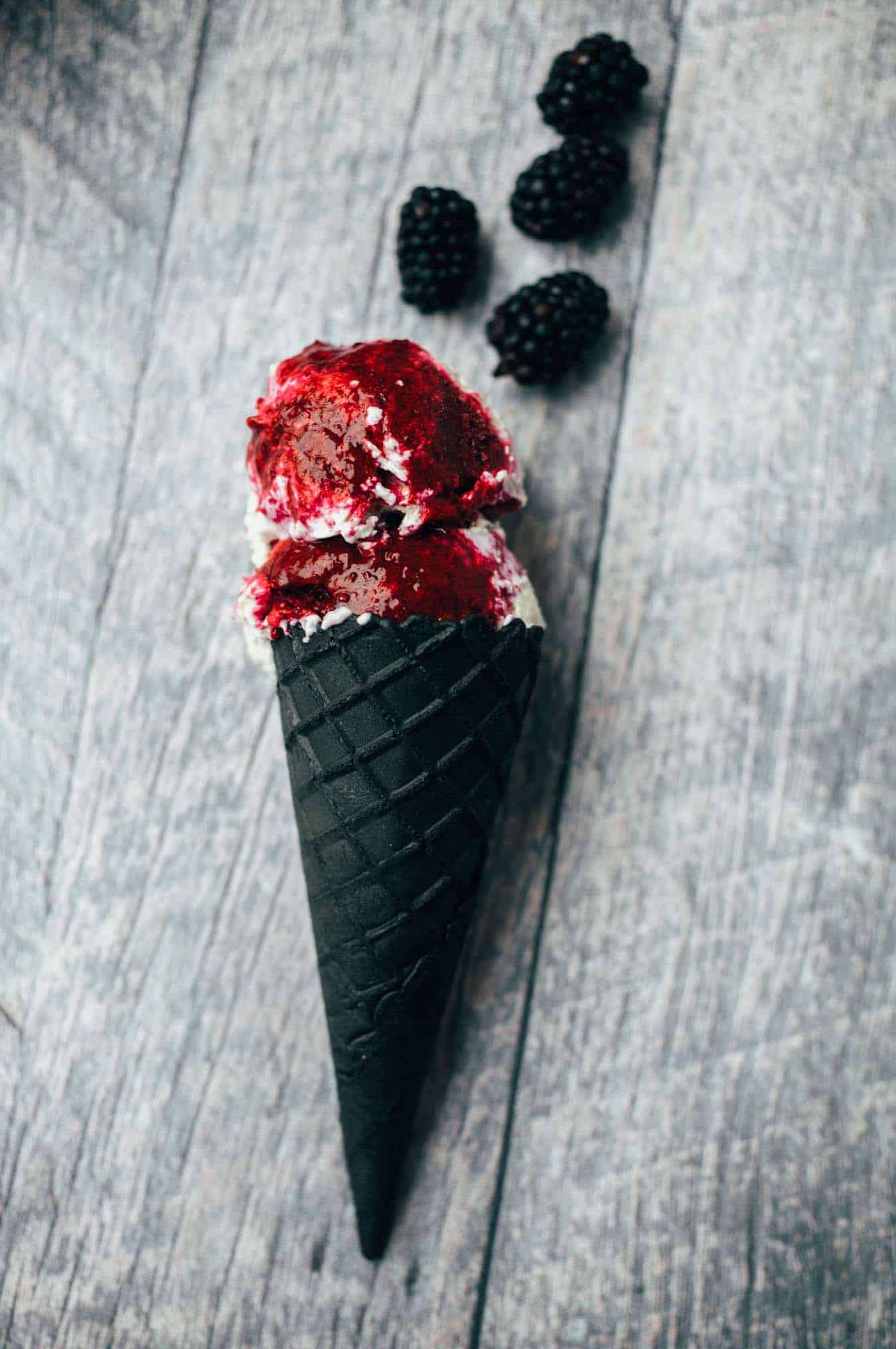 The Creamy Vegan Vanilla Ice Cream (with and without ice cream maker)
Vanilla
creamy
versatile
Easy to manufacture
Delicately melting
If you love vanilla ice cream as much as I do, I'd love a review at the very bottom of this page. If you post a picture, use the hashtag #veganevibes.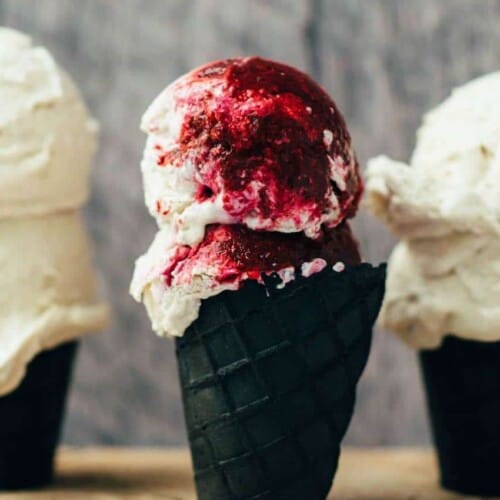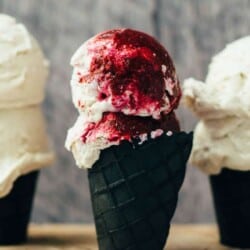 Creamy vegan vanilla ice cream (with and without ice cream maker)
Vegan vanilla ice cream, with or without ice cream maker. The preparation is simple and the list of ingredients is short. A sweet, creamy temptation, vegan, lactose-free and versatile and damn tasty.
AUTOR: VEGANEVIBES
FOR THE VANILLA ICE CREAM:
225

g

Cashews

*soaked in hot water for one hour

300

ml

Almond milk

or any other vegetable milk of your choice

400

g

Coconut milk

if you don't like coconut, I recommend the SOYATOO plant cream or any other plant cream of your choice

100

g

Raw cane sugar

75

g

Agave syrup

45

g

Coconut oil

(optional) can be omitted if xanthan gum is used and/or you don't like coconut flavoring

1

tbspn

Bourbon vanilla ground

alternatively vanilla extract
FOR THE BLACKBERRY SAUCE:
Anleitung 
Depending on the ice cream maker, prepare device for ice cream production.

( optional ) FOR THE BLACKBERRY SAUCE

Place all ingredients in a small saucepan, heat and boil down over medium heat for about 10 minutes. Remove from heat and set aside.

250 g Blackberries washed,

1 tbspn Lemon juice,

2 tbspn maple syrup,

1 tbspn Water

FOR THE VANILLA ICE CREAMPlace all ingredients in a high-powered blender and blend to a uniform liquid.(Optional) The xanthan gum should start to thicken quite easily here.

225 g Cashews,

300 ml Almond milk,

400 g Coconut milk,

100 g Raw cane sugar,

75 g Agave syrup,

45 g Coconut oil,

1 tbspn Bourbon vanilla ground,

A pinch of sea salt,

optional: 1 tsp xanthan gum

Place in ice cream maker and prepare according to manufacturer's instructions. Alternatively, pour into a freezer-proof mold and place in the freezer. To increase creaminess, mix once per hour with a fork. Freeze for at least 6

hours

, ideally

10 hours

.

Optional: Incorporate the blackberry sauce.

To serve, remove, let thaw for

5 minutes

, portion with an ice cream scoop and arrange in dessert bowls or an ice cream cone. Garnish with desired toppings and enjoy!

Ice cream cones (black vegan)
Notizen
NOTES /HELPFUL ACCESSORIES:
Nährwertangaben
Serving:
1
Ball
Calories:
314
kcal
Carbohydrates:
26
g
Protein:
5
g
Fat:
23
g
Saturated Fat:
13
g
Sodium:
47
mg
Potassium:
277
mg
Fiber:
2
g
Sugar:
17
g
Vitamin A:
55
IU
Vitamin C:
5.8
mg
Calcium:
59
mg
Iron:
3
mg