So, now I've spent a long few days digging through some blogs and recipe books and finally found my personal favorite gluten-free muffin recipe. After that came a short test phase, because I always first several Recipes try, change, taste myself, let my family taste, until I finally declare my personal winner. Provide ingredients, set up shooting location, bake, provide props and final set up. Photograph, post-process, write recipe and publish. Phuuu, it always takes a while until a dish is online.
gluten free chocolate muffins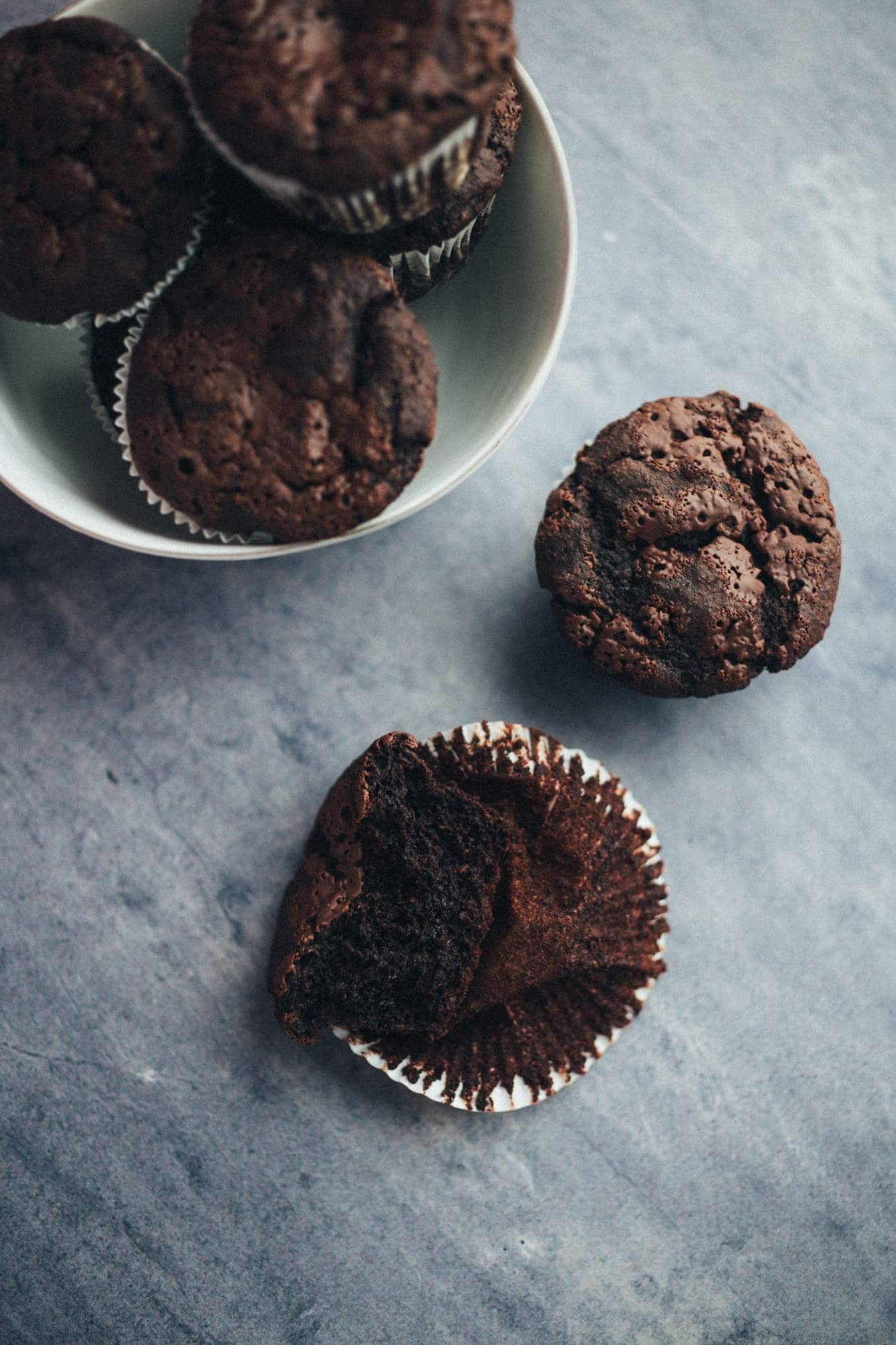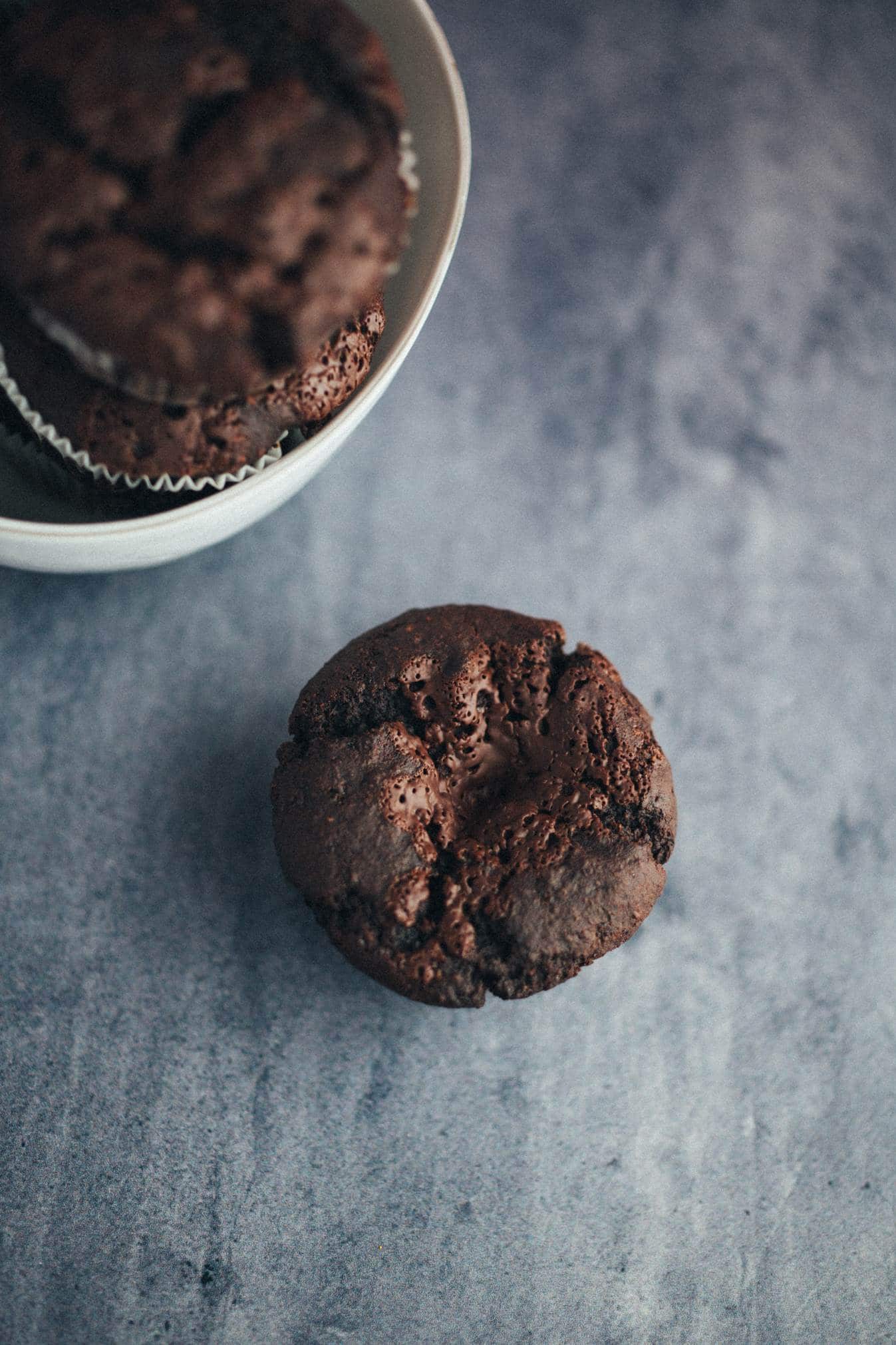 The result was really interesting, as some muffins were dust-dry right after baking or inedible after a day (unless you eat them with milk to get them soft again). Other varieties did not rise at all during baking and were more reminiscent of a stone. Therefore, I was very happy when I finally found the perfect recipe for me.
One thing I can promise you right now, these cupcakes will not last long. Unless you live alone – or can you manage 12 at once? Genius, especially they turn out extremely well with my gluten free flour mix . I made one today with a scoop of vanilla ice cream and caramel sauce. OMG!!! The muffin I made before still briefly warm in the steamer. Need I say more? Simply perfect.
Ok, maybe you can top the combination with a simple hot chocolate or glass of Almond milk . So now it's time to stop philosophizing and get started with this ingenious recipe.
What makes these muffins "healthier"?
I use my homemade gluten free flour mix instead of gluten-containing flour. Currently, there are many studies that show that gluten-free flour can be healthier. While I don't personally have an intolerance to gluten, I do feel that gluten-free dishes are easier to digest.
Coconut blossom sugar instead of raw cane sugar: Coconut blossom sugar has a glycemic index of 35 and lets your blood sugar level rise more slowly than normal sugar. Sure, it's still sugar, but at least with a small health benefit.
Now you have to stay strong: If you forgo the optional frosting. It's pretty darn tasty, but it's largely made up of sugar and vegan margarine.
Here's a little follow-up on making them with the Blendtech (or other high-powered blender): Baked the muffins today with the dough program of Blendtec and it worked wonderfully. Simply add the ingredients to the mixer in the order given below and run the dough program once. Pour into the ramekins, bake, ready!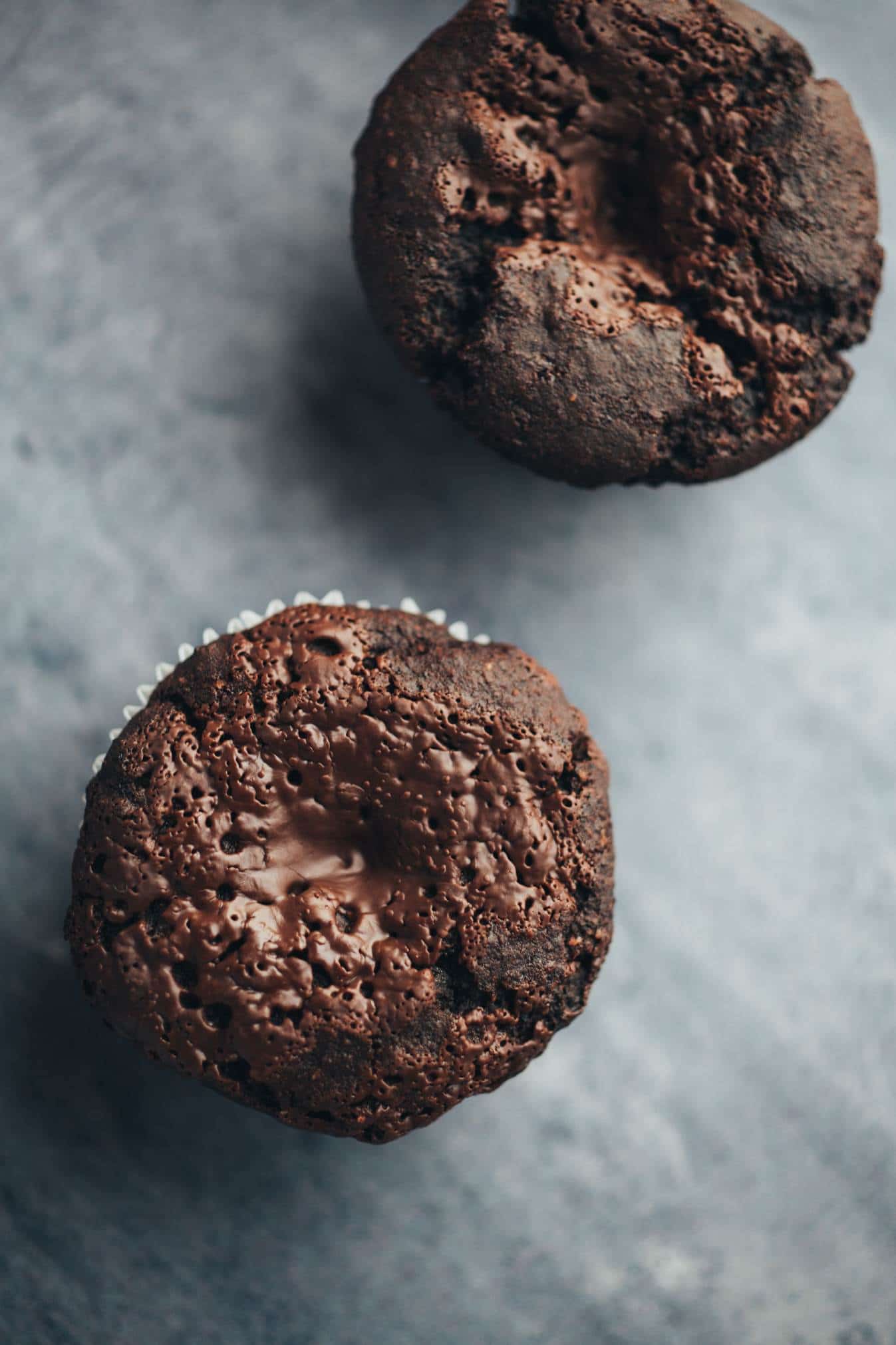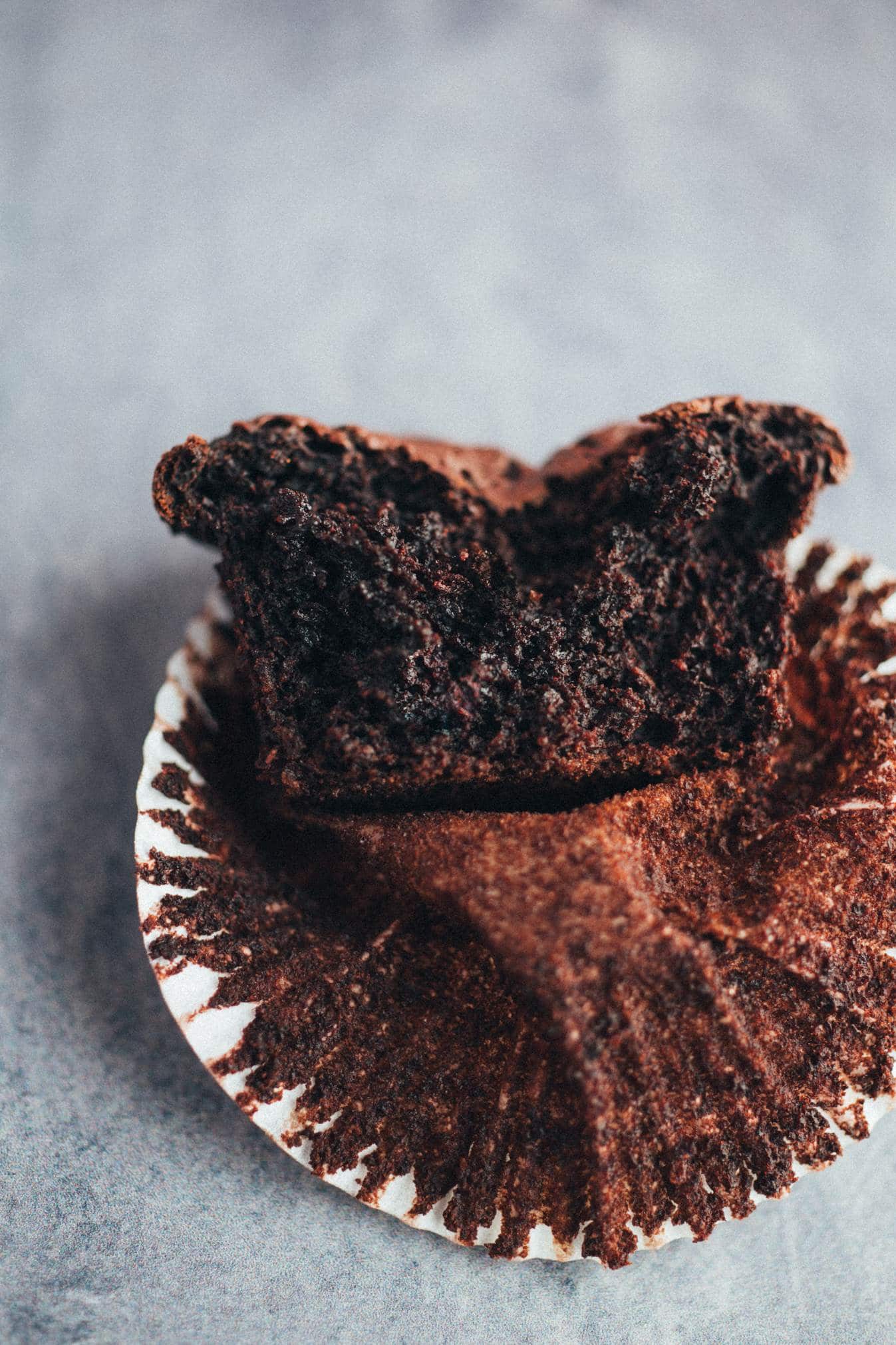 We'll summarize: The muffins take just 45 minutes including prep time and come out with 10 ingredients, 1 bowl, 1 muffin baking sheet and go!
The simple gluten free chocolate muffins are :
Locker & Fluffig
Super chocolatey
Perfectly sweet
Vegan & Gluten-free
Easy to manufacture
Well, are you ready for the sweet gluten free sins? I wish you a lot of fun in recooking and of course a review at the bottom of this page. If you post a picture, use the hashtag #veganevibes.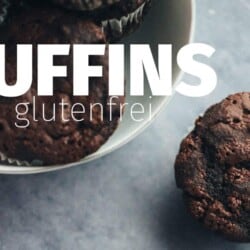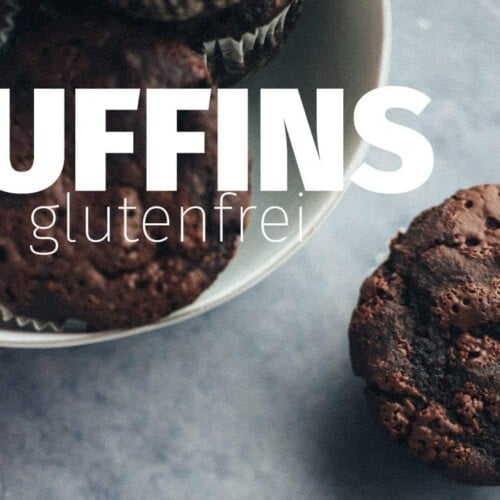 Simple gluten-free chocolate muffins (vegan, gluten-free)
Incredible 1-bowl chocolate muffins, vegan and gluten-free. Fluffy, chocolatey with a soft center.
AUTOR: VEGANEVIBES
FOR THE FROSTING: (OPTIONAL)
230

g

vegan dark chocolate, coarsely chopped

113

g

vegan margarine

150-200

g

Powdered sugar
Anleitung 
Preheat the oven to 175degrees and line a muffin baking tray for 12 muffins with muffin cups or lightly grease if needed.


Melt coconut oil in a small saucepan over very low low heat. Heat only until it becomes liquid. Remove from heat, set aside. In summer, this step is not necessary, because the coconut oil is liquid even at room temperature.


45 ml Coconut oil, melted

Add almond meal, coconut oil, maple syrup and apple cider vinegar to a bowl and whisk together.


263 ml Almond milk or other unsweetened plant milk,

77 g maple syrup,

7,5 ml Apple cider vinegar

Add the baking soda and stir once briefly. The liquid should now begin to foam slightly.


Place a sieve over the bowl, sift in gluten-free flour mixture and cocoa. Add sea salt, vanilla, coconut blossom sugar and mix gently until combined.

NOTE: Do not stir too long, or you will stir the leavening of the natron back out of the dough. If there are still a few small lumps in the dough, no problem, they will dissolve by themselves during baking.

1 ½ Cups gluten free flour mix,

30 g Cocoa powder,

¼ tbspn Sea salt,

½ tbspn Bourbon vanilla ground,

113 g Coconut blossom sugar or raw cane sugar

Using a spoon, divide into the evenly between the muffin cups.

Optional: sprinkle dark chocolate drops in the center of each muffin.

50 g Dark chocolate drops

Put in the oven and bake for 18-20 minutes. Turn off oven, leave muffins in oven for another 10 minutes and use reheat. Remove from the oven and allow to cool completely.


Optional: For the frosting, heat the almond milk in a small saucepan (do not boil). Add the chocolate, cover and melt for 2 minutes. Stir with a spatula until everything is well combined. Then add the butter cover and melt for 10 minutes.

120 g Almond milk or other unsweetened plant milk,

230 g vegan dark chocolate, coarsely chopped,

113 g vegan margarine,

150-200 g Powdered sugar

Using a hand mixer, mix everything well and add 1 cup of powdered sugar until well combined. Put in the fridge for 30 minutes.


Remove from the fridge. If it is still too thin, add another ¼ – ¾ cups of powdered sugar and place in the freezer for another few minutes. The frosting should be really creamy, but firm and strokeable. If too runny, carefully add more powdered sugar.


Cover and enjoy all cupcakes with the frosting. Keep the rest (if any) in an airtight box in the fridge for up to a week.

Notizen
NOTES /HELPFUL ACCESSORIES:
Nährwertangaben
Serving:
2
Piece
Calories:
330
kcal
Carbohydrates:
42
g
Protein:
1
g
Fat:
19
g
Saturated Fat:
9
g
Sodium:
141
mg
Potassium:
41
mg
Fiber:
1
g
Sugar:
37
g
Calcium:
60
mg
Iron:
1.7
mg