Popsicles, who's with me? Me, Me, Me!!! It's May and the temperatures are rising. When I look out the window, I immediately feel like a bikini, swimming lake and barbecue. Simply wonderful and as long as the weather lasts, I have very special cravings for: ICE !!! Here then quickly arises the question of where to get delicious vegan ice cream that you do not want to dispose of after the first bite. Since we live in the country, the choice is very limited. There is exactly one supermarket that has a vegan lemon sorbet in its assortment and the other (oh how progressive) has a lupine ice cream. Well, since I finally want to have a healthy popsicle again, I just make one myself.
Vegan chocolate popsicles – it could hardly be faster and easier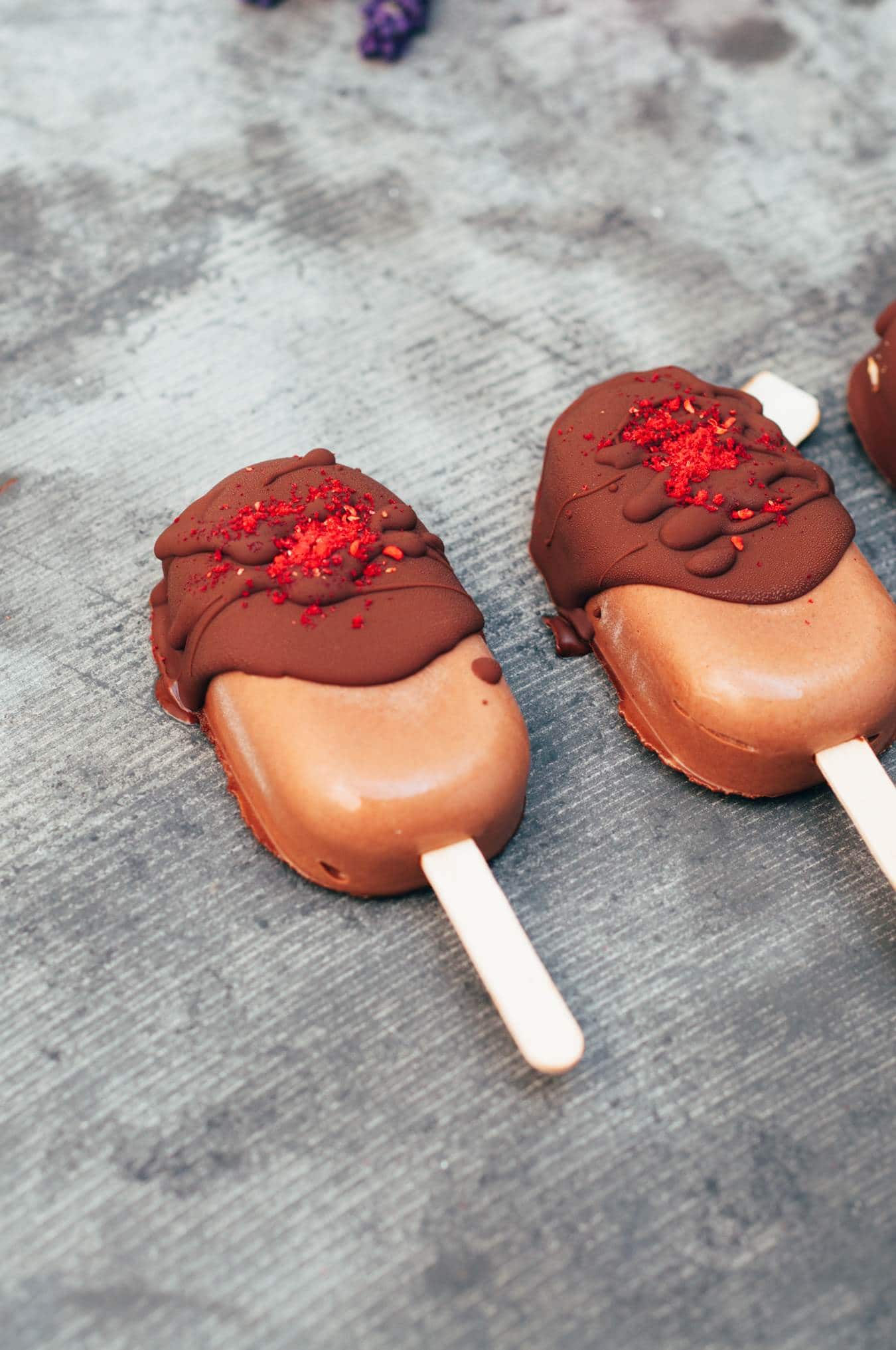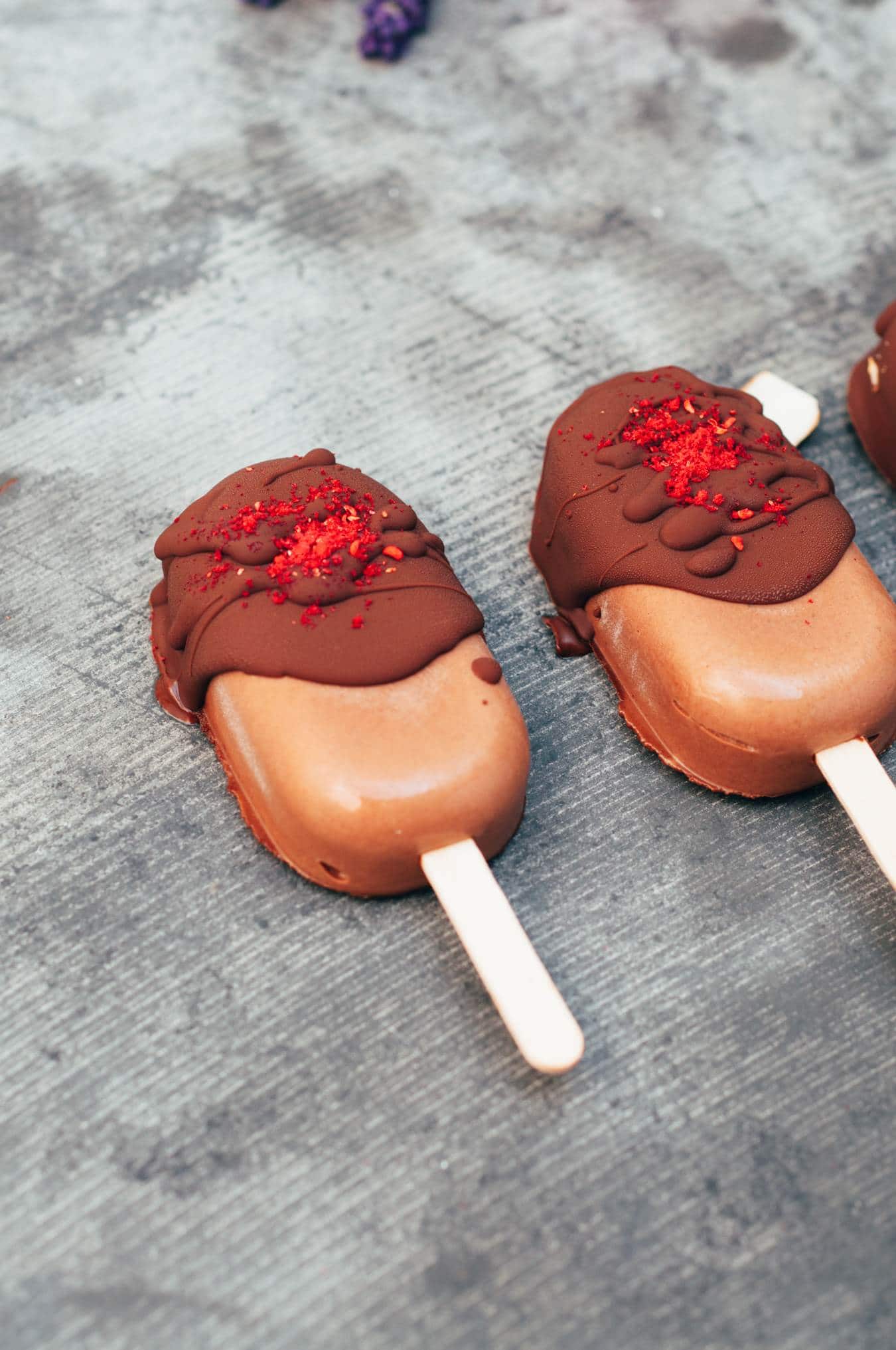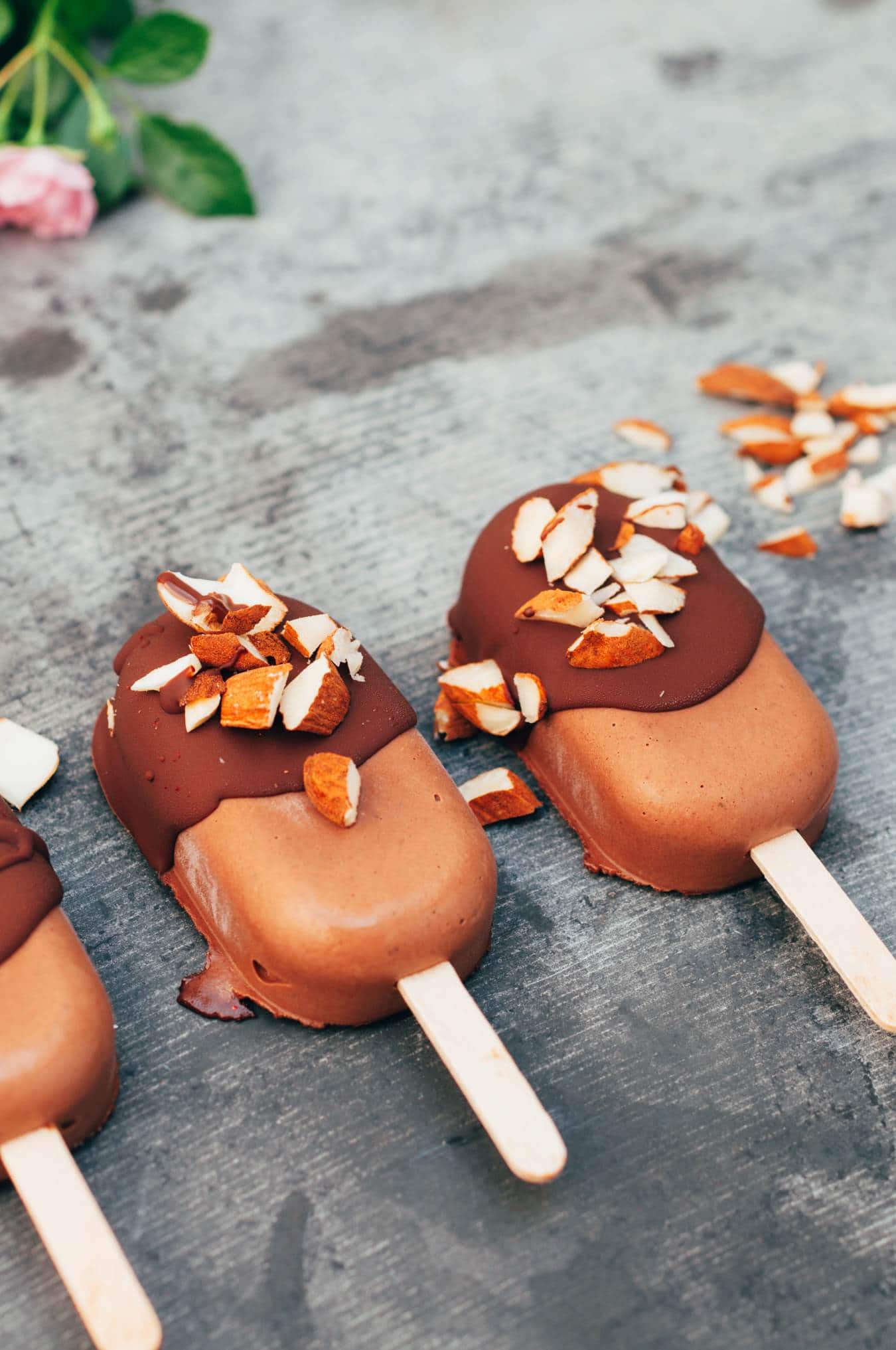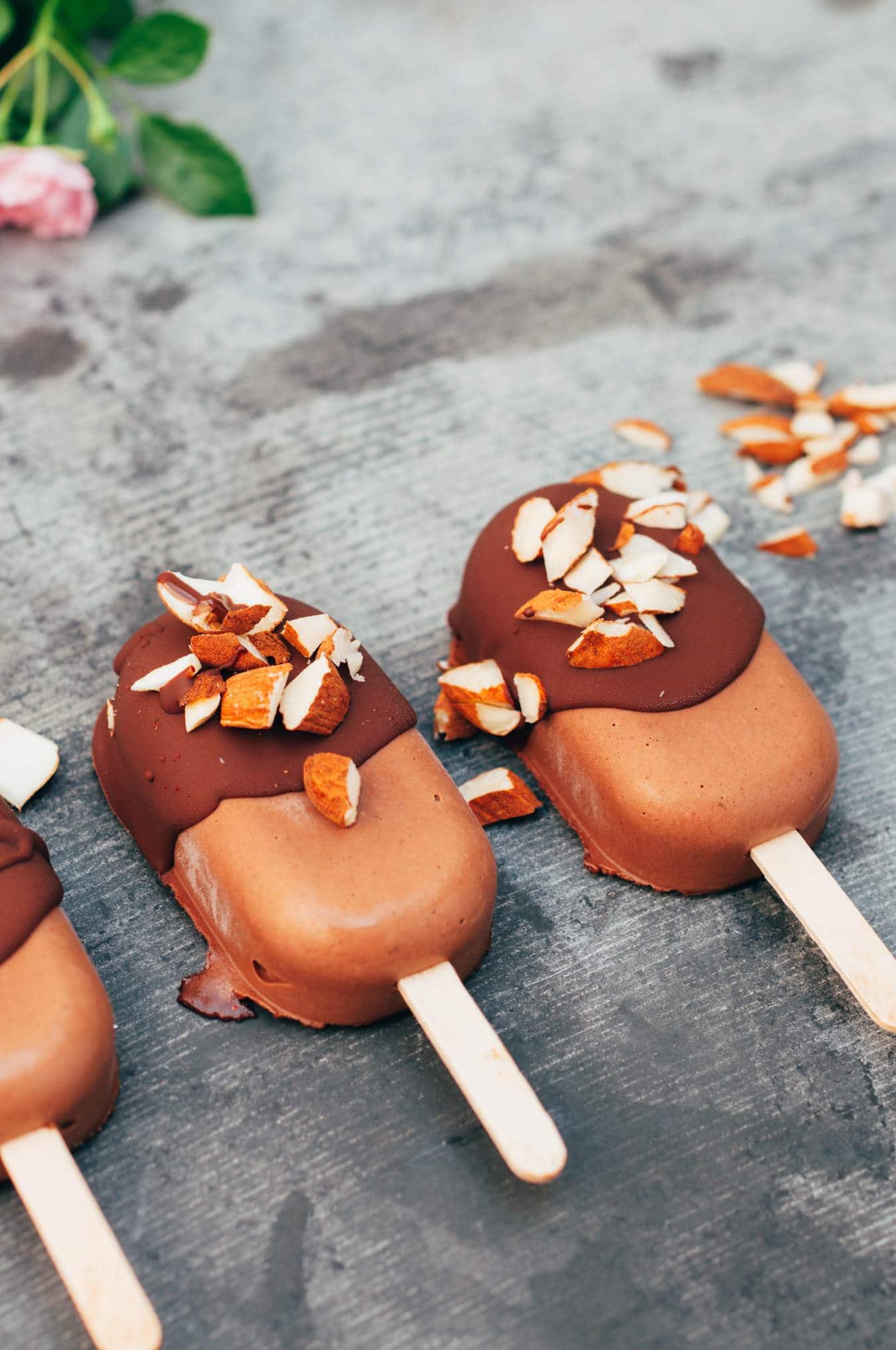 It gets interesting when we take a closer look at the ingredients. The list reads like a dream. Cashews, Almond milk , juicy Medjoul dates, maple syrup, cocoa powder, coconut oil, a frozen banana and a pinch of sea salt. Now let's compare the ingredients list of a chocolate popsicle stick from the supermarket. Right up front is usually water, sugar and glucose syrup, various dairy products, emulsifiers and sometimes nasty flavor enhancers and unhealthy food colors. Today we leave that once at home and concentrate on delicious, healthy and vegan ice cream that melts deliciously in your mouth and is simply fun.
Fancy "Steckerleis" (Bavarian) and "Eis am Stiel" (for everyone else)?
You know what I enjoy the most? The coating with chocolate and the toppings. Here you can get really creative, because everything is allowed.
Here are my TOP 5 covers:
Dark or white vegan chocolate
chopped almonds or other nuts
Raspberry powder (for a pleasant acidity)
vegan gummy bears or smarties
white chocolate & chopped almonds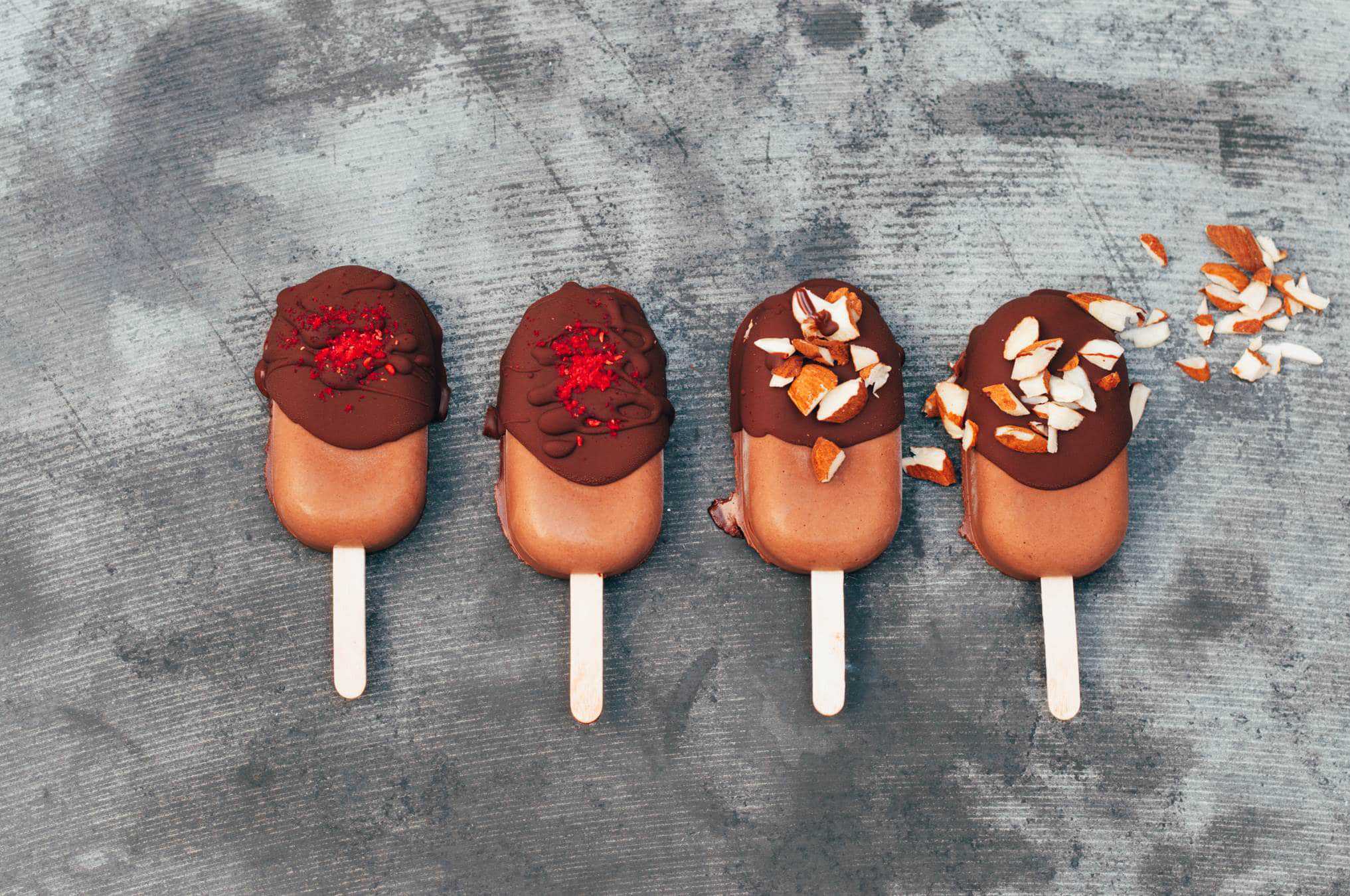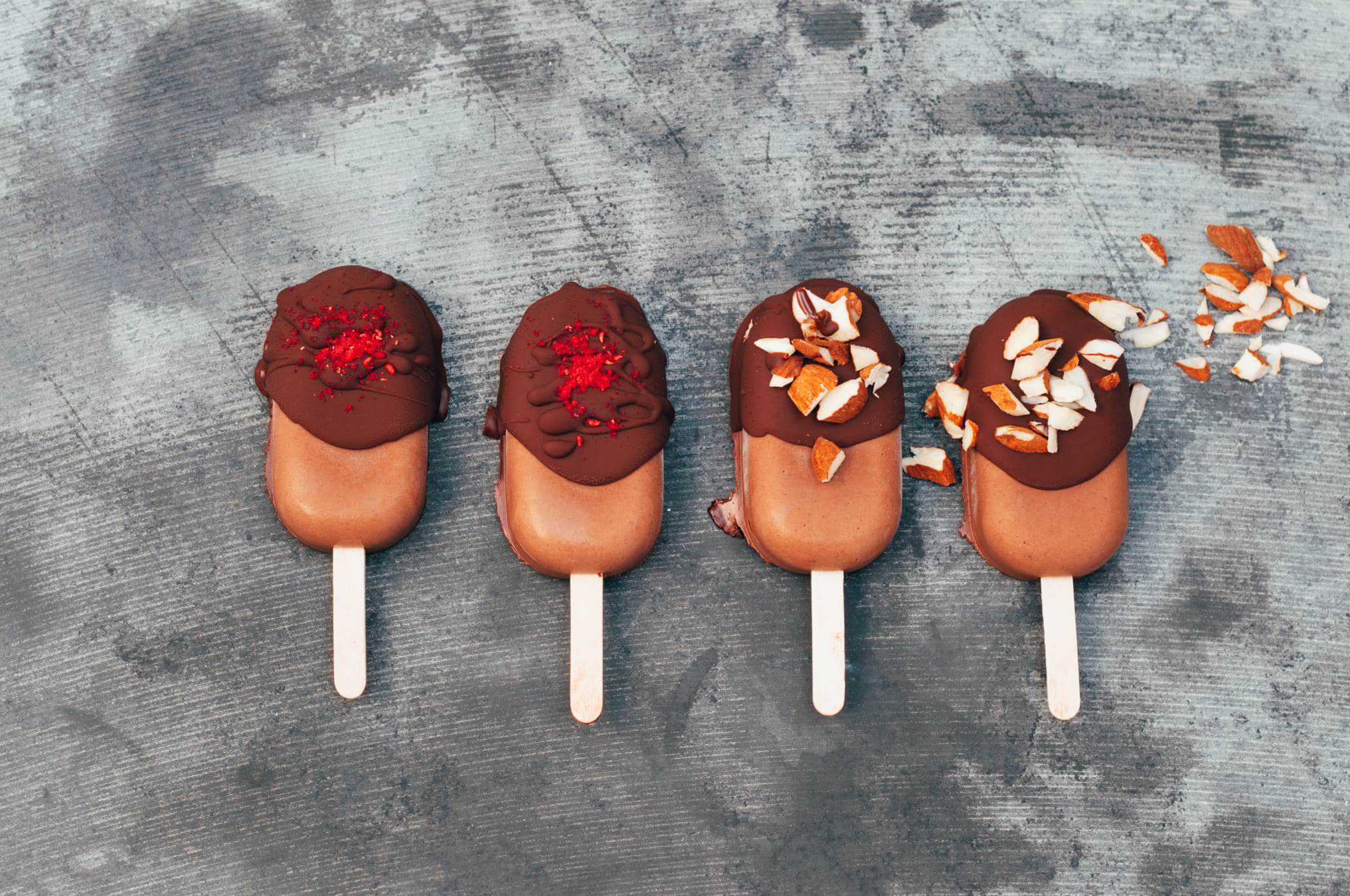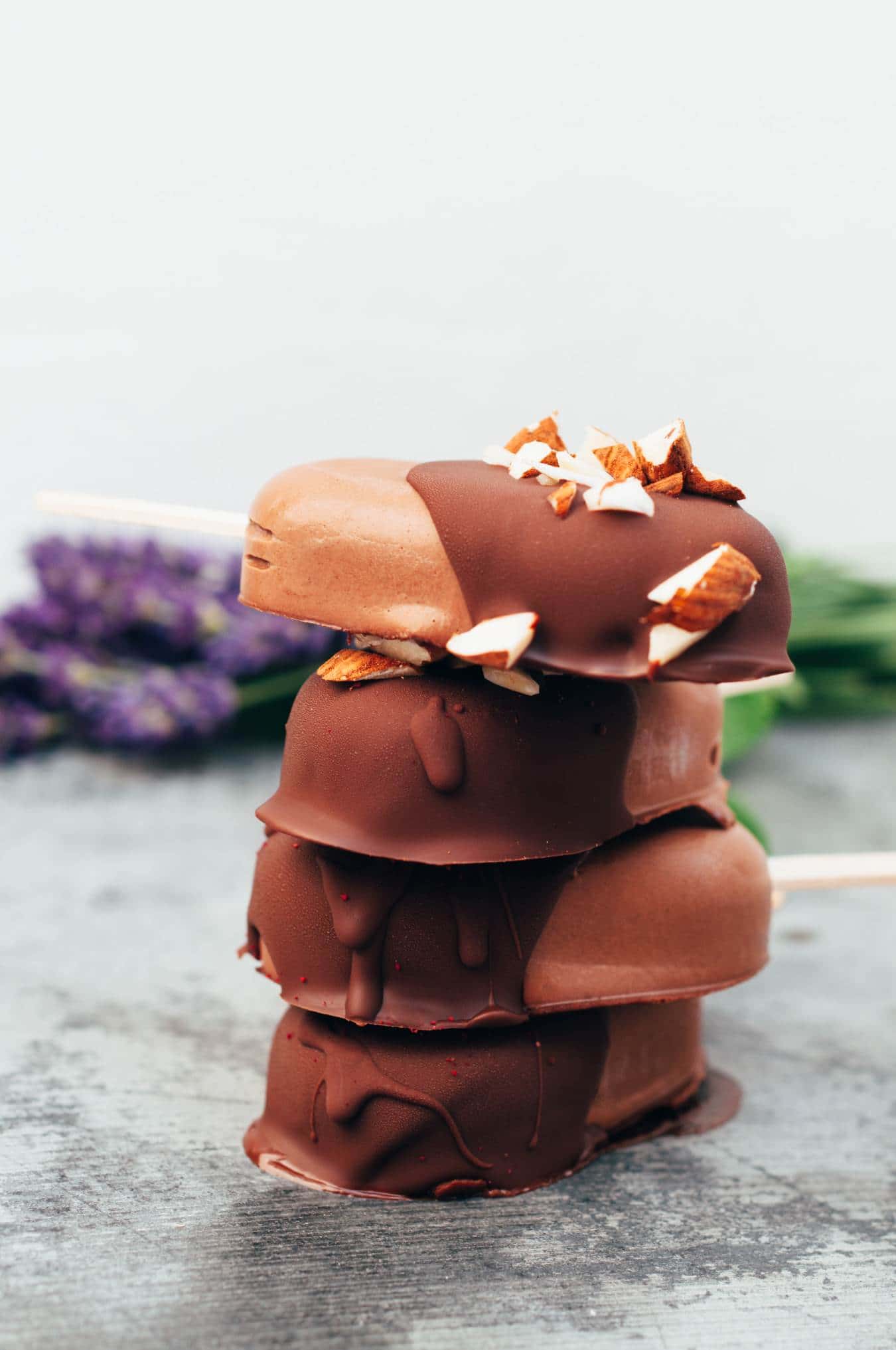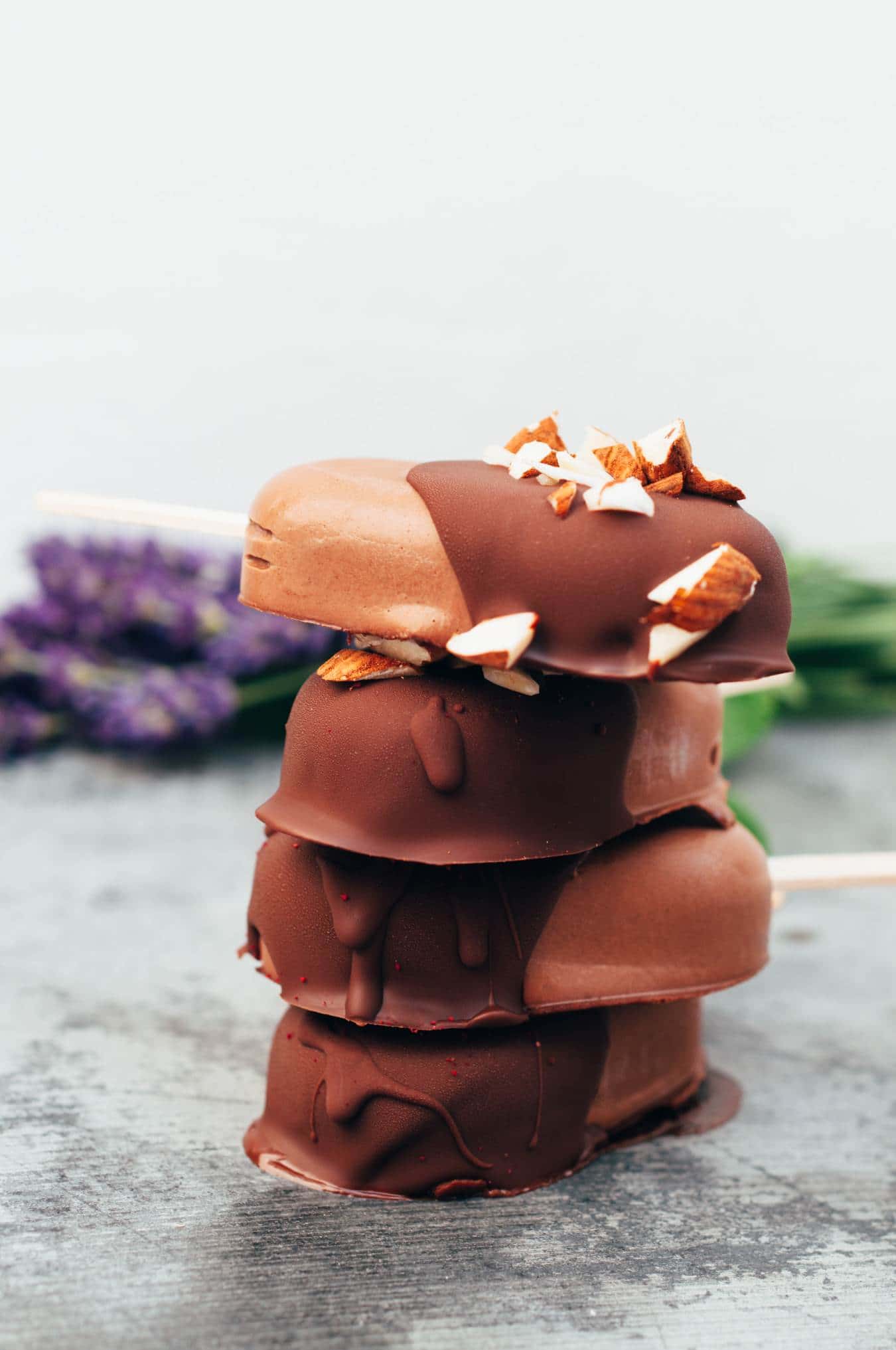 Perfect also for a little "craft hour" with kids. You don't even have to have a guilty conscience, because these little treats have calories, but are a lot healthier than their supermarket counterparts. However, there is one thing that you should acquire: Silicone ice cream molds , because without it, unfortunately, it will be a bit difficult. Here you can find my mold(mini magnum molds) that I used for this recipe.
If you want to add more superfoods to the ice cream, I recommend chia seeds, vegan protein powder, or pure guarana (for more energy). What is your favorite superfood? I look forward to your comments at the bottom.
Would you like a drink to go with your creamy popsicle? Then I recommend a Immune Booster Latte , Chocolate Chia Smoothie , hot chocolate or golden milk .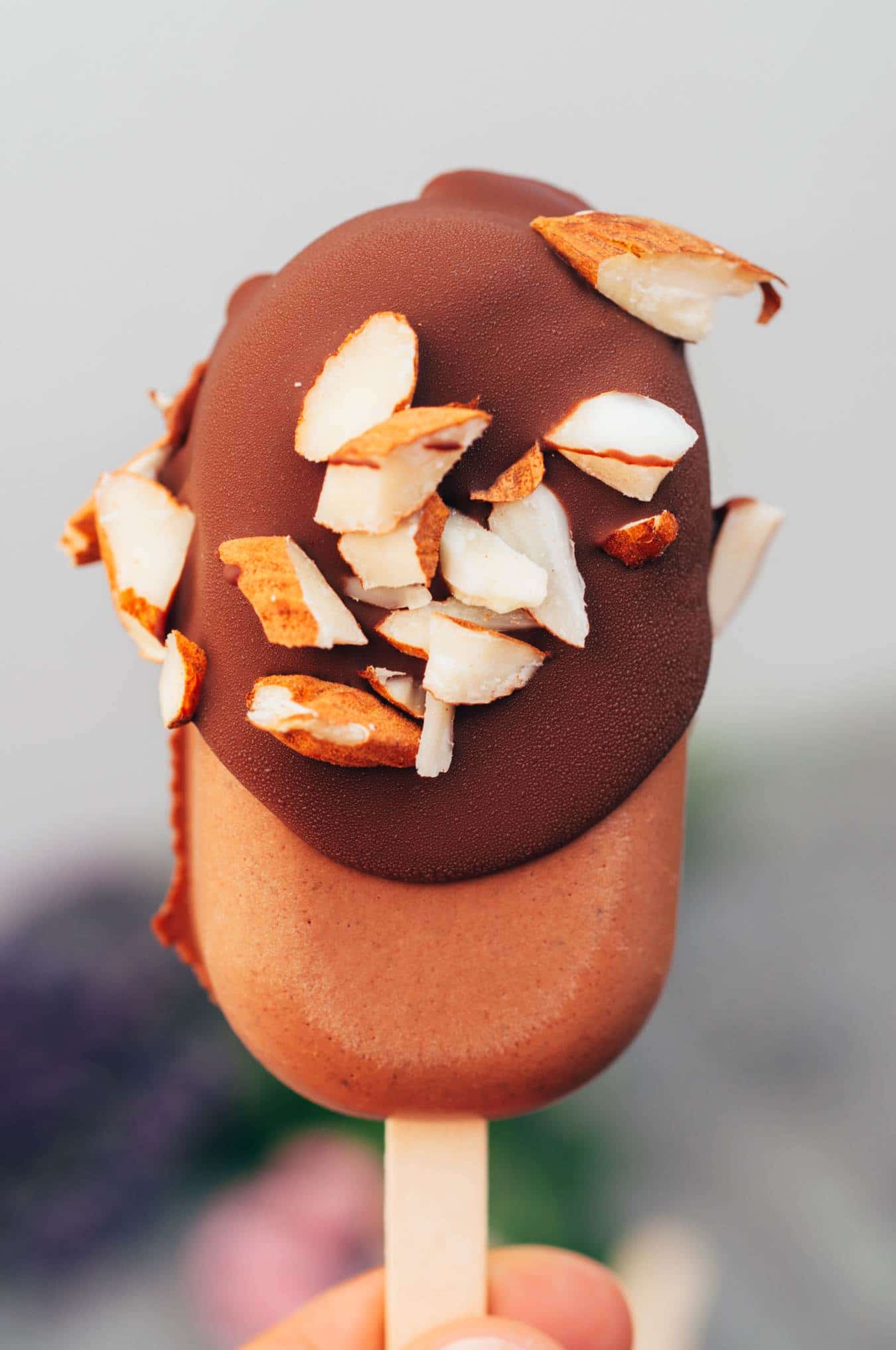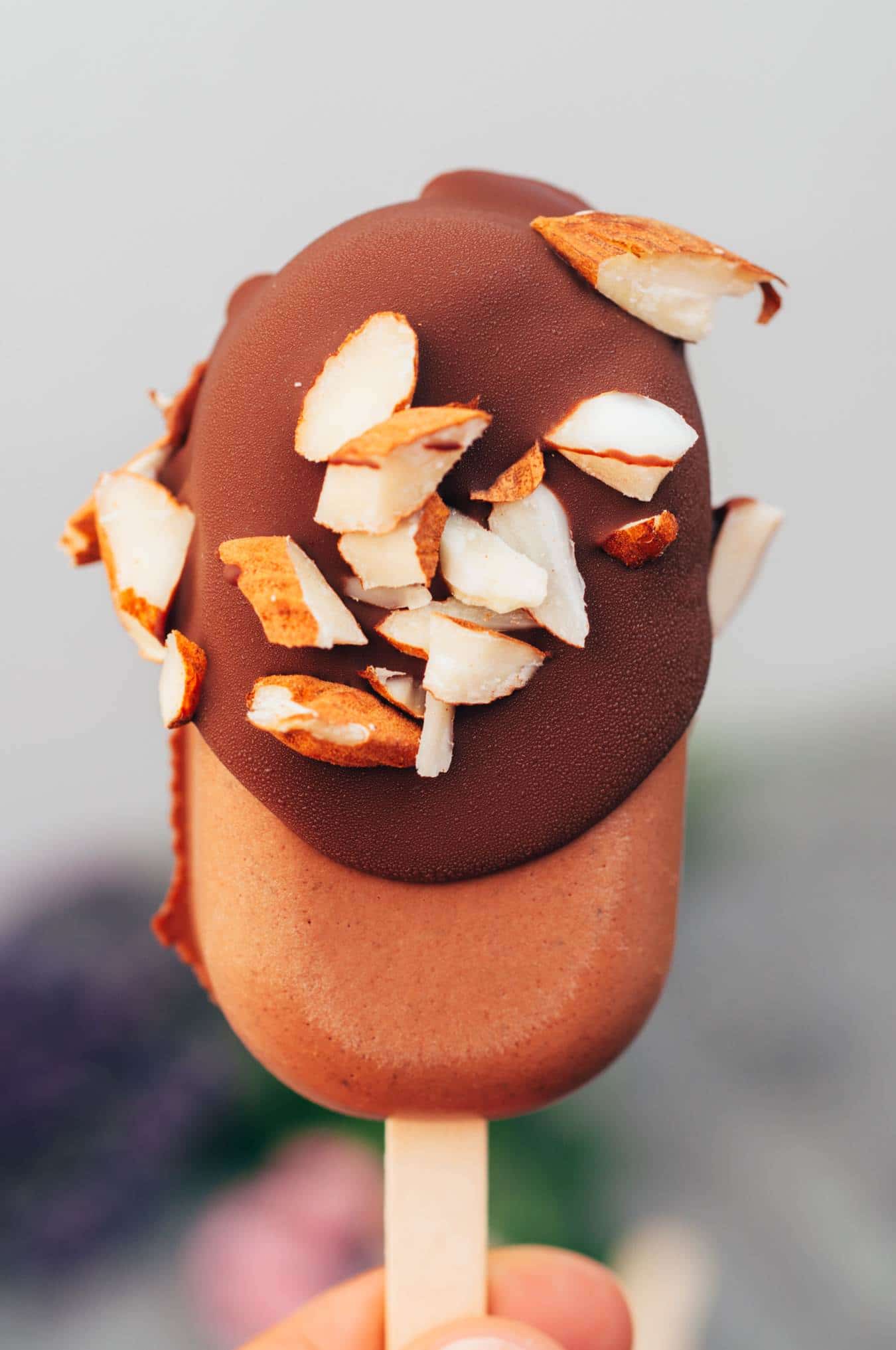 The simple creamy chocolate popsicles are:
creamy
chocolatey
Delicately melting
Naturally sweetened
Quickly made
Let's go with this ice-cold, creamy temptation. I hope you enjoy "baking" and of course about a review at the bottom of this page. If you post a picture, use the hashtag #veganevibes.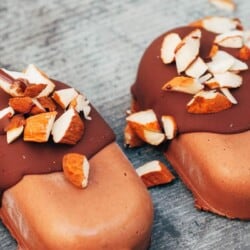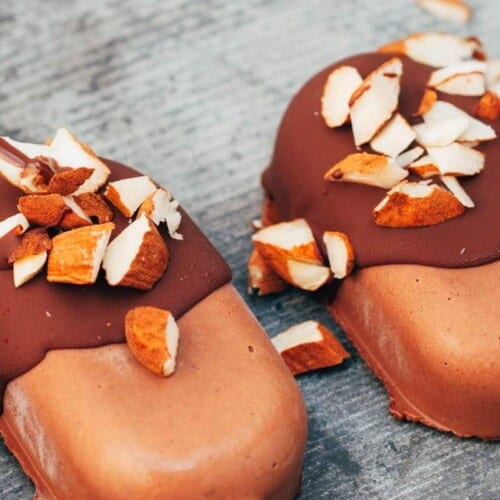 Simple creamy chocolate popsicles
Extremely delicious, melt-in-your-mouth, chocolatey, vegan and gluten-free chocolate popsicles for the perfect ice-cold temptation in between meals. Customizable, delicious and full of healthy ingredients.
AUTOR: VEGANEVIBES
FOR THE COVER:
Chopped almonds to taste

dark vegan chocolate

melted

white vegan chocolate

melted

Cocoa nibs at will

Vegan gummy bears or other sweets
Anleitung 
Depending on the power of your blender, use the cashews unsoaked or (if your blender is not very powerful) soak the cashews beforehand, put them in a bowl for this purpose, pour hot water over them and let them steep uncovered for an hour. Drain and use. Alternatively, steep in cold water covered for at least 6 hours, drain water and use. I have a Bledtec and do not soak the nuts beforehand.

To make the ice cream, place all ingredients in a high-powered blender and blend on high speed until creamy.


280 ml Almond milk or another vegetable milk,

130 g Medjoul dates,

30 ml maple syrup,

75 g Cocoa powder,

60 g Coconut oil,

1 frozen banana,

1 Pinch sea salt

Pour measurements into a popsicle mold and smooth out. Insert matching wooden sticks and place in freezer. Allow to set for at least 4 hours, but preferably overnight.


Provide any desired toppings for decorating. Remove popsicles from freezer and frost as desired.


Chopped almonds to taste,

dark vegan chocolate,

white vegan chocolate,

Cocoa nibs at will,

Raspberry powder,

Vegan gummy bears or other sweets

Enjoy immediately or return to the freezer in an airtight container.

Notizen
NOTES /HELPFUL ACCESSORIES:
Nährwertangaben
Serving:
1
Piece
Calories:
250
kcal
Carbohydrates:
26
g
Protein:
4
g
Fat:
16
g
Saturated Fat:
7
g
Sodium:
103
mg
Potassium:
271
mg
Fiber:
2
g
Sugar:
17
g
Vitamin A:
25
IU
Vitamin C:
1.2
mg
Calcium:
60
mg
Iron:
1.6
mg