This Recipe really did not come about according to plan, because I actually wanted to make donuts. However, it was then too much dough and also too liquid, then I thought why not just a delicious Pumpkin Cake from it tinker. No sooner said than done, this turned into two cake layers that were mega fluffy, soft and extremely delicious. Then I still thought about what could fit perfectly with it. To a Cake ? Buttercream of course! Yes, the calorie-counting among you now please listen away and because that's not enough, walnuts are also added. Of course I have the newly created Cake then also immediately times let test and indeed of the tester of all testers, so to speak the "Head of cakeTesting" my dad! The feedback was MEGA! So here we go then, right?
Vegan pumpkin pie is so delicious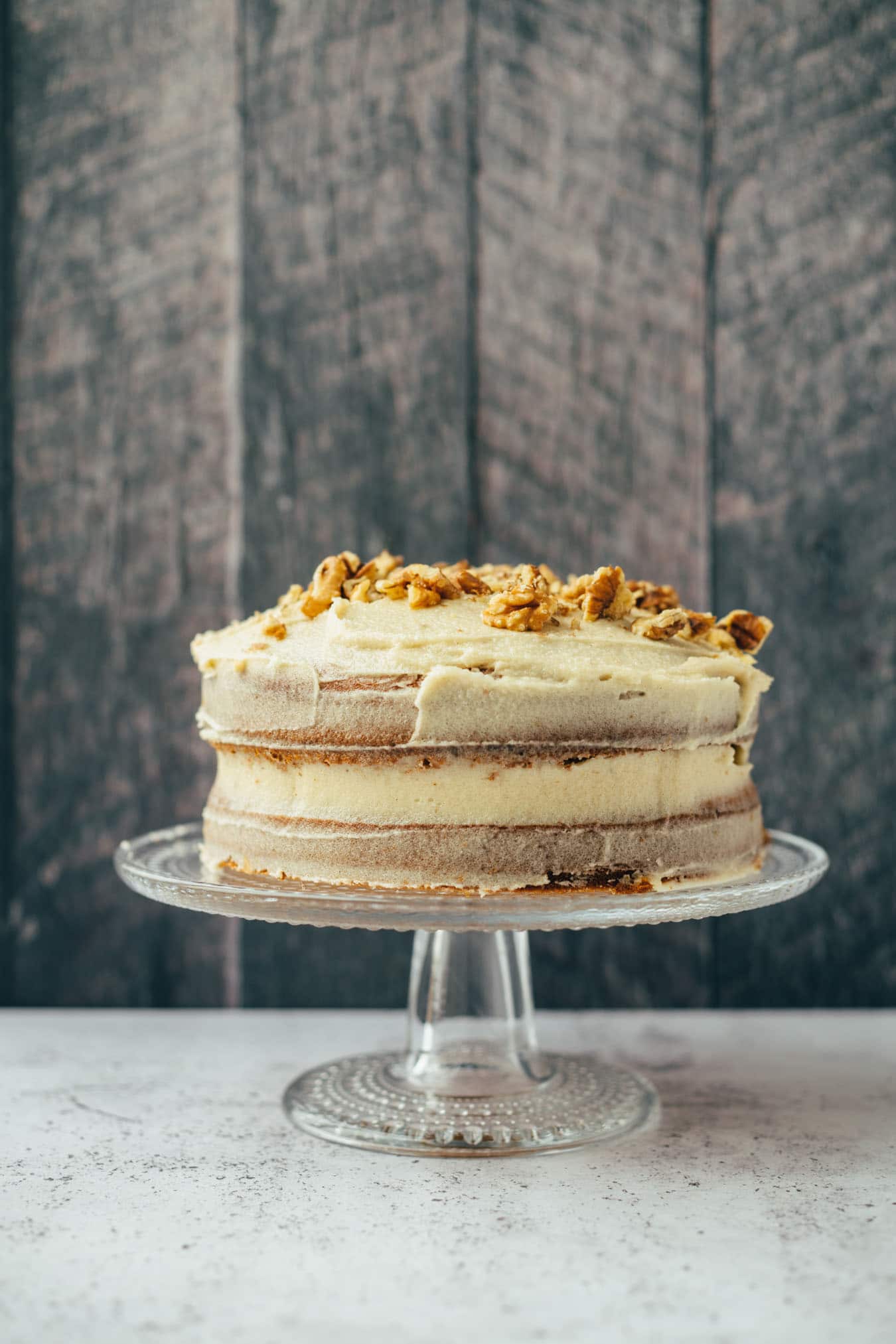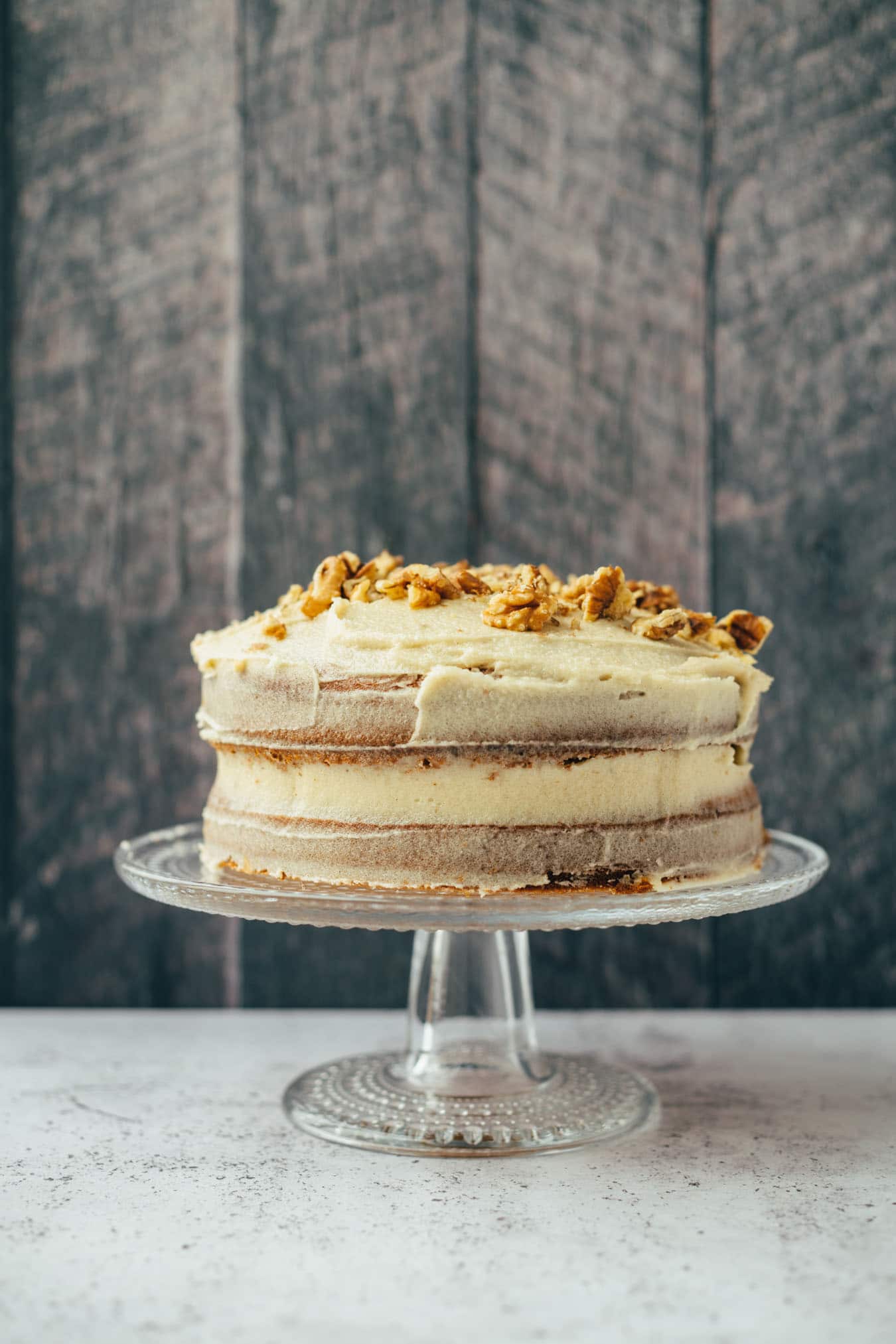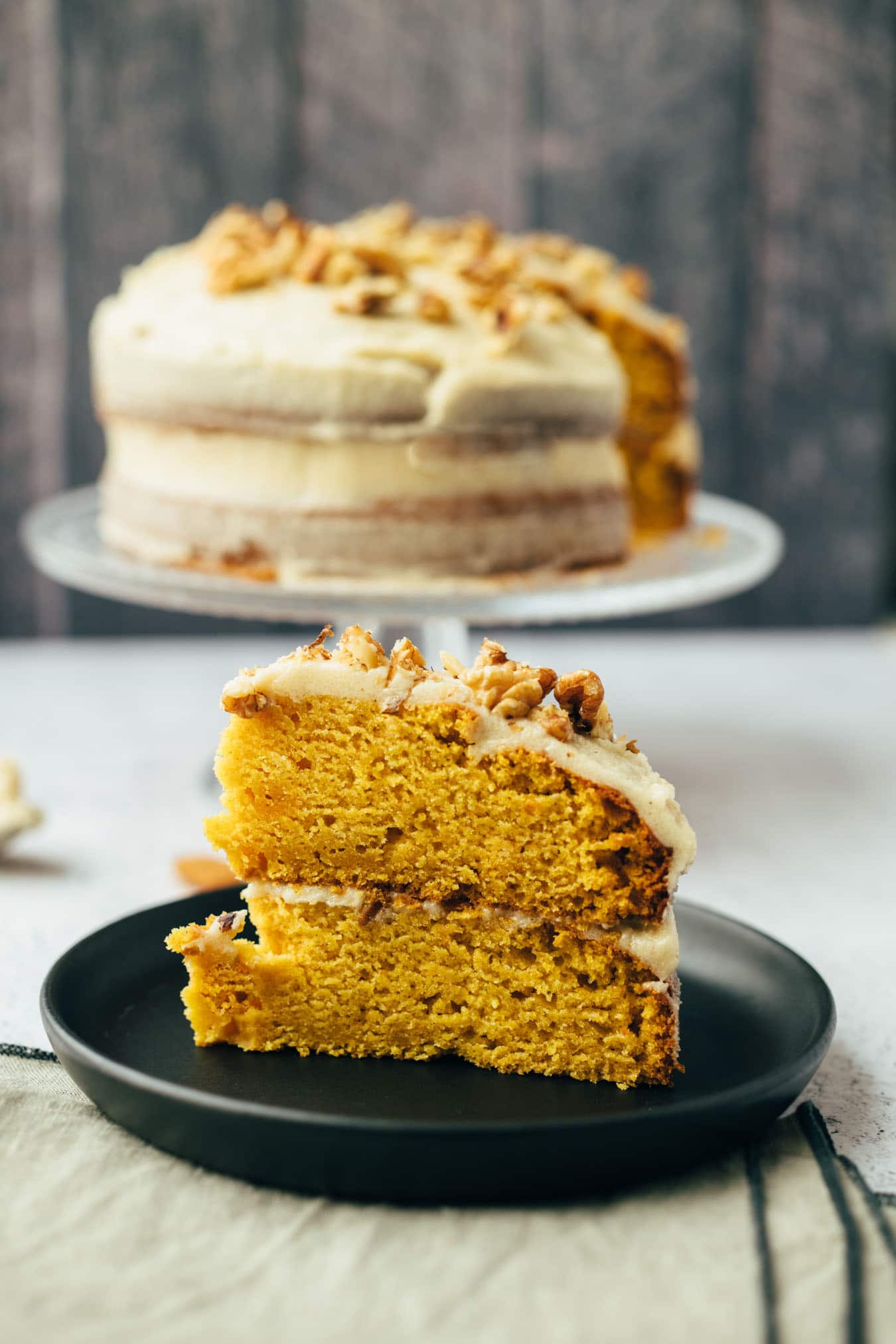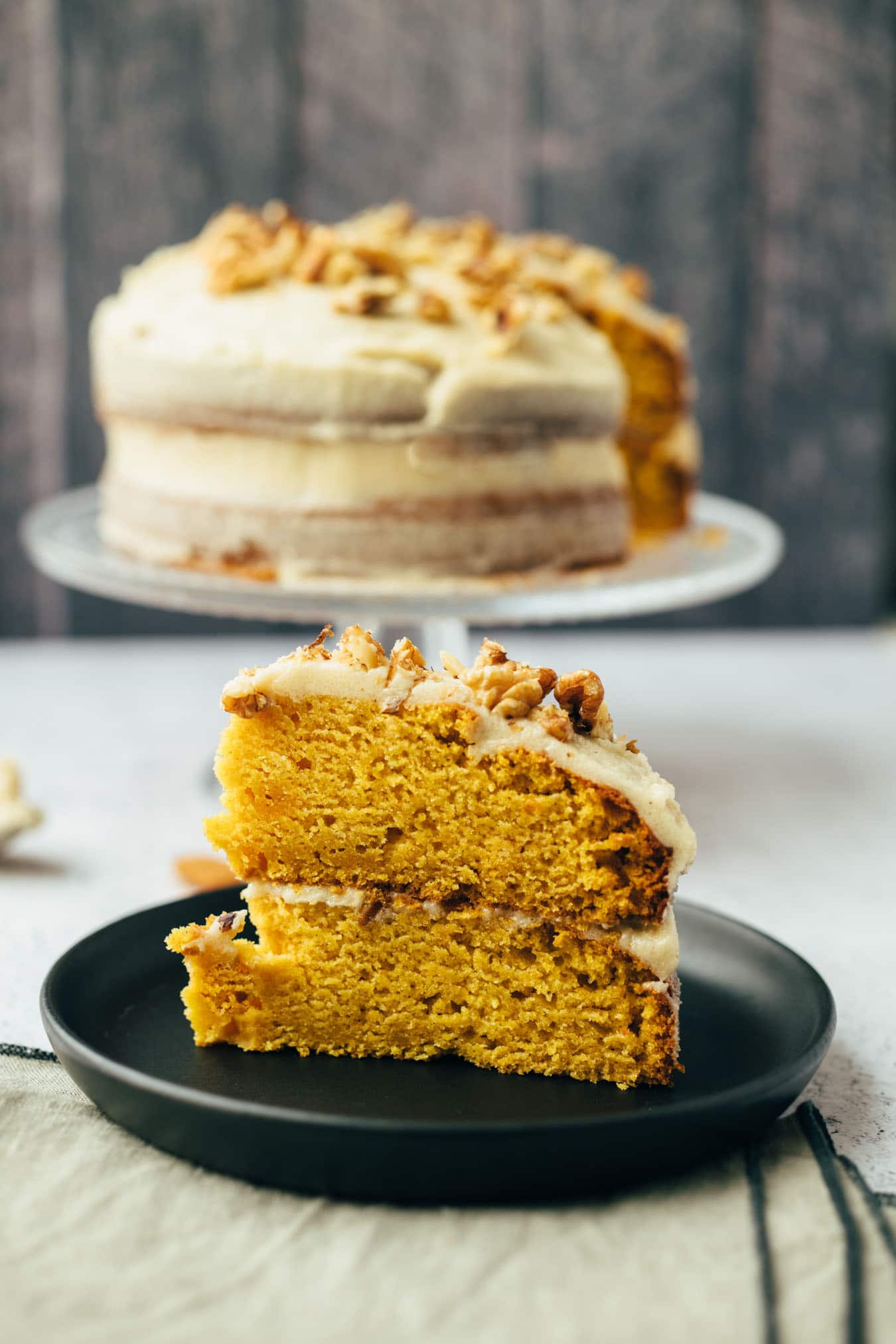 I think I've almost developed something of a small pumpkin addiction. Pumpkin soup , Pumpkin scones , the pie and there are still so many recipes floating around in my head that I haven't made yet. But back to our cake. For the dough we need. Almond milk , baking soda, apple cider vinegar, pumpkin puree, raw cane sugar, frying and baking oil or another high-heat oil, spelt flour or my gluten free flour mix , almond flour, baking powder, bourbon vanilla, pumpkin spice, a pinch of nutmeg and a pinch of salt.
For the buttercream we need a vegan margarine, I use here organic alsan, powdered sugar, bourbon vanilla and a dash of Almond milk . Then only the walnuts are missing and off you go. Oh yes, a little tip on the side, if you don't have powdered sugar in the house, you can easily make your own. Simply add raw cane sugar or other sugar of your choice to a high-powered blender and blend on high until it literally "dusts".
Is there such a thing as a pumpkin addiction? I think I am addicted.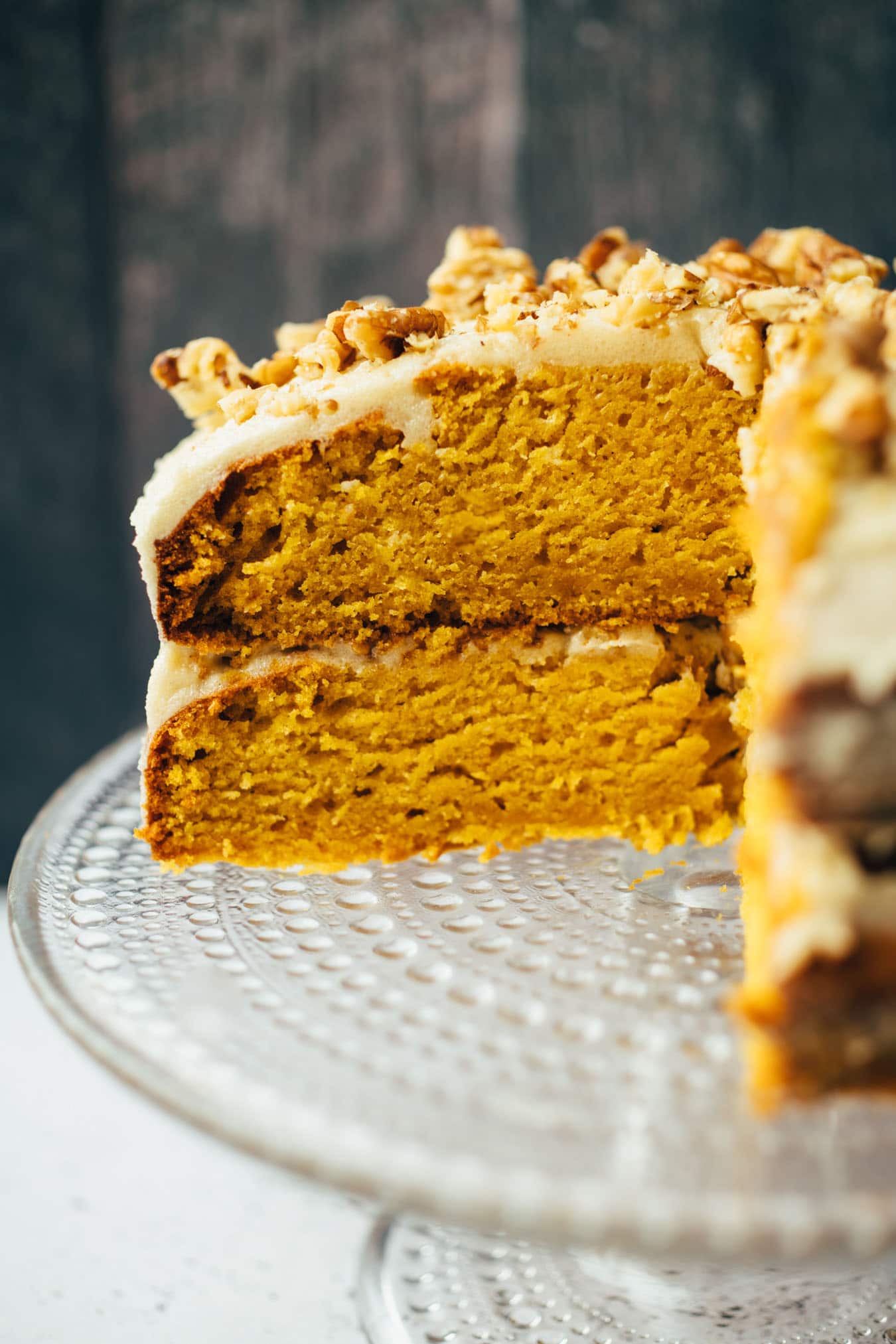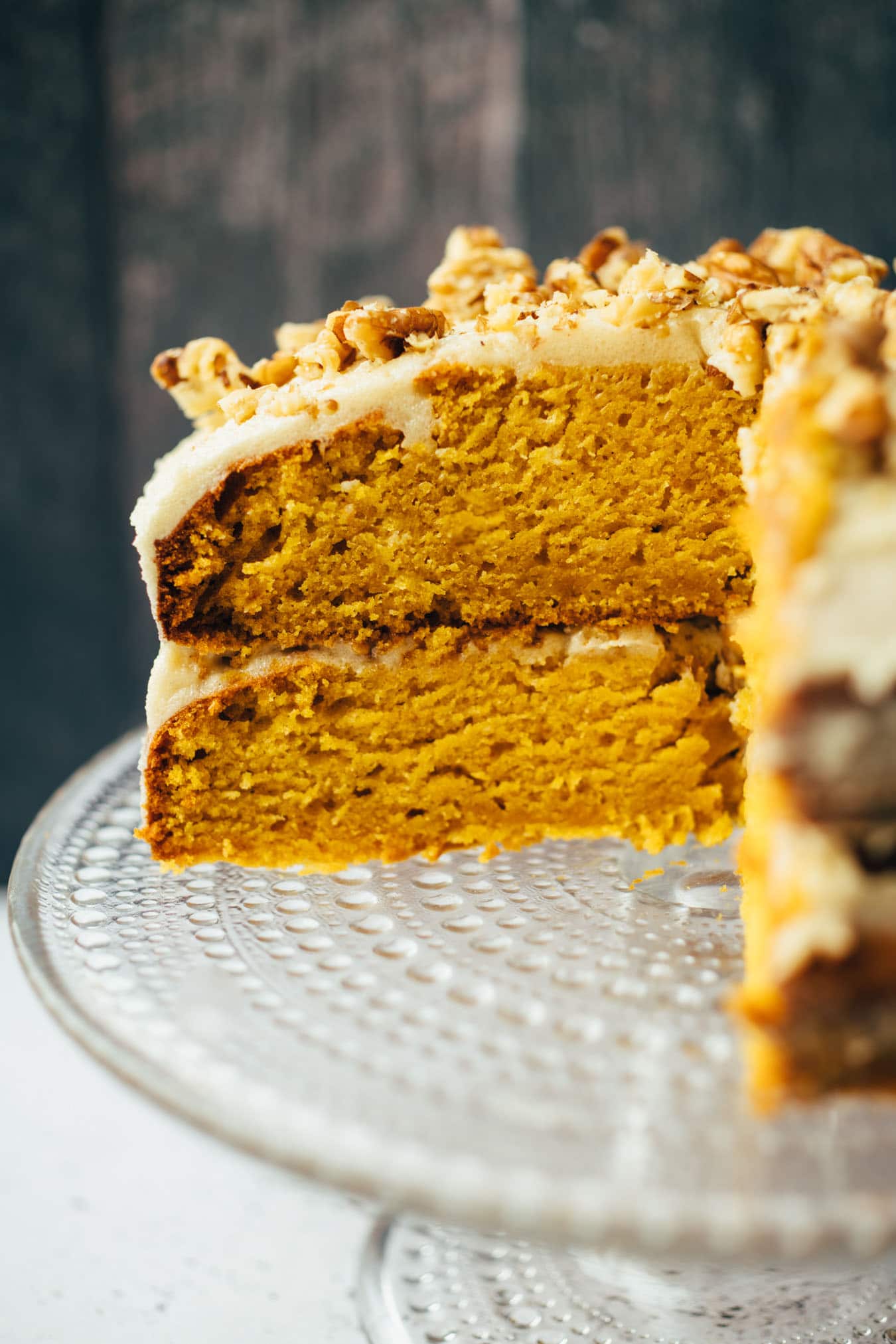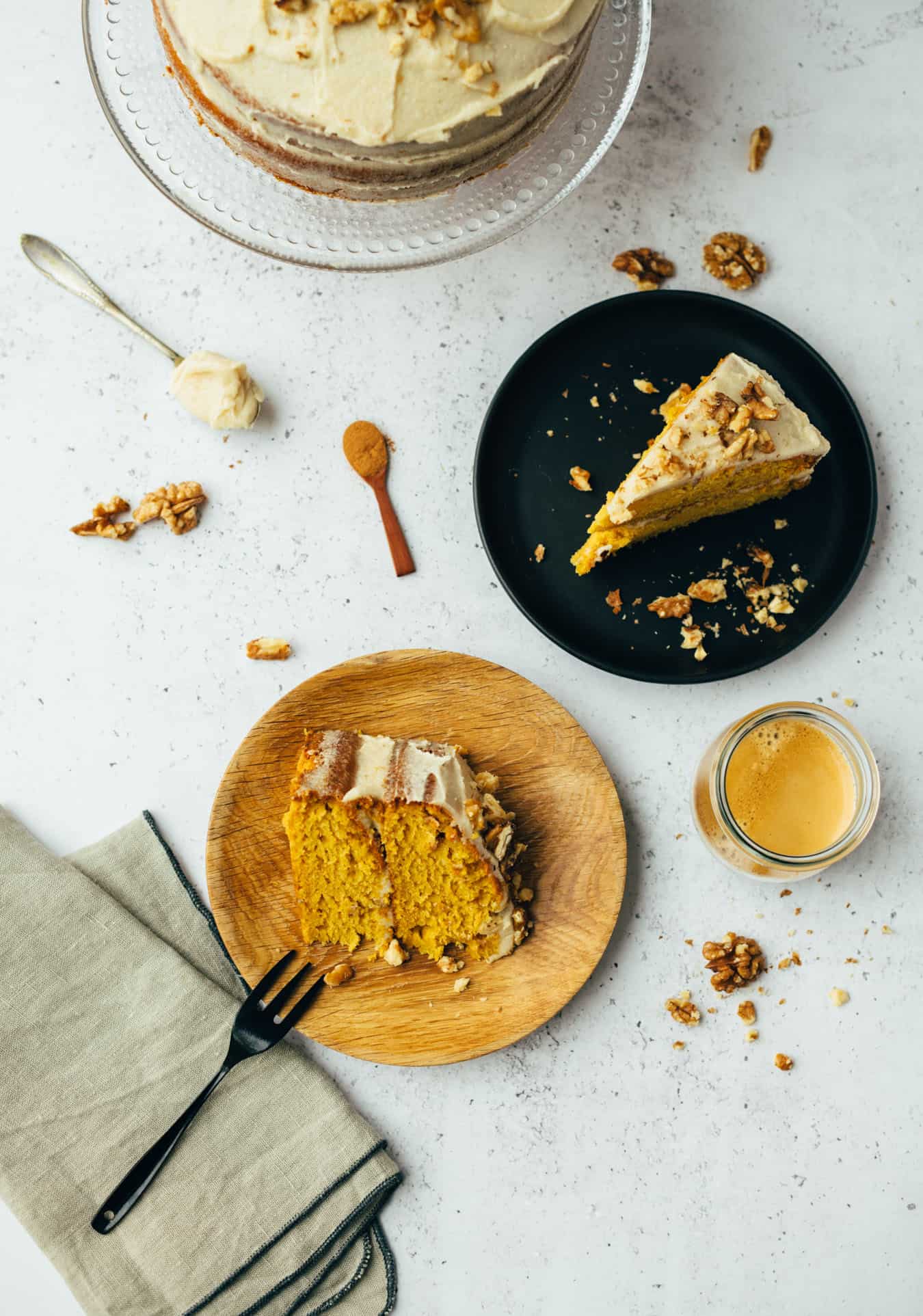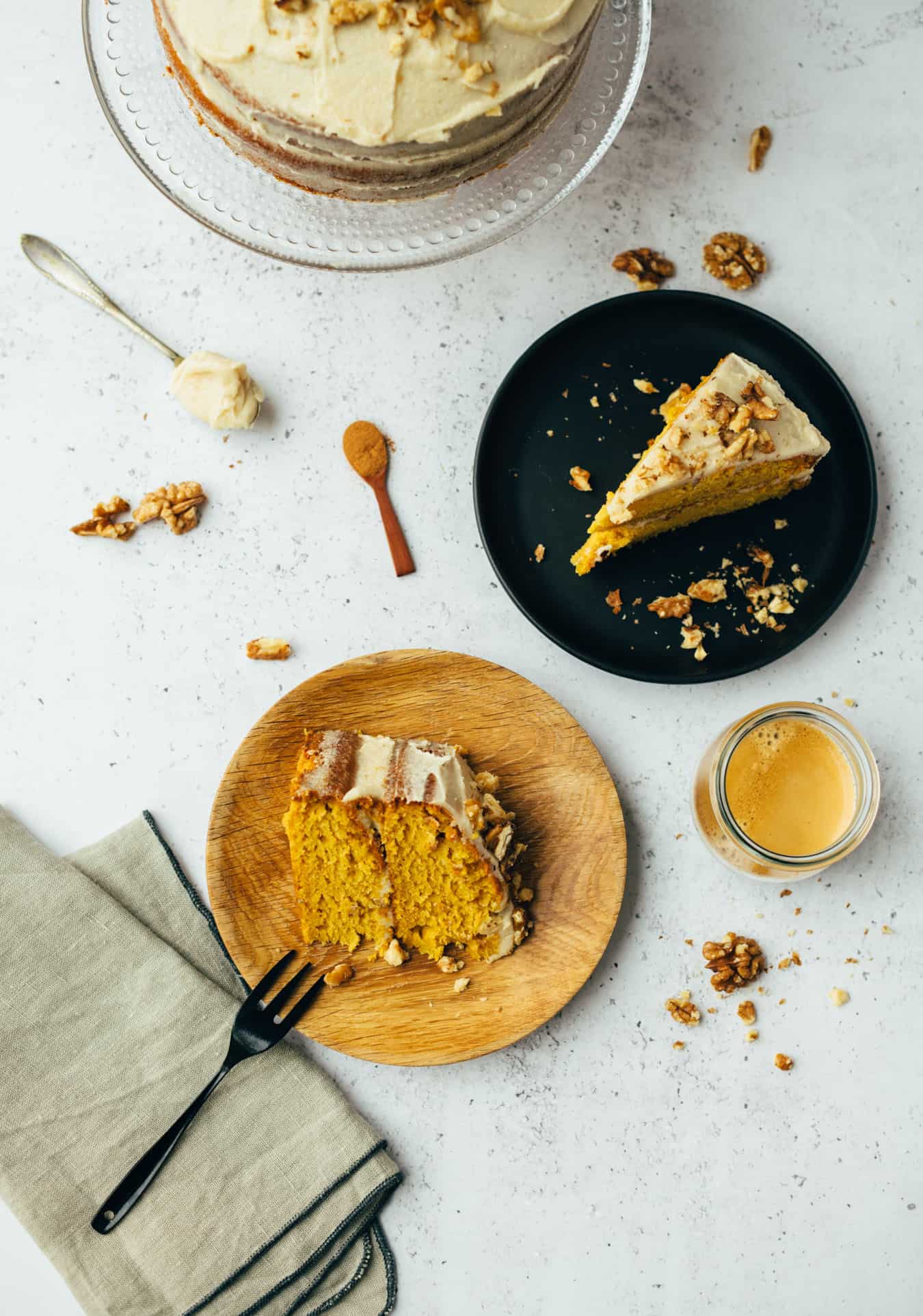 There's actually not that much to consider when making pumpkin pie. I use two springform pans with a diameter of 20cm, the bottom lined with baking paper and the sides brushed with a little grease. I make the buttercream in the Blendtec (in the small container for the nut mush), which works wonderfully. Alternatively, you can use any other food processor, or work by hand with a whisk.
Fittingly I find a chai latte , hot chocolate or golden milk very tasty.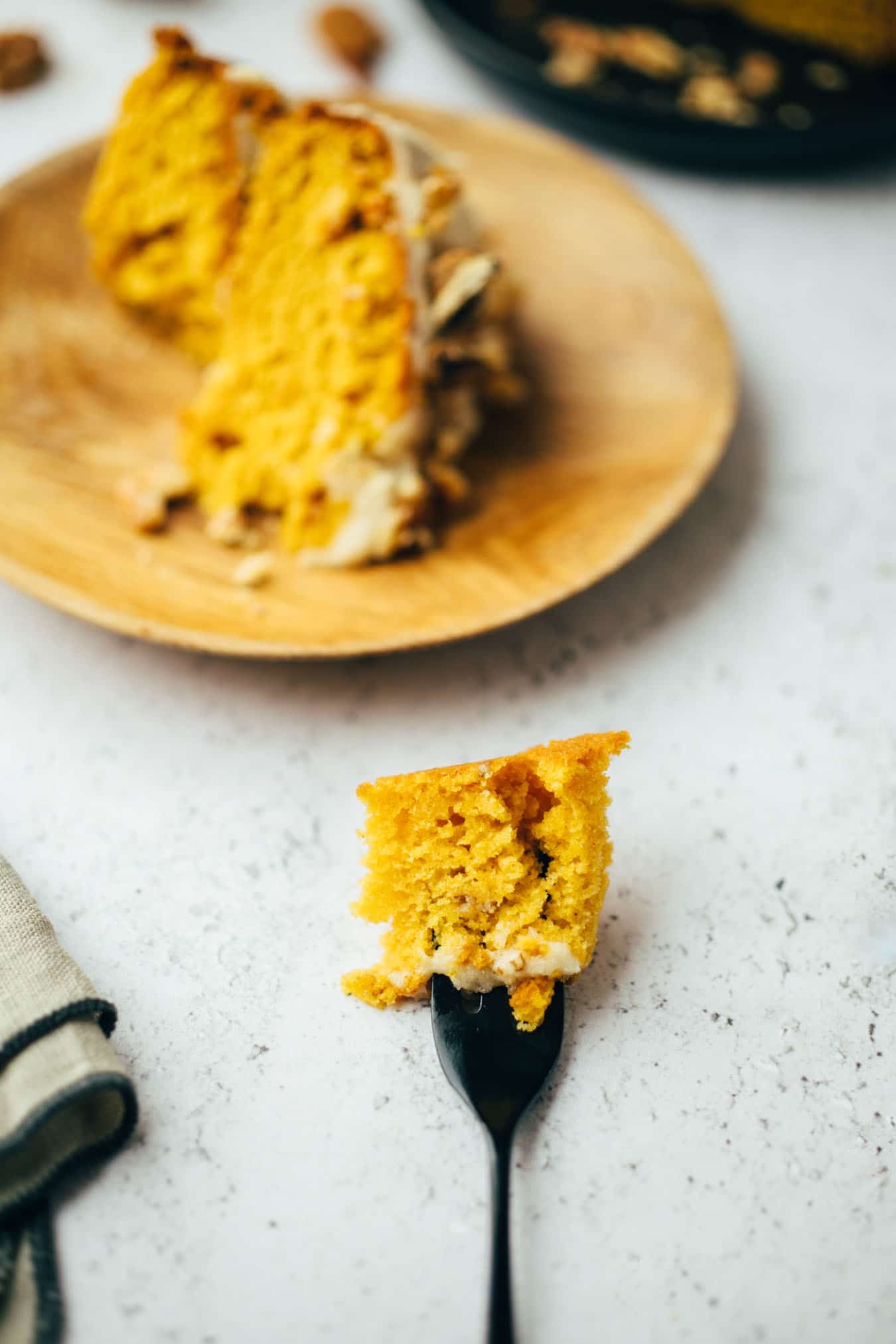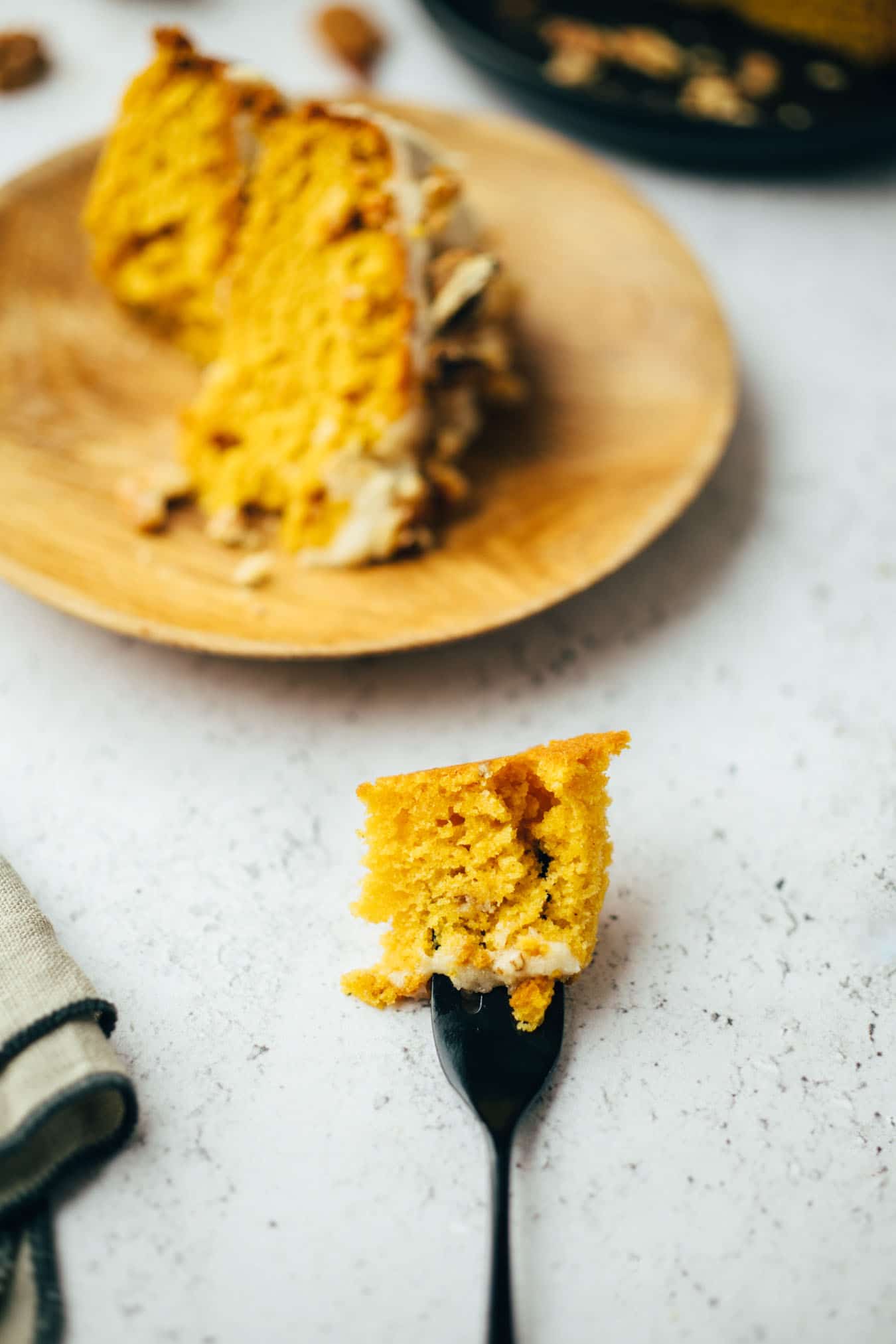 Let's get started with this creamy vegan pumpkin pie. I hope you enjoy baking and of course about a review at the bottom of this page. If you post a picture, use the hashtag #veganevibes.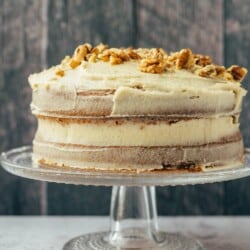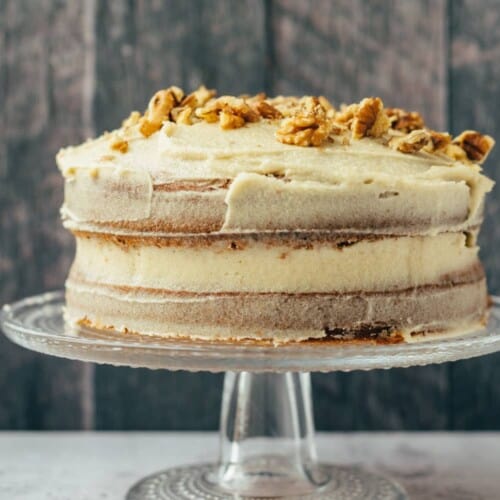 Pumpkin pie with walnuts
Simple, moist, pumpkin pie with buttercream and walnuts? Not for vegan calorie counters, but for those who want a nutty, spicy cake with lots of flavor. This brilliant piece is fluffy, not too sweet (except for the buttercream) and crunchy, thanks to the walnuts. A simple cake for all occasions.
AUTOR: VEGANEVIBES
FOR THE VEGAN BUTTERCREAM:
225

g

Powdered sugar

56

g

Margarine

Optional: ½ tsp cinnamon

Walnut kernels at will for filling and decoration
Anleitung 
Preheat oven to 180 degrees and line two 20cm diameter springform pans with baking paper (bottoms) and brush the sides with a little margarine.

FOR THE CAKE LAYERS Pour almond milk into a large bowl, add apple cider vinegar and baking soda. Stir briefly. The liquid should now foam slightly.

120 ml Almond milk or another vegetable milk,

15 ml Apple cider vinegar,

1 ½ tbspn Baking soda

Add oil, pumpkin puree, flour, almond flour, baking powder, raw cane sugar, bourbon vanilla, pumpkin spice, a pinch of nutmeg and salt. Stir with a spatula or whisk (alternatively food processor) until a uniform dough is formed.

30 ml Frying and baking oil alternatively another high-heat oil or margarine,

85 g Pumpkin puree bought or homemade,

112 g fine spelt flour,

12 g Almond flour or 1 tablespoon more spelt flour or gluten-free flour blend,

1 tbspn Baking powder,

25 g Raw cane sugar,

½ tbspn Bourbon vanilla,

1 tbspn Pumpkin spice,

A pinch of nutmeg,

A pinch of sea salt

Pour in equal parts into the two springform pans and bake in the oven for 30 minutes. At the end of the baking time, use a wooden stick to check if the bottoms are done. If the wooden stick comes out "clean", the bottoms are ready. Remove from oven and let cool completely.

For the VEGAN BUTTERCREAM place all ingredients in a high speed blender or hand mixer and blend to a fine cream.

56 g Margarine,

15 ml Oat milk or another vegetable milk,

Optional: ½ tsp cinnamon,

225 g Powdered sugar

Take one of the two cake layers and straighten the surface a bit (baking often creates such a small "hill" in the middle).

Spread with 2-3 tablespoons of vegan buttercream and sprinkle with walnuts if desired.

Place the second cake layer on top and spread the entire cake with the remaining vegan buttercream. Decorate with walnuts if desired.

Walnut kernels at will for filling and decoration

TIP: Leave the cake in the refrigerator for a few hours or preferably overnight. This makes it even a tad more delicious.

Portion, arrange on plates and enjoy!

Store in an airtight container in the refrigerator for up to 5 days, keep frozen for a few weeks. Best fresh.

* If you do not have pumpkin spice in the house, then you can easily mix your own: 1 tsp cinnamon, ¼ tsp nutmeg, ¼ tsp ginger, 1/8 tsp cloves.
Notizen
NOTES /HELPFUL ACCESSORIES:
Nährwertangaben
Serving:
1
Piece
Calories:
220
kcal
Carbohydrates:
34
g
Protein:
1
g
Fat:
8
g
Saturated Fat:
1
g
Sodium:
111
mg
Potassium:
27
mg
Fiber:
1
g
Sugar:
24
g
Vitamin A:
1525
IU
Vitamin C:
0.3
mg
Calcium:
27
mg
Iron:
0.7
mg