Fast, faster at the fastest should go best every day in the kitchen. Especially in the fall, I often long for a warm Soup that fills you up and can easily pass for lunch. But only a pumpkin soup alone is also boring, so I have thought of a little extra the soup really nice life breathes in: Ginger! From this I make a ginger cream, which can be used for refinement as desired. The more cream you add, the creamier the autumnalsoup will be at the end. Oh yes, maybe you wonder now why the soup is made so quickly? The answer is given further down in the text.
Vegan pumpkin soup or hello autumn!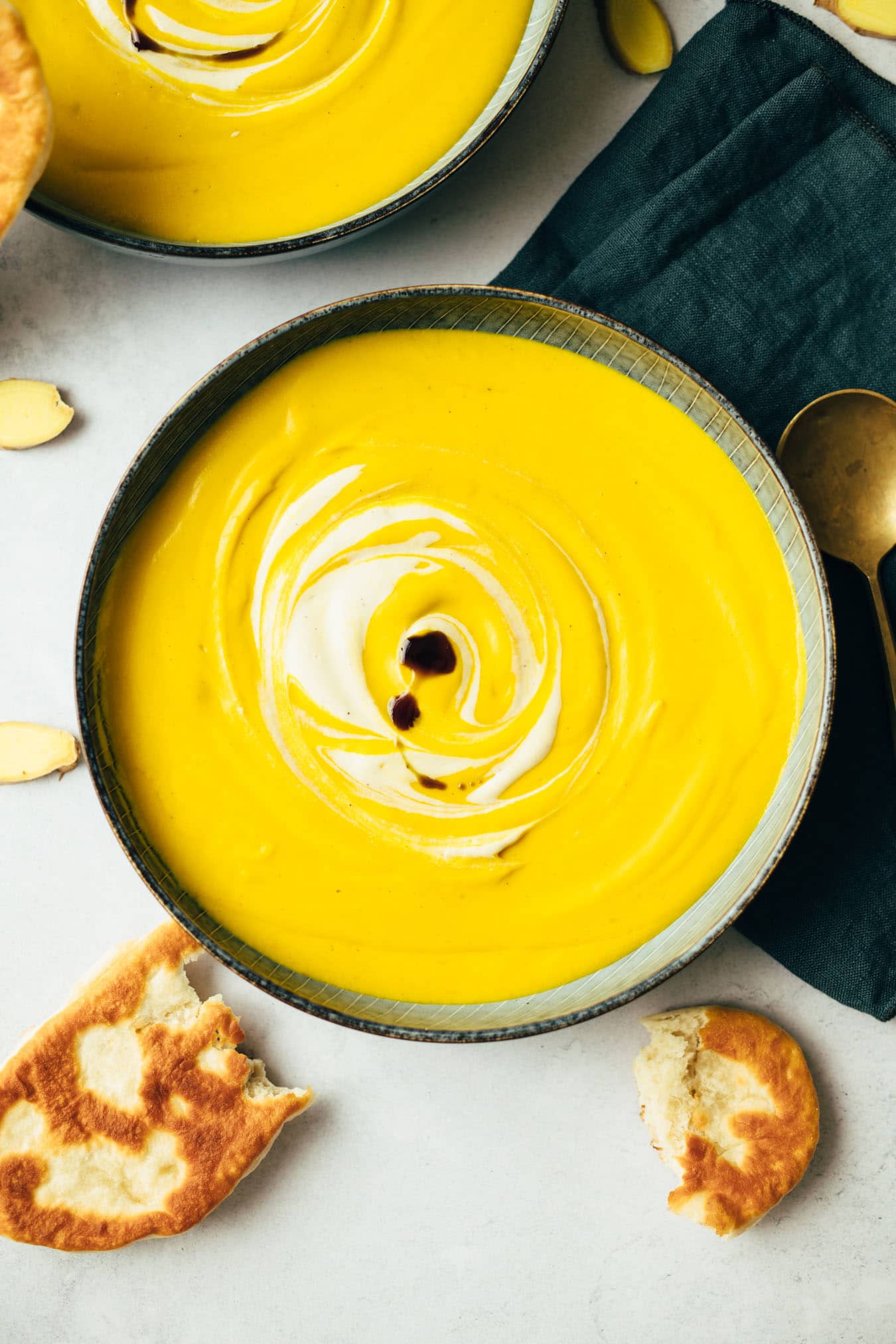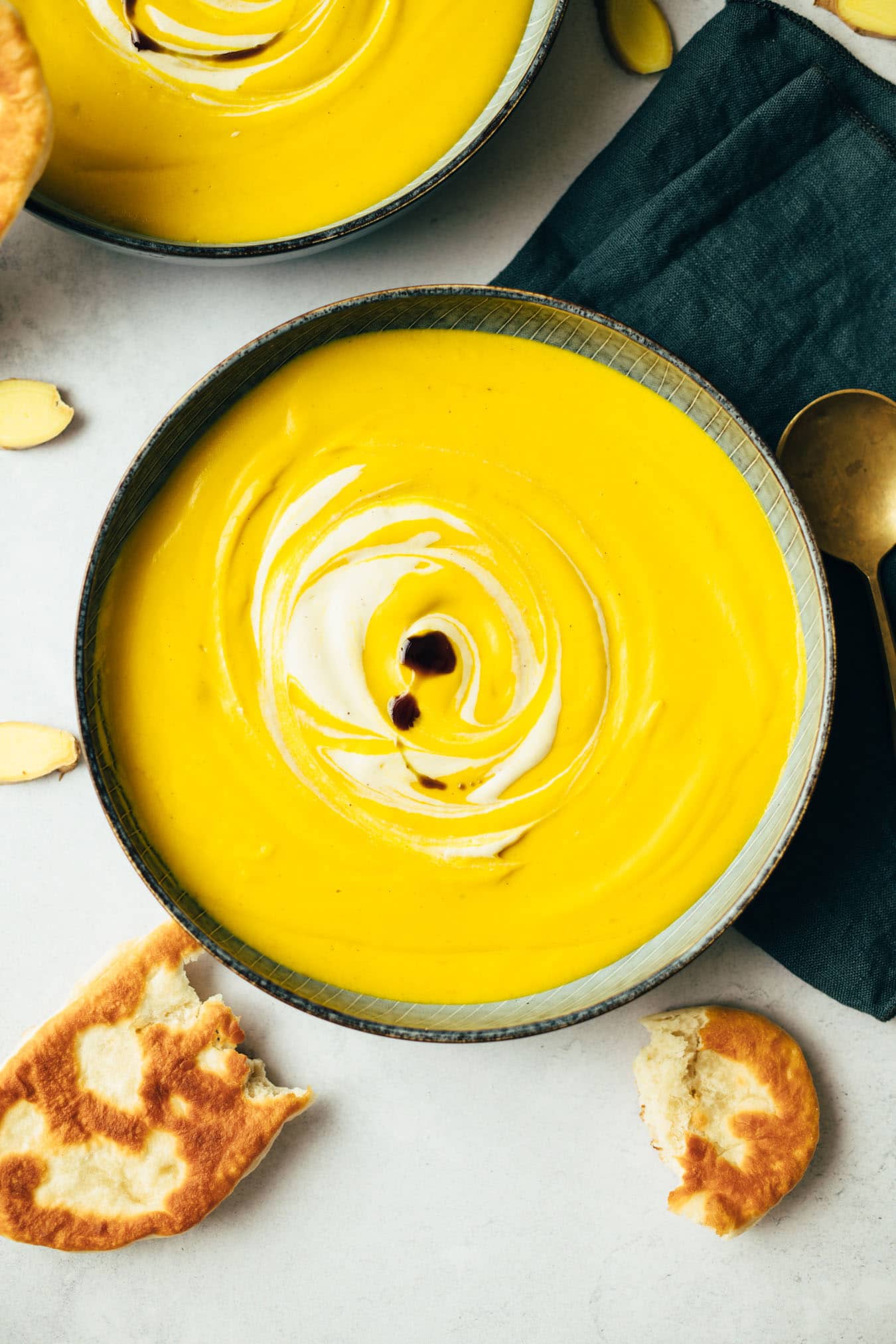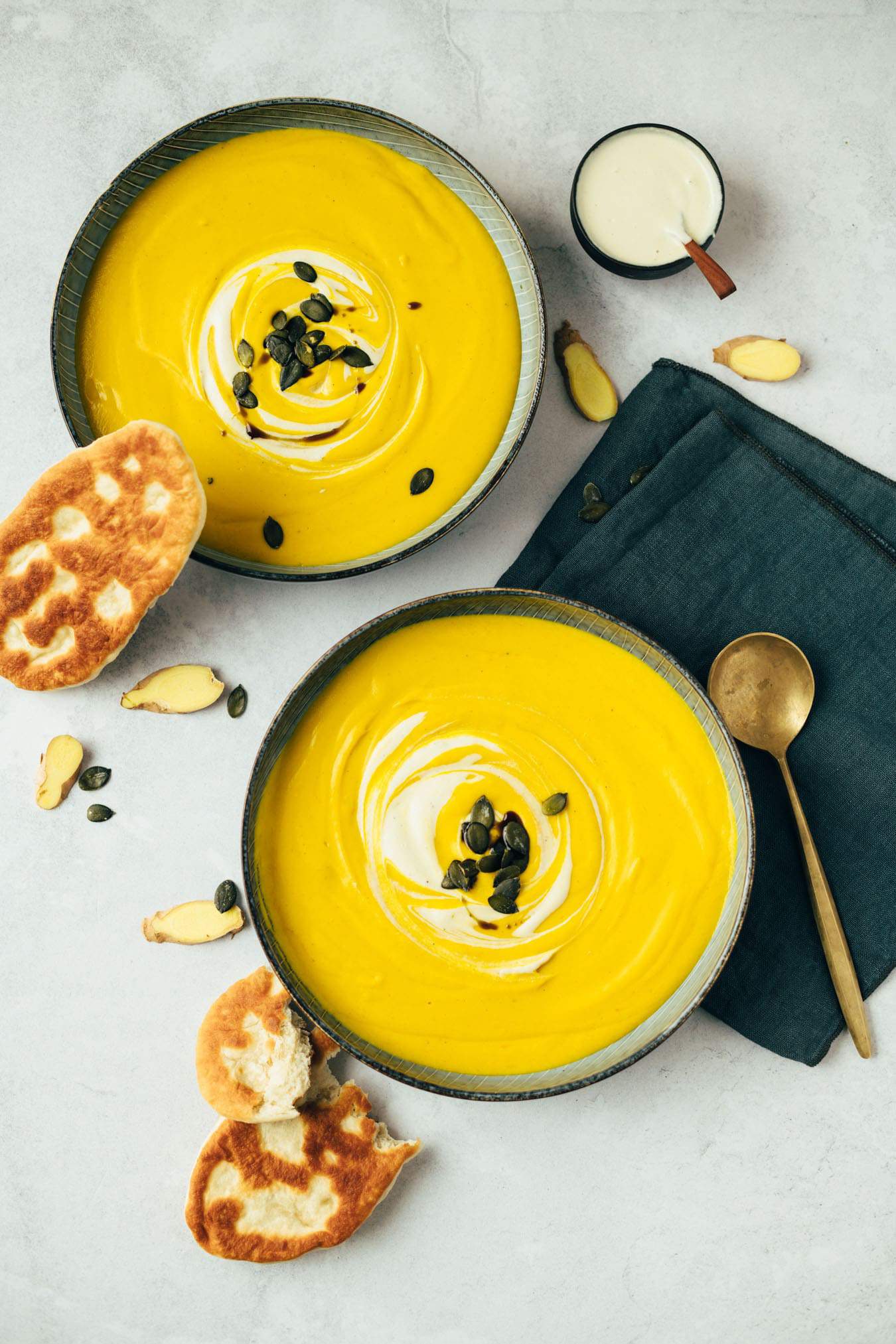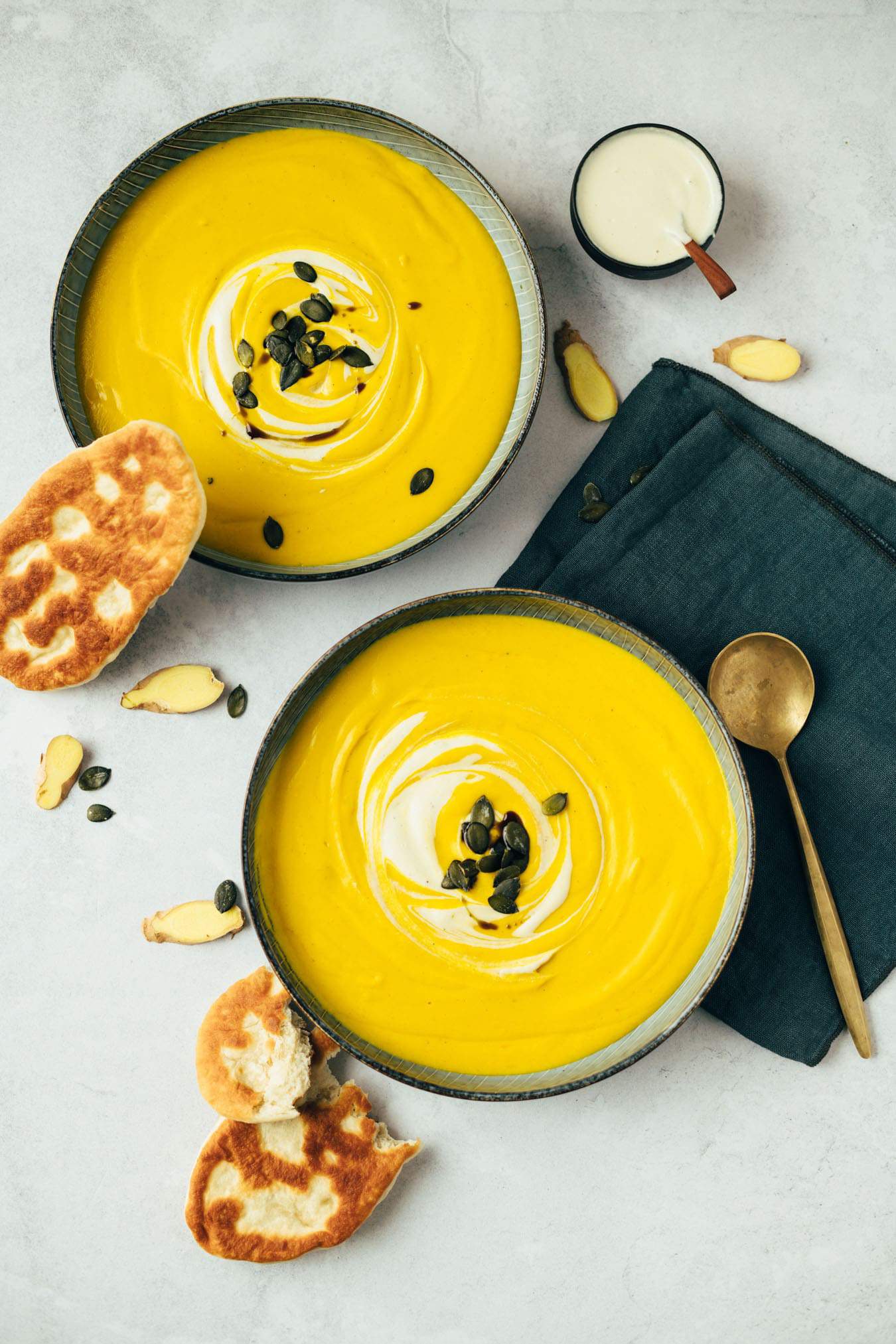 I have discovered something that I would like to share with you. It's sort of a cure-all, an extra, an all-rounder, a BOOM – I-love-it-about-everything ingredient. What do I mean? Pumpkin puree . It's really quick to make, incredibly versatile and keeps very well. Ideally, you'll fill up a whole armada of canning jars right away and put them in the fridge. Starting from soup, to Pumpkin Scones and Pumpkin Latte everything is possible with it. Here you come directly to the instructions. For those who want it a little more convenient, Pumpkin puree can also be bought ready-made in well-stocked grocery stores or online.
Vegan autumn vibes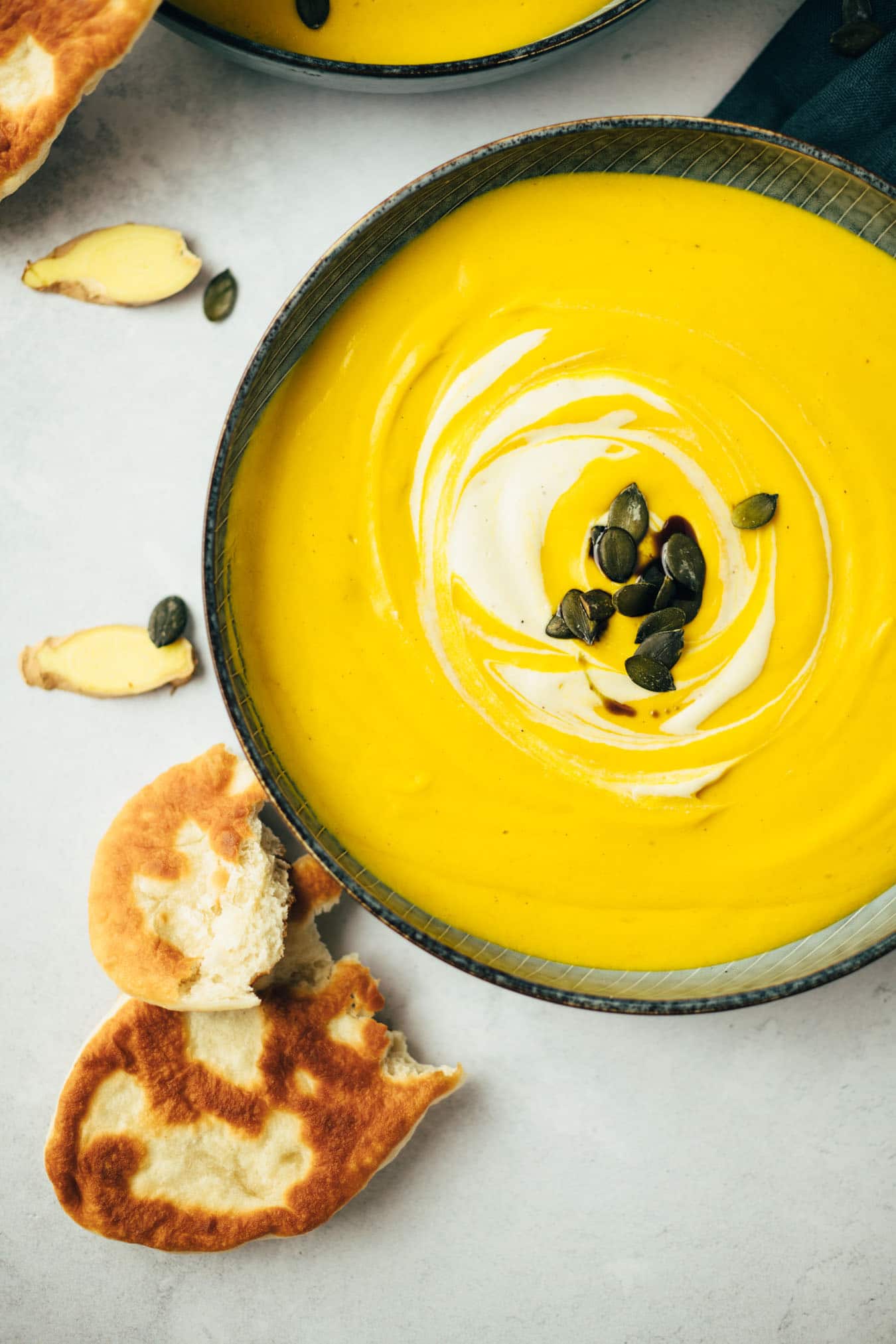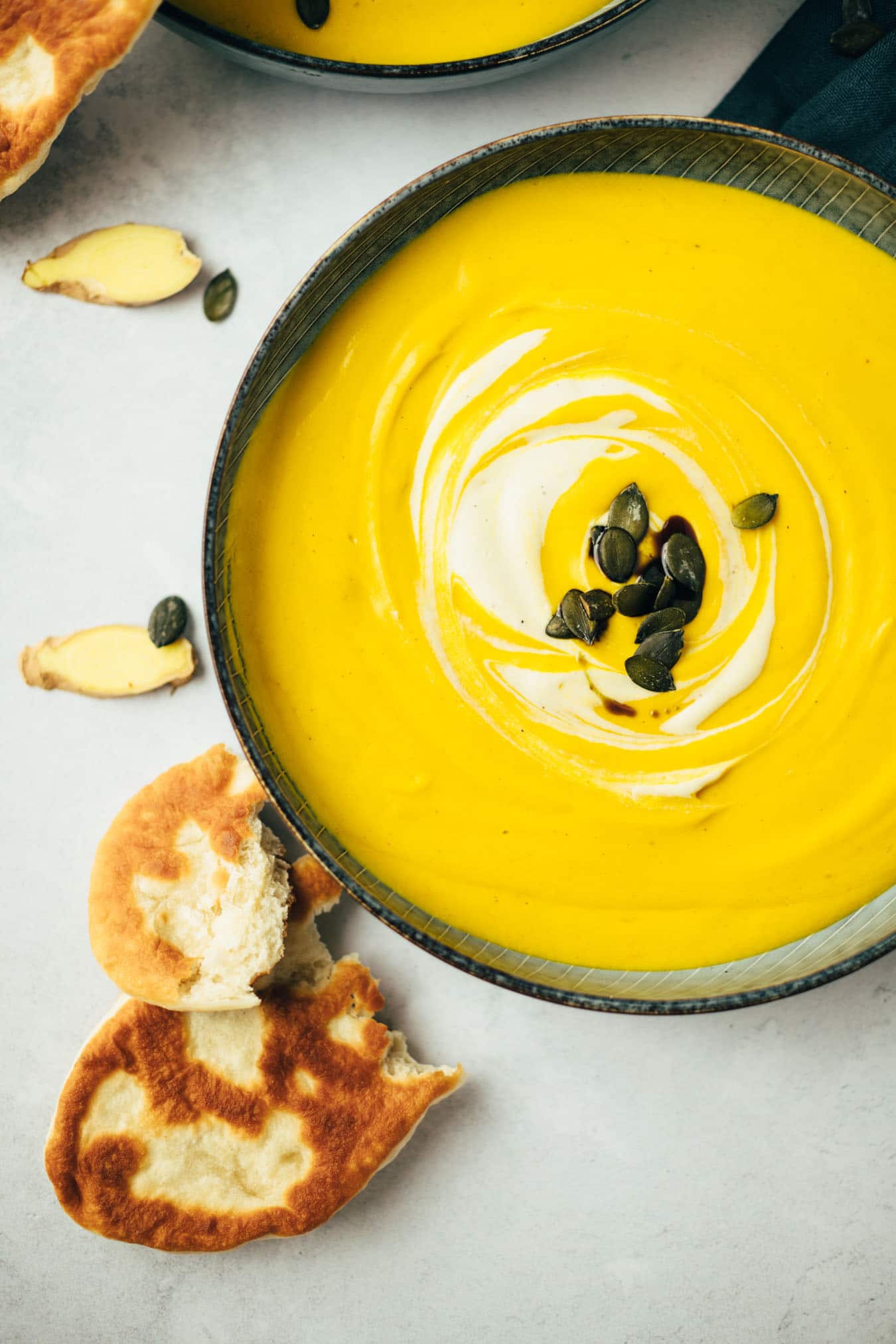 Let's start with the ingredients. Pumpkin puree , a large onion, garlic, vegetable broth, coconut milk, maple syrup, salt, pepper, cinnamon, nutmeg and a Bird Eye chili. Perfect! For the ginger cream you need a handful of cashews, some Oat milk ginger and a pinch of salt. Not to mention, a good high-powered blender. Alternatively, a not so good blender will do, but then the seeds must be soaked beforehand. I have linked my favorite blender below (advertising since brand mention, but bought myself).
Especially delicious to the soup taste roasted pumpkin seeds and pumpkin seed oil and fresh Naan bread .
Lightning pumpkin soup with ginger cream (15 minutes)
Warming
Spicy
Slightly sweetish
A little sharp
filling
Quick and simple
Are you ready the delicious and tasty vegan pumpkin soup? I wish you a lot of fun in recooking and of course a review at the bottom of this page. If you post a picture, use the hashtag #veganevibes.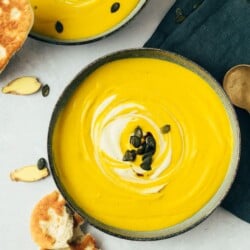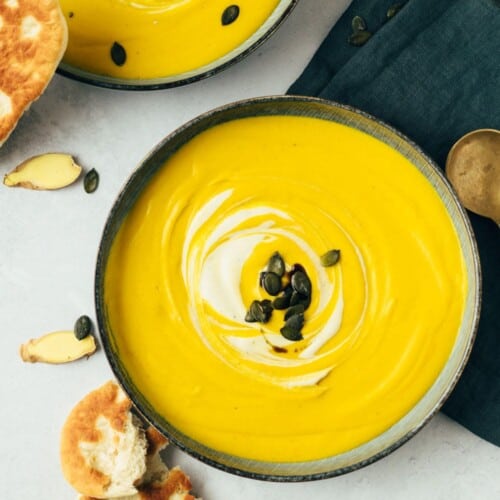 Pumpkin soup with ginger cream (15 minutes)
Quick, warming and vegan pumpkin soup with fruity-nutty pumpkin puree. Ideal for the colder season as a quick, filling meal. Uncomplicated, quick and damn tasty, made with just a few ingredients.
AUTOR: VEGANEVIBES
FOR GINGER CREAM:
150

g

Cashews 1 cup *6 hours soaked in cold water or 1 hour in hot water.

not necessary if good high line mixer available

120

ml

Oat milk

2

tbspn

Ginger

freshly peeled and cut into pieces
TO SERVE:
optional naan bread

optional roasted pumpkin seeds

Pumpkin seed oil
Anleitung 
Heat large pan with frying oil on the stove. Sauté garlic and onion until translucent.

30 ml Frying oil or other high heat oil,

2 Piece Garlic cloves,

1 Piece white onion or 2 shallots

Deglaze with vegetable broth and coconut milk and stir in pumpkin puree.

480 ml Vegetable broth,

240 ml Coconut milk,

450 g Pumpkin puree

Add maple syrup, sea salt, pepper, nutmeg, cinnamon and Bird Eye Chili and mix well.

15 ml Maple syrup,

Sea salt to taste,

black pepper to taste,

a pinch of nutmeg,

¼ tbspn Cinnamon,

1 Piece Bird Eye Chili or any other chili to taste

Simmer for about 5 minutes.

In the meantime, for the INGWERSAHNE place all ingredients in a high-powered blender and blend on high speed for 60 seconds to a fine cream.

120 ml Oat milk,

2 tbspn Ginger,

A pinch of sea salt,

150 g Cashews 1 cup *6 hours soaked in cold water or 1 hour in hot water.

Remove ginger cream from blender and place in a bowl. Put pumpkin soup in the same blender (rinsing is not necessary) and blend until creamy with a little ginger cream, if desired. I'm going with the soup program here. Alternatively, it also works with a magic wand.

OPTIONAL: Heat pan and roast pumpkin seeds without fat in it until they are already golden brown. Set aside. Tip: Be careful with the heat, the seeds can easily burn.

optional roasted pumpkin seeds

Divide soup into plates, top with ginger cream, roasted pumpkin seeds and pumpkin seed oil and enjoy! Keeps up to 2 days covered in the refrigerator, frozen up to 4 weeks. Is very suitable for reheating.

optional naan bread,

Pumpkin seed oil
Notizen
NOTES /HELPFUL ACCESSORIES:
Nährwertangaben
Serving:
1
Portion
Calories:
462
kcal
Carbohydrates:
29
g
Protein:
9
g
Fat:
37
g
Saturated Fat:
20
g
Sodium:
512
mg
Potassium:
626
mg
Fiber:
4
g
Sugar:
11
g
Vitamin A:
17825
IU
Vitamin C:
5.9
mg
Calcium:
102
mg
Iron:
6.3
mg