It is simply indescribable: "Hmmmm, Ahhhh, Ohhhh, Nom Nom Nom" are the words that come out of my mouth when I eat freshly baked Naan bread. I am well aware that I could also save myself the calories and eat the hummus or dal plain. But something that is so delicious I just can not do without. Then just not so often – or more and more often?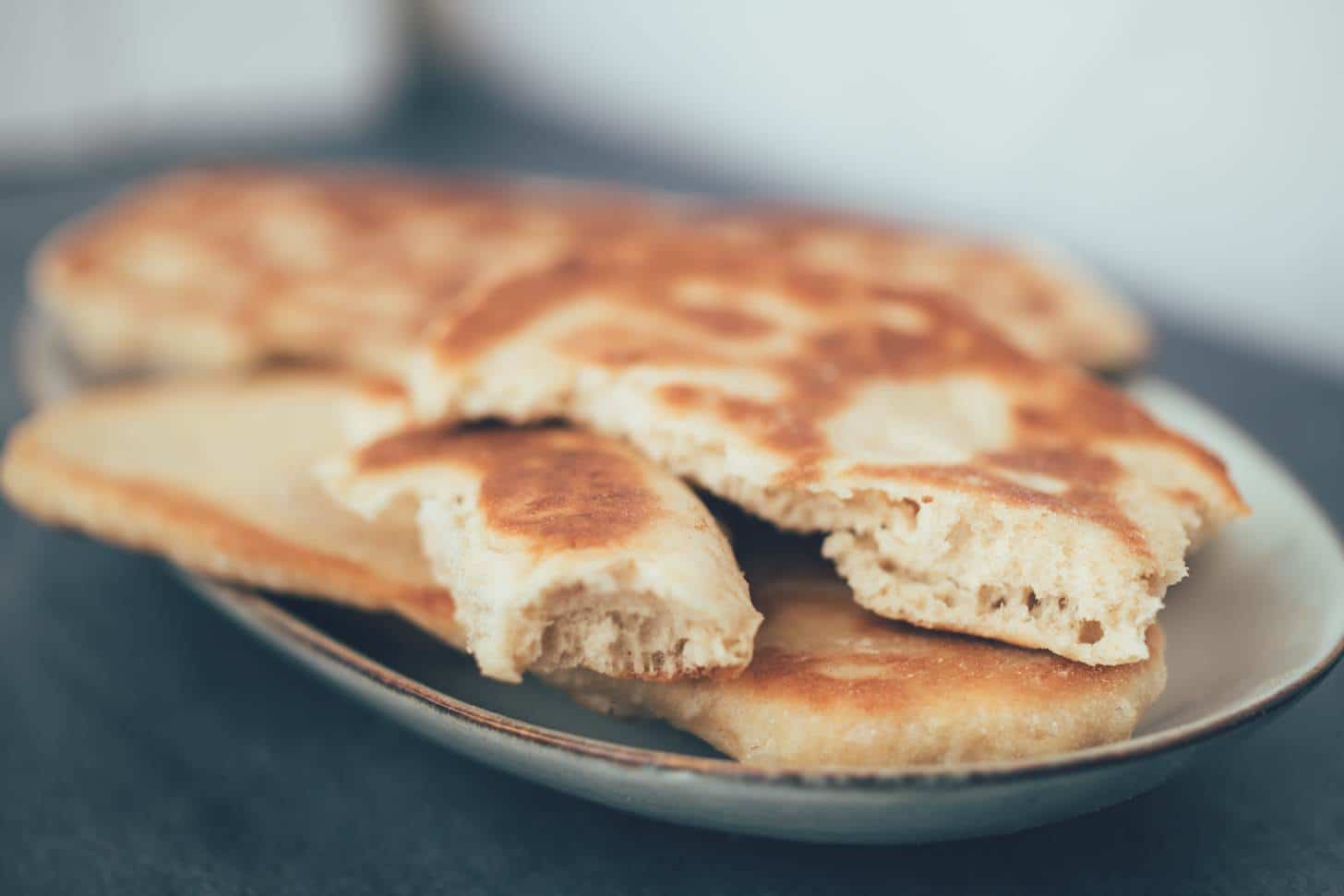 NAAN UP YOUR LIFE- Make your own naan
I really had to laugh out loud when my dad sent me a picture on WhatsApp. To see was a sticky dough on the wall of his pizza oven. You must know, it is a brick wood stove in the garden. He got the idea Naan bread to make it because he saw it in a documentary. "They do it the same way in India, so why shouldn't I try it here in Bavaria," he said.
The good news is that you don't need a pizza oven to make these delicious little vegan loaves. Actually, you only need 7 ingredients, a bowl or food processor and a pan. A little patience you should also bring, that the dough should go an hour. This makes it extra fluffy and soft.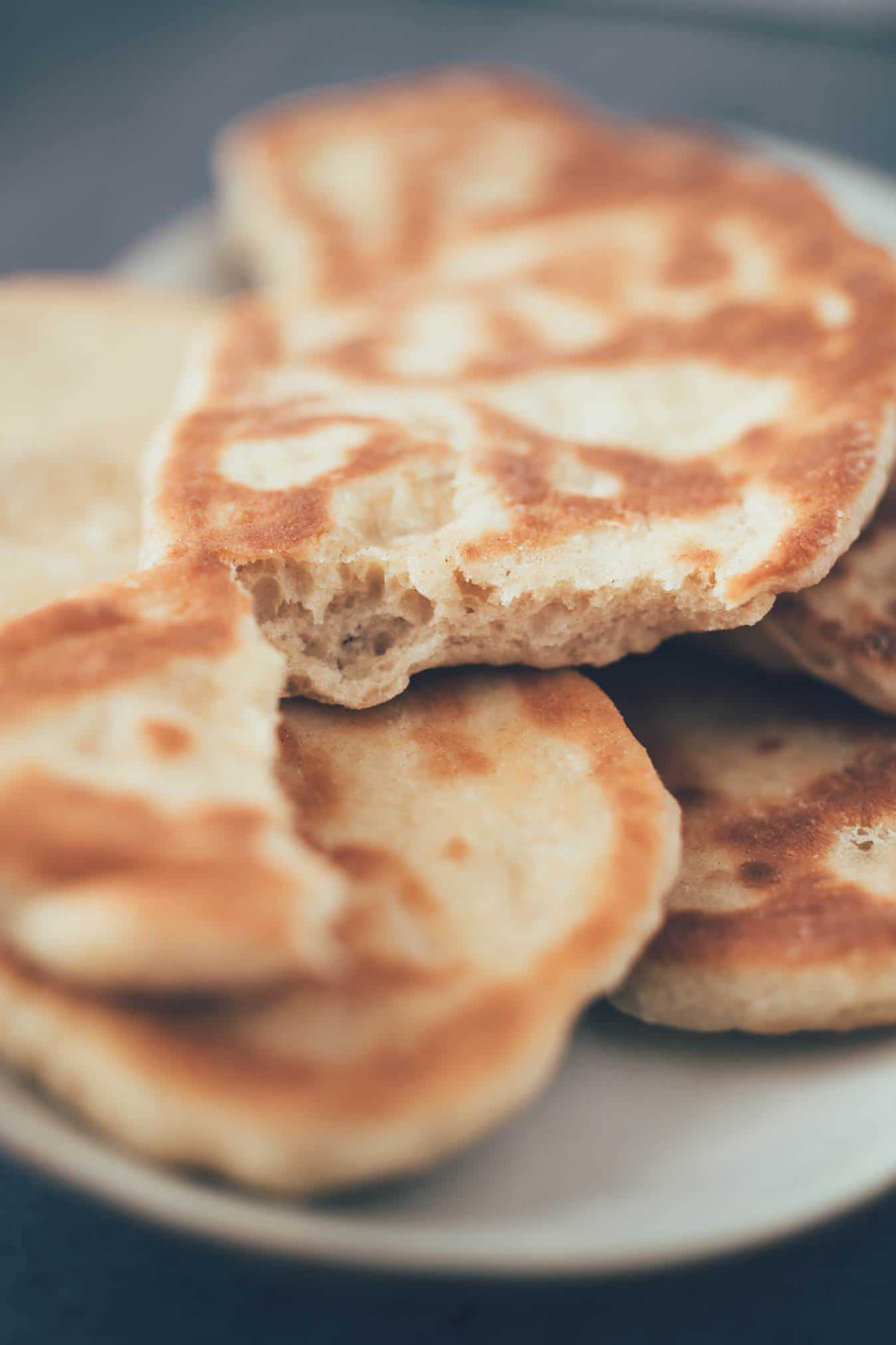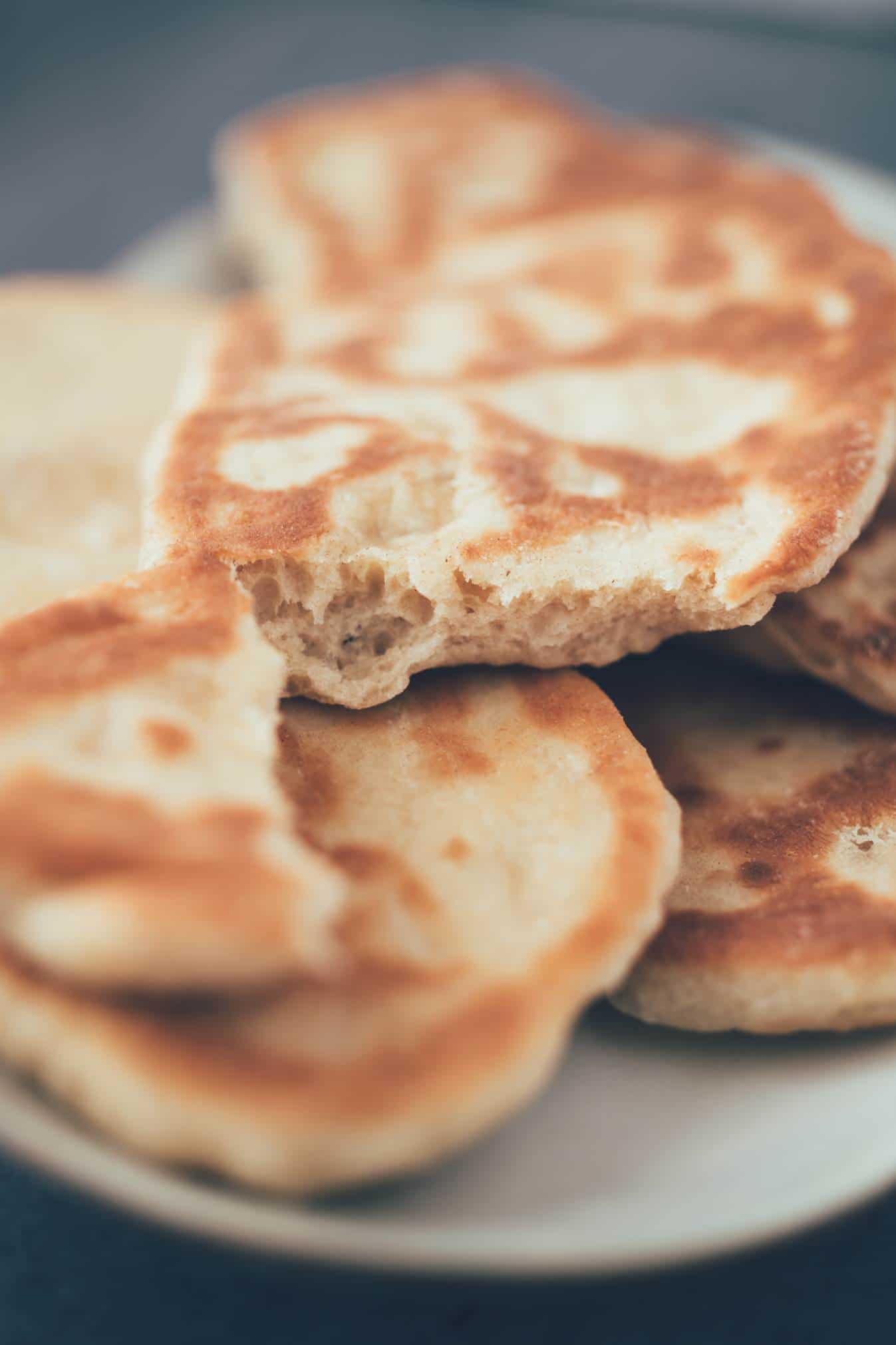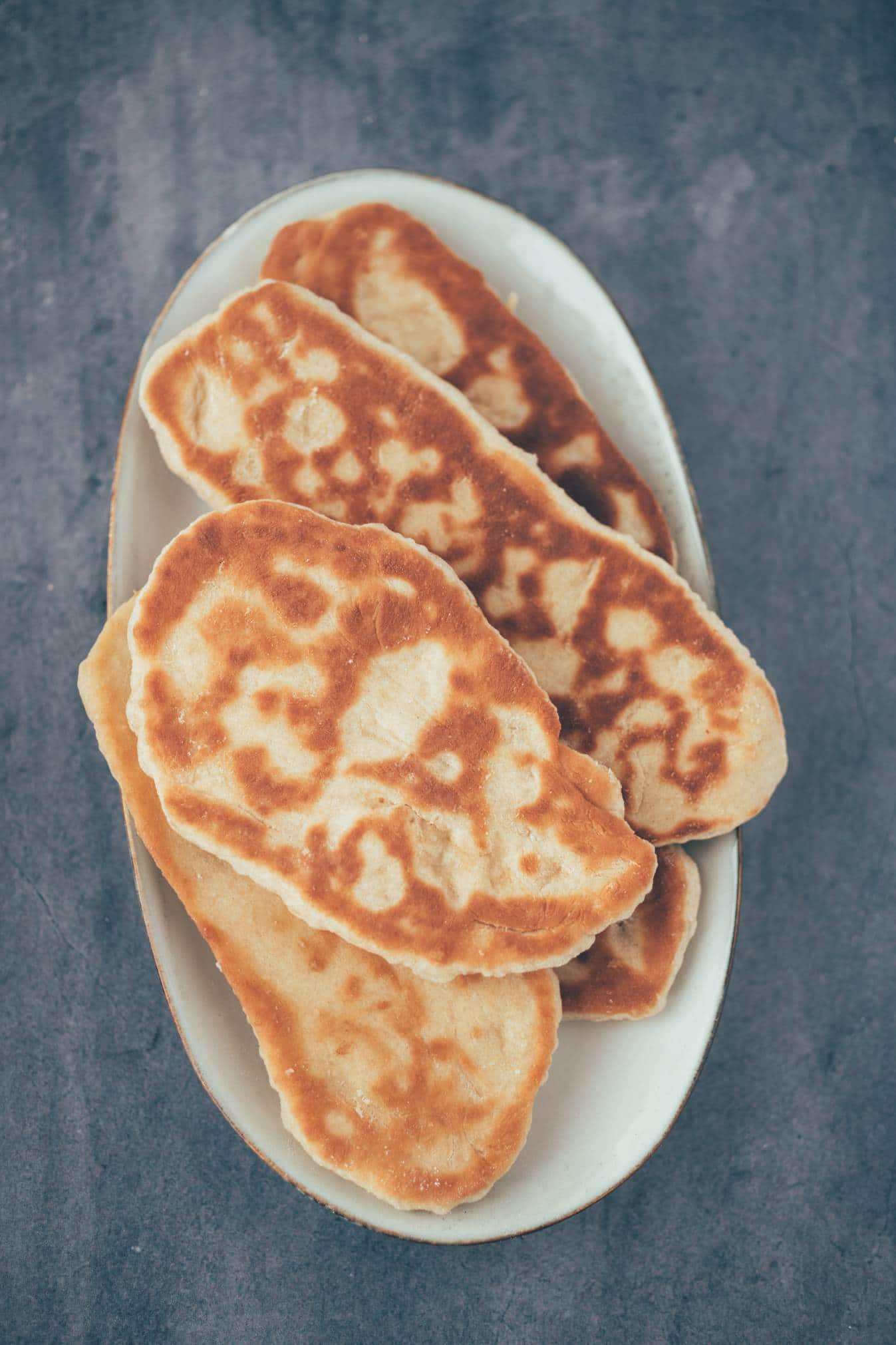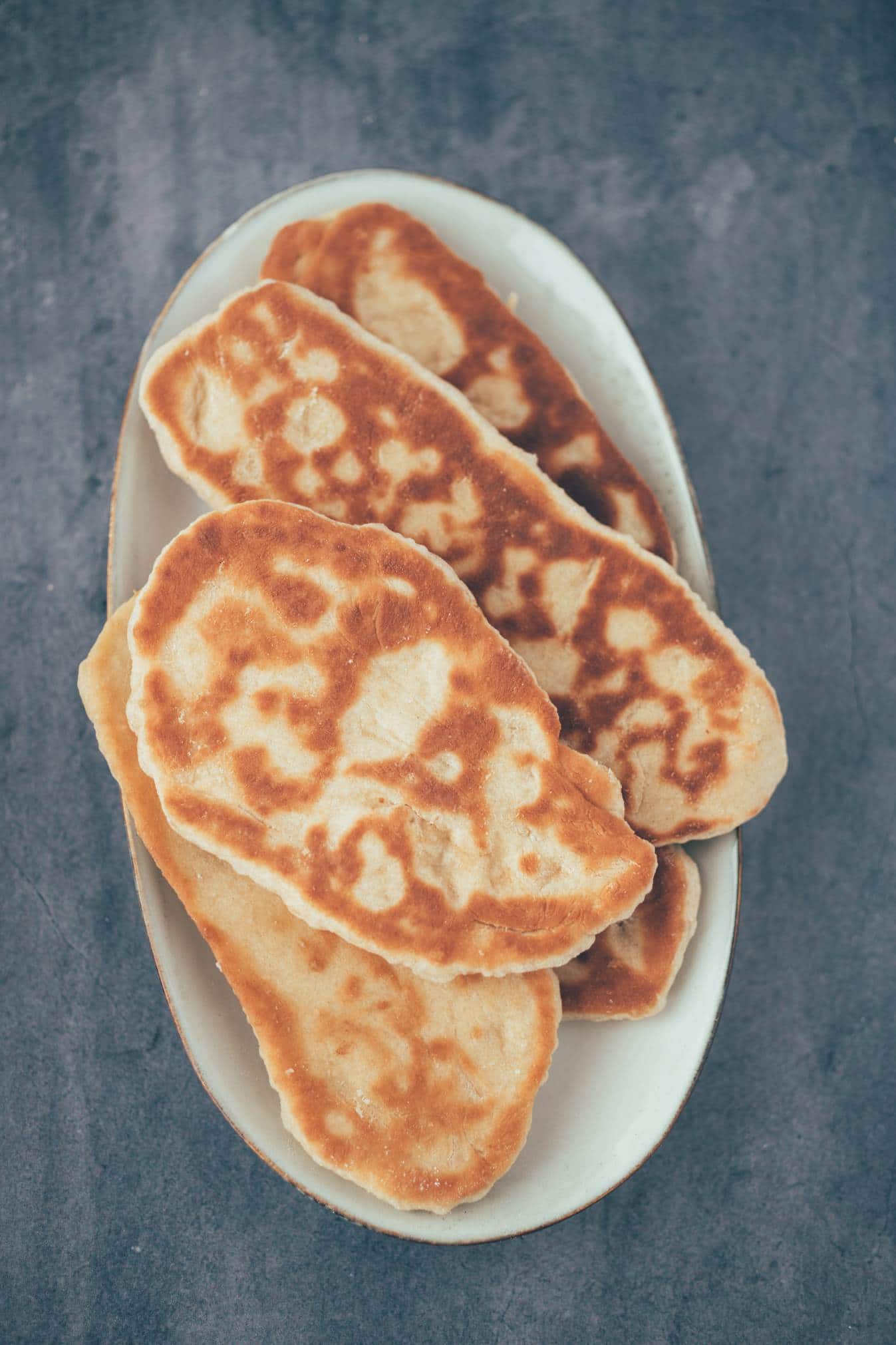 The dough could not be simpler and is a mixture of warm water, yeast, raw cane sugar, salt, olive oil and fine spelt flour. Processing is just as easy and can not go wrong, if you follow these rules:
I like very much to use dry yeast, because it is more soluble and rises faster
To "let the dough rise", always keep the bowl in a warm place (not hot!) and avoid drafts.
A little patience is indispensable, because the yeast needs time to go. You should definitely plan for an hour. Then everything will be perfect.
NA-NAAA NA NA (life is life)
What is certain is that there is hardly a more versatile side dish. Whether you're pairing naan with vegan spreads, hummus, dal, curry, Butter Chicken , Tzatziki , Bowls or salads, it always has its place. Also at dinner parties you can impress your guests wonderfully with it. The only question is whether naan bread also works gluten-free?
HIer go to the Naan bread (gluten free) recipe
But of course! But then the dough composition is a little different:
250ml (1 cup) vegetable milk
118g (1/2 cup) vegetable yogurt
15ml (1 tablespoon) olive oil
300g (2 cups) gluten-free flour mix
30g (1/4 cup) cornstarch
4g (1 tsp) psyllium, alternatively 1 tsp locust bean gum
7,5ml (1 tsp) maple syrup
2 tsp (1/2 package) dry yeast
1 tsp salt
TIP: Depending on which gluten-free flour you use, the dough may be slightly firmer or runnier. If too runny, add a little more flour, if too dry, add a little more milk. Otherwise you come here to the Naan bread (gluten free) recipe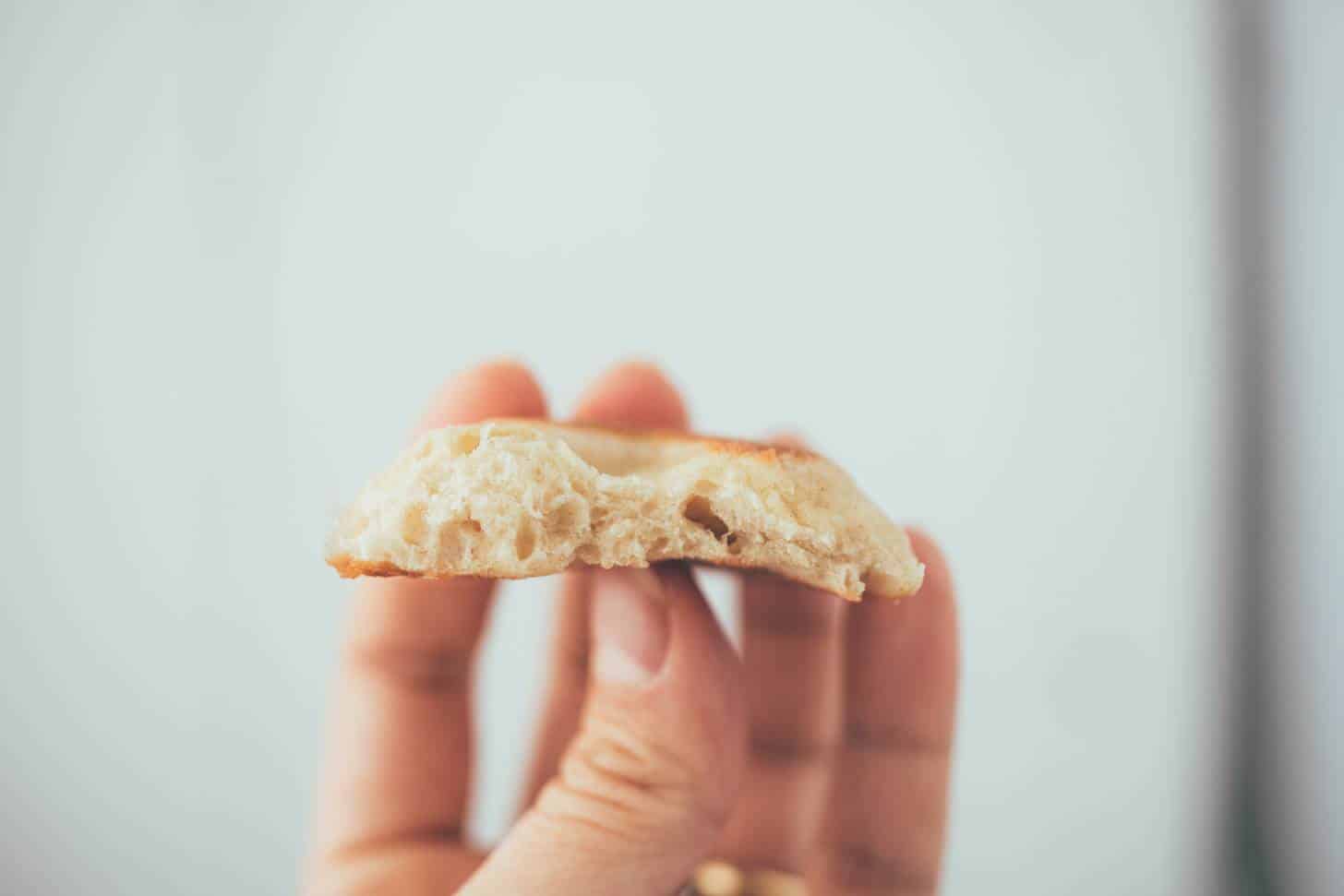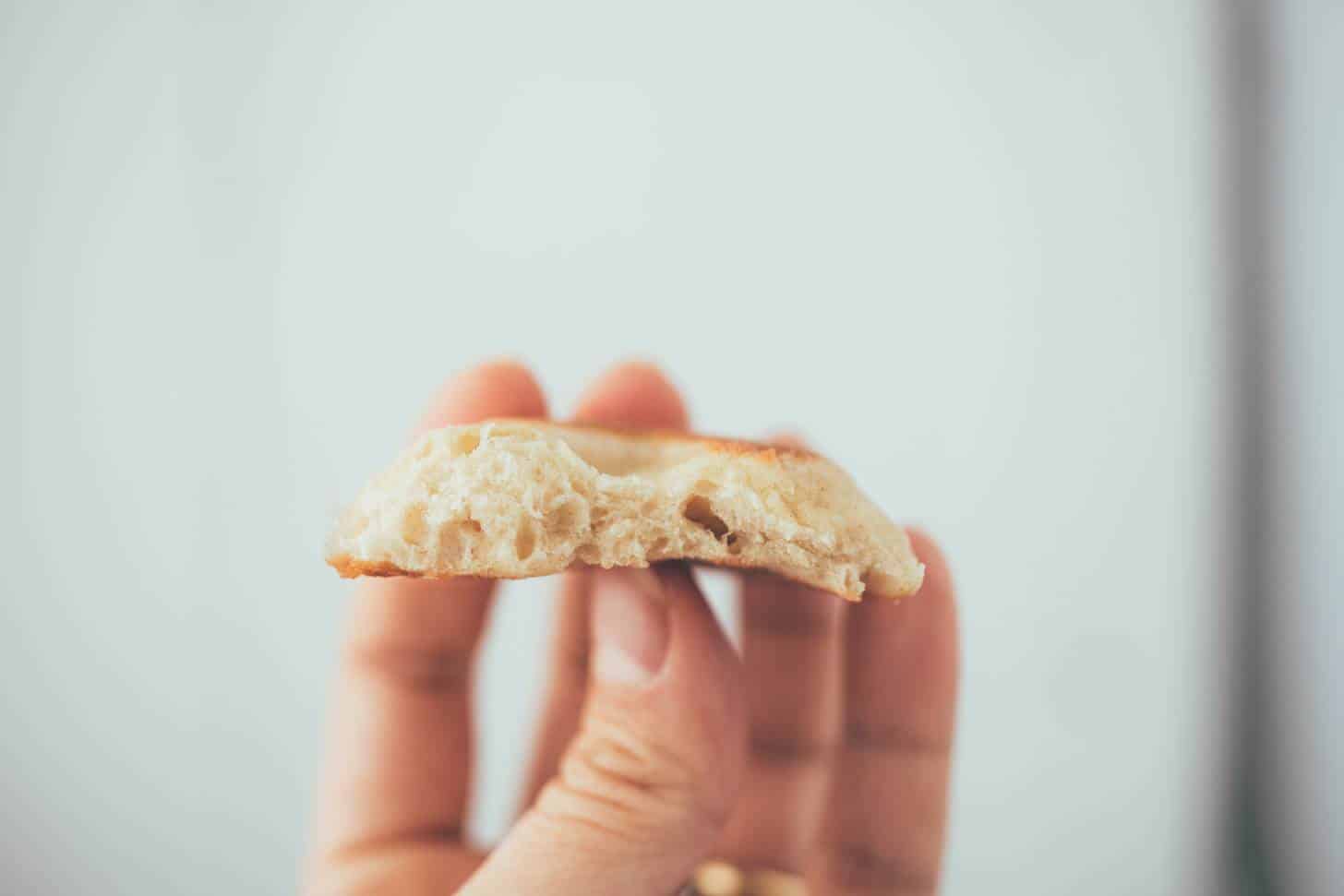 Here's another little hint if you own a high-powered blender. My Blendtec has a dough program that works really well. I put the ingredients in the mixer in order, run the dough program and let it go right away in the mixing bowl. This saves time and is super convenient. However, any food processor will work here and even by hand the result will be wonderful.
The vegan naan bread is:
Outside crispy
Inside soft
Perfect side dish
Light
Easy to manufacture
I wish you a lot of fun with the Nachbacken and look forward to a review at the bottom of this page. If you post a picture, use the hashtag #veganevibes.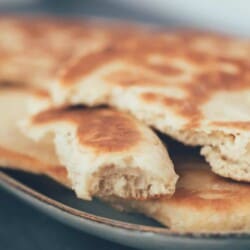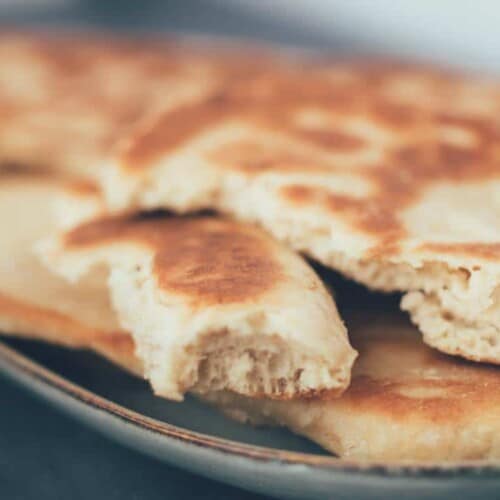 vegan naan bread (how-to guide)
Simple vegan naan bread made from healthy spelt flour. Fluffy, crispy on the outside and quickly made. Perfect as a side dish to salads, curries, or just plain with vegan butter, herbs, sea salt and garlic. Enough as a side dish for 2-3 people.
AUTOR: VEGANEVIBES
OPTIONAL TOPPINGS:
Vegan butter

Herbal margarine

Fresh coriander

Freshly pressed garlic
Anleitung 
FOR THE NAAN DOUGH put warm water and dry yeast in a large bowl and mix. Add sugar to activate the yeast.

180 ml Warm water,

1 tbspn Dry yeast,

1 tbspn Raw cane sugar

Add olive oil, spelt flour, baking powder and sea salt and work into a uniform, smooth dough. This should be compact enough to pull away from the dough bowl when stirred. Processing can be done by hand, with a food processor (kneading attachment) or with the dough program of a high-performance mixer.

30 ml Olive oil,

375 g fine light spelt flour,

¾ tbspn Baking powder,

1 tbspn Sea salt,

Optional: frying oil

Depending on the consistency of the dough, add a little more flour (if too wet) or more water (if too dry).

Cover and place in a warm place without drafts. Please do not expose to direct heat, because yeast bacteria do not like heat or cold. Room temperature (near an oven in winter) is ideal. Leave to rise for

60 minutes

.

The dough should now have about twice as much volume as before the rising time. Transfer to a floured surface and knead for another

2-3 minutes.

Divide into 6 equal portions and shape into small balls.

Now heat pan to medium heat. Optional: add a little frying oil to the pan.

Take a ball of dough and roll it out with your hands or with a rolling pin into a flat, oblong patty.

IF YOU WORK WITHOUT OIL: Brush the patty on both sides with a little water to prevent it from sticking to the pan. Here I have a small bowl of water and a silicone brush next to the stove. Place patties in pan and bake for

2-3 minutes on

each side until golden brown.

WHEN BAKING WITH OIL : Place patties in pan and bake for 2-3 minutes on each side until golden brown.

THE NAAN BREAD is ready when it is nice and golden brown and has lightly blistered. Do not let pan get too hot or it will burn easily.

Place on a preheated plate and enjoy. Tastes best fresh. Can be kept covered at room temperature for up to 2 days.

Sea salt,

Fresh coriander,

Freshly pressed garlic
Nährwertangaben
Serving:
1
Portion
Calories:
295
kcal
Carbohydrates:
46
g
Protein:
8
g
Fat:
7
g
Sodium:
68
mg
Potassium:
12
mg
Fiber:
8
g
Calcium:
5
mg
Iron:
3
mg