You know those days when you feel like making a simple Cake have? I mean one like this Sponge cake without a lot of frills, frippery, great filling and frosting. Simply a vegan, simple Cake that tastes good and is extremely easy to make. Such a Recipe that you can just make on the side, while you're still chatting on the phone with your best friend. Without a long list of ingredients and preferably only with things that you always have in the house. Sounds pretty perfect, right? If you feel like it now, let's get started together with our coffee cakeswith cinnamon sugar.
Vegan coffee cake for autumn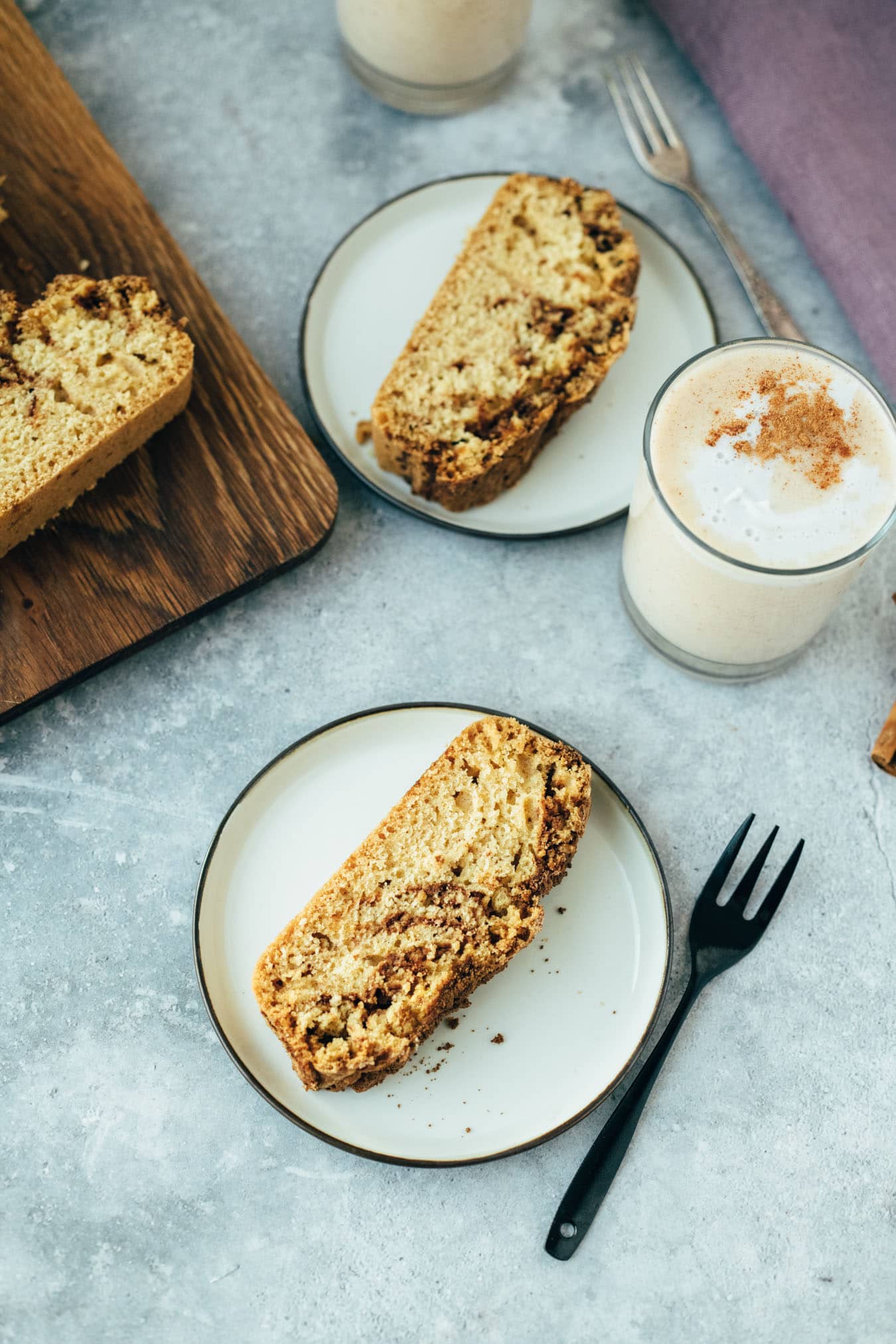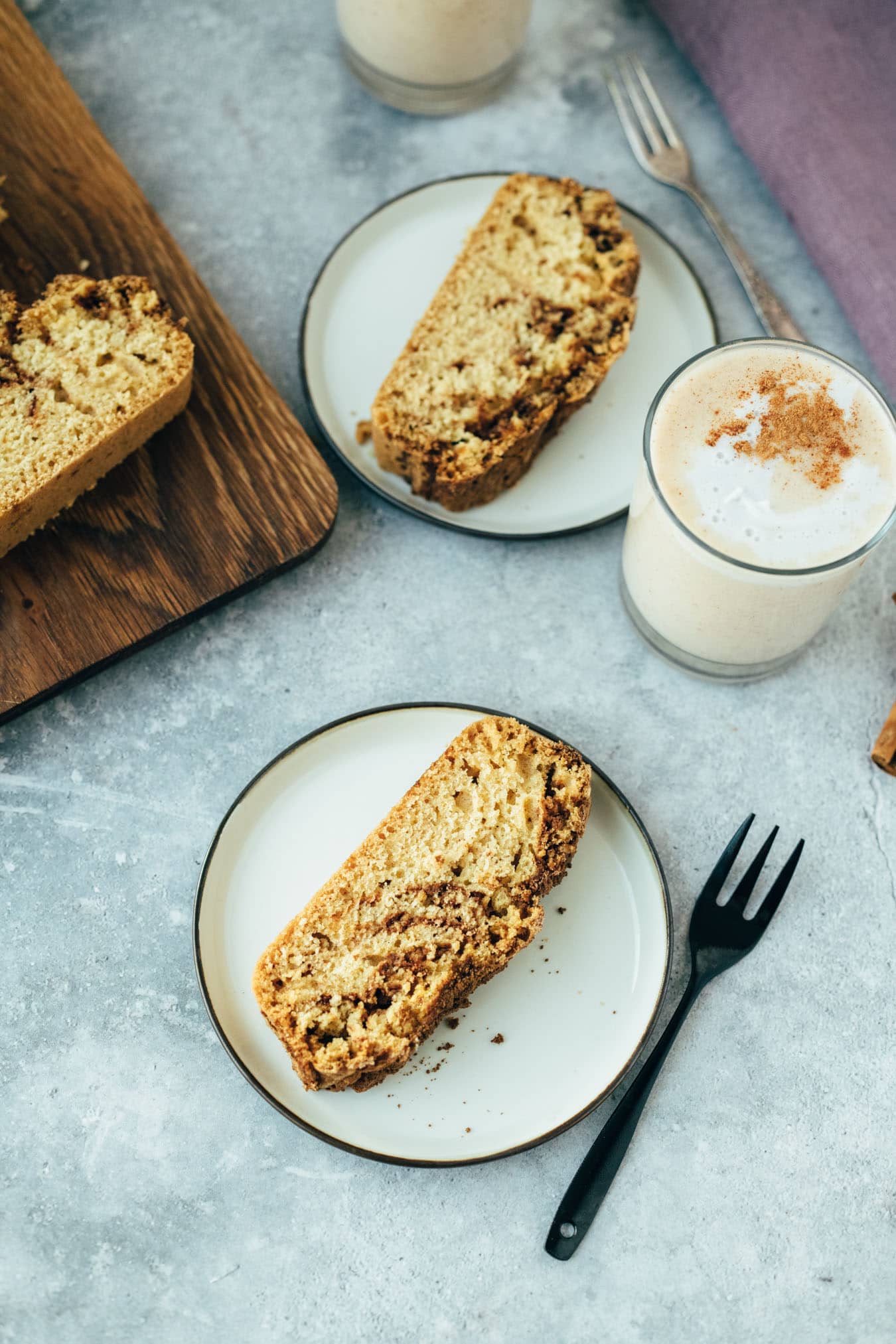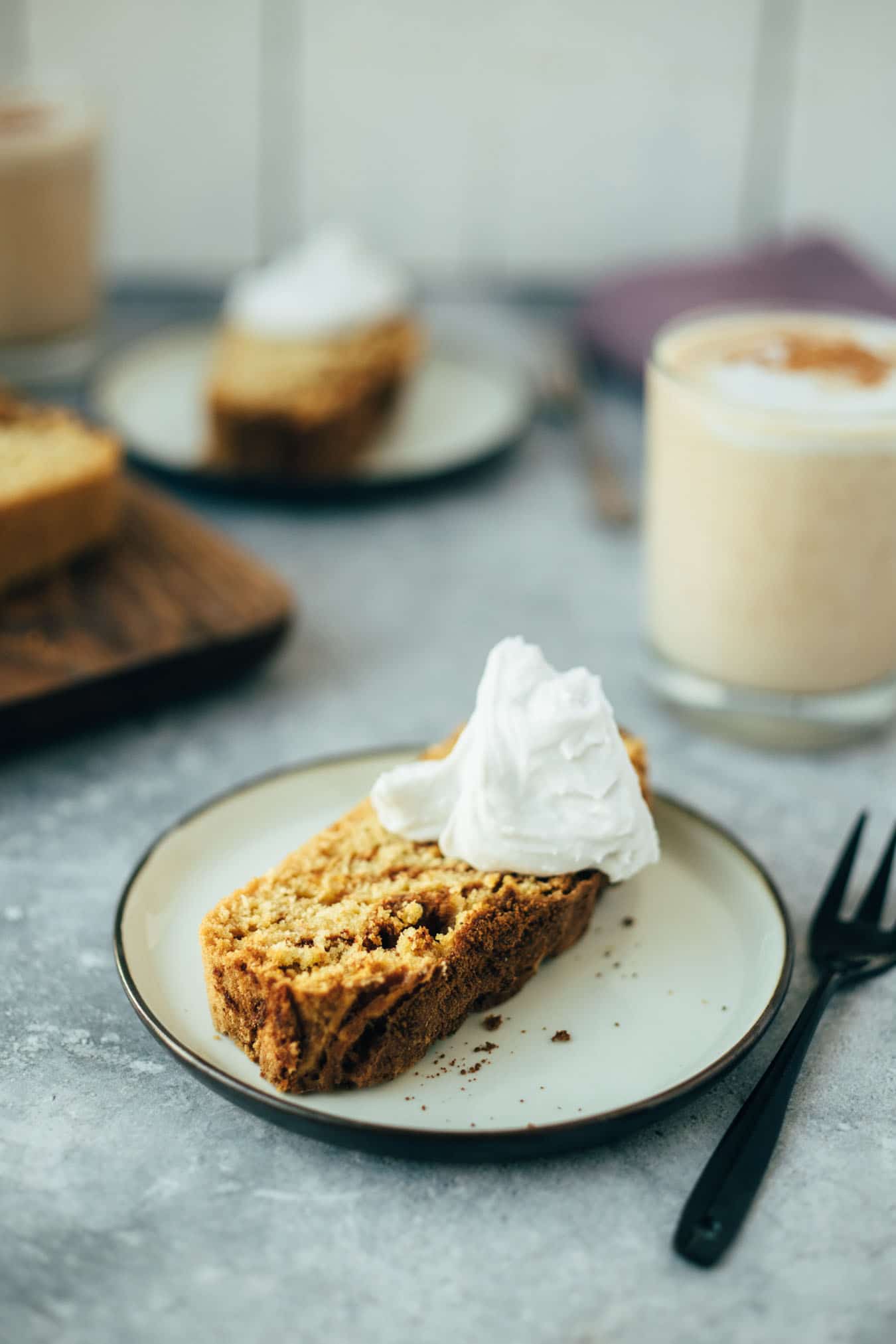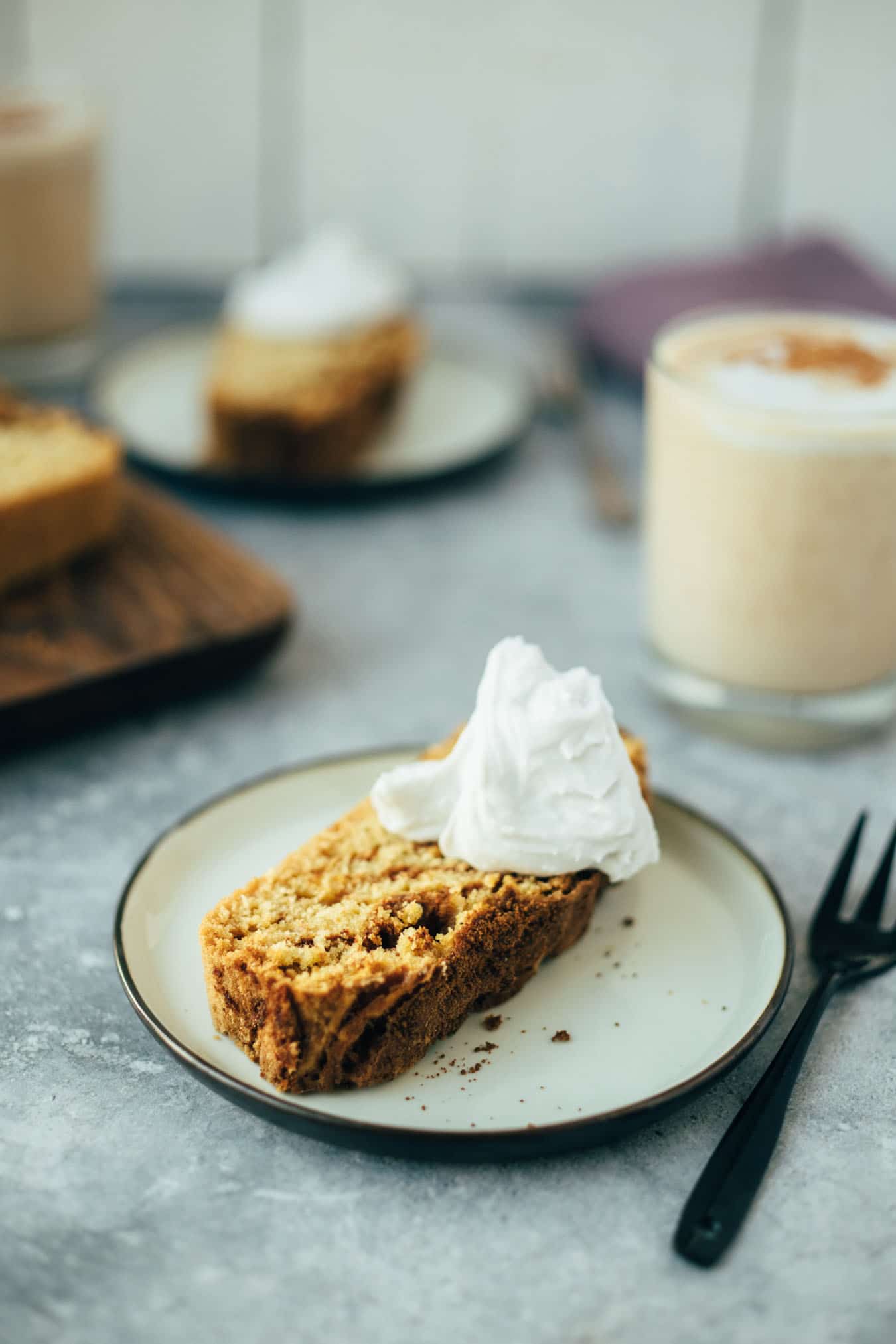 Just in the Autumn I long for warming spices. Do you feel the same way? Cinnamon is always in first place and I would love to sprinkle it everywhere. In the coffee, cereal, porridge, pudding and whatever else there is. That's exactly why this fine sponge cake is topped with a delicious mixture of Cinnamon and cane sugar, which I simply add on top of the cake. It doesn't get any easier than this, my dears.
Vegan cake vibes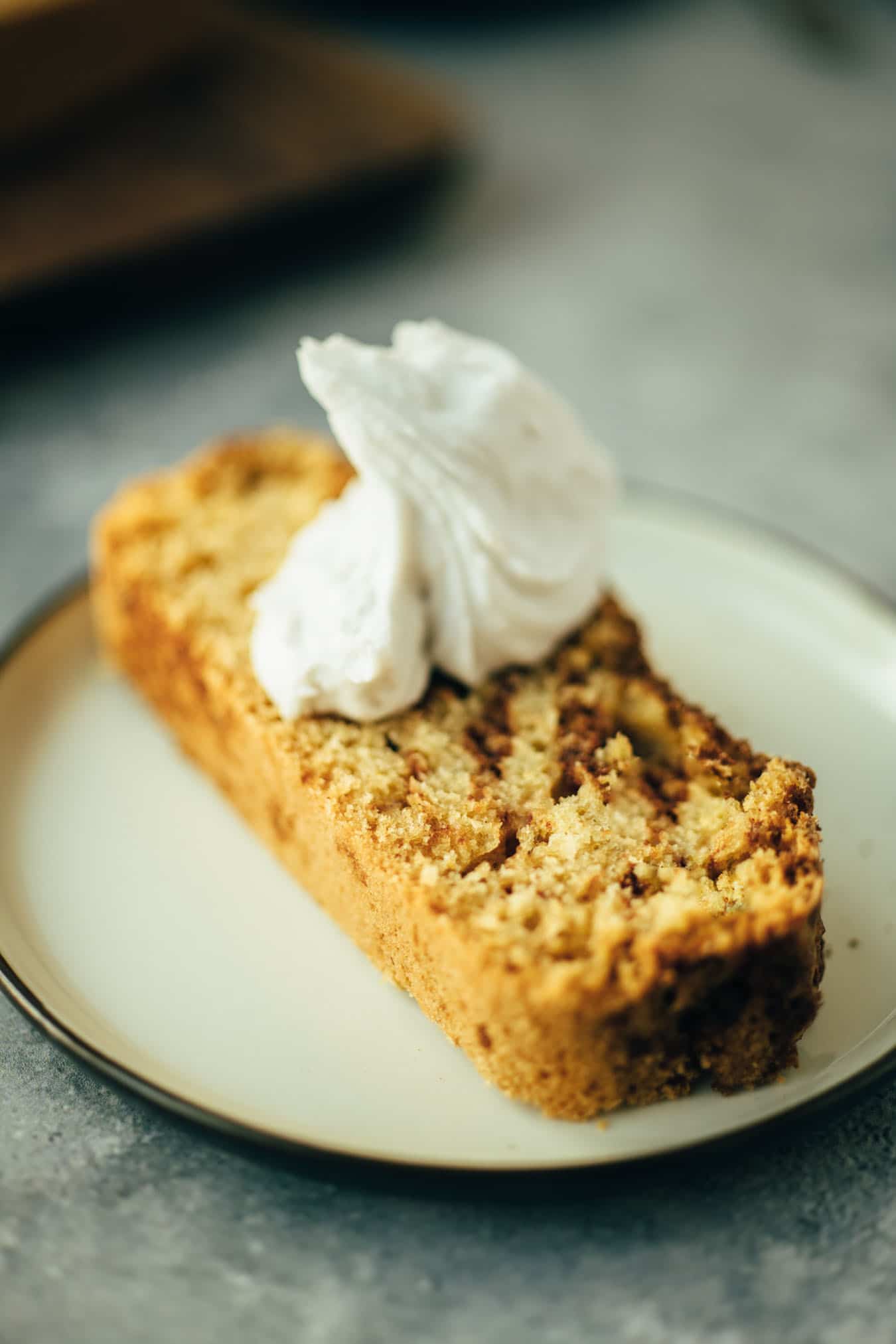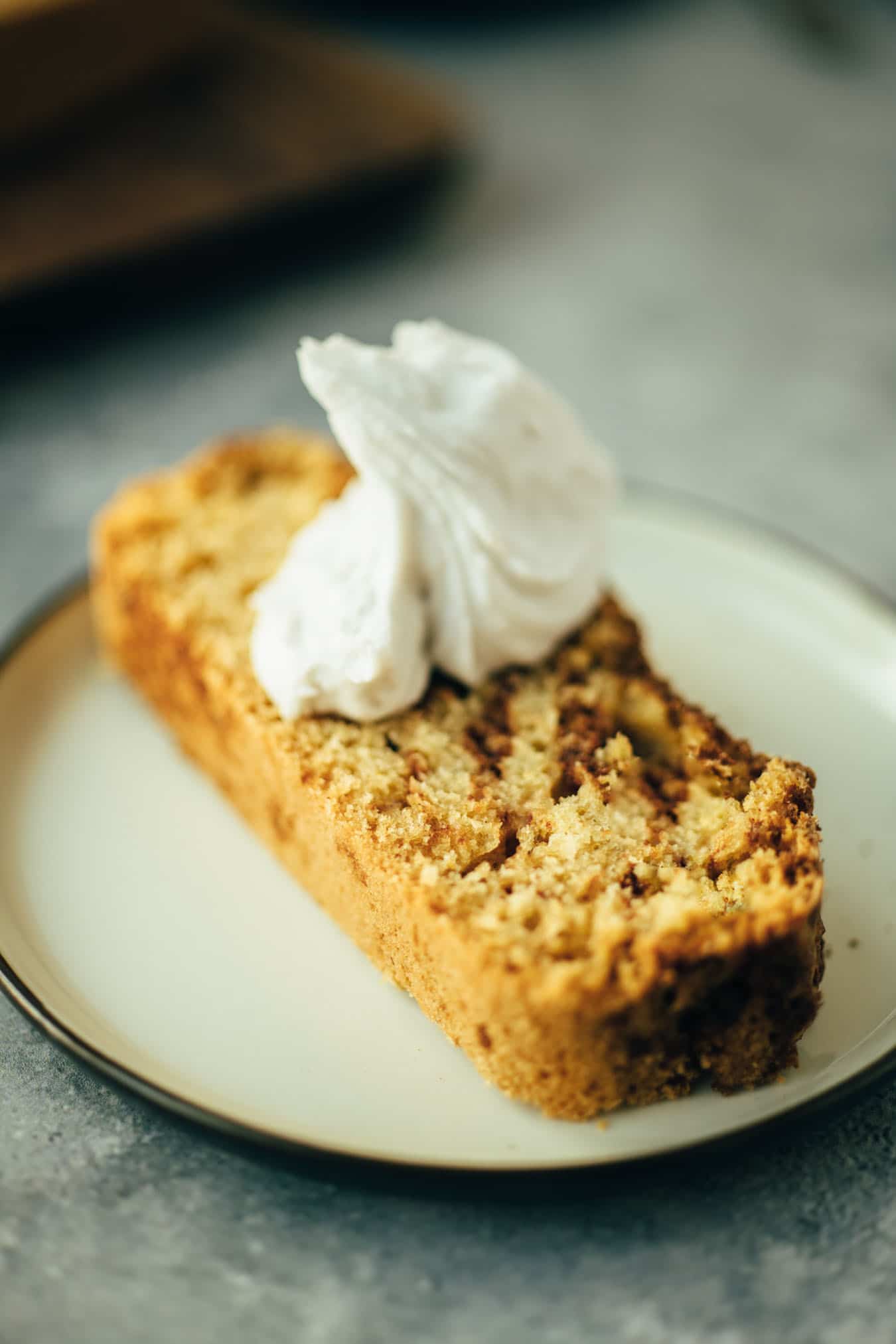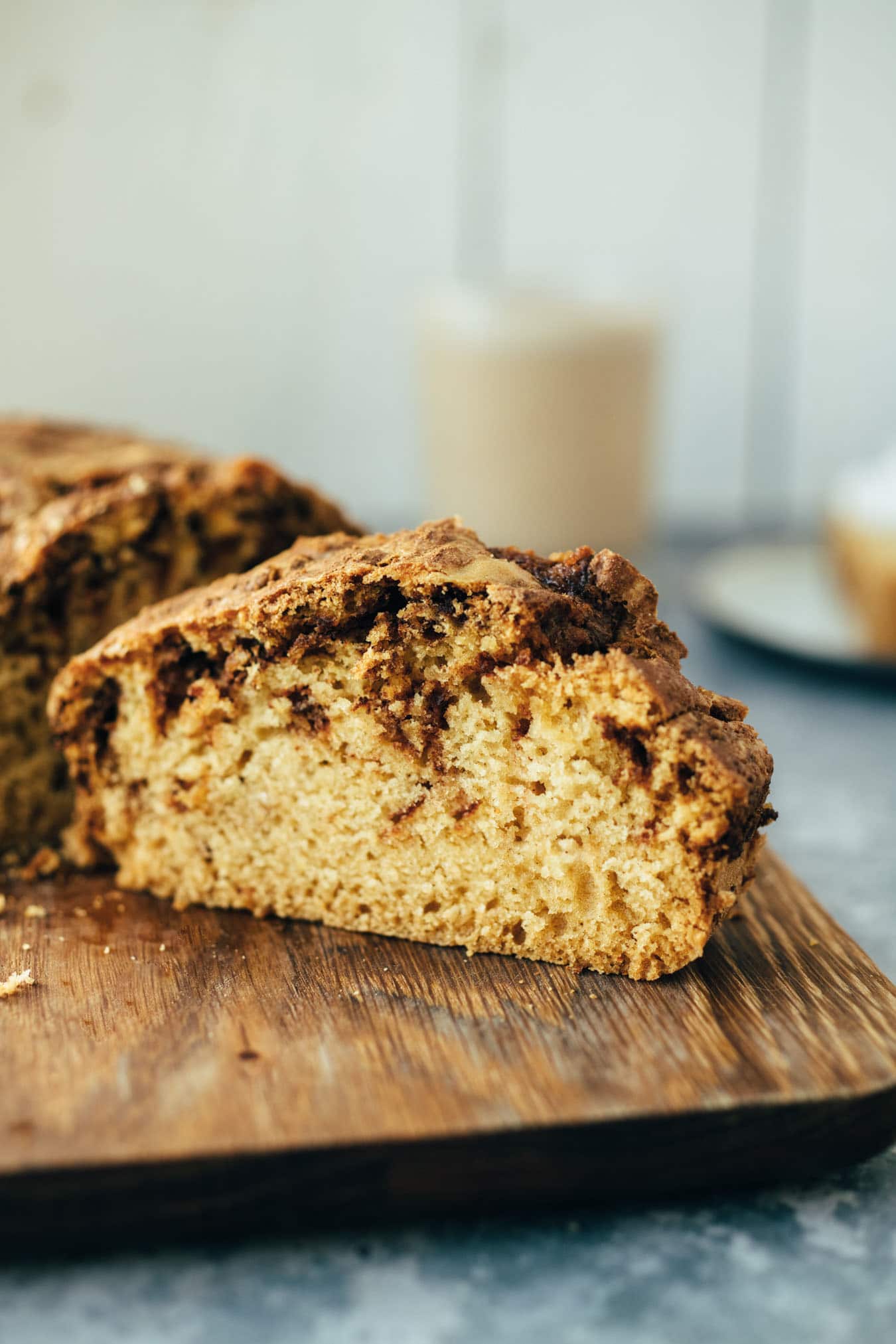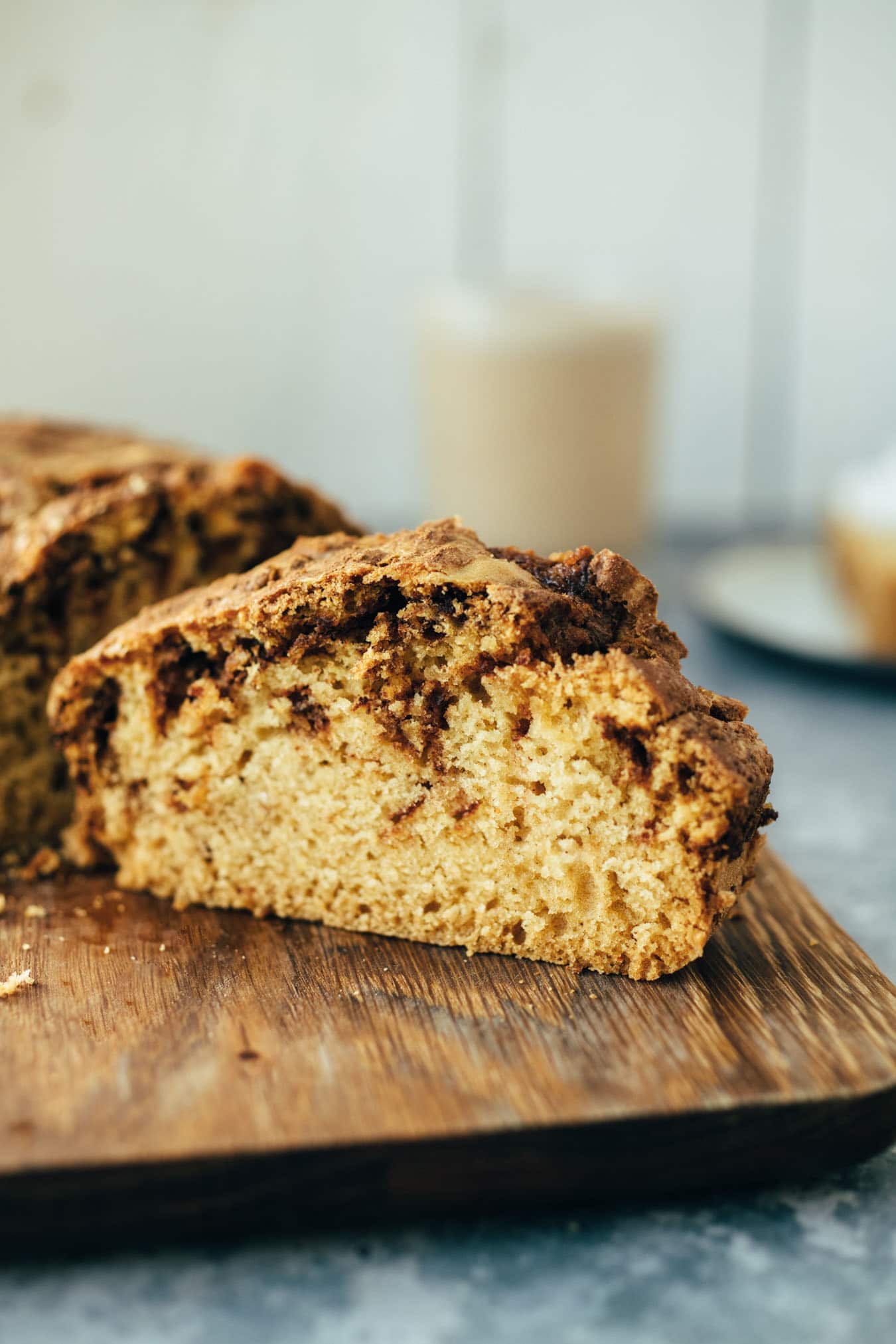 Let's get to the recipe. You don't need much for this except a little time, patience, a handful of ingredients and of course a baking dish. I use a loaf pan here (I've linked you mine at the bottom). Almond milk , apple cider vinegar, baking soda, raw cane sugar, frying and baking oil, vanilla, turmeric (for a yellowish color), flour (feel free to use my gluten free flour mix ), cinnamon , cornstarch, baking powder and a pinch of sea salt.
The cinnamon sugar topping is simply cinnamon and cane sugar, voila!
Should you still feel like something more, then I recommend you my vegan coconut cream which goes really super well with it. I'll put the coffee on.
Get started with this delicious, no-fuss coffee cake. I hope you enjoy baking and of course about a review at the bottom of this page. If you post a picture, use the hashtag #veganevibes.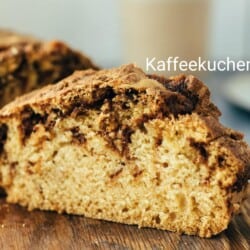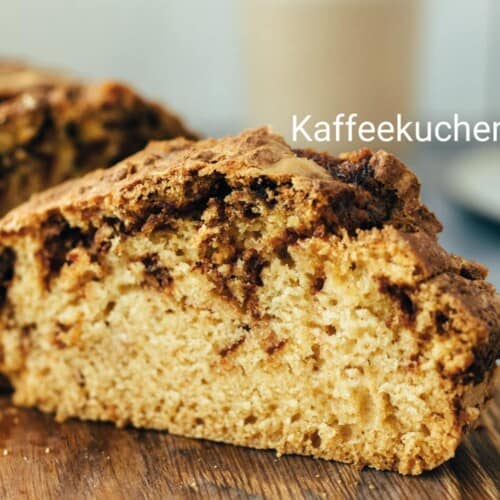 Coffee cake with cinnamon sugar (gluten-free, vegan, 1-bowl)
Simple, moist, vegan and gluten-free coffee cake, with a delicious topping of cinnamon and cane sugar. Made with just one bowl, fluffy and uncomplicated, perfect for every day and the whole family.
AUTOR: VEGANEVIBES
FOR THE CINNAMON-SUGAR TOPPING:
45

g

brown sugar or raw cane sugar 3 tbsp.

1

tbspn

Cinnamon
TOPPING:
Anleitung 
Preheat oven to 160 degrees and grease a loaf pan (23 cm) a little and dust with flour (optional).

FOR THE RAW CROWN

, place

almond milk

, baking soda, and apple cider vinegar in a mixing bowl and whisk lightly. The liquid should now foam slightly.

250 ml Almond milk or another vegetable milk,

½ tbspn Baking soda,

15 ml Apple cider vinegar

Raw cane sugar, frying and baking oil,

gluten-free flour mix

or spelt flour, cornstarch, baking powder, turmeric, bourbon vanilla and sea salt and stir with a wooden spoon or food processor until everything is combined into a smooth dough.

67 g Raw cane sugar,

60 ml Frying and baking oil,

250 g gluten free flour mix,

1 tbspn Cornstarch,

2 tbspn Baking powder,

½ tbspn Turmeric,

½ tbspn Bourbon vanilla ground or 1 tsp vanilla extract,

A pinch of sea salt

If the dough is too firm, add a little more almond milk, if too runny, add a little more flour. The strength may vary from one type of flour to another.

CAUTION: Do not stir too long, otherwise the driving force of the natron will be destroyed.

Pour the dough into the prepared loaf pan.

FOR THE CINNAMON SUGAR TOPPING

Mix sugar and cinnamon in a small bowl and sprinkle on the dough in the loaf pan.

1 tbspn Cinnamon,

45 g brown sugar or raw cane sugar 3 tbsp.

Take a spoon and work in cinnamon-sugar mixture in a circular motion.

Put in the oven and bake for 50 minutes.

Wooden stick test: Use a wooden stick to test if the cake is done. When the wooden stick comes out clean, then the cake is ready. Turn off oven and leave cake in it for another 30 minutes (if possible). Remove from oven and let cool completely (preferably an hour).

Cut into pieces, garnish with (optional) Coconut cream garnish and enjoy!

Store covered at room temperature for up to 3 days, keep frozen for a few weeks.
Nährwertangaben
Serving:
1
Piece
Calories:
198
kcal
Carbohydrates:
27
g
Protein:
3
g
Fat:
8
g
Sodium:
52
mg
Potassium:
118
mg
Fiber:
1
g
Sugar:
11
g
Calcium:
56
mg
Iron:
1
mg