"One apple A day keeps the doctor away!". Who does not know this saying? I'm a self-confessed plant eater, but I don't think it's done with an Apple is enough. Nevertheless, they taste damn tasty, are healthy and soon the main harvest season begins. Reason enough for a delicious, simple and yet ingenious Apple pie recipe. The highlight here are the caramelized apples at the bottom of the Cake's . I'll tell you more about how this is done below. At this point I would also like to briefly brag again, because we have such incredibly great apple trees in our garden and I can hardly wait to harvest the next batch.
Apples – healthy, regional superfood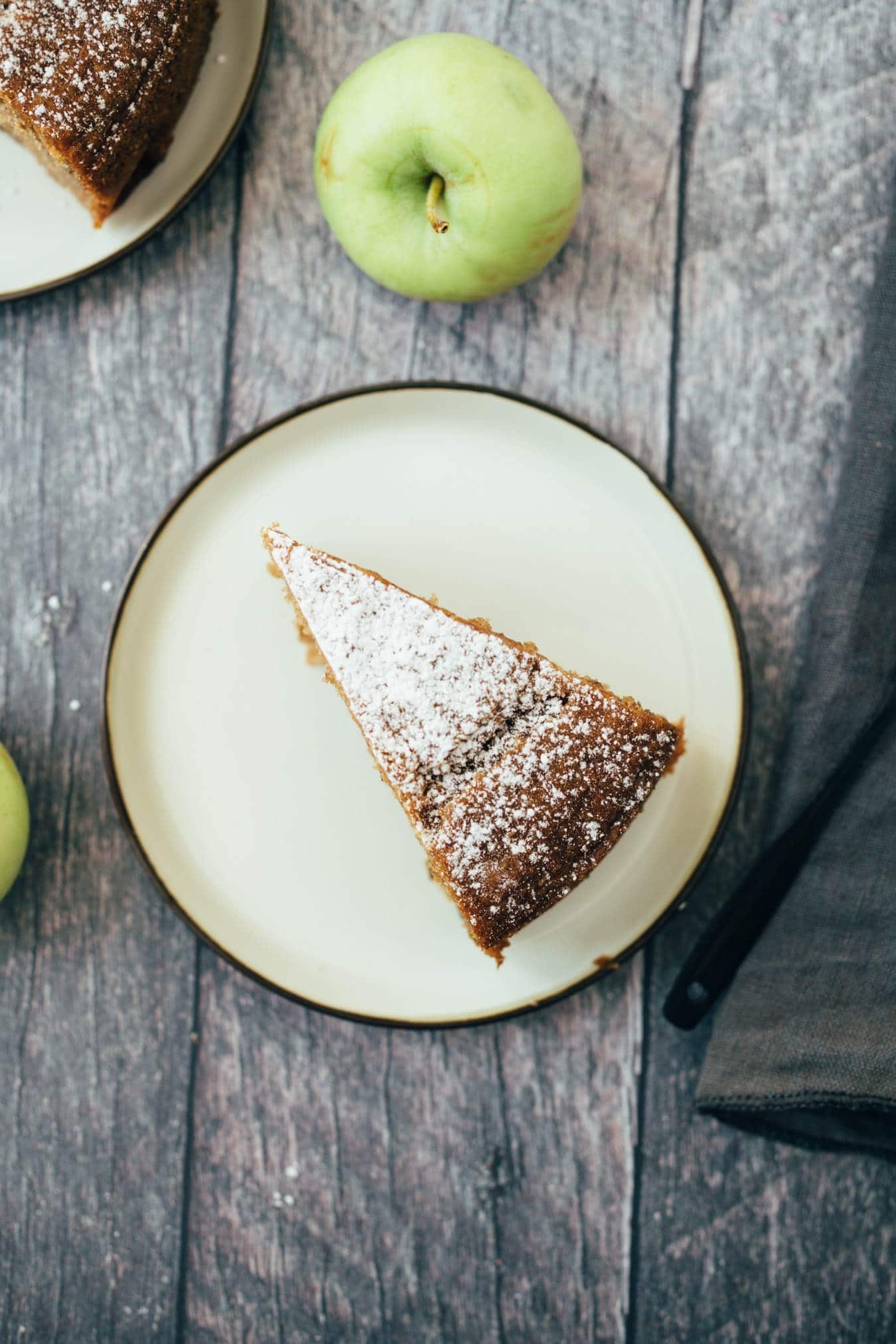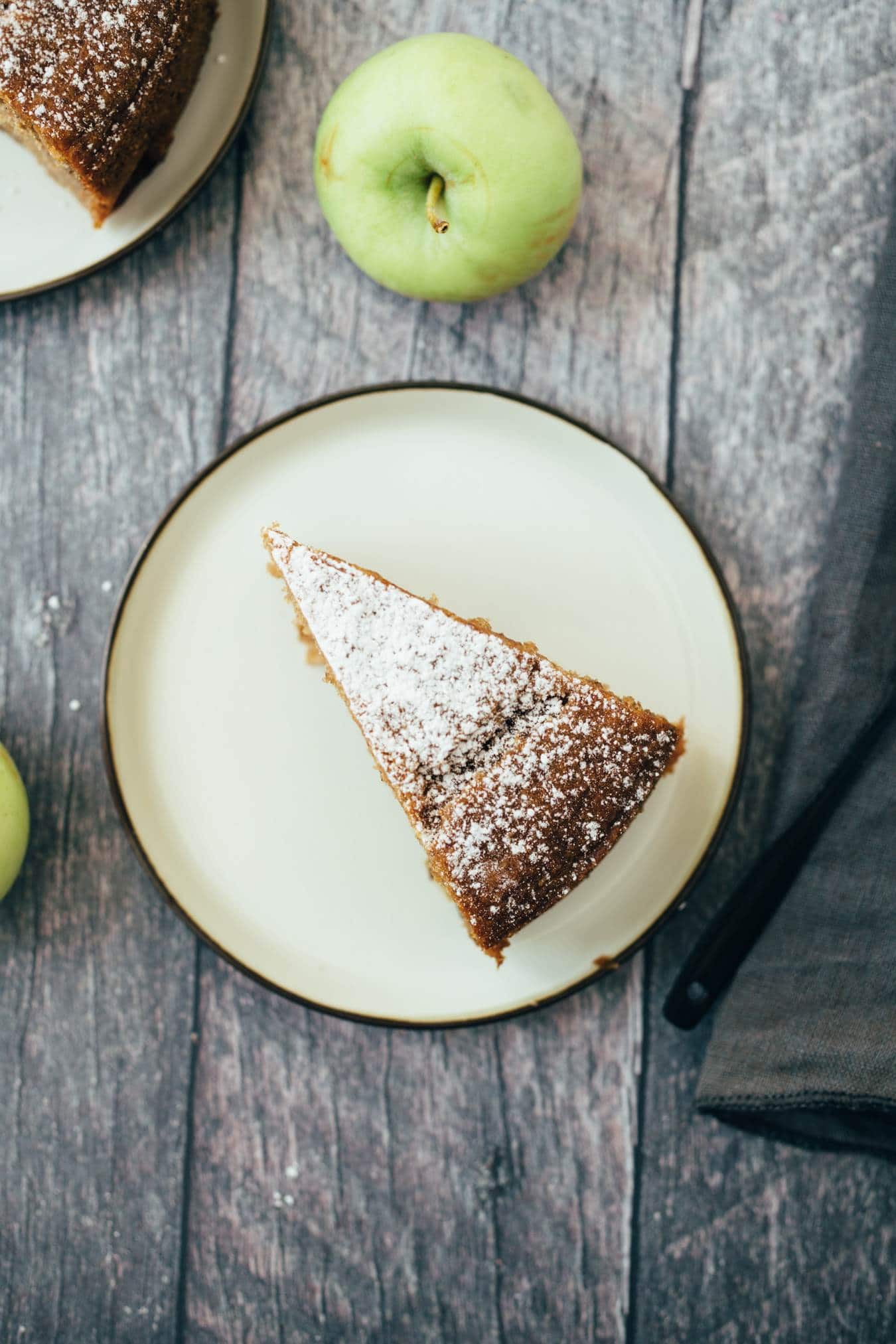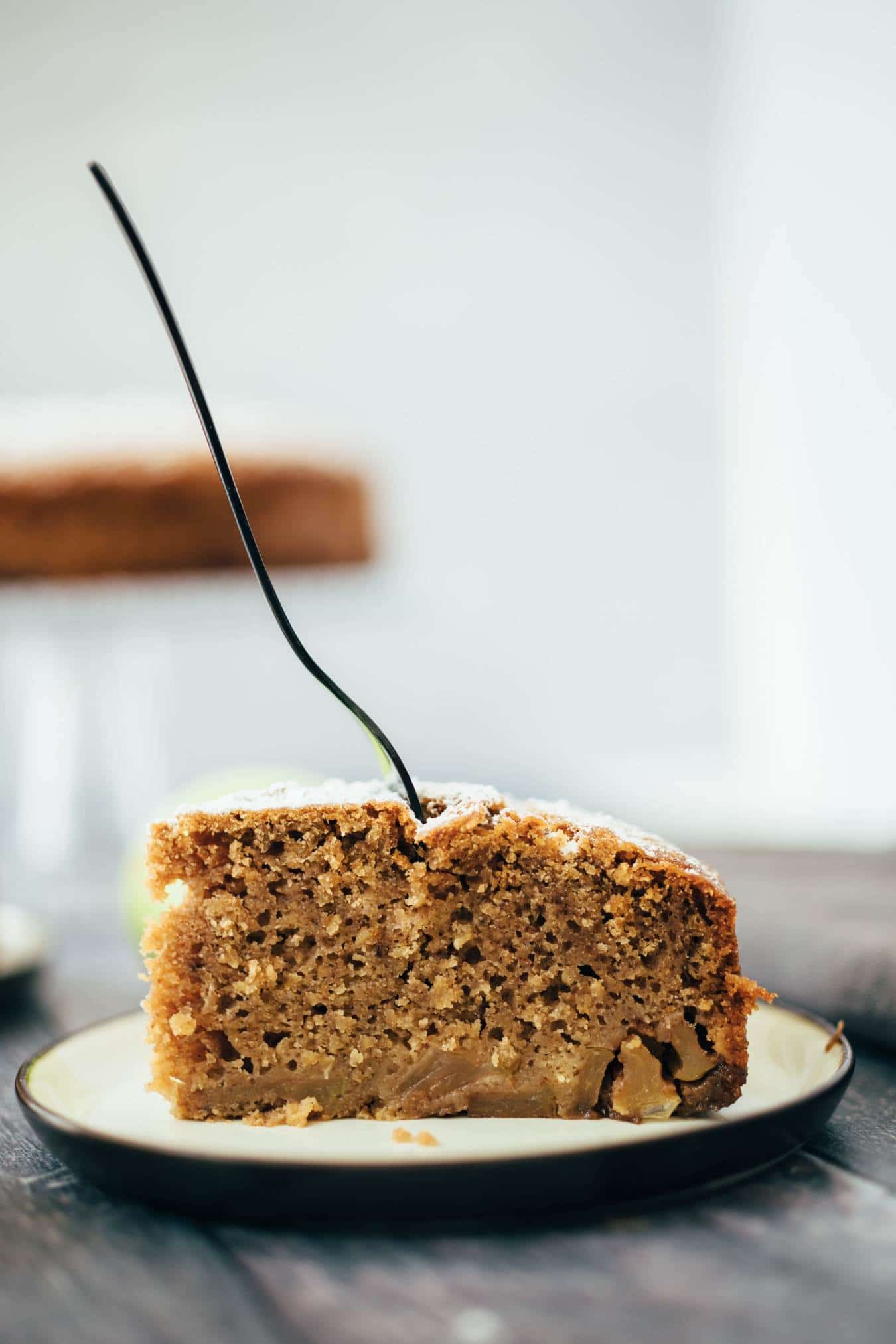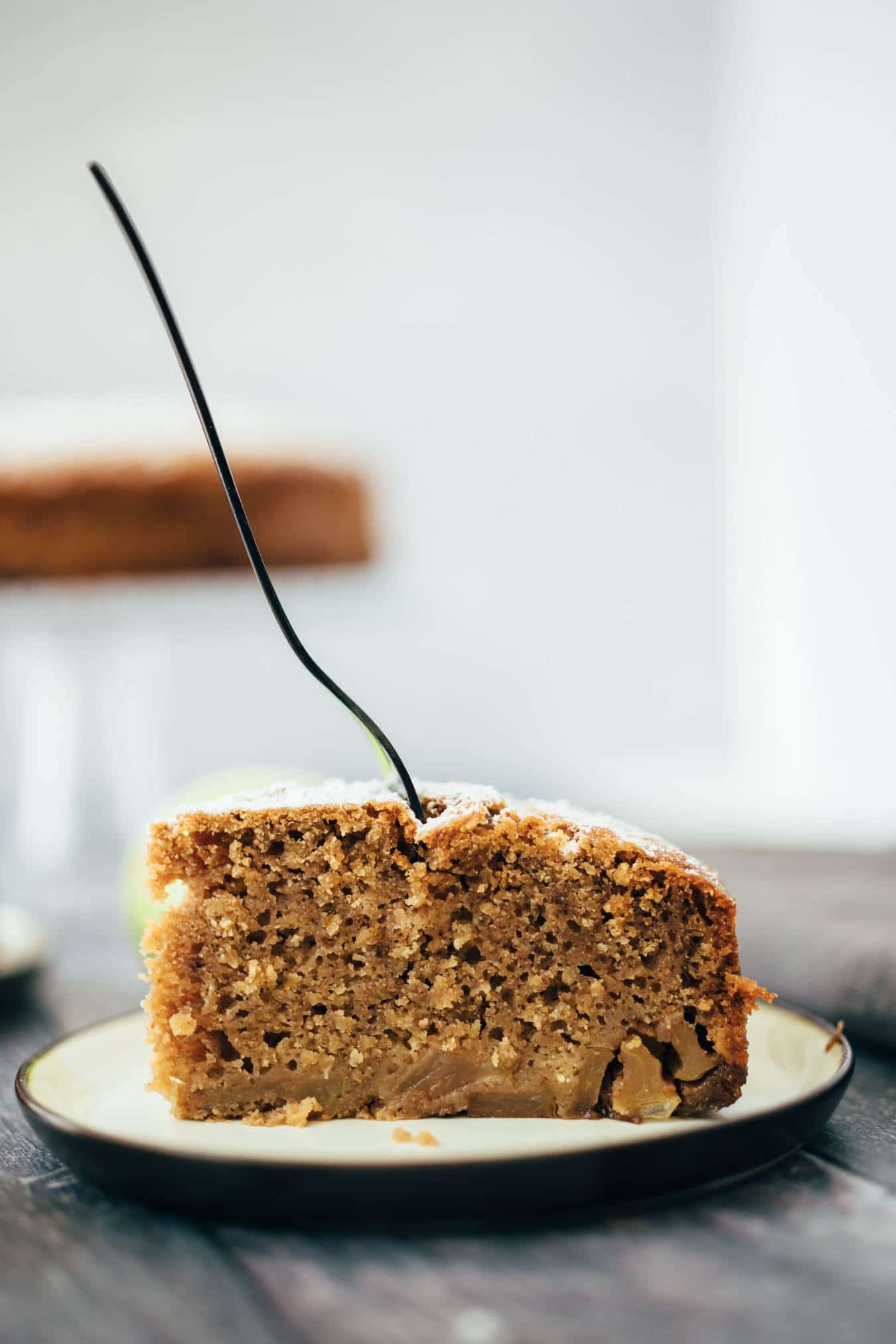 In fact, it is not essential to go in search of tropical fruits if you want to do something good for yourself. An apple contains a whopping 30 vitamins, trace elements, fiber, minerals and secondary plant compounds. In fact, there is hardly any food that contains as many healthy and complex micronutrients as a simple apple. The numerous vitamins (C, E, B1, B2 and B6) have a positive effect on the immune system and protect our cells. Minerals such as potassium, iron, iodine and zinc are essential for our muscles and nerves. Last but not least, dietary fiber and especially the pectin it contains keep you full for a long time. Of course, not all sensitive micronutrients are contained in the baking process and therefore it is always worthwhile to simply snack on an apple raw in between.
apple cake all day!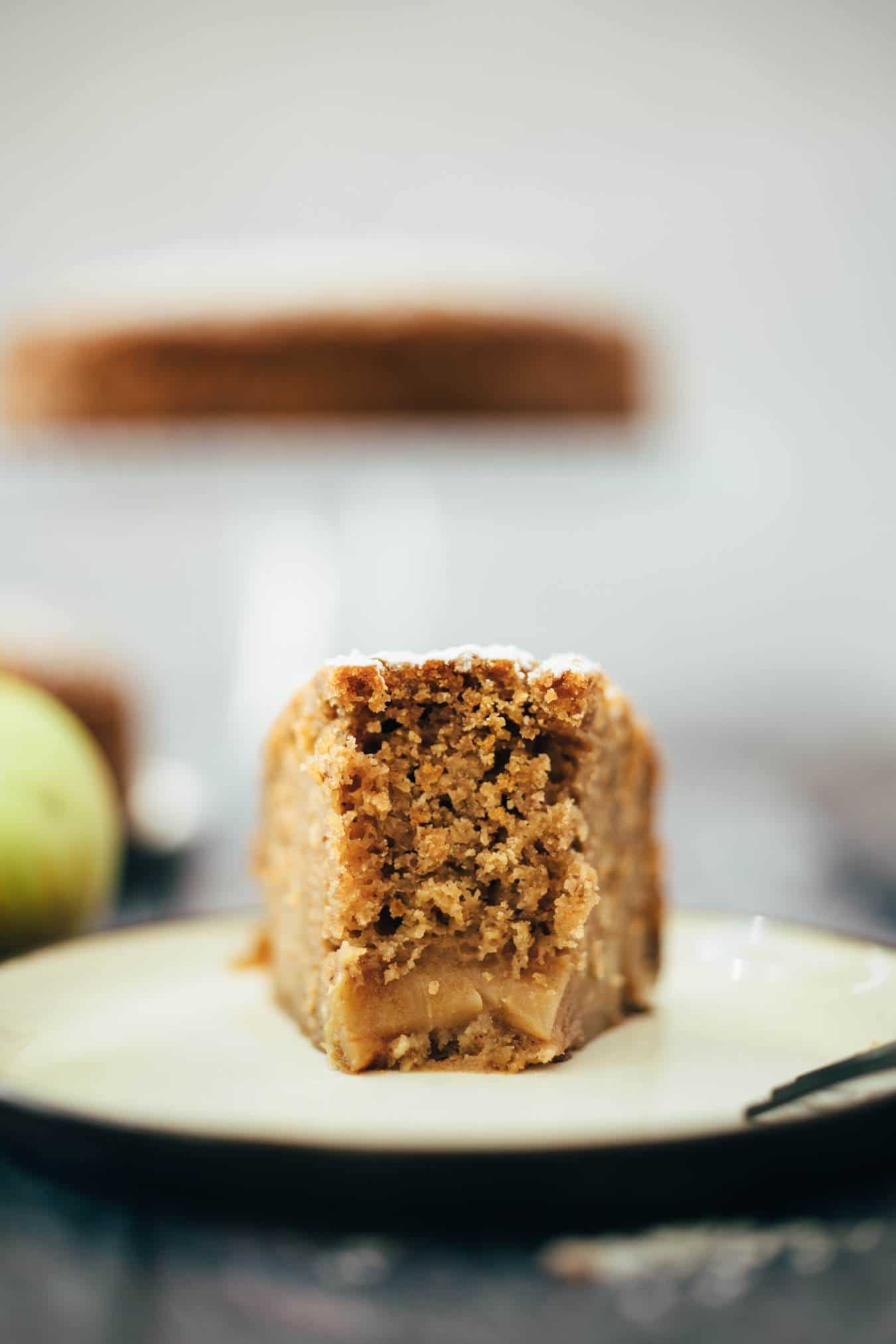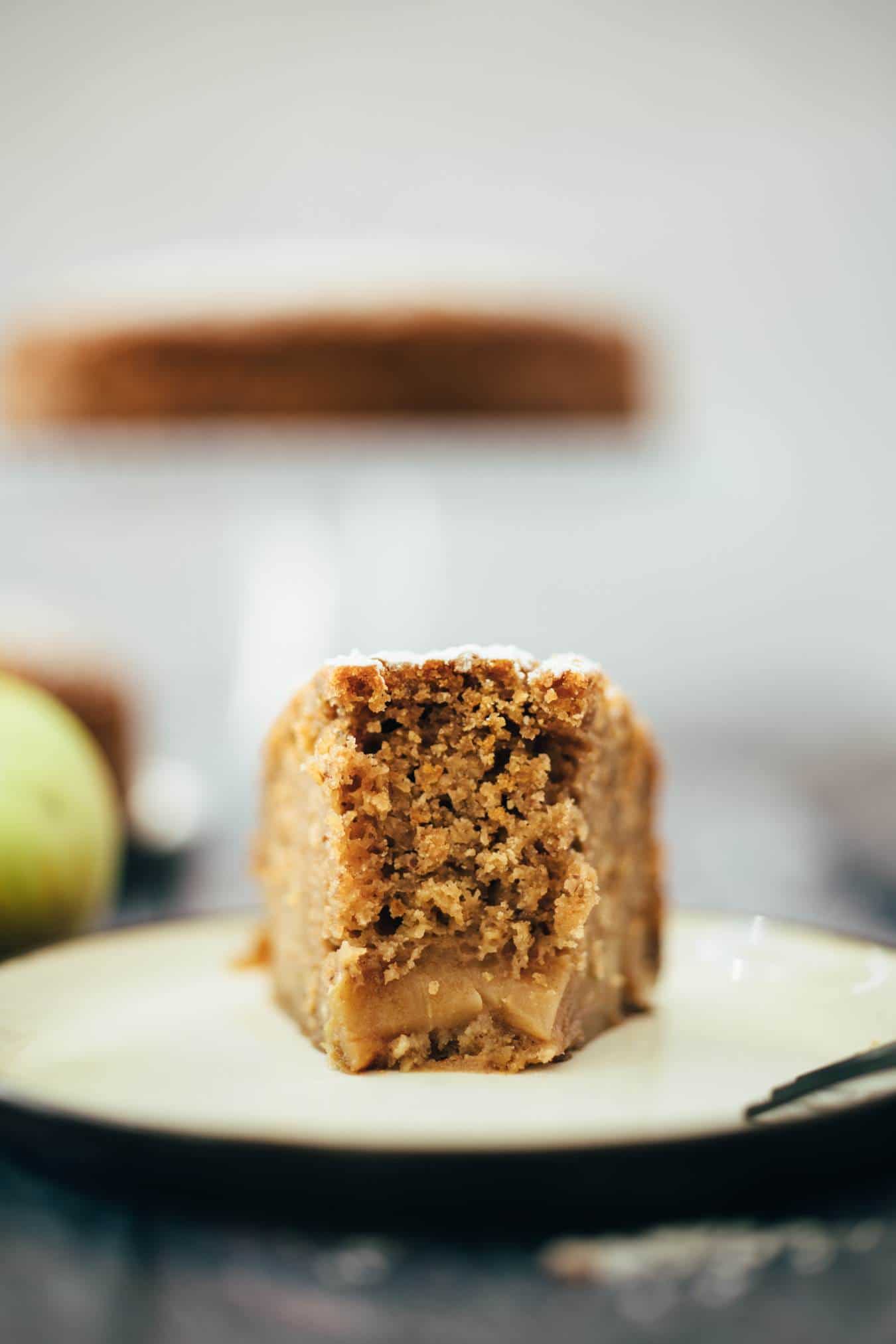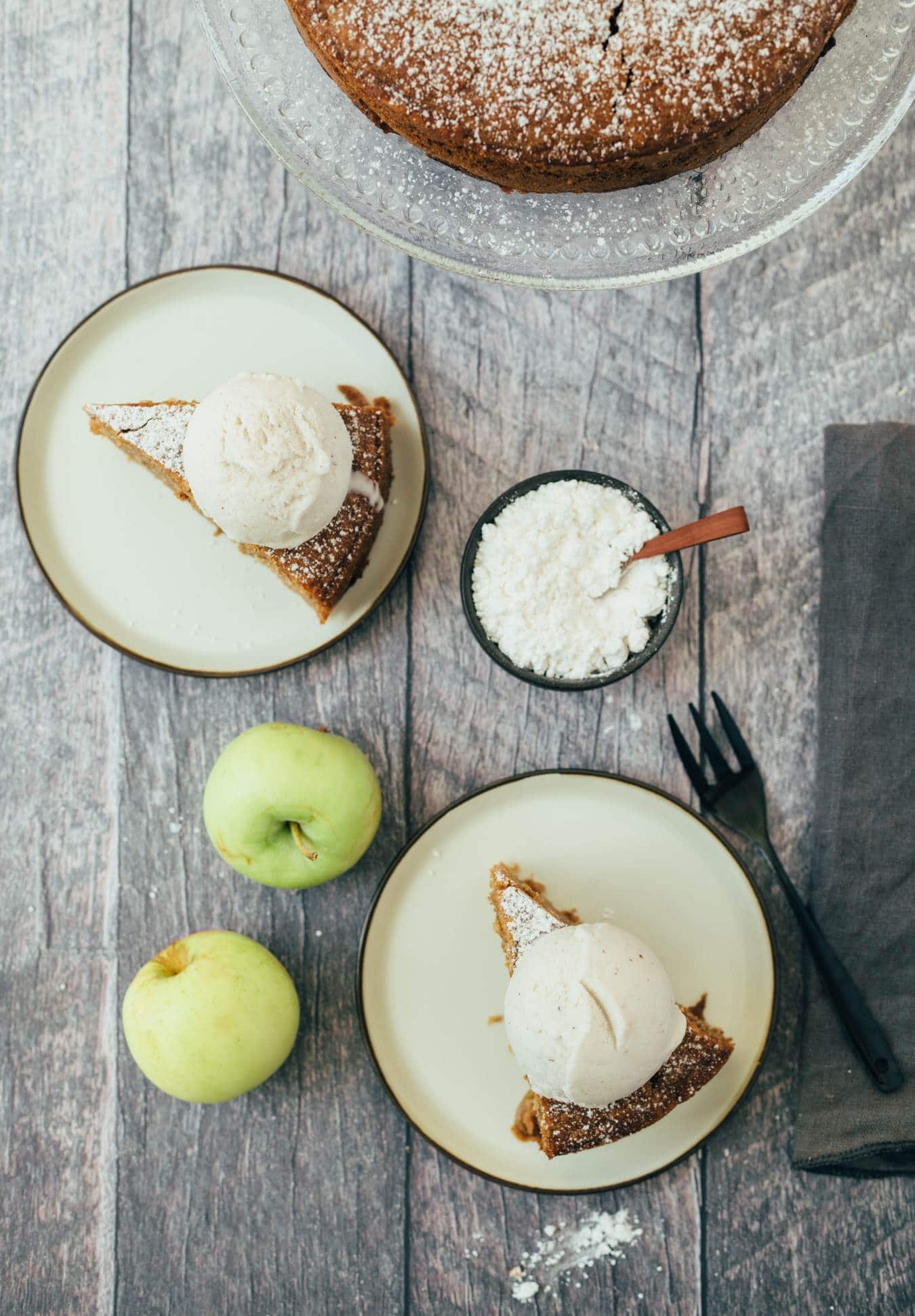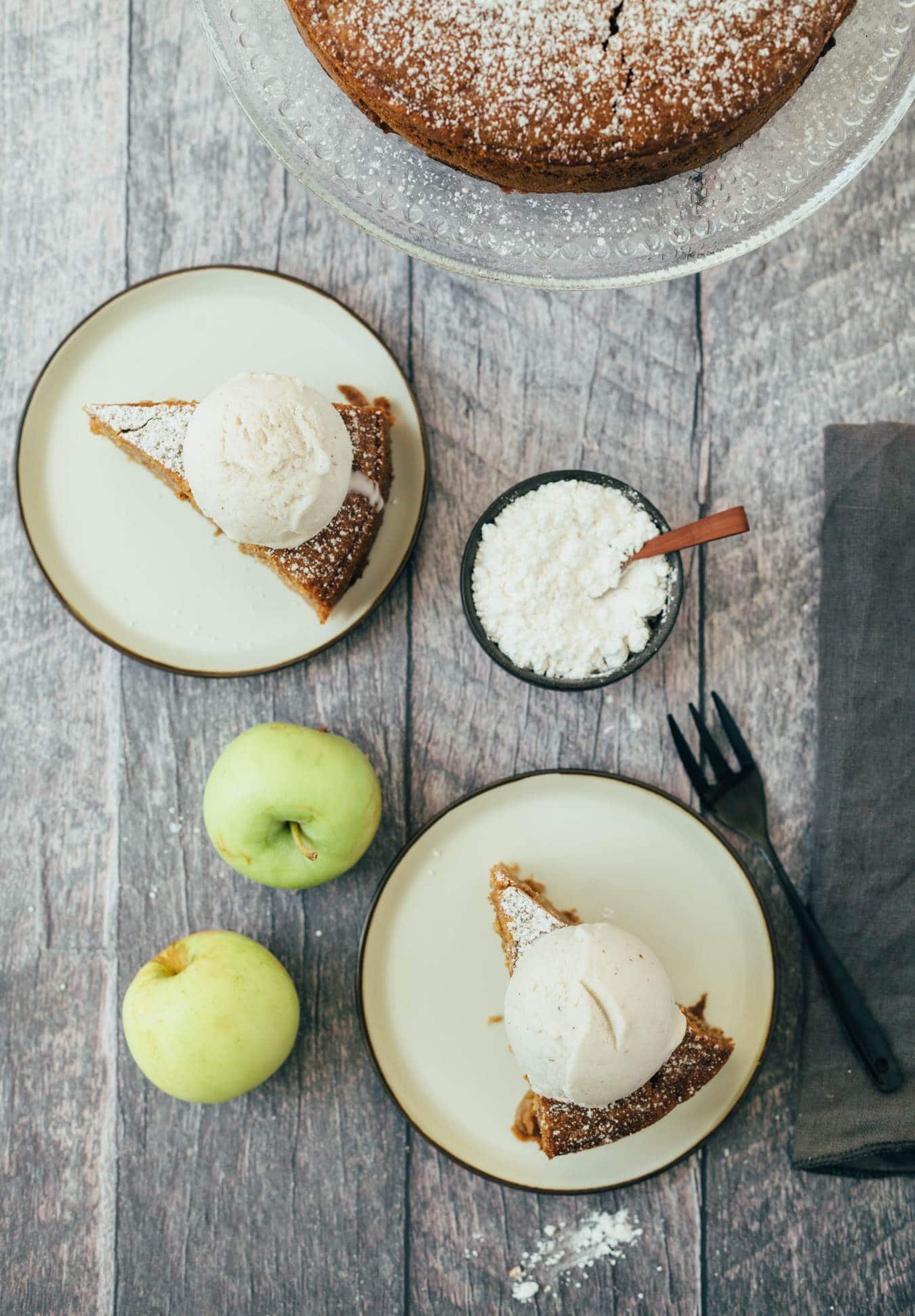 Let's get back to our delicious apple pie. You don't need much for this except a little time, patience, a handful of ingredients and of course a baking dish. I use a 22cm diameter springform pan here, but anything between 20cm and 25cm will work. The larger the baking pan, the flatter the cake. It always tastes the same (what am I talking about) J.
The ingredients list starts with the apples. I used corn apples from the garden, but any other varieties with a slight acidity will work (e.g., Granny Smith, Cox Orange, or many other local varieties). The apples are first mixed with a little raw cane sugar, cinnamon, frying oil and a pinch of salt and baked without batter. This caramelizes them and gives them a particularly fine touch. For the dough we need a leisamei, Almond milk , lemon juice, baking soda. Raw cane sugar, maple syrup, coconut oil, applesauce, baking powder, gluten-free flour and rolled oats. Add to this a handful of spices such as vanilla, ginger, cinnamon and a pinch of sea salt.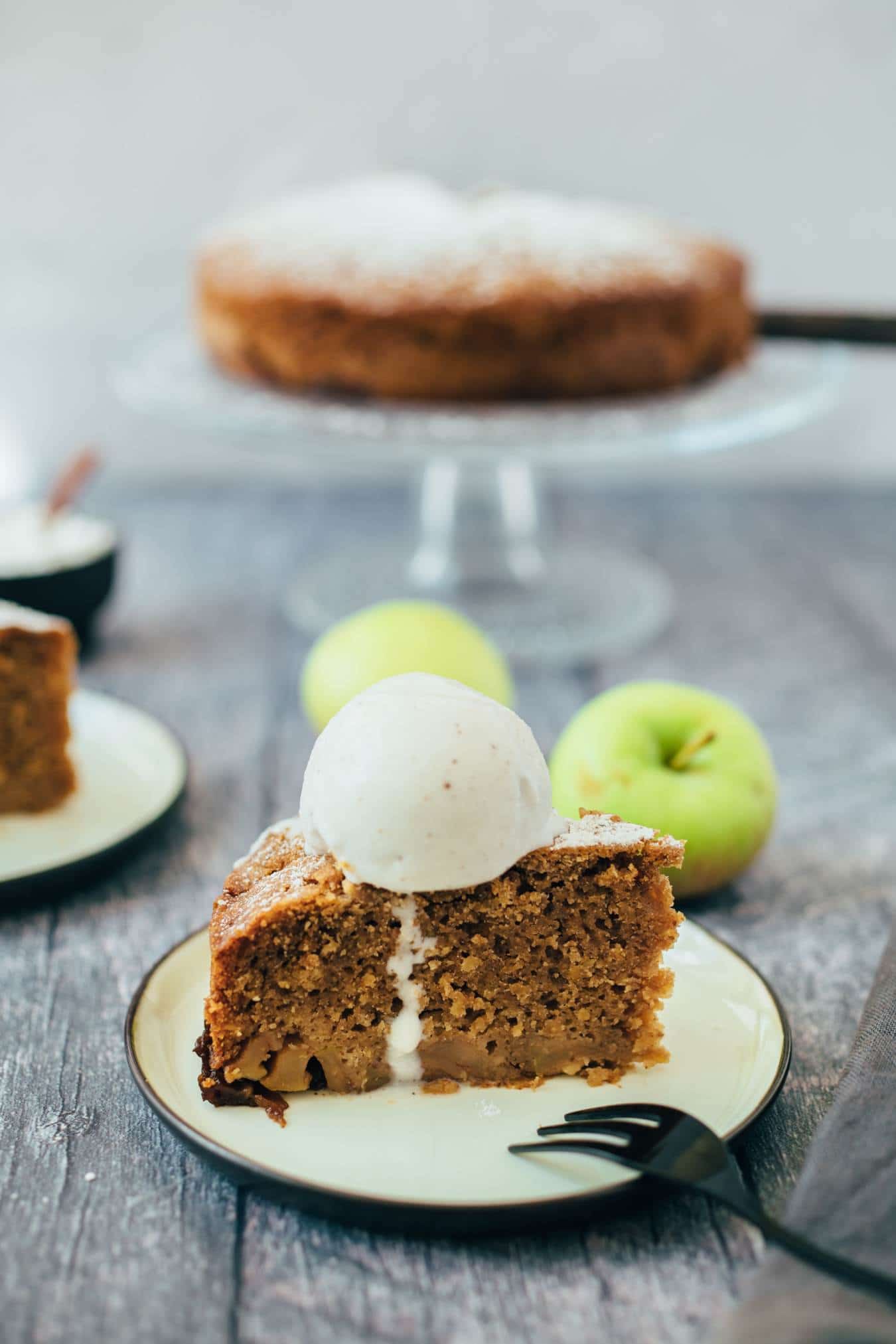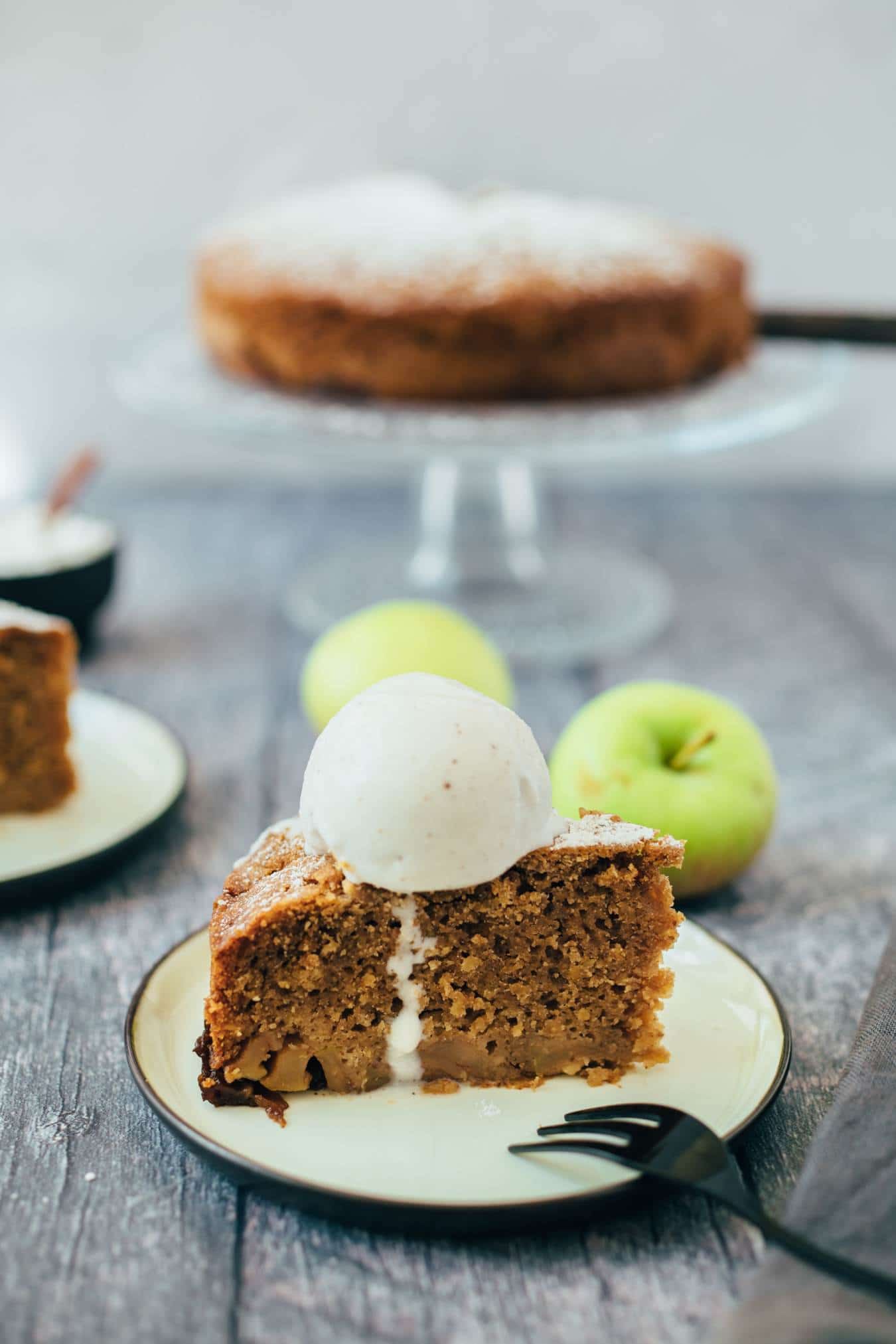 For the topping I chose plain powdered sugar and homemade vanilla ice cream but it also tastes Coconut cream excellent with it.
Get started with this delicious, no-fuss apple pie. I hope you enjoy baking and of course about a review at the bottom of this page. If you post a picture, use the hashtag #veganevibes.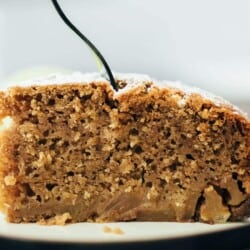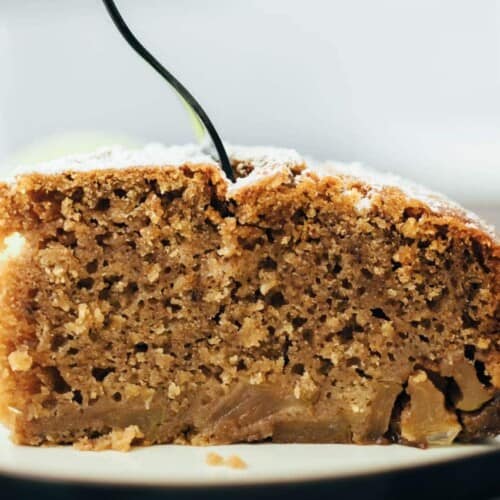 1-BOWL cake with caramelized apples (gluten-free, vegan)
Simple, moist, vegan and gluten-free cake, with a delicious base of caramelized apples. Made with just one bowl, fluffy and moist inside, perfect for every day and the whole family.
AUTOR: VEGANEVIBES
FOR THE CARAMELIZED APPLES:
TOPPING:
optional organic powdered sugar to taste
Anleitung 
FIRST STEP, preheat oven to 175 degrees and grease a round springform pan (22cm) with a little oil and dust with flour (optional). Prepare flaxseed egg and set aside.

FOR THE CARAMELIZED APPLES mix all ingredients well in a bowl and pour into the springform pan. Place in oven and bake for 12 minutes, until apple slices are soft and caramelized. When the baking time is over, remove from the oven and set aside.

300 g Sour apples,

30 g Coconut sugar,

½ tbspn Cinnamon,

15 g Frying oil or other high heat oil

FOR THE CAKE Add almond milk, frying and baking oil, baking soda and apple cider vinegar and mix lightly. The liquid should now foam slightly.

15 g Frying oil or other high heat oil,

A pinch of salt,

180 ml Almond milk or another vegetable milk,

105 g Frying oil or other high heat oil,

½ tbspn Baking soda,

15 ml Apple cider vinegar

Add raw cane sugar, maple syrup and applesauce and the already prepared flaxseed egg and stir once briefly.

1 Flax seed egg,

100 g Raw cane sugar,

150 g Applesauce,

40 g maple syrup

Finally, gluten-free flour mix, baking powder, sea salt, bourbon vanilla. Add ginger and cinnamon and mix until smooth. The dough should be neither too solid nor too liquid and should be easy to pour into the baking pan. If too firm, add a little more almond milk, if too runny, add a little more flour. The strength may vary from one type of flour to another.

½ tbspn Baking powder,

½ tbspn Sea salt,

¼ tbspn Bourbon vanilla ground or 1 tsp vanilla extract,

½ tbspn Ginger,

1 tbspn Cinnamon,

125 g gluten free flour mix

ALTERNATIVE: Place all ingredients in order in a high-powered blender (e.g. Blendtec) and process with the dough program to a homogeneous dough.

CAUTION: Do not stir too long, otherwise the driving force of the natron will be destroyed.

Pour batter over pre-baked apples, smooth out and place in oven.

Reduce temperature to 160 degrees and bake cake for 40-50 minutes. Wooden stick test: Use a wooden stick to test if the cake is done. When the wooden stick comes out clean, then the cake is ready. Turn off oven and leave cake in it for another 30 minutes (if possible). Remove from oven and let cool completely (preferably an hour).

Cut into pieces, garnish with (optional) powdered sugar and vanilla ice cream and enjoy!

optional organic powdered sugar to taste,

optional homemade vanilla ice cream

Store covered at room temperature for up to 3 days, keep frozen for a few weeks.
Notizen
NOTES /HELPFUL ACCESSORIES:
Nährwertangaben
Serving:
1
Piece
Calories:
234
kcal
Carbohydrates:
30
g
Protein:
2
g
Fat:
13
g
Saturated Fat:
10
g
Sodium:
66
mg
Potassium:
104
mg
Fiber:
2
g
Sugar:
19
g
Vitamin A:
16
IU
Vitamin C:
2
mg
Calcium:
37
mg
Iron:
1
mg