Currants as far as the eye can see! At least that's how I feel here in the country. Oh yes, I live five kilometers away from the nearest supermarket, but right next to currant, raspberry and blackberry bushes. Finally it's harvest time for currants and so I got right to work and picked. Wonderful! The small fine berries are nice and tart and fit perfectly with the sultry weather. In addition, they are also mega healthy, more about this later in the text. Today we make a great and especially simple Cake with it. Are you with us?
Currants in a fluffy cake – vegan and gluten-free on request!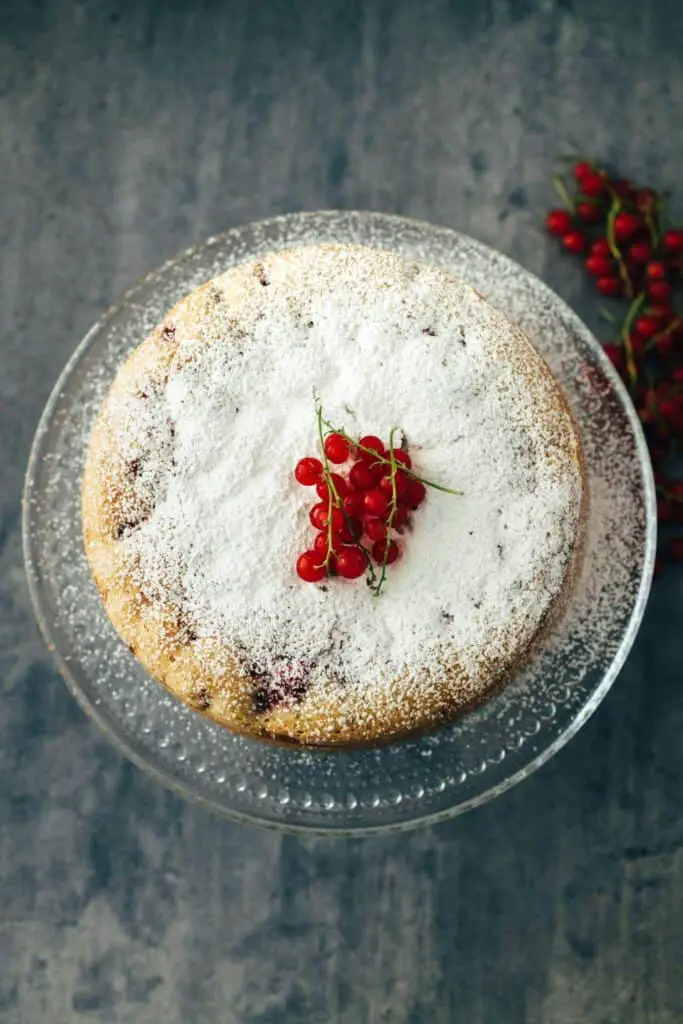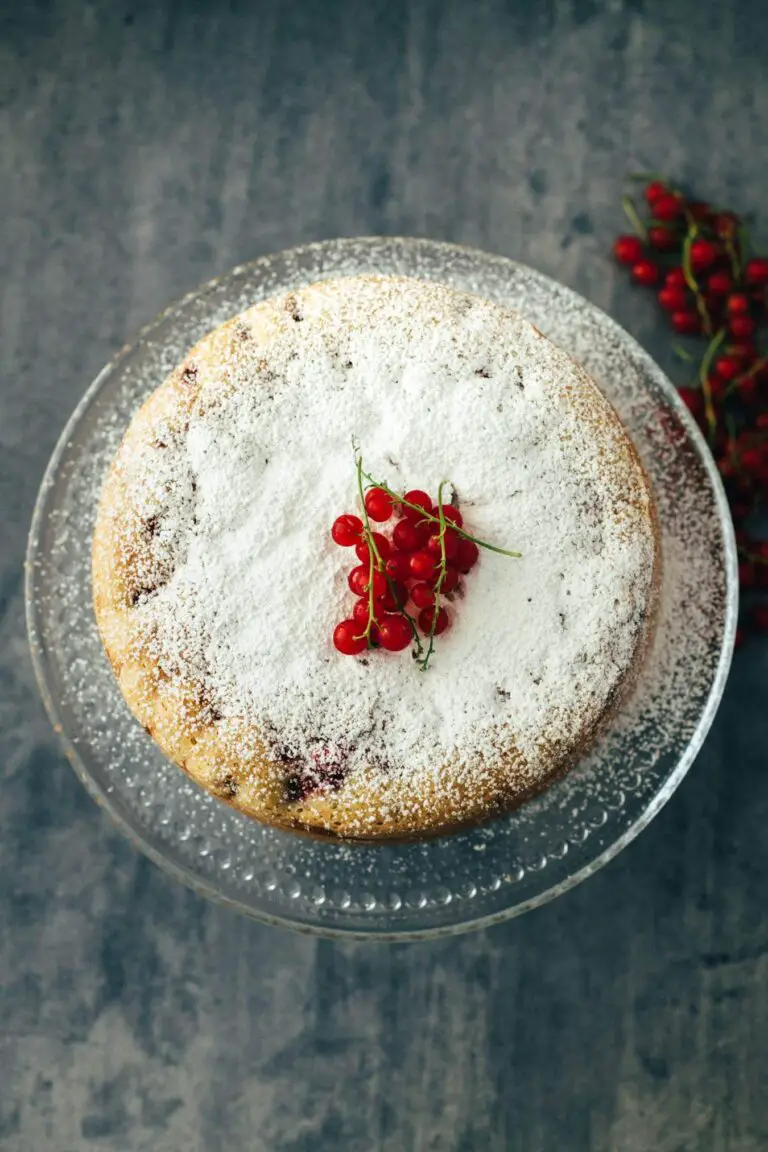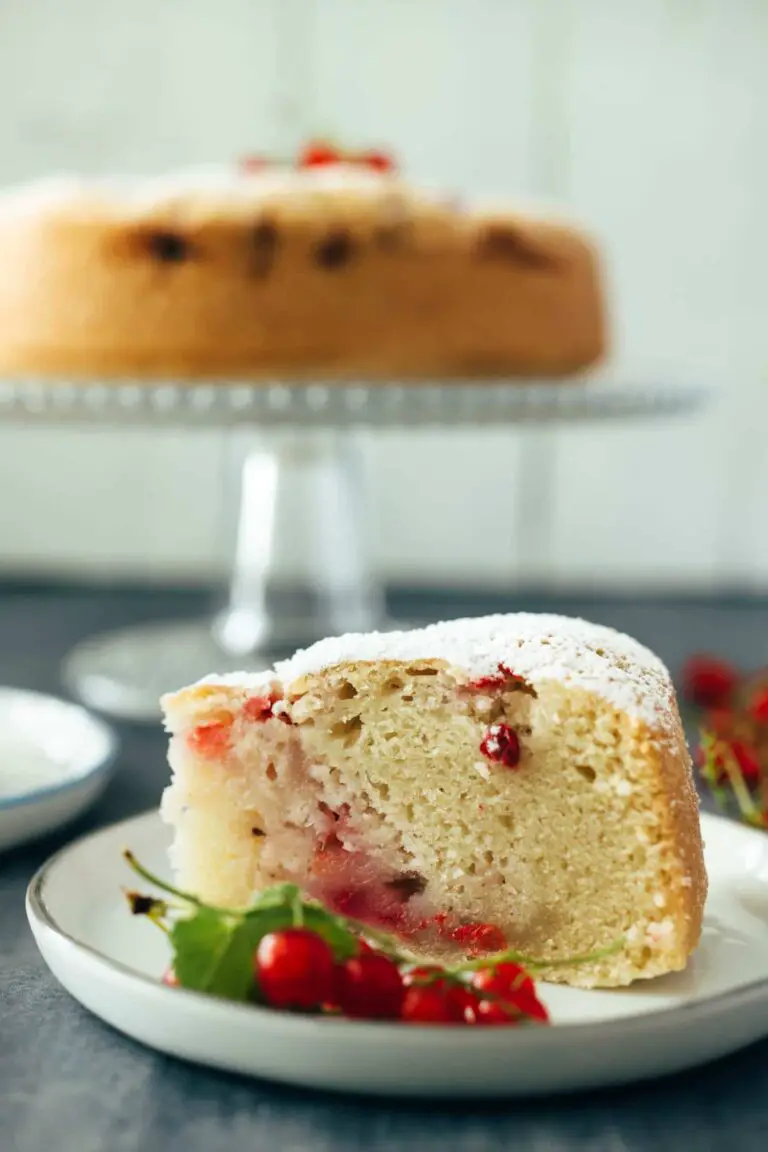 Today we have a wonderfully fluffy and moist cake, baked with love, of course. But since air and love aren't quite enough for this cake, a few more ingredients are added: Spelt flour (or my gluten free flour mix ), raw cane sugar, Almond milk , coconut oil, baking soda, bourbon vanilla, a pinch of salt, and a little apple cider vinegar. The vegan cake needs this to get the driving force. Only then the cake becomes really nice and fluffy.
Add to that fresh, organic (mine definitely are, come straight from the bush and have never been sprayed) currants. Alternatively, you can find them in organic supermarkets, weekly markets or in the regional organic box.
Are currants actually healthy?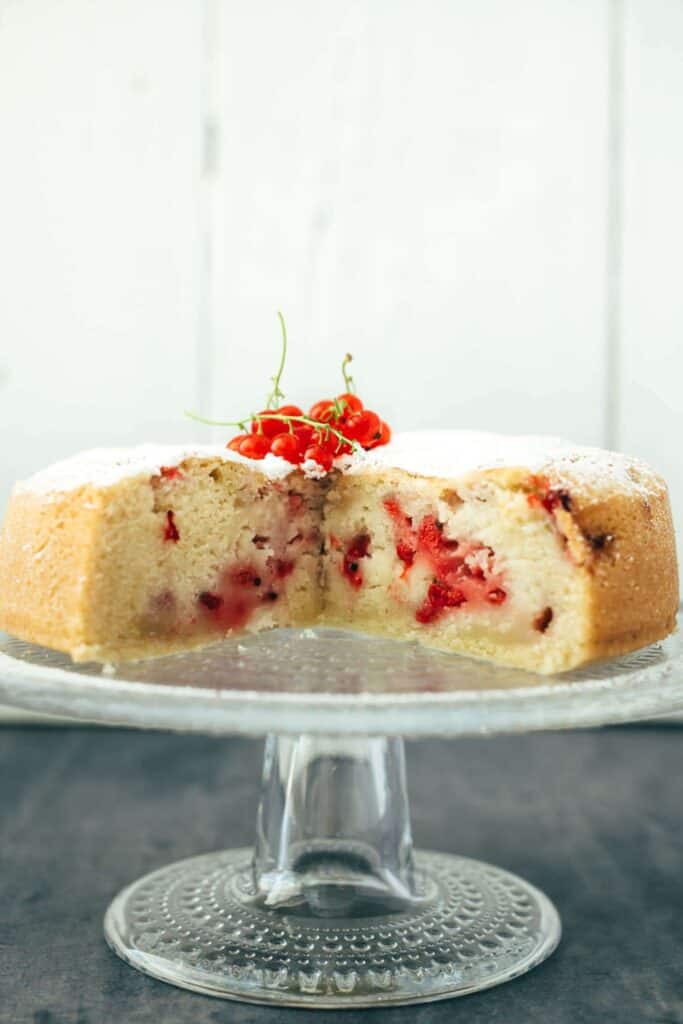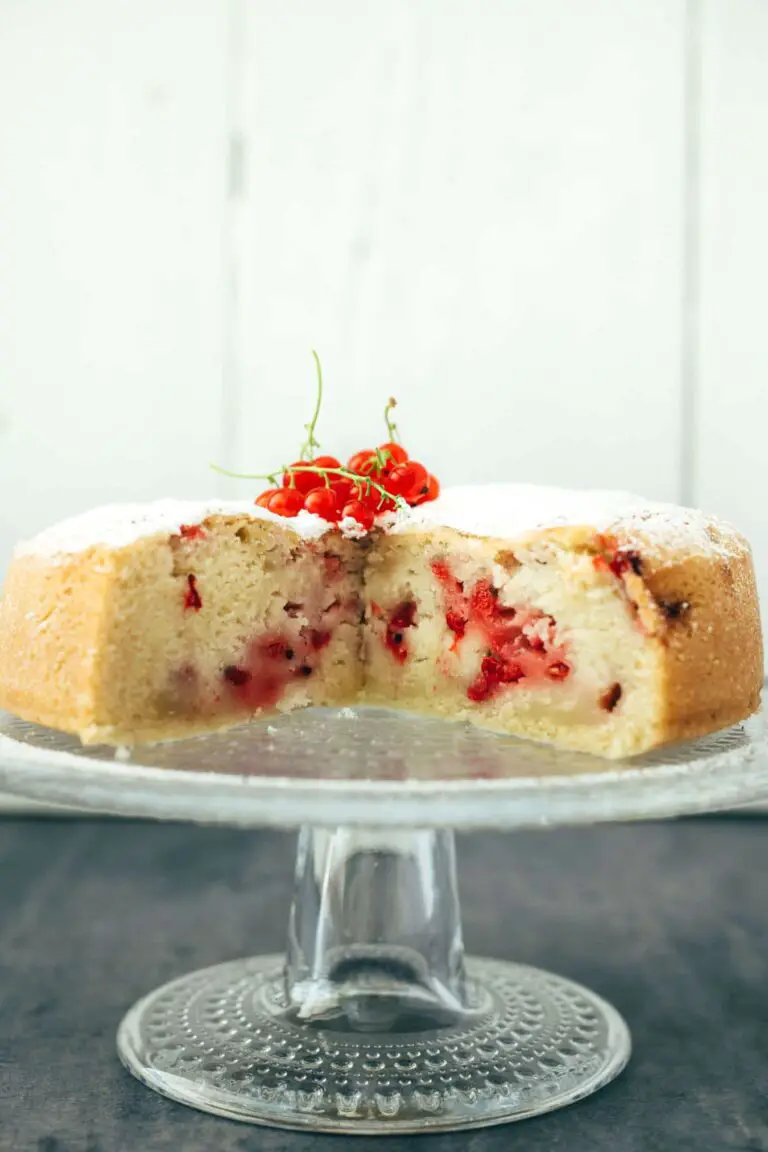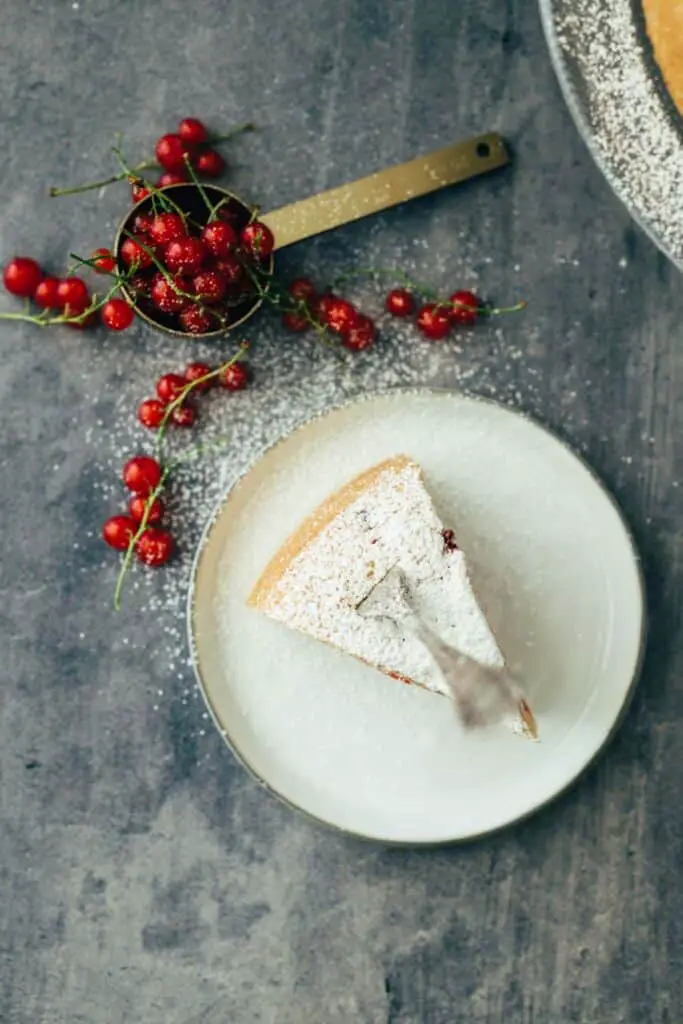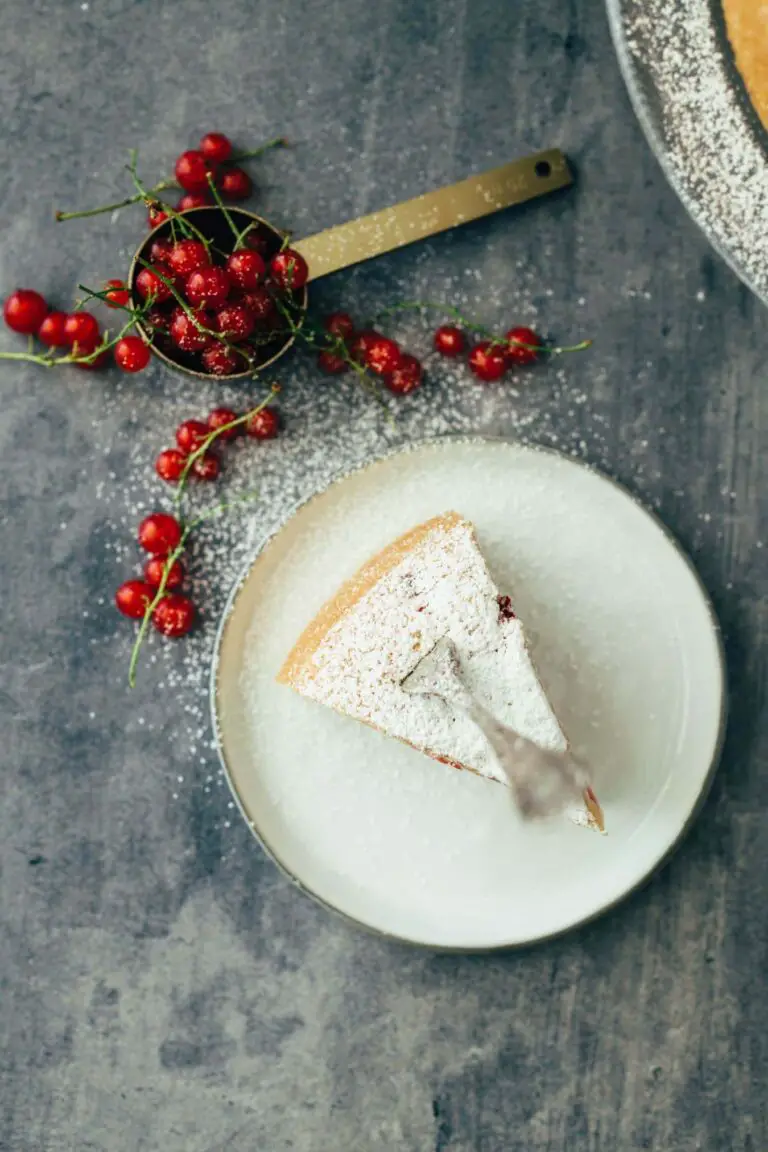 First of all, the question arises, why currants actually have their name. They are named after St. John's Day on June 24. Have you ever seen fireflies? They are also active around that time and the St. John's wort is in bloom. A beautiful time of year, but now back to our berries and why they are so healthy:
Vitamin C (strengthens the immune system, has anti-inflammatory and antioxidant effects).
Potassium
Iron
Anthocyanins (belong to the flavonoids and have an antioxidant effect)
High fiber content
This Cake fits just perfectly in the Summer , light, fluffy and with a pleasant mild acidity thanks to the currants. Perfect for the next coffee party in your own garden or for a vegan picnic.
Another little tip about the right baking time, because it is especially important with vegan cake incredibly important. To make sure the cake is ready on the dot, I do the chopstick test. When that comes out clean, I turn off the oven and let the cake cool while still in the oven. Voilà! Have fun with this delicious currant cake.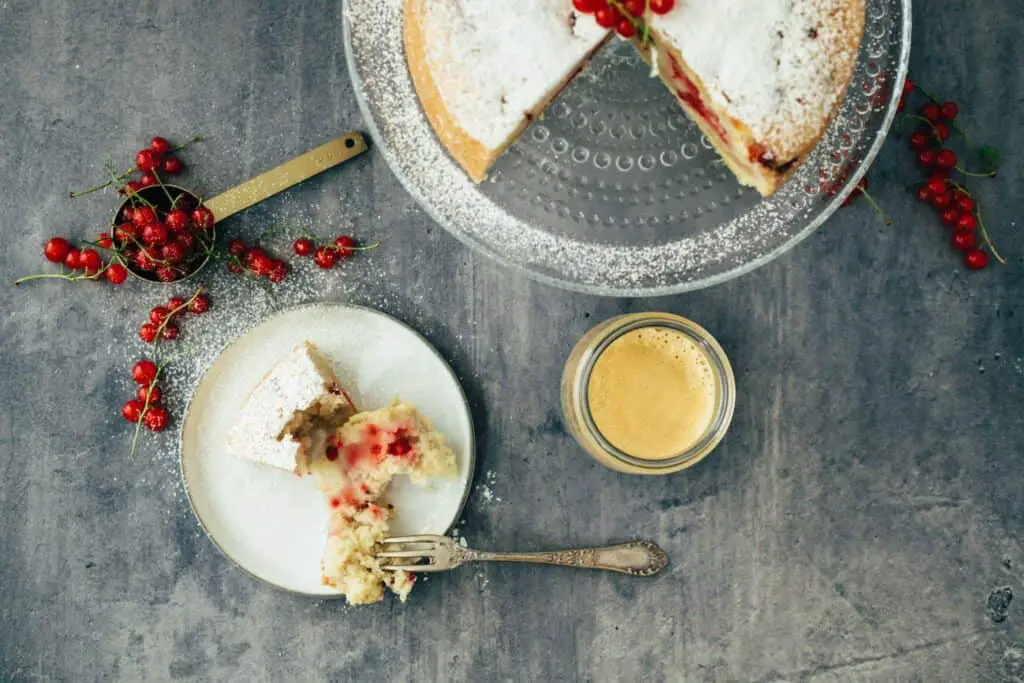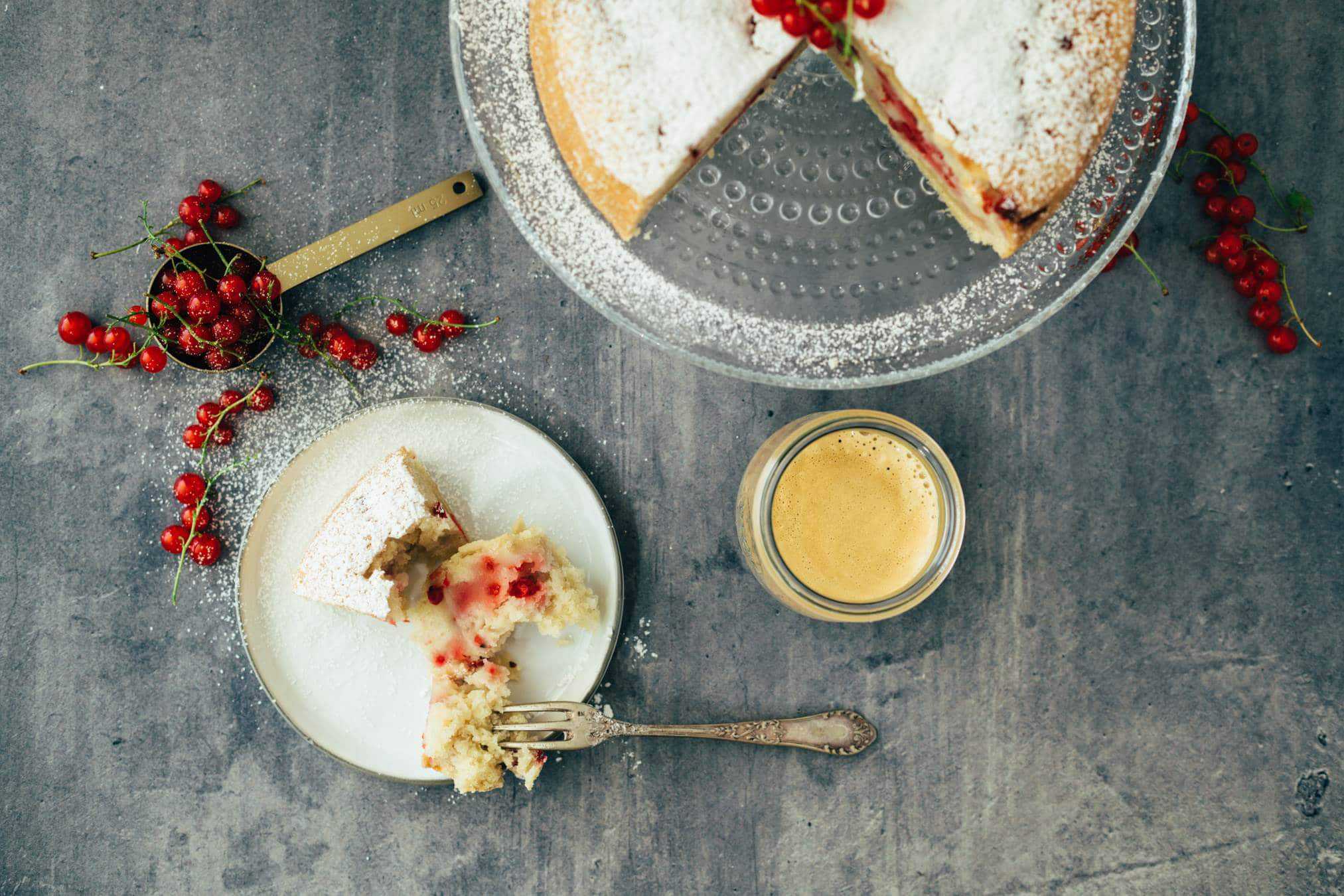 For the topping, I opted for plain powdered sugar. However, coconut cream also tastes great with it.
Let's get started with this juicy currant cake. I hope you enjoy baking and of course about a review at the bottom of this page. If you post a picture, use the hashtag #veganevibes.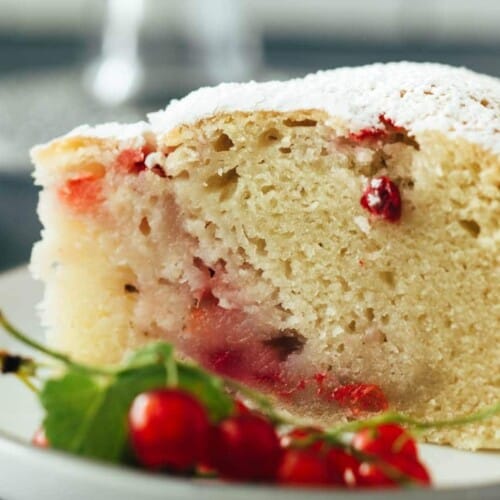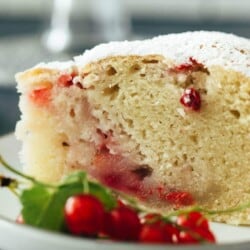 1-BOWL Juicy currant cake
Simple, moist, vegan currant cake topped with fine powdered sugar. Made with just one bowl, fluffy and juicy inside, with a nice mild acidity from the currants. Perfect for the summer garden party or picnic in the countryside.
AUTOR: VEGANEVIBES
FOR THE CAKE:
250

ml

Almond milk

or any other vegetable milk, room temperature

½

tbspn

Baking soda

7,5

ml

Apple cider vinegar

alternatively lemon juice

270

g

light spelt flour type 630 or type 1050

alternatively replace 1/3 of the amount with whole wheat flour

30

g

Cornstarch

or another starch, alternatively use more flour

30

g

Lupine flour or soy flour

alternatively 2 flaxseed eggs*

150

g

Frying and baking oil

or another high-heat oil or margarine (Alsan), alternatively replace 75g of it with vegan coconut yogurt

150

g

Raw cane sugar

alternatively replace with 100g coconut blossom sugar and a mashed banana

½

tbspn

Baking powder

½

tbspn

Sea salt

1

Bowl currants

about 250g + a handful (save for decoration), wash and clean from the panicles
Anleitung 
FOR THE CAKE Preheat the oven to 175 degrees and grease a round baking dish (20cm) with a little oil and dust with flour (optional).

Add almond milk, baking soda and apple cider vinegar to a large baking bowl and stir gently. The liquid should now begin to foam slightly.

250 ml Almond milk,

½ tbspn Baking soda,

7,5 ml Apple cider vinegar

Put a sieve over the bowl, sift in the flour, cornstarch, lupine flour, oil, raw cane sugar, baking powder and sea salt and mix everything once until a homogeneous dough.

270 g light spelt flour type 630 or type 1050,

30 g Cornstarch,

30 g Lupine flour or soy flour,

150 g Frying and baking oil,

150 g Raw cane sugar,

½ tbspn Baking powder,

½ tbspn Sea salt

ALTERNATIVE: Place all ingredients in a high-performance blender (e.g. Blendtec) in order and process with the dough program to a homogeneous dough.

CAUTION: Do not stir too long, otherwise the driving force of the natron will be destroyed.

The dough should be neither too solid nor too liquid and should be easy to pour into the baking pan. If too firm, add a little more almond milk, if too runny, add a little more flour.

TO FINISH add the currants to the batter and gently fold until evenly distributed. Pour the batter into the springform pan and smooth it out.

Place in the oven, bake for

40-50 minutes

and test with a wooden stick to see if the cake is done. When the wooden stick comes out clean, then the cake is ready. Turn off oven and leave cake in it for another 30 minutes. Only then remove from the oven and let cool completely (preferably one hour).

Garnish with powdered sugar, cut into pieces and enjoy!

Store in an airtight container in the refrigerator for up to 5 days, keep frozen for a few weeks.
Notizen
* if
Flaxseed eggs
are used, mix them first and let stand for 5 minutes.
NOTES /HELPFUL ACCESSORIES:
Nährwertangaben
Serving:
1
Piece
Calories:
220
kcal
Carbohydrates:
38
g
Protein:
3
g
Fat:
6
g
Saturated Fat:
1
g
Sodium:
103
mg
Potassium:
155
mg
Fiber:
3
g
Sugar:
21
g
Vitamin A:
370
IU
Vitamin C:
0.7
mg
Calcium:
34
mg
Iron:
1.4
mg