I LOVE Linzer Torte. Haha, yes I do and I don't feel bad about it. A Cake is a cake Cake and there it may be also times a piece more. Lately I've been thinking a lot about whether it's actually ok to bake with so much margarine. After much back and forth, reading on the subject and memories of some workshops, I had the answer I wanted to hear: Yes, it is absolutely ok to bake with margarine and it may also be a little more. As long as this Linzer Torte doesn't become your three daily main meals, you can enjoy a few pieces of it anytime. The same applies of course to the Bear paws . True to the motto less is more and life would be boring without it.
Vegan Linzer Torte without regret – simply delicious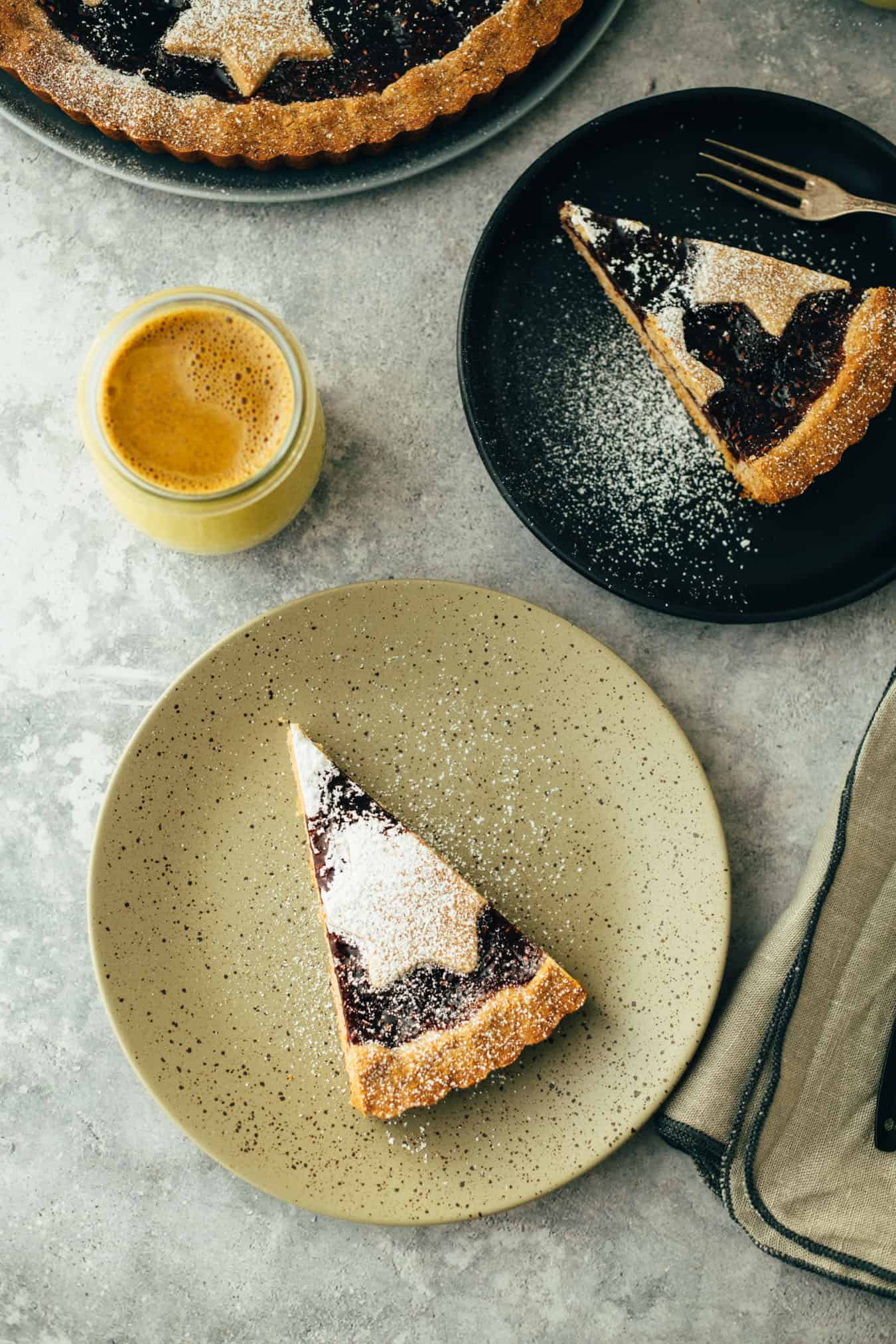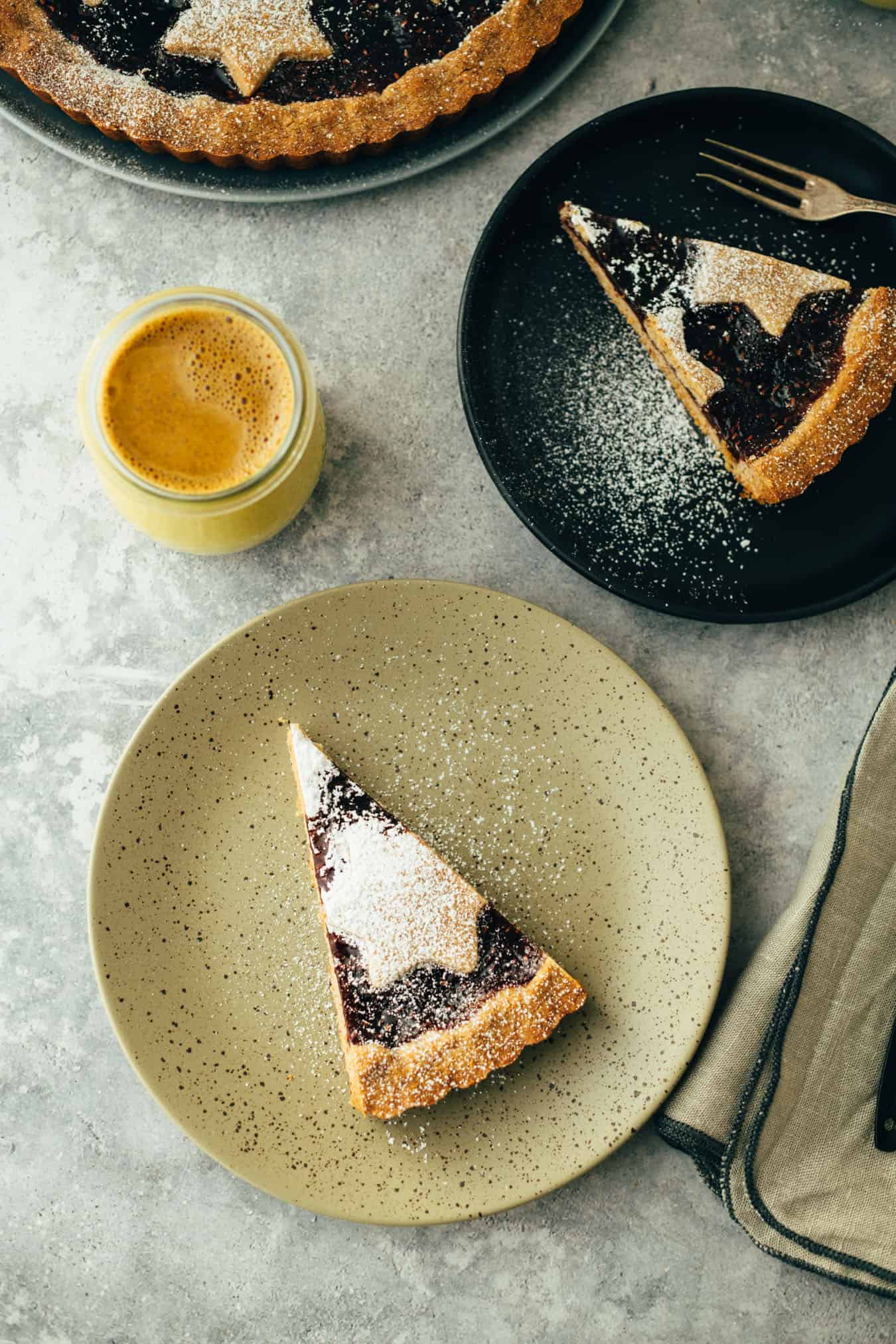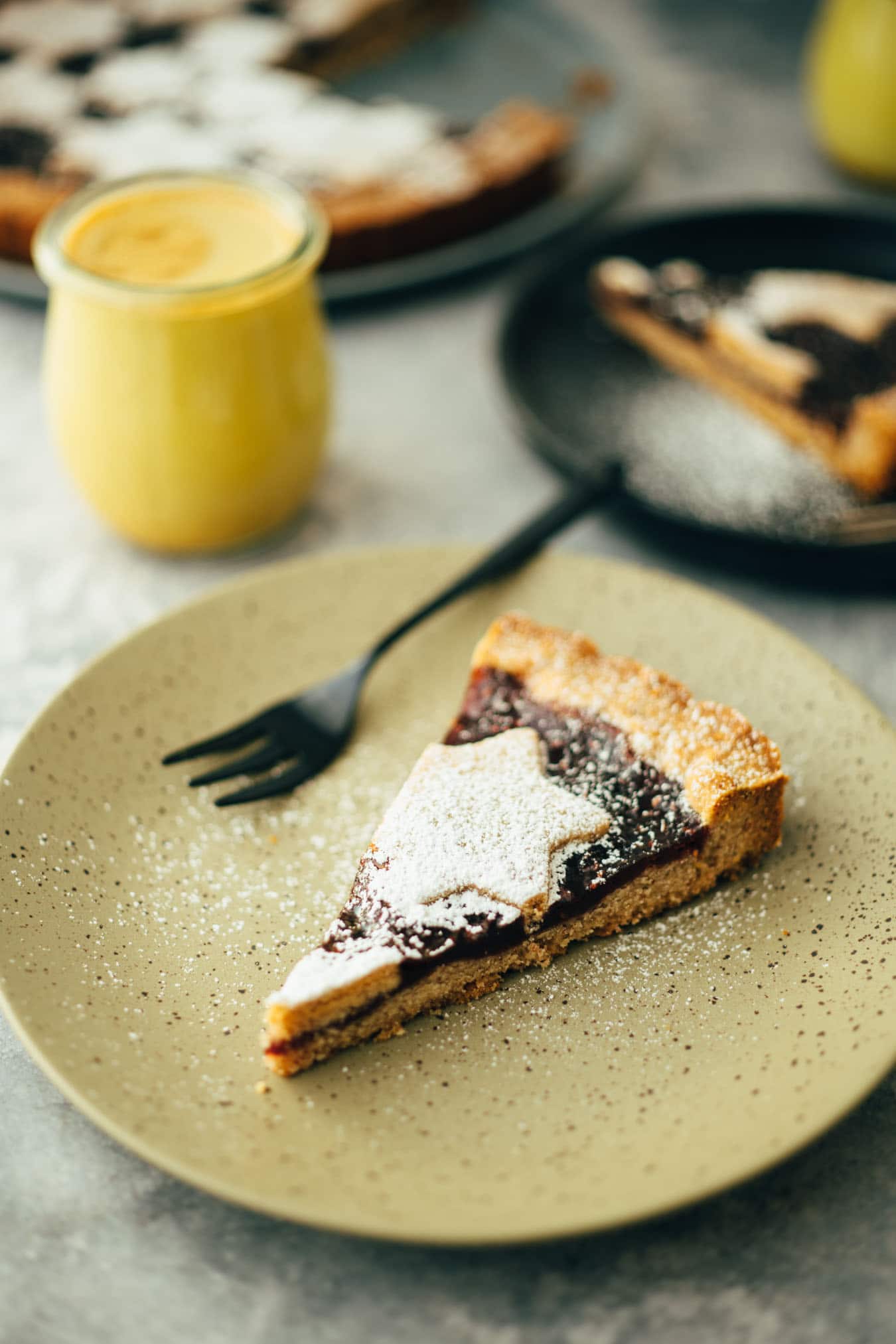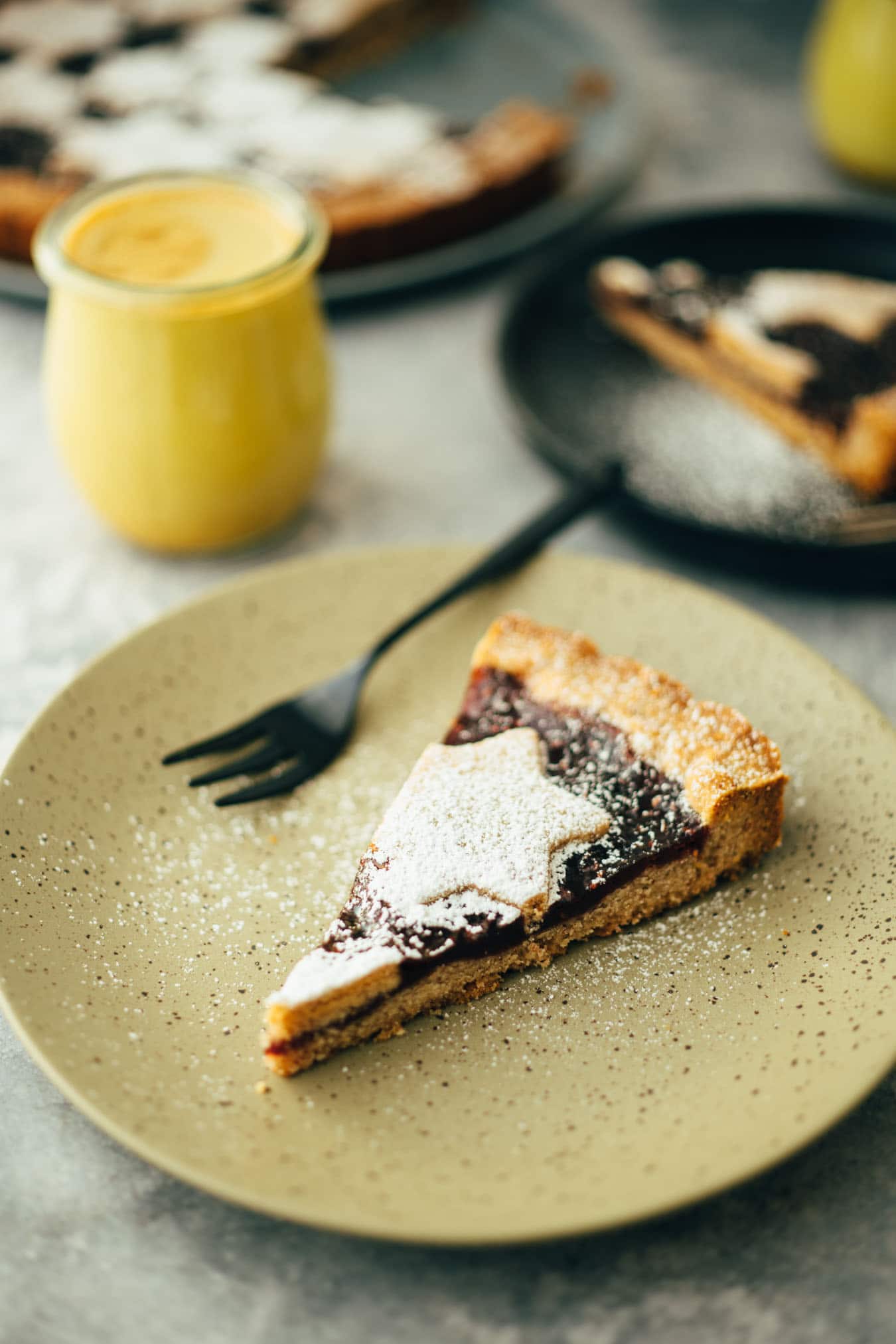 A Linzer cake is quite a simple and delicious Cake variant . Short, pleasantly sweet, rounded with the delicious acidity from raspberry jam. It is especially good in the autumn and in the Pre-Christmas , thanks to the pinch of cinnamon and nutmeg that is reflected in the dough. One Flaxseed egg , ground almonds, flour (my gluten-free flour blend also works here), raw cane sugar, margarine, a dash of cold water, bourbon vanilla, cinnamon, and (optionally) a pinch of nutmeg and cloves.
A dough without egg, is it possible?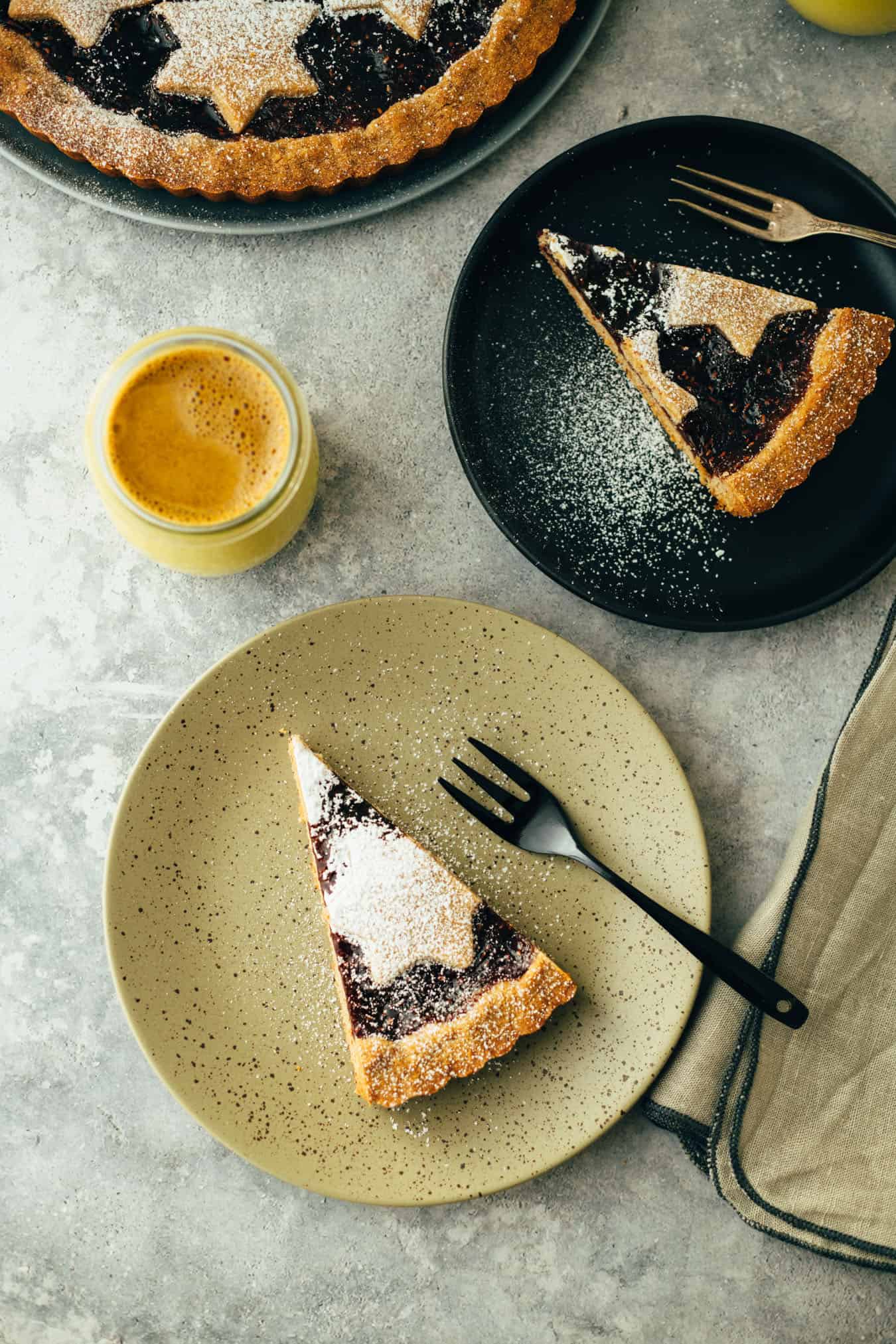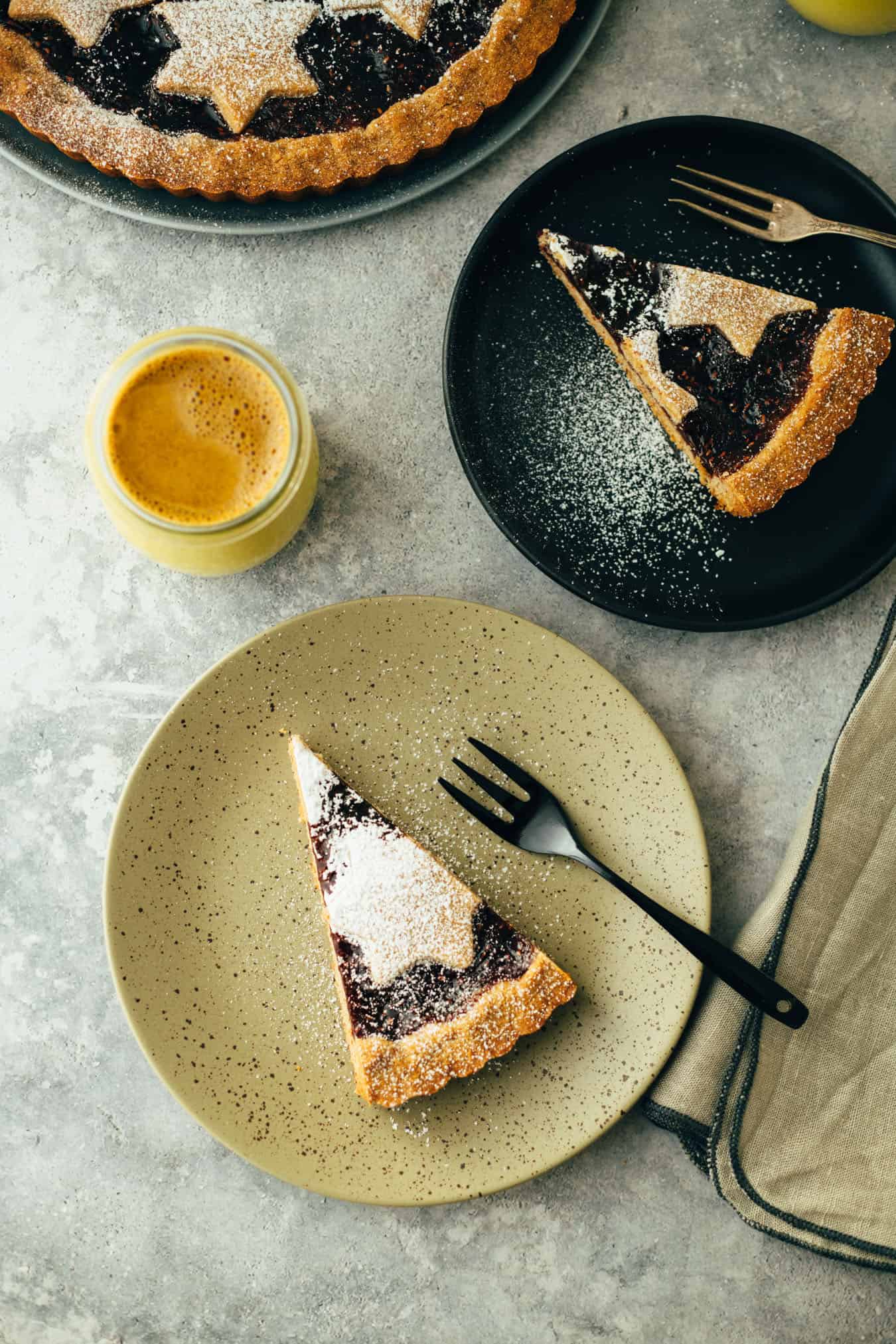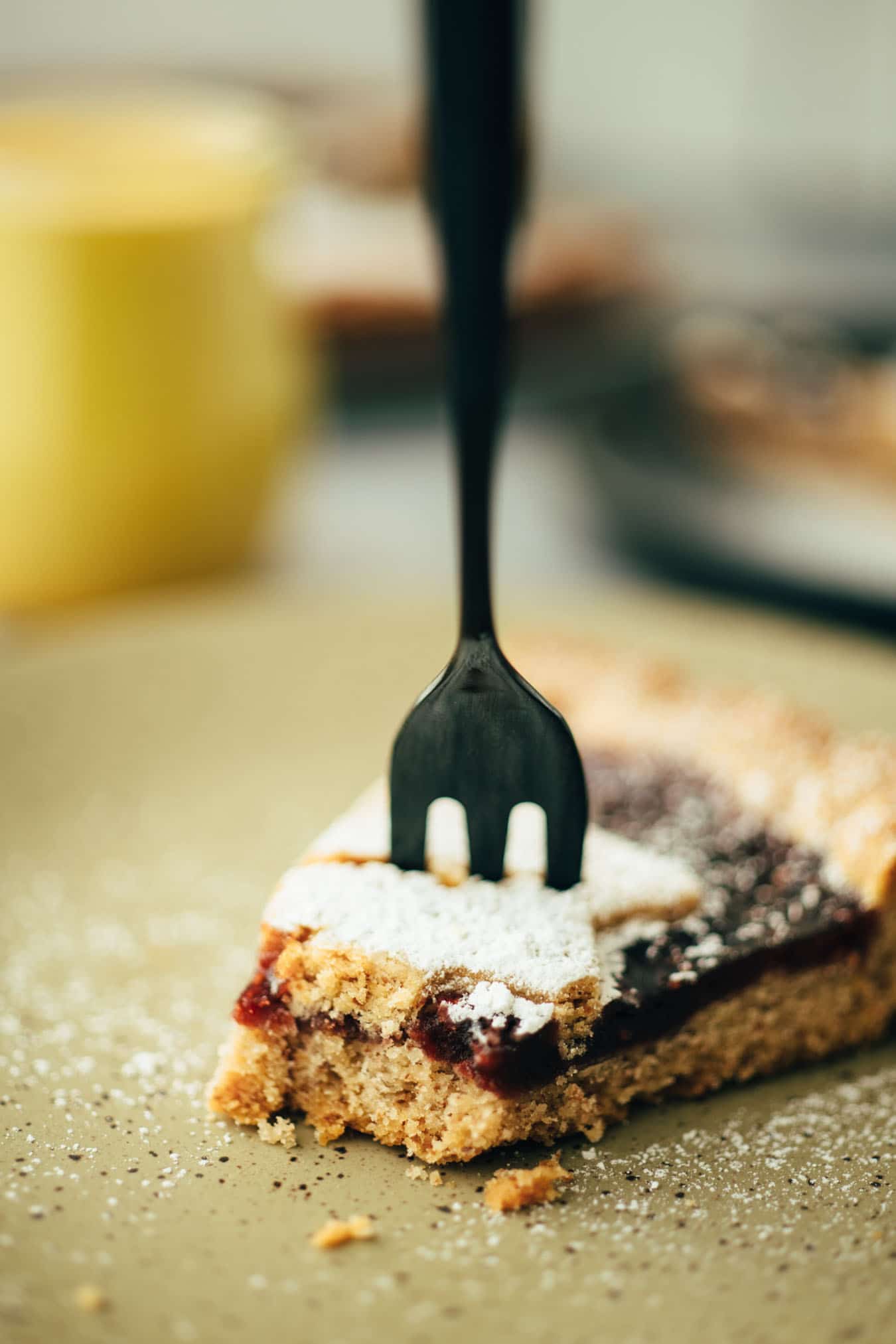 Yes, this is possible and works absolutely without any problems. I replace the egg with a Flaxseed egg , which provides an even better binding and had no problems at all when processing the dough. If you like, instead of flaxseed you can also use soy flour or another Egg substitute of your choice. It is important that the dough gets enough rest time so that the binding fits and it is easy to roll out. A little skill is of course always needed when rolling out, but that's kind of fun when baking, right?
For the topping, I opted for plain powdered sugar. However, also tastes Coconut cream excellent with it or a scoop of homemade vanilla ice cream. Of course, a hot drink should not be missing. As you can see on the picture, I have chosen a Golden Milk decided.
Let's start with this wonderful Linzer Cake . I hope you enjoy baking and of course about a review at the bottom of this page. If you post a picture, use the hashtag #veganevibes.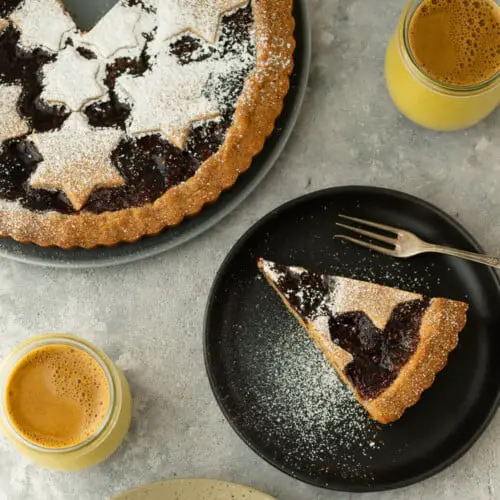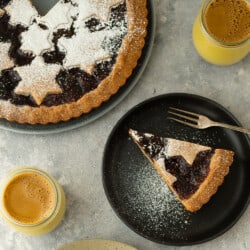 Linzer cake
Simple, crumbly and vegan Linzer Torte topped with fine powdered sugar. Made with only one bowl, nutty and filled with delicious raspberry jam. Perfect for the autumn-Christmas coffee party.
AUTOR: VEGANEVIBES
FOR THE CAKE:
1

Flaxseed egg (3 tablespoons warm water + 1 tablespoon flaxseed meal)

or 2-3 tablespoons soy flour for better binding especially with gluten-free flour

160

g

ground almonds

I take whole almonds with shell and grind them myself

180

g

fine spelt flour type630 or gluten-free flour mix

160

g

vegan margarine

I take Alsan

80

g

Raw cane sugar

1

tbspn

Cinnamon

Optional: ¼ tsp cloves ground

Optional: 1 pinch of nutmeg

1-2

tbspn

Cold water
TOPPING:
optional organic powdered sugar to taste
Anleitung 
FOR THE FLAXSEED EGG: Place flaxseed meal in a small bowl with the water and stir. Let stand for

5 minutes

until it starts to thicken.

1 Flaxseed egg (3 tablespoons warm water + 1 tablespoon flaxseed meal)

FOR THE CAKE Preheat oven to 175 degrees and grease a tart pan with a little margarine and dust with flour (optional).

For the batter, combine flaxseed eggs, ground almonds, spelt flour, vegan margarine, raw cane sugar, bourbon vanilla, cinnamon, (optional) cloves, (optional) nutmeg, and the cold water in a large baking bowl. Blend with hands or a food processor until smooth. If the dough is too soft, add a little more flour. If it is too firm, knead in a little more water.

1 Flaxseed egg (3 tablespoons warm water + 1 tablespoon flaxseed meal),

160 g ground almonds,

180 g fine spelt flour type630 or gluten-free flour mix,

160 g vegan margarine,

80 g Raw cane sugar,

½ tbspn Bourbon vanilla ground or vanilla extract,

1 tbspn Cinnamon,

Optional: ¼ tsp cloves ground,

Optional: 1 pinch of nutmeg,

1-2 tbspn Cold water

Cover and refrigerate for at least

30 minutes

.

Knead the dough well again after the resting time.

Roll out on a floured work surface and fill the bottom of the tart pan with 2/3 of the dough.

Spread the jam on the cake base until everything is evenly covered with it.

250 g Raspberry jam bought or homemade

Roll out the remaining dough as desired with cookie cutters or cut classically into strips and cover cakes with them. I took stars in my case.

Place in oven, bake for 45 minutes, keeping an eye on it every now and then to make sure it doesn't get too dark. Otherwise, reduce the temperature to 160 degrees and increase the baking time slightly.

Sprinkle with (optional) powdered sugar, cut into pieces and enjoy!

optional organic powdered sugar to taste

Keeps up to 2 weeks when covered at cool room temperature (similar to other long-life pastries such as Stollen).
Notizen
NOTES /HELPFUL ACCESSORIES:
Nährwertangaben
Serving:
1
Piece
Calories:
312
kcal
Carbohydrates:
35
g
Protein:
4
g
Fat:
17
g
Saturated Fat:
2
g
Sodium:
94
mg
Potassium:
110
mg
Fiber:
3
g
Sugar:
17
g
Vitamin C:
1.8
mg
Calcium:
39
mg
Iron:
1.3
mg