Just over 2 months and it's Christmas . Hard to believe when you look out the window and would love to go shopping with your short shorts on. Alternatively, it would be quite nice to lay out with your bikini on at lunchtime. A little vitamin D never hurts. Nevertheless, we have to deal with the issue of pre-Christmas pastries. Joking aside, the pre-Christmas season is approaching and it's time for some delicious vegan recipes . One of my favorite cookies are bear paws because they are so nice and crumbly and chocolatey. Therefore they may on my Cookie plate definitely not missing.
"German" Bärentatzen, chocolate paws, chocolate chip cookies? The main thing is vegan!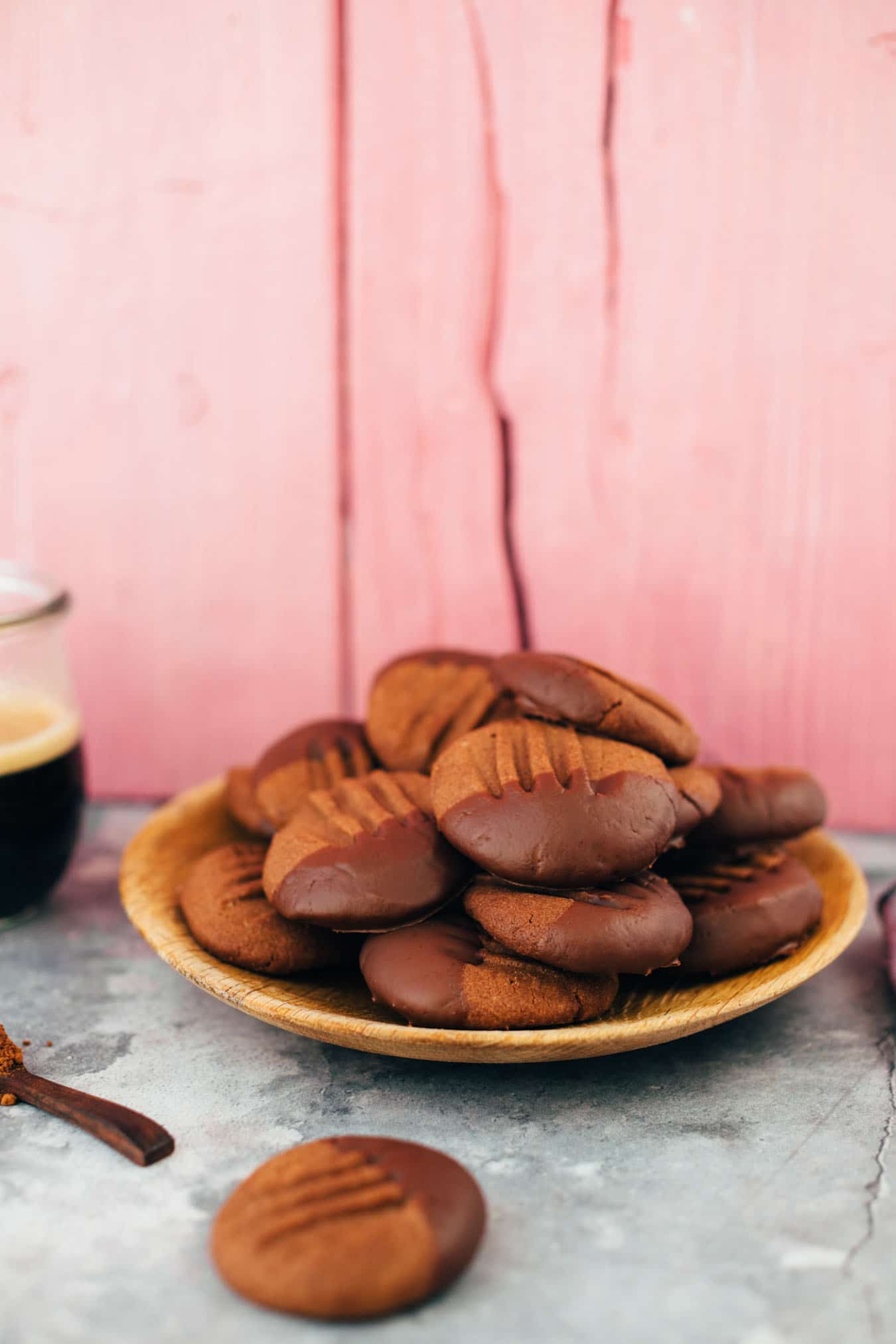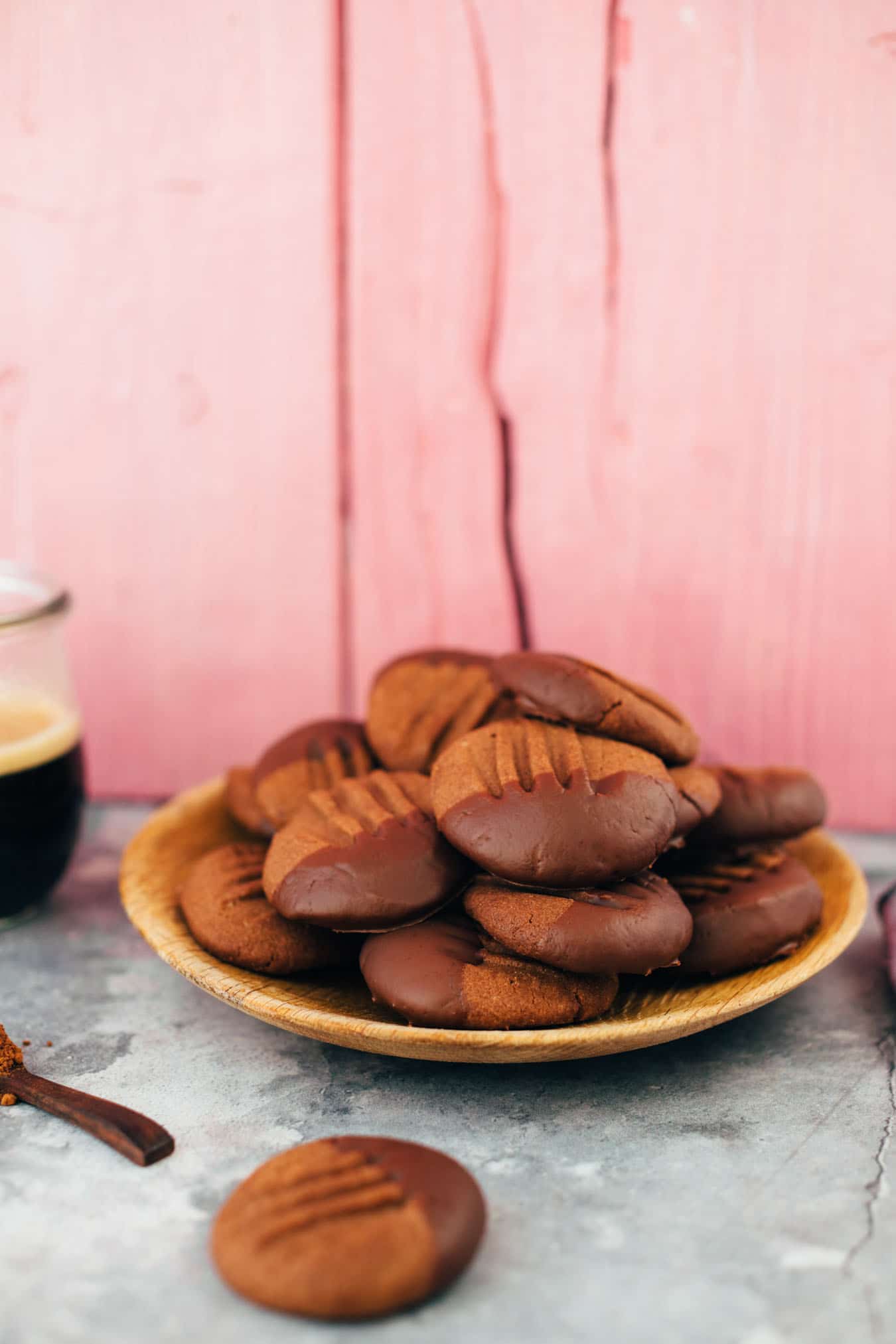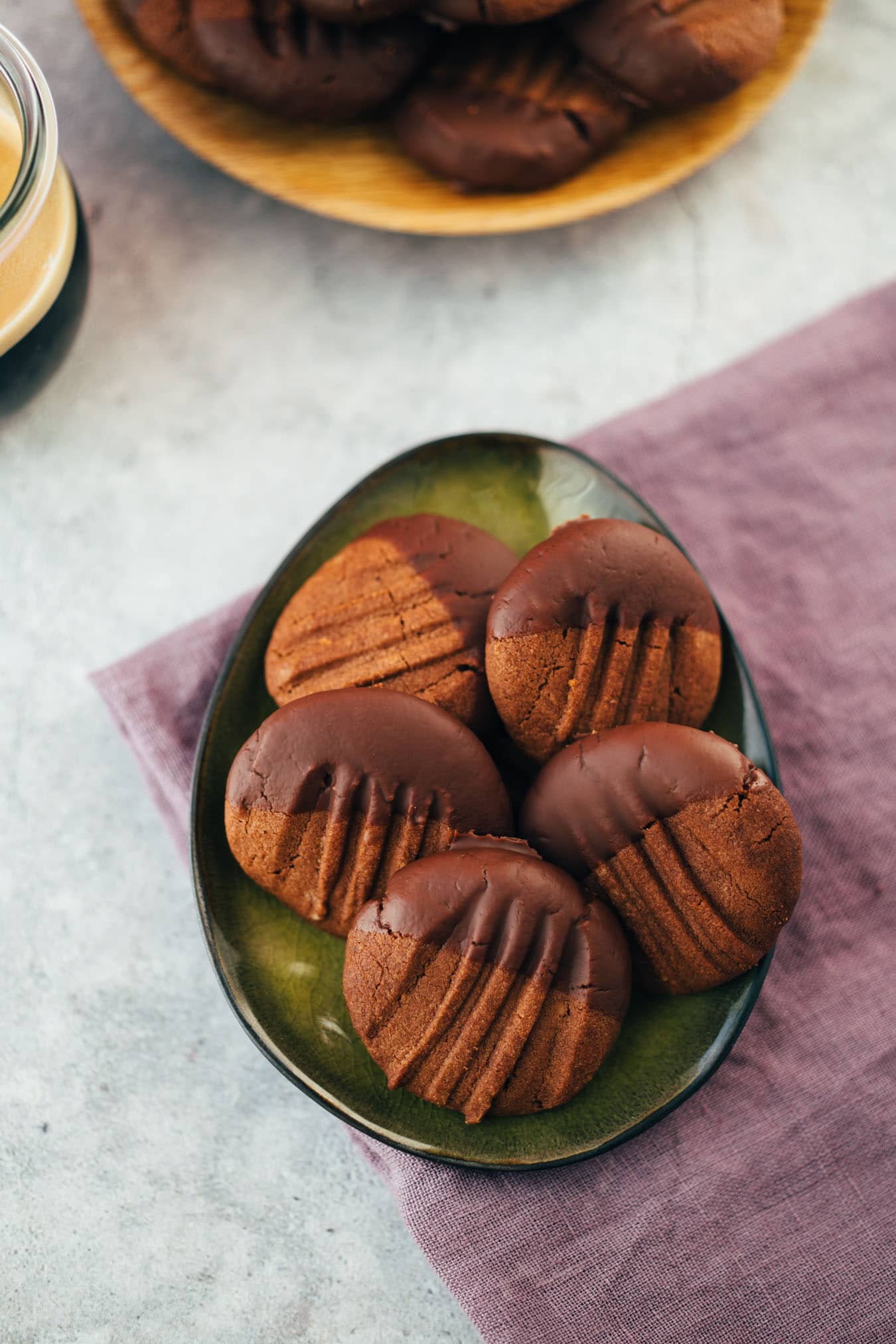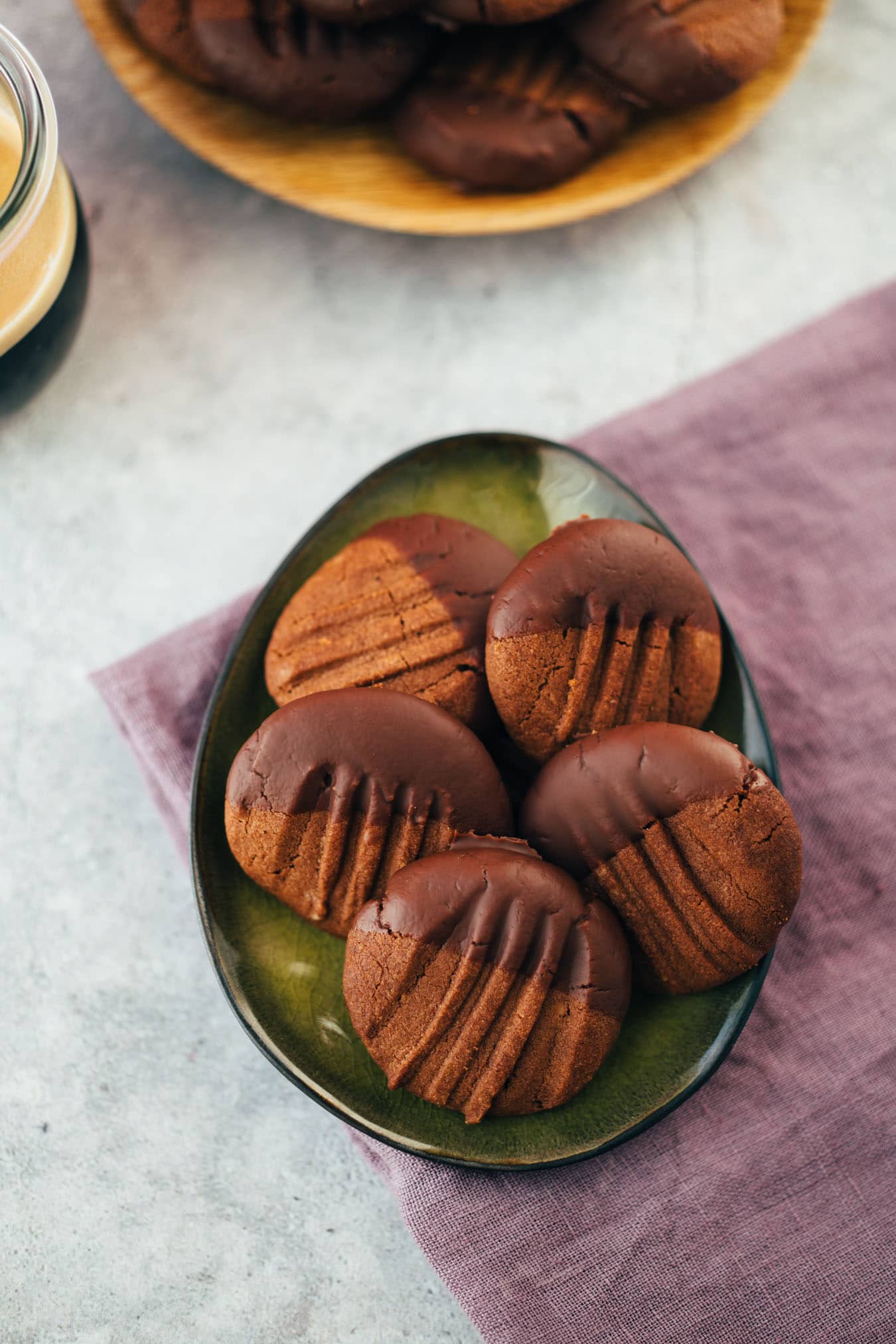 Vegan Christmas? I am ready
One thing right up front: if you're into super healthy raw pastries, these paws are unfortunately not for you. They contain only vegan ingredients, but not necessarily the healthiest. However, if you like to treat yourself to something really tasty, then you've come to the right place. Spelt flour, cornstarch, powdered sugar, cocoa, bourbon vanilla, sea salt, margarine and Almond milk . That's it!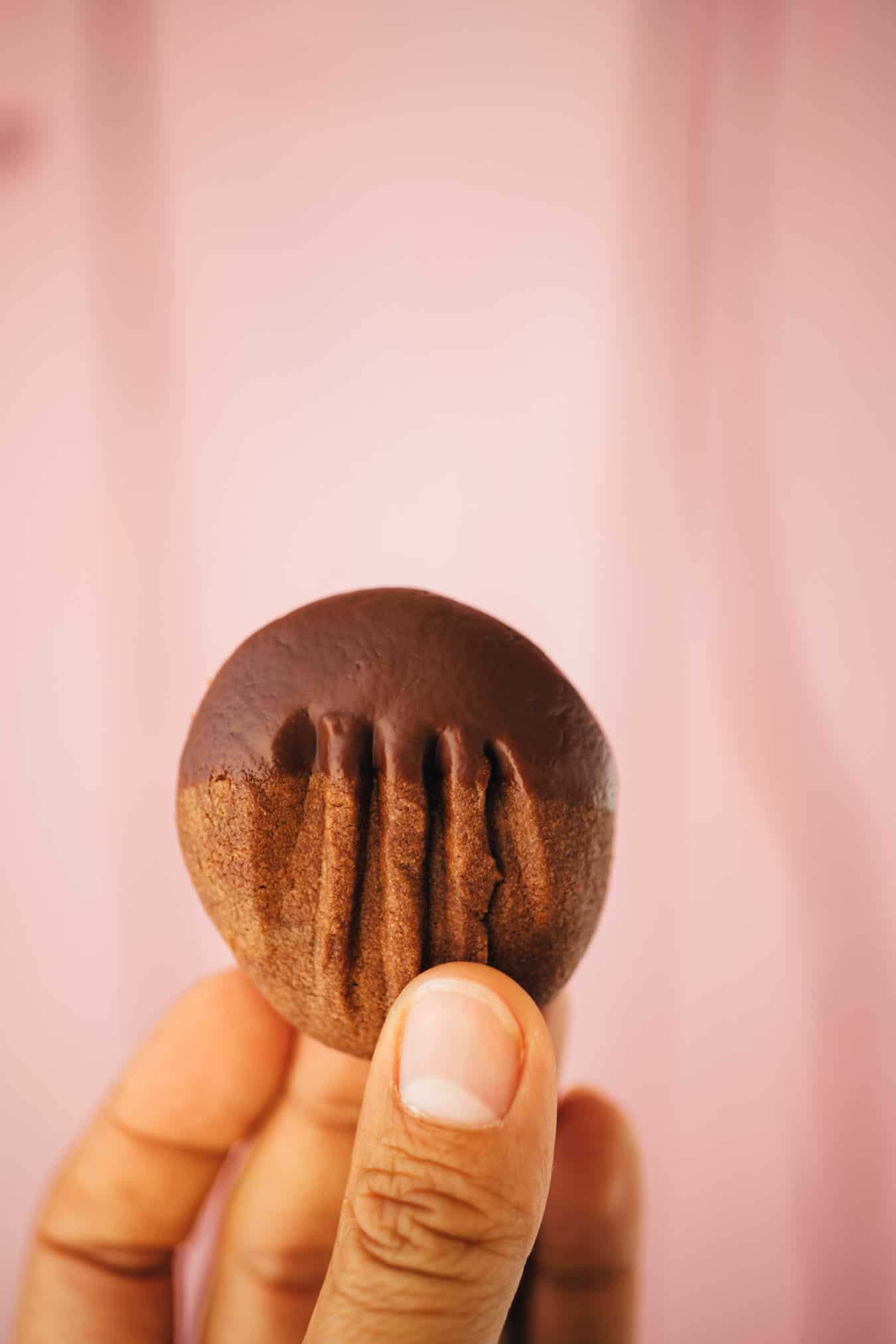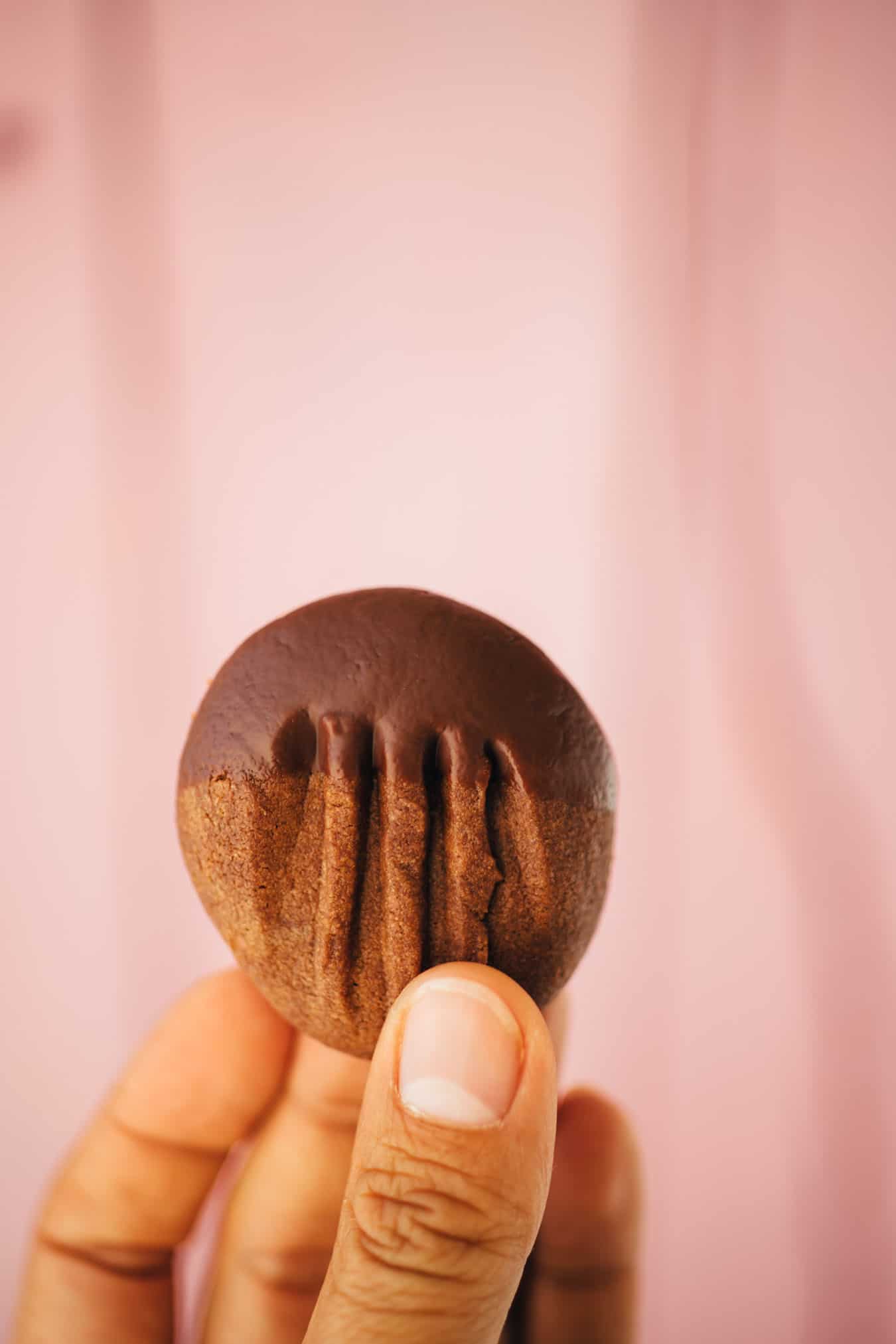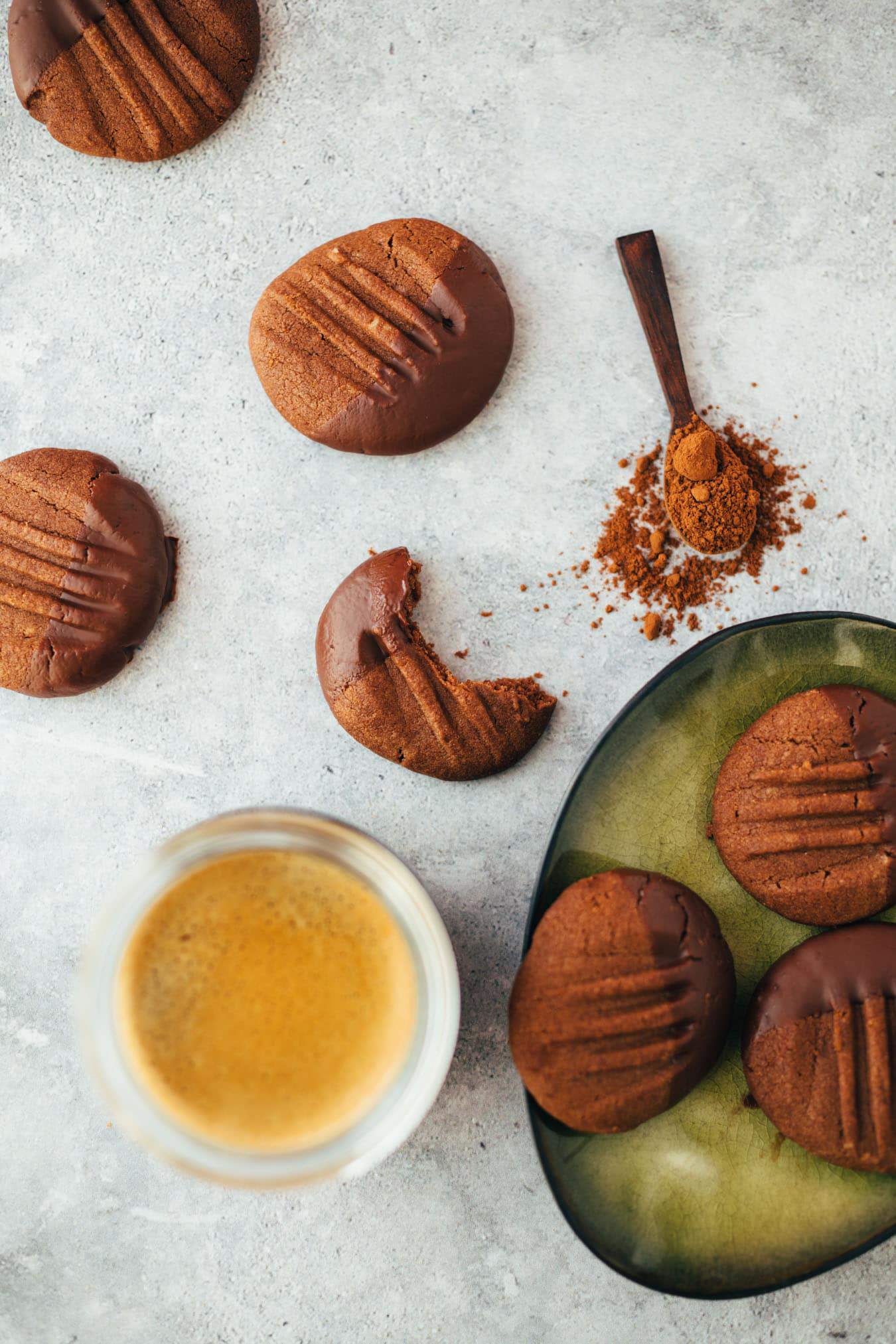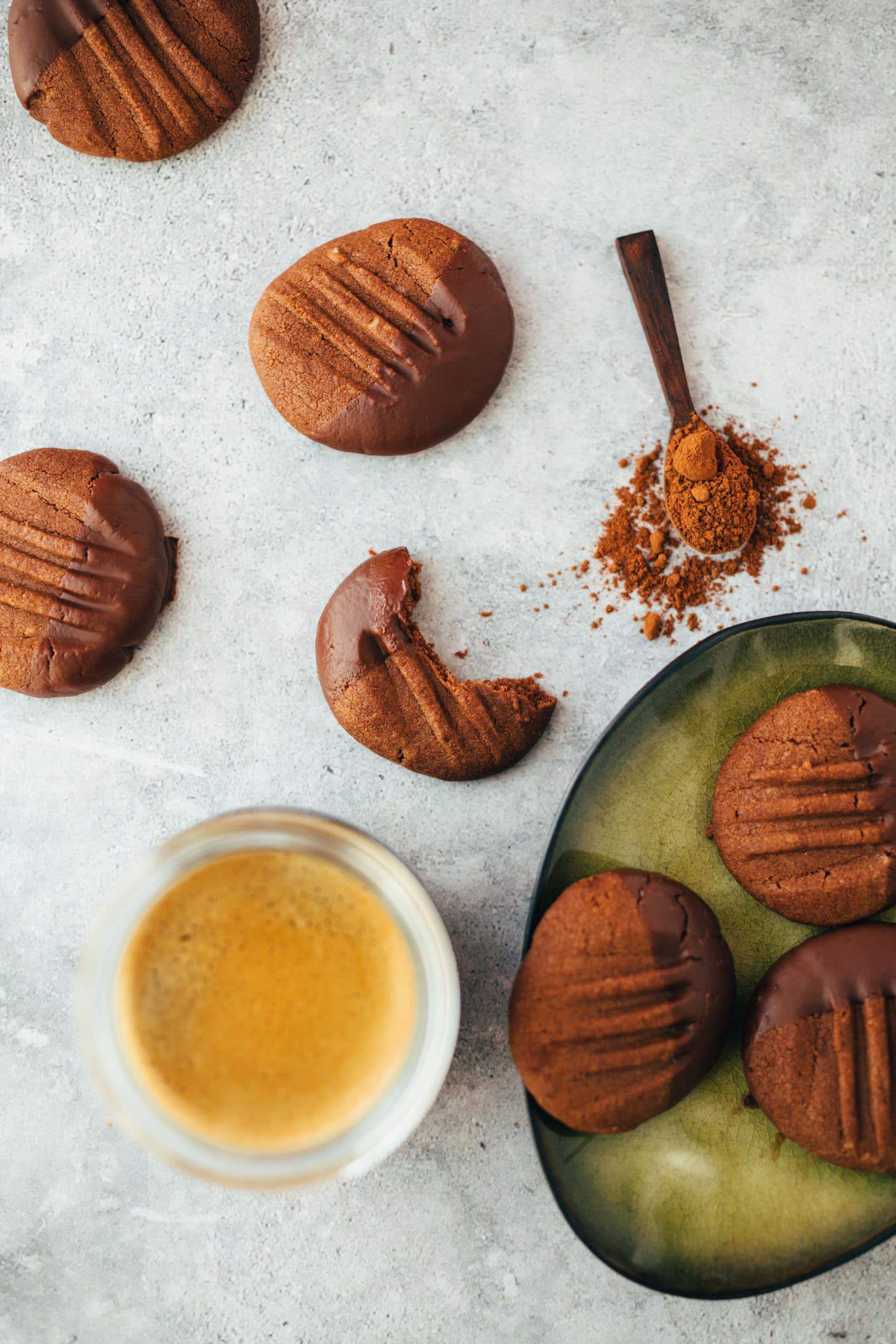 The dough is really easy to make, then needs a short rest in the fridge to firm up a bit. This makes it easier to process. It is then portioned, rolled and pressed in with a fork. You've already done it! Now just bake, let cool and dip in dark chocolate. Simply the perfect activity for gray, rainy Saturday afternoons. Now you just have to stay strong and not squirrel it all away at once *laughs*.
Vegan paws are simply delicious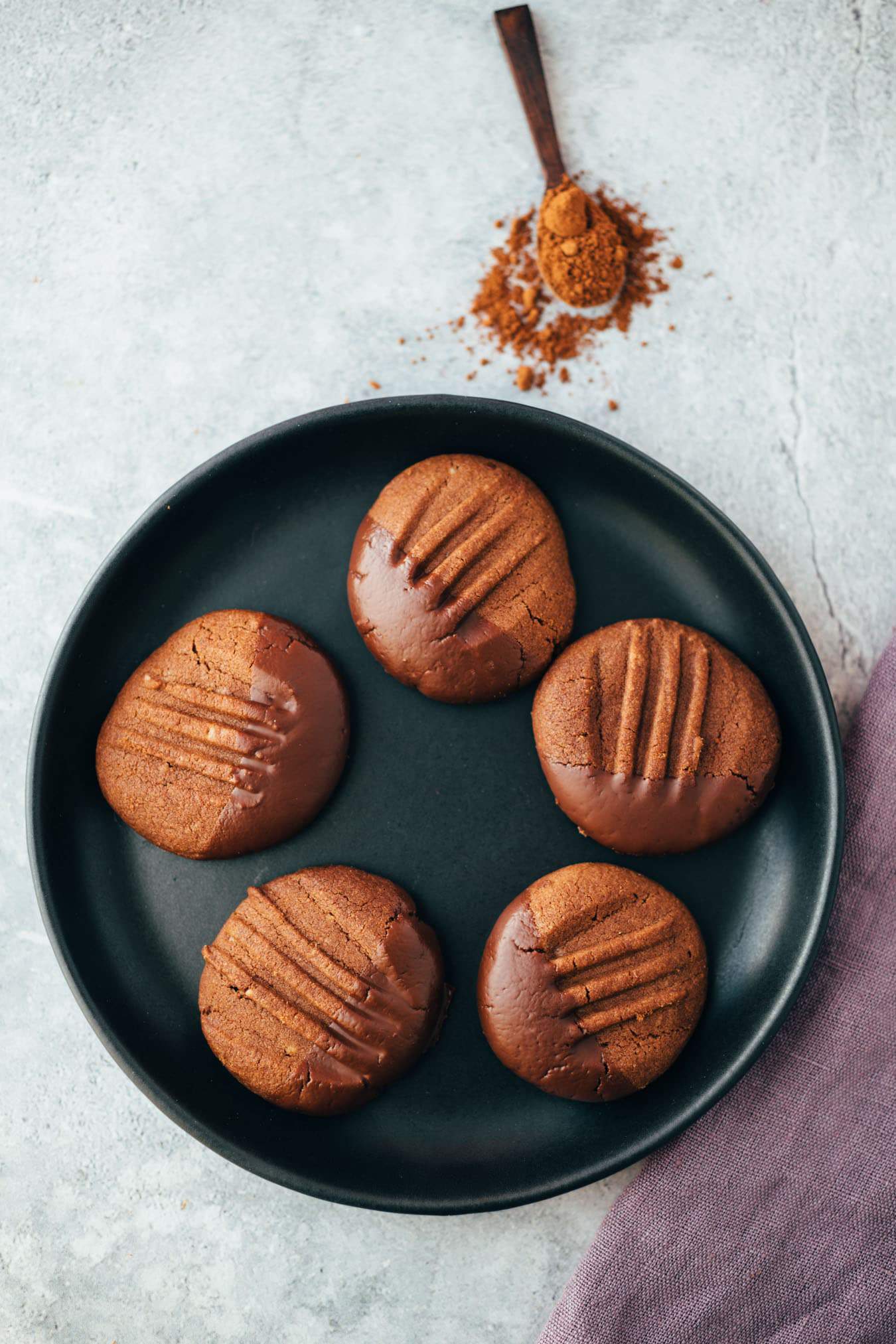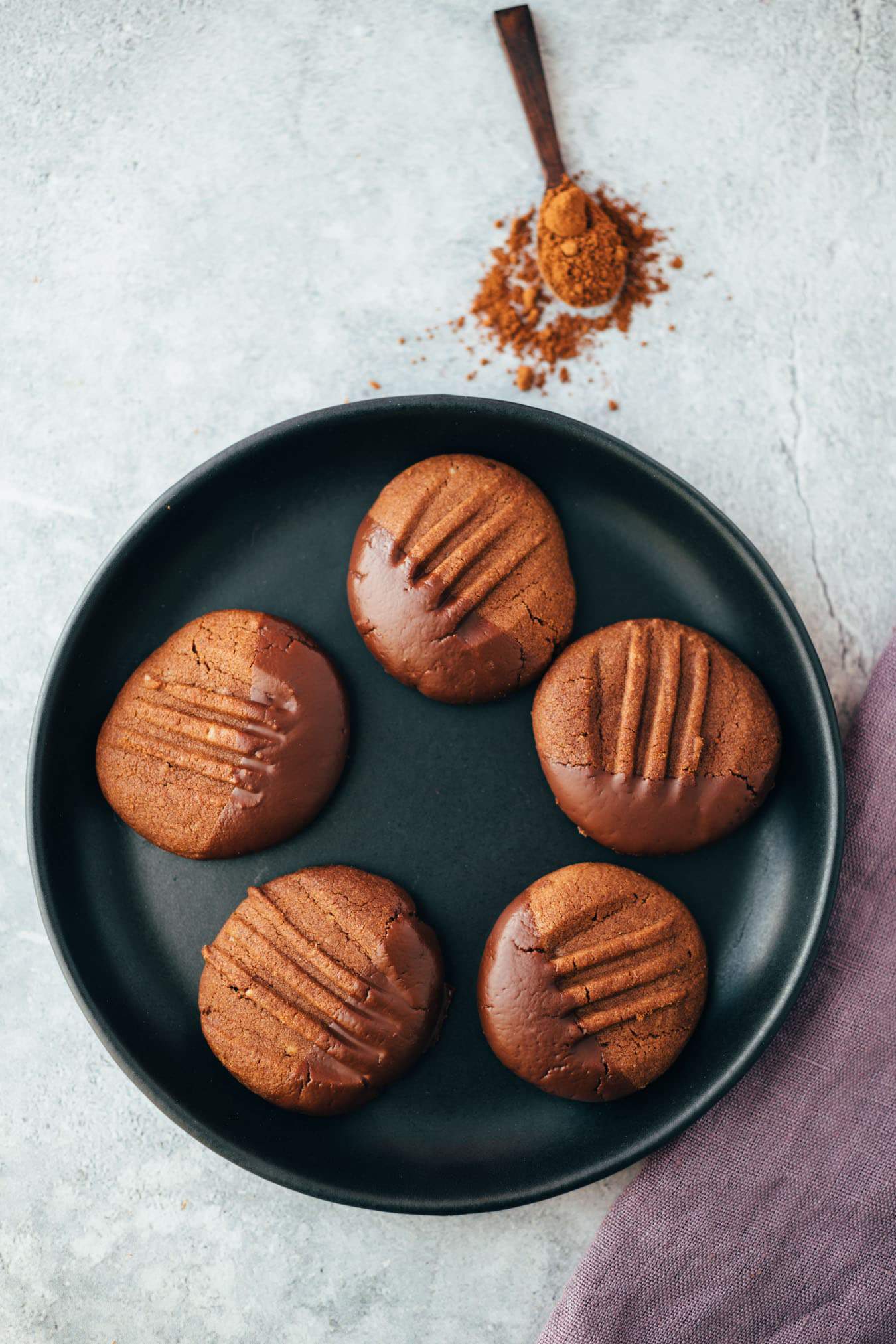 Are you ready to make the easiest, chocolatiest, most addictive bear paws ever? They are:
Quickly made
sweet
Mürb
simple
chocolatey
Christmas
If you are looking for Christmas want to put together a nice plate of cookies, then I recommend my vegan cinnamon stars , Gingerbread squares , cinnamon buns coffee cookies and Raffaelo in addition.
Let's go with these incredibly delicious vegan bear paws, I hope you enjoy baking them and of course about a review at the bottom of this page. If you post a picture, use the hashtag #veganevibes.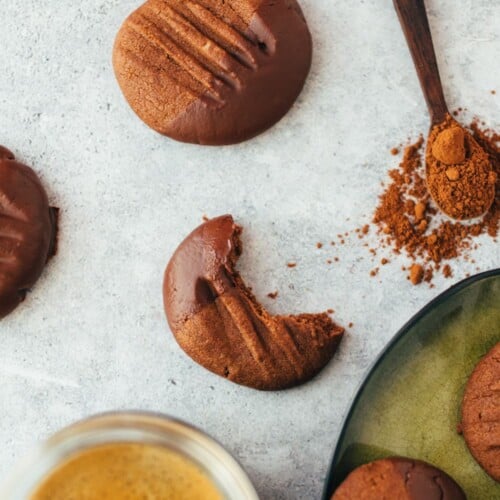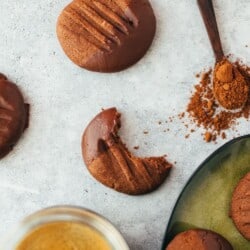 Bear paw cookies (vegan)
Vegan bear paws made from fine spelt flour, deliciously crumbly thanks to the addition of fine corn starch, coated with delicious dark chocolate. A sweet temptation, perfect as a pre-Christmas pastry or for a chocolate craving in between.
AUTOR: VEGANEVIBES
FOR THE CHOCOLATE COATING:
Anleitung 
Mix the ingredients FOR THE DOUGH into a large baking bowl and mix until smooth. I worked with my hands here, but it also works wonderfully with a food processor.

100 g fine spelt flour,

125 g Cornstarch 1 cup,

85 g Powdered sugar,

200 g vegan margarine,

22,5 g Cocoa powder,

30 ml Almond milk or another vegetable milk,

½ tbspn Bourbon vanilla ground or 1 tsp vanilla extract,

A pinch of sea salt

Place in the refrigerator, covered, for at least

2 hours to

allow the dough to firm up a bit again. I left the dough in the refrigerator overnight.

After the cooling time is over, preheat oven to 170 degrees and line a baking sheet with parchment paper.

Remove dough from refrigerator and separate 15g per cookie with a spoon. Roll into a ball with your hands, flatten and press one side in with a large fork.

Once all cookies are done, place baking sheet in oven and bake for

15-17 minutes

.

Remove from the oven and allow to cool completely.

FOR THE CHOCOLATE COATING Gently melt the chocolate together with the coconut oil over a water bath.

100 g dark vegan chocolate,

4,5 g Coconut oil

Dip cookies piece by piece with one side in the chocolate and coat. Place on a praline rack and allow to drain. If there is no grid, simply place on the baking paper and wait until the chocolate has set. It's faster in the refrigerator.

Enjoy together with a hot drink or just like that!
Notizen
NOTES /HELPFUL ACCESSORIES:
Nährwertangaben
Serving:
1
Cookie
Calories:
112
kcal
Carbohydrates:
11
g
Fat:
7
g
Saturated Fat:
2
g
Sodium:
52
mg
Potassium:
25
mg
Sugar:
4
g
Calcium:
4
mg
Iron:
0.6
mg