One thing I can promise you in advance: This Cinnamon stars you will love. At least I do, and my husband, and my brother, and my girlfriend, ok I'll spare you the rest of the list. It's November and very cold out there, so I need things to warm me from the inside and give me a little healthy sugar jolt for an extra dose of good cheer.
Vegan cookies – cinnamon stars … so delicious!
For the sweet stars you only need 6 ingredients, a baking tray and a star-shaped cookie cutter. Could it be easier?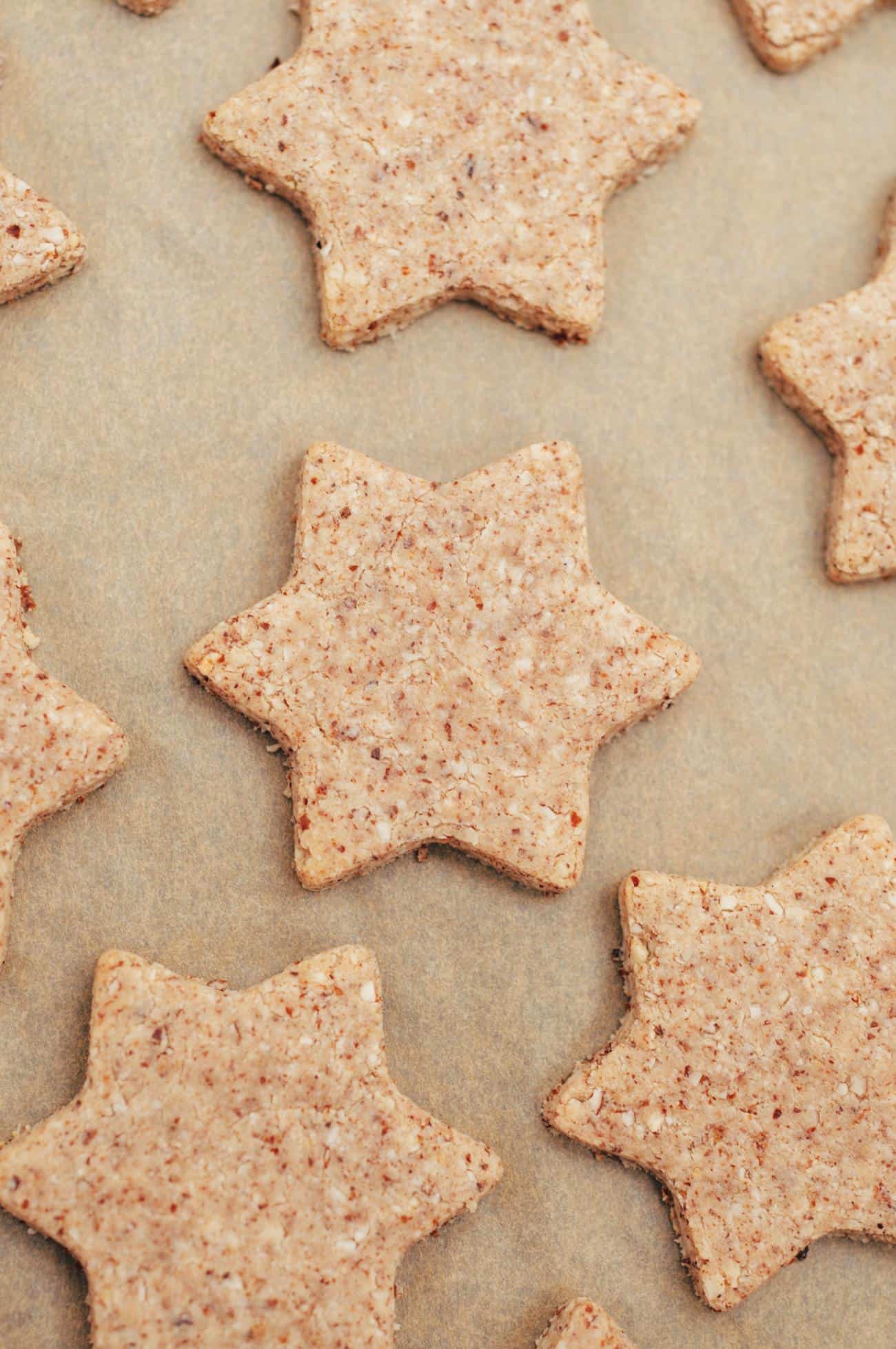 Vegan cinnamon stars without egg – it was never so easy
The main ingredients are delicious almonds and hazelnuts, lemon juice, organic powdered sugar and water. It's hard to believe, but even without egg, it makes a wonderful binding and the dough is easy to work with. The glaze is not only darn tasty, but keeps the cookie soft and delicious for days. I even feel like this vegan pastry gets a little better every day (unfortunately, I ate the rest today).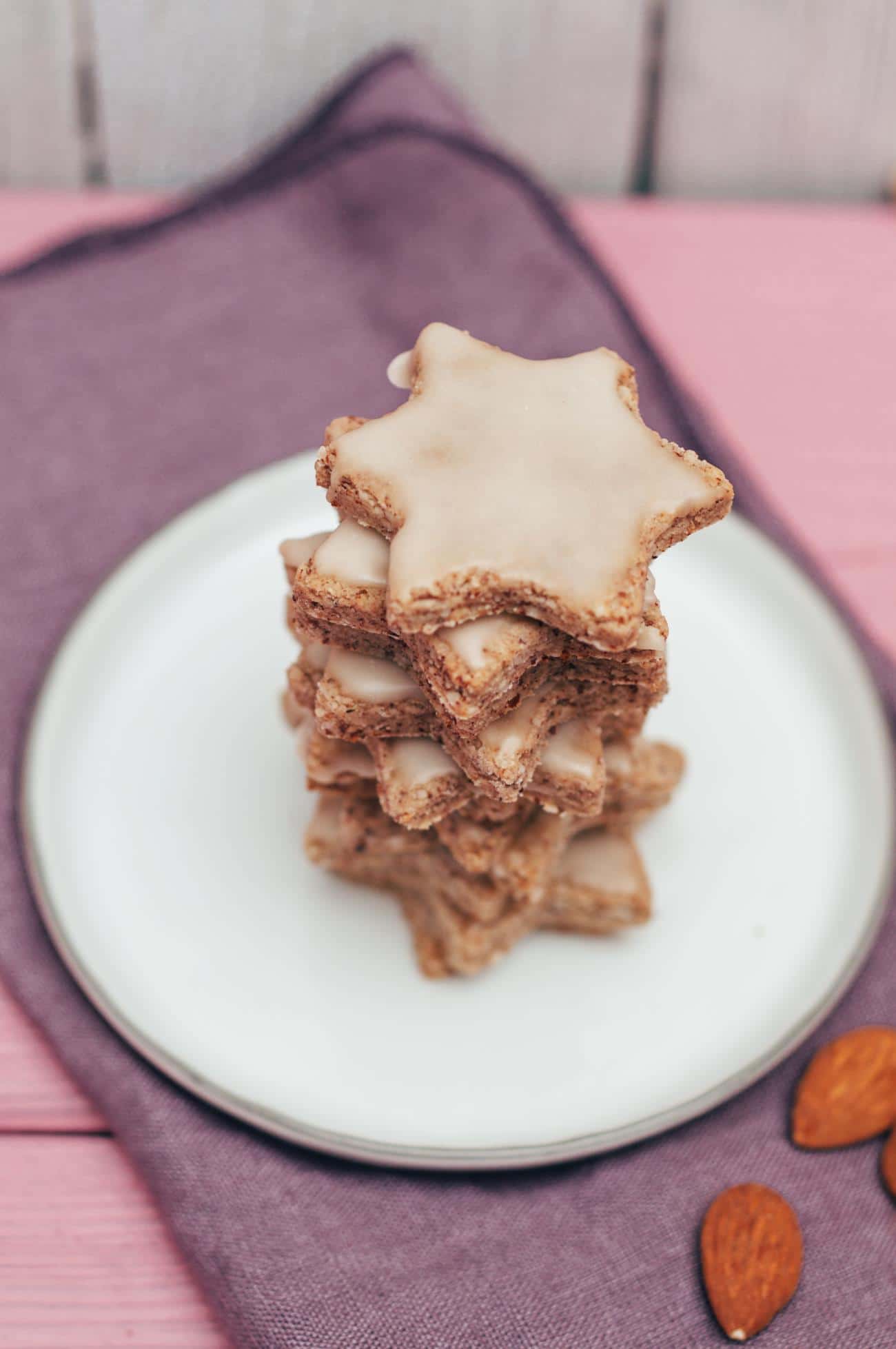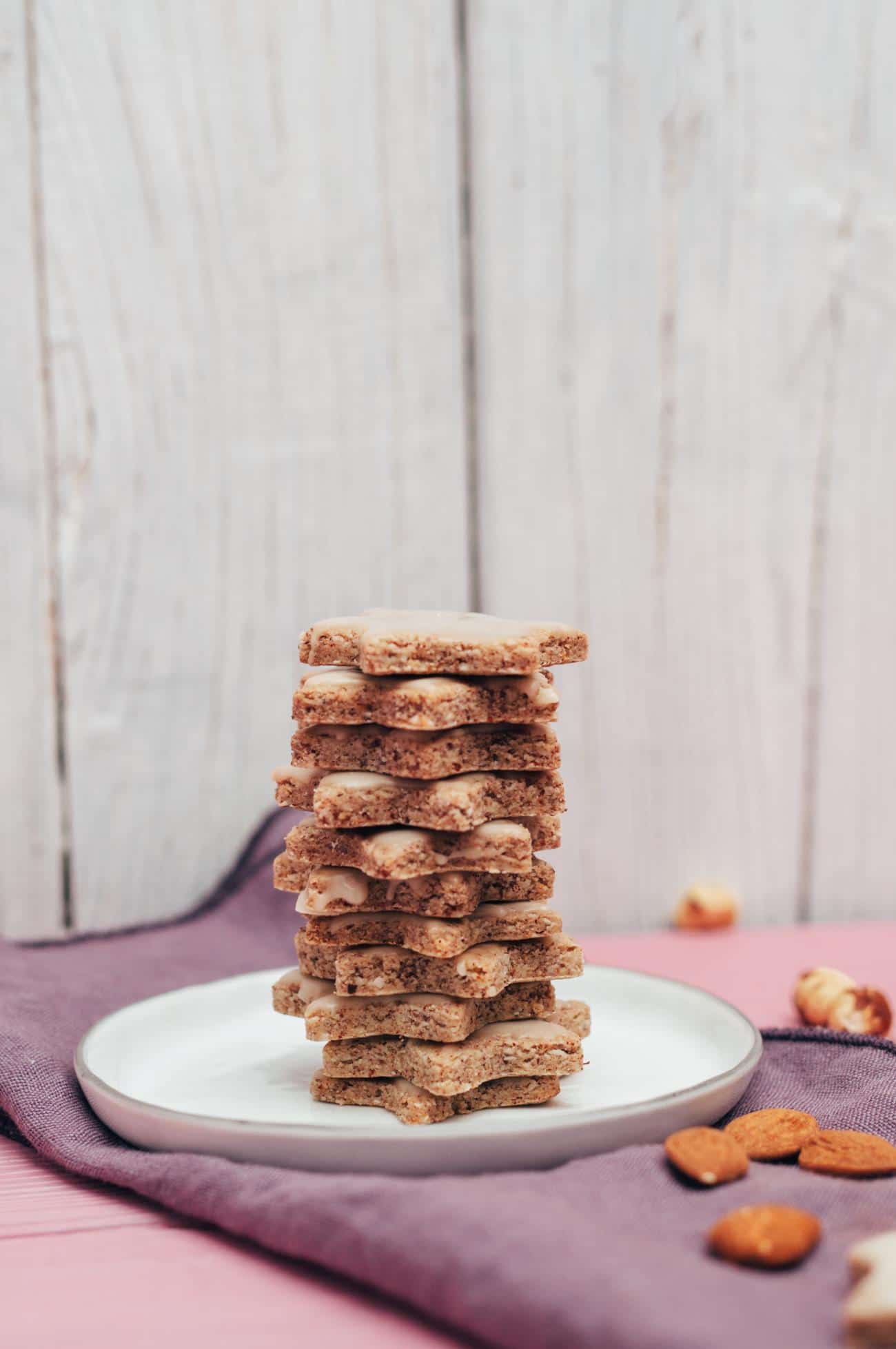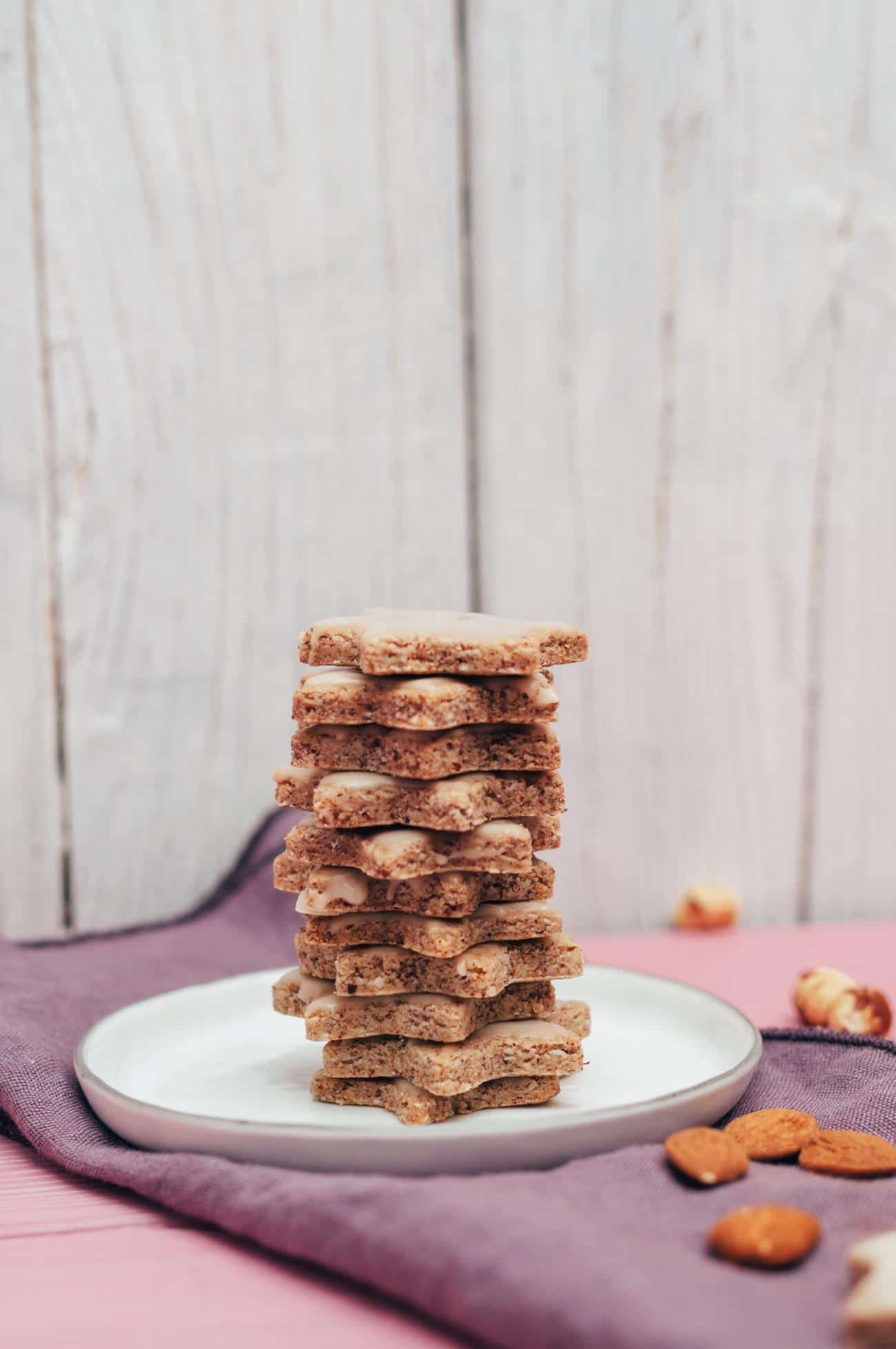 Best already put the hot chocolate or the mulled wine on the stove, because you're ready to go with these little, pretty, purely plant-based cookies, perfect for your vegan Christmas.
Pleasantly sweet
Perfect bite
nutty
Slightly lemony
Cinnamon-y
Easy to manufacture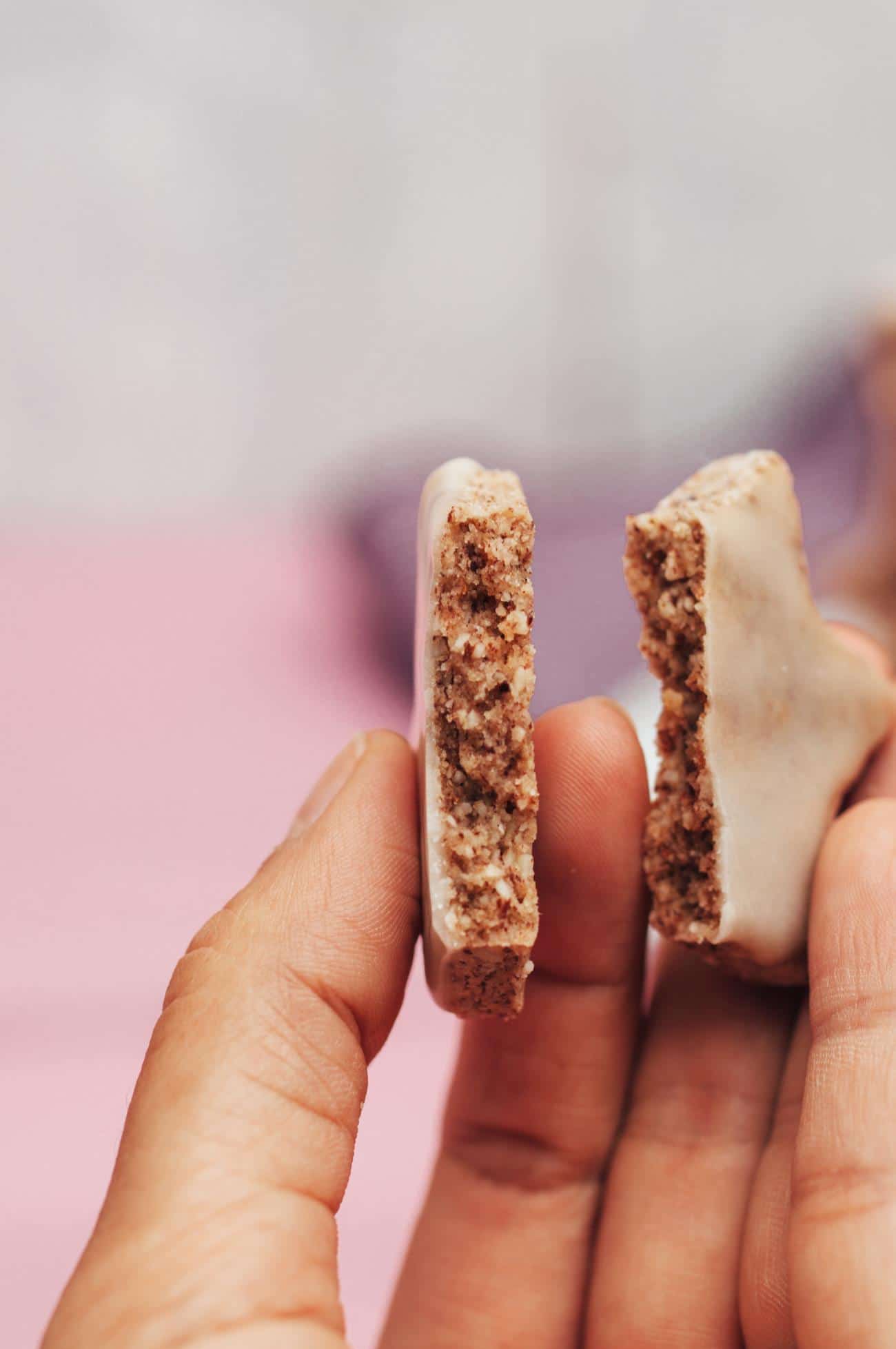 Is also wonderful as a homemade souvenir for the pre-Christmas Party or as a topping on your morning vanilla porrige (LOVE!). I wish you a lot of fun with the Nachbacken and am pleased of course about a review at the bottom of this page. If you post a picture, use the hashtag #veganevibes.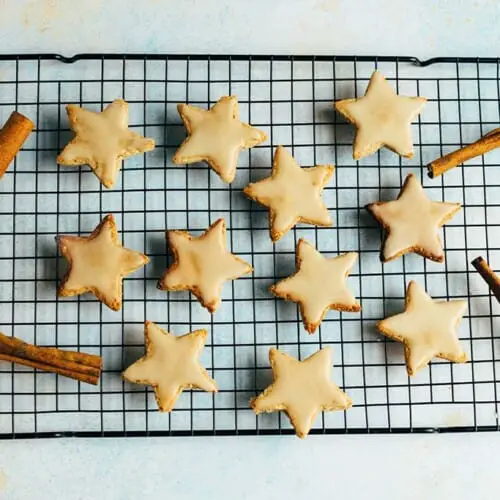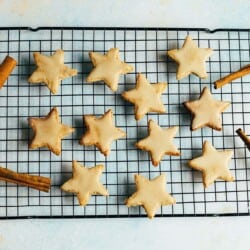 Vegan and gluten-free cinnamon stars (6 ingredients)
Delicious vegan cinnamon stars that are ready with only 6 ingredients and under an hour. Perfect bite, crispy on the outside, soft on the inside and infused with a pleasant very slight tartness from lemon.
AUTOR: VEGANEVIBES
FOR CASTING:
3,75

ml

Lemon juice

Some water

*I grind the nuts myself in advance in my high-powered blender.
Anleitung 
Mix all ingredients for the dough in a bowl and mix with your hands or with a food processor(kneading attachment) until uniform. If the dough is still a little too firm, add a few drops more water(dose carefully, otherwise the dough will be too mushy). In the end, the dough should have the consistency as in the picture.

130 g Hazelnuts,

130 g Almonds,

100 g Organic powdered sugar,

4 g Cinnamon,

7,5 ml Lemon juice,

Optional: 1 pinch bourbon vanilla ground,

Optional: 1 pinch sea salt,

7,5-15 ml Water

Form the measurements into a ball and place in the freezer for

45 minutes to

firm up. This process is important so that the dough can be easily processed afterwards.

After the cooling time, preheat the oven to 180 degrees and line a baking tray with baking paper. Remove dough from freezer and roll out evenly on a silicone mat or sheet of baking paper. Using a star-shaped cookie cutter, cut out about 20 cinnamon stars. Spread evenly on the baking sheet and place in the oven to bake for

6-8 minutes

.

TIP: If the dough is quite crumbly, it is best to roll it out between two sheets of baking paper. Do not roll out too thin, otherwise the stars can break easily. If the cutter sticks, provide a small bowl of water and keep wetting the cutter.

The cinnamon stars are ready when they have a light golden brown edge. Remove from the oven and let cool completely on the tray.


For the glaze sift the powdered sugar into a bowl, add the lemon juice and water and mix with a spoon. Be careful with the liquid, as it can quickly be too much and the icing will be too runny. The icing is ideal when it has a creamy consistency and is easy to spread.

80 g Organic powdered sugar,

Some water,

*I grind the nuts myself in advance in my high-powered blender.

Brush the cinnamon stars with the icing(a spoon is best for this) and allow to set.

Store the finished cinnamon stars at room temperature and snack as desired.

Notizen
NOTES /HELPFUL ACCESSORIES:
Nährwertangaben
Serving:
4
Cookies
Calories:
113
kcal
Carbohydrates:
11
g
Protein:
2
g
Fat:
7
g
Potassium:
90
mg
Fiber:
1
g
Sugar:
9
g
Vitamin C:
0.7
mg
Calcium:
27
mg
Iron:
0.6
mg