It's that time of year again, the Autumn is here and it cries out for Hot drinks . Are you one of those people who love autumn or would prefer to get on the next plane right away? Honestly, I've come to terms with weather pretty well. However, only since we have our Huskies. I used to be in escape mode most of the time from September on and never missed an opportunity to fly towards the sun. Meanwhile, we go out every day, in all weathers! Accordingly, I also have really good, weatherproof clothes and you would not believe it: somehow I find so cold, rainy and cozy afternoons totally great. Preferably with a hot drink in hand, of course.
VEGAN PUMPKIN SPICE LATTE (that's all I need to say!)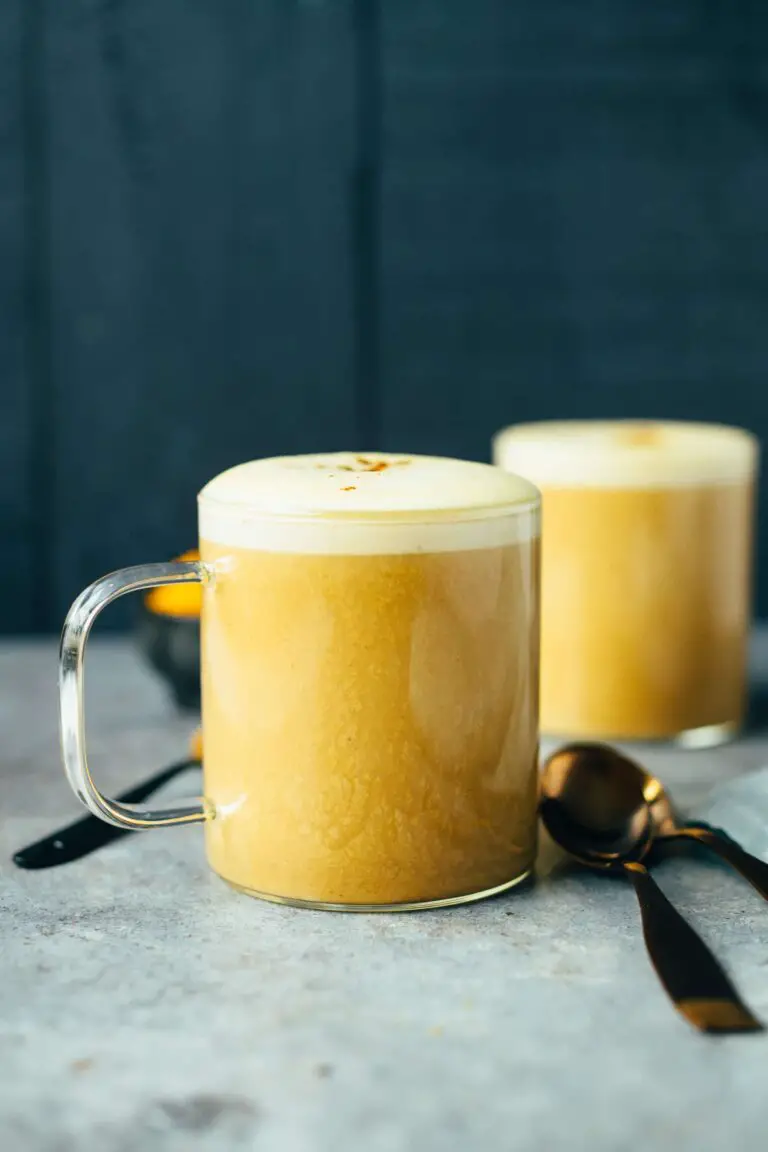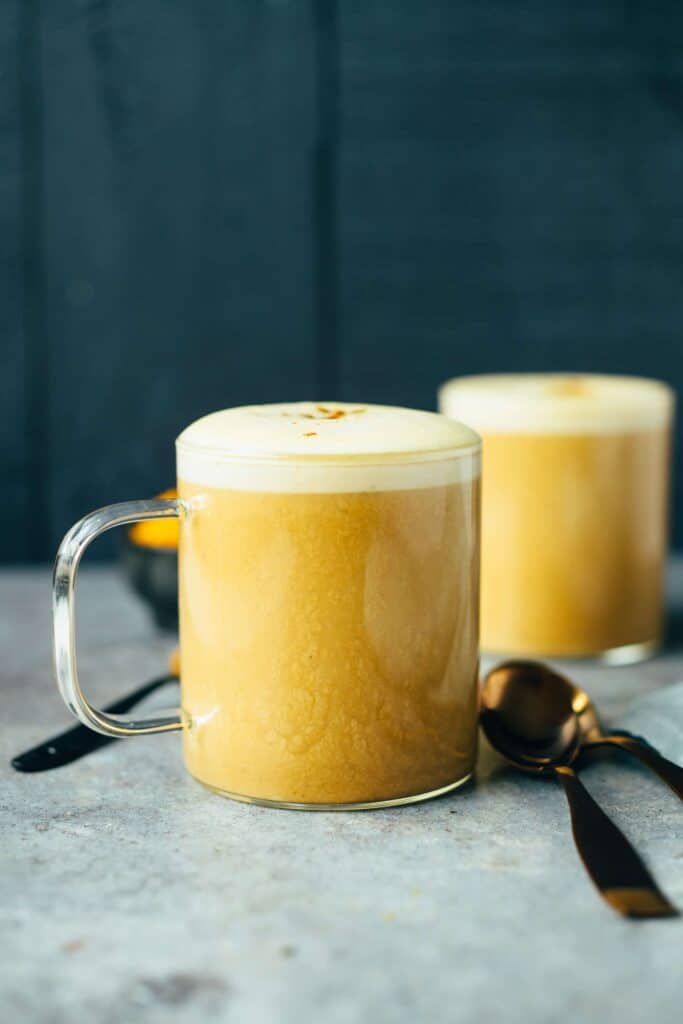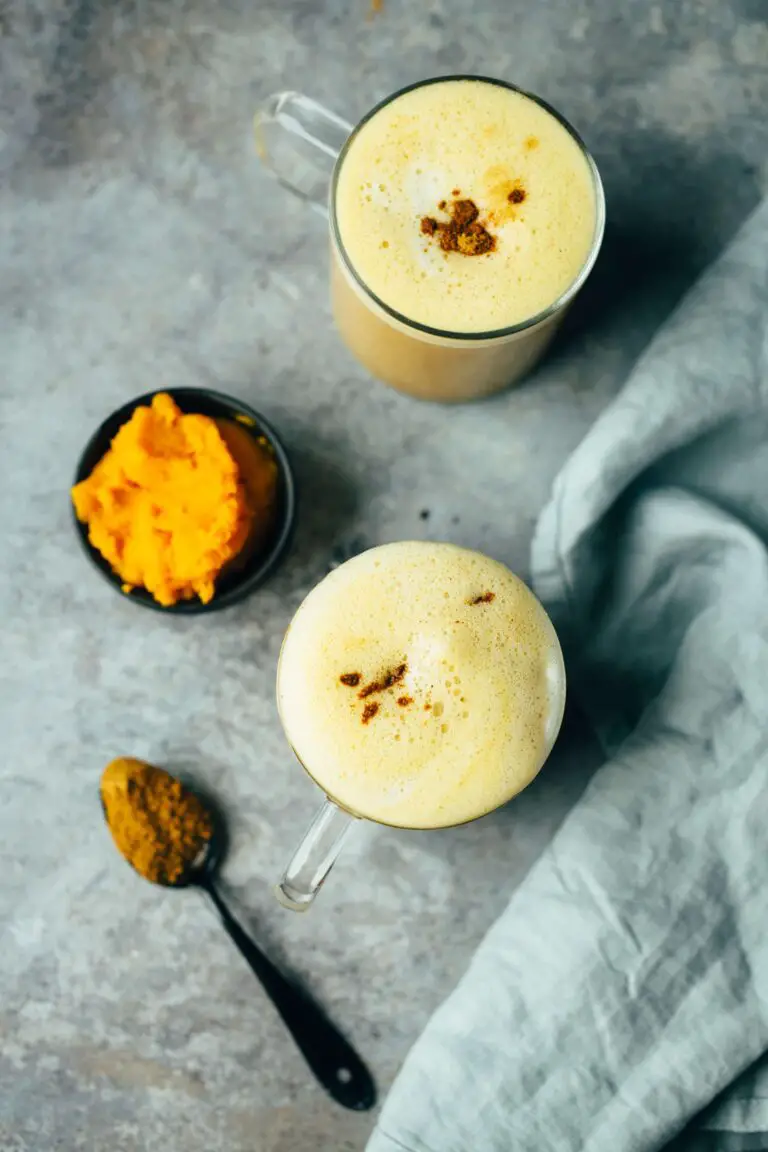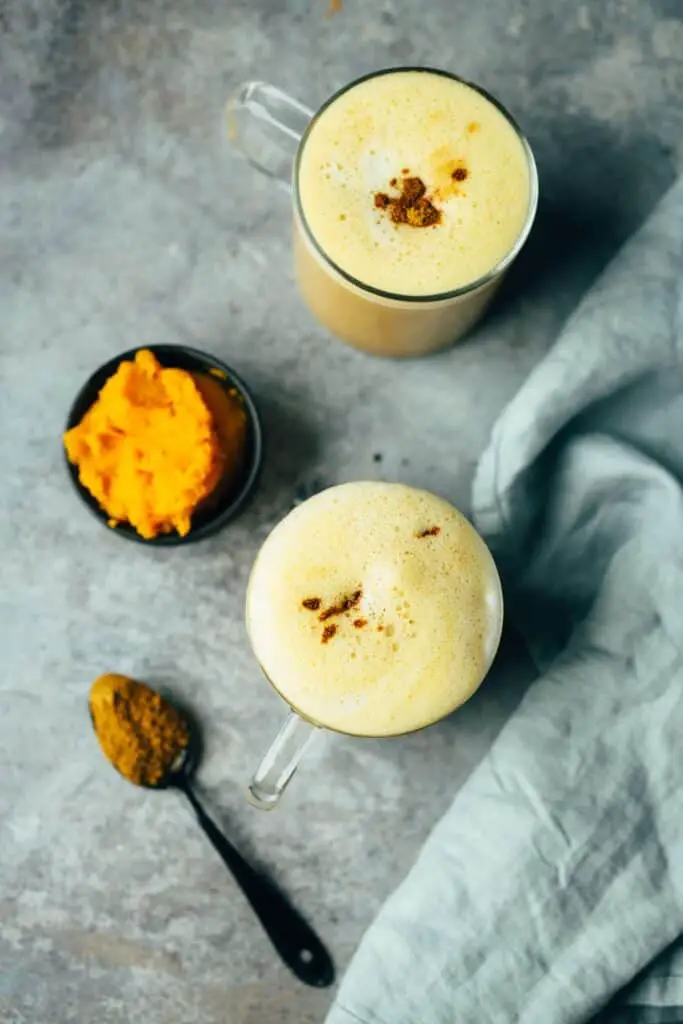 I'm sure you know this big American coffee chain that currently has Pumpkin Spice Latte again. Last week I was in Basel in a branch and was once again flashed by the prices. Of course, the ambience is right, the baristas are friendly, and you can also use the free (very good) Wi-Fi for two hours at a time. However, the prices have something scary and I wondered if a Pumpkin Spice Latte is really worth 8€ to me now. I ended up sticking with the Americano, straight up. The latte we make today together and super fast with only 4 ingredients. Are you with us?
When the apartment smells of delicious pumpkin spice
I have one more piece of good news for you. Unlike the coffee house chain I mentioned earlier, we use only good ingredients, making it a super healthy version, so to speak. We're cutting out high-fructose corn syrup, using pumpkin puree instead of pumpkin flavoring, and cutting out lots of saturated fat (which, at its worst, just hits your vascular walls). Here are the facts for your perfect latte:
Plant milk: I find soy milk or my homemade one the best. Oat Barista Milk . NOTE: Please heat the homemade version only carefully and not too much, otherwise it will thicken!
Sweetener: I use maple syrup, for a more caramel flavor coconut blossom sugar is also very good.
Spices: Less is more! Use rather less at the beginning and then re-season. Otherwise, it quickly becomes too bitter.
Pumpkin puree: Feel free to make yourself ( Instructions are here! ) or order organic quality on the Internet.
Turmeric or here comes the Health Hack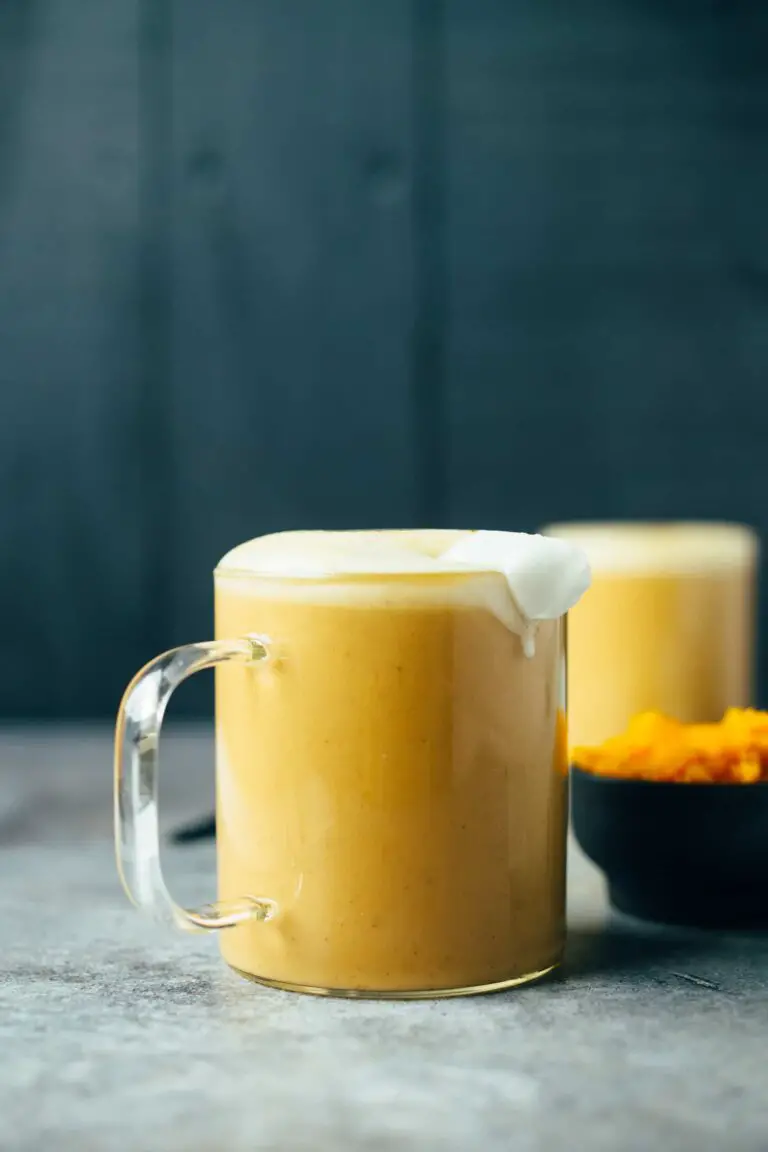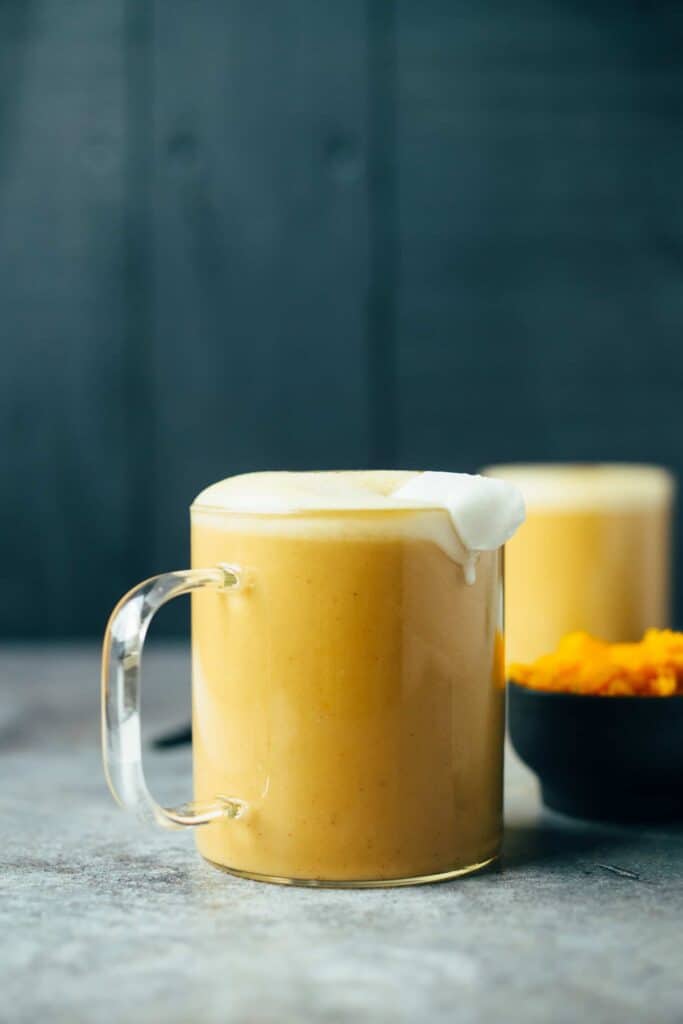 If you want to turn your Pumpkin Spice Latte into a superfood Latte you can add fresh turmeric root . When using turmeric, it is important to add black pepper, as the piperine contained is important for the usability of curcumin (active ingredient of the turmeric root). According to studies, the addition of black pepper increases the bioavailability of turmeric by 2000 percent!
What else goes with our delicious, creamy and warming hot drink? A great piece of cake, preferably a cherry chocolate cake, pumpkin muffins or coffee cake.
Enough theory I would say and off we go with this great tasting, healthy and immune system boosting latte:
Warming
Aromatic
Naturally sweetened
Without additives
Very tasty
It's Pumpkin Latte time! If you love the recipe , I appreciate a review at the very bottom of this page. If you post a picture, feel free to use the hashtag #veganevibes.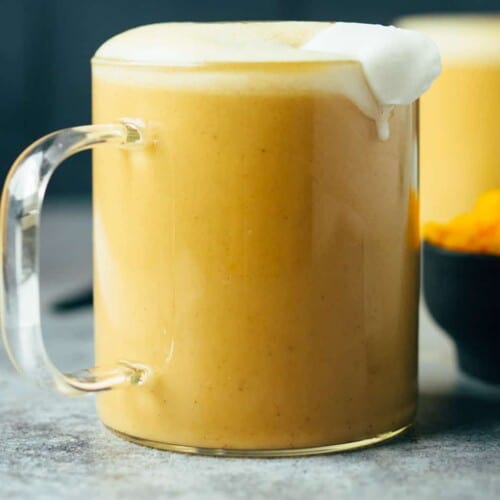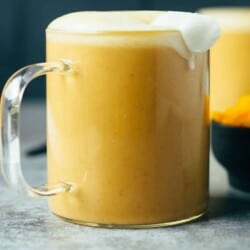 Vegan Pumpkin Spice Latte (4 ingredients)
A delightfully warming Pumpkin Spice Latte with sweet pumpkin puree, autumnal spices and a creamy barista milk. Naturally sweetened, for all those who love healthy hot drinks.
AUTOR: VEGANEVIBES
500

ml

Oats Barista Milk

alternatively soy or almond milk, divided

30

g

Pumpkin puree

homemade or purchased

30

ml

maple syrup

alternatively coconut blossom sugar or another sweetener of choice

1

tbspn

Pumpkin Pie Spice

homemade or purchased

optional 1 tsp turmeric + a pinch of black pepper, for a superfood version
TOPPING:
Anleitung 
Warm one cup (250ml) of plant milk in a milk frother.

Put another cup (250ml) in a small saucepan and heat gently. CAUTION DO NOT BOIL! Otherwise, especially homemade oat milk thickens.

Pumpkin Pie Spice maple syrup and Pumpkin Pie Spice pour in and stir vigorously with a whisk until well combined. If the puree dissolves poorly, simply blend everything again briefly in a high-powered blender until fine.

30 g Pumpkin puree,

30 ml maple syrup,

1 tbspn Pumpkin Pie Spice,

optional 1 tsp turmeric + a pinch of black pepper, for a superfood version

Pour into 2 cups and add the frothed milk. Optionally garnish with Coconut cream and further garnish Pumpkin Pie Spice and enjoy!

GENERAL NOTE on the use of turmeric. The spice stains very strongly, therefore cover surfaces accordingly or clean them immediately. Possibly use gloves during processing (especially with fresh turmeric).
Nährwertangaben
Serving:
1
Portion
Calories:
183
kcal
Carbohydrates:
37
g
Protein:
4
g
Fat:
3
g
Saturated Fat:
1
g
Sodium:
122
mg
Potassium:
190
mg
Fiber:
3
g
Sugar:
29
g
Vitamin A:
2854
IU
Vitamin C:
1
mg
Calcium:
381
mg
Iron:
2
mg