It's the coolest thing I've ever made: Pumpkin puree. As simple as it gets, the American would say, and so incredibly versatile. For this I also immediately think of a funny anecdote, because when I researched a little on the net yesterday, I came to the page of a food blogger colleague and had to smile. A reader asked exactly how pumpkin puree is made that she used for her delicious Pumpkin Bliss Balls. Her answer was that you just puree the pumpkin. I had to laugh because it's not that simple after all. It would almost be like me making applesauce and just throwing the raw apples in the blender. Long story short, I explain in this post how you can easily and step by step make delicious and versatile pumpkin puree.
Make vegan pumpkin puree yourself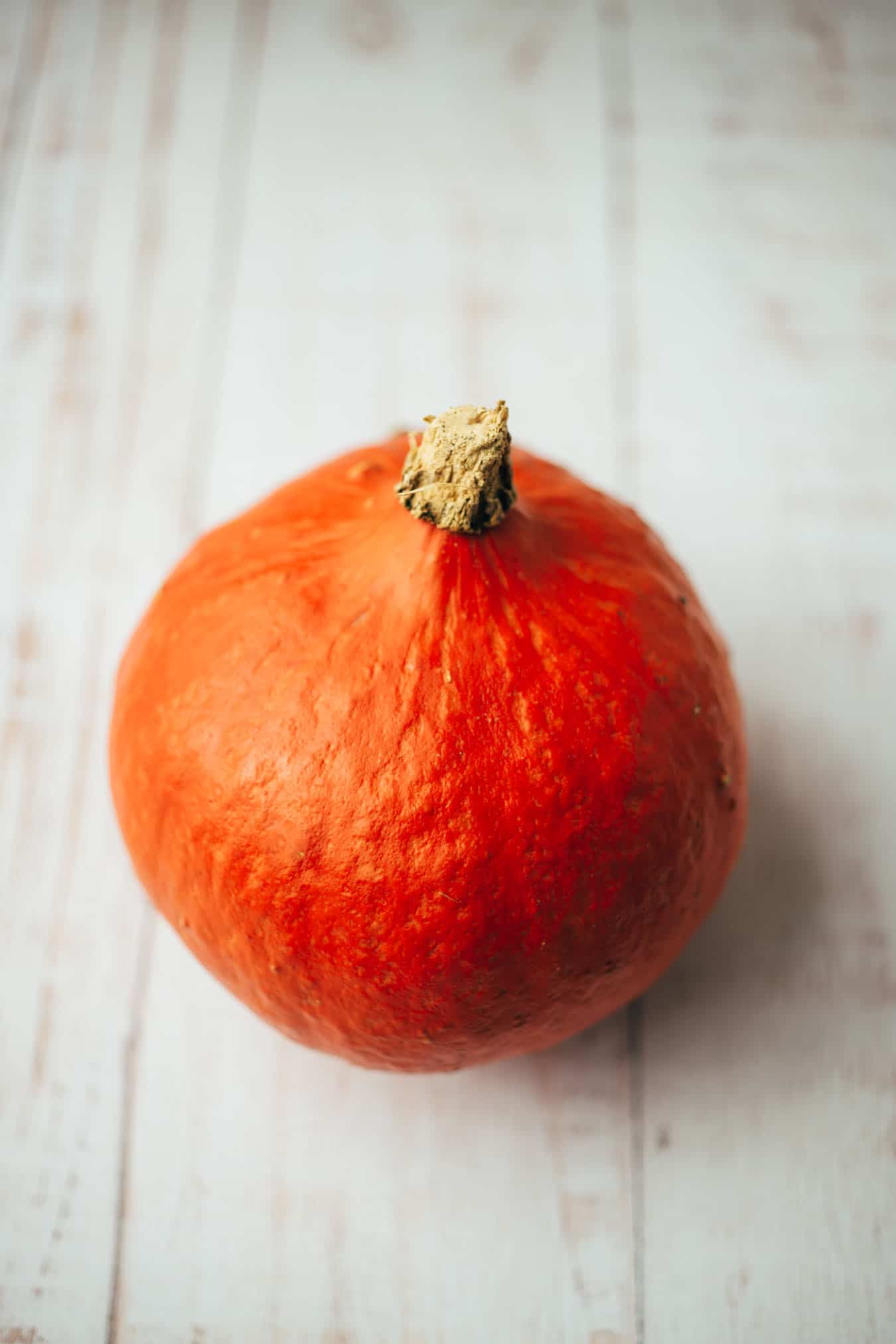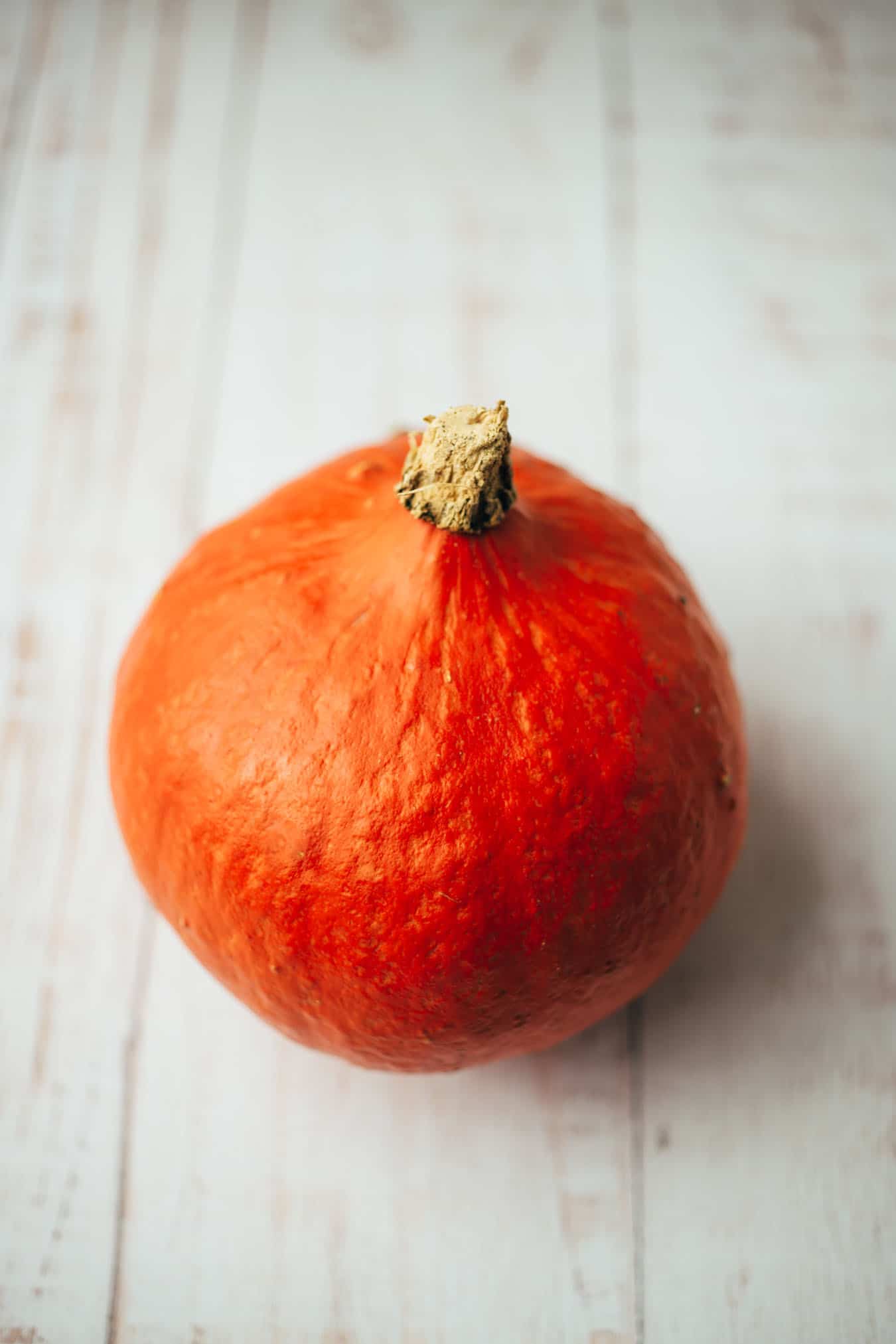 What varieties are suitable for making pumpkin puree?
Hokkaido pumpkin: My absolute favorite pumpkin, here you can eat or puree the peel along

Butternut squash: a little sweeter in taste, you should remove the peel here
Nutmeg pumpkin
How do I know if the pumpkin is ripe?
Since can be easily identified by tapping on the shell. If the pumpkin sounds hollow, it is ripe. In addition, the smaller the finer. Smaller pumpkins usually have more flavor and have less fiber. Also, it should not have any pressure marks and the stem should still be on it. This way you can make sure that the pumpkin is protected from rotting bacteria.
What is the best way to store a pumpkin?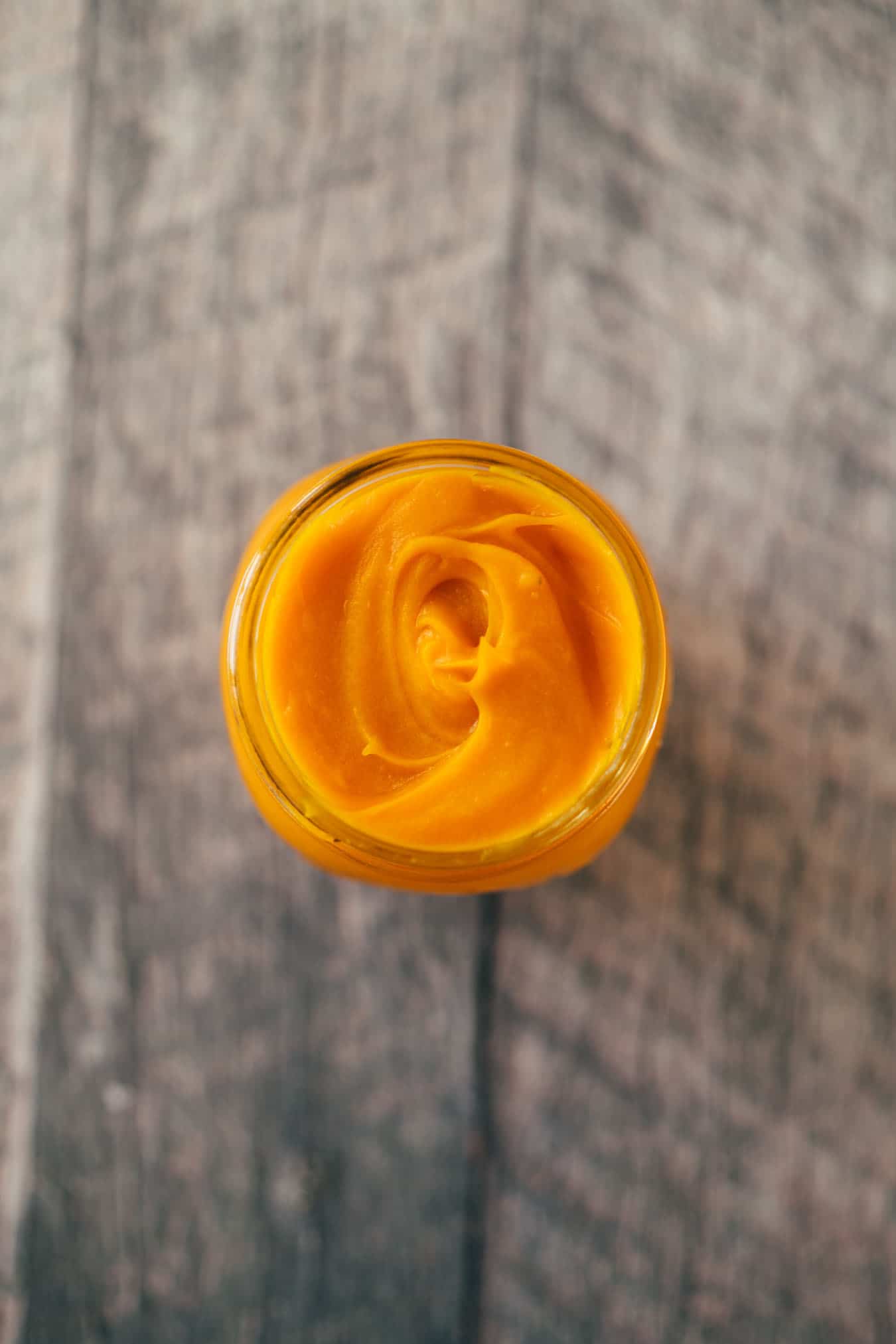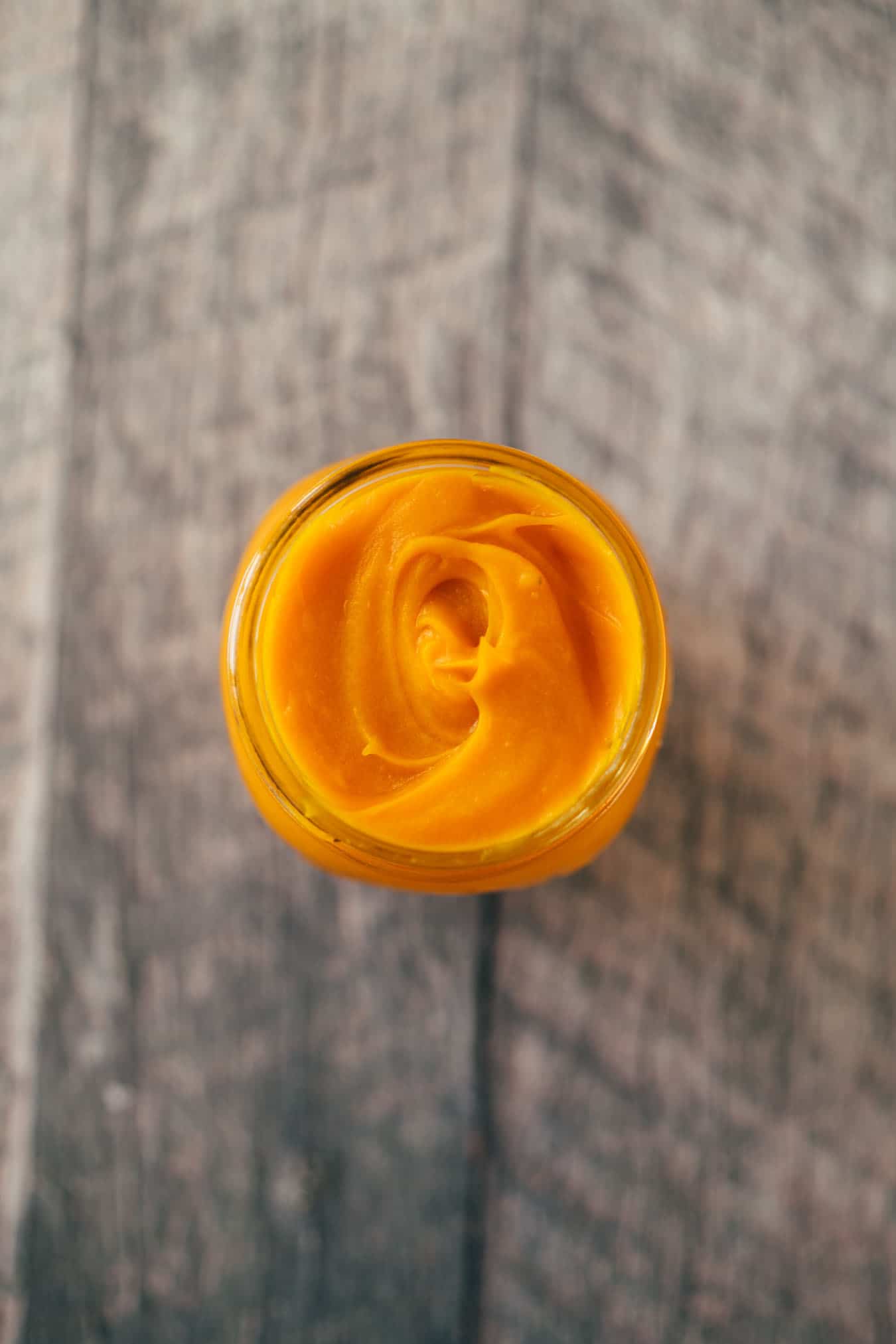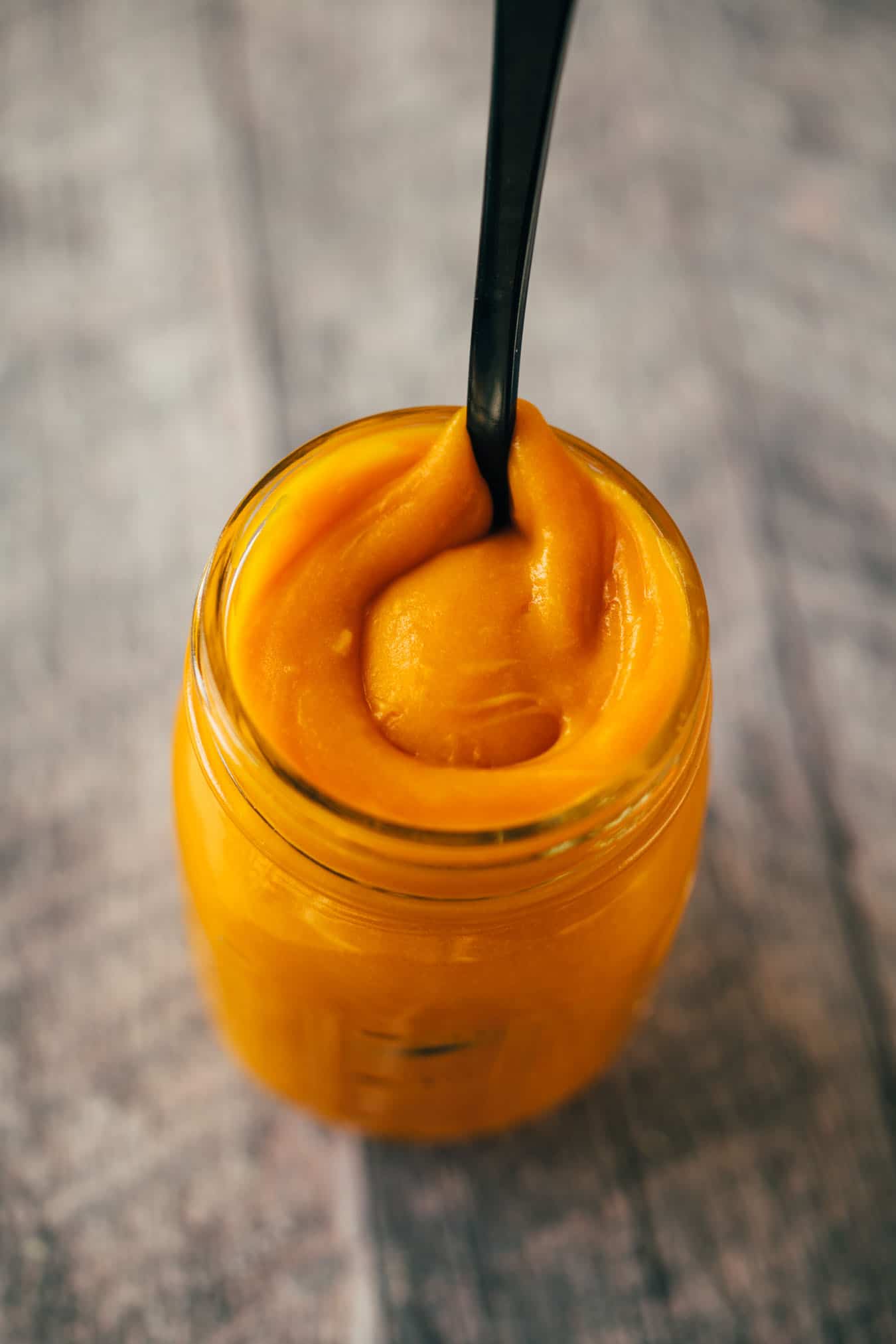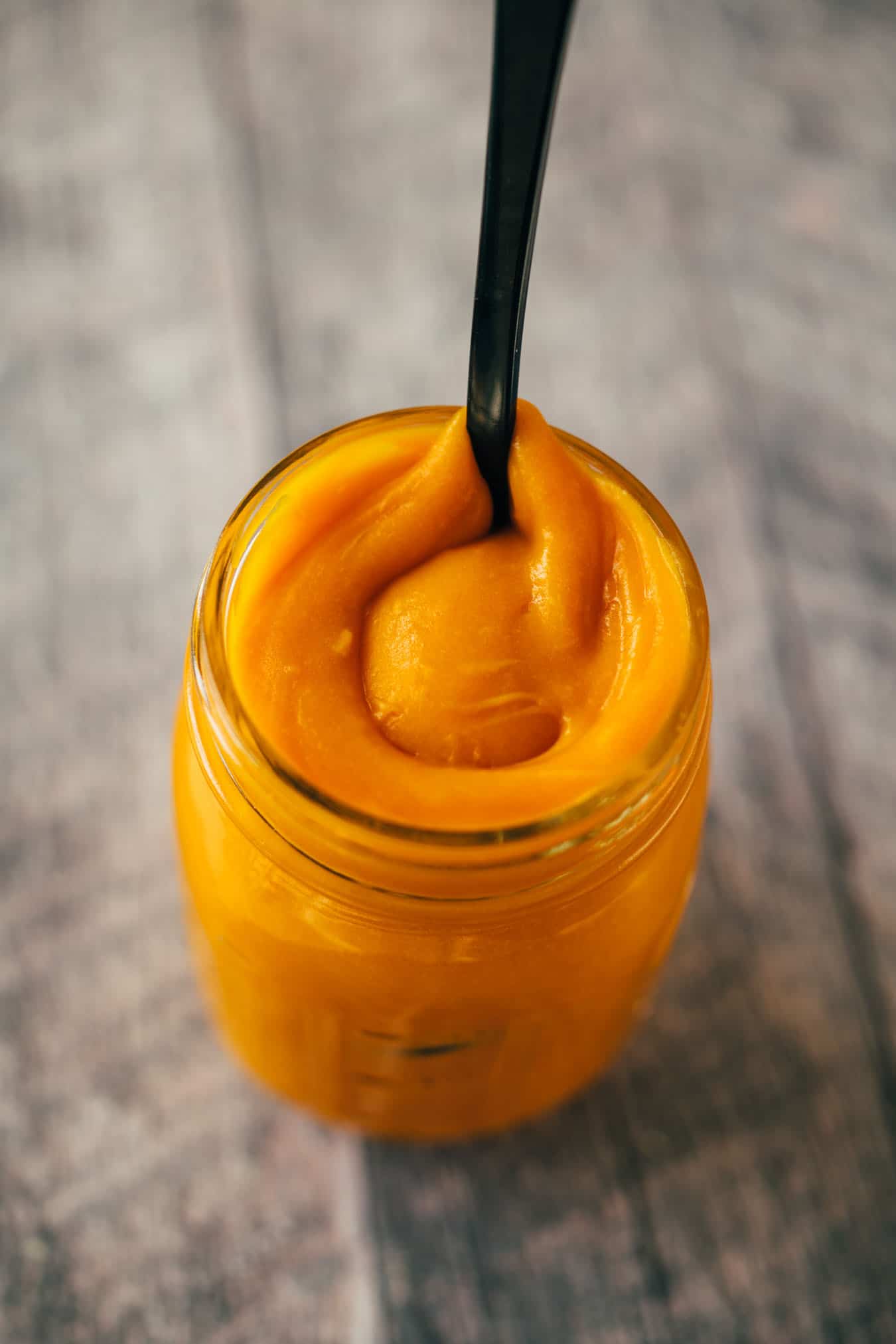 Hokkaido, butternut or the nutmeg squash will last up to eight months stored in a cool place at 10-13 degrees. Once the pumpkin is cut, preferably packed in an airtight container, store in the refrigerator for 2-3 days and consume quickly.
Do I need a blender to make it?
Not necessarily! You can, of course, make the puree by hand, pressing the baked squash through a hair sieve. However, it is always better to have a good blender at hand. The puree becomes just really creamy – velvety soft and fine.
I use a high-performance blender from Blendtec (advertising because brand name, but bought myself). TIP : Add a little hot water and start with a low speed. High-power blenders need a certain amount of liquid to work well. Without the addition of water, the blade of the blender would spin and nothing would happen.
TIP: I put the vegan pumpkin puree in an airtight canning jar and put it in the fridge. So it lasts without problems at least a week. Once you have opened it, it is best to consume it quickly because mold forms quickly due to the oxygen.

You like to refine your pumpkin puree? Then just add a little coarsely ground sea salt. For a sweet version, I recommend a little raw cane sugar and a pinch of vanilla.
How to roast pumpkin seeds?
How many times have I thrown away pumpkin seeds when I didn't know how easy they were to roast. Here I explain in 6 steps how you can process your cores the easiest way.
Preheat oven to 165 degrees (best to proceed as soon as the pumpkin flesh is done baking) and line a baking sheet with parchment paper.
Scrape out pumpkin seeds from the inside of the pumpkin and remove as best as possible any remnants of the pumpkin flesh. Pour into a sieve and wash with clean water, removing any further residue until the pumpkin seeds are as "clean" as possible.
Cleaned and washed pumpkin seeds, pat dry with a clean cotton kitchen towel.
Spread on the prepared baking sheet and mix with a little oil. I use high-heat frying and baking oil here, but sunflower oil, olive oil or canola oil are also suitable. Rub with salt, cayenne pepper or other spices as desired.
Put in the oven and roast for 25-30 minutes. Halfway through baking time, mix once so that the seeds brown evenly.
Remove from the oven and allow to cool completely. Put in a bowl and enjoy! Place leftovers in an airtight container and store for about a week.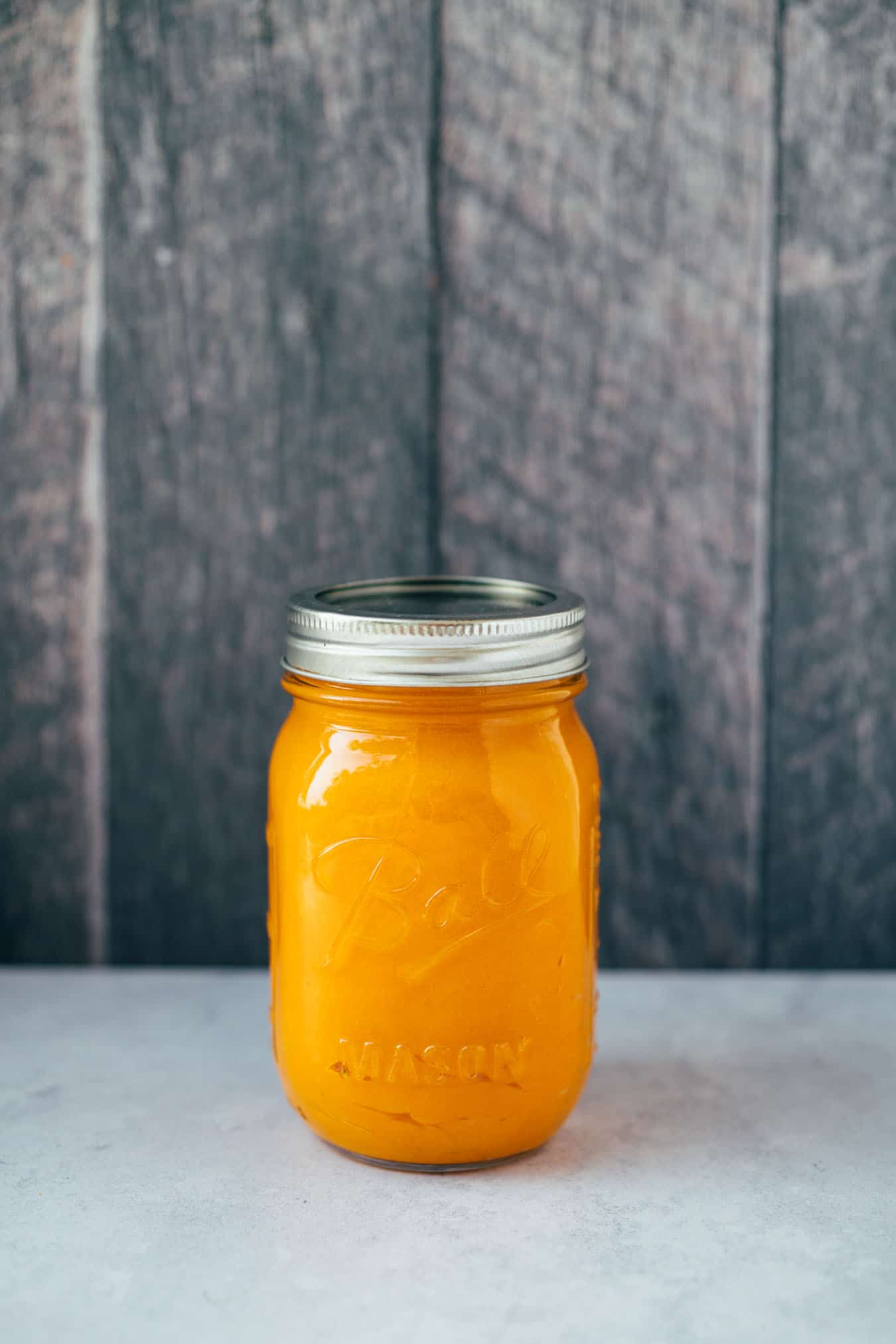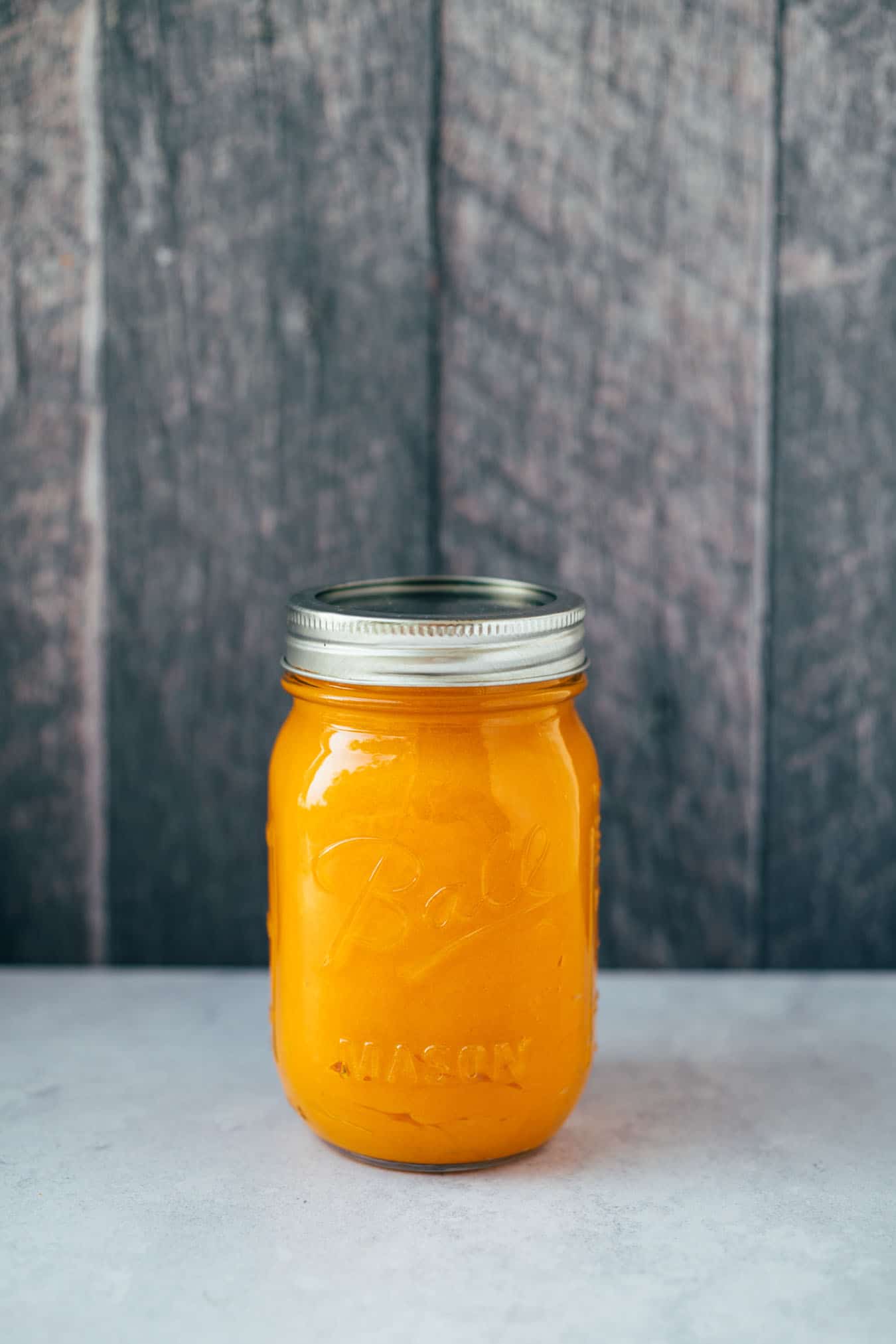 Are you ready for healthy, delicious Pumpkin puree ? Then I look forward to a review at the bottom of this page. If you post a picture, feel free to use the hashtag #veganevibes.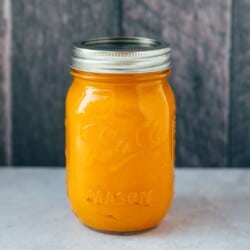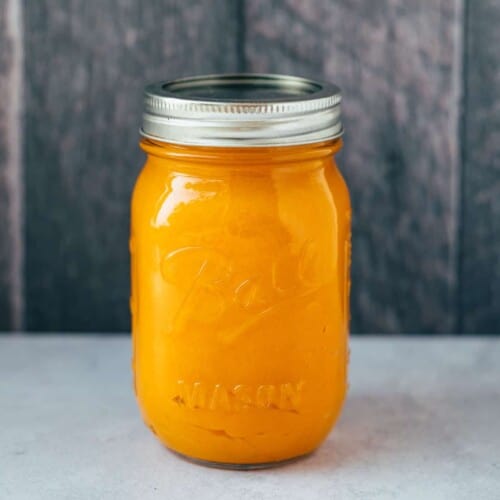 Make vegan pumpkin puree yourself
A versatile puree, with a sweet and nutty flavor. Perfect for quick vegan cooking and making soups, casseroles, sauces, cakes, drinks and more.
AUTOR: VEGANEVIBES
800

g

Hokkaido Pumpkin*

Weight after coring, Alternatively: butternut or nutmeg.

Water

Cover the bottom of the roaster with a little water
Anleitung 
Preheat oven to 175 degrees.

Cut the pumpkin in half with care (it's easy to slip off with the knife, so keep your eyes open!) and remove the seeds with a spoon.

Cover the bottom of the roaster with a little water (this will prevent over browning) and place the squash halves inside out in the roaster.

Put in the oven and bake for one hour.

When the baking time is up, check with a fork to make sure the squash is nice and soft.

Remove from the oven and let cool.

Place pumpkin with peel in high-powered blender and add a small sip of water. Initially puree on low speed and slowly increase speed until the puree reaches the desired creaminess.

ALTERNATIVE (without blender): Press pumpkin through a hair sieve (with a spoon).

Pour puree into two airtight jars and store in the refrigerator, or use and enjoy immediately!
Notizen
AID: A large roasting pan, pot, or casserole dish.
NOTES /HELPFUL ACCESSORIES:
Nährwertangaben
Serving:
1
Portion
Calories:
136
kcal
Carbohydrates:
34
g
Protein:
3
g
Sodium:
16
mg
Potassium:
1400
mg
Fiber:
6
g
Sugar:
8
g
Vitamin A:
5470
IU
Vitamin C:
49.2
mg
Calcium:
112
mg
Iron:
2.3
mg