Two more days, then it's off for a short vacation. A week to Austria to a lonely alpine hut with sauna and wood stove. I'm really looking forward to switching off, going for a walk, skiing a bit and making room for new projects and ideas. I always find it totally refreshing to be in the middle of nature. Our Huskies Wapi & Yuma will surely like that too. My dream is to jet down a slope with them. Curious to see if this works? I'll definitely keep you posted on my Instagram channel @veganevibes up to date. Take a look!
Buckwheat Vibes!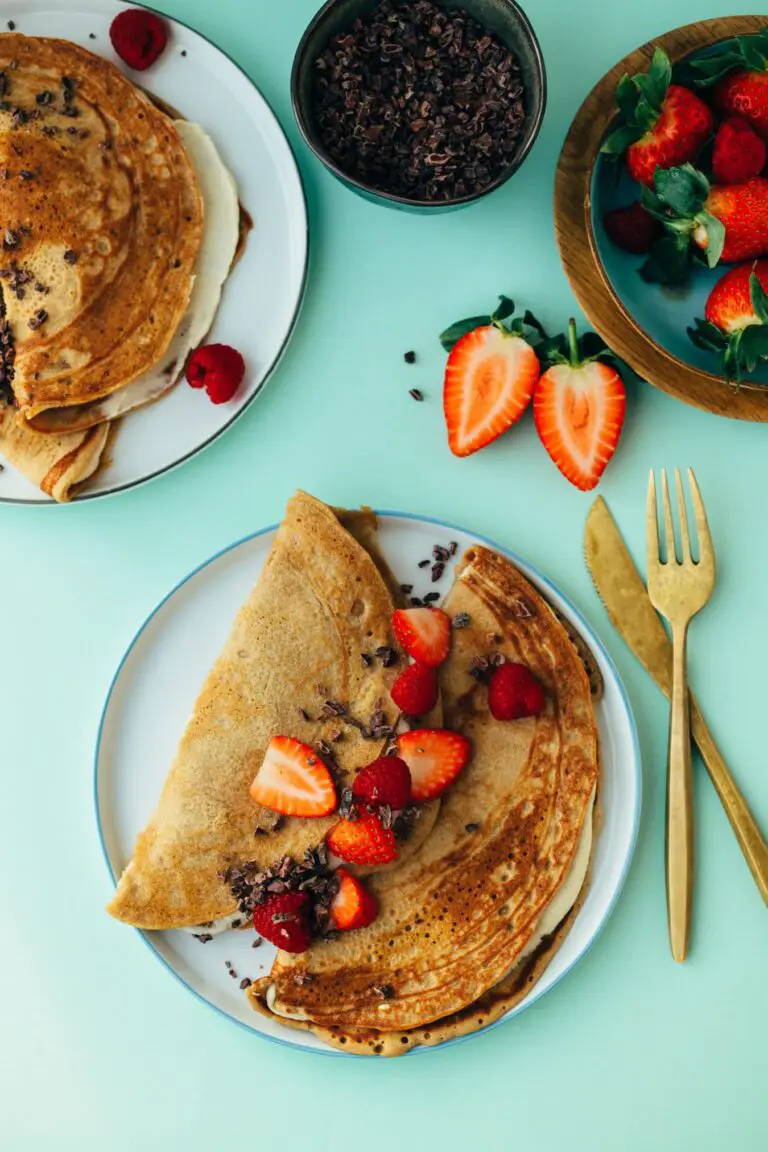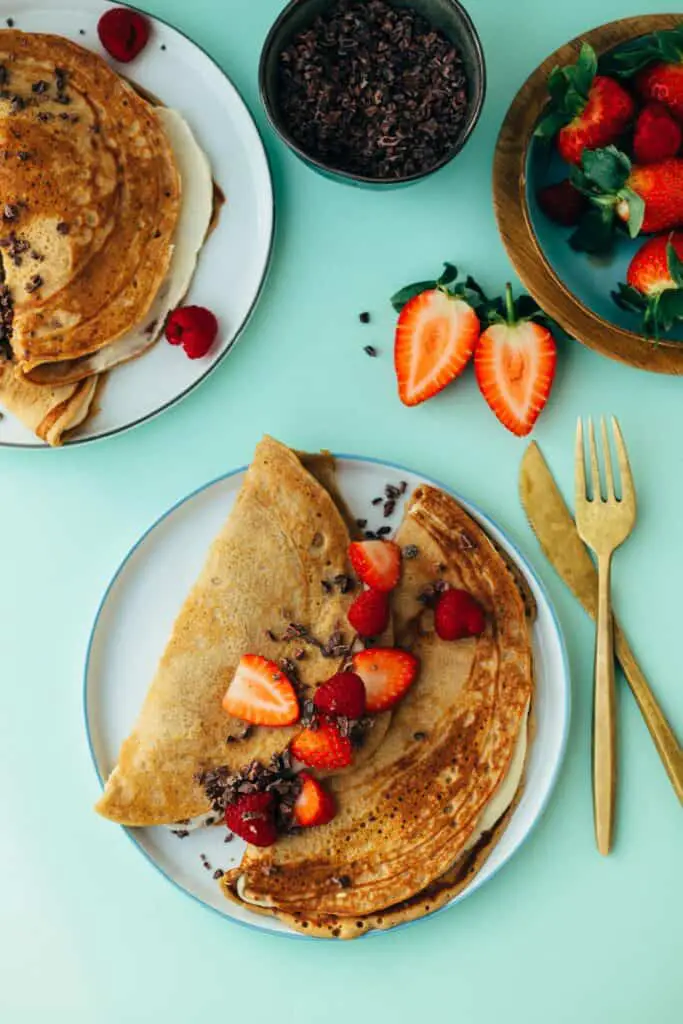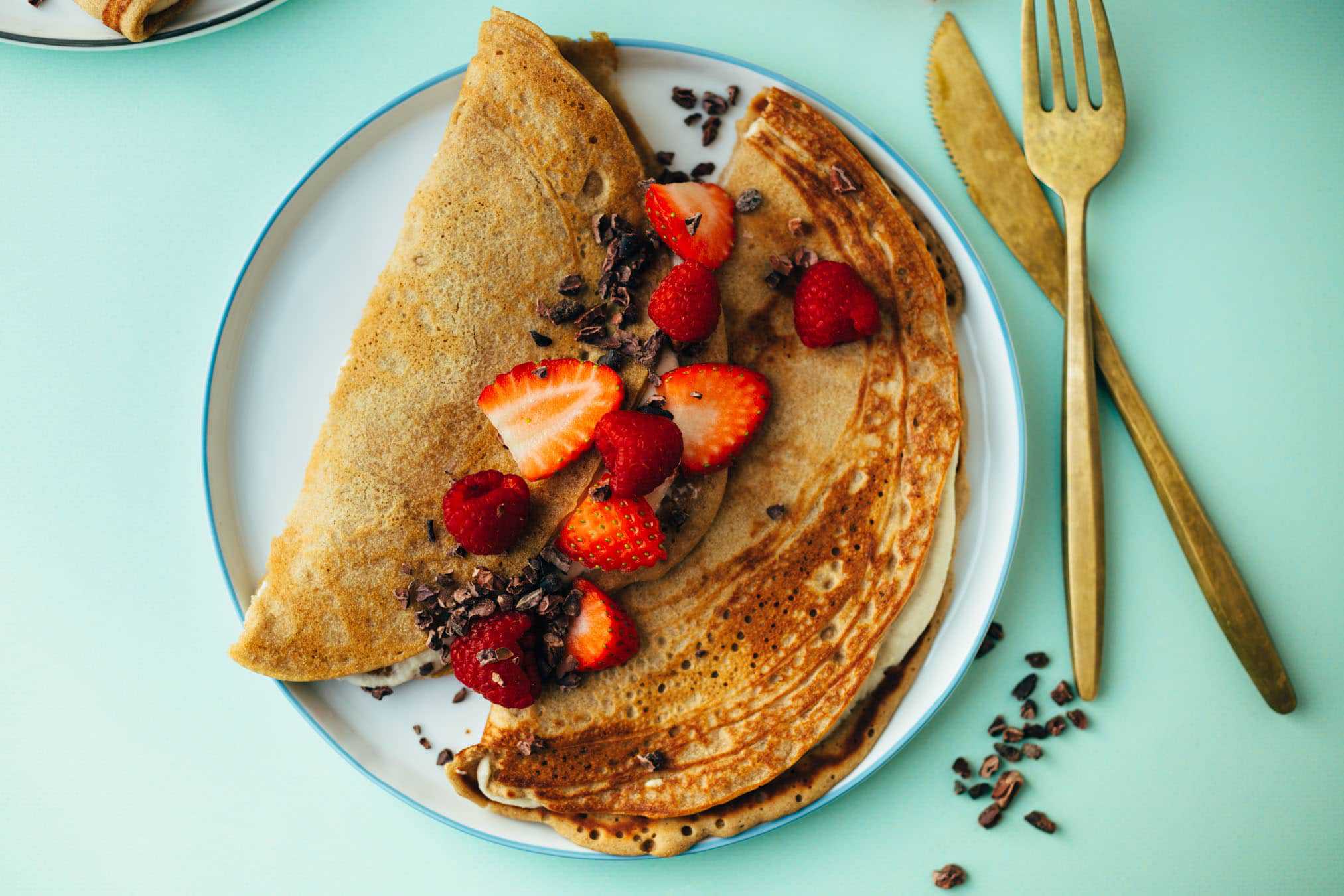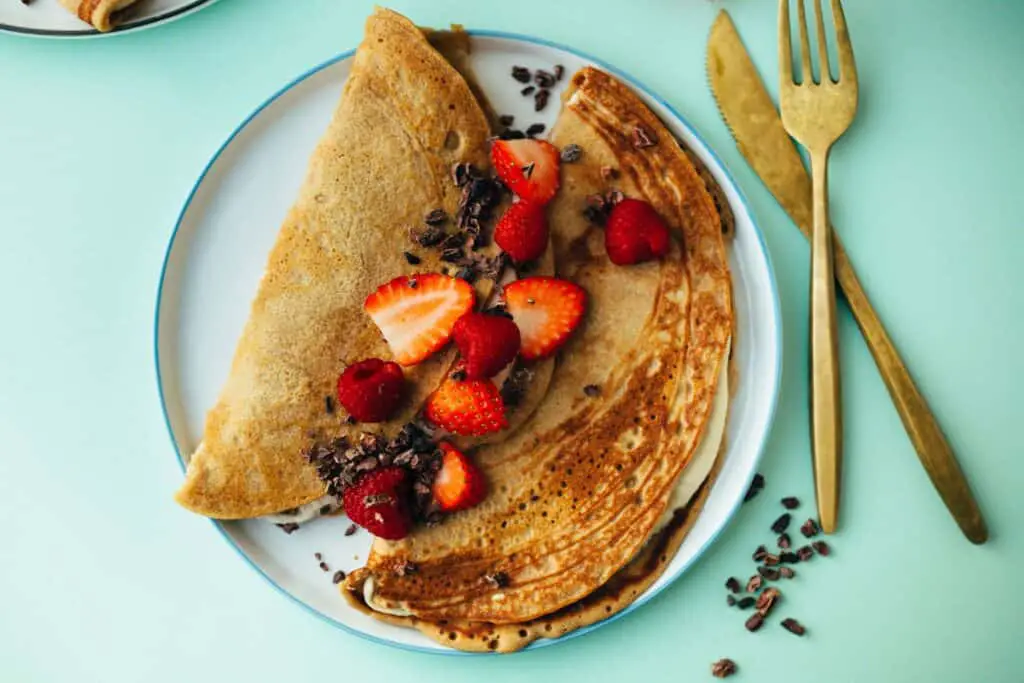 Pancake – it must have been love at first sight. They're sweet or savory, easy to make (if you have the right pan ) and can be filled and decorated with all sorts of great things. Maybe you already know my gluten free Pancake Recipe ? Today I wanted to try a different variant, with wholemeal buckwheat flour. I was really surprised how delicious this Dish has become. Once again I realized how important a good coated pan is. I have you my new linked below, which is really great and you need only very little oil.
Do you like Berries & Cream?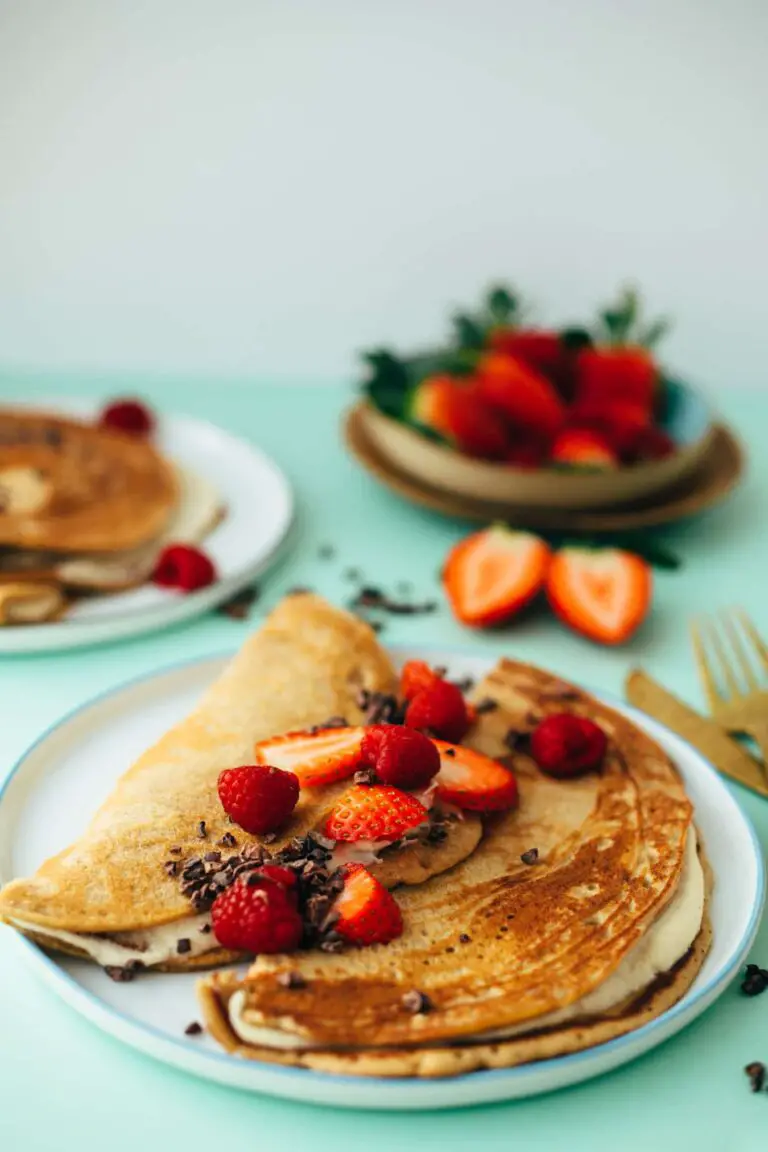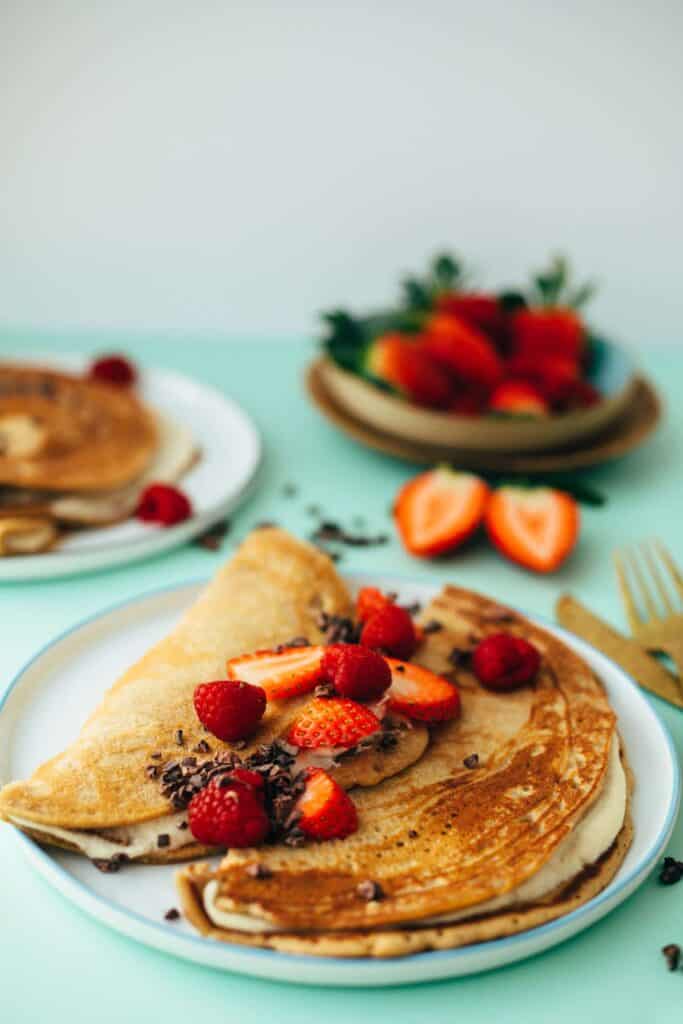 The idea for the Pancake came to me once again when I thought of our Bali trip. I think it was at KYND Community where I ate these incredibly delicious pancakes filled with cashew cream and fresh berries.
For the pancakes you need buckwheat flour, Almond milk almond paste, maple syrup and some frying oil. The great vegan crepes are filled with a delicious cashew-vanilla cream and fresh berries. I just couldn't help myself when I saw the first fresh strawberries at the organic supermarket this week. If you don't have anything fresh at home, you can always thaw a frozen berry mixture.
TIPS FOR BAKING OUT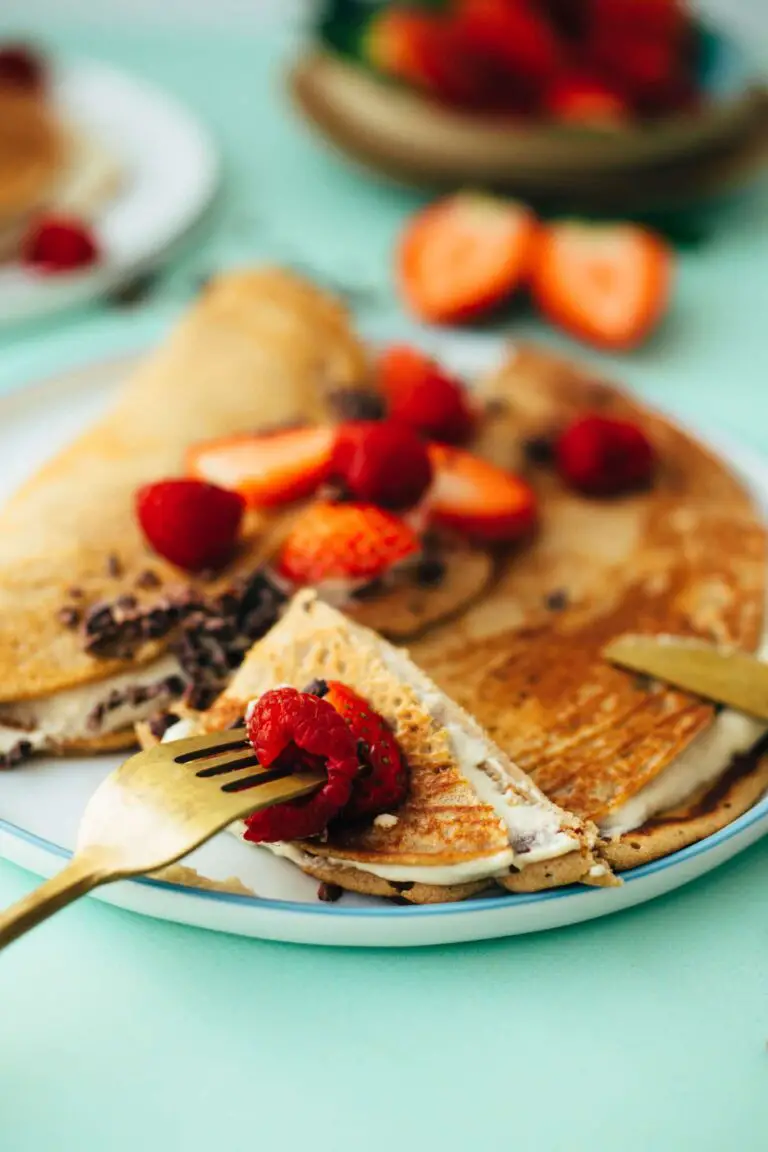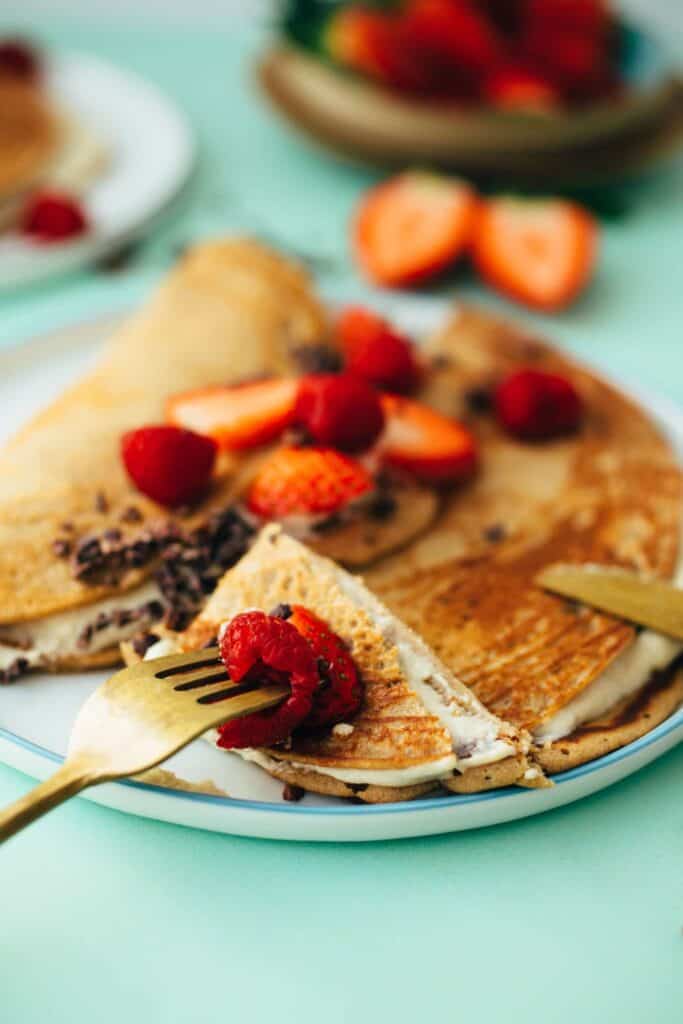 You might think that you can't go wrong when baking pancakes and the like. Unfortunately, that's not quite the case (believe me, I speak from experience). How many times have I had the perfect batter and then wanted to throw the Pancake and then wanted to throw the pan out the window? Especially with Crepes I am totally convinced of a well coated pan. With my new pans I hardly need any oil and I'm totally happy. The investment in good pans is worth it.
Is buckwheat actually healthy?
Buckwheat is naturally gluten-free and was once considered a poor man's food. At the same time, it is full of healthy ingredients:
High quality Protein
B vitamins
Minerals
Iron
Flavonoids (good for blood vessels)
I would say we start off with these wonderful pancakes. I wish you a lot of fun with the Nachbacken and of course about a rating at the bottom of this page. If you post a picture, use the hashtag #veganevibes.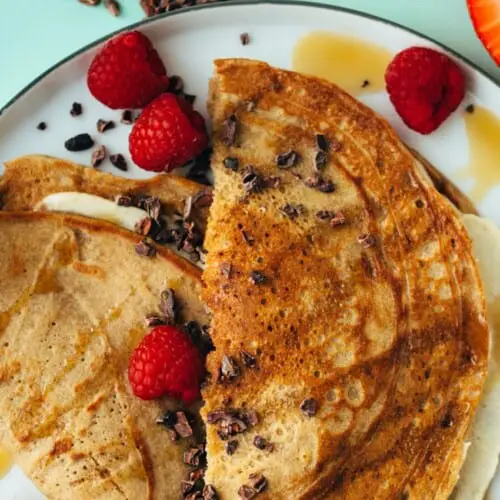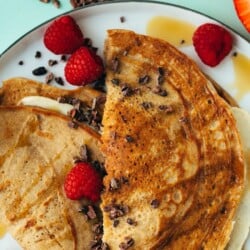 Buckwheat pancakes with cashew cream (gf)
Naturally sweetened, filling and naturally gluten-free pancakes made from precious buckwheat flour. Filled with delicious, creamy cashew cream and fresh berries. Perfect for an extended breakfast or as a sweet lunch or vegan snack.
AUTOR: VEGANEVIBES
FILLINGS (optional)
Fresh berries to taste

Strawberries, raspberries, blueberries

Coconut yogurt to taste

Maple syrup to taste
Anleitung 
Heat pan to medium heat. Prepare a small key with high heat oil and a silicone brush

Heat pan to medium heat. Prepare a small key with high-heat oil and a silicone brush Dip the silicone brush in the oil and brush the bottom of the pan. It can also be baked without oil, but then the pancake will be a little drier.

Mix all ingredients in a bowl

250 ml Almond milk or another vegetable milk,

30 ml maple syrup,

15 ml Lemon juice,

15 g Almond paste,

125 g Wholemeal buckwheat flour,

½ tbspn Baking powder,

½ tbspn Baking soda,

1 Pinch of salt,

Some high heat oil for baking

Using a soup ladle, skim off a portion of batter and add to pan. Using a wooden pan turner or a special crepe batter spreader (see link below), spread the batter evenly in the pan and bake for 2-3 minutes on each side until golden brown. Remove and place on a plate.

TIP: Spread batter well, the pancakes should be ehern thin, otherwise they do not bake so quickly through and can quickly crumble when turning

Repeat this step until the batter is completely used up and all the pancakes are nicely stacked on top of each other (this keeps them nice and warm).


Place one pancake on each extra plate and fill with the cashew cream. Add fresh berries and enjoy!

One serving of cashew vanilla cream,

Fresh berries to taste,

Coconut yogurt to taste,

Maple syrup to taste

Keep remaining pancakes (without filling) covered in the refrigerator for up to 2 days and heat best in a steamer or preheated oven
Nährwertangaben
Serving:
1
Pancake
Calories:
78
kcal
Carbohydrates:
14
g
Protein:
2
g
Fat:
1
g
Sodium:
59
mg
Potassium:
118
mg
Fiber:
1
g
Sugar:
2
g
Vitamin C:
0.7
mg
Calcium:
57
mg
Iron:
0.7
mg