What, weekend again? I can hardly believe it, because the week went by so fast that I could hardly breathe. The real reason for my lack of time is our construction site, because we are renovating and I can't tell you how excited I am for my new kitchen. While it's not a brand new kitchen, it's my current one in a great new location with new styling. For this, a lot may be planned and decided at the moment and therefore one or the other appointment suffers. The day before yesterday, for example, I had to cancel my beloved yoga class with Mischi. Doesn't help, but we will be rewarded in a few weeks with a great new home. A little unpaid tip on the side: If you're in the mood for great yoga classes in Regensburg in a terrific atmosphere, you're welcome to drop by Yogahausen.
VEGAN PANCAKES ROCK!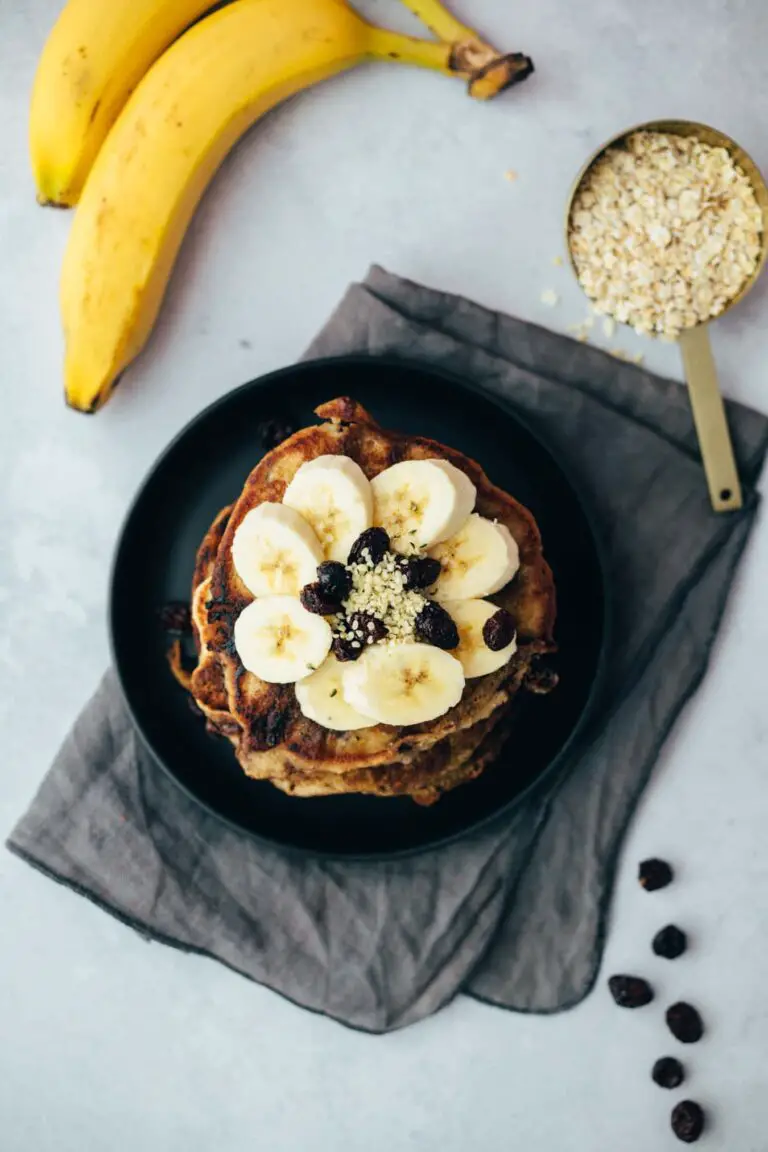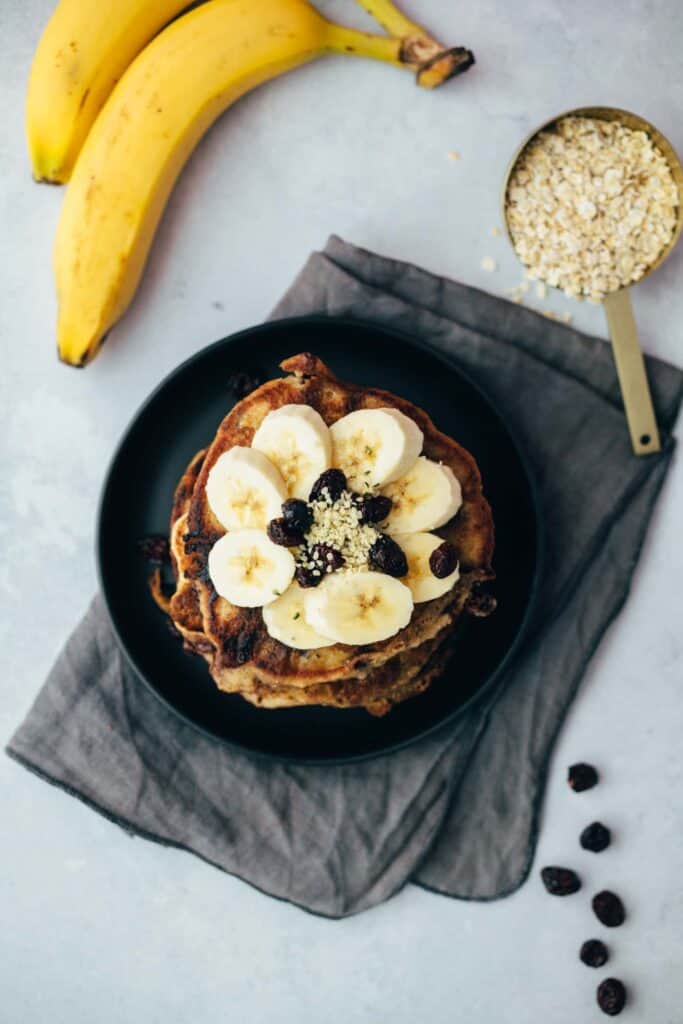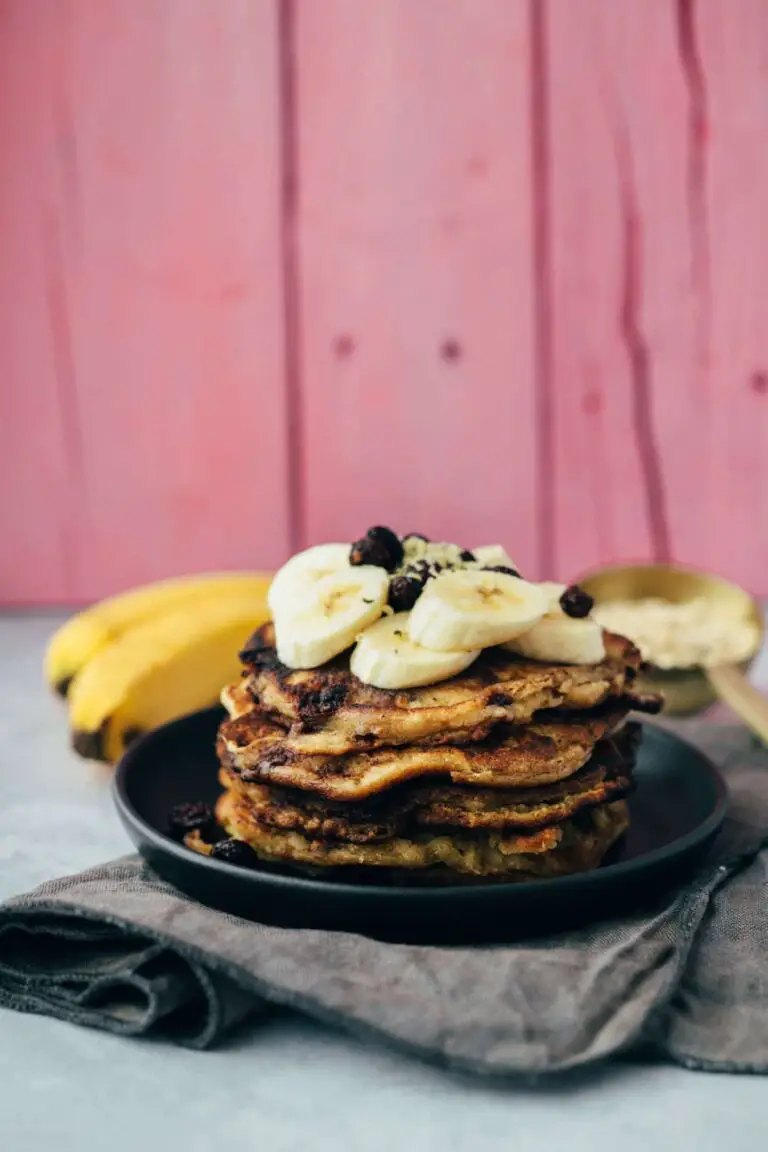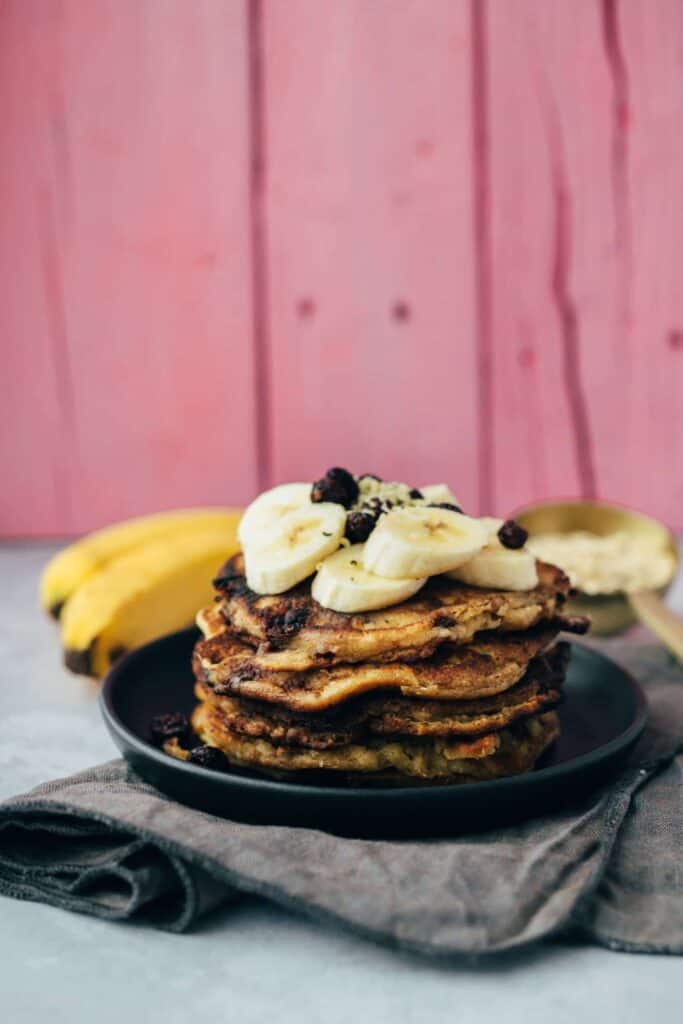 The ingredient list is very manageable and everything is mixed together quickly. I made a conscious effort to make everything as healthy and nutritious as possible. The problem with most Pancakes is not that they are unhealthy per se, but that it usually takes a good load of oil to bake them out. So here are my little tips, for using as little fat as possible in baking:
The pan: here it is important to have a good ceramic or Teflon-coated pan. The problem with older or worn pans is that the dough often sticks and the only way to counteract it is with even more grease. Alternatively, you can use a cast-iron pan, which once properly baked and then works wonderfully.
The right fat: I use a high-heat oil for frying, a so-called High Oleic oil, which is specially designed for very hot temperatures. Stay away from cold-pressed oils, because they change the fat structure when heated and can even be harmful to health. So the expensive olive oil is better to use for the salad.
The brush: I always use a silicone brush to spread a small amount of oil as evenly as possible in the pan.
Voilà, those were my tips, but now let's get back to basics and they are ours Recipe .
VEGAN BRUNCH IS FUN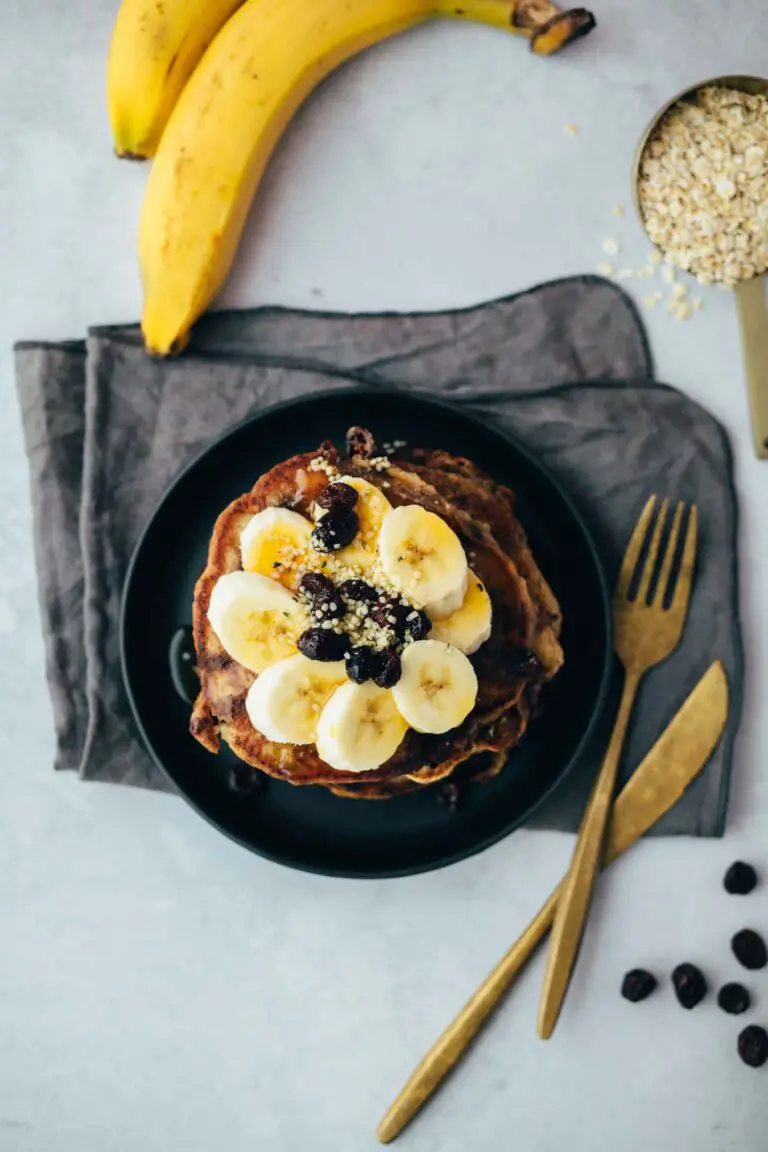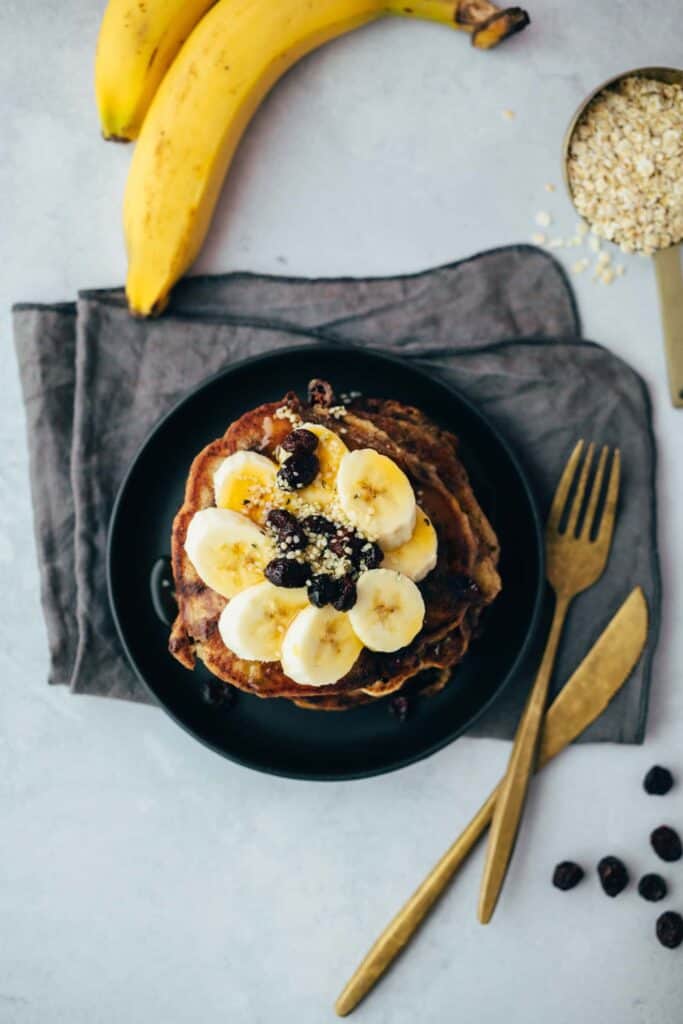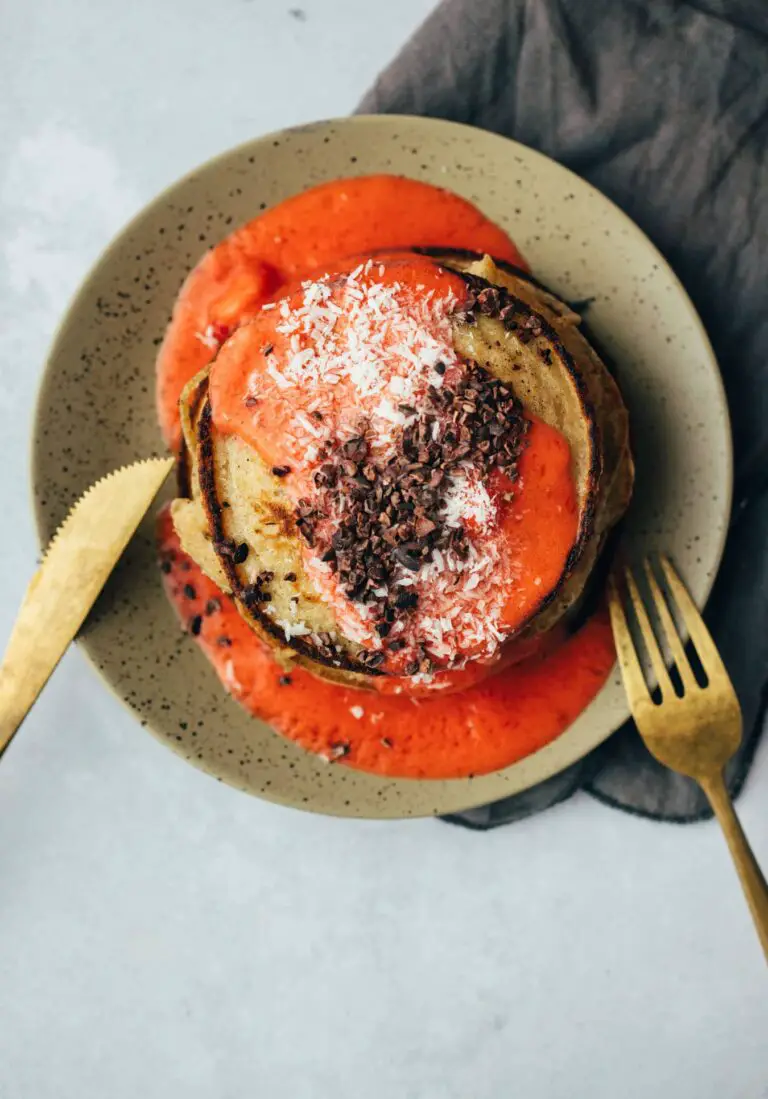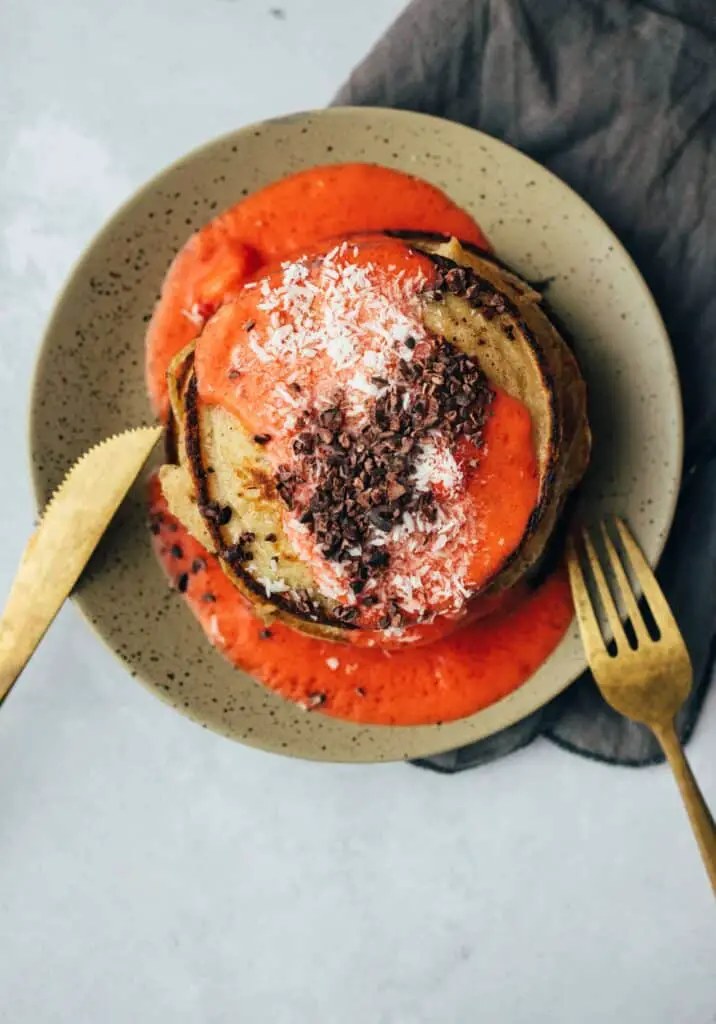 The ingredient list is short and straightforward, a ripe banana, baking powder, a pinch of sea salt, oil, almond milk, maple syrup, oat flour, gluten free flour mix , a pinch of bourbon vanilla and dark chocolate chips.
As a topping I still love more maple syrup, hemp seeds and dried fruit. For all lovers of Fruit sauces I have a second variation with a quick, homemade strawberry sauce. I tell you, to put in.
The pancakes are wonderful as a Breakfast , sweet lunch or dinner. A special highlight they are also to the vegan brunch with homemade rolls Smoothies and spreads. There are no limits to your imagination here.
The quick, healthy pancakes (gluten-free):
Naturally sweetened
Light
chocolatey
filling
simple to be produced
Here we go with these beauties from the pan. I wish you a lot of fun with Nachbacke n and of course about a rating at the bottom of this page. If you post a picture, feel free to use the hashtag #veganevibes.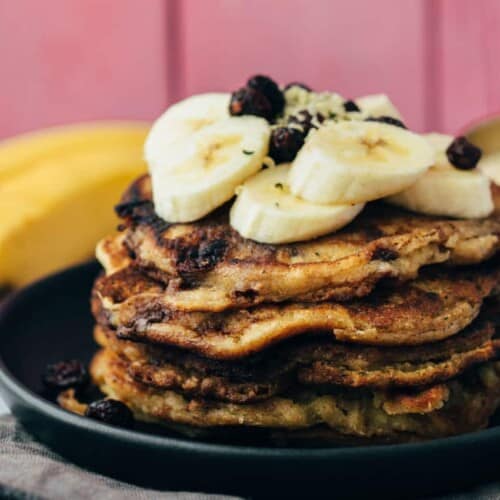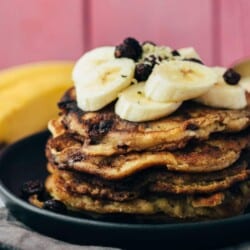 The quick, healthy pancakes (gluten-free)
Naturally sweetened, filling, vegan and gluten-free pancakes. Refined with delicious dark chocolate chips, dried fruits and hemp seeds. Perfect for an extended breakfast, brunch or sweet snack in between.
AUTOR: VEGANEVIBES
120

g

Banana

extra ripe (outside already brown spots), corresponds to a medium banana

22

ml

Frying and baking oil or other high-heat vegetable oil

22

ml

Maple syrup or other sweetener

2

tbspn

Baking powder

100

g

gluten free oat flour

I grind the oatmeal myself in my high-powered blender (if you don't eat gluten-free, you can use regular oatmeal)

100

g

gluten free flour mix

alternatively use spelt flour if not gluten-free

35

g

dark

vegan chocolate chips, 3 tbsp.

Some high heat oil for baking

I use high-oleic frying oil
TOPPINGS:
Dried fruits

for example cranberries

Banana slices
ALTERNATIVE WITH STRAWBERRY SAUCE:
Anleitung 
Heat pan to medium heat. Prepare a small key with high-heat oil and a silicone brush.

For the dough provide a bowl, put the banana and mash it with a fork. Add in all ingredients in order, except for the Chocolate Chips. Mix with a whisk until smooth, which should be slightly more liquid than an ordinary cake batter. Alternatively, use a high-powered blender with a dough program to make it.

120 g Banana,

22 ml Frying and baking oil or other high-heat vegetable oil,

22 ml Maple syrup or other sweetener,

2 tbspn Baking powder,

1 Pinch sea salt,

½ tbspn Bourbon vanilla ground or vanilla extract,

250 ml Almond milk or another vegetable milk,

100 g gluten free oat flour,

100 g gluten free flour mix,

Some high heat oil for baking

At the very end, fold in the chocolate chips.

Dip the silicone brush into the oil and brush the bottom of the pan. It can also be baked without oil, but then the pancakes will be a little drier. See above my tips for lower oil consumption.

Some high heat oil for baking

Using a soup ladle, skim off a portion of batter and add to pan. Bake for 2-3 minutes on each side until golden brown. Flip with a wooden spatula or flip like a pro pancake. Remove and place on a plate

Place

Repeat this step until the batter is completely used up and all the pancakes are nicely stacked on top of each other (this keeps them nice and warm).

Finish with desired toppings and enjoy!
FOR THE ALTERNATIVE with strawberry sauce, place all ingredients in a high-powered blender and blend to a sauce. Season to taste and serve with the pancakes.
Keep remaining pancakes covered in refrigerator for up to 2 days, and heat best in steamer or preheated oven. Keep in the freezer for up to one month.
Nährwertangaben
Serving:
1
Portion
Calories:
131
kcal
Carbohydrates:
19
g
Protein:
3
g
Fat:
4
g
Saturated Fat:
1
g
Sodium:
31
mg
Potassium:
173
mg
Fiber:
2
g
Sugar:
5
g
Vitamin A:
5
IU
Vitamin C:
12.6
mg
Calcium:
51
mg
Iron:
1.1
mg