Finally, I get to write this post. Already weeks ago I made this smoothie once quite by accident. My brother was there and wanted one Smoothie after the workout. Somehow I didn't really have a plan for what to make him and he wanted something "chocolaty and nutty" with lots of protein. Again just cocoa in the smoothie? That's boring, too. On my tray was then still the homemade Nutella which I had made only the night before. Why not just make a Nutella smoothie? No sooner said than done I would say let's go.
Creamy, vegan Nutella smoothie – is that just a dream?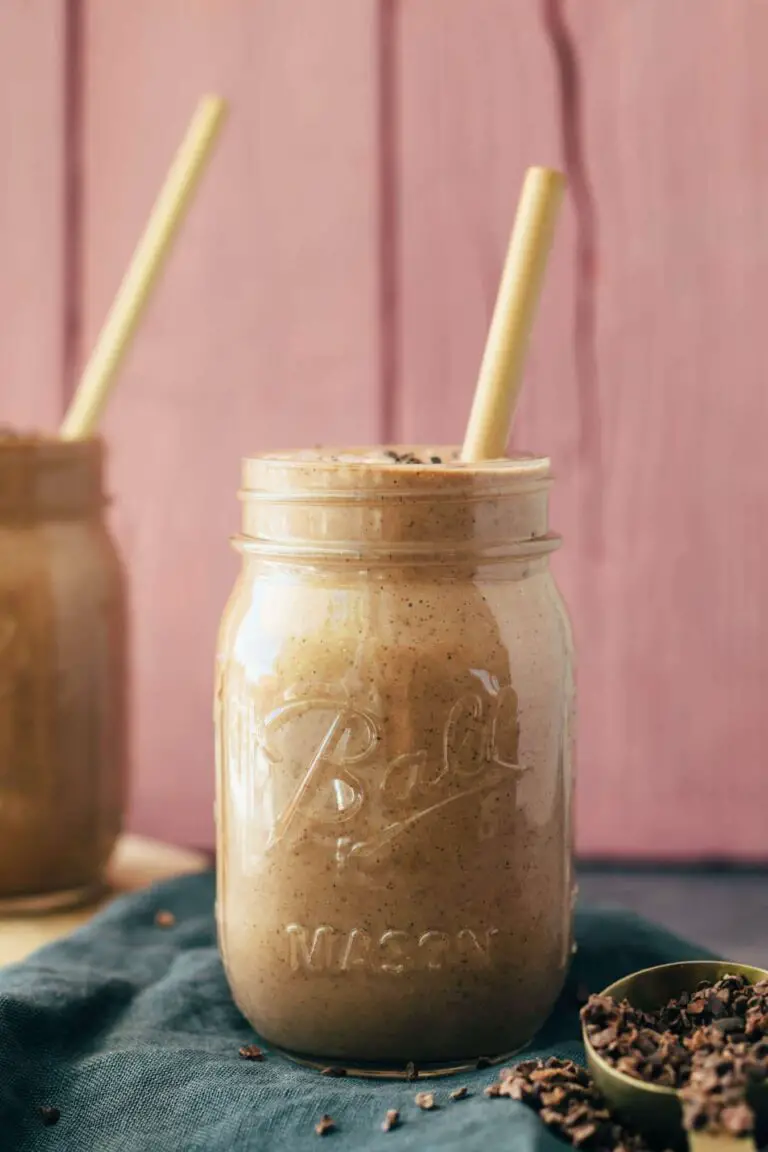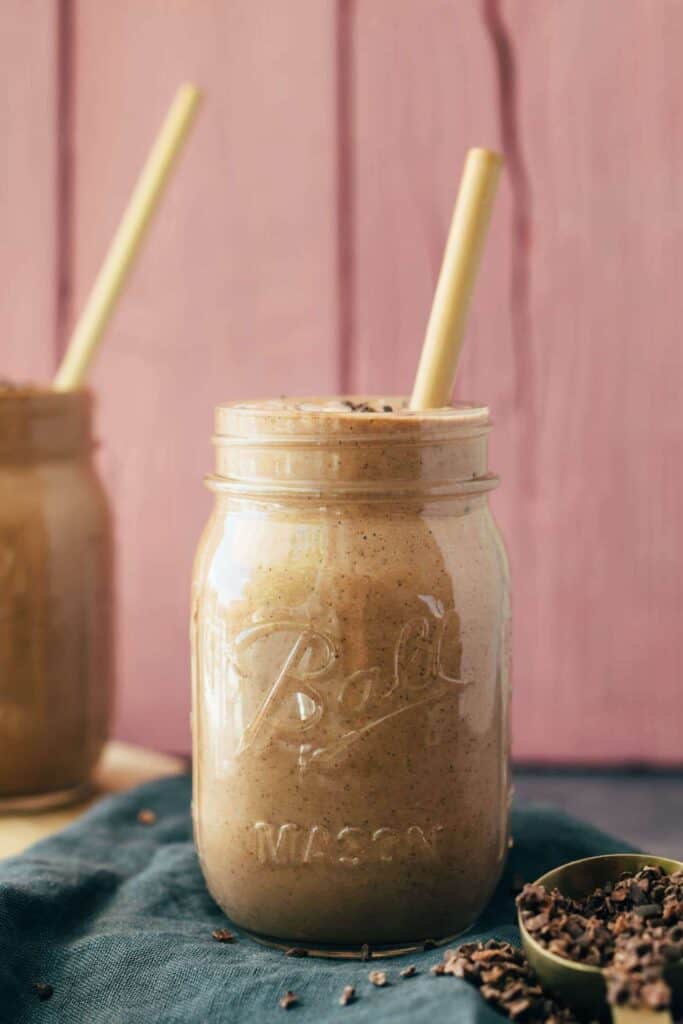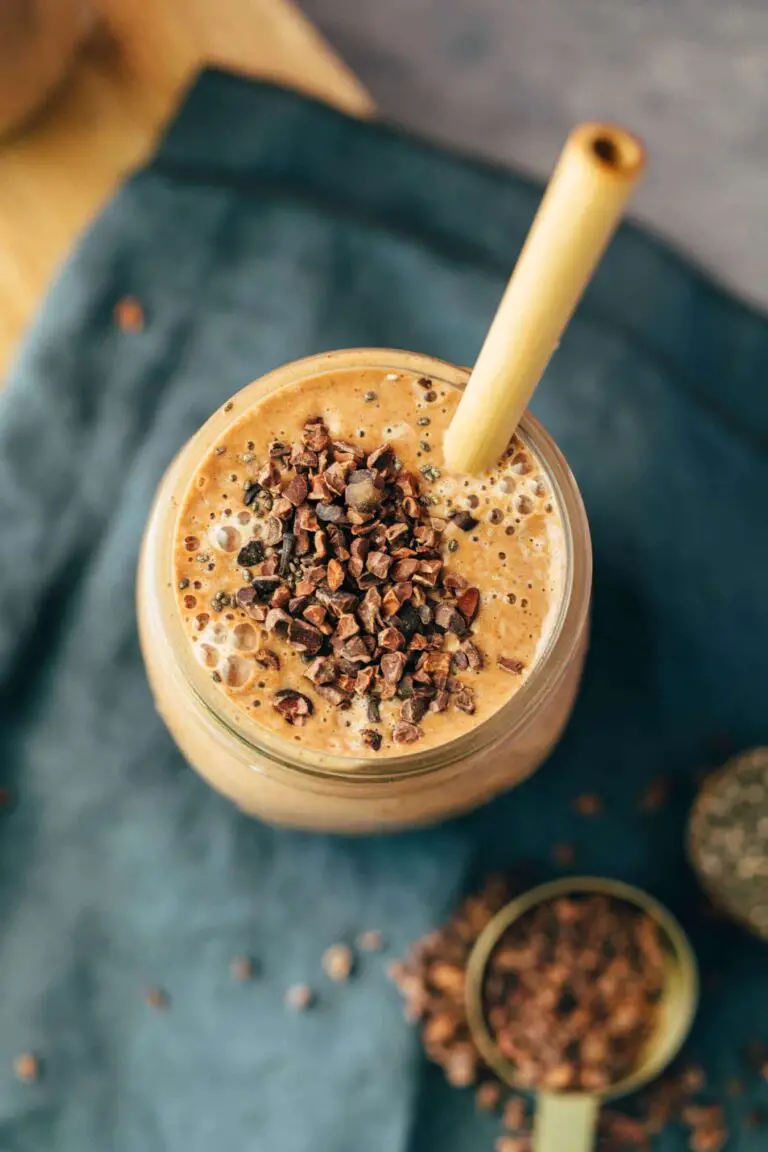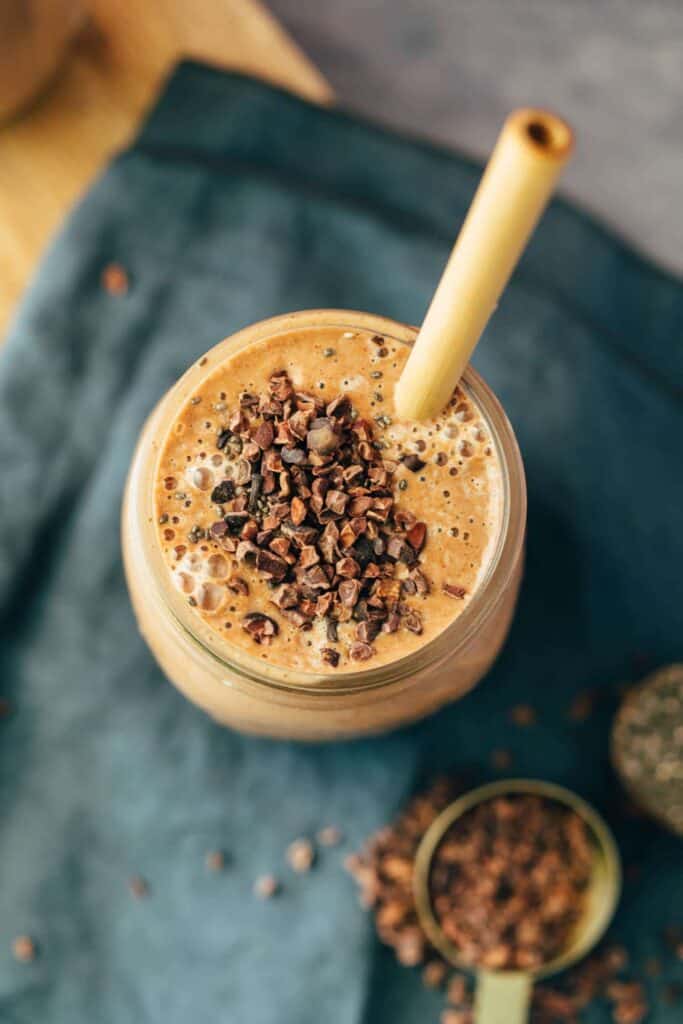 Nutella is something I simply can not and will not live without. It's as much a part of my day as my morning cup of coffee. Admittedly, I am someone who needs a little time to start the day. There are people (like my husband) who get up and are immediately there, as if a switch had been flipped. Well, I have learned to accept that I have to get up half an hour earlier when I have an appointment. Sometime there is then my beloved Nutella toast but preferably always only with my homemade version. why? There I just know 100% what is in it and the production is really fun, especially the roasting of the hazelnuts. What a fragrance!
Pimp my smoothie with plant protein!
The smoothie itself is very simple in structure: Frozen bananas, homemade Nutella , dates, Almond milk , chia seeds, cocoa powder and ice cubes. The whole thing is then topped once again with plenty of cocoa nibs. As a special extra I add 2 tablespoons of protein powder, why? Because vegetable protein is an excellent source to strengthen your muscles. This applies not only to particularly active people, but to everyone. Our muscles are constantly building and rebuilding and need amino acids to accomplish this task. Protein powder:
Rice Protein: This protein is great for building muscle and is a rich source of vitamin E. Made from whole brown rice, it has a protein content of 80% with an almost complete amino acid profile. In addition, there is good news for those who want to avoid too much carbohydrates, the rice protein has a very low content of only 15-30% depending on the manufacturer.
Pea Protein: A whopping 85% pure vegetable protein and a very good amino acid profile with essential and non-essential fatty acids, characterizes this high-quality powder. At the same time it consists not of green peas, but also yellow shelling peas. The protein from the peas is extracted in a very complex process and remains, pure organic vegan protein for rapid muscle building. In addition, the powder has a high content of the amino acids arginine and lysine, which have a stress-reducing and performance-enhancing effect at the same time. Simply perfect as a natural food supplement. More information can be found hereOther than that,of course, all other plant-based protein blends or pure protein powders will work as well.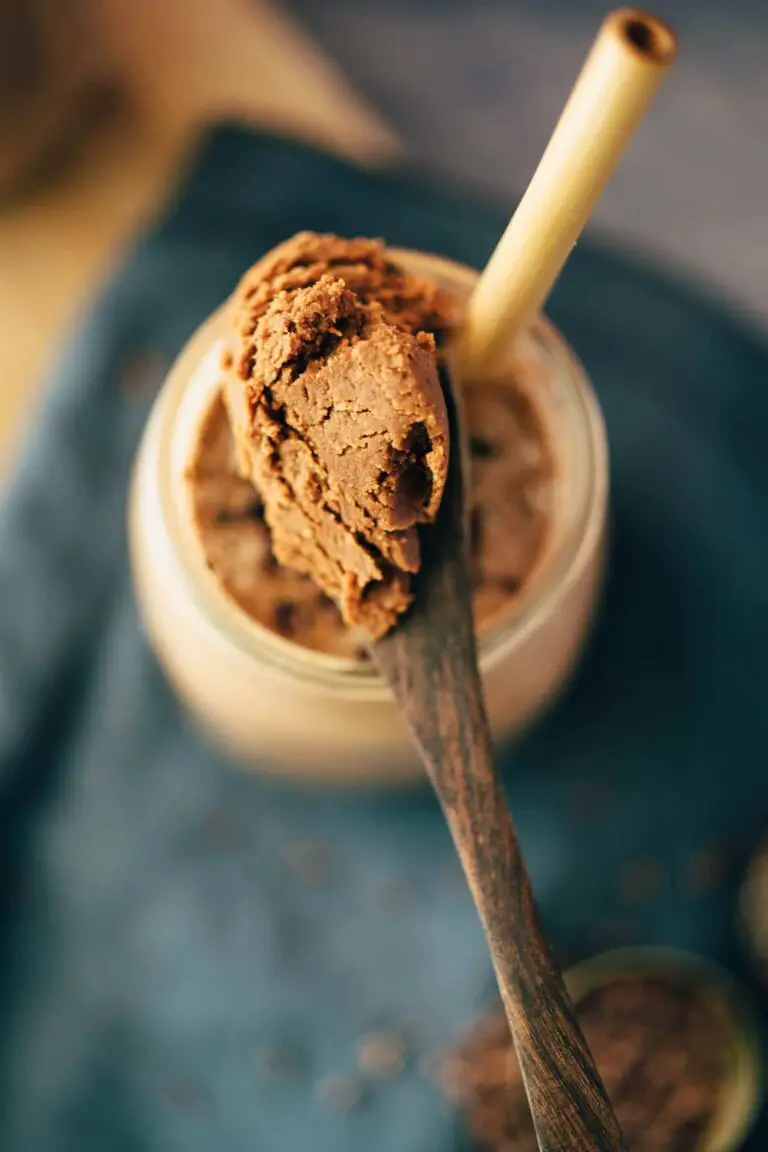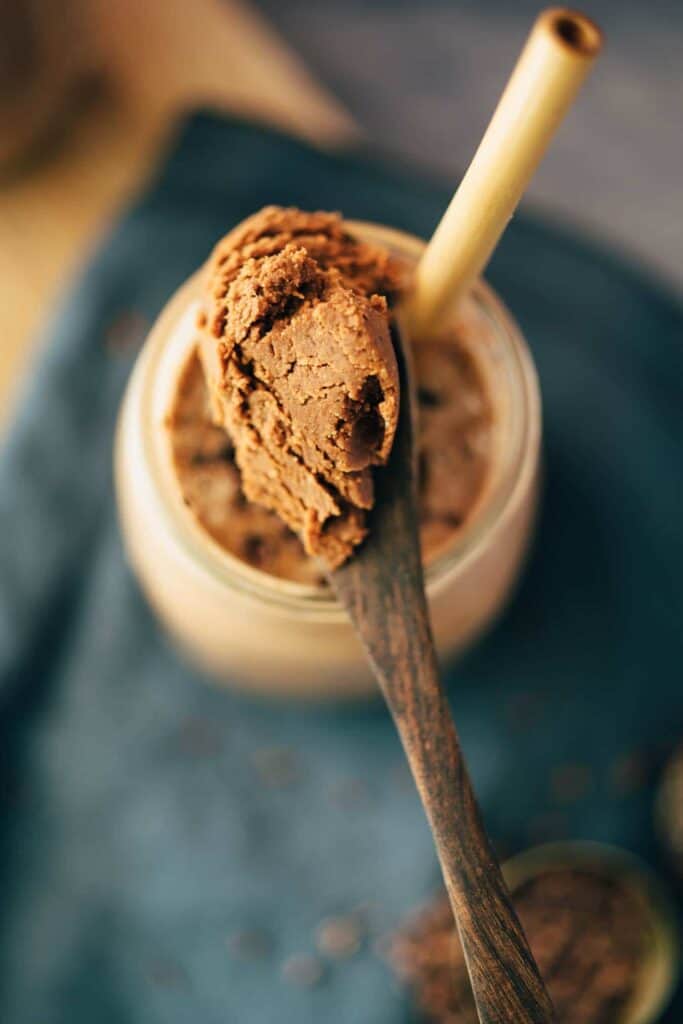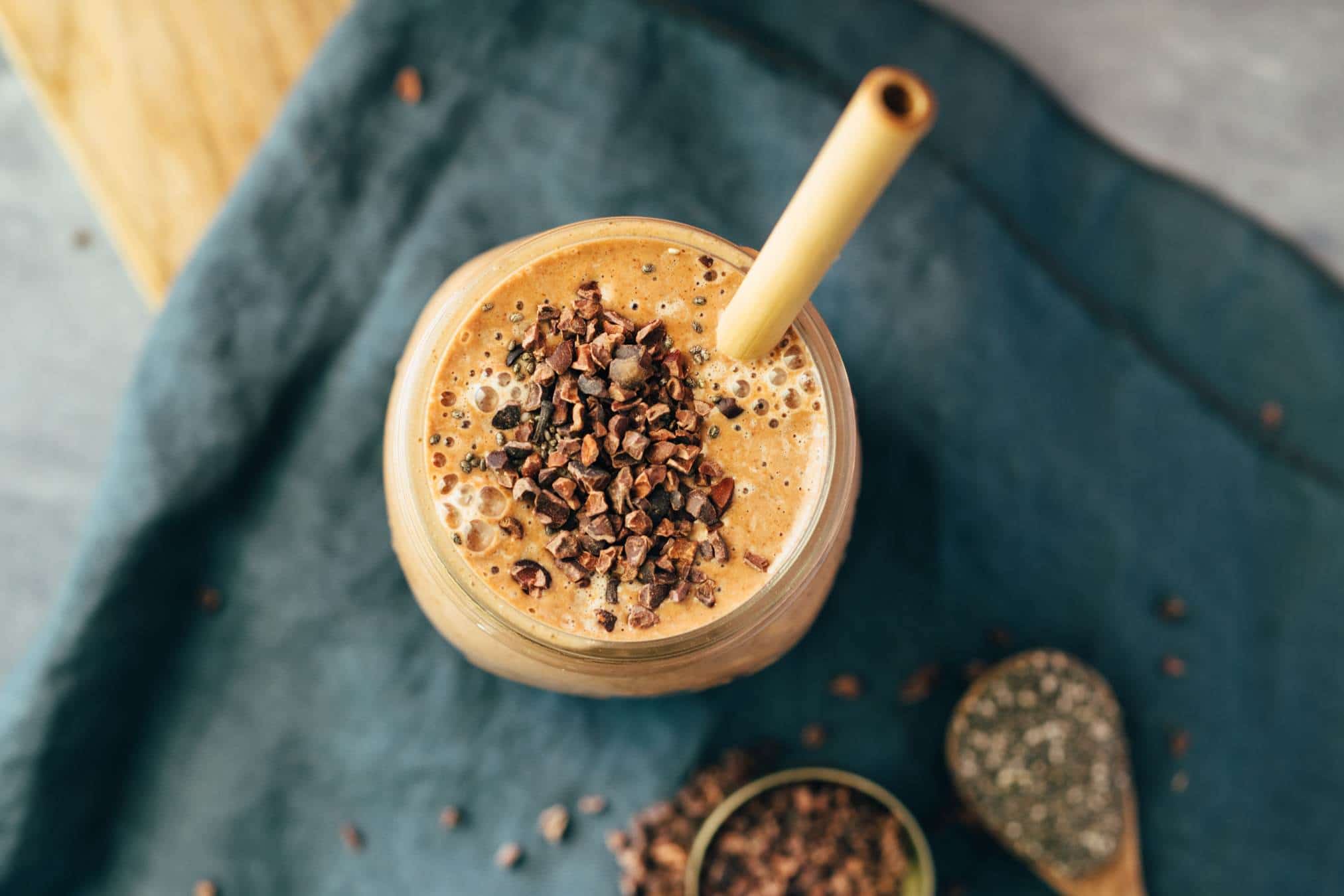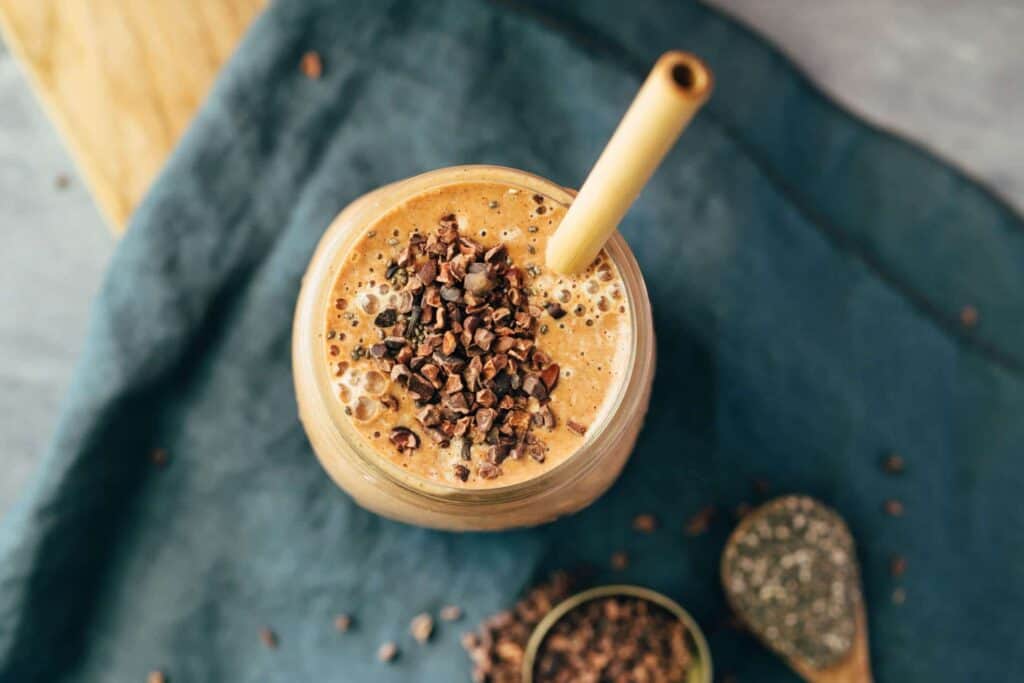 What else is there to say? In terms of preparation, you'll need a good blender (I love my Blendtec), smoothie glasses and straws. Here I use bamboo straws, because we already have enough plastic in the oceans.
What goes perfectly with a sweet and fruity Smoothie ? Bliss Balls and raw snacks such as: Chocolate Cashew Butter Truffle , Chai chocolate truffle , 6-Ingredient Ferrero Rocher , or maybe a Cupcake with chocolate frosting ? Have fun and enjoy!
The NUTELLA PROTEIN SMOOTHIE is:
Hazelnutty- Chocolaty
Protein-rich
Naturally sweet
Full of vitamins and minerals
creamy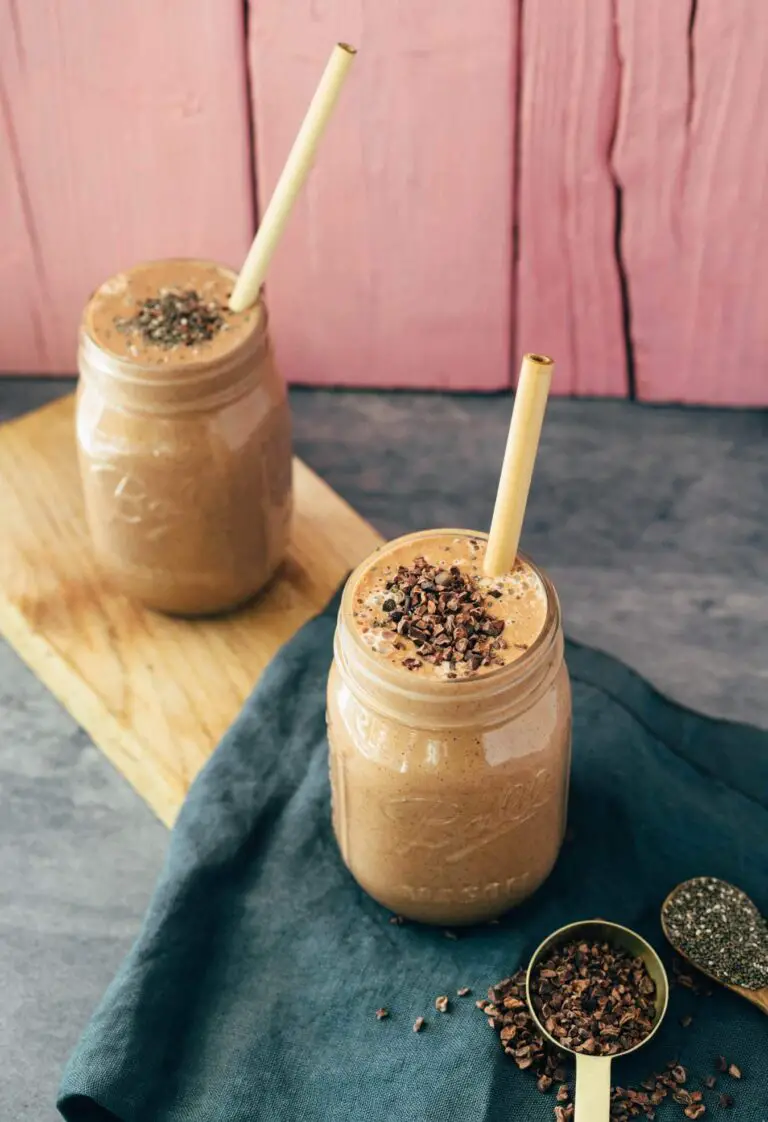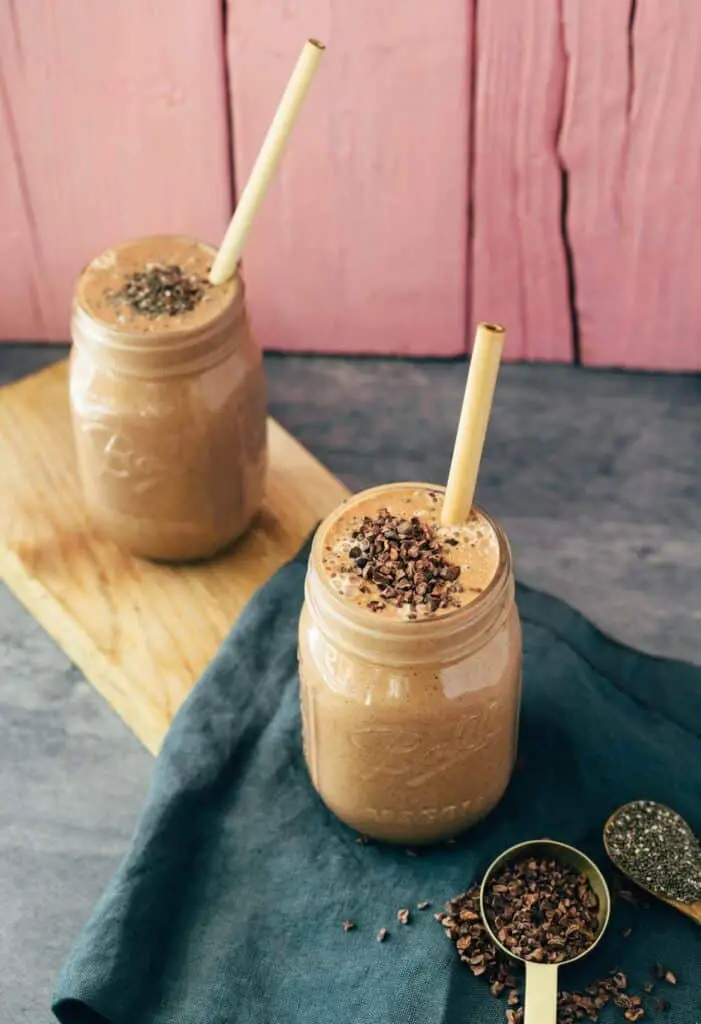 Well fancy this delicious chocolaty Smoothie ? Then I look forward to a review at the bottom of this page. If you post a picture, feel free to use the hashtag #veganevibes.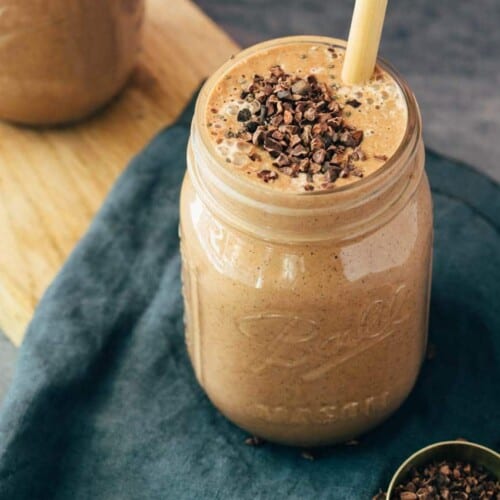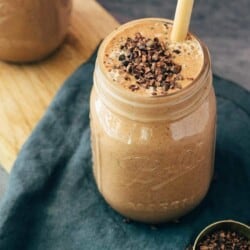 Nutella Protein Smoothie
Creamy, filling, Nutella protein smoothie made with frozen bananas, almond milk, cocoa, homemade Nutella, chia seeds and dates. Creamy, nutty and chocolatey, the smoothie provides you with healthy fats, proteins, vitamins and minerals.
AUTOR: VEGANEVIBES
NUTELLA PROTEIN SMOOTHIE:
240

g

Bananas

frozen and cut into pieces

64

g

homemade Nutella or bought in organic quality

2-4

Dates

I use Medjool dates

10

g

Cocoa powder

10

g

Chia seeds

480

ml

Almond milk

2 cups

Optional: 2-4 ice cubes
TOPPING (optional):
Cocoa nibs at will

Chia seeds at will
Anleitung 
In a high-powered blender, blend all ingredients until desired consistency is reached (I like it very fine).

240 g Bananas,

64 g homemade Nutella or bought in organic quality,

2-4 Dates,

10 g Cocoa powder,

10 g Chia seeds,

480 ml Almond milk

Pour into two smoothie glasses, garnish with desired toppings and serve.

Optional: 2-4 ice cubes,

Cocoa nibs at will,

Chia seeds at will

Serve with a spoon and a reusable straw and enjoy immediately!




*Tip for the correct freezing of bananas: The bananas should be as ripe as possible, preferably already with black dots. Many would not eat the fruit at this level of ripeness, but dispose of it. Exactly then the bananas are perfect, because they have the maximum sugar content. To freeze, peel, cut into chunks and place in a reusable box or freezer bag (I've used mine x number of times, the permanent freezing also prevents bacteria from forming). Remove and refreeze banana pieces as needed.
Notizen
NOTES /HELPFUL ACCESSORIES:
Nährwertangaben
Serving:
1
Portion
Calories:
465
kcal
Carbohydrates:
73
g
Protein:
10
g
Fat:
16
g
Saturated Fat:
10
g
Cholesterol:
2
mg
Sodium:
402
mg
Potassium:
860
mg
Fiber:
9
g
Sugar:
51
g
Vitamin A:
365
IU
Vitamin C:
13.4
mg
Calcium:
425
mg
Iron:
3.2
mg