Poppy seed lemon Pancakes , a combination I have missed for so long. Maybe I had one once Poppy seed lemon muffin , but I haven't had such delicious fluffy pancakes in a long time. I already had a portion yesterday to test the consistency again. Since I was not quite sure whether I can not still improve the fluffiness something, there was today tomorrow same again a portion. Honestly, I was so blatantly looking forward to these mini ones this morning when I went for a walk. Pancake looked forward to. It's been a long time since I've really looked forward to a breakfast. Breakfast looked forward to. Well, I think I'll take the precaution of doing a few more tests to see if they're really fluffy enough now. Ok, enough of the shenanigans, let's get going!
Poppy seed lemon pancakes – where have you been so long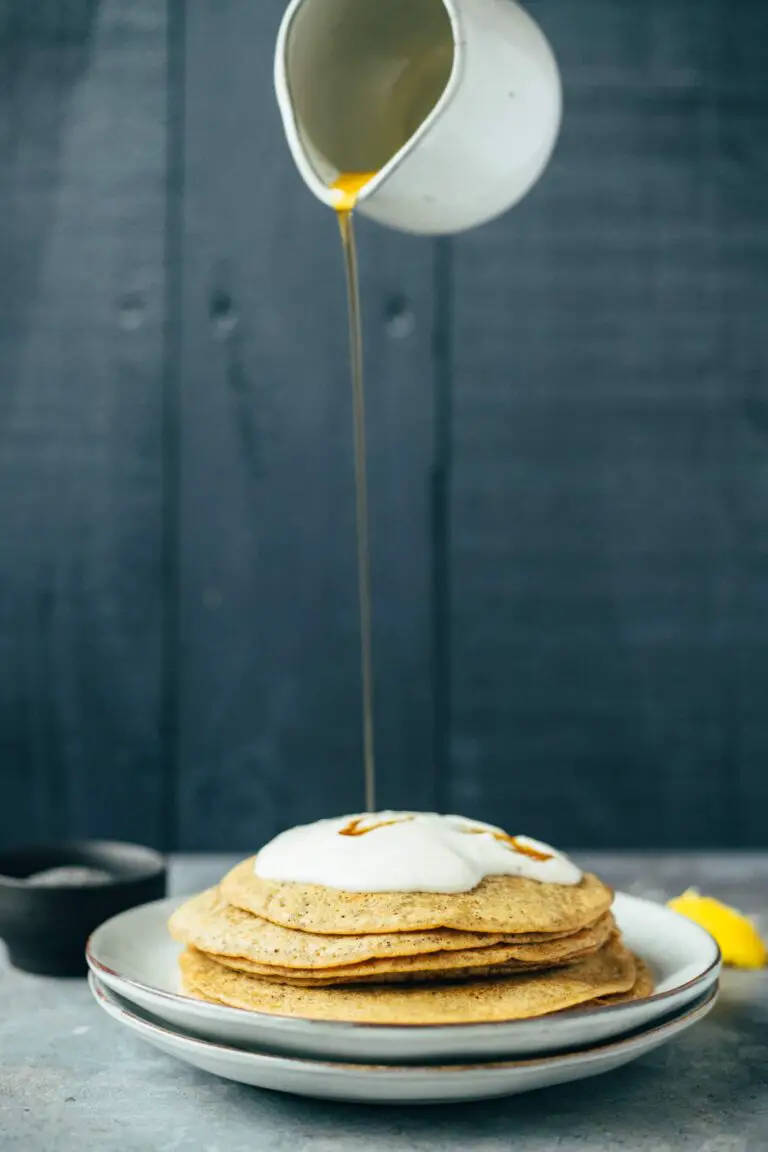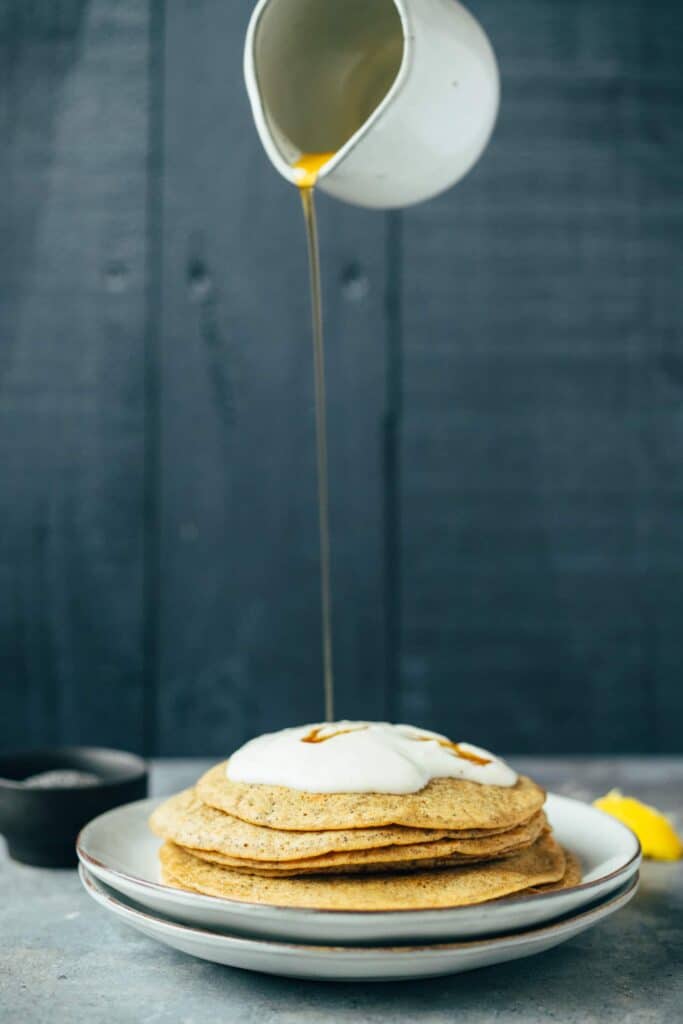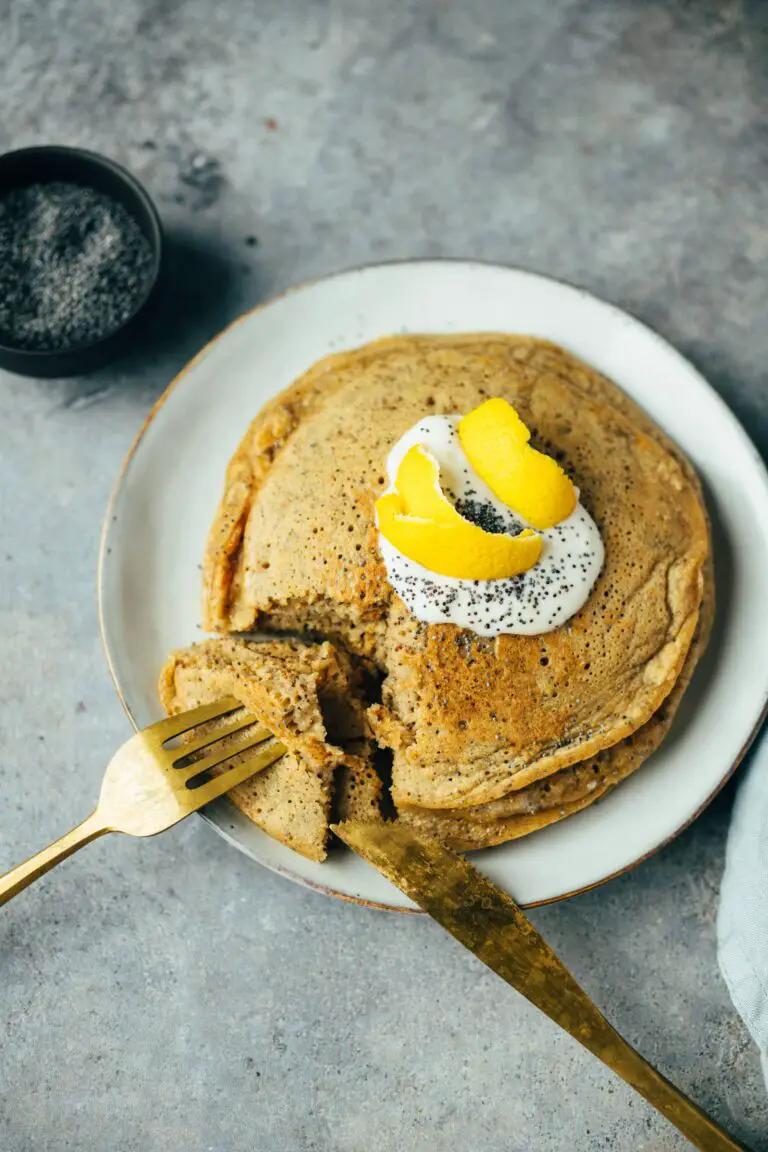 Once again we need few ingredients, so the preparation is even more fun. Nothing is more daunting to me than a Recipe with an ingredient list two pages long. Plant milk (I use oat milk), spelt flour (or my gluten-free flour mix ), plant yogurt (I prefer to use coconut yogurt), lemon juice, poppy seeds, coconut blossom sugar, baking powder, bourbon vanilla and a pinch of salt. This dough comes absolutely without oil and margarine, ingenious or?
Here are a few more tips and tricks to make sure the pancakes bake out just fine:
THE RIGHT PAN: is the be-all and end-all. I used to have bad pans and was regularly annoyed that the dough stuck. I am extremely happy with my current pans and very often use no oil at all when baking. If you don't like Teflon pans, I recommend a good cast iron pan. Properly baked (google once here for tips) these pans should be really fun to use.
THE RIGHT FAT: When I use fat for frying, a so-called High Oleic oil, which is specially designed for very hot temperatures. Stay away from cold-pressed oils, because they change the fat structure when heated and can even be harmful to health. I've linked you to my favorite frying oil below with the ingredients.
USE A BRUSH: It makes perfect sense to use a brush when using oil. This makes it easier to save oil by taking a small amount and coating the pan with it.
So, now can quasi nix more go wrong. Let's go to the stove I would say.
How healthy is poppy seed actually?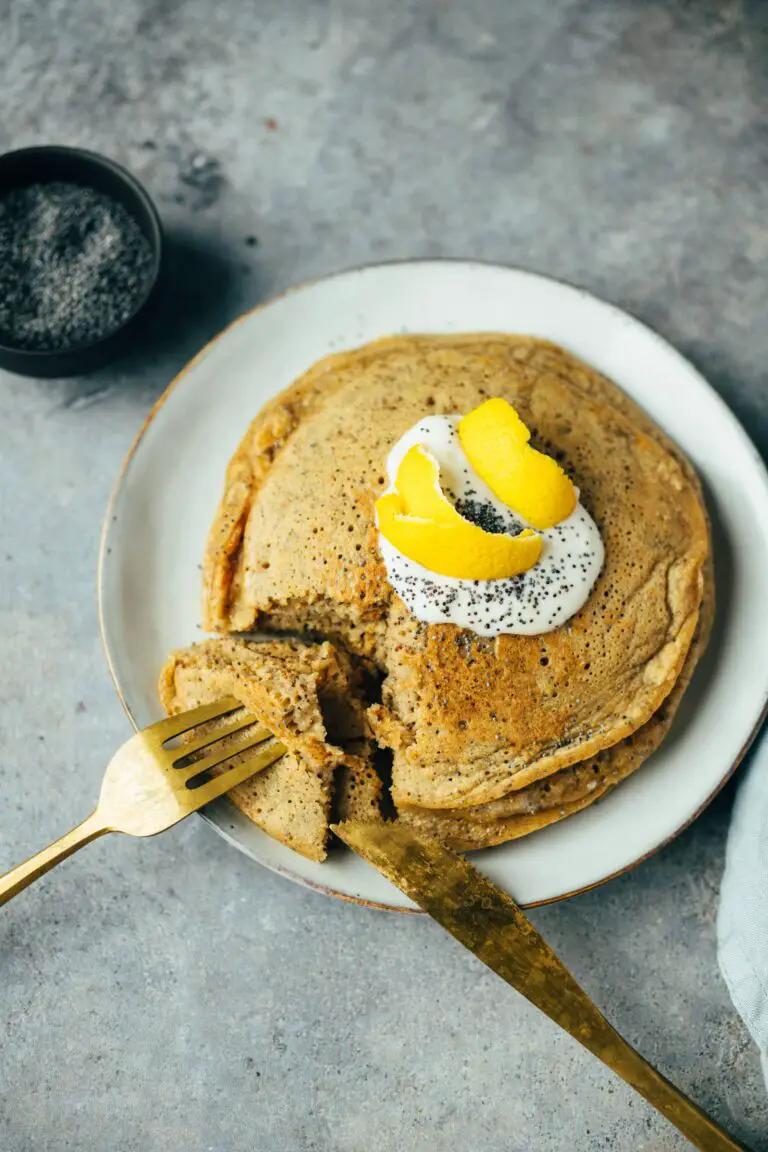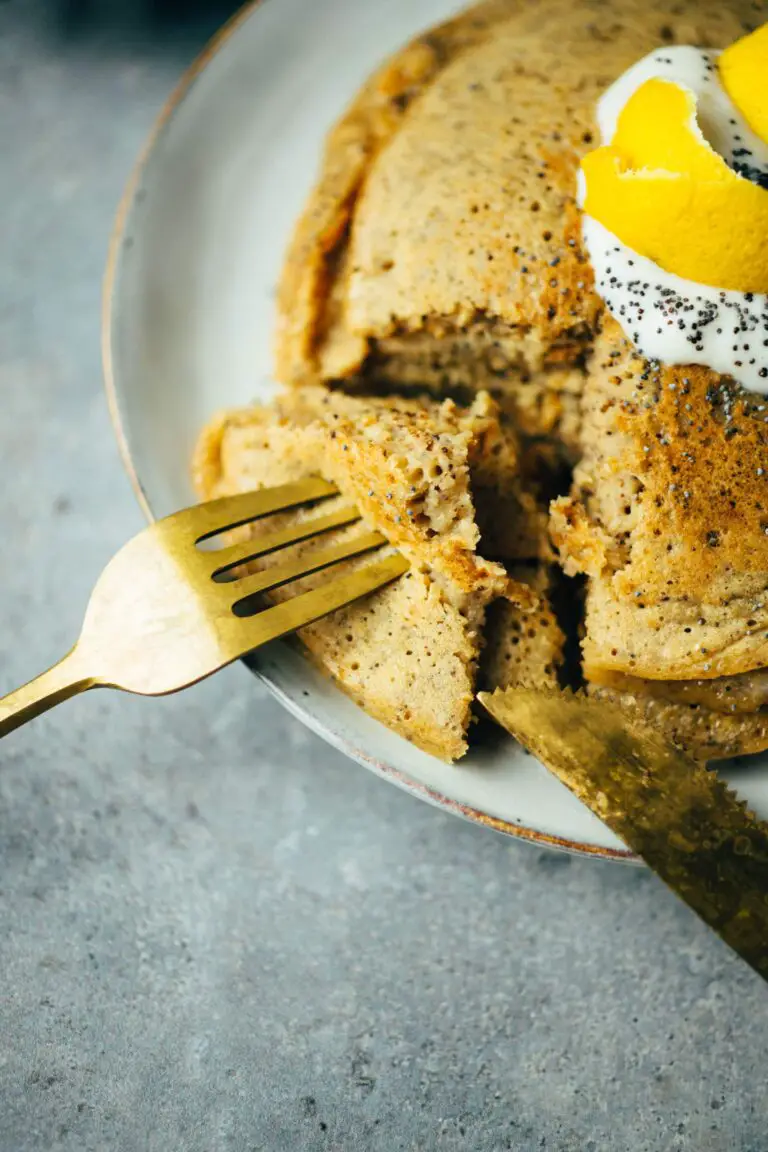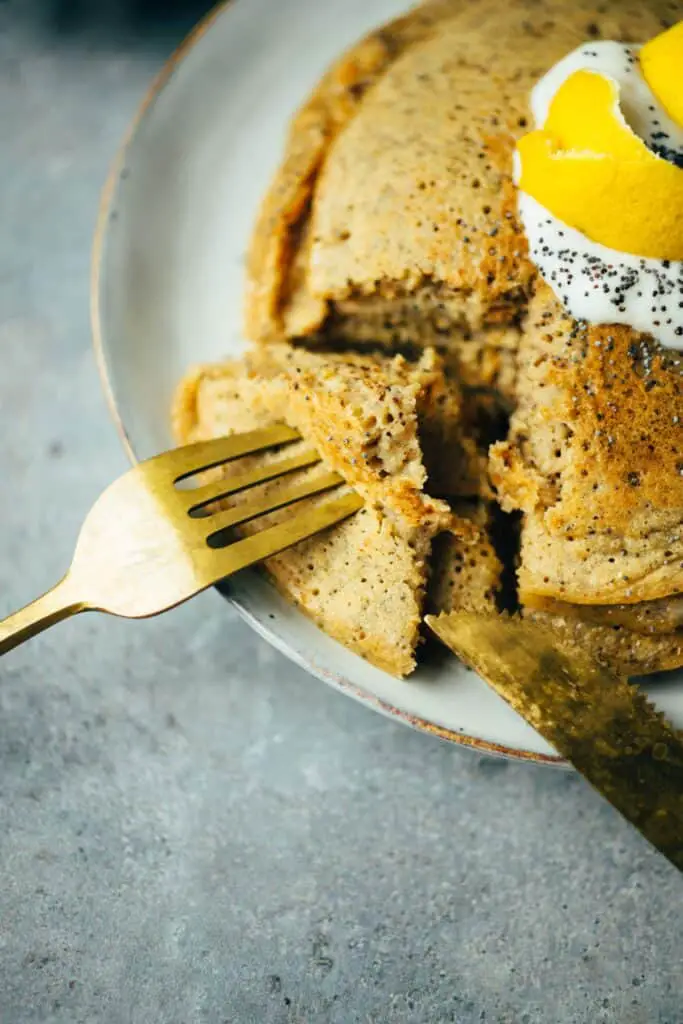 Here is a very clear answer right from the start: Yes, it is. The only question that remains is why? Poppy is rich in:
Calcium, potassium (very high concentration)
Iron
Magnesium
Egg white (20 percent)
High fat (50 percent)
477kcal on 100g
The poppy Lemons Pancakes are wonderful as a Breakfast , sweet Lunch or dinner . They are also a special highlight for vegan brunch, with homemade Roll , Tofu scramble and Spreads . Let your imagination run wild.
The oil-free poppy seed lemon pancakes are:
Naturally sweetened
Light
Oil-free
filling
simple to be produced
Let's go with these fluffy little Pancakes . I wish you a lot of fun with the Nachbacken and of course about a rating at the bottom of this page. If you post a picture, use the hashtag #veganevibes.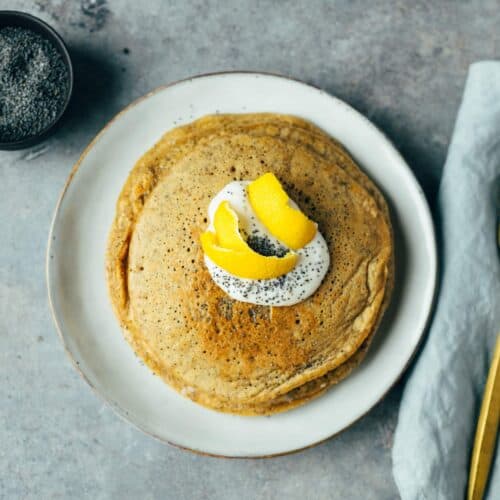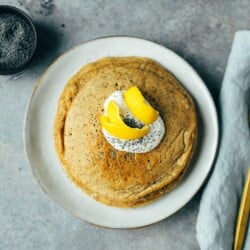 Poppy seed lemon pancakes (oil free)
Naturally sweetened, fluffy, vegan and oil-free pancakes. Quickly made with a pleasant acidity from lemon juice and nutrient-rich poppy seeds. Gluten-free option.
AUTOR: VEGANEVIBES
Anleitung 
Heat pan to medium heat. Prepare a small key with high-heat oil and a silicone brush. (see note for oil-free in step 3)

For the dough Provide a bowl and pour in all the ingredients in order, Mix with a whisk until a smooth dough, which should be slightly more liquid than an ordinary cake batter. Alternatively, use a high-powered blender with a dough program to make it. See recipe video.

250 ml Almond milk or another vegetable milk,

30 ml Lemon juice,

30 g Coconut blossom sugar,

60 g Vegetable yogurt,

15 g Blue poppy,

172 g Spelt flour,

2 tbspn Baking powder,

1 Pinch sea salt,

½ tbspn Bourbon vanilla ground or vanilla extract,

optional 1 tsp lemon zest,

Some high heat oil for baking

Dip the silicone brush into the oil and brush the bottom of the pan. It can also be baked without oil if you use a good quality Teflon pan.

Using a soup ladle, skim off a portion of batter and add to pan. Bake for 2-3 minutes on each side until golden brown. Use a wooden spatula to flip or flip the pancakes in the pan like a pro. Remove and place on a plate.

Repeat this step until the batter is completely used up and all the pancakes are nicely stacked on top of each other (this keeps them nice and warm).

Finish with desired toppings and enjoy!

Plant yogurt,

Poppy seed,

Lemon peel

Keep remaining pancakes covered in refrigerator for up to 2 days, and heat best in steamer or preheated oven. Keep in the freezer for up to one month.
Nährwertangaben
Serving:
1
Pancake
Calories:
120
kcal
Carbohydrates:
21
g
Protein:
4
g
Fat:
2
g
Saturated Fat:
1
g
Sodium:
51
mg
Potassium:
114
mg
Fiber:
3
g
Sugar:
3
g
Vitamin C:
2
mg
Calcium:
118
mg
Iron:
1
mg