Because it's sausage? Um no, today's Recipe is definitely not a Sausage but a delicious, protein-rich spread with lots of vegetable protein from beans and Tofu . It's a little funny to think that my dad is a second-generation master butcher. However, he now no longer eats meat and has made friends with my vegan liverwurst without batting an eye. Funnily enough, he has even given me tips on how I best Spread best seasoning! I ate the two baguettes you see in the picture right away in one sitting, just so delicious!
Liver sausage from butcher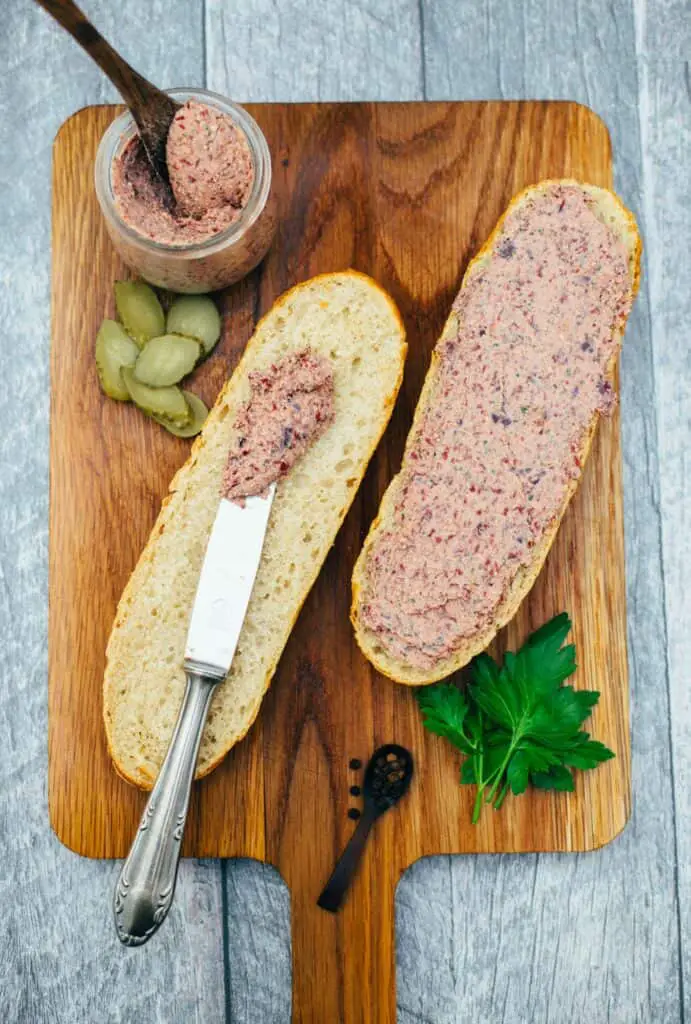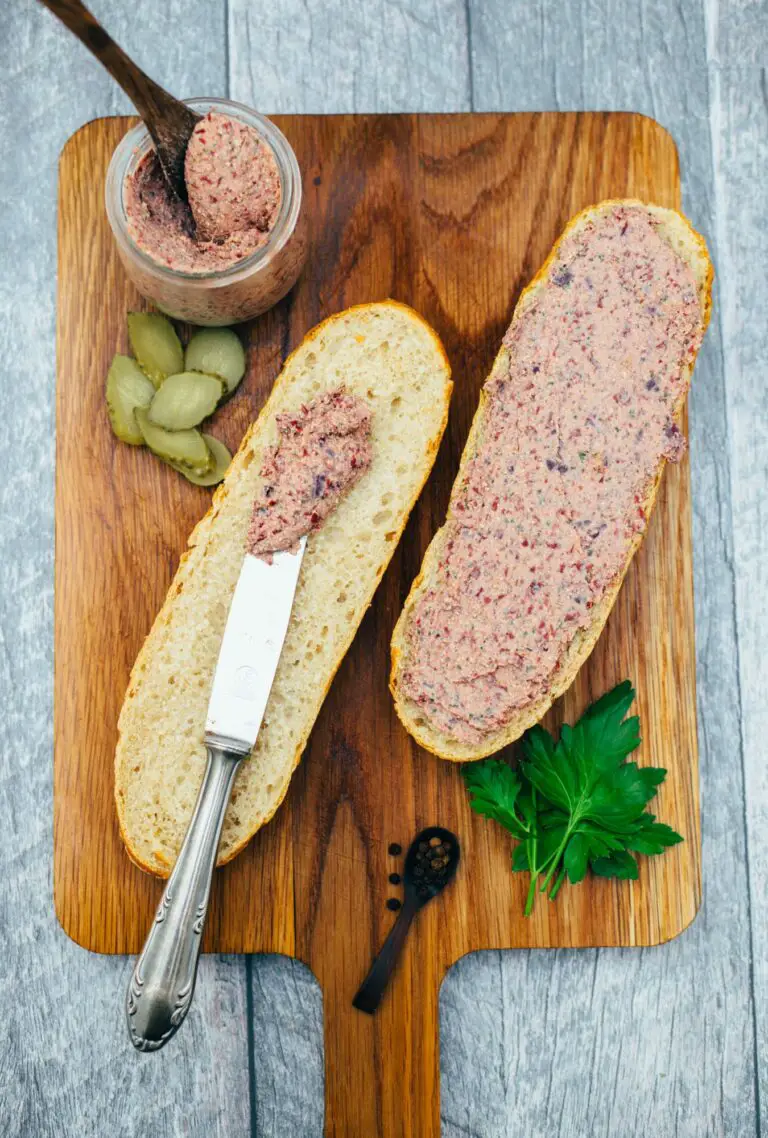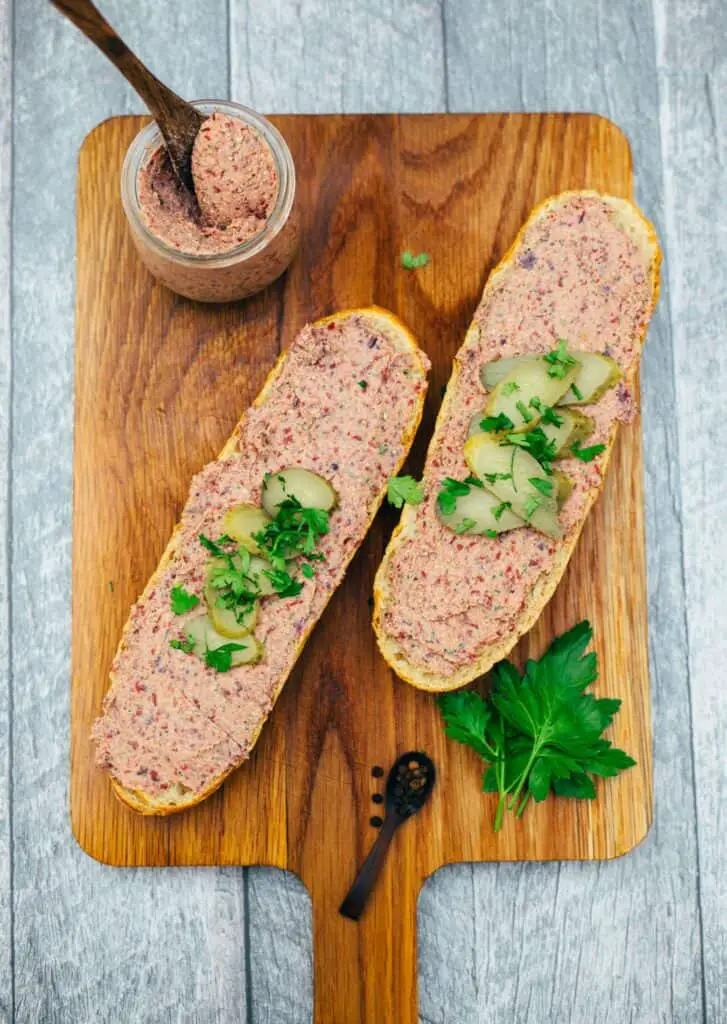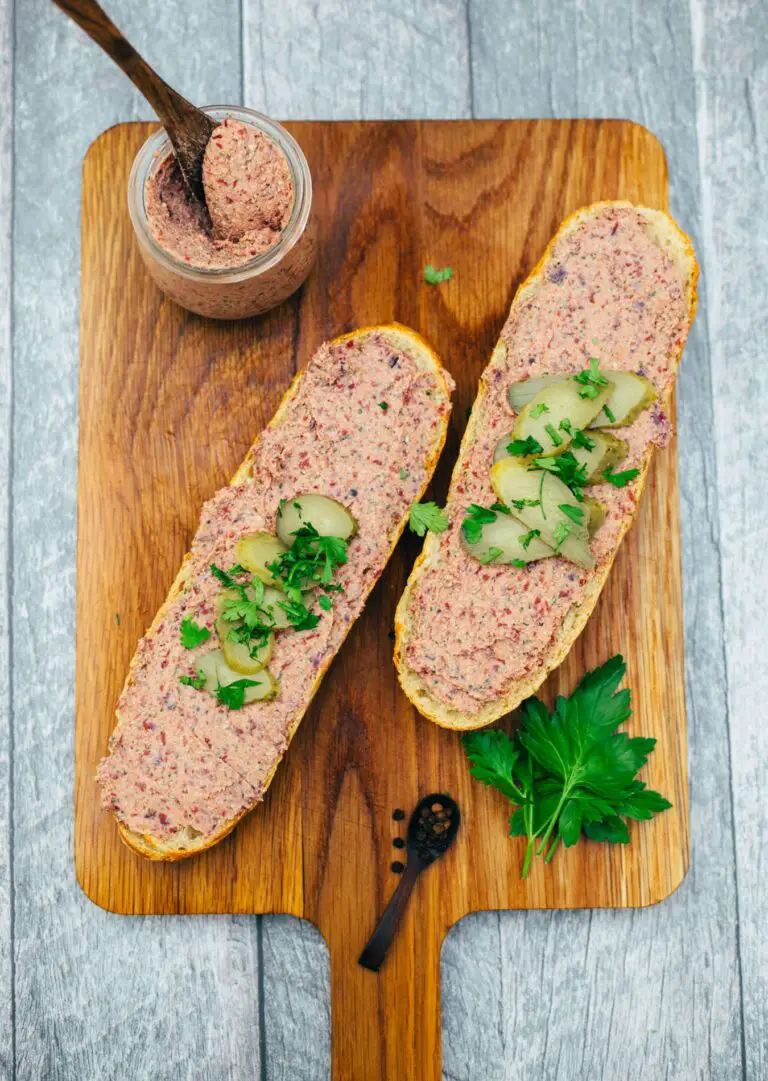 I had to really the other day laugh when I discovered online the butchery in Berlin. There are so-called Vurstwaren (instead of sausages), so everything 100% vegetable. When I next time I'm in Berlin, I absolutely have to go there.
Back to our spread, which has a short and crisp ingredients list. Onion, kidney beans, Smoked tofu , olive oil, parsley, marjoram, salt, pepper and a pinch of nutmeg. The onion is sautéed until translucent, goes into the blender with the other ingredients, and the vegan vurst is ready (please forgive the pun).
Kidney beans belong to my absolute favorite when it comes to healthy, plant-based cooking. In addition they give our liver sausage the great rosé color.
A whopping 25% healthy vegetable protein
Optimal Combination of complex carbohydrates and amino acids
Especially rich of magnesium, iron, potassium and calcium
Super rich in healthy dietary fiber (6.2g per 100g)
Kidney beans are in my Kitchen simply indispensable. They are also a natural and inexpensive, plant-based source of protein. If you want to avoid packaging waste, simply pre-cook your kidney beans yourself in large quantities. Personally, however, I prefer to reach for the ready-cooked beans in a jar from the organic supermarket. The jar can also be "upcycled" for other purposes, for example, by putting your liver sausage back in it.
What is actually the ORAC value of a food?
the Orac value (=oxygen-radical absorbing capacity) indicates how high the antioxidant effect of a food is. The higher this value is, the more powerfully the food can counteract oxidative stress and thus the development of chronic-degerative diseases. The good news is that kidney beans rank #1 among legumes in terms of ORAC value. Thus they possess highest antioxidant power with 8.606 (ORAC value / 100g).
Fancy a vegan vurst? Then you are exactly right here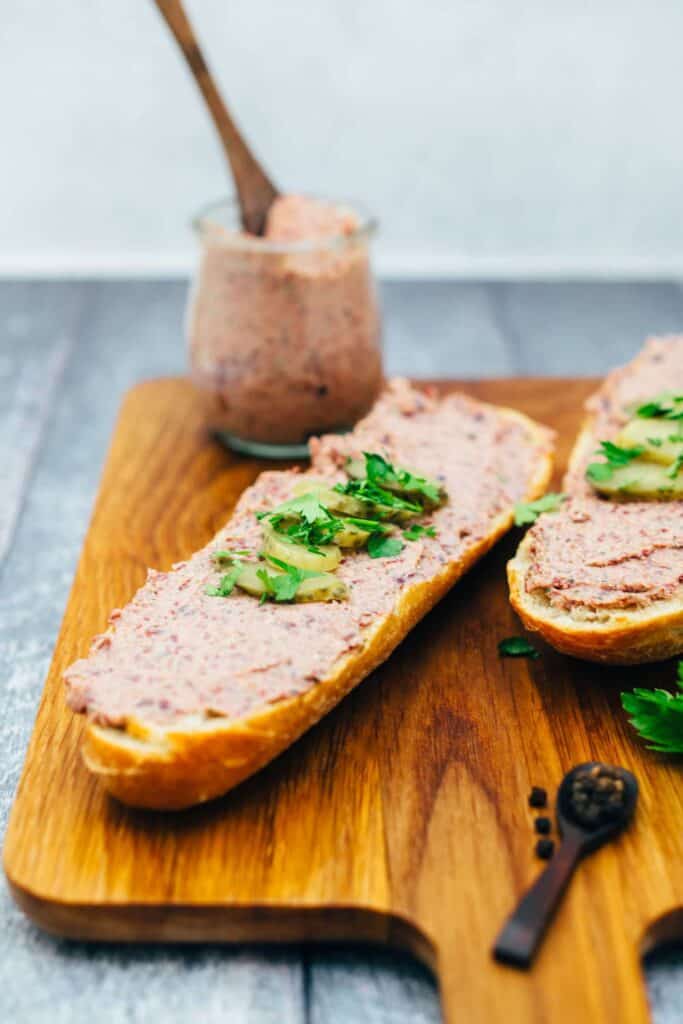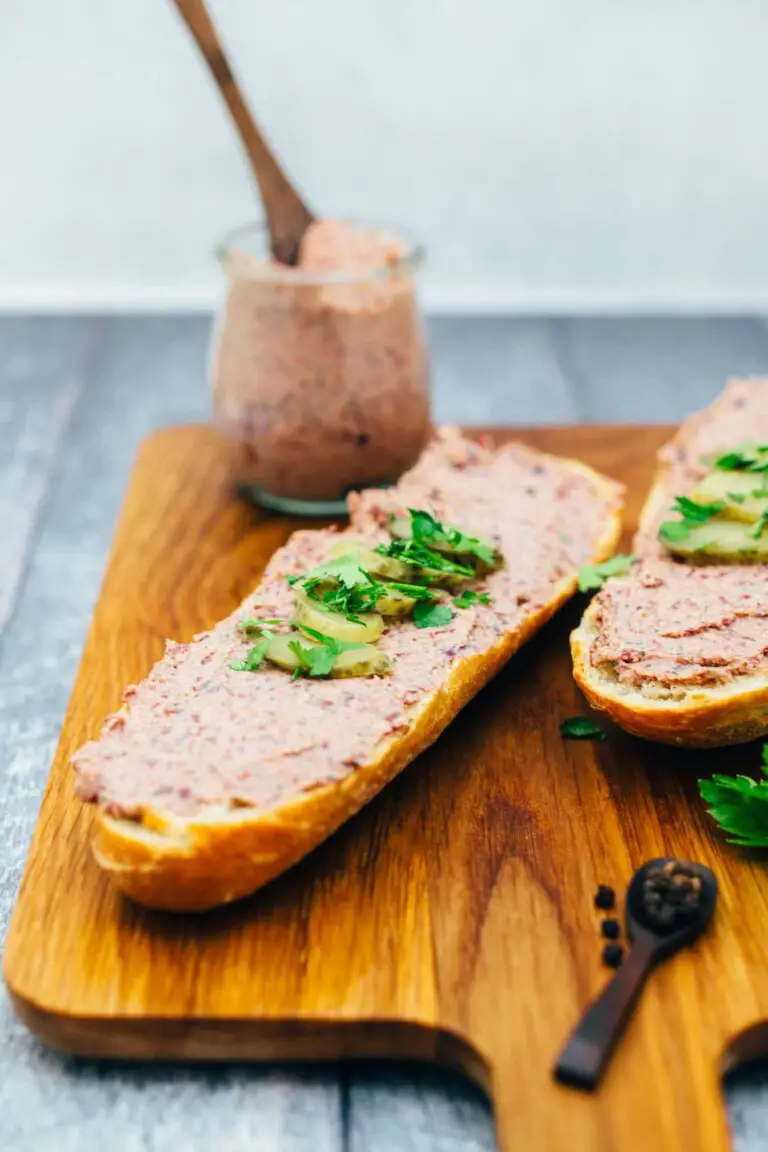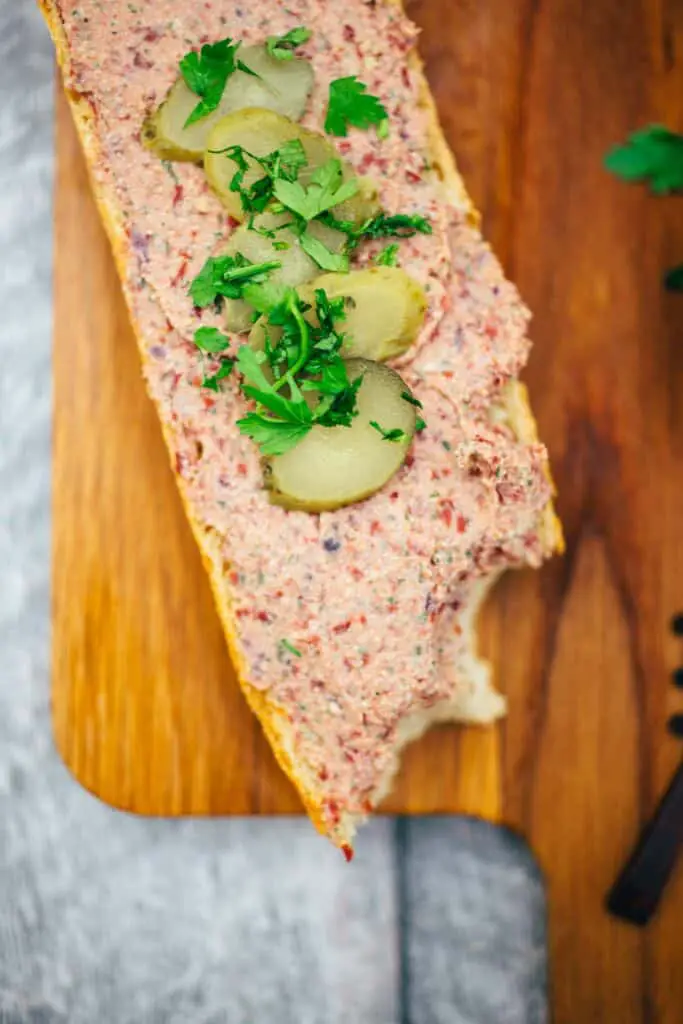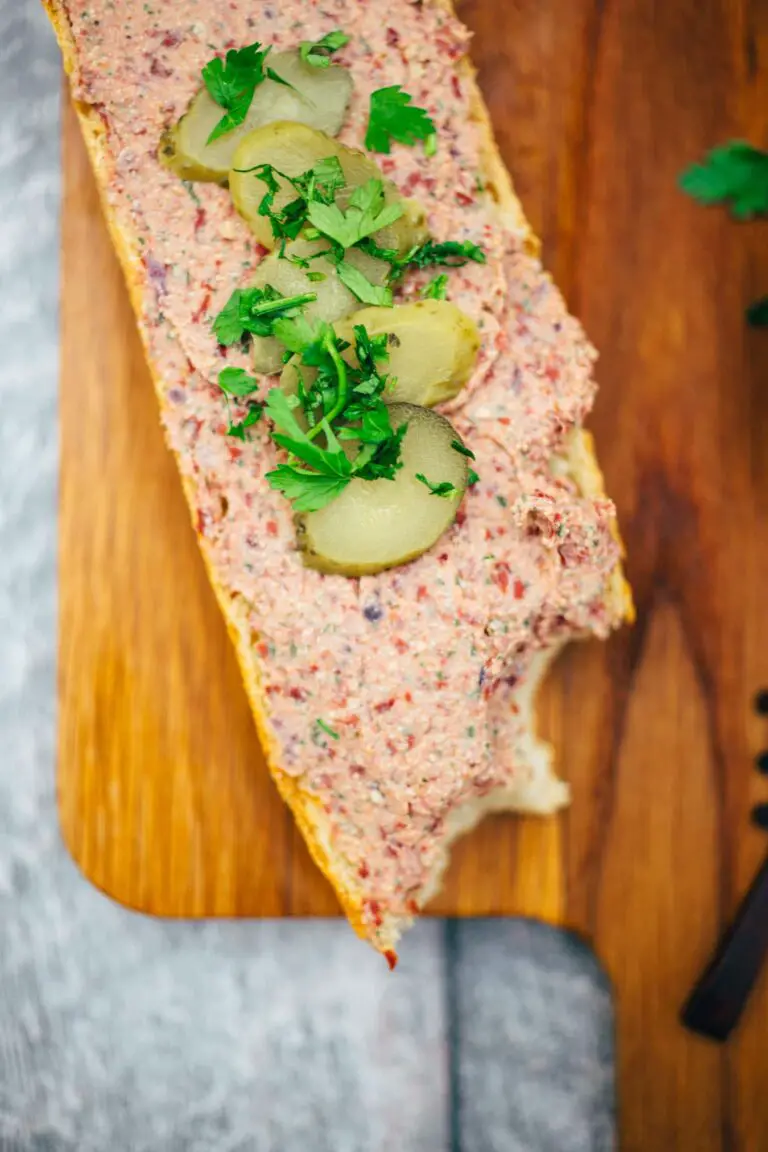 Of course, this delicious spread needs a great base. I chose a classic baguette made with spelt flour for the shoot, though a homemade one will work as well Spelt bread or Spelt bread roll . I will definitely participate very soon in a sourdough workshop and hopefully soon present you a great Recipe present.
Very tasty with pickles, lactic acid fermented vegetables or a Side salad . If you want to make it a nutritional boost, then I recommend you add a handful of mixed seeds on top (pumpkin seeds, sesame seeds and sunflower seeds).
Vegan spread liverwurst style (10 minutes) :
Spicy
Super fast made
Rich in vegetable protein
Extremely tasty
hearty
I hope my 10 minutes Spread convince you? If so, I'm happy to receive a review at the very bottom of this page. If you post a picture, use the hashtag #veganevibes.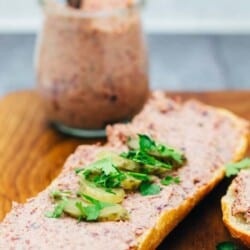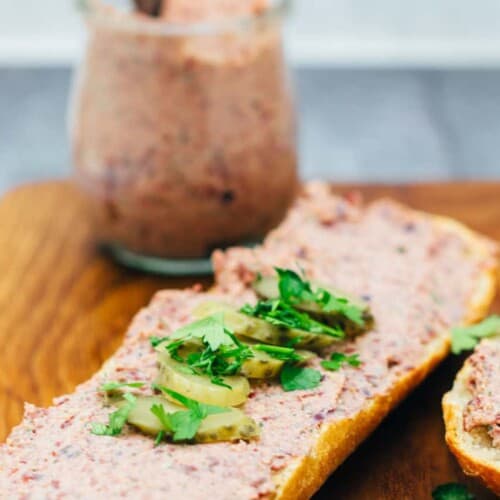 Vegan spread liver sausage style (10 minutes)
Extremely tasty, vegan spread in liverwurst style, refined with a delicious, smoked tofu and many herbs. Perfect on a great slice of sourdough bread, baguette or toast. Indispensable for a hearty snack for the whole family.
AUTOR: VEGANEVIBES
15

ml

Frying oil

if oil-free replace with 1-2 tablespoons vegetable broth

110

g

red onion

coarsely chopped

265

g

Kidney beans drained*

or jar with 400g

60

g

Smoked tofu

cut into coarse pieces, I take the brand Taifun *not sponsored

30

ml

Olive oil, mild

or another tasteless oil of your choice, if oil-free, simply omit it

2

tbspn

parsley

dried

1

tbspn

Marjoram

dried

½

tbspn

Sea salt
TO SERVE:
Sourdough bread

Spelt bread or fresh spelt rolls

Fresh parsley

Pickles

sliced
Anleitung 
Heat medium frying pan and fry oil in it.

Sauté the onion for 1-2 minutes until translucent. Remove from heat and set aside.

15 ml Frying oil,

110 g red onion

Place red onion, kidney beans, smoked tofu, olive oil, parsley, marjoram, sea salt, pepper and nutmeg in a food processor and blend to a fine spread.

15 ml Frying oil,

110 g red onion,

265 g Kidney beans drained*,

60 g Smoked tofu,

30 ml Olive oil, mild,

2 tbspn parsley,

1 tbspn Marjoram,

½ tbspn Sea salt,

black pepper to taste,

a pinch of nutmeg

Depending on preference, leave coarser or blend longer until mixture is as fine as desired.

Put directly on bread or fill into preserving jars. enjoy! Keeps up to 5 days completed in the refrigerator or freeze immediately in the jar.

Sourdough bread,

Spelt bread or fresh spelt rolls,

Fresh parsley,

Pickles
Nährwertangaben
Serving:
1
Glass
Calories:
784
kcal
Carbohydrates:
71
g
Protein:
24
g
Fat:
46
g
Saturated Fat:
5
g
Sodium:
205
mg
Potassium:
1228
mg
Fiber:
21
g
Sugar:
5
g
Vitamin A:
170
IU
Vitamin C:
13.9
mg
Calcium:
99
mg
Iron:
8
mg