Eggplant fillets for the Grill my dears, I am thrilled! why? Because I am craving barbecue recipes so much. This year I have resolved that it must be more colorful on my grill. The last years there were always the vegan sausages and various vegetables on the grill. The vegetables should also remain, but just a bit more ratinated. How are you guys actually doing during curfews? It's still a little strange for me, but I don't want to complain either. We live here in the country and have a lot of space, can always get out into nature and toilet paper is available again without end to buy. But what I don't like so much is the thought that we will probably have to live with restrictions of all kinds for a very long time. Well, when I get in a bad mood, I just go into the kitchen and make new recipes . That lifts the mood at least for me!
Eggplant fillets for the grill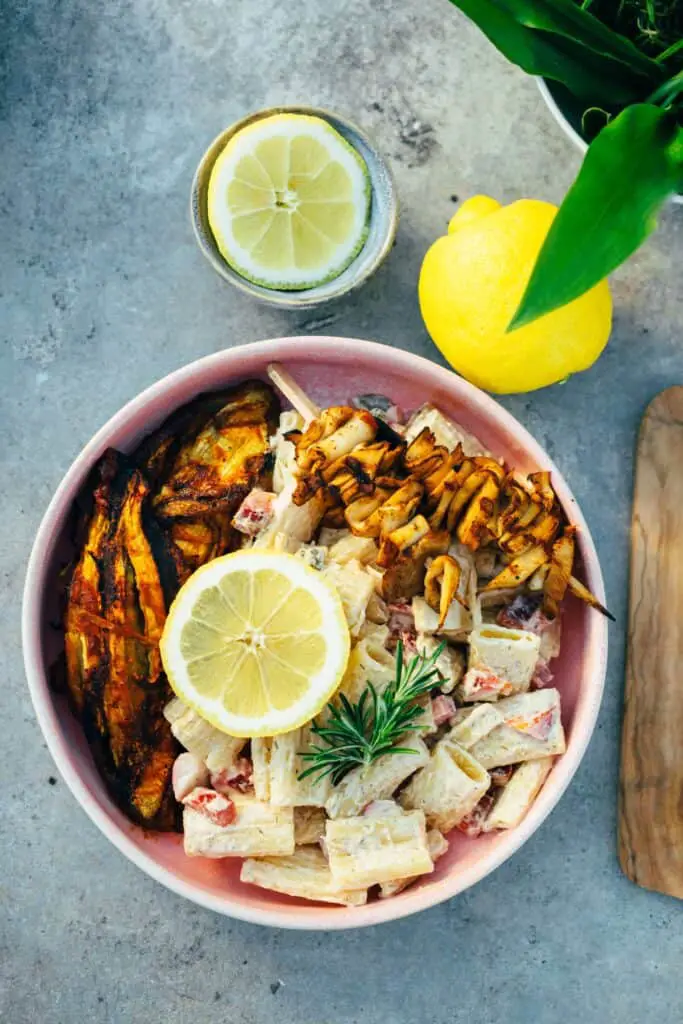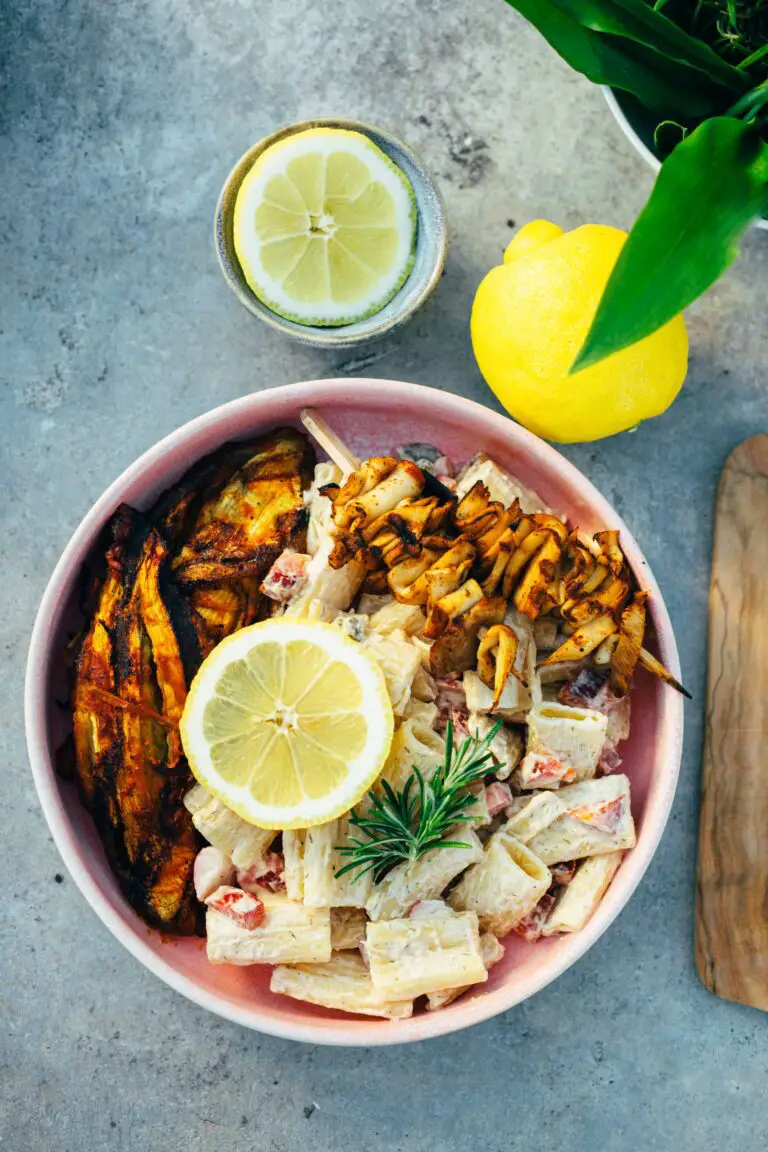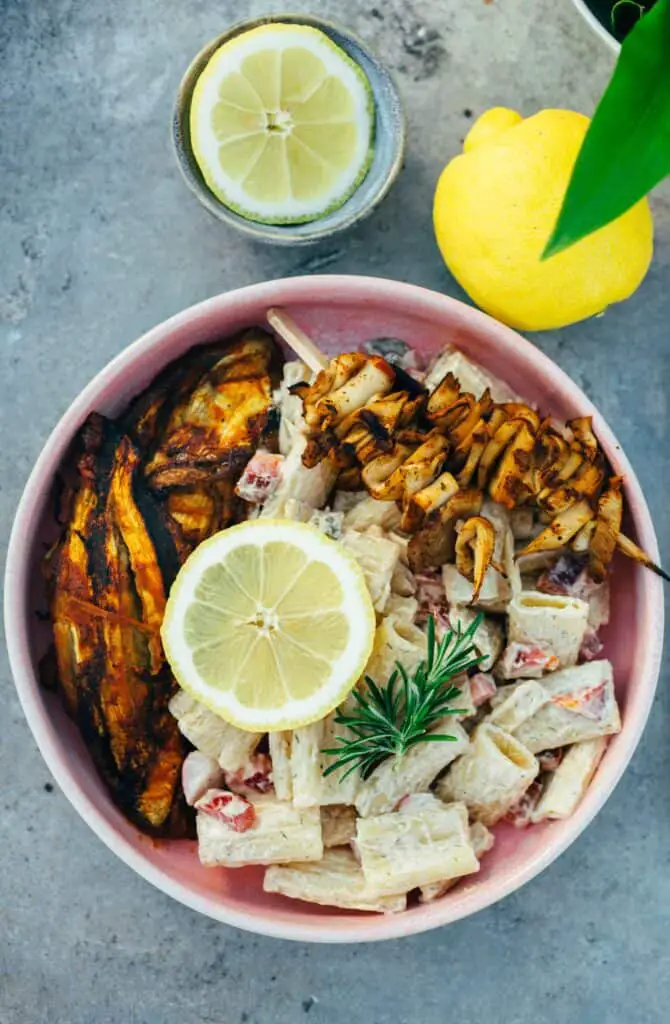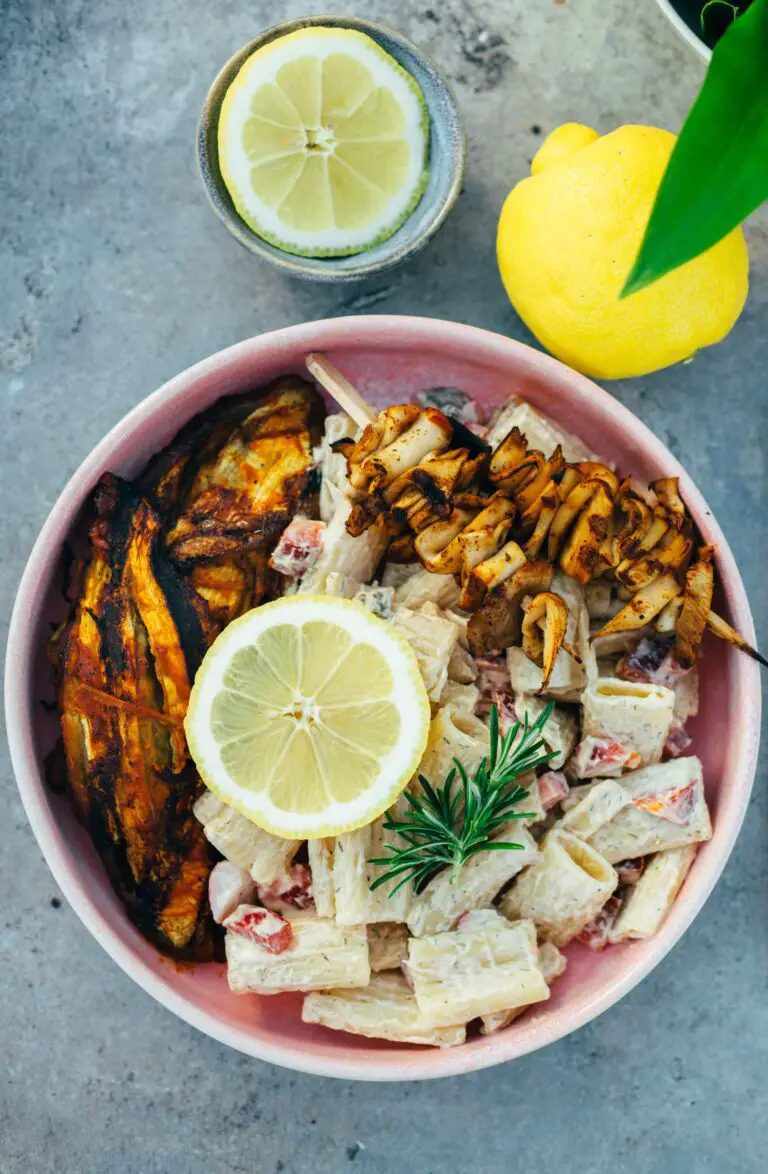 For this Recipe you need exactly two things Eggplant and a marinade. I opted for my homemade Barbecue sauce which goes very well with it. The eggplant is roasted in the oven, completely without oil and as long as it is nice and soft inside. Then we detach the fillet and let it marinate.
TIP: It is best to pickle and marinate the fillet a day in advance. The taste is then much more intense than if it is applied just before grilling.
The consistency of the finished grilled fillet is soft and juicy. It doesn't get super crispy on the outside, but gets a good bite and creates a WOW effect, at least for me. The beauty of this filet is that you can season it however you like, anything is allowed from Asian, to Caribbean, to a wild garlic pesto.
Vegan barbecue is so simple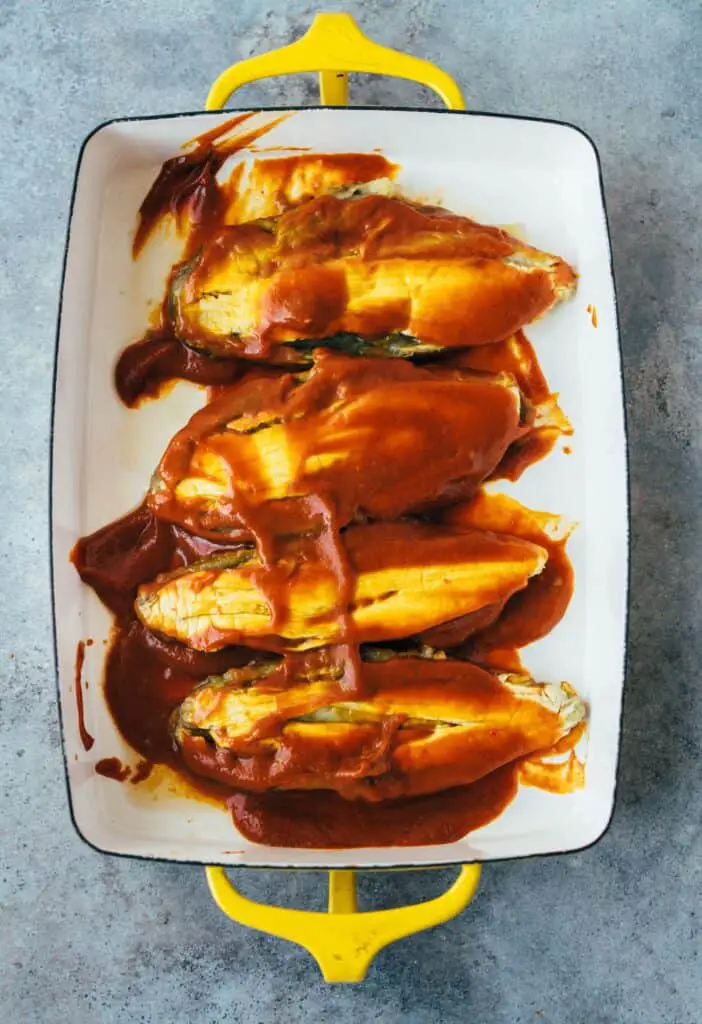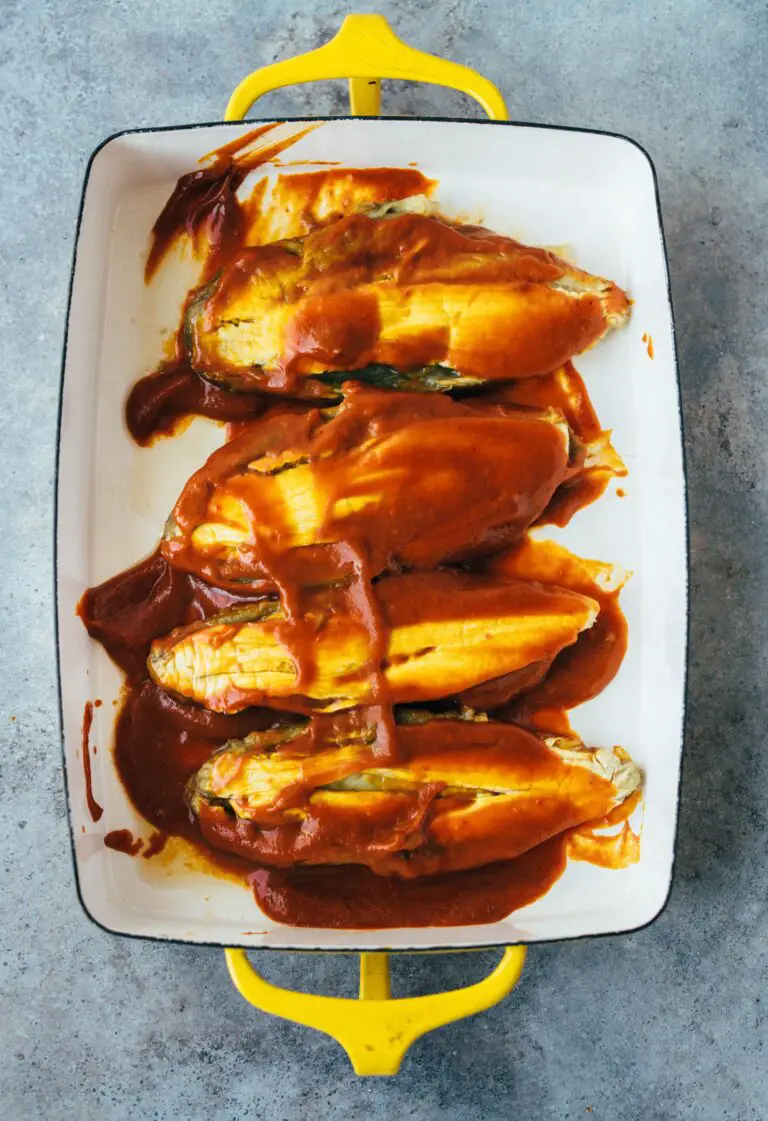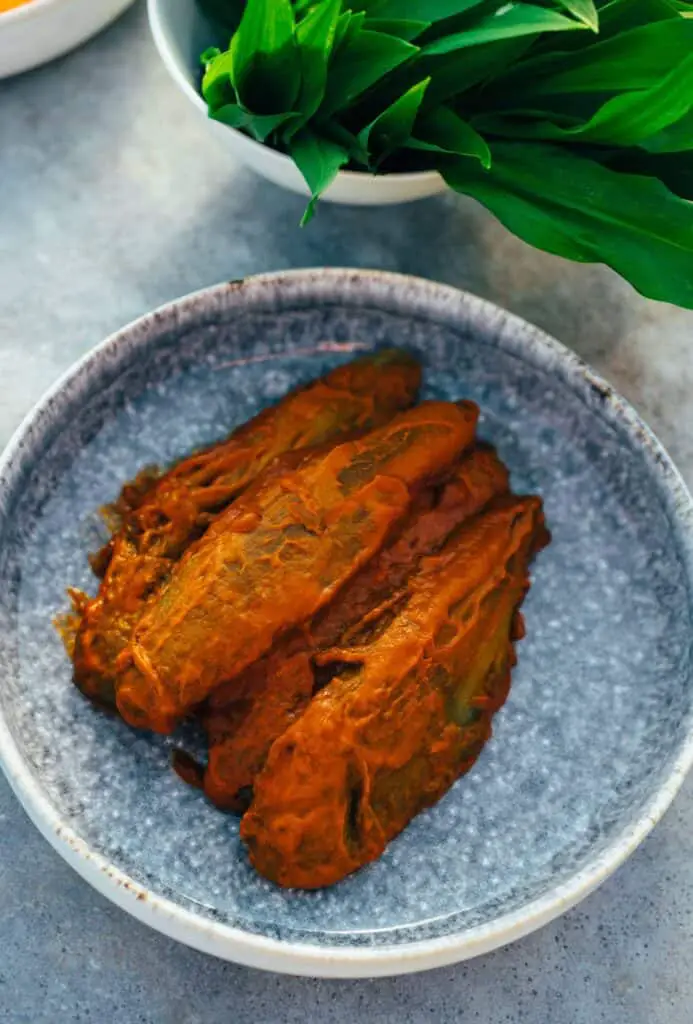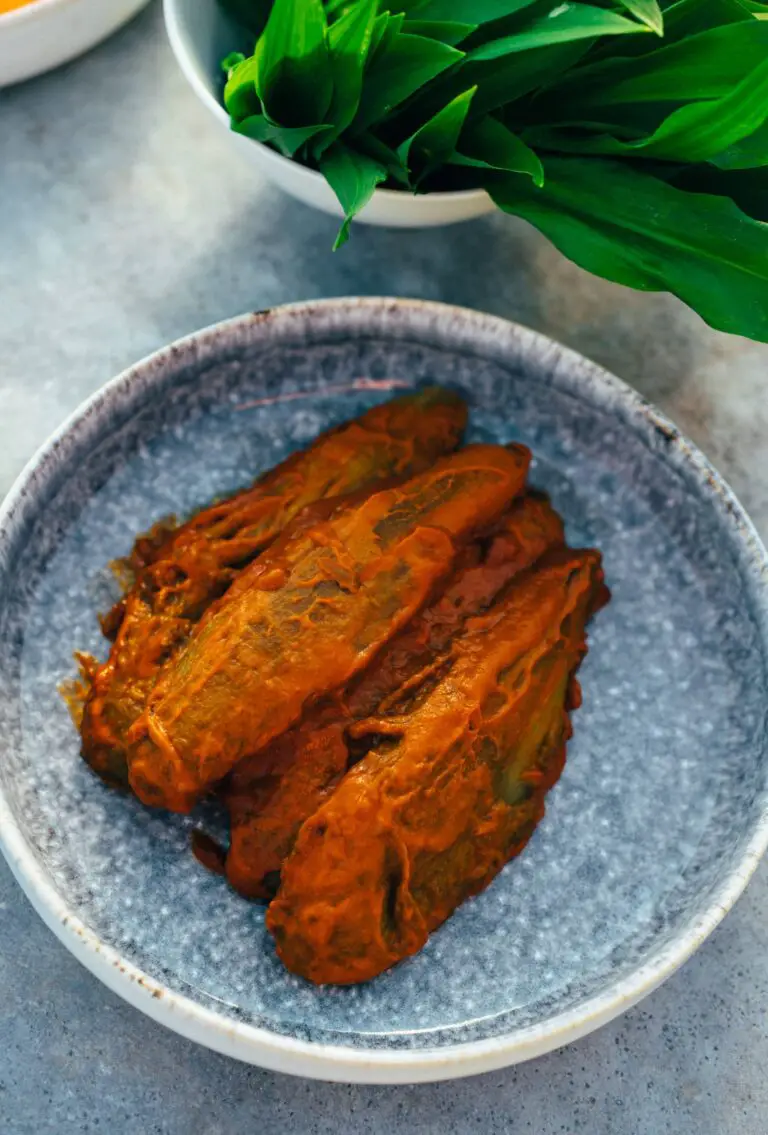 I am really of the opinion that vegan Barbecue is simple and above all also much faster. Everything is done much faster and above all there is no cross-contamination, which is mainly an issue when preparing meat. And now comes the most positive news of all, it also fills you up, is completely free of cholesterol and grilling produces far less harmful substances. Keyword nitrosamines, benzpyrene and many other unpleasant substances that are definitely not produced when grilling vegetables. Your wallet will also be happy, because such an eggplant is really cheap to get.
TIP: Eggplant Have a very high water content and are extremely low in calories with only 17kcal per 100g. So ideal for figure-conscious grilling my dears, especially because we grill the eggplant without oil in the oven.
What else is crucial? The timing and the side dishes. As I mentioned before, I like to prepare everything a day in advance and take a lot of pressure off myself. Then I wait for the guests (in Covid-19 times, the imaginary ones) and prepare myself a refreshing drink. I just think of my Watermelon Mocktail .
As a side dish I recommend Spelt roll , Potato salad , Pasta salad with cashew tomato pesto or cucumber .
The eggplant fillets for the grill:
smoky
juicy
hearty
filling
Easy to make
Are you ready for these delicious fillets? I wish you a lot of fun in recooking and of course a review at the bottom of this page. If you post a picture, use the hashtag #veganevibes.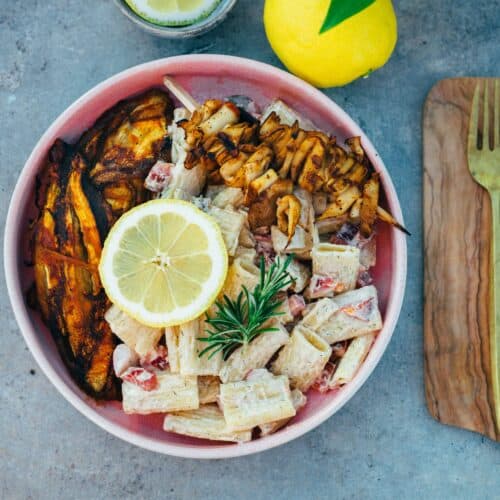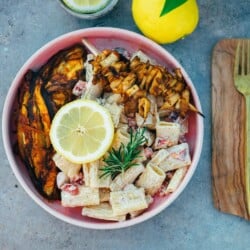 Eggplant fillets for the grill
Juicy, aromatic eggplant fillets for the grill. Deliciously marinated, they are the perfect vegan alternative for the grill.
AUTOR: VEGANEVIBES
2

Piece

medium eggplants

125

ml

Barbecue sauce

½ cup, more to taste, or other sauce for marinating of your choice
TOPPING:
Olive oil

extra virgine

Fresh basil

Lemon slices

Salt and pepper
Anleitung 
Preheat oven to 200 degrees. Provide casserole dish.

Cut eggplant in half lengthwise and place cut side down in baking dish. Put in the oven and roast for 30 minutes.

After cooking time, remove from oven and let cool briefly.

Hold the top of the eggplant with one hand and scoop out fillets with a sharp-edged spoon and a little pressure (see video).

Place fillets in a bowl and brush with marinade of choice (I use my homemade BBQ sauce). Leave to infuse in the refrigerator for at least 4 hours or preferably overnight.

Just before grilling, remove from refrigerator and grill for 3-4 minutes on each side. Enjoy with additional sauce and side dishes of your choice.

Olive oil,

Fresh basil,

Lemon slices,

Salt and pepper

Best fresh.
Nährwertangaben
Serving:
1
Portion
Calories:
94
kcal
Carbohydrates:
22
g
Protein:
2
g
Fat:
1
g
Saturated Fat:
1
g
Sodium:
324
mg
Potassium:
439
mg
Fiber:
5
g
Sugar:
16
g
Vitamin A:
107
IU
Vitamin C:
4
mg
Calcium:
25
mg
Iron:
1
mg