It's still Summer and I am accordingly in love with delicious barbecue side dishes aka. Pasta salads . I'm particularly fond of a version with dried tomatoes and delicious cashews. Every now and then over the past few weeks we've been having a Beyond Meat Burger grilled and this one was Lettuce just perfect to go with it. Am I actually still allowed to say that publicly that I ate a Beyond Meat Burger? Now that it is demonized in the press as "unhealthy"? Sure, this burger pattie isn't the solution to long-term health, but it's not meant for every day. As a burger pattie substitute, it's still the undisputed #1 for me. When I want it healthy, I just make one of my Burger Recipes .
VEGAN PASTA SALAD – SUMMER CAN STAY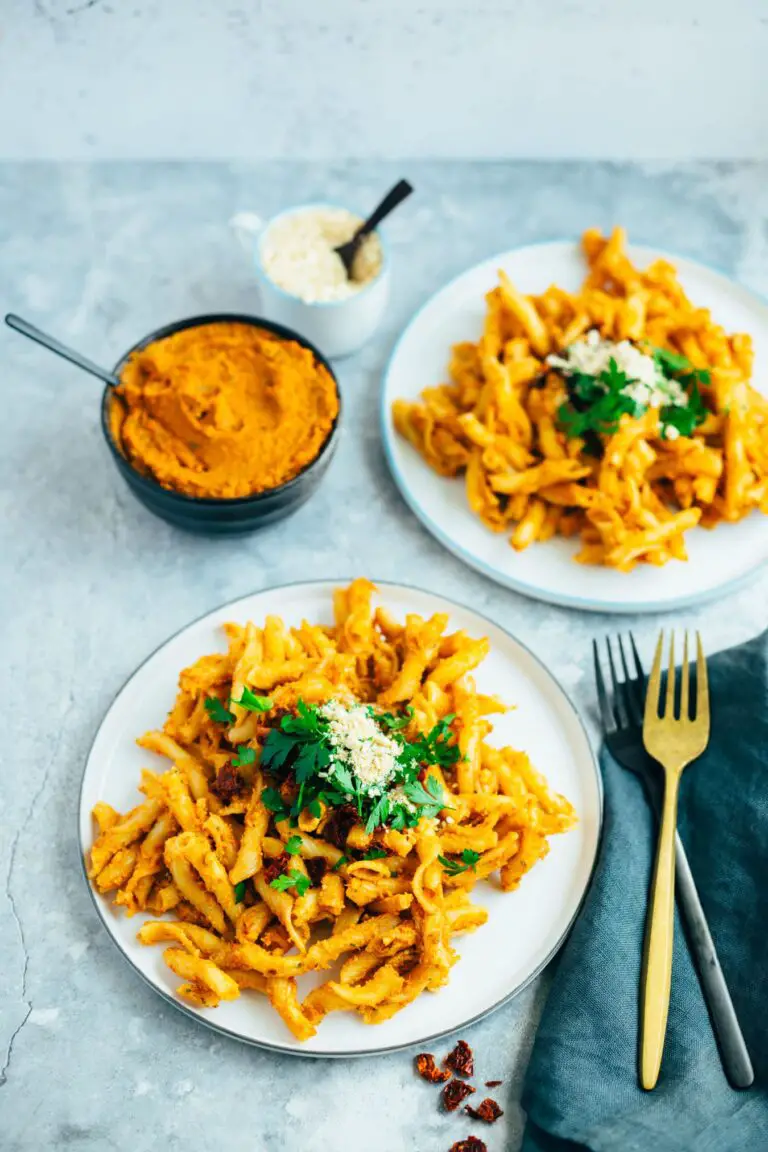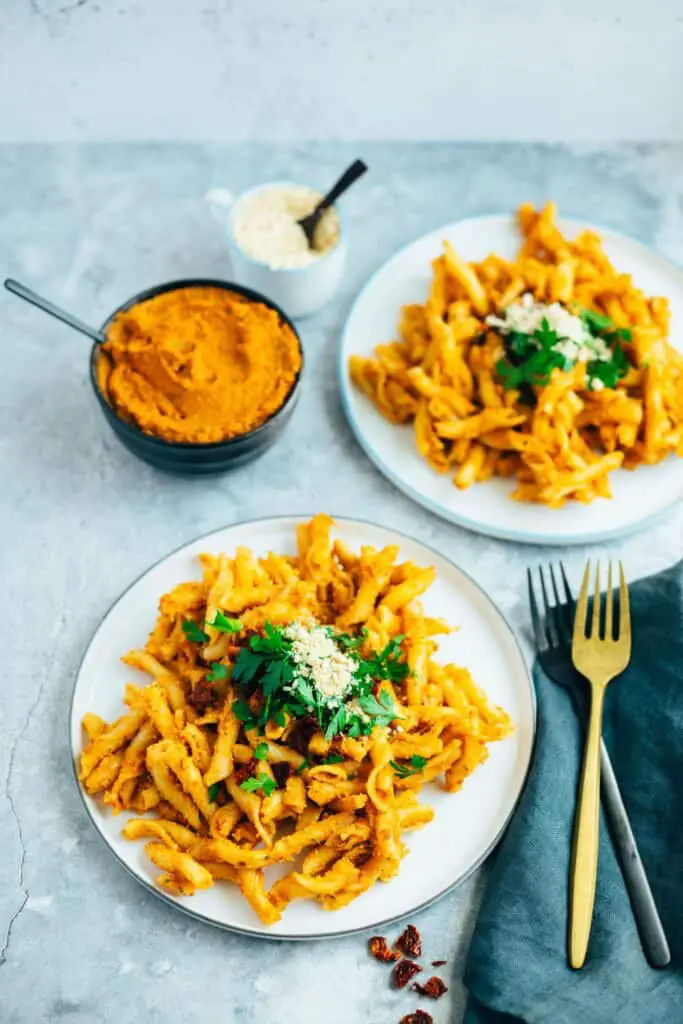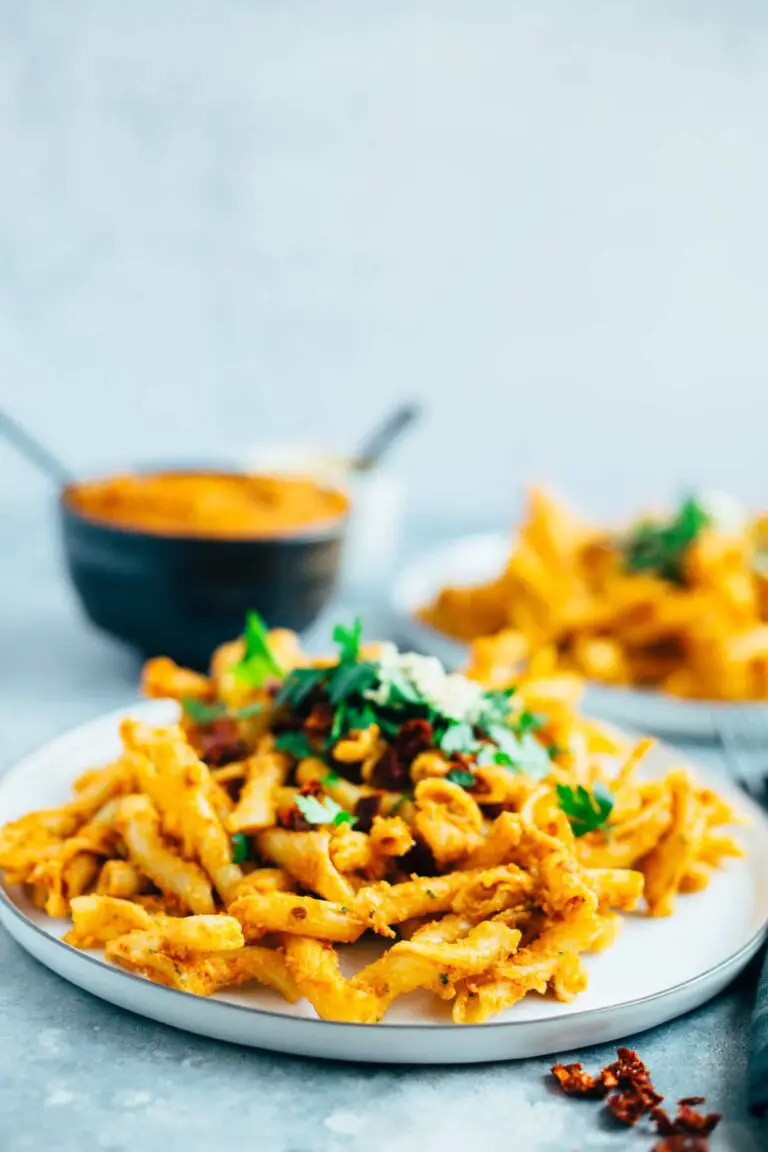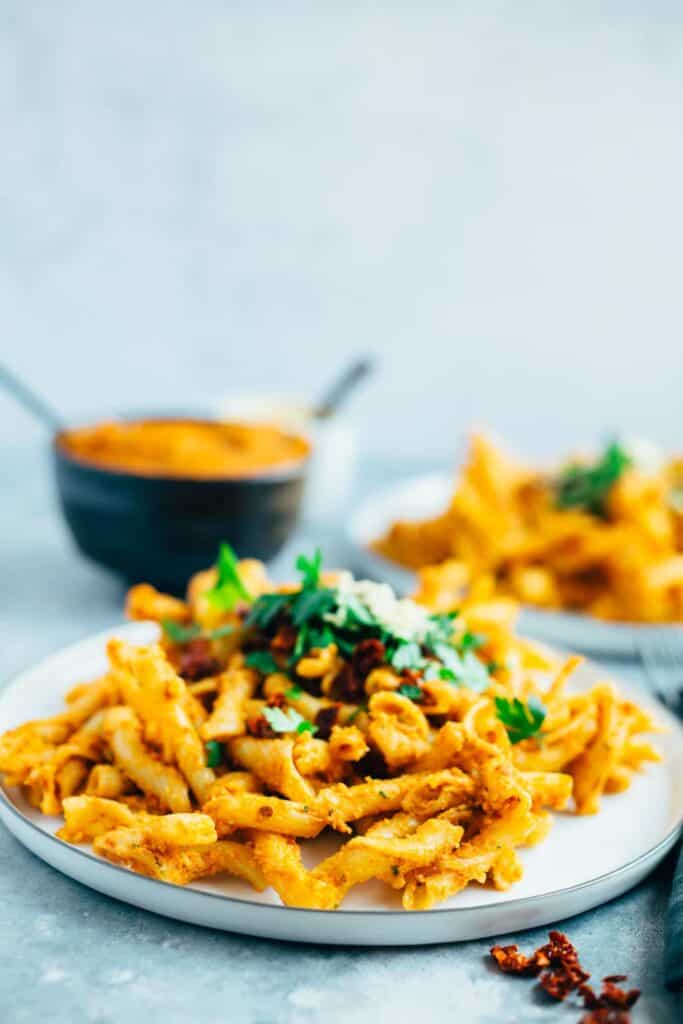 Keep it simple! That is definitely our motto today. The Pesto consists of sun-dried tomatoes, cashews, basil, olive oil, basil, lemon juice, maple syrup, nutritional yeast, pepper and salt. Definitely not magic and really easy to do. The tomatoes and Cashews are soaked in hot water for an hour, so the pesto is easier to process. Then everything comes together in the blender and now pay attention. Which blender is best for making pesto? I use here my MagiMix (advertising since brand name, but self-paid), because it mixes the mass evenly, but not too fine.
Alternatively I recommend the Blendtec blender with Twister Jar, which, with its special lid, can be used even without a Water finely mixes. The problem with the classic high-performance blender is that it is easily "spins" with little liquid and you have to constantly help it along. Who wants already a hundred times the lid runternehmen and with the silicone scraper everything press down?
Here are my tips for a great result:
Blendtec with Use TwisterJar, MagiMix or a similar blender
Soaking water of the tomatoes and add a little at a time while blending.
Cashews before soak well
With a start low rotation speed of the blender
Depending on Preference leave pesto coarser, or mix very fine
ARE DRIED TOMATOES HEALTHY?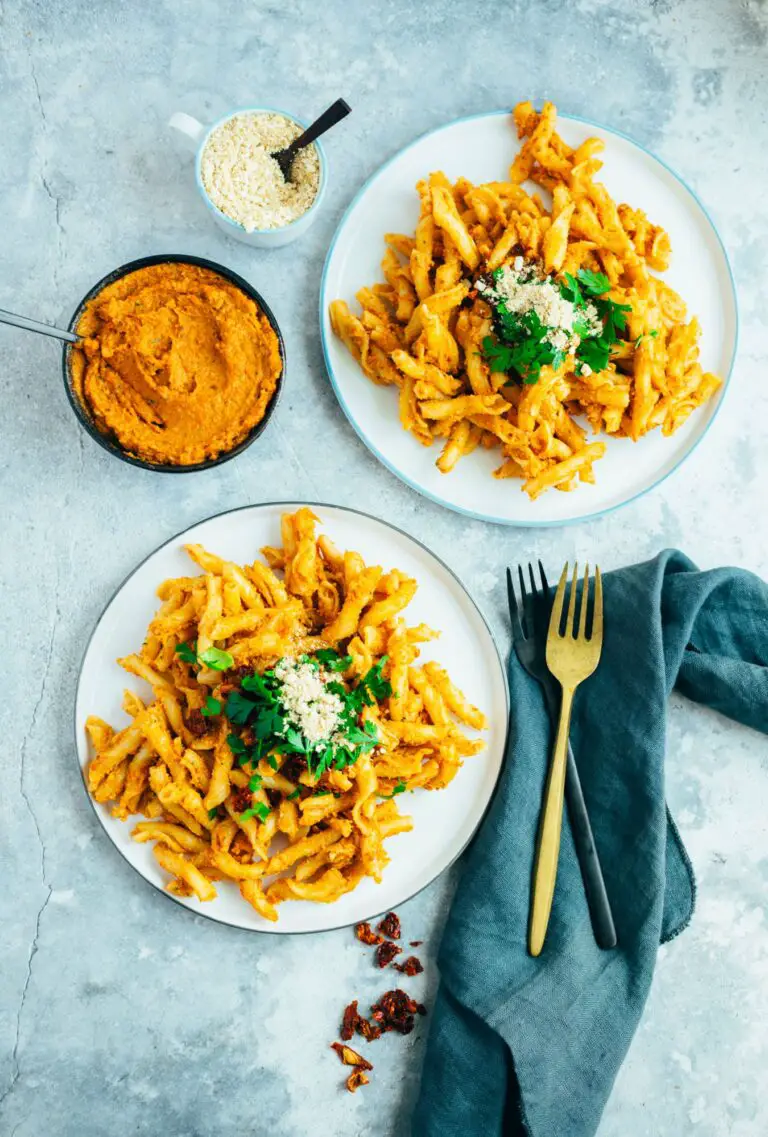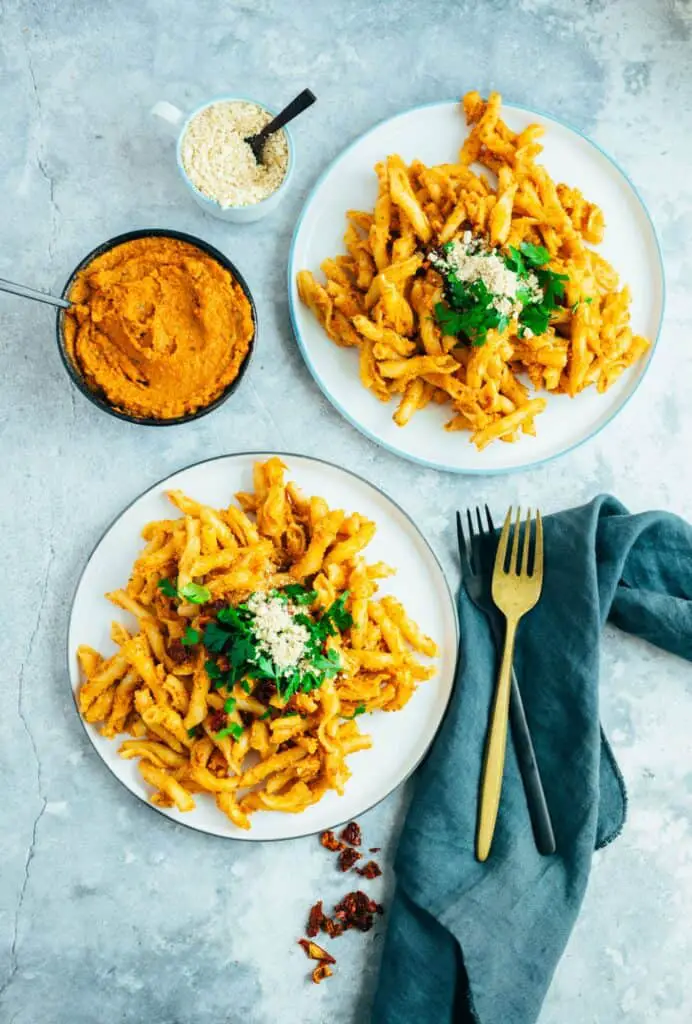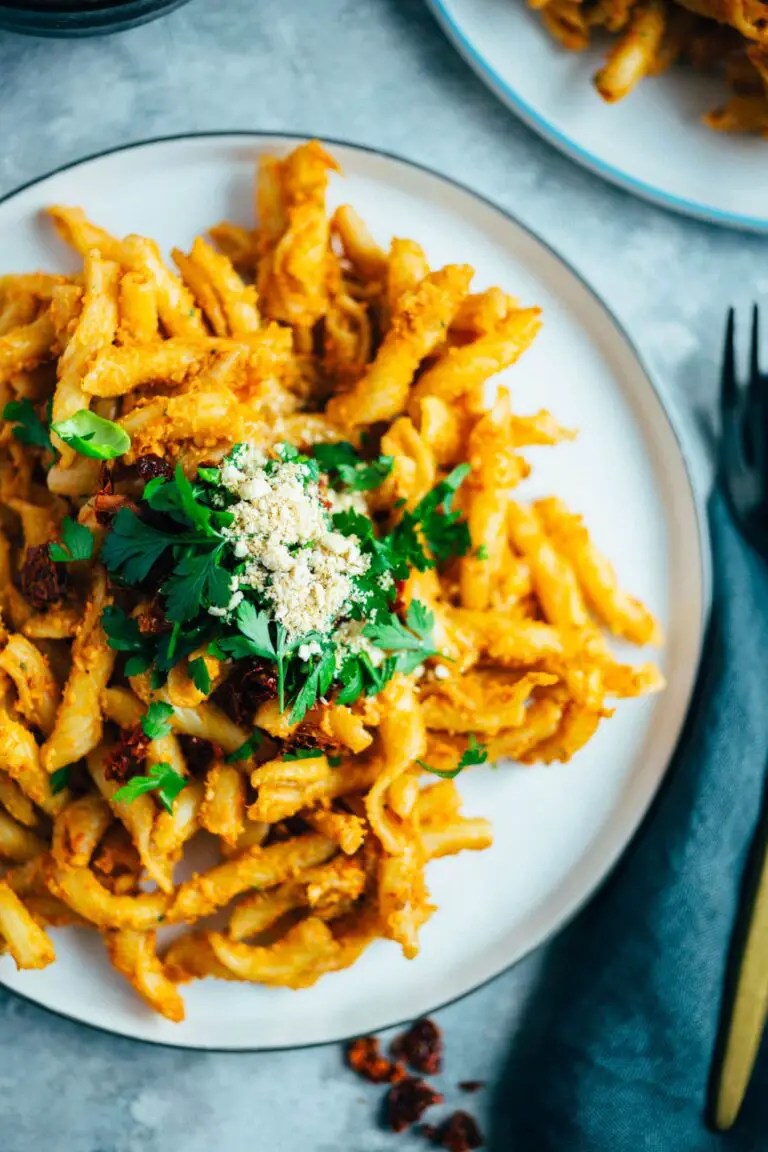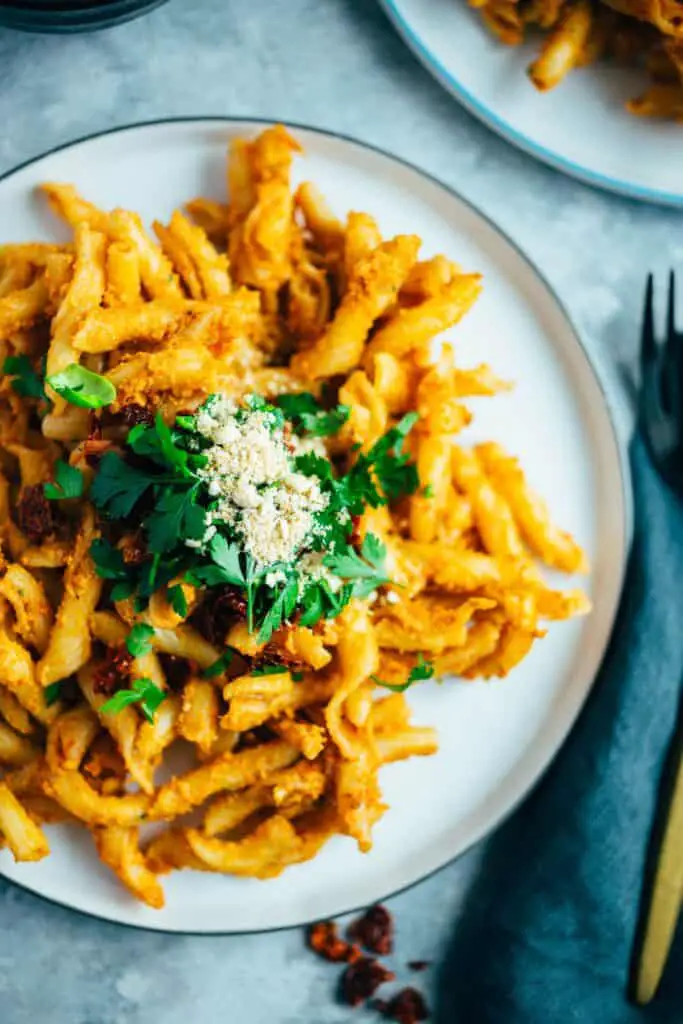 Admittedly, dried tomatoes have not played a special role in my life until this recipe. Recipe played no particular role in my life. Until this Recipe ! The only question is whether the fruit vegetables are also healthy in the dried state? Fresh tomatoes are definitely one of the healthy foods, no question, because they consist of over 90% water. If we take a look at the calories, the fresh version is definitely preferable, with only 19kcal/100g as opposed to 70kcal/100g (dried). TIP: I always buy dried tomatoes raw, so not pickled in olive oil. Since oil itself is very calorie-intensive, I prefer to dose it myself.
What else is in dried tomatoes:
Lycopene, a secondary plant substance that has an antioxidant effect and has a positive effect on the Cardiovascular system can affect
Minerals like potassium and magnesium
Trace elements such as iron, zinc, iodine and manganese
Vitamin B1, B6, C and E
Biotin and Pantothenic acid
I'd say go for the dried tomato! To go with today's Salad vegan, grilled treats like the gelingsicher burger patties . Other side dishes for grilling, such as my Potato salad , Favorite salad or a Caprese round off the whole wonderfully.
Pasta salad with cashew tomato pesto:
creamy
Fruity-sweet
Summery
filling
Quickly made
With this delicious Salad you convince every veggie critic. I wish you a lot of fun in recooking and of course a review at the bottom of this page. If you post a picture, use the hashtag #veganevibes.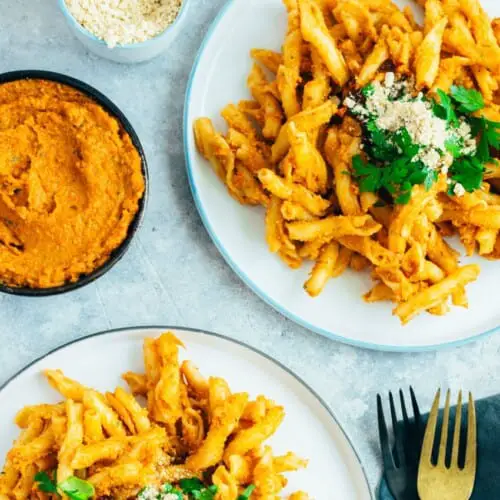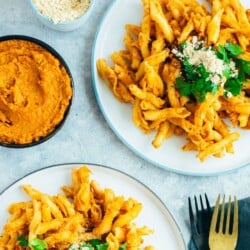 Pasta salad with cashew tomato pesto
Delicious creamy, fruity and summery pasta salad with a pesto of cashews and sun-dried tomatoes. The perfect side dish for vegan grilled specialties, or simply on its own as a light lunch or dinner.
AUTOR: VEGANEVIBES
FOR THE PESTO:
110

g

Dried tomatoes without oil

soaked, collect soaking water

180

g

Cashews

soaked in hot water for at least 1 hour

2

Garlic cloves

pressed or finely chopped, alternatively 1 tsp garlic granules

30

ml

Olive oil

if oil-free omit and replace with soaking water

7,5

ml

maple syrup

15

ml

Lemon juice

Salt and pepper to taste
Anleitung 
Soak cashews in either cold water for at least 6 hours or hot water for

one hour

. Strain, rinse with cold water and set aside.

Soak dried tomatoes in hot water for

one hour

, strain and save soaking water.

110 g Dried tomatoes without oil

Meanwhile, cook pasta according to package directions, rinse with cold water and set aside.

Place soaked tomatoes, cashews, garlic, olive oil, maple syrup, lemon juice, nutritional yeast flakes, salt and pepper in a blender and blend to a fine pesto. Initially work with low revolutions and slowly turn up.

110 g Dried tomatoes without oil,

180 g Cashews,

2 Garlic cloves,

30 ml Olive oil,

7,5 ml maple syrup,

15 ml Lemon juice,

15 g Nutritional yeast flakes,

Salt and pepper to taste

Add sips of sage tomato soaking water to make the paste easier to work with until the desired consistency is reached.

Add to the pasta and stir vigorously once until everything is evenly combined.

Portion onto plates, garnish with fresh basil and enjoy.
Nährwertangaben
Serving:
1
Portion
Calories:
434
kcal
Carbohydrates:
63
g
Protein:
15
g
Fat:
15
g
Saturated Fat:
3
g
Sodium:
42
mg
Potassium:
777
mg
Fiber:
5
g
Sugar:
9
g
Vitamin A:
120
IU
Vitamin C:
6
mg
Calcium:
37
mg
Iron:
4
mg