Can you actually eat a Cake eat one? Let me think for a moment. Of course you can, especially if it's fresh out of the fridge. I'm imagining it like this right now: It's hot outside, hot as hell. I'm sitting on my patio under the umbrella and have dipped my feet in a cool bath. In a moment the waiter (my husband) comes and serves me an Iced Chai Latte with an extra scoop vegan vanilla ice cream and a piece of my homemade Cake . What else could you ask for when it's 40 degrees? I am definitely in heaven.
Vegan chocolate banana heaven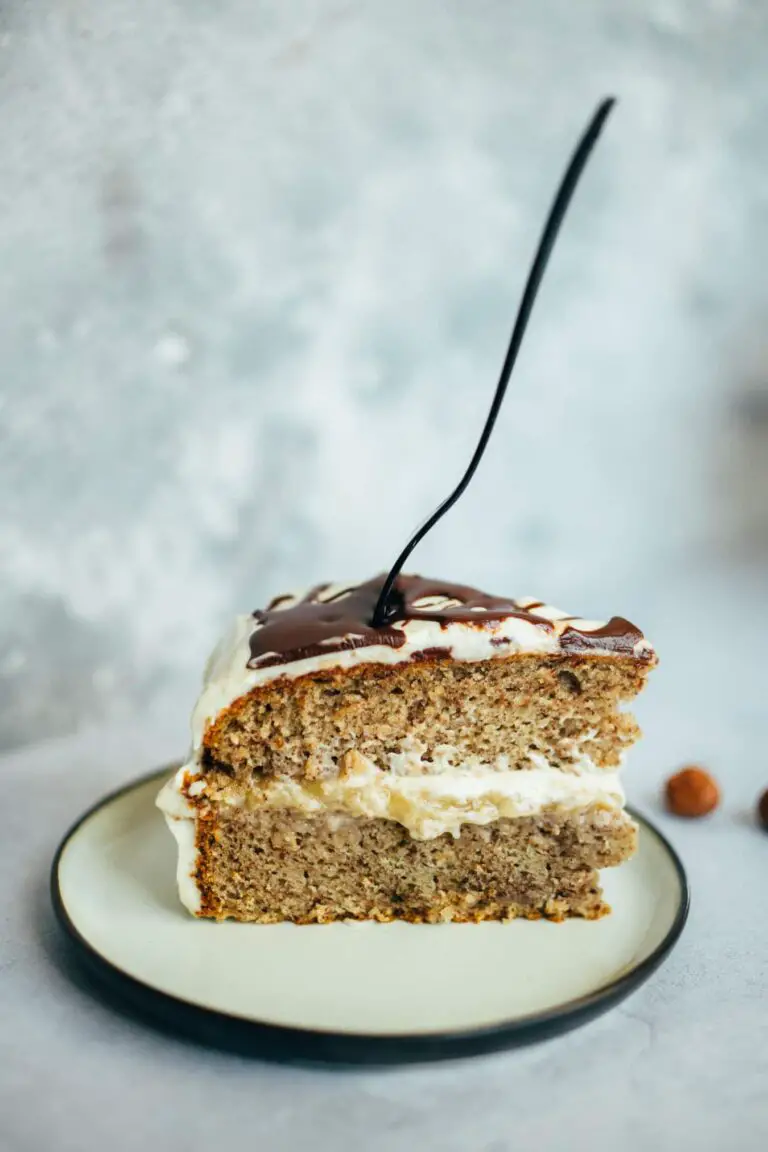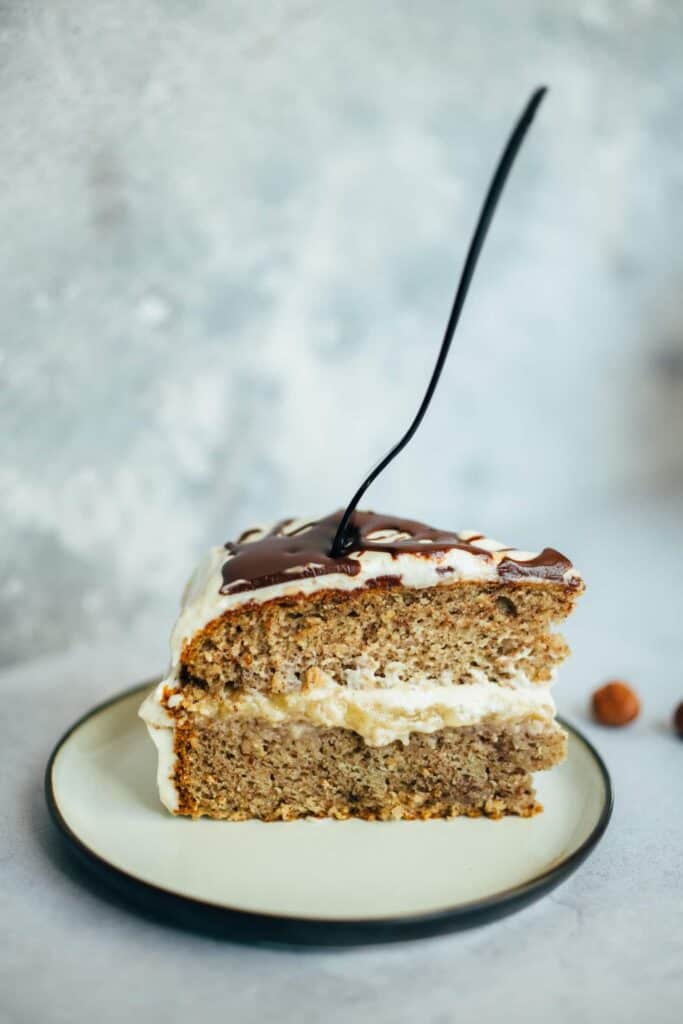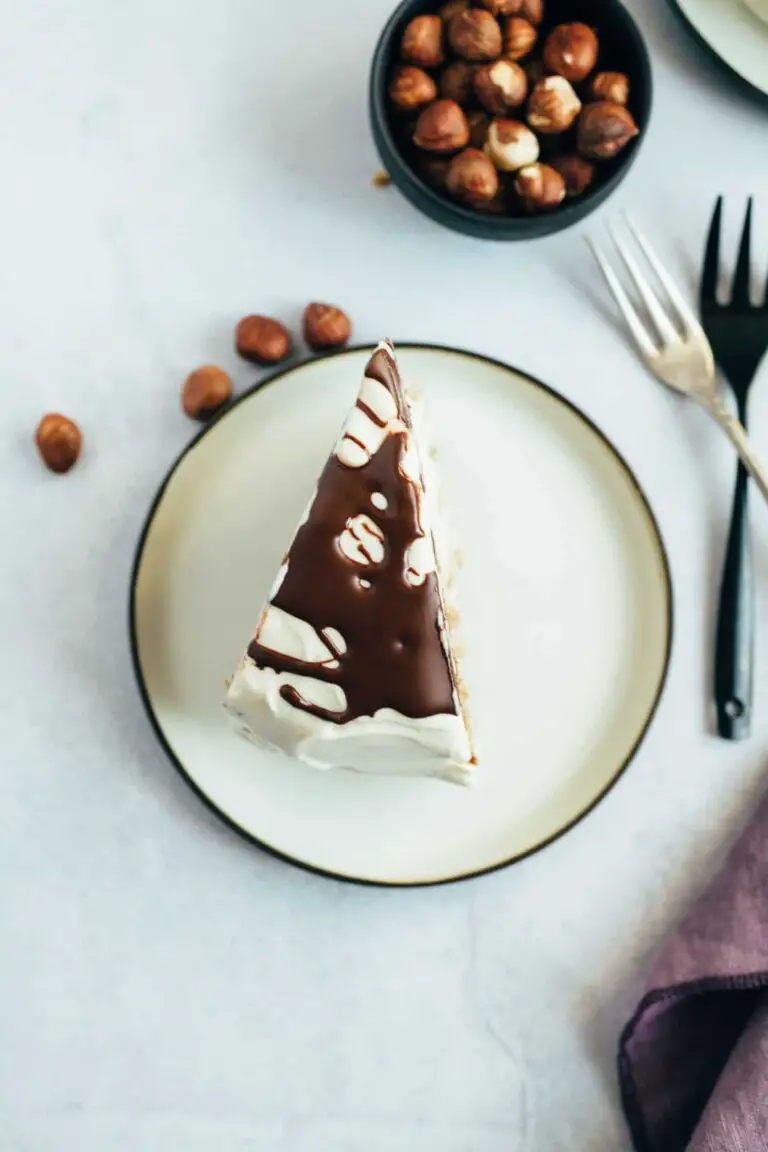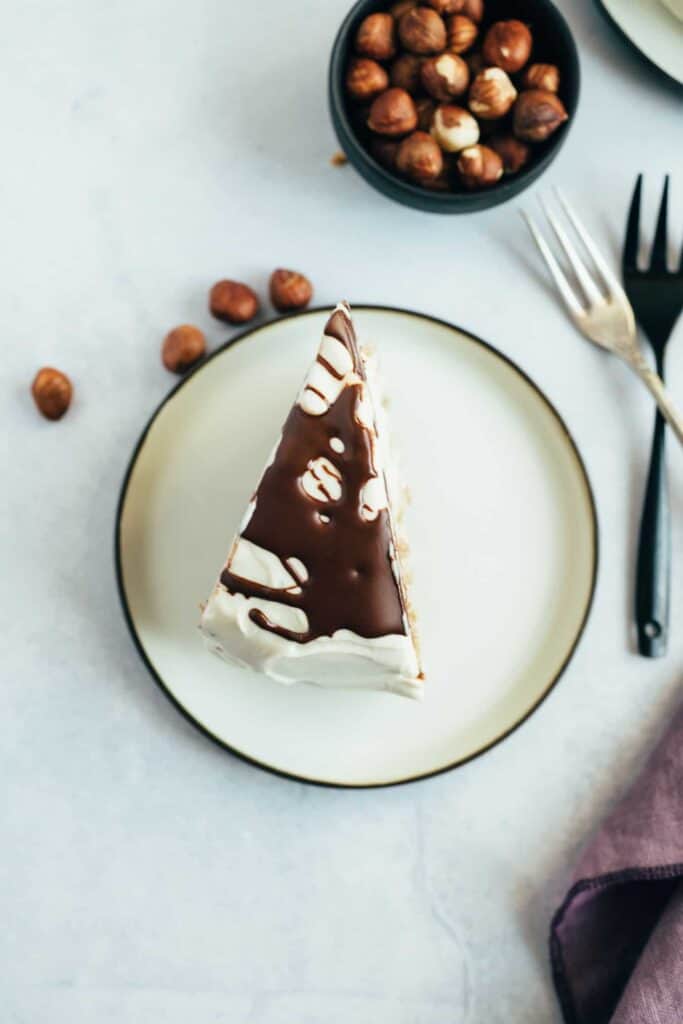 Personally, I think chocolate-banana is an unbeatable combination. If then still Hazelnut comes into play, I have no more wishes open. Chocolate banana nut, I'd order that the same way at the ice cream parlor. The base is a simple nut cake that I took from a previous recipe have taken over. If you want to save some oil, feel free to replace some with yogurt. The dough is then baked in a 20cm springform pan, cooled and cut once in the middle so you can fill it nicely.
The second step is to make the cashew frosting. For this, the Cashews first soaked. Here are my current top tips for soaking:
SUPER-QUICK-SOAK METHOD: If you really don't have time at all, put the cashews in a pot, fill it up with water and bring the whole thing to a boil. Shortly after the boiling point, turn off, drain and use.
QUICK SOAK METHOD: In this method, you soak the cashews in hot water (uncovered) and let them steep for 60 minutes. Then strain and mix.
LONG-SOAK METHOD: Place cashews in a bowl and pour cold water over them. Let steep covered for at least 6 hours or preferably overnight. Strain, wash off briefly, use.
Otherwise, you can put the nuts directly into the blender if you have a high-powered blender. My Blendtec (not sponsored) manages this without any problems. The only drawback is the phytic acid, which you can reduce when soaking. The acid is a so-called anti-nutrient, which generally makes nuts more difficult to digest. CONCLUSION: If time permits, soak them, otherwise it is no problem if they end up directly in the blender.
Vegan cakes for the WIN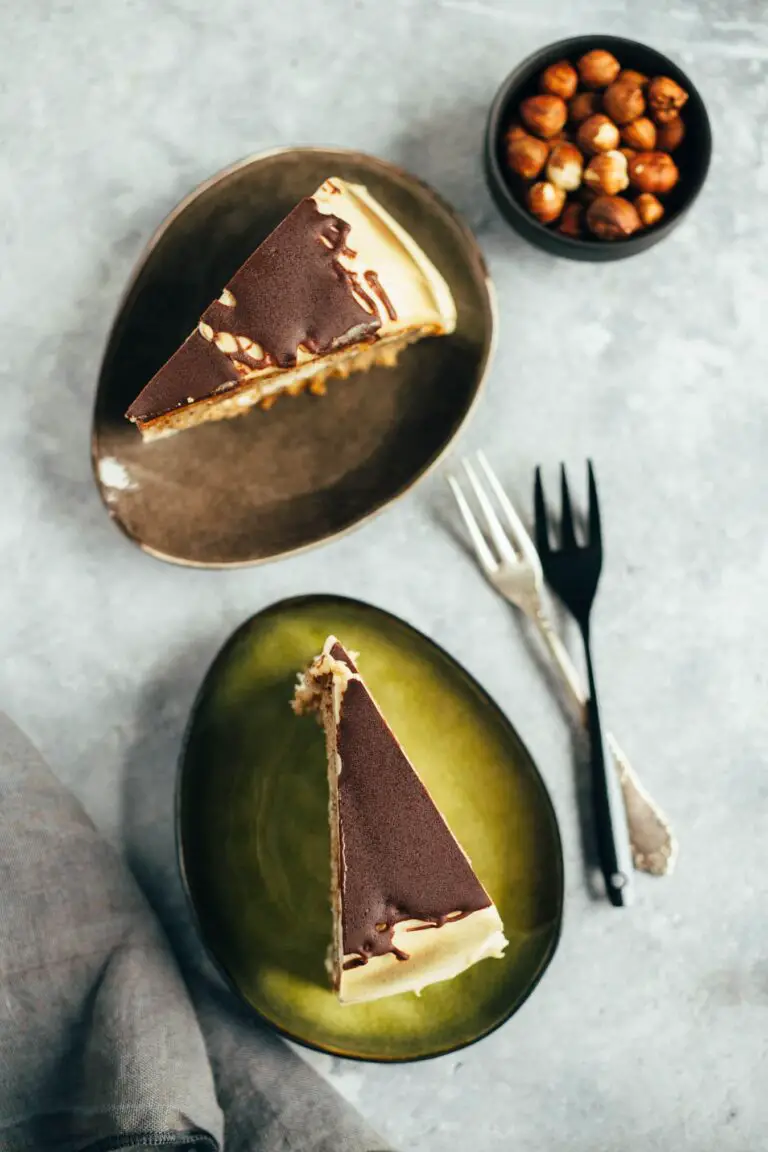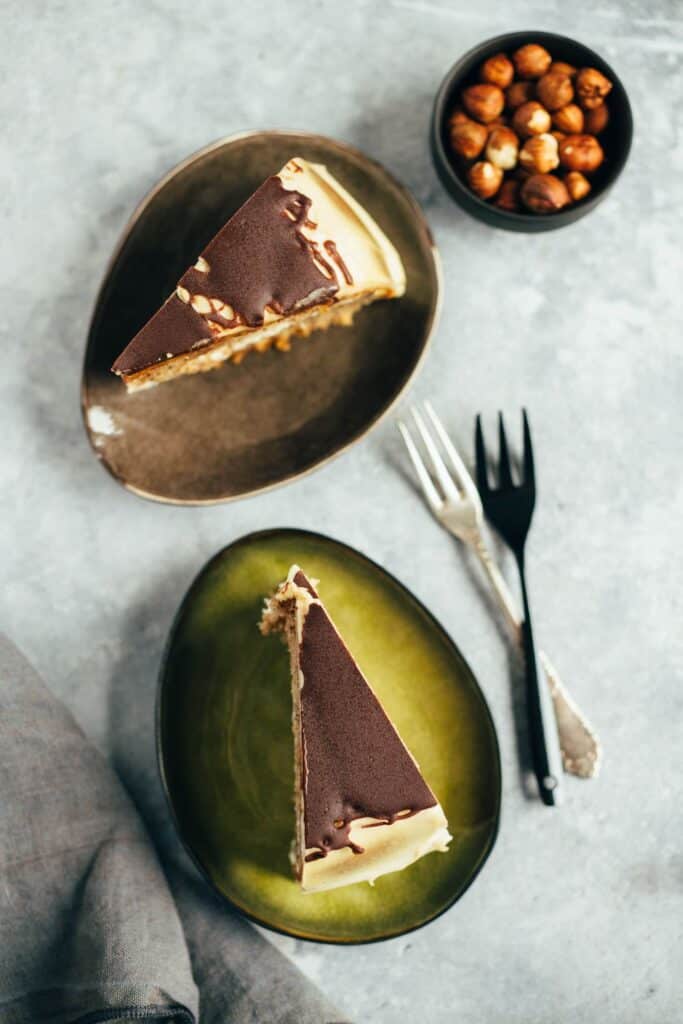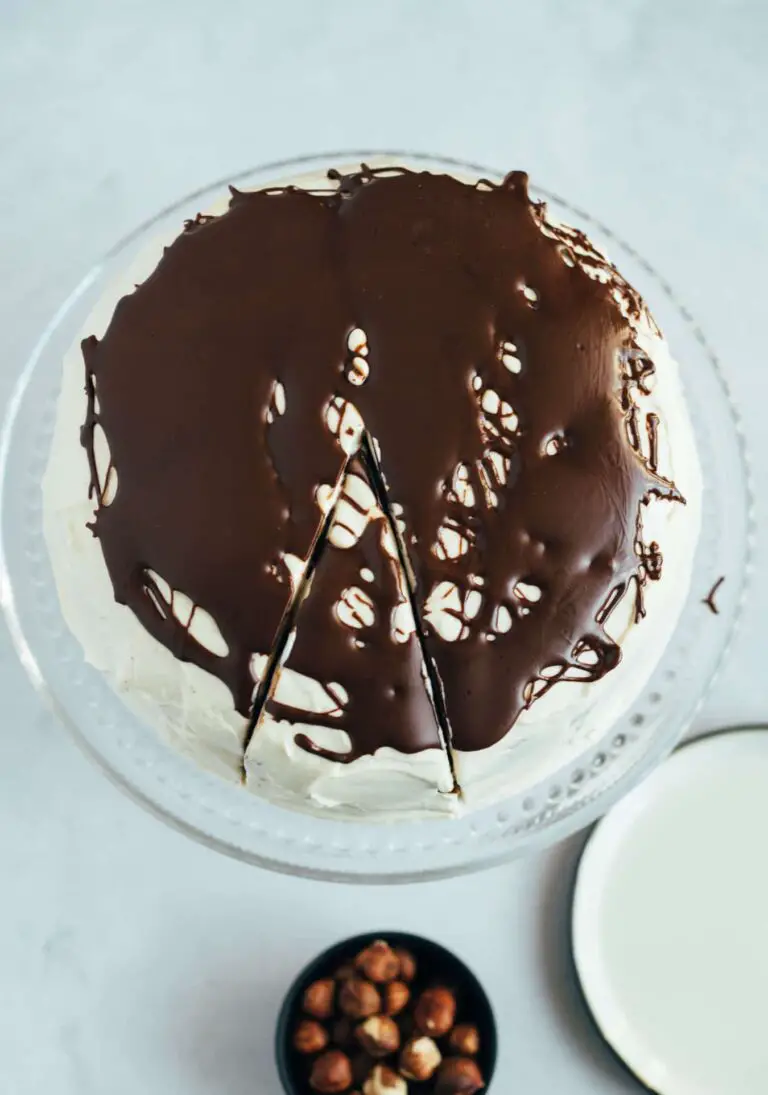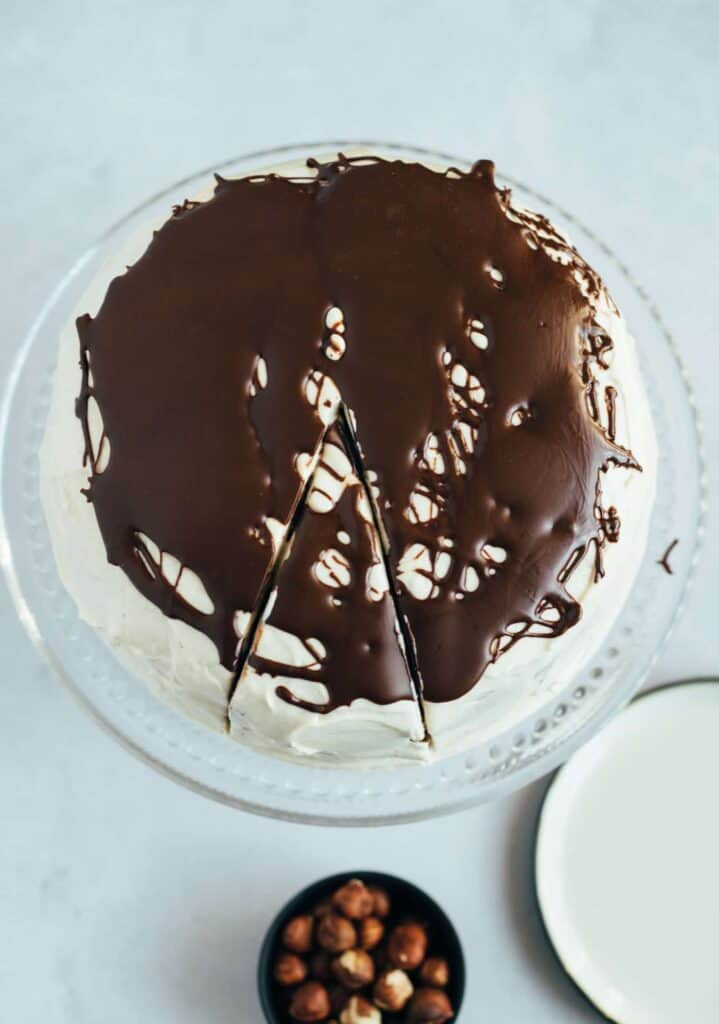 The crowning Cake will be a so-called chocolate mesh, that is, a chocolate net. For this, I melt a small amount of chocolate over a water bath and once again use the springform pan from our nut cake. I pour the chocolate in wildly to make a great net. Now put the whole thing in the freezer for 5-10 minutes and the decoration is ready.
To go with it, an iced tea, coffee or an Scoop of ice cream on top. What could be better than a well-kept, vegan coffee party?
Chocolate banana cake with cashew frosting:
nutty
creamy
filling
Easy to manufacture
Natural sweet
If you are also such a big fan of vegan cakes as I am, then I would be happy to receive a review at the very bottom of this page. If you post a picture, use the hashtag #veganevibes.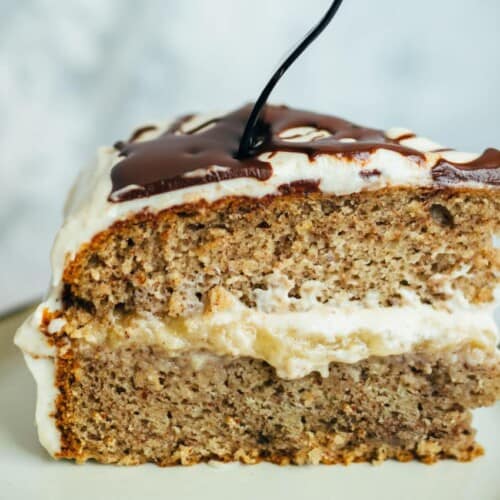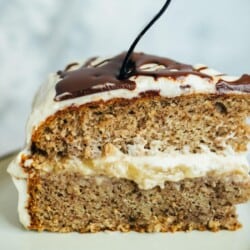 Chocolate banana cake with cashew frosting
Simple vegan chocolate banana nut cake that is quick and easy to make. Filled with naturally sweet bananas and cahew cream. Topped with a very easy to make chocolate lattice. Perfect for any vegan cake buffet or coffee party.
AUTOR: VEGANEVIBES
Anleitung 
Preheat the oven to 180 degrees and brush a springform pan (20c) with a little oil and then dust with flour. Alternatively, oil sides only and line bottom with baking paper.

FOR THE NUT BASE Add almond milk, cooking oil, baking oil, (optional coconut yogurt), baking soda and apple cider vinegar to a baking bowl and whisk briefly to combine. The baking soda and apple cider vinegar should briefly begin to foam.

250 ml Almond milk,

150 g Frying and baking oil,

½ tbspn Baking soda,

7,5 ml Apple cider vinegar

Add flour (sift it in if you like), ground hazelnuts, flaxseed, raw cane sugar, baking powder, vanilla and salt and continue to stir until you have a uniform dough. If the dough is too dry, add a little more vegetable milk. If too liquid a little more flour. The dough should be easy to pour into the springform pan.

200 g Flour,

100 g ground hazelnuts,

2 tbspn Flaxseed meal or soy flour,

150 g Raw cane sugar,

½ tbspn Baking powder,

½ tbspn Bourbon vanilla,

1 Pinch sea salt

Alternatively, work with the dough program of a food processor or high-powered blender. Do not stir too long, otherwise the driving force of the natron will be lost.

Pour the dough into the springform pan, smooth it out and put it in the oven.

Bake for 50-60 minutes

and test with a wooden stick if the bottom is baked through. Insert wooden stick in the center and if it comes out clean, then the cake is done. Gladly (optionally) turn off oven and leave cake in it for another

30 minutes

. Remove and be sure to let cool completely.

In the meantime for the CASHEW FROSTING Place all ingredients in a high-powered blender and blend until smooth and creamy. If it doesn't mix well, add a little more liquid (sip wisely!!!). Put briefly in the refrigerator.

160 g Coconut yogurt,

60 ml maple syrup,

15 ml Lemon juice,

¼ tbspn Lemon peel,

¼ tbspn Bourbon vanilla,

½ tbspn Xanthan Gum,

A pinch of sea salt,

150 g Cashews

Cooled TORCH BOTTOM from the mold and cut once horizontally in the middle. Spread mashed banana on the base, pour cashew cream on top and place cake lid on top. Spread the cake with the remaining cashew cream.

Place banana in a small bowl and mash.

Spread mashed banana on the cake base.

Spread about 1/3 of the cashew cream over the mashed bananas.

Spread the cake with the remaining cashew cream. Put in the refrigerator.

Melt the chocolate in a water bath. Line springform pan once again with baking paper. Pour melted chocolate spoonful by spoonful into mold until a loose lattice is formed. Place in the freezer for about

5 minutes

and allow to set.

50 g dark vegan chocolate

Remove from the mold and place on the finished cake. Cut into pieces, arrange on plates and enjoy!

Store remaining cake in an airtight container in the refrigerator for up to 5 days.
Nährwertangaben
Serving:
1
Piece
Calories:
396
kcal
Carbohydrates:
39
g
Protein:
7
g
Fat:
26
g
Saturated Fat:
3
g
Cholesterol:
1
mg
Sodium:
49
mg
Potassium:
242
mg
Fiber:
3
g
Sugar:
19
g
Vitamin A:
15
IU
Vitamin C:
1.9
mg
Calcium:
68
mg
Iron:
2.5
mg