Can you actually eat a Cake eat one? Let me think for a moment. Of course you can, especially if it's fresh out of the fridge. I'm imagining it like this right now: It's hot outside, hot as hell. I'm sitting on my patio under the umbrella and have dipped my feet in a cool bath. In a moment the waiter (my husband) comes and serves me an Iced Chai Latte with an extra scoop vegan vanilla ice cream and a piece of my homemade Cake . What else could you ask for when it's 40 degrees? I am definitely in heaven.
Vegan chocolate banana heaven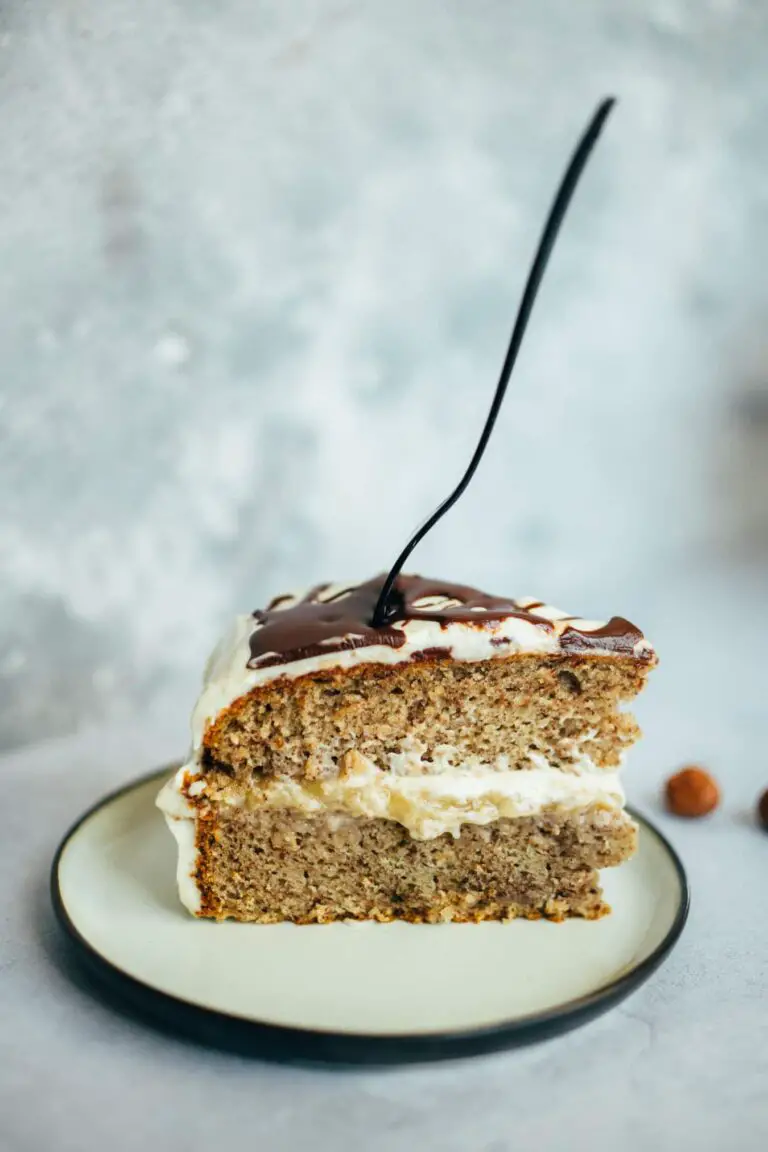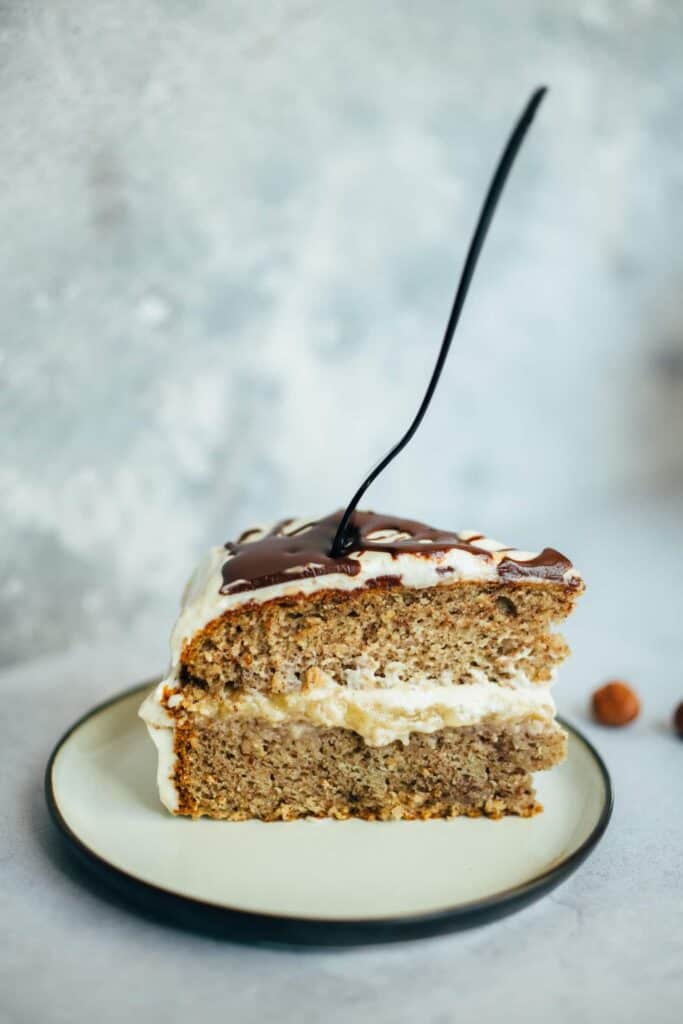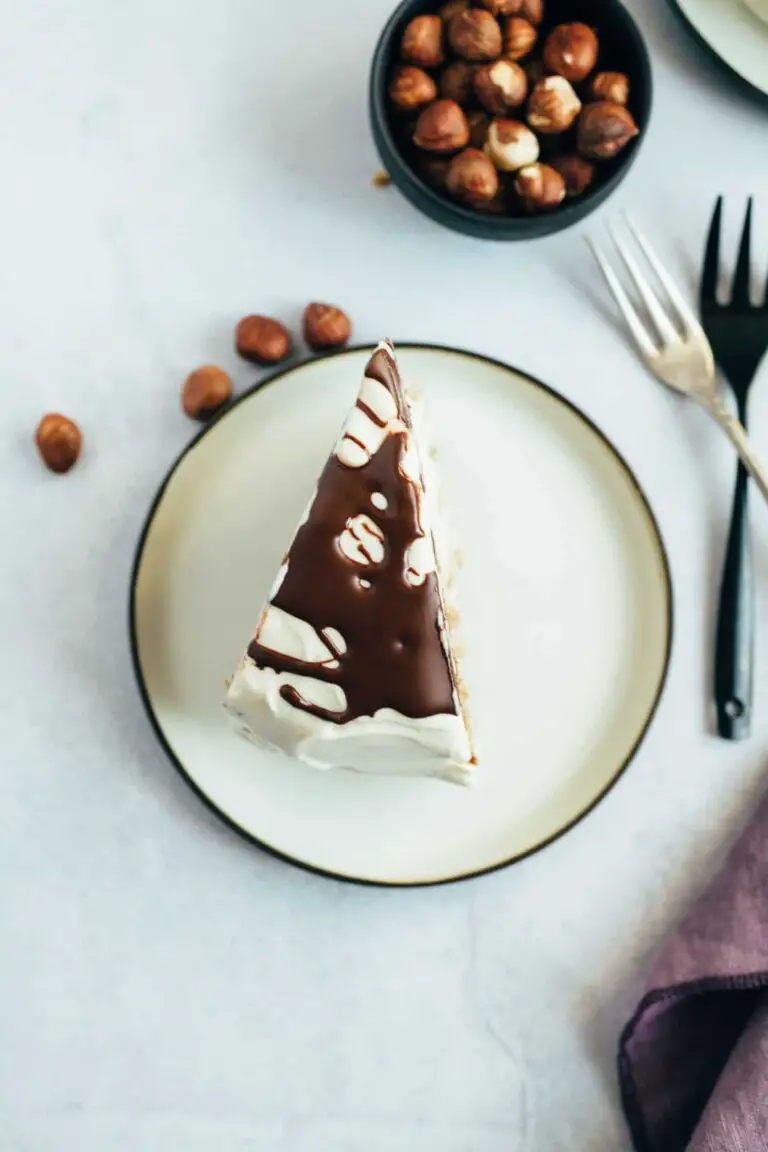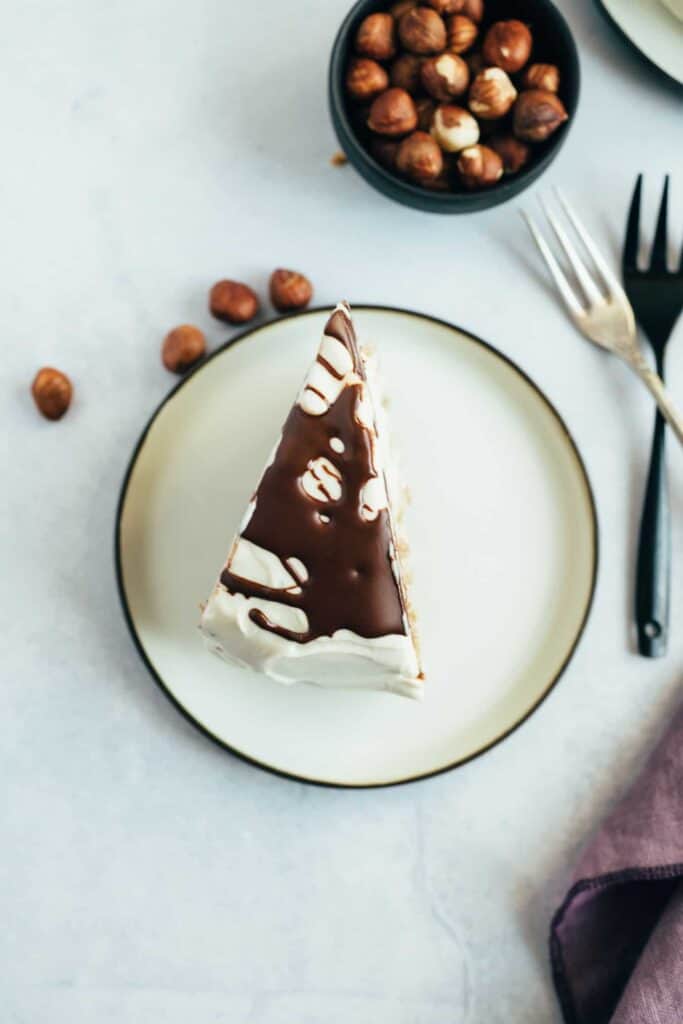 Personally, I think chocolate-banana is an unbeatable combination. If then still Hazelnut comes into play, I have no more wishes open. Chocolate banana nut, I'd order that the same way at the ice cream parlor. The base is a simple nut cake that I took from a previous recipe have taken over. If you want to save some oil, feel free to replace some with yogurt. The dough is then baked in a 20cm springform pan, cooled and cut once in the middle so you can fill it nicely.
The second step is to make the cashew frosting. For this, the Cashews first soaked. Here are my current top tips for soaking:
SUPER-QUICK-SOAK METHOD: If you really don't have time at all, put the cashews in a pot, fill it up with water and bring the whole thing to a boil. Shortly after the boiling point, turn off, drain and use.
QUICK SOAK METHOD: In this method, you soak the cashews in hot water (uncovered) and let them steep for 60 minutes. Then strain and mix.
LONG-SOAK METHOD: Place cashews in a bowl and pour cold water over them. Let steep covered for at least 6 hours or preferably overnight. Strain, wash off briefly, use.
Otherwise, you can put the nuts directly into the blender if you have a high-powered blender. My Blendtec (not sponsored) manages this without any problems. The only drawback is the phytic acid, which you can reduce when soaking. The acid is a so-called anti-nutrient, which generally makes nuts more difficult to digest. CONCLUSION: If time permits, soak them, otherwise it is no problem if they end up directly in the blender.
Vegan cakes for the WIN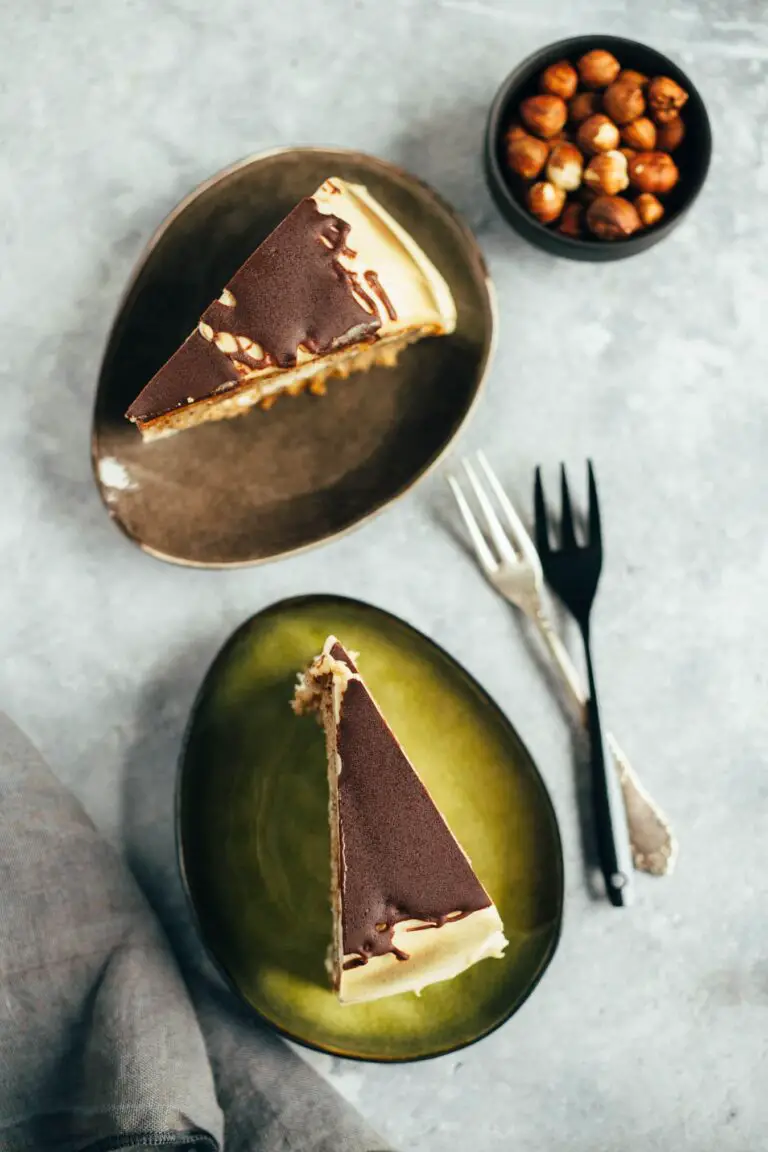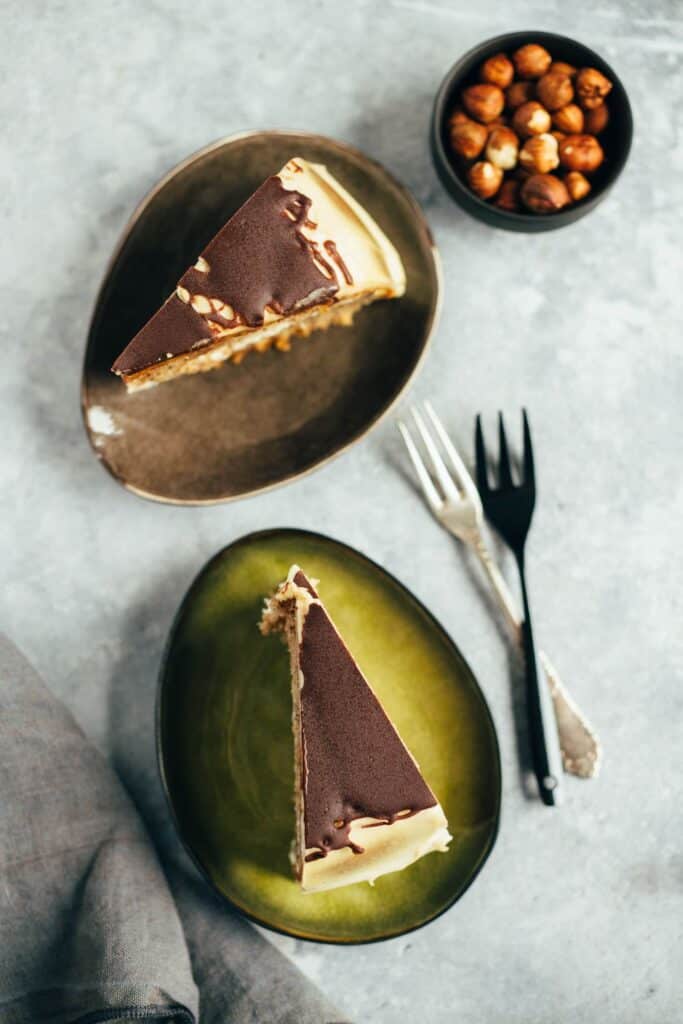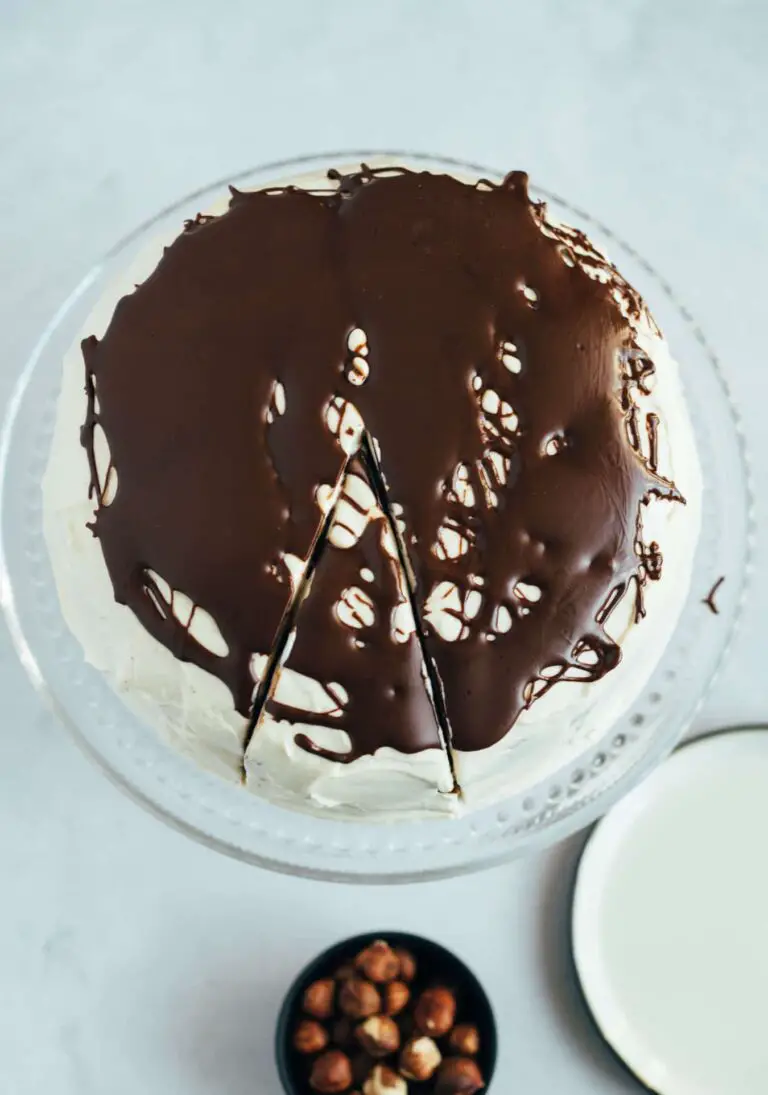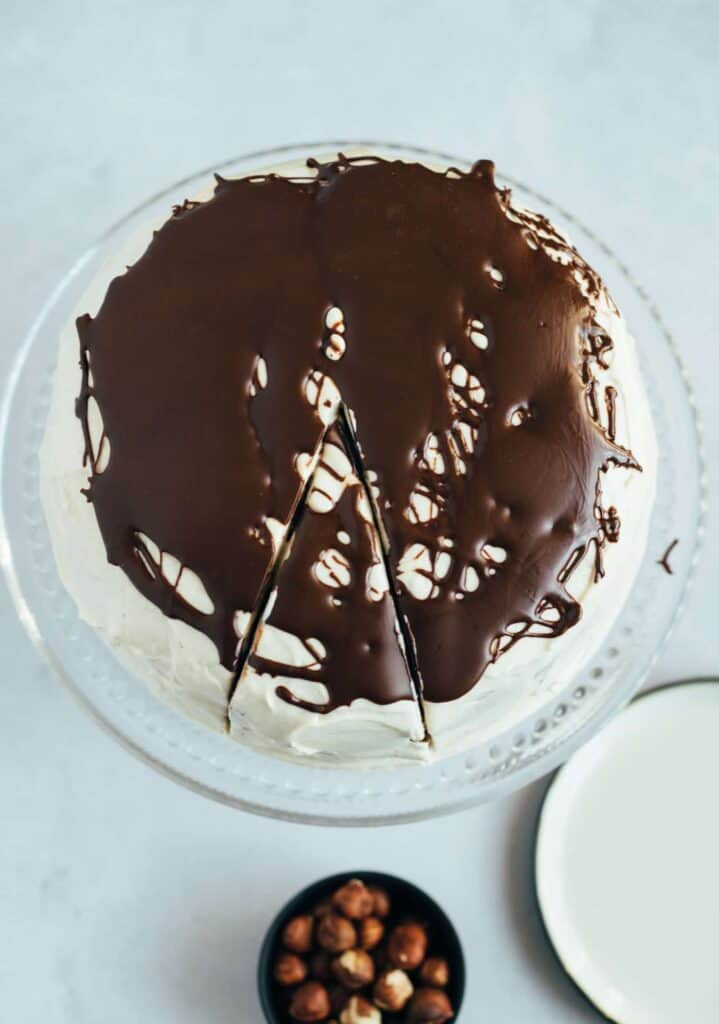 The crowning Cake will be a so-called chocolate mesh, that is, a chocolate net. For this, I melt a small amount of chocolate over a water bath and once again use the springform pan from our nut cake. I pour the chocolate in wildly to make a great net. Now put the whole thing in the freezer for 5-10 minutes and the decoration is ready.
To go with it, an iced tea, coffee or an Scoop of ice cream on top. What could be better than a well-kept, vegan coffee party?
Chocolate banana cake with cashew frosting:
nutty
creamy
filling
Easy to manufacture
Natural sweet
If you are also such a big fan of vegan cakes as I am, then I would be happy to receive a review at the very bottom of this page. If you post a picture, use the hashtag #veganevibes.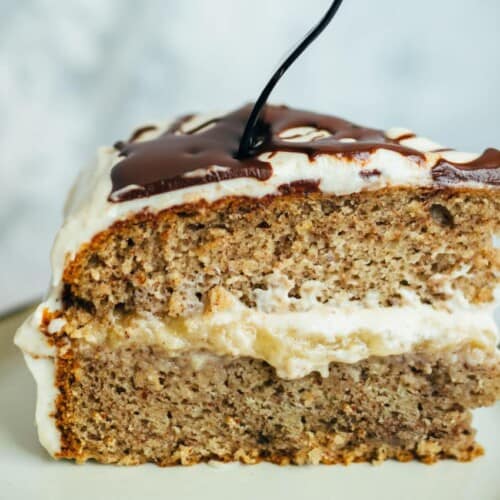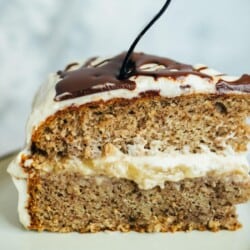 Schoko-Bananen Torte mit Cashewfrosting
Einfache vegane Schoko-Bananen-Nuss Torte, die schnell und einfach herzustellen ist. Gefüllt mit natürlich süßen Bananen und Cahewcreme. Getoppt mit einem sehr einfach herzustellenden Schokoladengitter. Perfekt für jedes vegane Kuchenbuffet oder Kaffeekränzchen.
AUTOR: VEGANEVIBES
FÜR DEN NUSSBODEN:
250

ml

Mandelmilch

oder eine andere vegane Pflanzenmilch

150

g

Brat- und Backöl

oder ein anderes hocherhitzbares Öl, alternativ 100g davon ersetzen mit veganem Kokosnussjoghurt

½

TL

Natron

7,5

ml

Apfelessig

oder Zitronensaft

200

g

Mehl

ich verwende helles Dinkelmehl oder meine glutenfreie Mehlmischung verwenden

100

g

gemahlene Haselnüsse

gerne frisch gemahlen mit Hochleistungsmixer

2

EL

Leinsamenschrot oder Sojamehl

150

g

Rohrohrzucker

½

TL

Backpulver

½

TL

Bourbon Vanille

gemahlen oder 1 TL Vanilleextrakt
Anleitung 
Backofen auf 180 Grad vorheizen und eine Springform (20cmit etwas Öl einpinseln und anschließend mit Mehl ausstäuben. Alternativ nur Seiten einölen und Boden mit Backpapier auslegen.

FÜR DEN NUSSBODEN Mandelmilch, Brat- und Backöl, (optional Kokosnussjoghurt), Natron und Apfelessig in eine Backschüssel geben und mit einem Schneebesen kurz verrühren. Das Natron und der Apfelessig sollten kurz anfangen zu schäumen.

250 ml Mandelmilch,

150 g Brat- und Backöl,

½ TL Natron,

7,5 ml Apfelessig

Mehl dazugeben (gerne hineinsieben), gemahlene Haselnüsse, Leinsamen, Rohrohrzucker, Backpulver, Vanille und Salz dazugeben und so lange weiterrühren, bis ein gleichmäßiger Teig entstanden ist. Falls der Teig zu trocken ist, ein bisschen mehr Pflanzenmilch hineingeben. Falls zu Flüssig etwas mehr Mehl. Der Teig sollte sich leicht in die Springform gießen lassen.

200 g Mehl,

100 g gemahlene Haselnüsse,

2 EL Leinsamenschrot oder Sojamehl,

150 g Rohrohrzucker,

½ TL Backpulver,

½ TL Bourbon Vanille,

1 Prise Meersalz

Alternativ mit dem Teigprogramm einer Küchenmaschine oder Hochleistungsmixer arbeiten. Nicht zu lange rühren, sonst geht die Triebkraft des Natrons verloren.

Teig in die Springform füllen, glattstreichen und in den Ofen geben.

50-60 Minuten Backen

und mit einem Holzstäbchen testen, ob der Boden durchgebacken ist. Holzstäbchen in der Mitte einstechen und wenn es sauber herauskommt, dann ist der Kuchen fertig. Gerne (optional) Ofen ausschalten und Kuchen weitere

30 Minuten

darinstehen lassen. Herausnehmen und unbedingt vollständig abkühlen lassen.

In der Zwischenzeit für das CASHEWFROSTING alle Zutaten in einen Hochleistungsmixer geben und zu einer gleichmäßigen, cremigen Masse verarbeiten. Sollte es sich nicht gut mixen lassen, ein wenig mehr Flüssigkeit dazugeben (Schlückchen weise!!!). Kurz in den Kühlschrank stellen.

160 g Kokosnussjoghurt,

60 ml Ahornsirup,

15 ml Zitronensaft,

¼ TL Zitronenschale,

¼ TL Bourbon Vanille,

½ TL Xanthan Gum,

Eine Prise Meersalz,

150 g Cashews

Abgekühlten TORTENBODEN aus der Form nehmen und einmal waagrecht in der Mitte durchschneiden. Zerdrückte Banane auf dem Boden verteilen, Cashewcreme darüber geben und Tortendeckel darauf geben. Torte mit der restlichen Cashewcreme einstreichen.

Banane in eine kleine Schale geben und zerdrücken.

Zerdrückte Banane auf dem Tortenboden verteilen.

Etwa 1/3 der Cashewcreme auf den zerdrückten Bananen verteilen.

Torte mit der restlichen Cashewcreme einstreichen. In den Kühlschrank stellen.

Schokolade im Wasserbad schmelzen. Springform noch einmal mit Backpapier auslegen. Geschmolzene Schokolade Löffel für Löffel schwungvoll in die Form eingießen, bis ein lockeres Gitter entstanden ist. Circa

5 Minuten

in den Gefrierschrank stellen und fest werden lassen.

50 g dunkle vegane Schokolade

Aus der Form nehmen und auf die fertige Torte legen. In Stücke schneiden, auf Teller anrichten und genießen!

Restliche Torte bis zu 5 Tage luftdicht verschlossen im Kühlschrank aufbewahren.
Nährwertangaben
Serving:
1
Stück
Calories:
396
kcal
Carbohydrates:
39
g
Protein:
7
g
Fat:
26
g
Saturated Fat:
3
g
Cholesterol:
1
mg
Sodium:
49
mg
Potassium:
242
mg
Fiber:
3
g
Sugar:
19
g
Vitamin A:
15
IU
Vitamin C:
1.9
mg
Calcium:
68
mg
Iron:
2.5
mg