Get ready for hip gold, why? If you try this Recipe you will have some of it on your hips. Please don't get me wrong, I definitely don't want to discourage you from making this incredibly delicious and creamy fudge. You're missing out on the easiest, tastiest, chocolatiest temptation you've had in a long time. In contrast to normal Chocolate Fudge melts a tad more on the tongue, is creamier and especially super yummy thanks to the roasted hazelnuts.
Vegan hazelnut fudge, I think there is no need to say more about it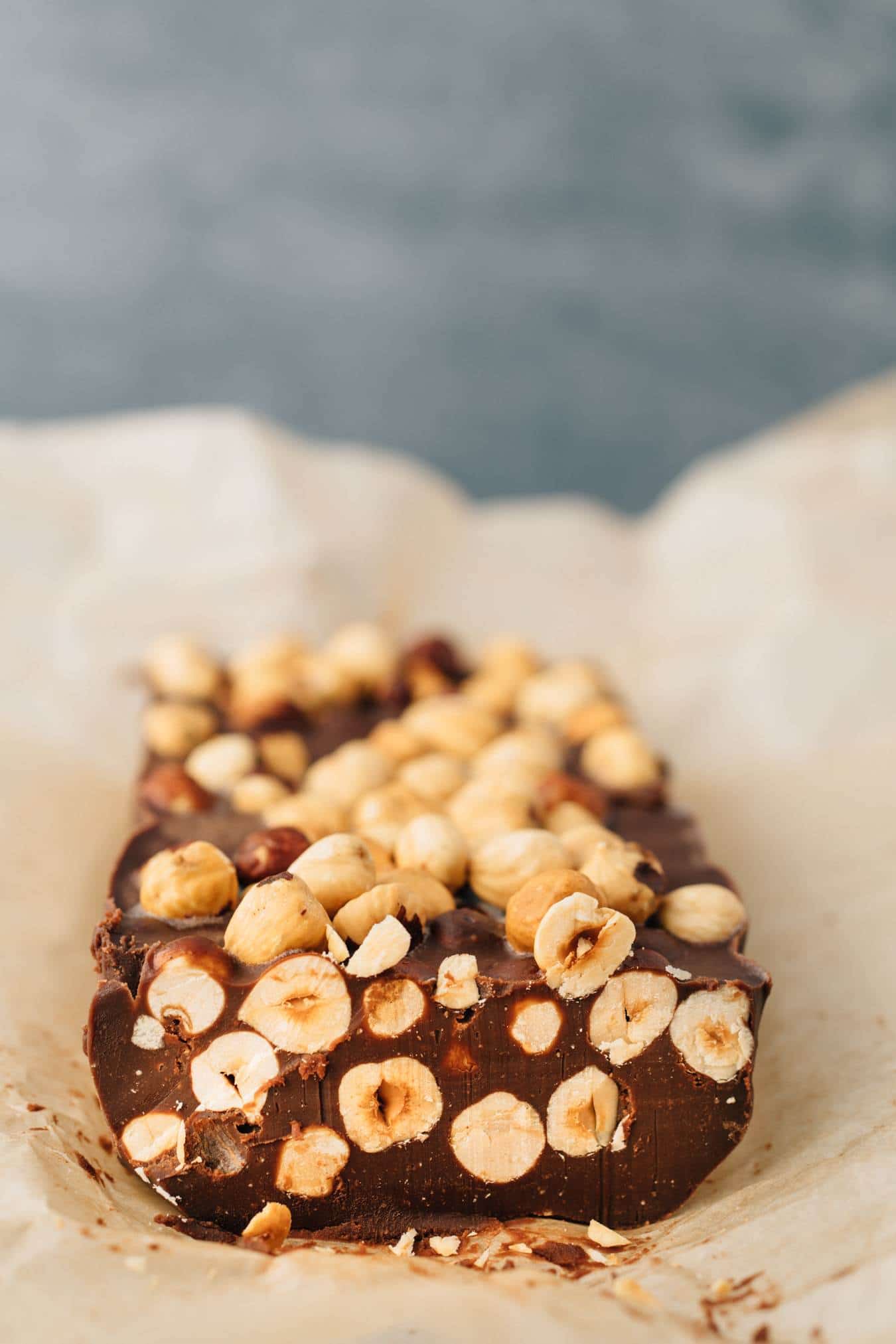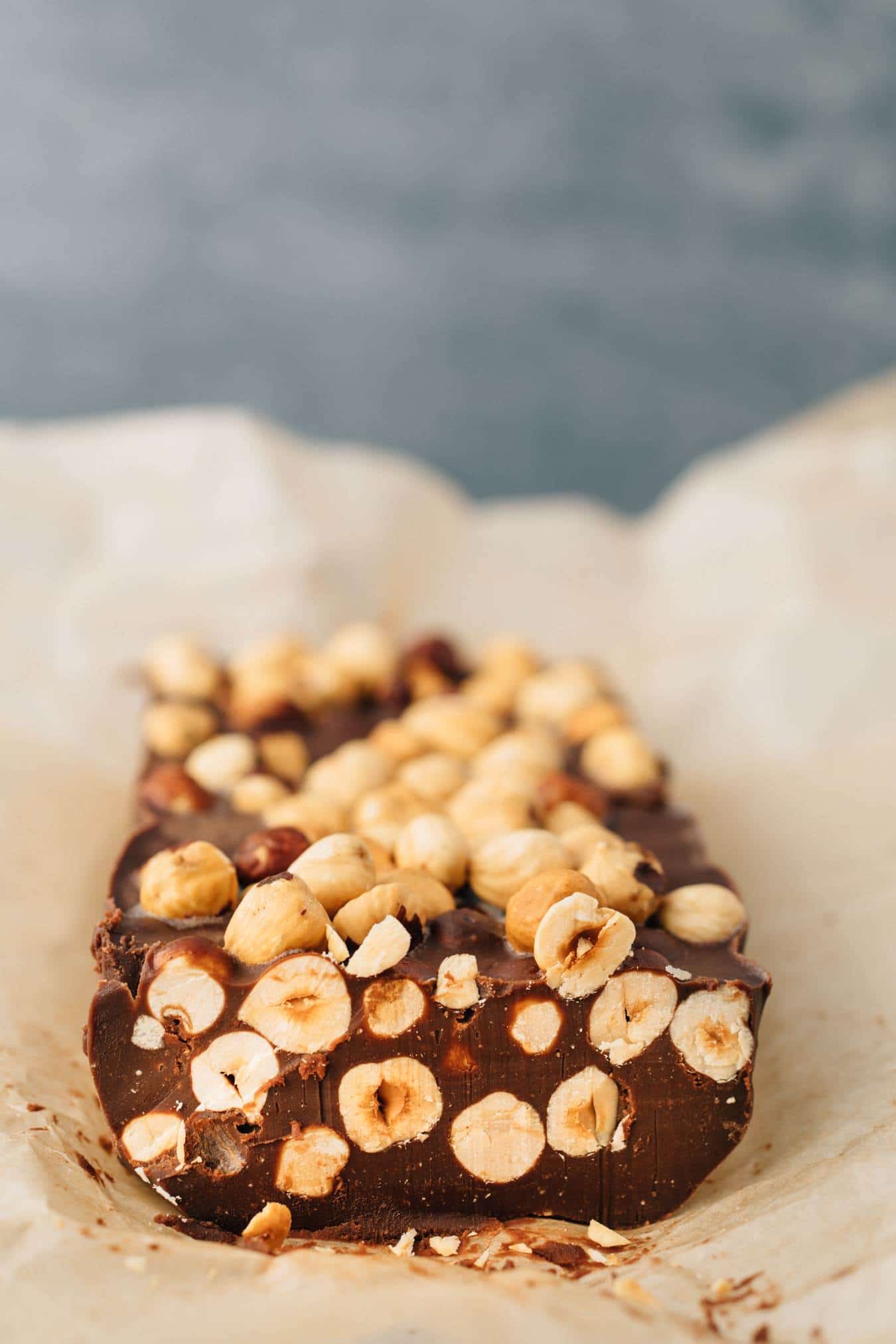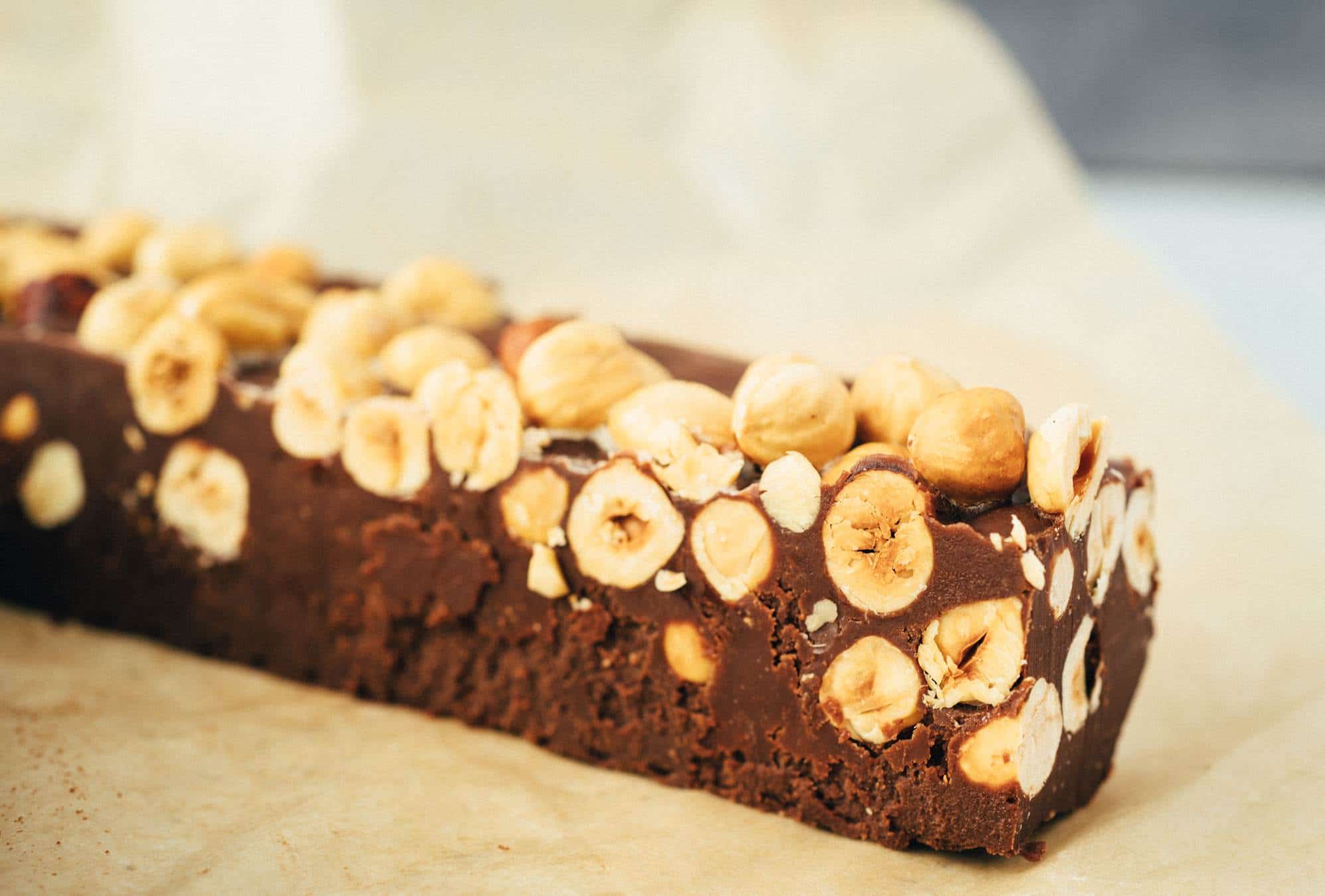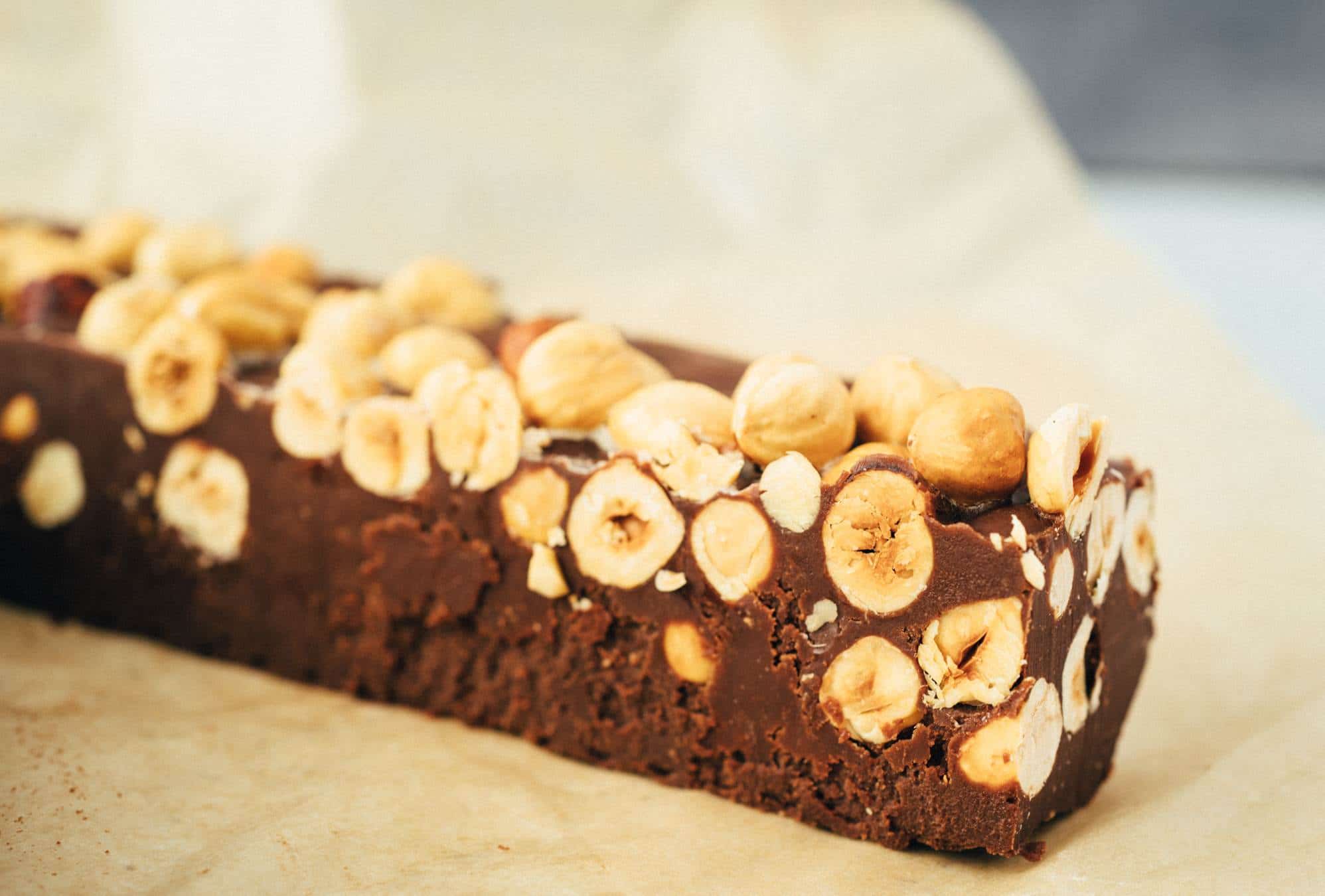 Roasting hazelnuts has become my passion, so I'll just buy a whole bag of these delicious and healthy nuts soon. Who needs small packages with ONLY 200g? laugh Why fudge? Actually, fudge is an American-English recipe for caramel. However, it has been developed in all directions and experimented with all kinds of ingredients. Should I make a caramel fudge sometime? Feel free to write me a comment at the very bottom of the page.
How do you fudge?
The ingredient list is quite easy and manageable. There is only one time component, which is roasting the hazelnuts and curing them in the refrigerator. But if you can already imagine approximately how good the fudge tastes, then there's no turning back and you'll gladly accept the wait. Hazelnuts, dark vegan chocolate, coconut cream, homemade hazelnut butter , maple syrup, a pinch of salt and vanilla. Sounds simple and straightforward, it is.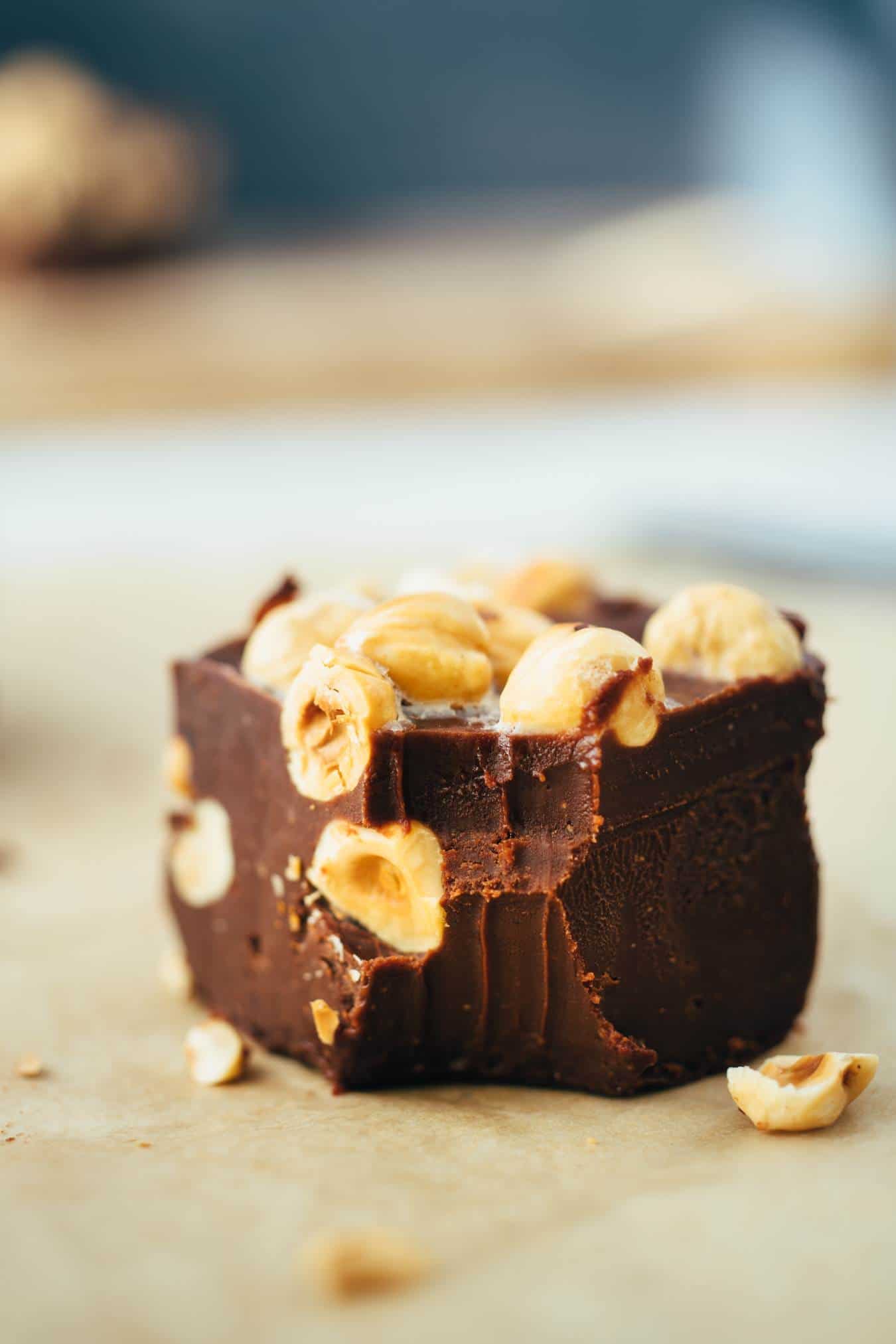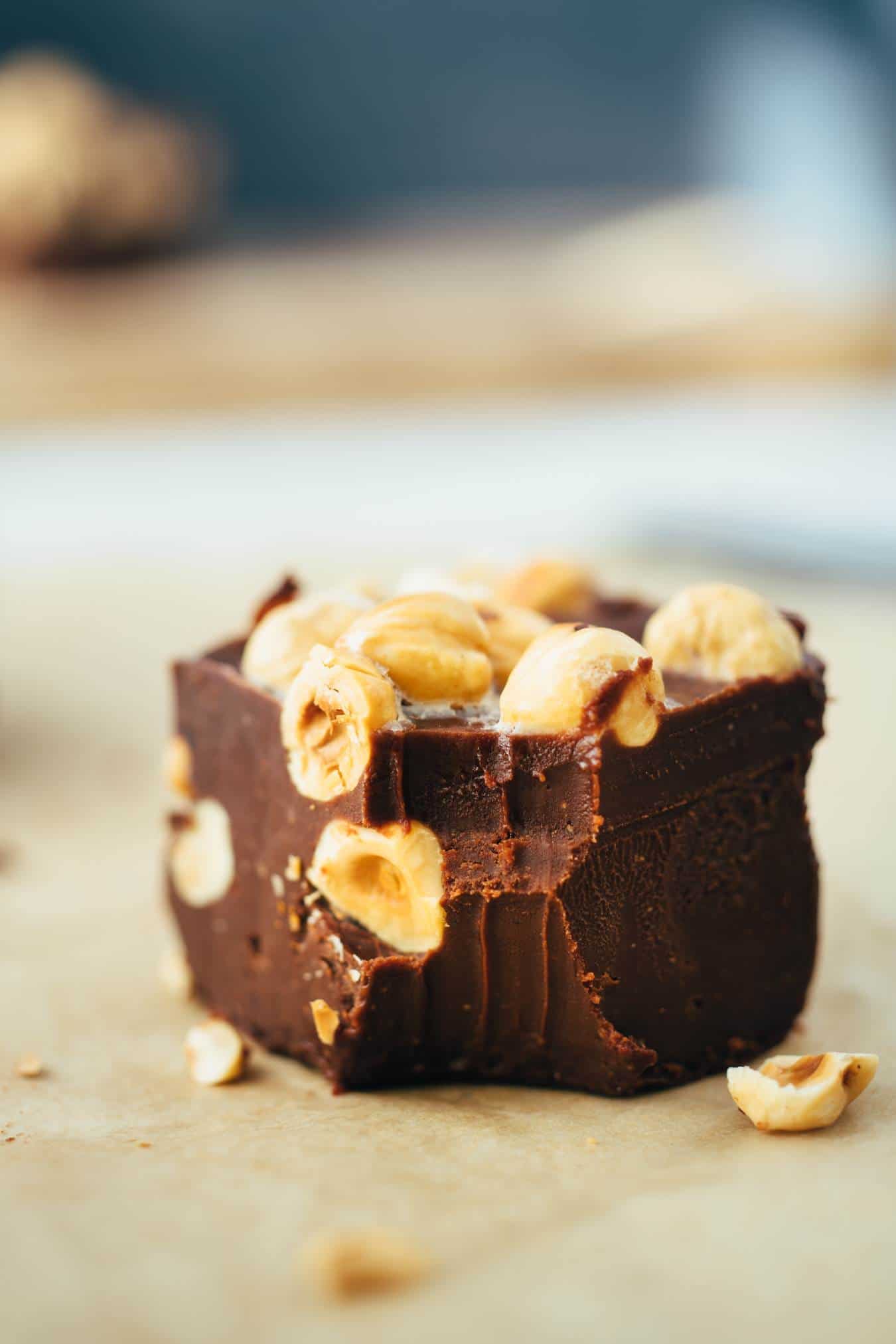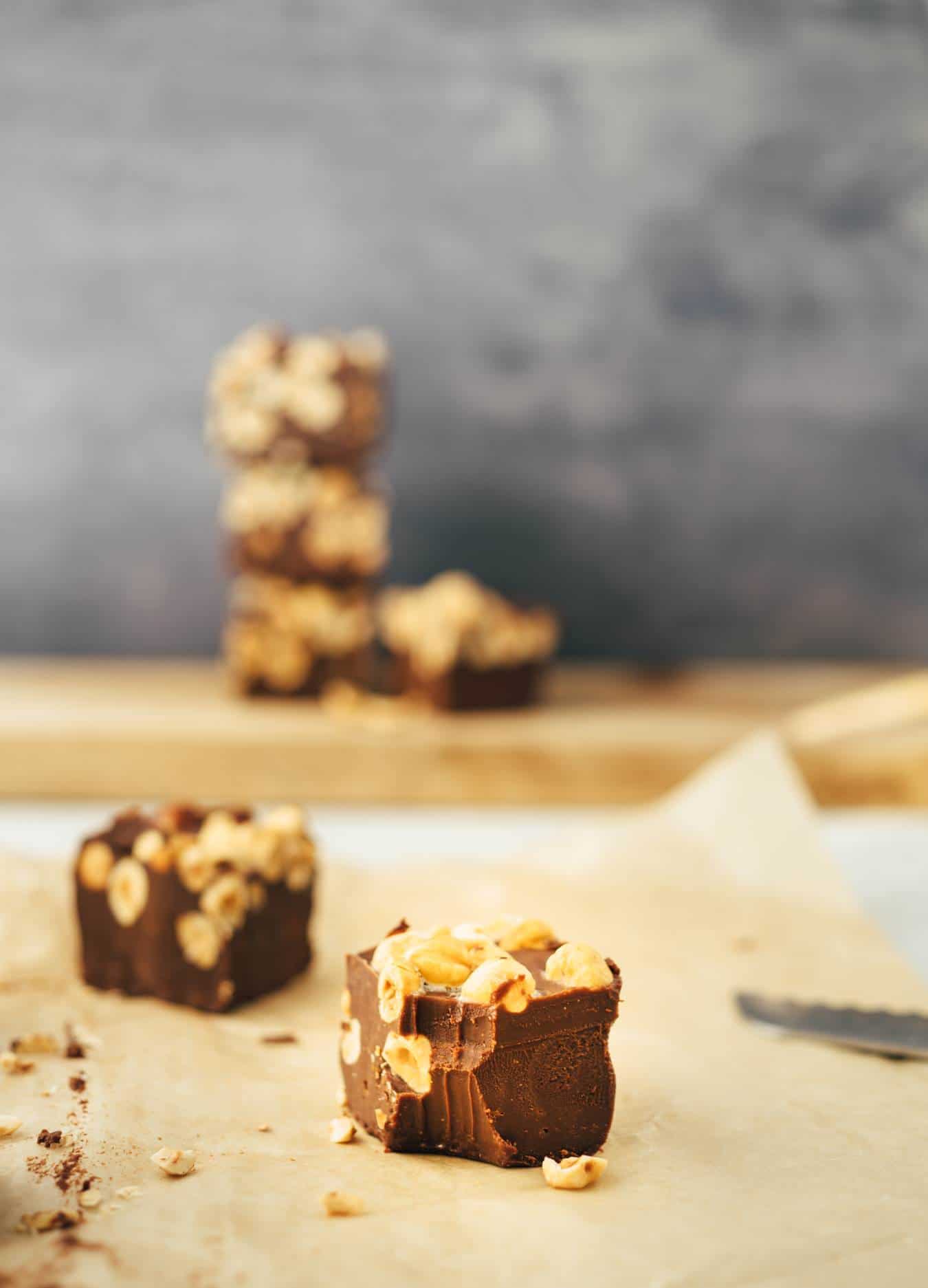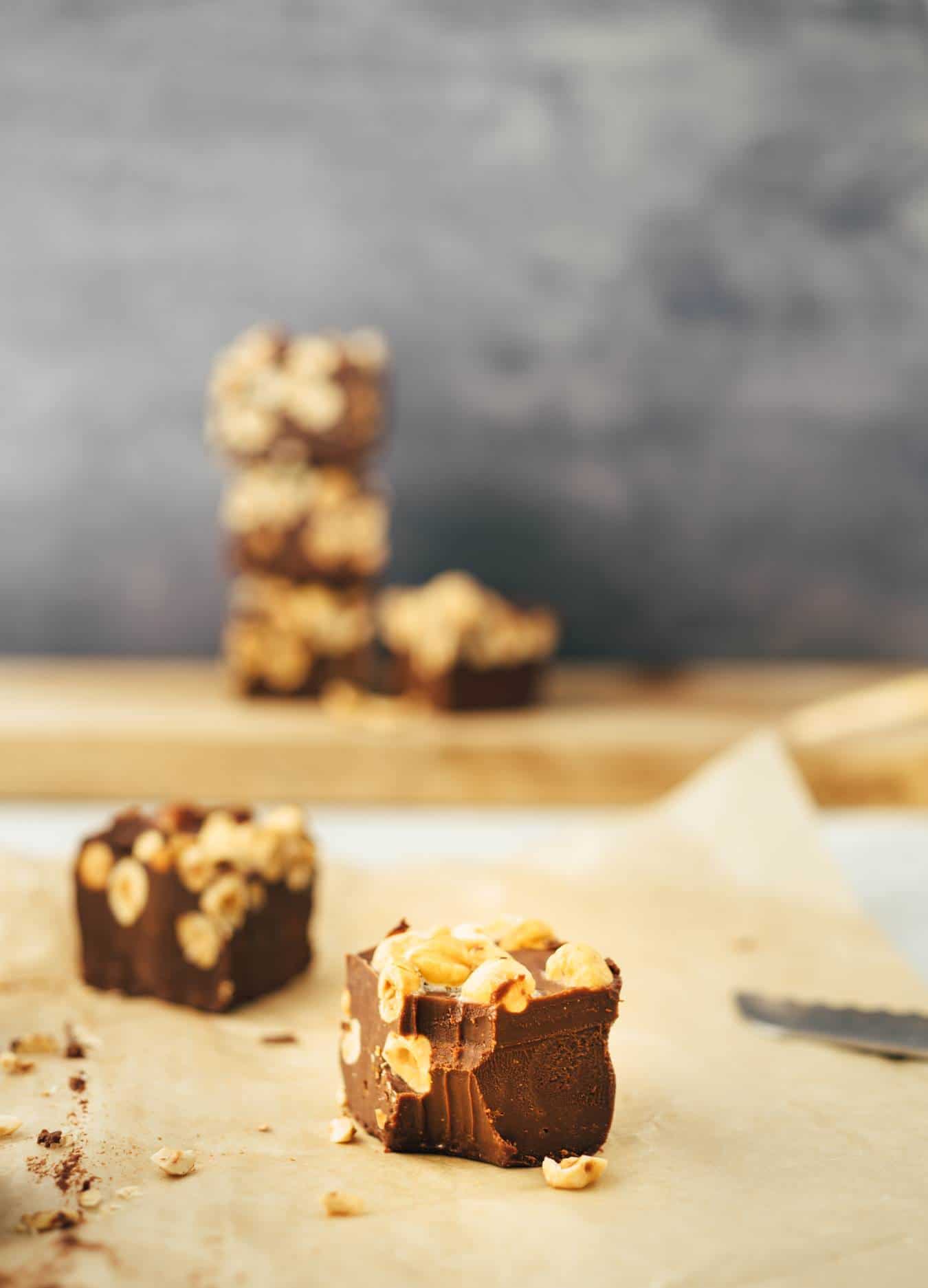 Well, if you're still wondering why you should absolutely make fudge, I'll tell you why now:
As a mini chocolate snack with coffee
For dessert praline
For breakfast (for the very hard chocolate fans)
As a substitute for cake
As a sweet sin, on those days when you absolutely need CHOCOLATE
The Hazelnuts also give you extra brain power. They are full of healthy fatty acids and rich in a whole variety of minerals.
Yummy! In terms of taste, you can look forward to a creamy, chocolatey-hazelnutty temptation that virtually melts in your mouth with a nutty crunch. If you're into superfoods, I can recommend adding a little lucuma powder or another superfood blend with cocoa and carob.
Chocolatey hazelnut fudge go perfectly with a cup of tea, Immune Booster Latte , Chocolate Chia Smoothie , hot chocolate or golden milk (my favorite).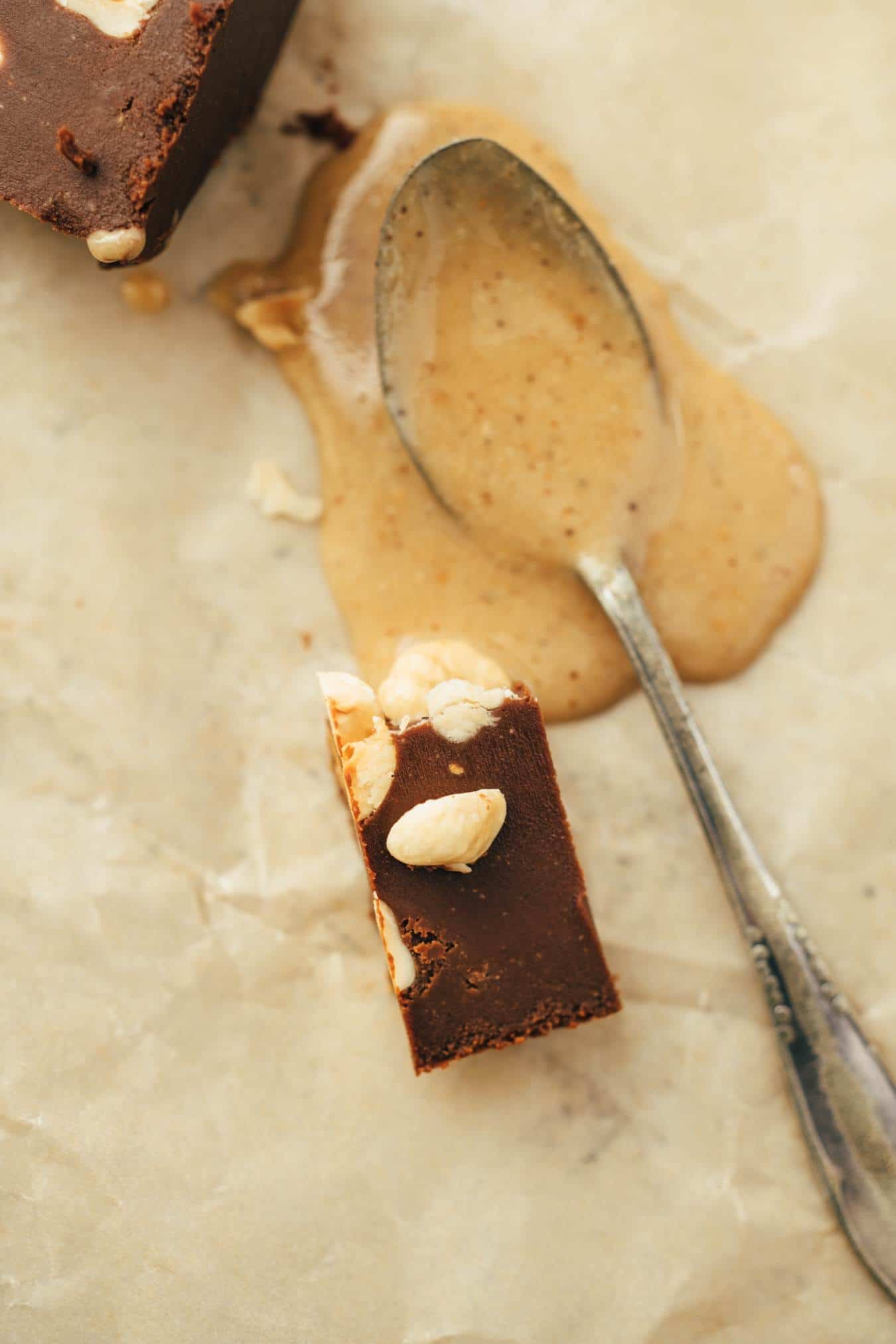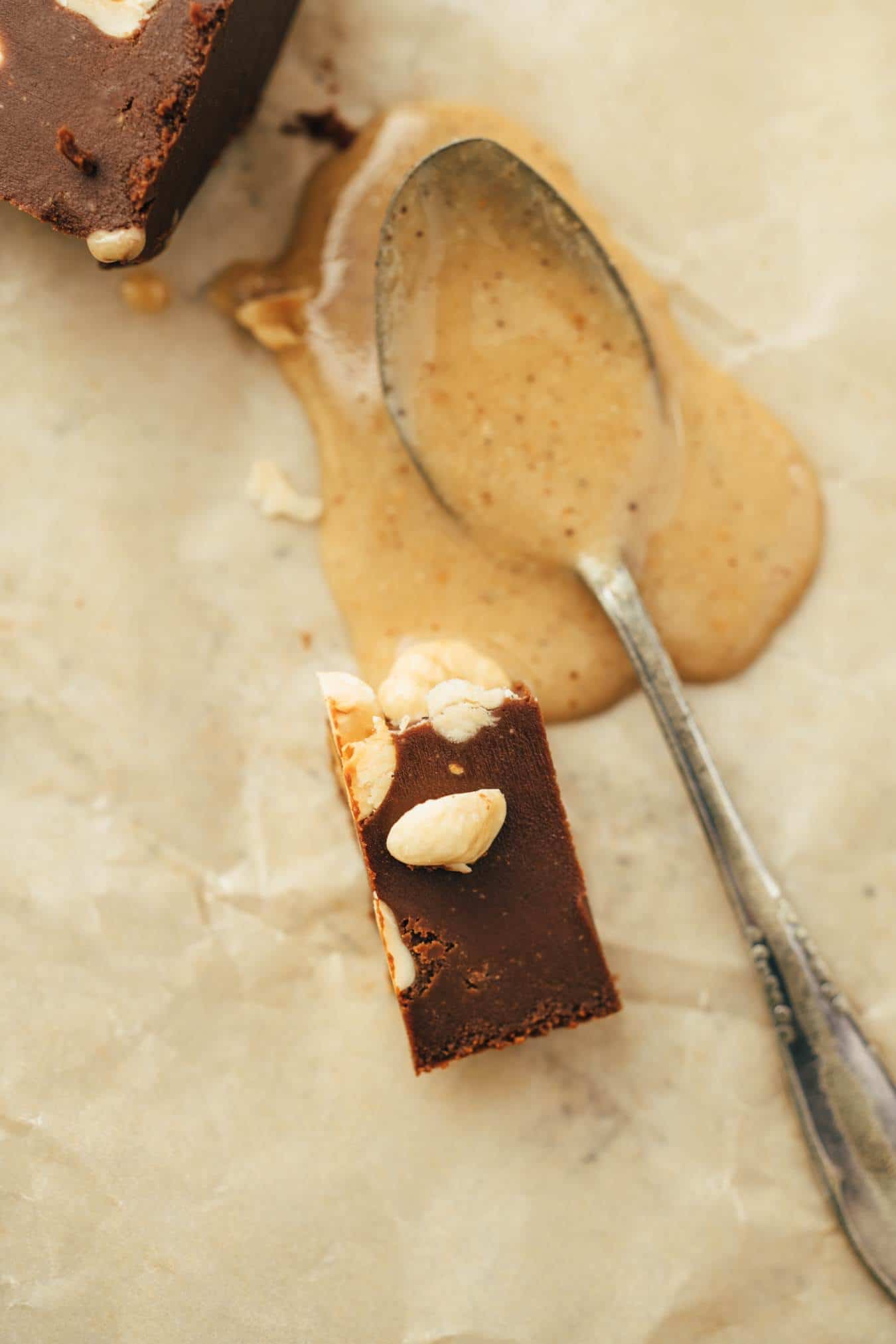 The vegan hazelnut fudge is:
Hazelnutty
chocolatey
Delicately melting
Naturally sweetened
Quickly made
Let's go with this dream of chocolate and hazelnuts. I hope you enjoy "baking" and of course about a review at the bottom of this page. If you post a picture, use the hashtag #veganevibes.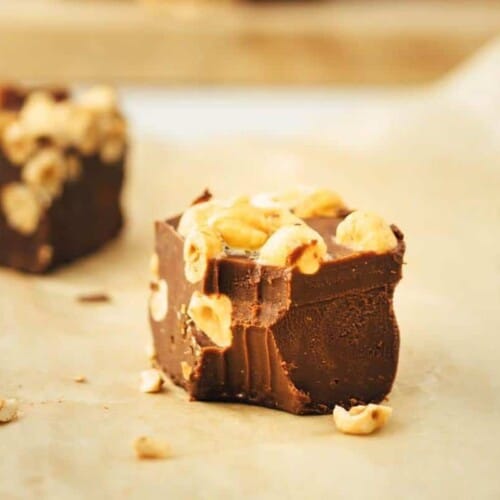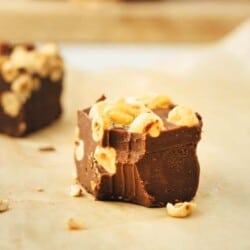 Vegan hazelnut fudge
Extremely delicious, hazelnut-chocolate vegan, gluten-free fudge for the perfect chocolatey temptation in between meals. Creamy, delicately melting, with crunchy, roasted hazelnuts.
AUTOR: VEGANEVIBES
OPTIONAL:
Optional: 2-3 tsp lucuma powder
Anleitung 
Line a king cake pan (25x11cm) with baking paper and press it down well so that it fits the edge as well as possible.


In a small saucepan or saucier, heat all ingredients except the toasted hazelnuts over low heat. Keep stirring until everything has melted and combined into a creamy mass.


340 g dark vegan chocolate,

80 ml Coconut cream,

64 g Hazelnut butter or hazelnut puree homemade,

60 ml maple syrup,

¼ tbspn Bourbon vanilla ground,

A pinch of sea salt,

Optional: 2-3 tsp lucuma powder

Add about ¾ of the

toasted hazelnuts

to the melted chocolate measure and pour into the king mold. Spread the remaining nuts on top and let set in the refrigerator for at least 2 hours.

Remove from refrigerator, briefly warm a little at room temperature, cut into desired serving size and enjoy!

Notizen
NOTES /HELPFUL ACCESSORIES:
Nährwertangaben
Serving:
2
Piece
Calories:
175
kcal
Carbohydrates:
13
g
Protein:
2
g
Fat:
12
g
Saturated Fat:
6
g
Sodium:
5
mg
Potassium:
192
mg
Fiber:
2
g
Sugar:
7
g
Vitamin A:
5
IU
Vitamin C:
0.5
mg
Calcium:
25
mg
Iron:
2.5
mg