When summer comes back for my cucumber pasta noodle salad ? I asked myself this question yesterday when I saw our grill on the patio. I wanted to start it, but unfortunately the weather didn't quite cooperate. Yet the weather on and around my birthday has been bad for years (with few exceptions). I can remember numerous celebrations that I had planned perfectly. And then? Came the rain! But not just a bit of drizzle, but a full-blown downpour. I am already very excited about what awaits me this year. Whereas this year we are making a little excursion to Austria. Stay tuned!
Vegan summer pasta recipe, YASS!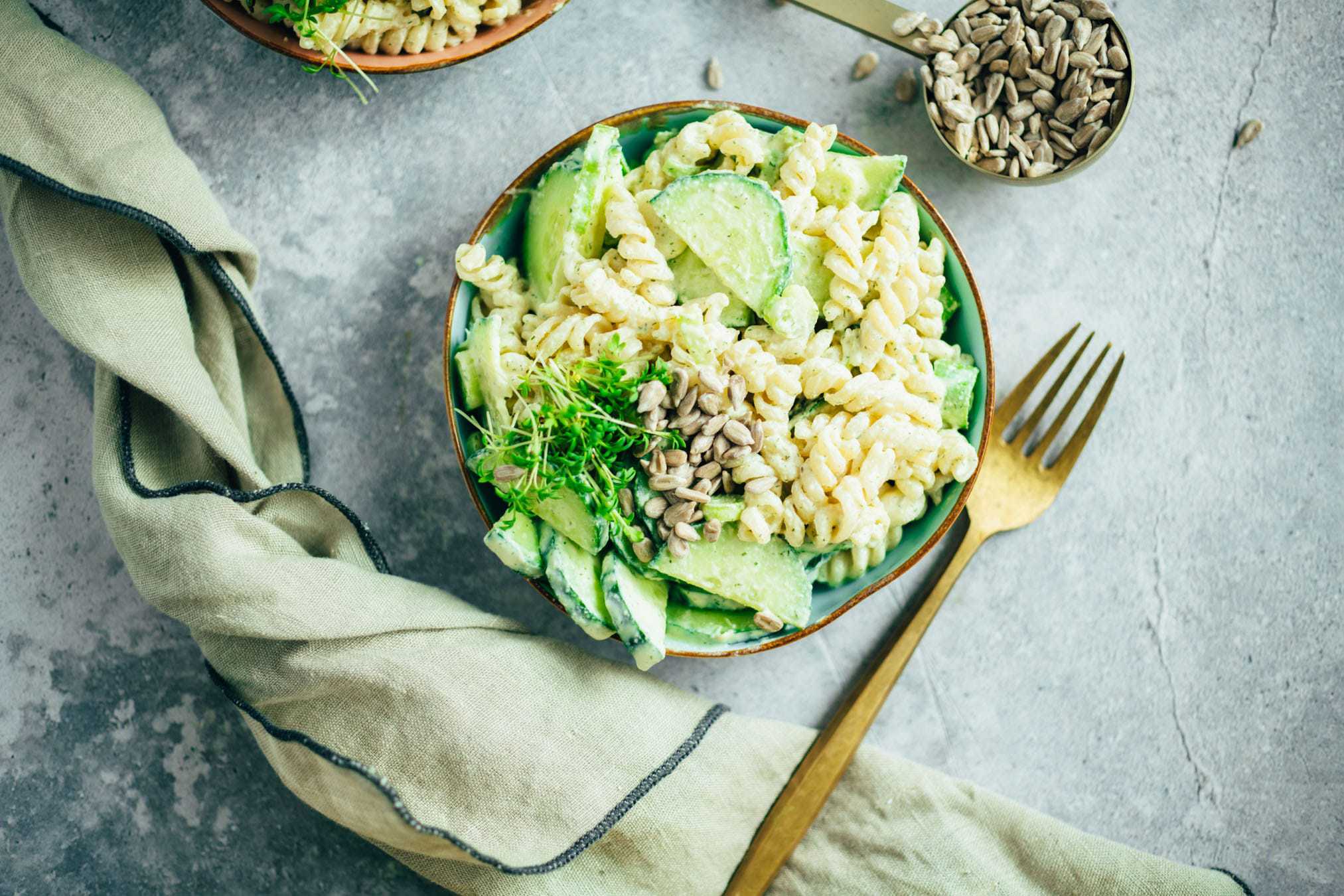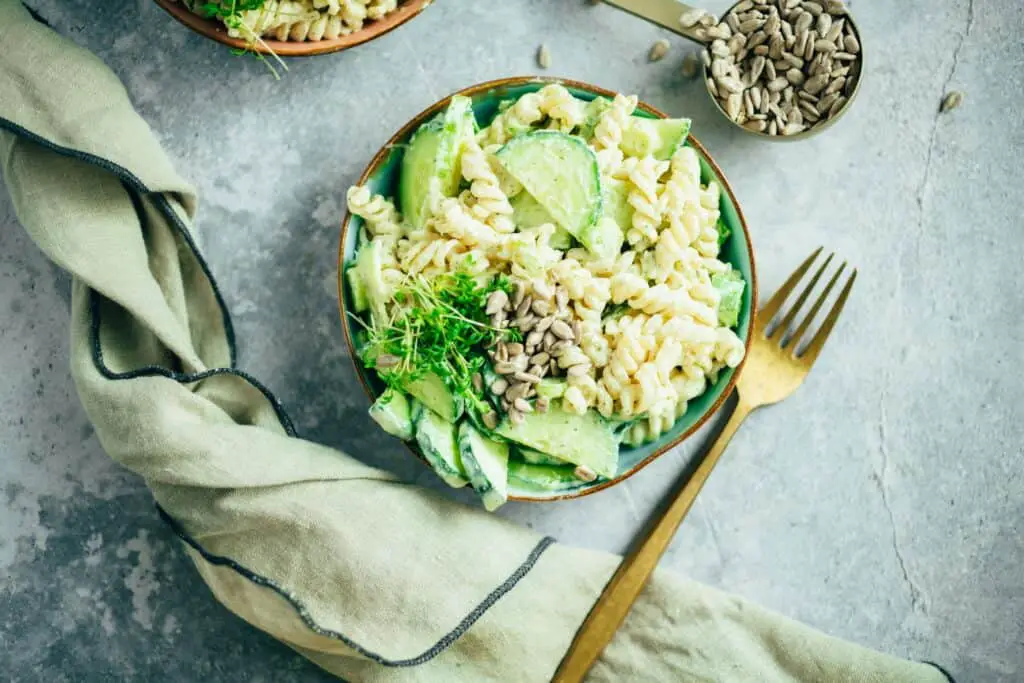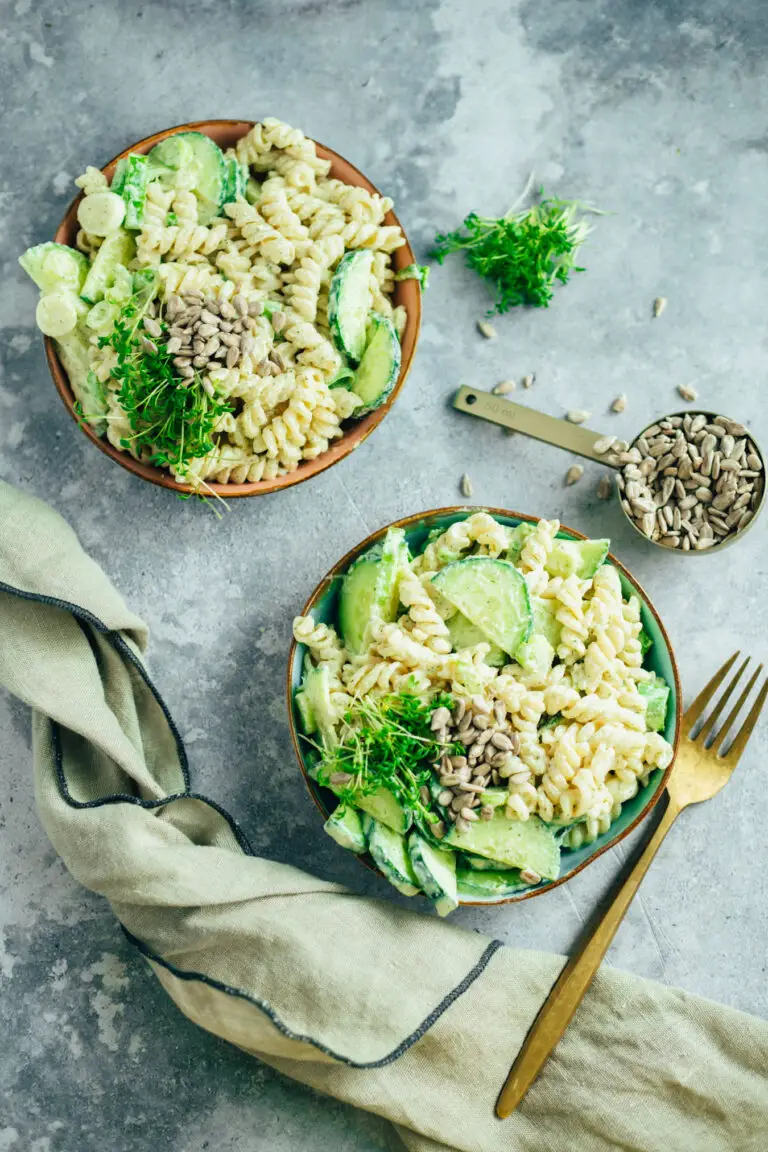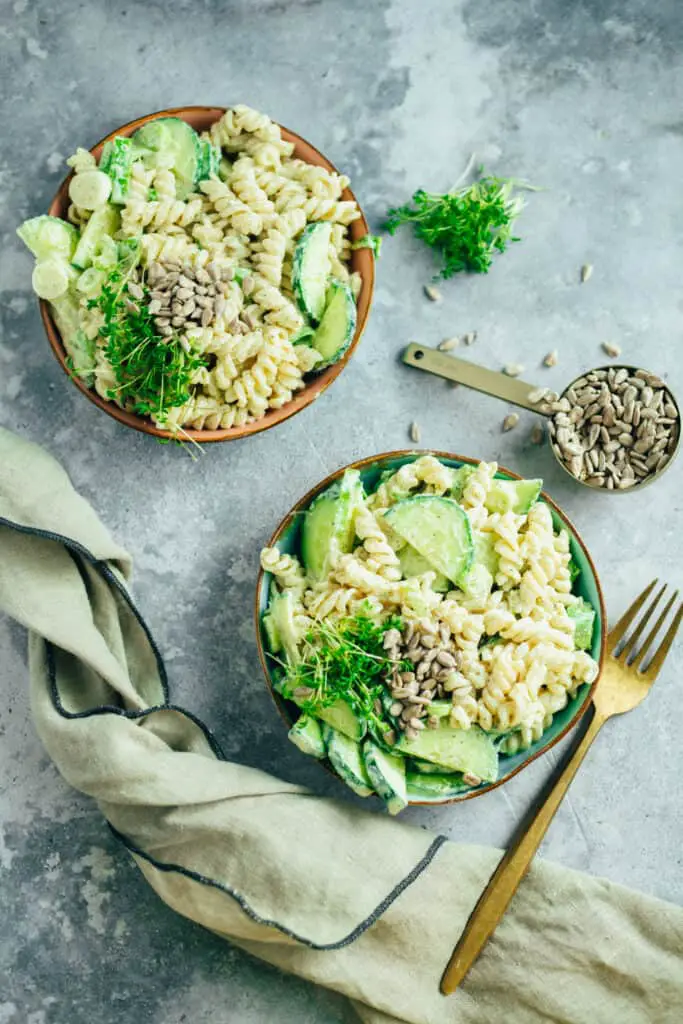 Once the temperatures hit 30 degrees, I usually crave a fresh, summer dish. It's meant to cool, refresh, yet fill you up, and works best perfectly as a side dish to grilled food. At first I thought of a simple cucumber salad, but that was a bit too boring for me.
In the end it became this delicious, fresh and filling cucumber pasta salad with lovely creamy cashew-dill dressing. Cut cucumber and green onion, Pasta cook. Then comes the Dressing I use soaked cashews, almond milk, apple cider vinegar, Dijon mustard, dill, garlic granules, salt and a little coconut blossom sugar.
HOW HEALTHY ARE CUCUMBERS ACTUALLY?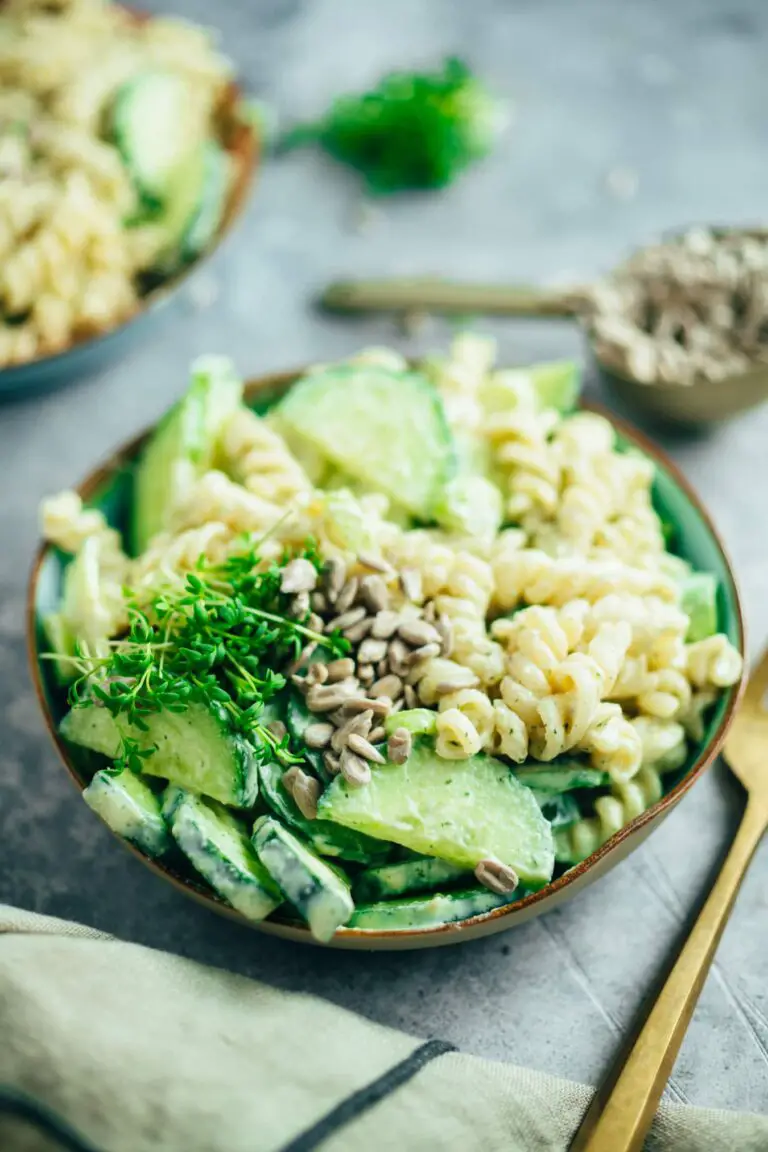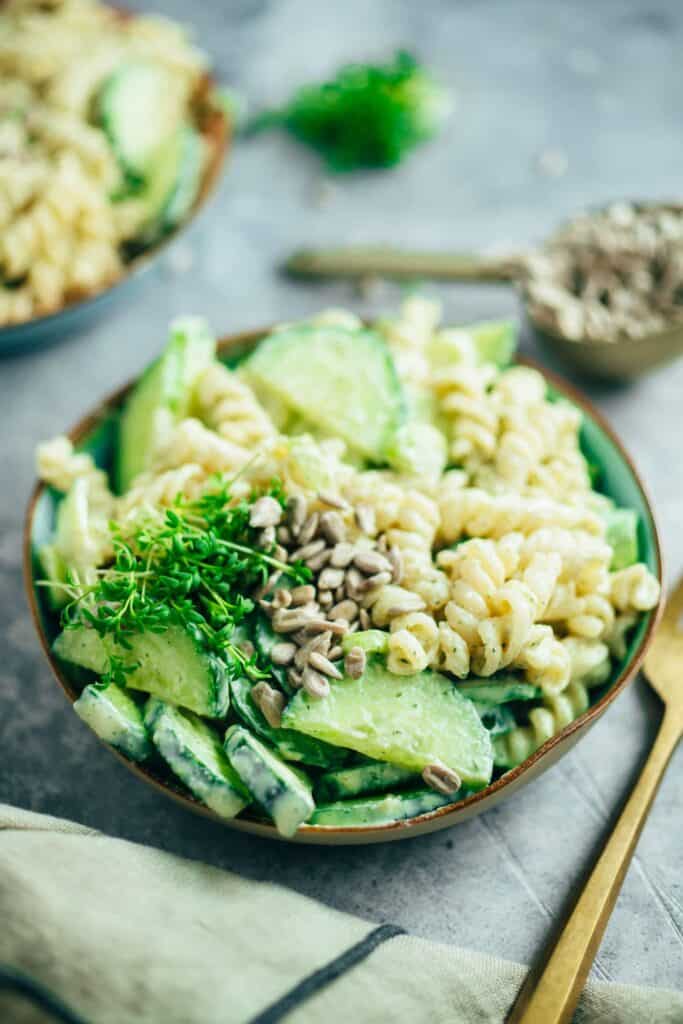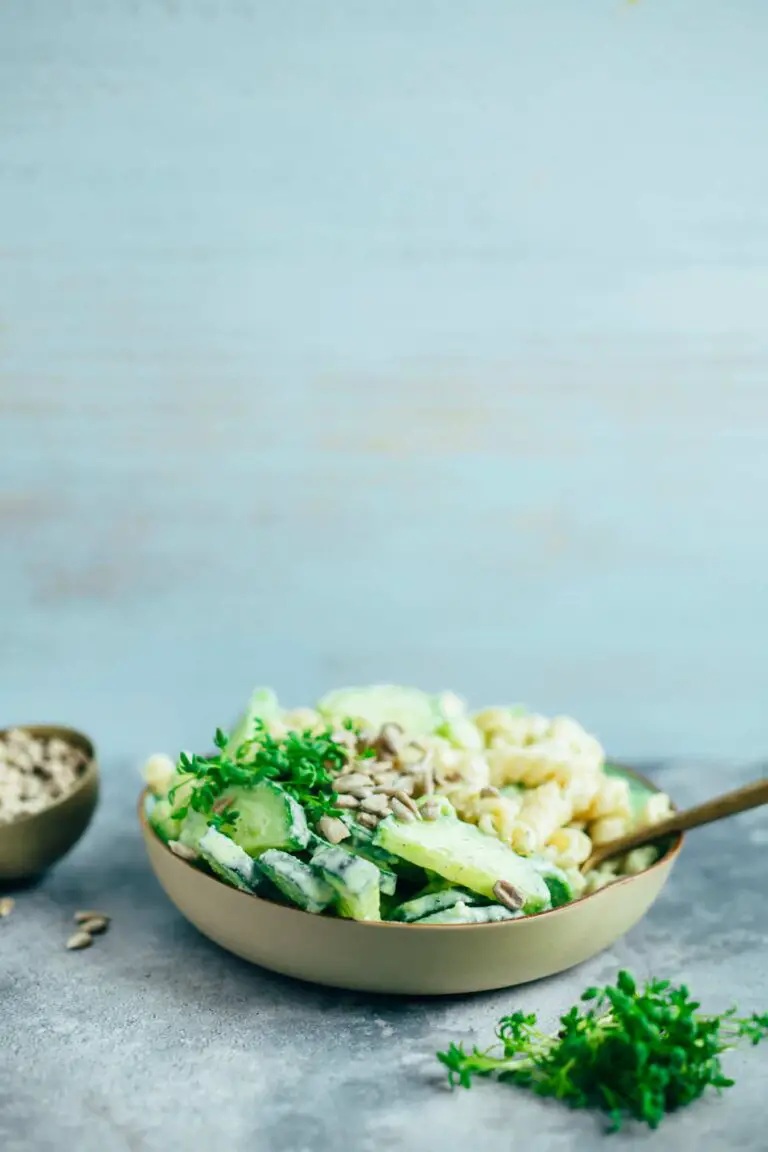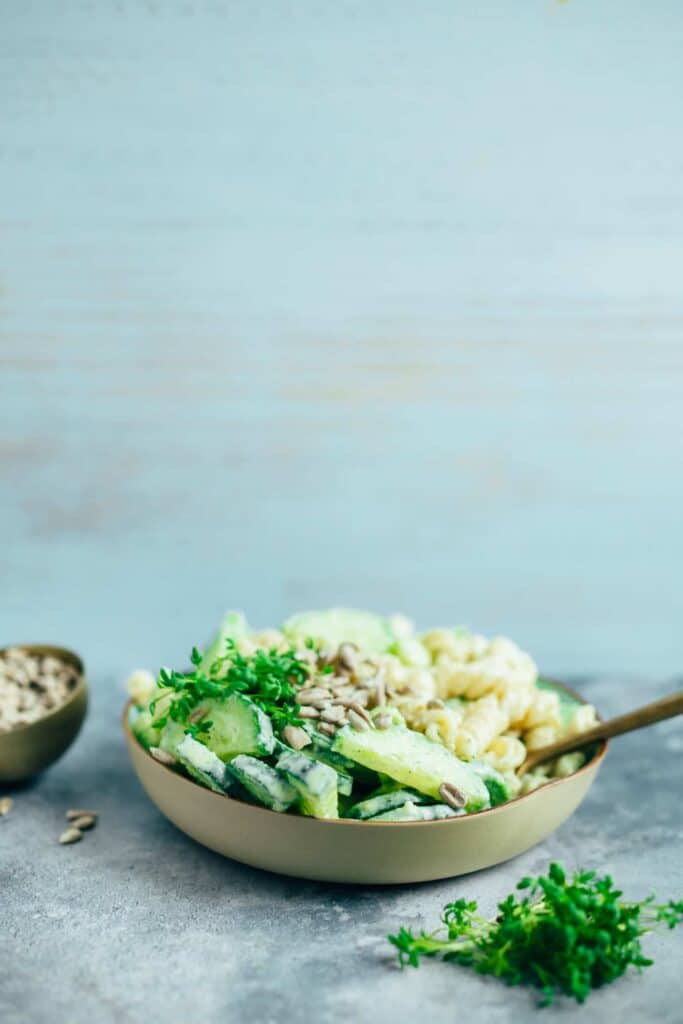 Did you know that the cucumber is the vegetable of the year 2019/2020? The cucumber, bot. Cucumis Sativus is only known as snake or land cucumber. There are countless different varieties of cucumbers that you don't necessarily find in the supermarket. Or have you ever heard of a lemon or apple cucumber? At least I do not. It was 3500 years ago when the cucumber was domesticated in India. At that time it was still extremely bitter and therefore inedible.
The cucumber belongs to the cucurbits and is:
Very low in calories, thanks to its high water content of over 95 percent
Base Realm
Vitamin and High fiber
Rich in minerals (potassium, magnesium, calcium, phosphorus, magnesium, iron and zinc)
Rich in Peptidases, which is an enzyme used in the digestive process for the cleavage of proteins provides
I'd say go for the cucumber! To go with our salad today vegan , grilled goodies. Other side dishes for the barbecue, such as the vegan potato salad , or Caprese round off the whole wonderfully.
The creamy pasta salad with cucumber is:
creamy
Pleasant acidic
Summery
filling
Quickly made
With this delicious Pasta salad you convince even the great vegan critic. I wish you a lot of fun in recooking and of course a review at the bottom of this page. If you post a picture, use the hashtag #veganevibes.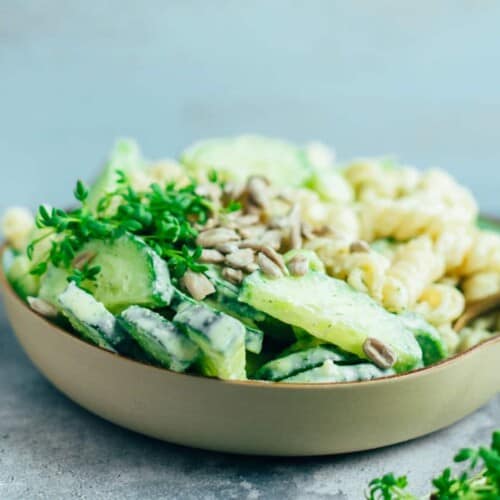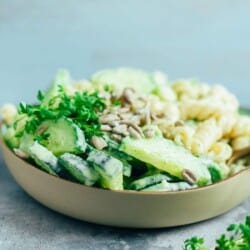 Creamy pasta salad with cucumber
Delicious creamy summer pasta salad with cucumber and dill. The dressing is based on nutrient-rich cashews and is rounded out with a slight tartness from apple cider vinegar. Quickly made it is the perfect side dish for vegan barbecue specialties
AUTOR: VEGANEVIBES
250

g

Pasta at will

1

Piece

big snake cucumber

halved and sliced

3

Piece

Spring onions

cut into fine slices

100

g

Cashews

soaked according to one of the methods below*.

150

ml

Almond milk

or any other vegetable milk at will

30

ml

Apple cider vinegar

or other light vinegar to taste

1

tbspn

Dijon mustard

1

tbspn

Dill

dried

1/2

tbspn

Garlic granules or 2 cloves of garlic

peeled and pressed

½

tbspn

Salt

1

tbspn

Coconut blossom sugar
TOPPING:
Cress at will

Sunflower seeds to taste
Anleitung 
Soak cashews according to the SOAK METHODS* below.

Cook pasta according to package directions and set aside.

Add cashews, almond milk, apple cider vinegar, Dijon mustard, dill, garlic granules, salt, and coconut blossom sugar to a high-powered blender and blend to a creamy sauce.

100 g Cashews,

150 ml Almond milk,

30 ml Apple cider vinegar,

1 tbspn Dijon mustard,

1 tbspn Dill,

1/2 tbspn Garlic granules or 2 cloves of garlic,

½ tbspn Salt,

1 tbspn Coconut blossom sugar

Add pasta, cucumbers, green onion and creamy dressing to a large salad bowl and stir vigorously once until well combined.

250 g Pasta at will,

3 Piece Spring onions,

1 Piece big snake cucumber

Portion onto plates and enjoy.

Cress at will,

Sunflower seeds to taste

Keeps up to 3 days airtight in the refrigerator.
Notizen
SUPER-QUICK-SOAK METHOD: If you really don't have time at all, put the cashews in a pot, fill it up with water and bring the whole thing to a boil. Shortly after the boiling point, turn off, drain and use.
QUICK SOAK METHOD: In this method, you soak the cashews in hot water (uncovered) and let them steep for 60 minutes. Then strain and mix.
LONG-SOAK METHOD: Place cashews in a bowl and pour cold water over them. Let steep covered for at least 6 hours or preferably overnight. Strain, wash off briefly, use.
Nährwertangaben
Serving:
1
Portion
Calories:
379
kcal
Carbohydrates:
55
g
Protein:
13
g
Fat:
12
g
Saturated Fat:
2
g
Sodium:
106
mg
Potassium:
304
mg
Fiber:
3
g
Sugar:
3
g
Vitamin A:
20
IU
Vitamin C:
0.2
mg
Calcium:
67
mg
Iron:
2.5
mg