Crispy tofu with Vegetables sweet & sour, now it's getting exciting, because I can't tell you how much I've been waiting for this. To be honest, sweet and sour Dishes always liked to eat, however, I did not like the additives that are used in many restaurants. If you are lucky enough to live in Berlin, you can of course enjoy numerous restaurants that offer really good quality and still cook vegan. Unfortunately, we don't have that privilege here, because there's not even one good Asian, Chinese or other exotic store within a 10km radius. Oh man, now I just have to think of the excellent vegan duck that my husband ate in Berlin. If you are interested, you can find my Berlin tips on my Instagram account @veganevibes in the Stories. But now let's start with a really delicious Dish , I promise.
Vegetables sweet and sour a poem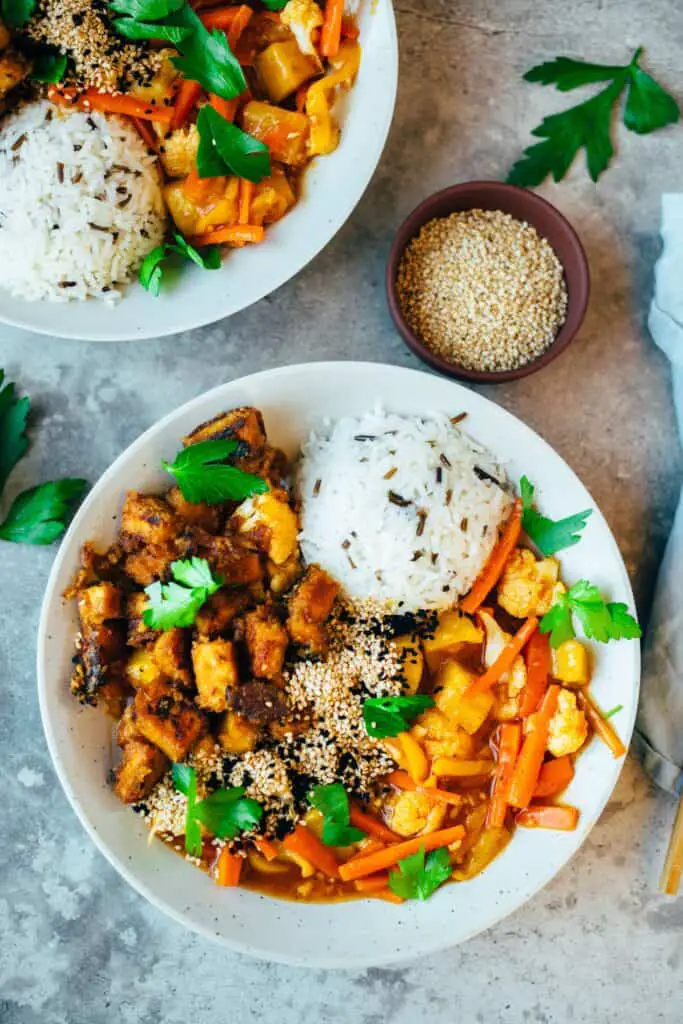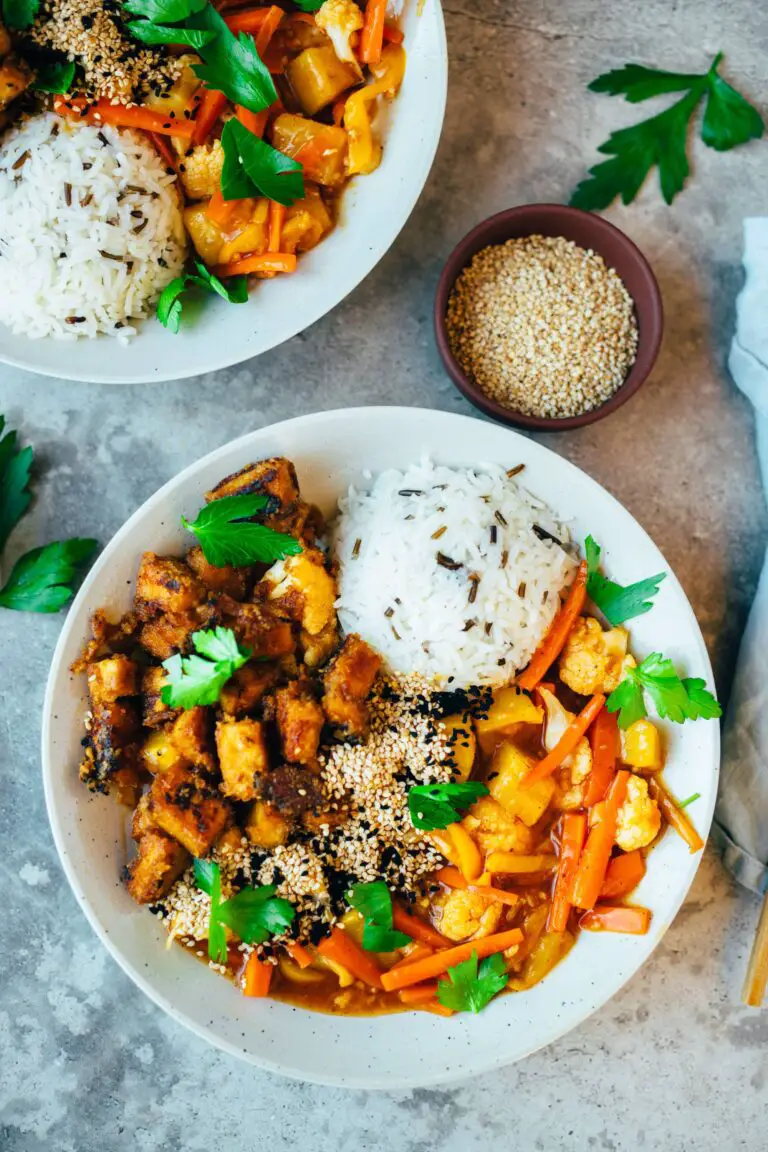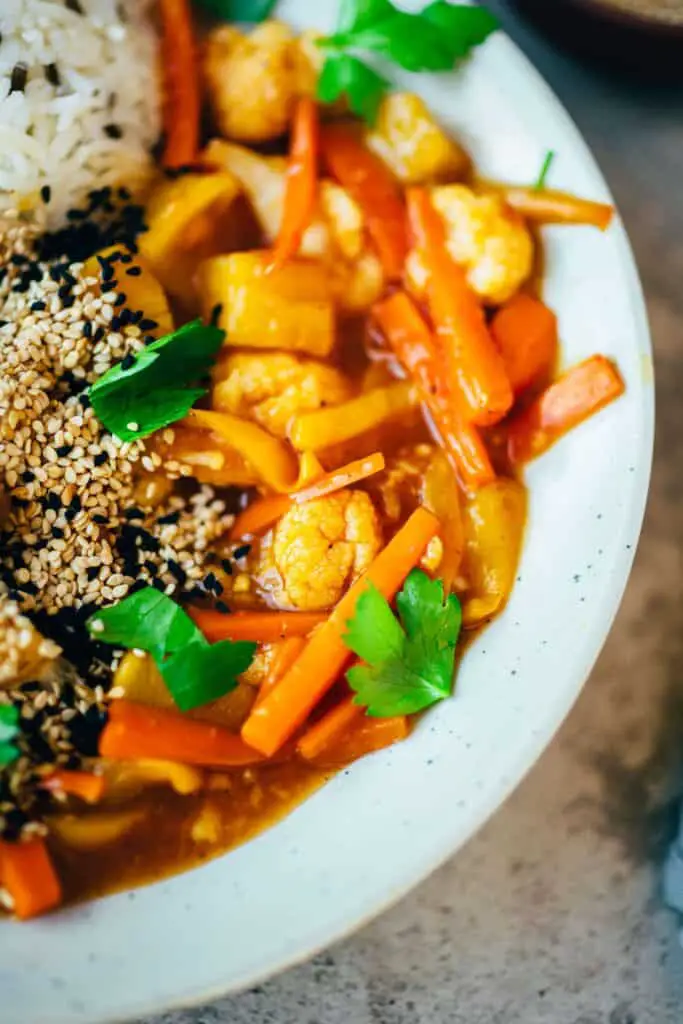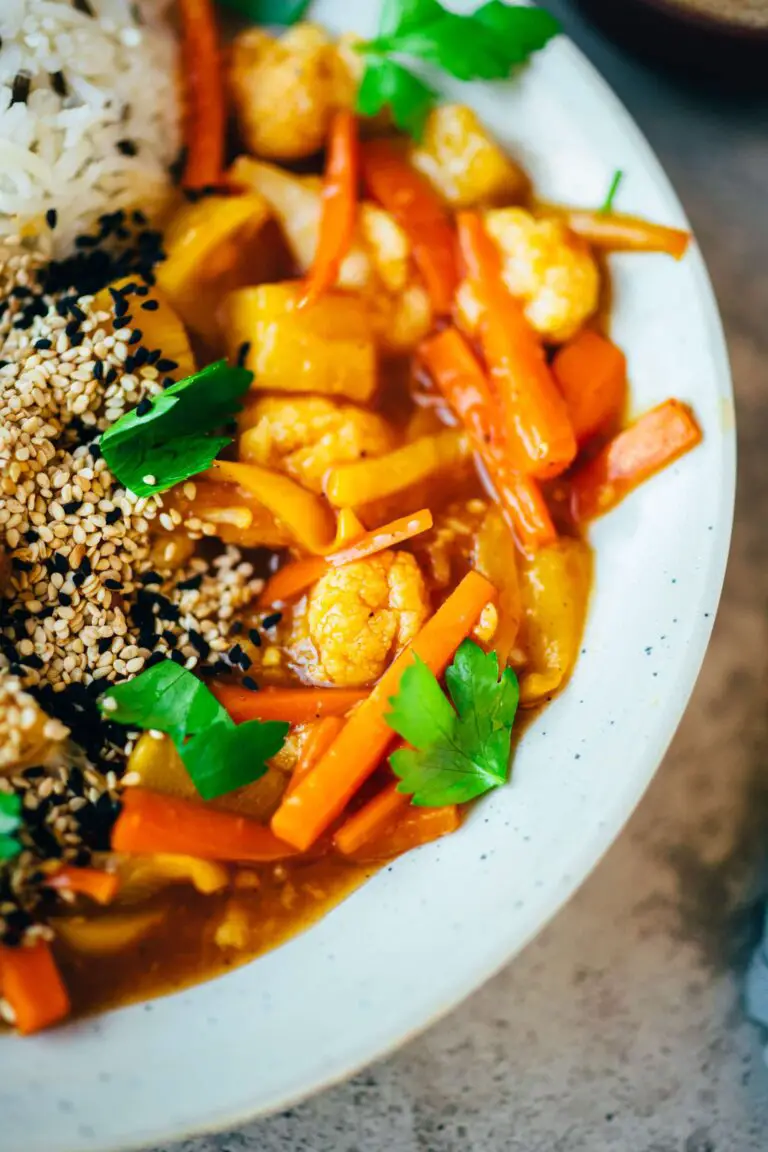 Actually it is really not difficult this Recipe . Cook the rice, press the tofu, mix the sauce together, chop the vegetables and then somehow put it all together. How exactly it goes, you will find of course as always in the recipe description. I find the Tofu with sweet and sour vegetables simply exciting. With this you can prove that Tofu does not taste as bad as its reputation suggests. I can still remember working in my mom's health food store when I was a student. At that time, there was also already a pretty good selection of tofu varieties, but I also always had the prejudice that tofu can not taste. Since I am vegan, I can only say: No way! Tofu tastes just as good as you prepare it. My motto "Make Tofu great again".
Chinese vegan food? In the twinkling of an eye, I promise
For the sweet and sour sauce we need tomato puree, raw cane sugar, pineapple juice, rice vinegar, tamari (or another soy sauce of choice), garam masala and cornstarch. The Garam Masala you can also mix together yourself, or another Chinese Use spice mixture of choice.
The Stir Fry couldn't be simpler, garlic, ginger, bell bell pepper, cauliflower, carrots, pineapple chunks, a little water to saute.
Vegetables the love of my life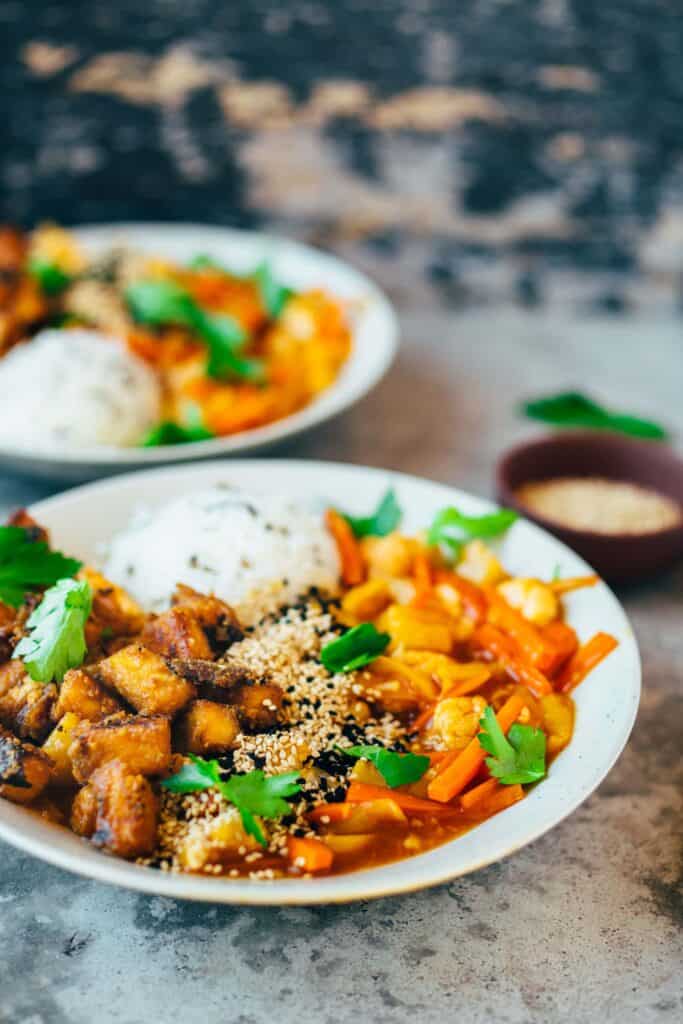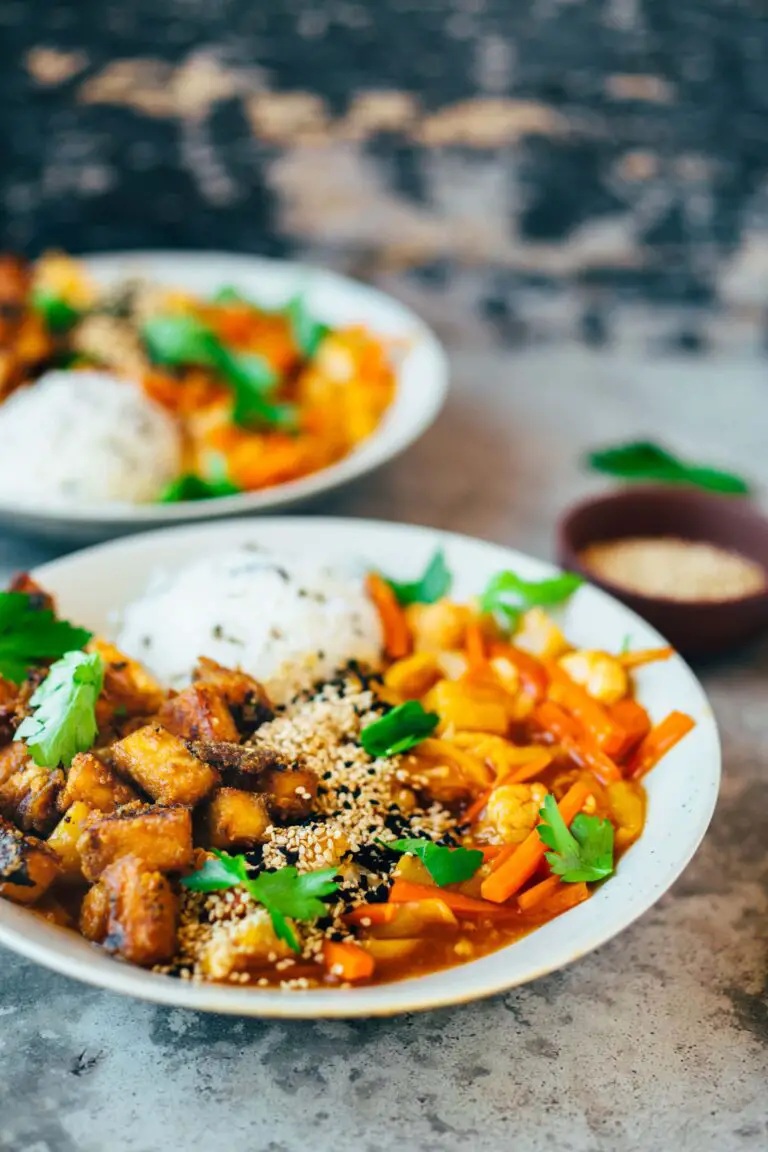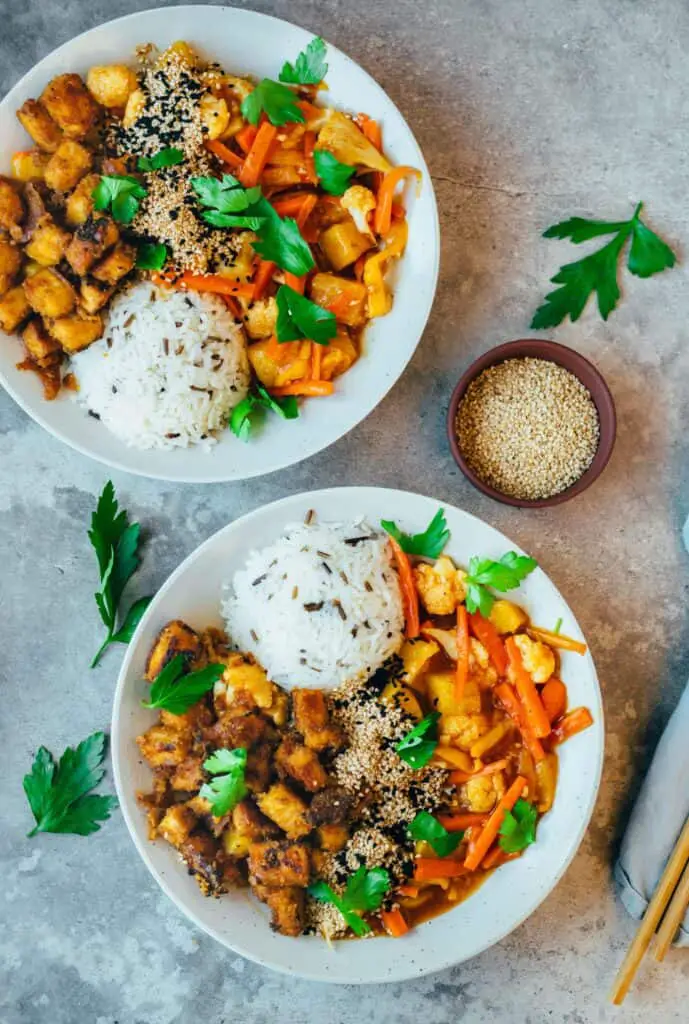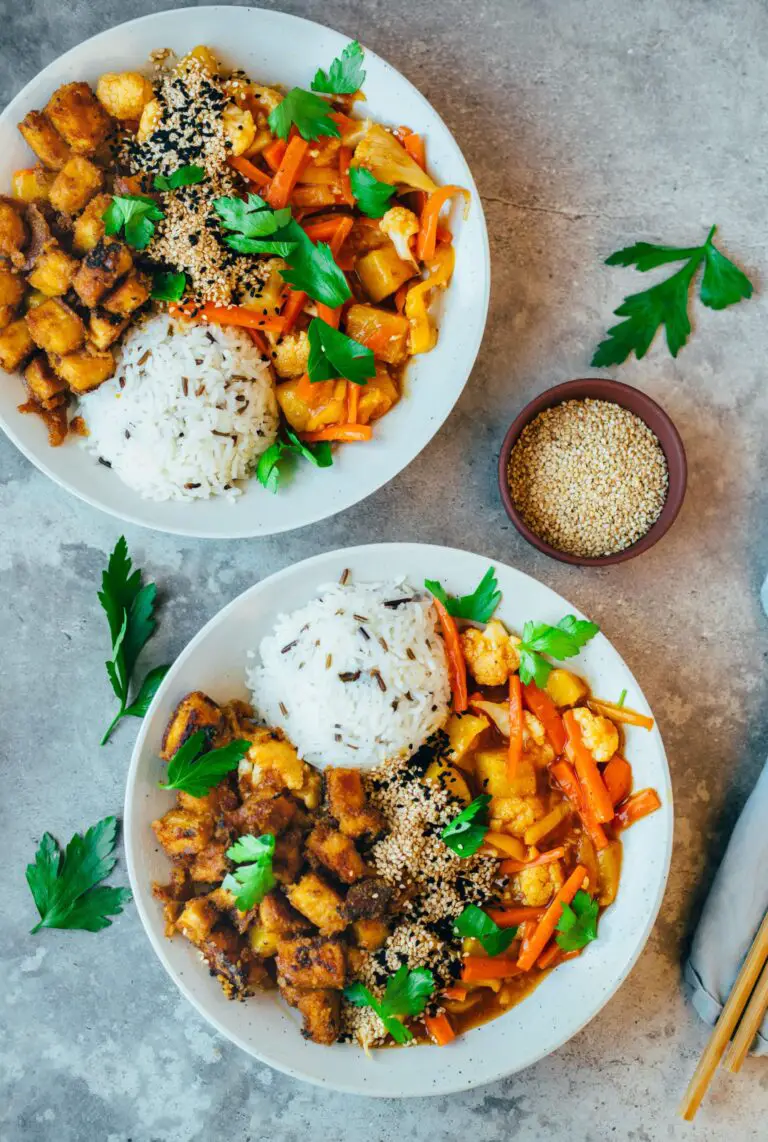 What must not be missing in any case? Basmati rice and a portion of vegetable protein and we get that from tofu, for example. Crispy Tofu ? The definitely goes great with this dish, alternatively chickpeas, tempeh or another vegan protein source will work as well.
TIP: Sprinkle a portion of seeds and kernels over the dish. Sunflower seeds, pumpkin seeds, sesame seeds and hemp seeds are absolute nutrient boosters. Alternatively, fresh sprouts are also suitable.
If you don't feel like sweet and sour today, then maybe a nice Curry would be just the thing? Massaman Curry , Masala Curry or a Palak Curry ? You are spoiled for choice.
The crispy tofu with vegetables sweet and sour is:
Chinese
Sweet and sour
aromatic
High protein
simple to be produced
Let's get started with this delicious vegan dish that's sure to blow you and your friends away. I wish you a lot of fun with the re-cooking and am happy about a review at the bottom of this page. If you post a picture, use the hashtag #veganevibes.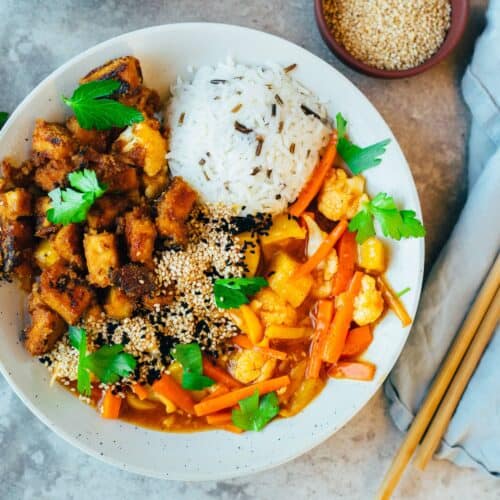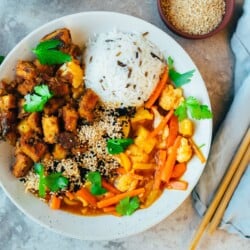 Vegetables sweet and sour
Simple vegan main dish with great sweet and sour flavors, lots of veggies and an extra load of protein from tofu. Together with rice, quinoa or another side dish, an ideal dish to make the whole family, friend and acquaintances happy.
AUTOR: VEGANEVIBES
15

ml

Frying oil or other high heat oil

if oil-free simply omit and steam with water

10

g

Ginger

peeled and grated, alternatively 2 tsp ginger powder

6

g

Garlic cloves

peeled, pressed or finely chopped, 2 cloves or 1 tsp garlic granules

200

g

Cauliflower florets

cut into coarse pieces

1

Paprika

yellow, cut into strips, alternatively take red or green peppers

2-3

medium carrots cut into slices

300

g

Pineapple

cut into pieces from the jar, drain and save juice for the sauce

50-150

ml

Water

optional for steaming
FOR THE SWEET AND SOUR SAUCE:
TO SERVE:
Fresh coriander leaf

Freshly baked naan bread

Seeds and kernels at will

Chili pods
Anleitung 
If rice or quinoa is served, cook according to packaging instructions.

One serving crispy Asian tofu prepare. Alternatively, use chickpeas, tempeh or seitan and sauté with the vegetables in the pan.

In the meantime, heat a large skillet. Briefly sweat oil, ginger and garlic.

15 ml Frying oil or other high heat oil,

10 g Ginger,

6 g Garlic cloves

Add cauliflower, bell bell pepper, carrots and pineapple and stir vigorously once. Pour a little water, cover and steam for

10 minutes

.

200 g Cauliflower florets,

1 Paprika,

2-3 medium carrots cut into slices,

300 g Pineapple,

50-150 ml Water

In the meantime, prepare the sweet and sour sauce. Provide bowl, mix together tomato paste, raw cane sugar, pineapple juice, rice vinegar, tamari, garam masala and cornstarch and pour over vegetables. Simmer briefly until the sauce thickens slightly.

1 ½ tbspn Cornstarch,

100 ml Pineapple juice,

15 g Tomato paste,

45 g Raw cane sugar,

60 ml Rice vinegar,

30 ml Tamari,

1 tbspn Garam Masala * mix yourself

Crispy tofu and other side dishes portion on plates, add sweet and sour vegetables and enjoy!

Fresh coriander leaf,

Basmati rice,

Quinoa,

Freshly baked naan bread

Keep leftovers covered in the fridge for 2-3 days. Freeze within 1 month.
Notizen
* Make garam masala powder yourself: 1 tbsp cumin, 1 ½ tsp coriander, 1 ½ tsp cardamom, 1 ½ tsp black pepper, 1 tsp cinnamon, ½ tsp cloves, ½ tsp nutmeg. Buy all listed spices ground or process in a mortar to a uniform powder. Place in a sealable container and use as desired.
**Calorie calculations without rice and crispy tofu.
Nährwertangaben
Serving:
1
Portion
Calories:
257
kcal
Carbohydrates:
53
g
Protein:
4
g
Fat:
6
g
Saturated Fat:
4
g
Sodium:
650
mg
Potassium:
817
mg
Fiber:
5
g
Sugar:
35
g
Vitamin A:
7098
IU
Vitamin C:
48
mg
Calcium:
41
mg
Iron:
1
mg