Mexican Style Pasta is a variation that really surprised me. I can still remember well when I went to the Mexican with my friends in my student days. Fajitas were the absolute highlight and it was extremely fun to fill them up myself. Then still vegetarian, now vegan and packaged in a Pasta . At the moment I love the simple Dishes and most of all I love to spend the evenings at home on the couch. There are phases like that and I think you should enjoy them. But the new series we are watching is so exciting! Well, I hope that I can sweeten you with this dish the Pasta Everyday life can sweeten a bit and especially bring in really nice variety.
Mexican Style Pasta! Yep and so delicious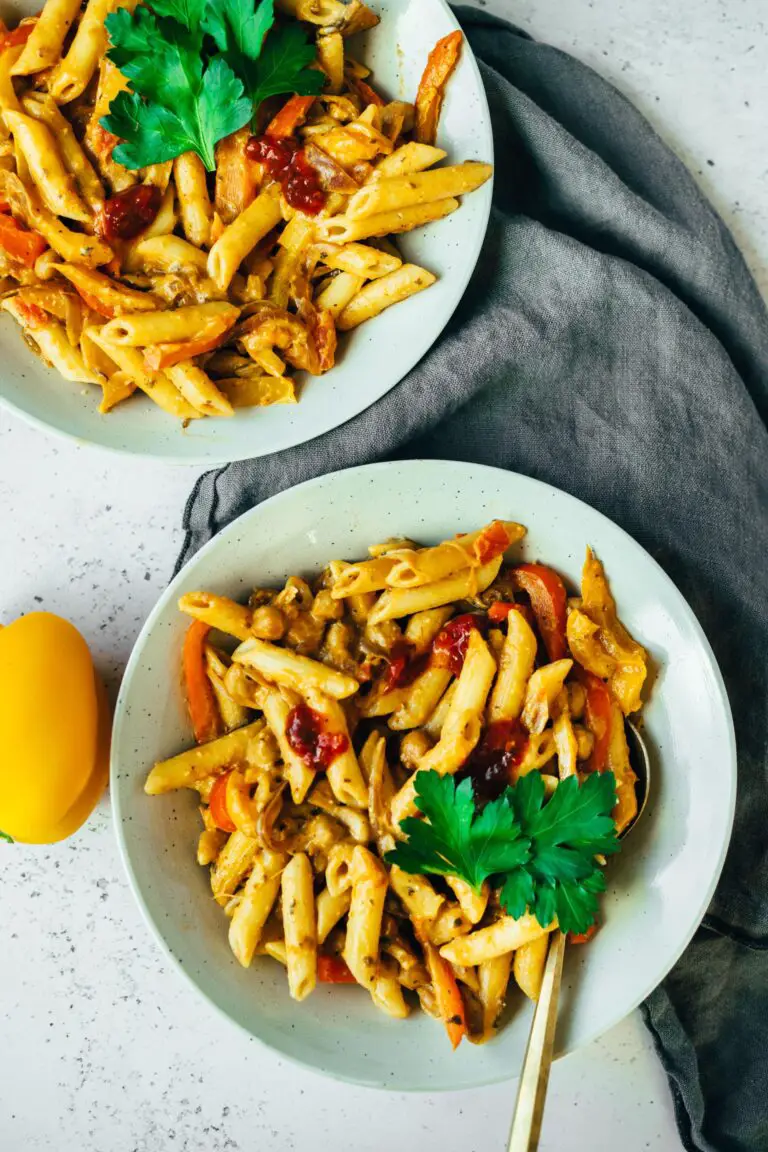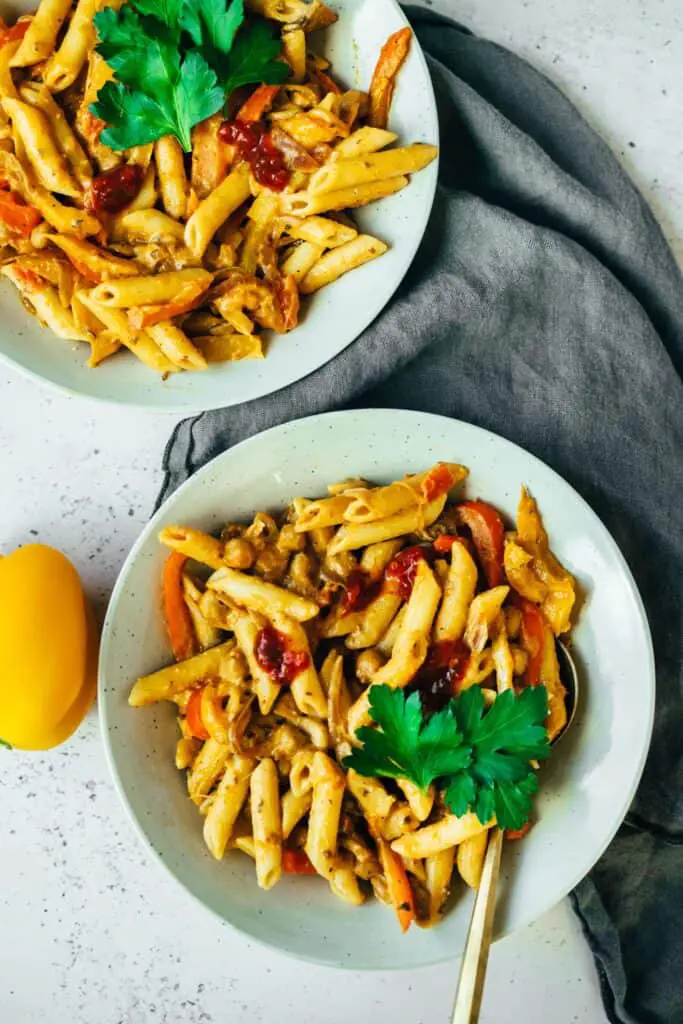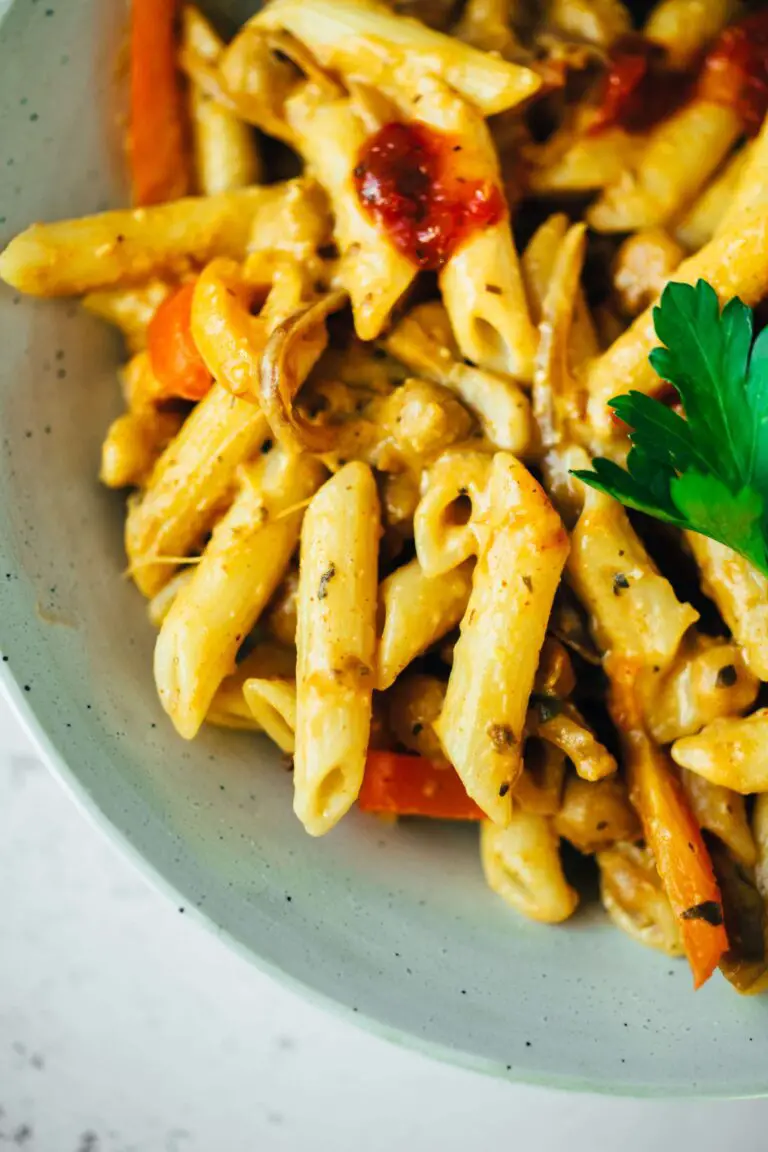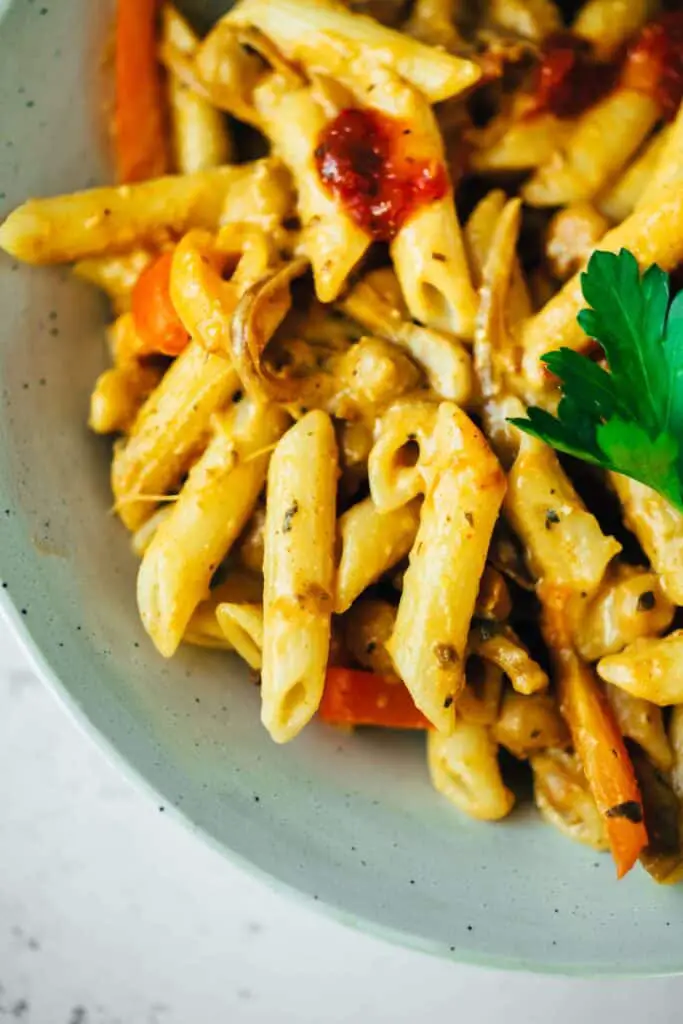 The production of our today's Pasta takes place in two steps. The first is the stir-fried vegetables with chickpeas and the second is the pasta with a creamy sauce. For the vegetables we need onion, fresh garlic (or garlic granules), red bell bell pepper, yellow bell bell pepper (or even a green one), chickpeas, cumin, oregano, basil, smoked paprika, Bird Eye chili (or another chili of your choice) and salt.
The pasta is cooked and for the sauce we need tomatoes, Cashew cream (or another vegetable Cream ), garlic (fresh or granulated), ground mustard seeds (or Dijon mustard), yeast flakes and salt. This is then mixed in with the stir-fried vegetables at the end and poof, we have an ultra delicious Mexican vegetable stir-fry.
Here are my tips for a great result:
Sauté vegetables hot, but in between drain with a little cooking water from the pasta, this will soften the peppers nicely without losing the flavor. I like to use a lid during cooking to keep the heat in the pan.
I don't soak the cashews beforehand because I have a very good high-powered blender. If you have a not so good blender, I recommend you to use the Soak cashews beforehand . Processing is then much easier.
Chickpeas can have quite an intense flavor of their own, especially if they come straight from the can. I therefore like to drain them a considerable time beforehand and soak them again in cold water for 1-2 hours. This makes them much more neutral in taste.
Let's Taco about it
Do you know why I love this Court double love? Because not only is it damn tasty, but it's also packed with healthy ingredients. Especially the peppers used impress with a plus of vitamin C. Of course, this is partially lost during cooking, but is still considerably high.

Here are the benefits at a glance, one serving of this mexican dish will provide you with approximately:
33 percent high-quality vegetable fiber
30 percent high-quality, vegetable protein
58 percent vitamin C
19 percent iron and only
6 percent saturated fats
*calculated on a 2000 calories per day basis
Low Carb, High Carb, or Do You Prefer Keto?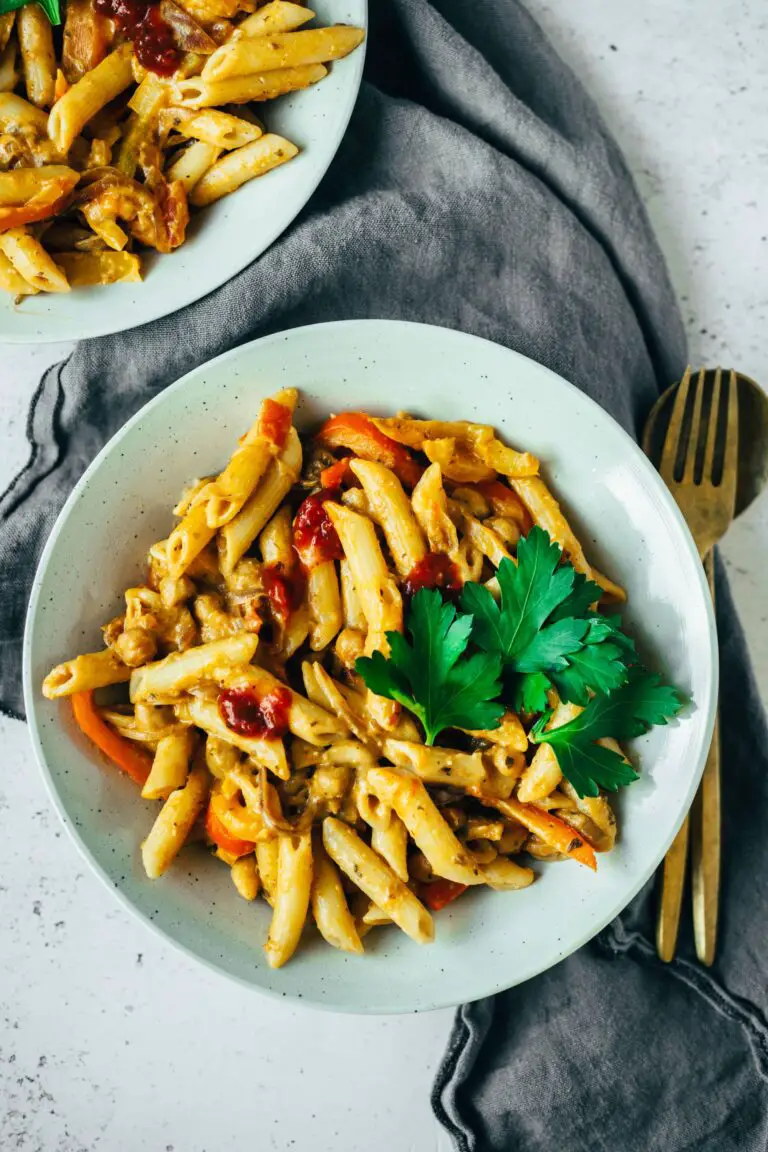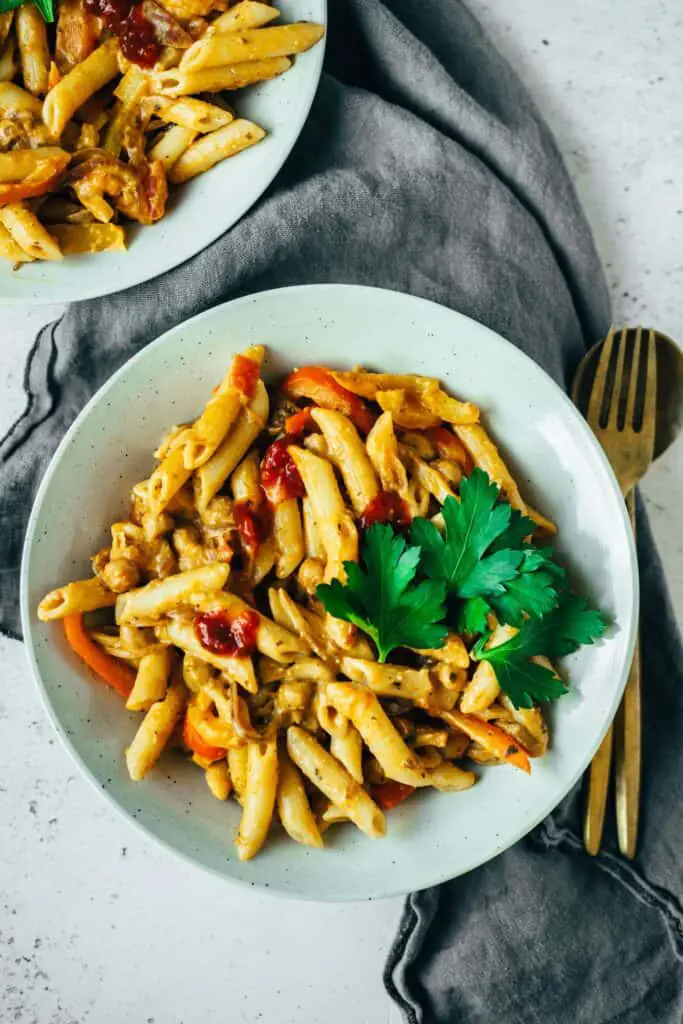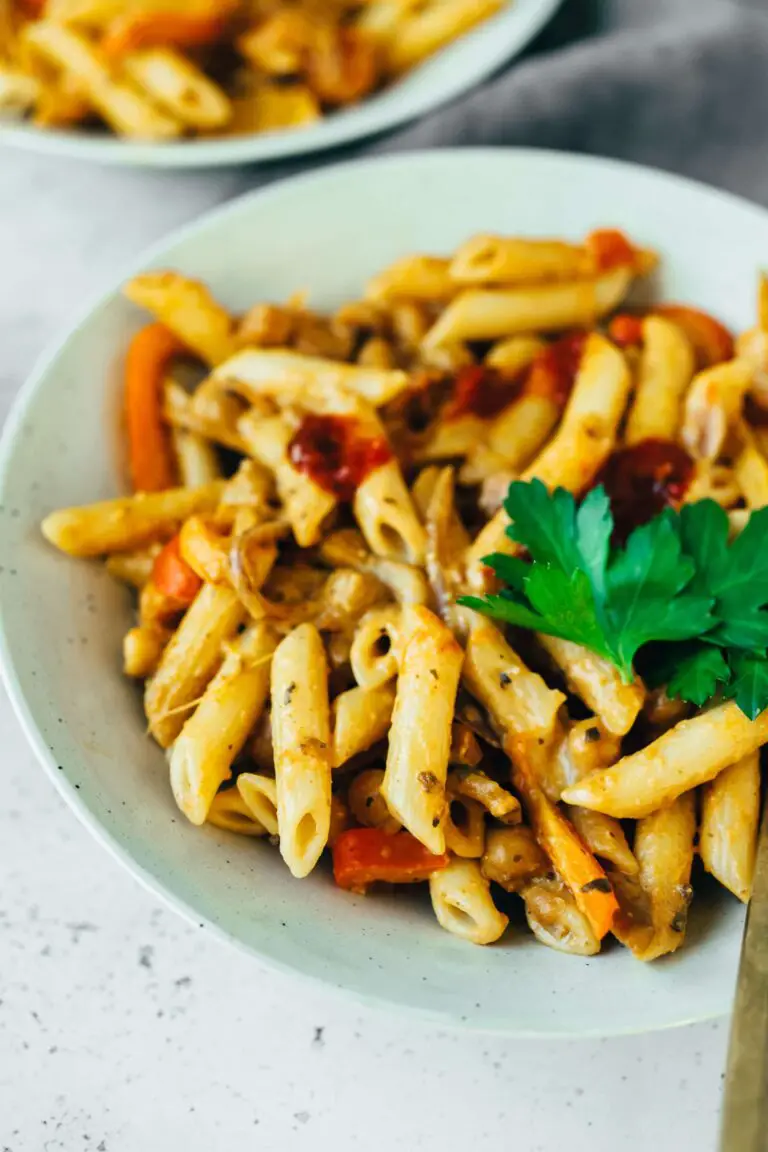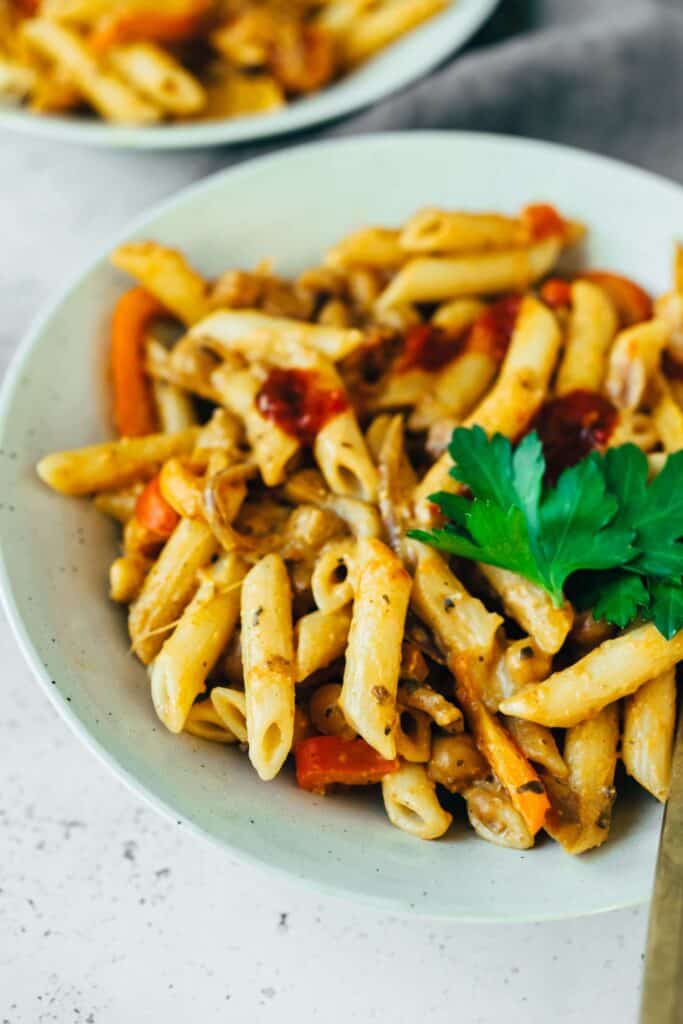 This pasta is perfect if you are active and want to fill up your glucose stores. For all those who are afraid of carbohydrates here comes another very good news. Studies show that it makes no difference weight-wise whether you are on a high or low carb diet to lose weight. However, the low carb and especially the keto diet (lots of protein, especially also from animal sources) has some crucial disadvantages. As soon as the body no longer receives a supply of carbohydrates, it switches to what is known as ketogenesis. Ketogenesis and uses the supplied proteins and fats to produce energy. In addition, he empties his glucose stores beforehand and you eventually lose two important substances: Water and muscle mass . In addition, you become very sensitive to carbohydrates and even eating a small banana, let your blood sugar levels shoot up and thus potentially the kilos. That is why I rely on healthy, complex carbohydrates for energy . Are you with us?
Perfectly fits to our vegan Pasta a great Parmesan Topping and if you want to combine it with a delicious dessert, I recommend the Chocolate mousse tart .
The Mexican Style Pasta is:
Pleasantly sharp
Mexican
aromatic
filling
Quickly made
With this delicious Pasta dish you convince every veggie critic. I wish you a lot of fun in recooking and of course a review at the bottom of this page. If you post a picture, use the hashtag #veganevibes.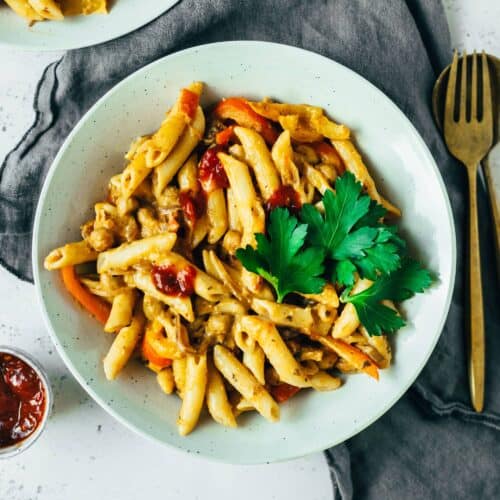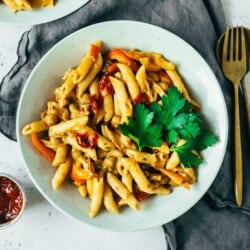 Mexican Style Pasta
Wonderfully aromatic, slightly spicy and filling pasta dish with bell bell pepper, onion and a creamy sauce of cashews, tomato and tasty spices. The perfect dish to add variety to vegan pasta dishes.
AUTOR: VEGANEVIBES
FOR THE VEGETABLE PAN:
15

ml

Frying oil

if oil-free replace with vegetable broth

1

Piece

red bell bell pepper

seeded and cut into strips

1

Piece

yellow bell bell pepper

seeded and cut into strips

1

Piece

medium red onion

cut into rings

2

Piece

Garlic cloves

peeled and pressed, alternatively 1 tsp garlic granules

4

Piece

Mushrooms

cleaned and finely sliced

265

g

Chickpeas

drained – save chickpea water for other recipes. 1 can or jar with 400g

1

tbspn

Cumin

ground

½

tbspn

Oregano

alternatively mixed Italian herbs

½

tbspn

Basil

alternatively mixed Italian herbs

1

tbspn

Paprika

smoked

1

Bird Eye Chili

alternatively another chili or chili powder of choice
FOR PASTA:
250

g

Pasta at will

Equivalent to half a standard pack

1

Piece

large tomato

finely diced

1

Piece

Garlic clove peeled and pressed

alternatively 1/2 tsp garlic granules

½

tbspn

Mustard seed

ground, alternatively 1 tsp Dijon mustard

½

tbspn

Salt

30

ml

Olive oil

if oil-free omit
Anleitung 
Soak cashews in either cold water for at least 6 hours or hot water for one hour if your blender is not very powerful. Then put the cashews for the PASTA in a high-powered blender, add water and blend on high speed to a fine cream. Set aside.

1/3 Cup Cashews,

1 ½ Cups Water

For the VEGETABLE PAN Heat frying oil, add onion, red and yellow peppers, mushrooms, and chickpeas and stir once. Add cumin, oregano, basil, smoked paprika, Bird Eye chili and salt. Stir again, cover (doesn't have to be but recommended) and let brown for a few minutes.

15 ml Frying oil,

1 Piece red bell bell pepper,

1 Piece yellow bell bell pepper,

1 Piece medium red onion,

2 Piece Garlic cloves,

4 Piece Mushrooms,

265 g Chickpeas,

1 tbspn Cumin,

½ tbspn Oregano,

½ tbspn Basil,

1 tbspn Paprika,

1 Bird Eye Chili,

Salt to taste

In parallel, bring pasta water to a boil and add a good pinch of salt to the cooking water.

Deglaze the vegetable pan once with the pasta water so that the vegetables become nice and soft (see video).

While the vegetable pan is simmering, cook the pasta until al dente and strain. Return to pot, add tomatoes, cashew cream, garlic, mustard seeds, yeast flakes, salt and optional olive oil and stir vigorously once until combined. Heat and let simmer briefly, then the sauce becomes really nice and creamy.

1 Piece large tomato,

1 Piece Garlic clove peeled and pressed,

½ tbspn Mustard seed,

½ tbspn Salt,

15 g Nutritional yeast flakes,

30 ml Olive oil

Add to the vegetable fritters and stir vigorously once until evenly combined.

Portion onto plates, garnish with fresh basil or parsley and enjoy.
Nährwertangaben
Serving:
1
Portion
Calories:
467
kcal
Carbohydrates:
61
g
Protein:
15
g
Fat:
19
g
Saturated Fat:
3
g
Sodium:
483
mg
Potassium:
362
mg
Fiber:
7
g
Sugar:
2
g
Vitamin A:
246
IU
Vitamin C:
3
mg
Calcium:
49
mg
Iron:
3
mg