Make Tofu great again! This is my motto in October . It makes me think back to a trainee at my favorite organic supermarket. I was just at the checkout and had some Tofus on the conveyor belt when I asked him if he liked everything that was available here in this great store. Yes, already he said everything is super tasty, except for Tofu ! There I had to smile really, because I have heard that so often. But it always depends on how it is prepared. Tofu is prepared. I will provide the proof today: Tofu is damn tasty and addictive! Oh yes, and if you (trainee) might be reading these lines now, feel free to drop by. I like to bruzel you live my favorite tofu.
Make Tofu great again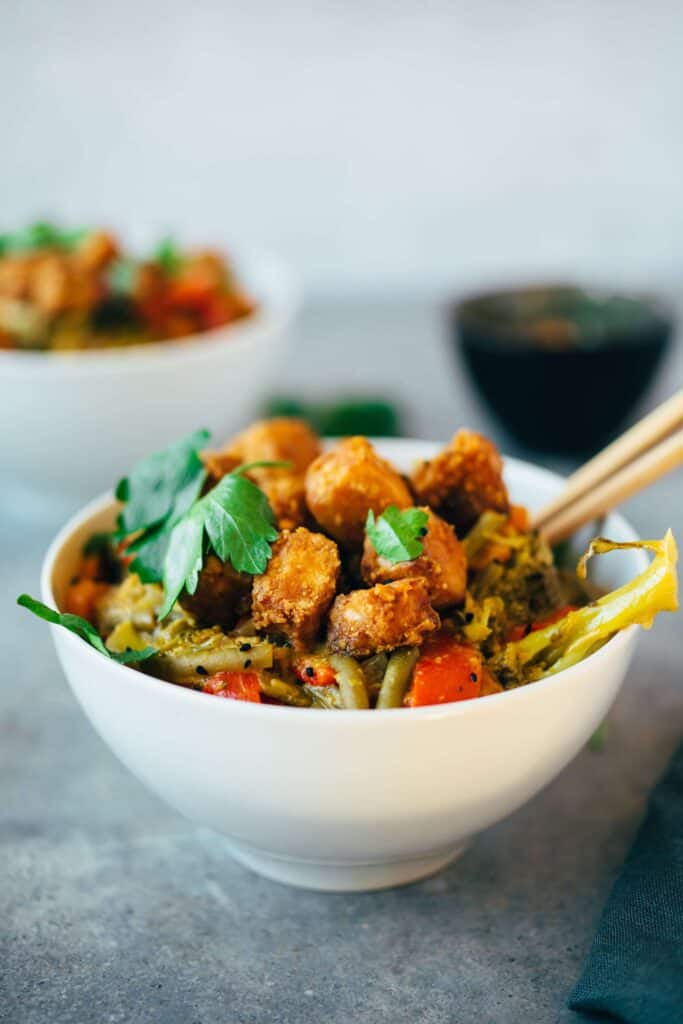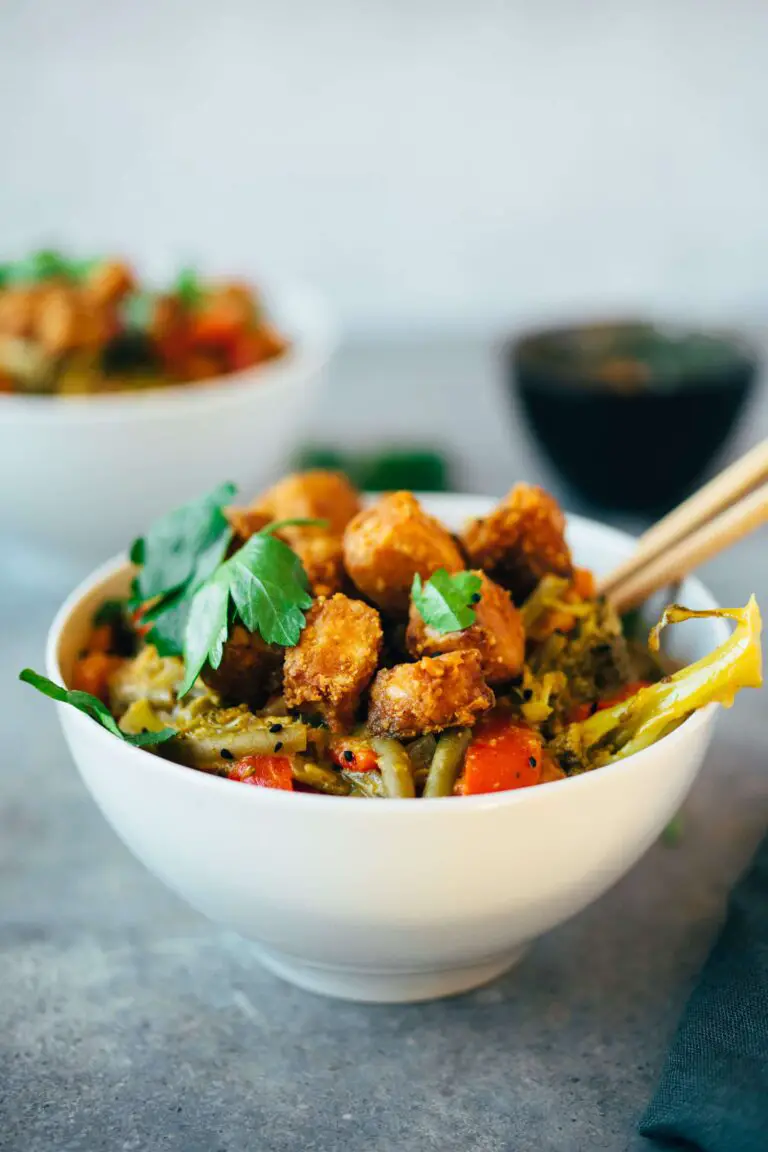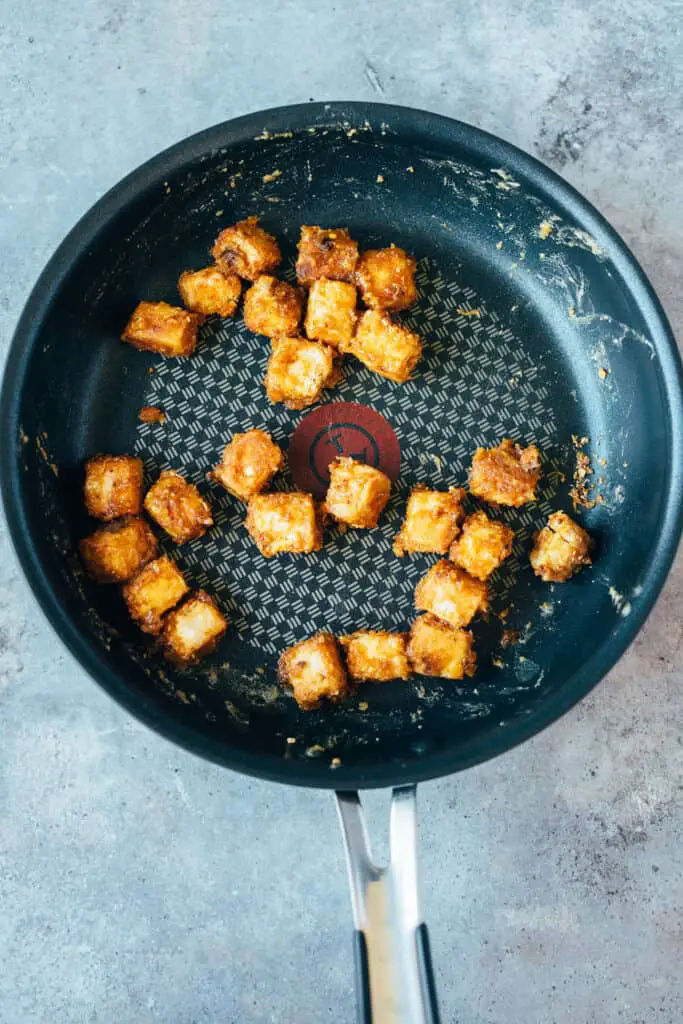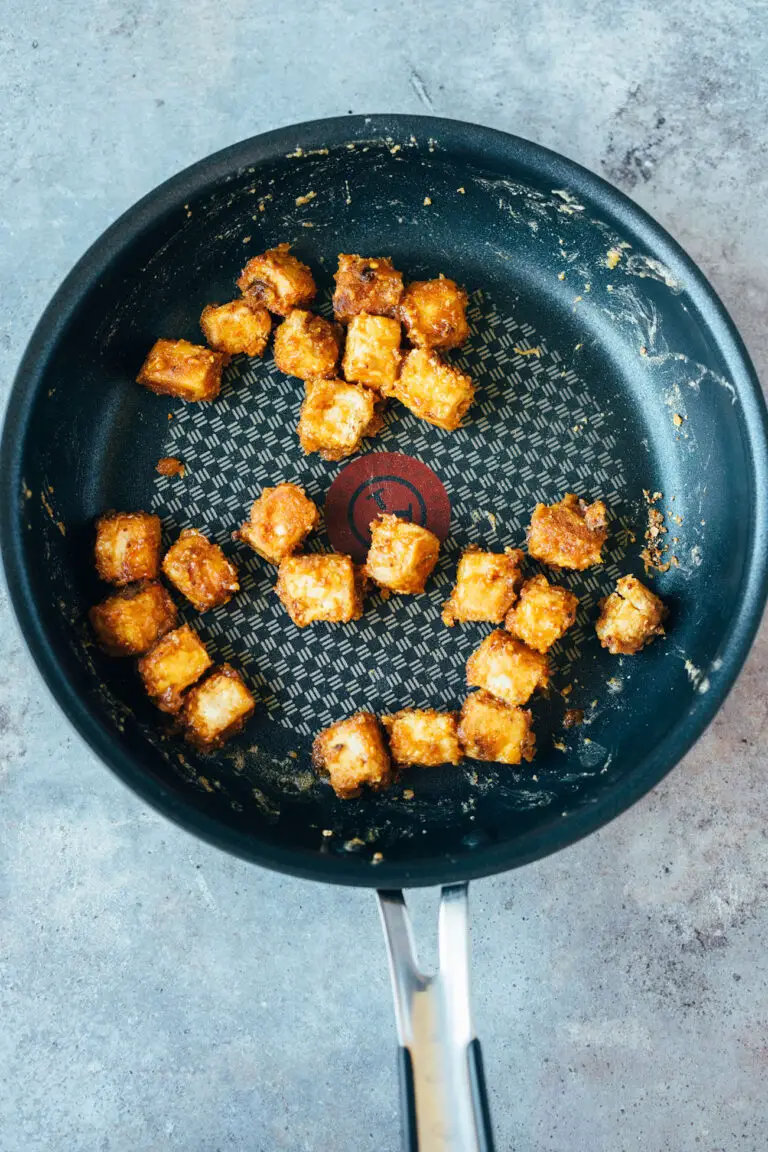 Ok, the saying might now remind you of a person who has Tofu has almost nothing to do with. Whereas you always don't know how people really tick and maybe even he eats tofu? Back to the essentials, our recipe today. The trick is that we first press the tofu and then put it in a marinade. Then, after rolling it in cornstarch, it goes into the oven and bakes until quite crispy. In the meantime, we prepare the sauce.
The pan is heated and the tofu goes in directly on the stove. Due to the starch, it now has a completely dry surface and literally soaks up the sauce. Yummy and just perfect for all sorts of Asian Dishes . As a topping on curries, Salads or simply pure for snacking.
Where do vegans actually get their protein from?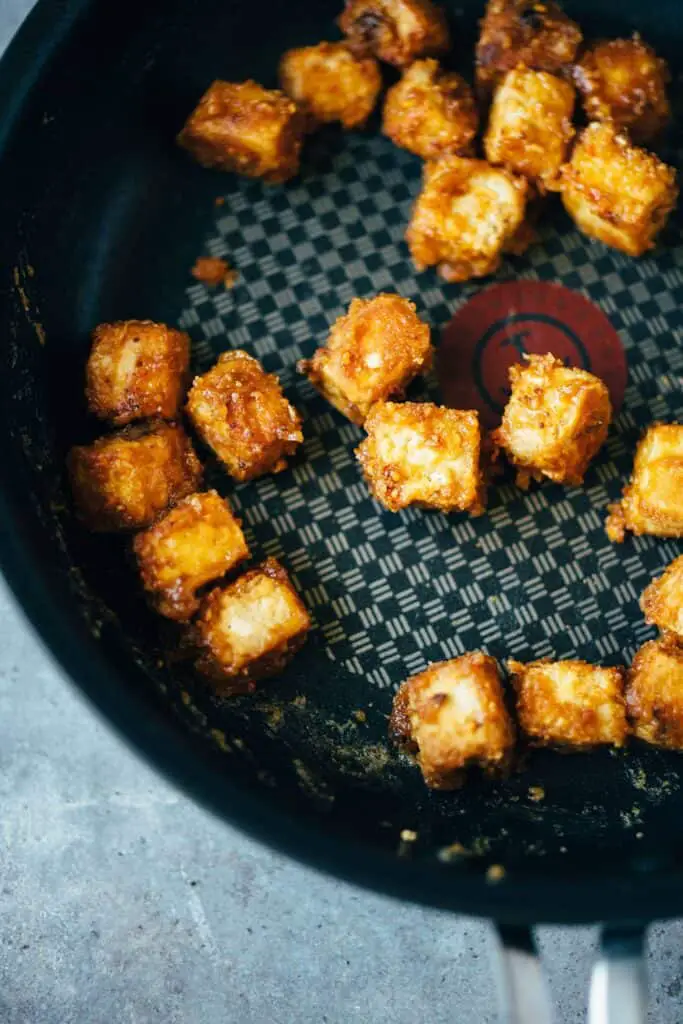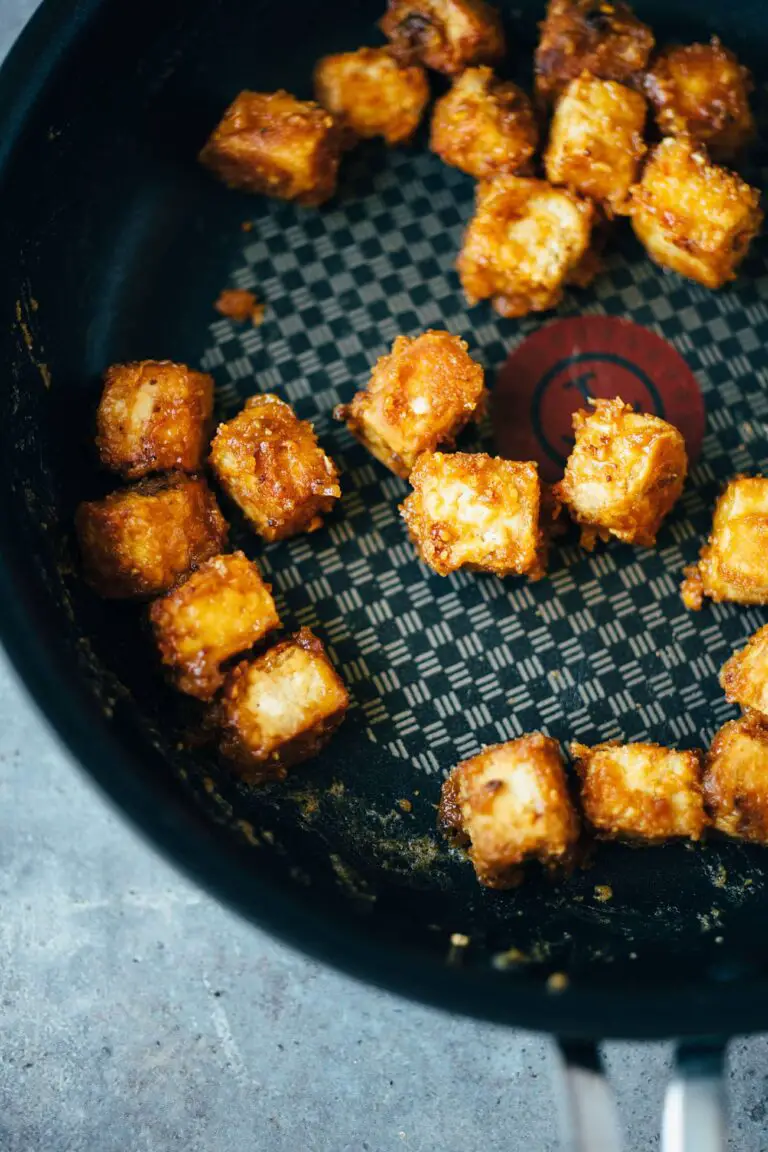 Did you know how tofu is made? Strictly speaking, it is simply soy milk. The soybeans used for this purpose must have a protein content of at least 42% and a specific amino acid composition. With the help of a natural coagulant (magnesium chloride), the tofu finally becomes firm. Especially for vegan living people, it is thus an excellent supplier of protein and other micronutrients:
Especially rich of potassium, magnesium and calcium
B vitamins
High protein content (16g per 100g)
The beauty of today's recipe is that you can combine it in such a great and versatile way:
The crispy tofu Asian Style (asian style):
versatile
Crispy
Simply made
hearty
Are you also a big tofu fan like me? Then I look forward to a review at the bottom of this page. If you post a picture, then like to use the hashtag #veganevibes.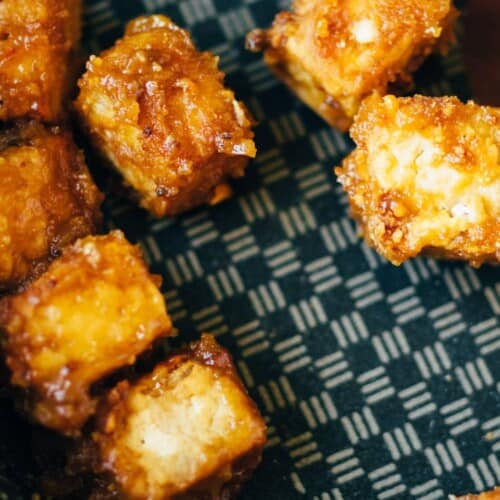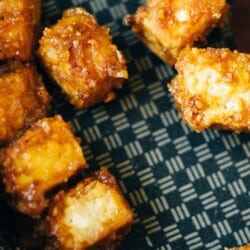 Crispy tofu (Asian style)
Delicious crispy tofu with peanut butter, chili and tamari. Few ingredients, super crispy and ideal for enhancing many Asian dishes.
AUTOR: VEGANEVIBES
Anleitung 
Preheat oven to 200degrees, line baking sheet with parchment paper.

Remove tofu from packaging and ideally squeeze in a tofu press for

15 minutes

until almost no liquid remains. The less liquid in the tofu, the better it can absorb the marinade.

Alternatively Wrap tofu with paper towel or a clean kitchen towel and weigh down with a heavy object. Let stand for 15 minutes until the liquid is squeezed out as best it can.

Then cut the tofu into cubes and place in a bowl.

Add tamari, chili, sesame oil, maple syrup and stir once.

15 ml Tamari,

1 Bird Eye Chili,

7,5 ml Sesame oil,

7,5 ml maple syrup

Add cornstarch, place lid on bowl and toss vigorously once until tofu is coated all around with cornstarch.

Place on baking sheet, place in oven and bake for

15 minutes

until crisp.

In the meantime, prepare the SAUCE. For this, put peanut butter, tamari, chili, lemon juice, maple syrup and sesame oil in a bowl and stir with a whisk until a creamy sauce is formed.

20 g Peanut butter,

15 ml Tamari,

1 Bird Eye Chili,

15 ml Lemon juice,

15 ml maple syrup,

7,5 ml Sesame oil

Heat pan (without additional oil).

Add tofu directly from the oven to the hot pan and add the sauce. Stir until the tofu has completely absorbed the sauce.

Serve with a dish of choice and enjoy!

Best fresh, keeps 2-3 days airtight in the refrigerator.
Nährwertangaben
Serving:
1
Portion
Calories:
277
kcal
Carbohydrates:
20
g
Protein:
13
g
Fat:
17
g
Saturated Fat:
3
g
Polyunsaturated Fat:
7
g
Monounsaturated Fat:
7
g
Sodium:
890
mg
Potassium:
140
mg
Fiber:
2
g
Sugar:
9
g
Vitamin A:
36
IU
Vitamin C:
10
mg
Calcium:
146
mg
Iron:
2
mg