It's summer my darlings! Oh really, because when I look out the window, summer is taking a little breather right now. The thermometer shows just 15 degrees, but no matter, we don't let it spoil our mood and concentrate on the next temperature rise. What can't be missing? A delicious, easy to digest and filling. Dish with lots of ingeniously good dip. Of course, all homemade and eaten up completely (honestly, you can not leave this sauce either … much too delicious).
Vegan Spring Rolls with marinated tofu? Give it to me!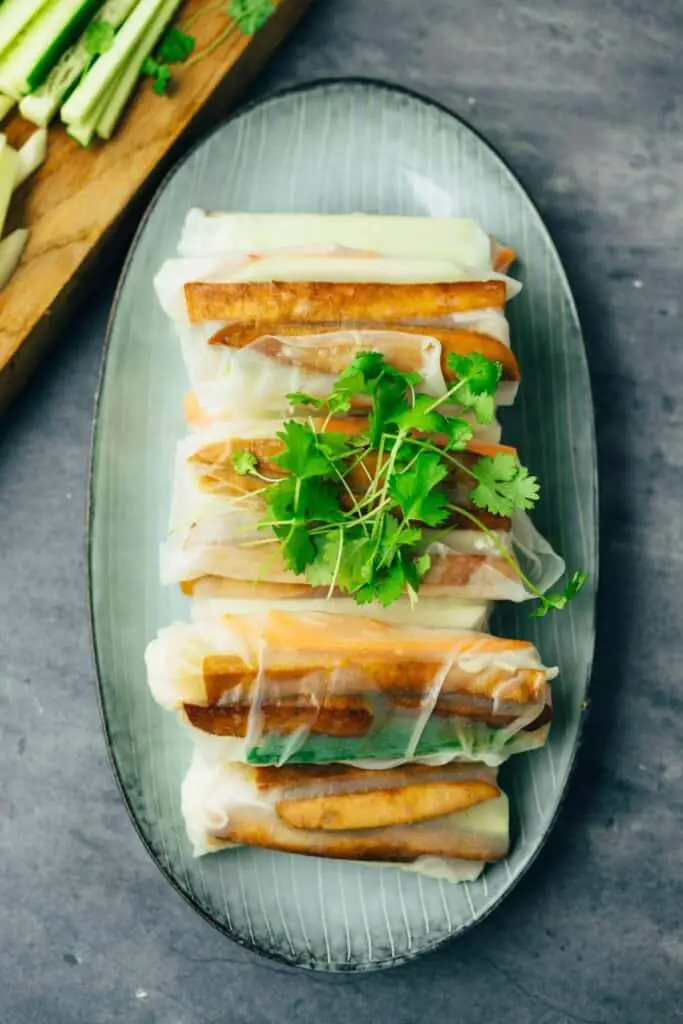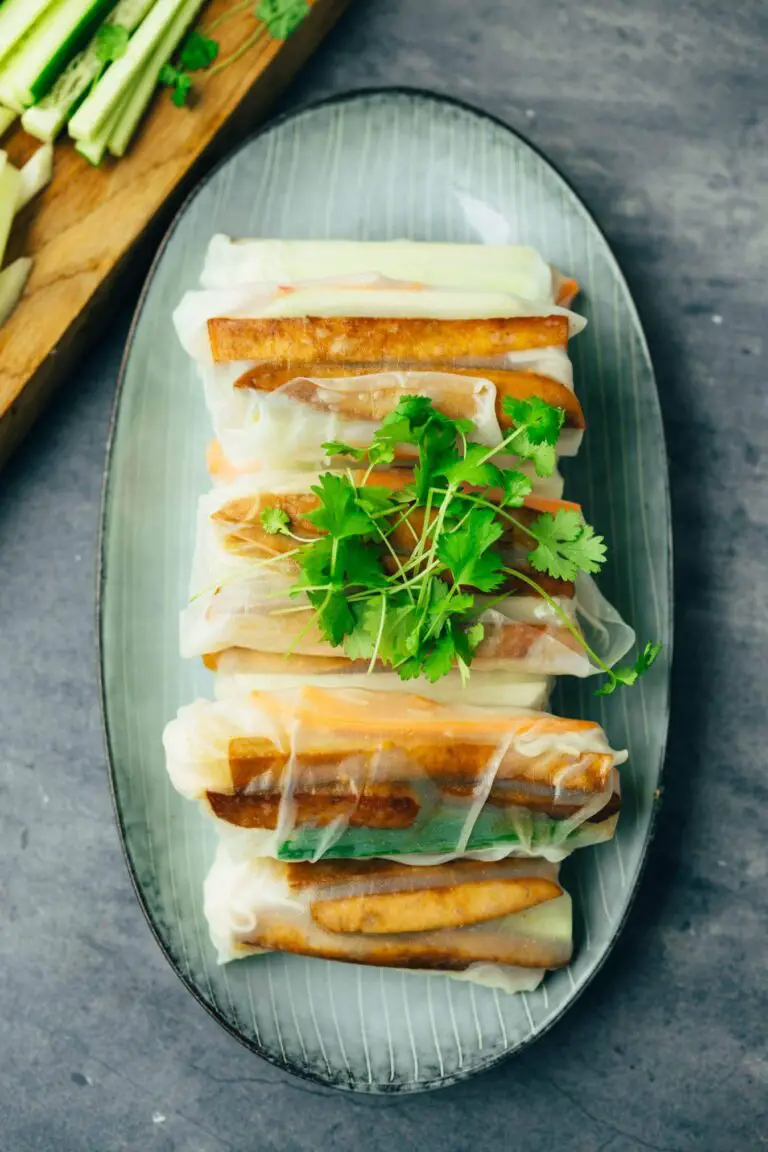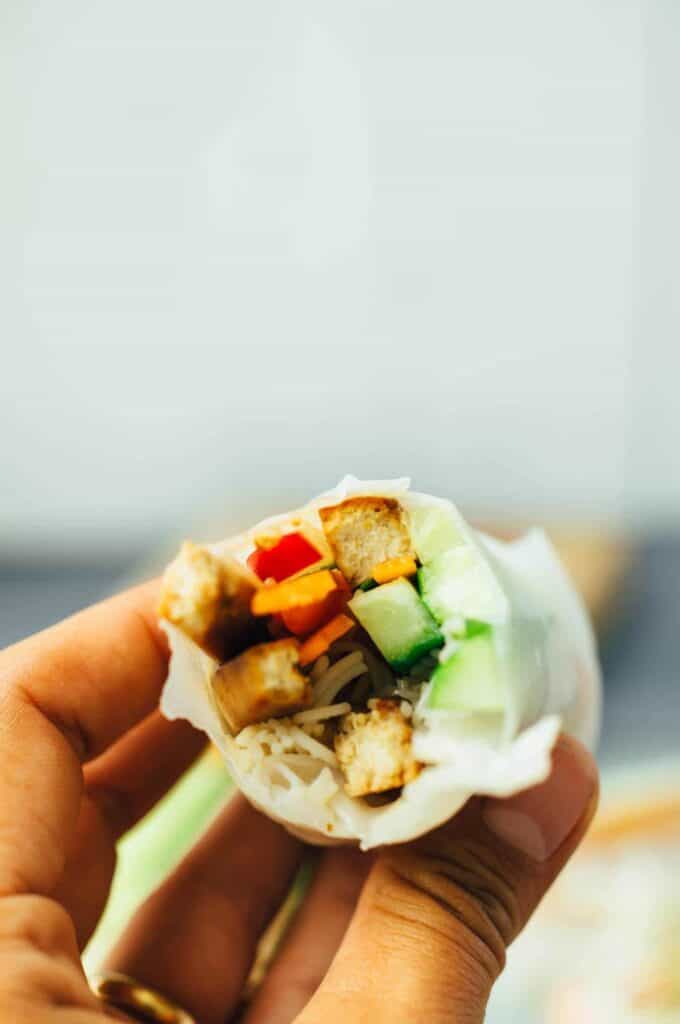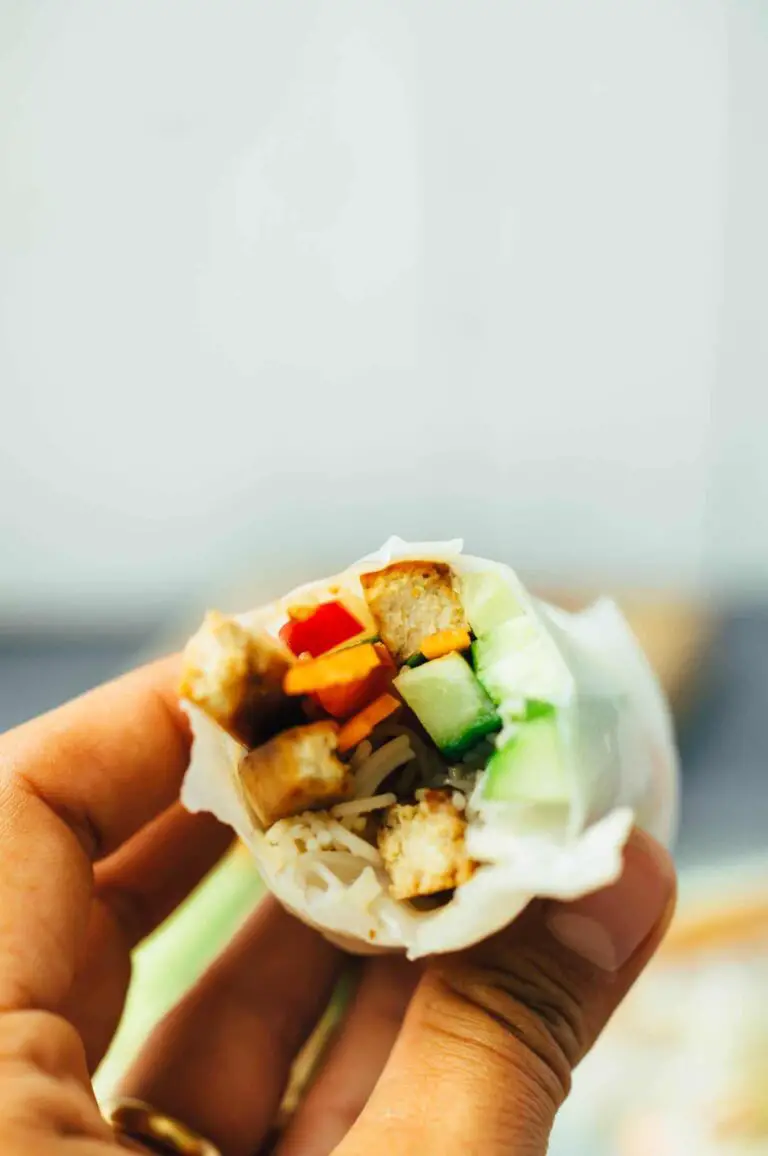 Tofu Nature is boring after all! Think many people and yes it is, if it is not properly fried, seasoned or in our case marinated. The other day I was really surprised when I cooked tofu natural on the grill and then put it in a sandwich. It was super tender, firm on the outside, and almost reminded me a bit of chicken. The Recipe will be available soon. But now for our, delicious tofu strips. These are pickled in soy sauce, maple syrup and sesame oil. At least 30 minutes, so that everything can soak nicely. Then various vegetables are chopped, glass noodles are cooked and a delicious, as ingenious sauce is prepared. I make this based on Cashew butter but more about that below.
Dip it, baby!
There are lots of dipping sauces out there, but I chose a particularly delicious one. Cashew butter, soy sauce, Bird Eye chilies, maple syrup, lime juice and hot water to thin. That's it! Shall we get started? Here is a short overview of what you should have ready for your personal Spring Roll Work Station:
Rice paper
a large plate of lukewarm water (to soak the rice paper)
another flat plate or wooden board for rolling the Spring Rolls
a long board with the finely chopped vegetables
a small bowl for the tofu
a bowl for the rice noodles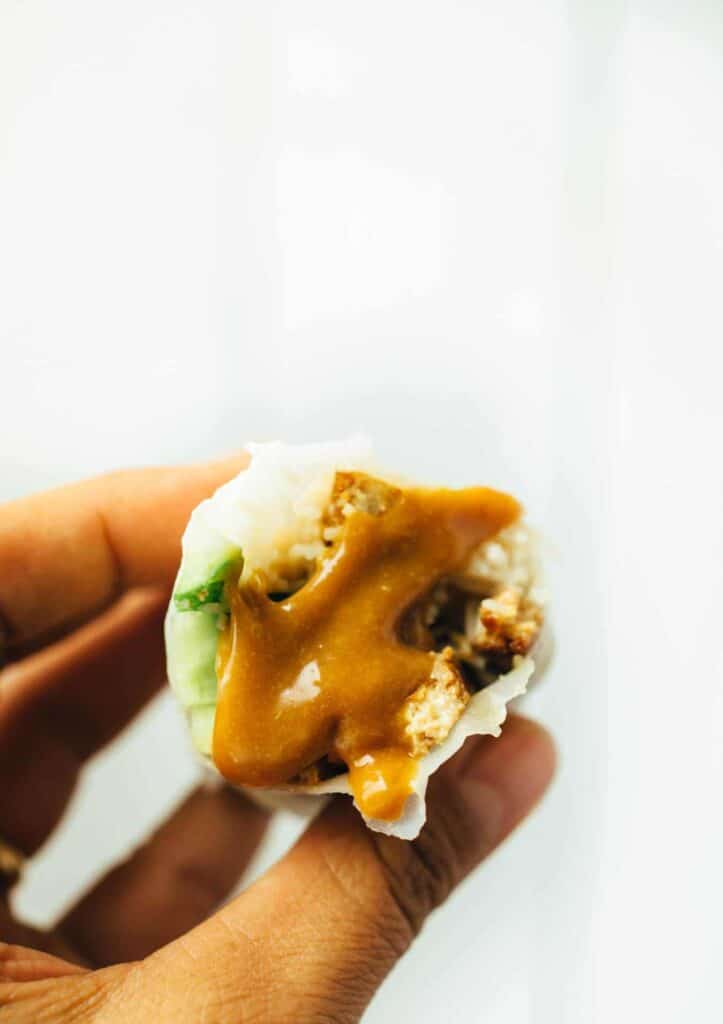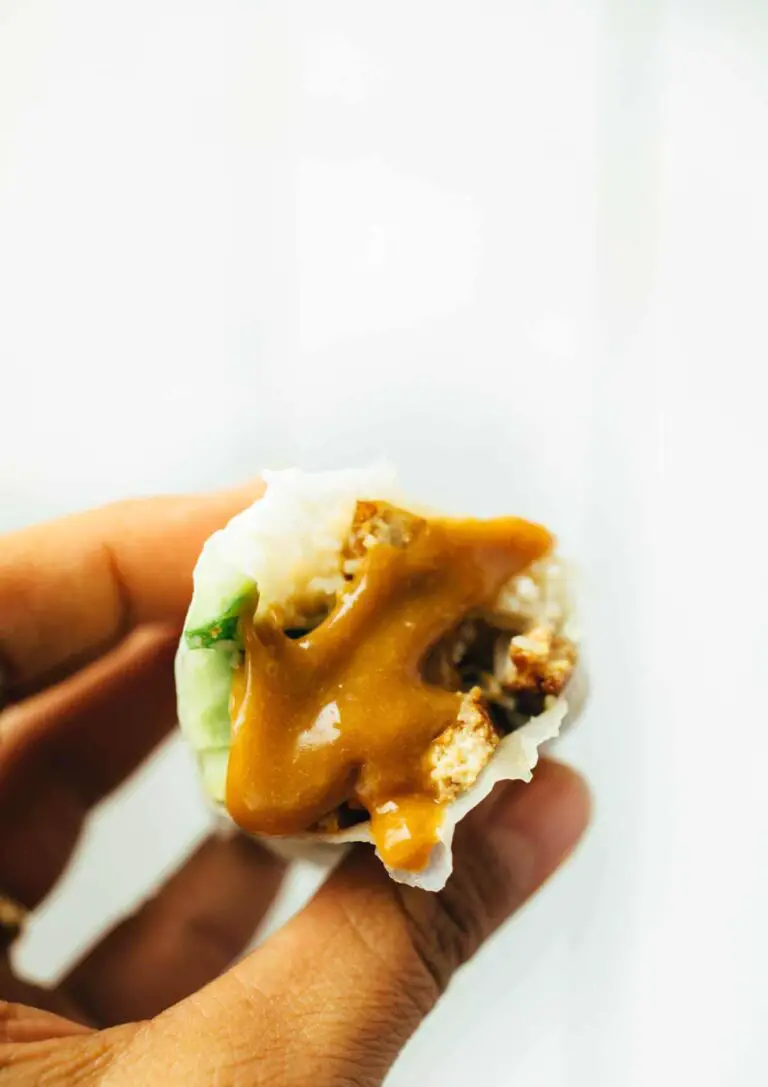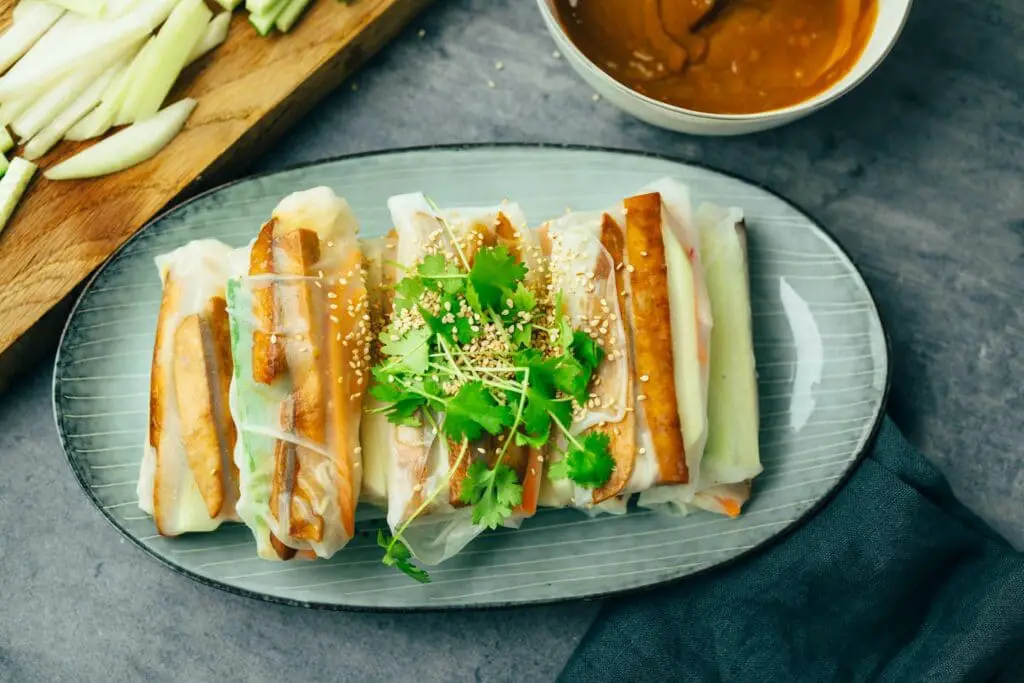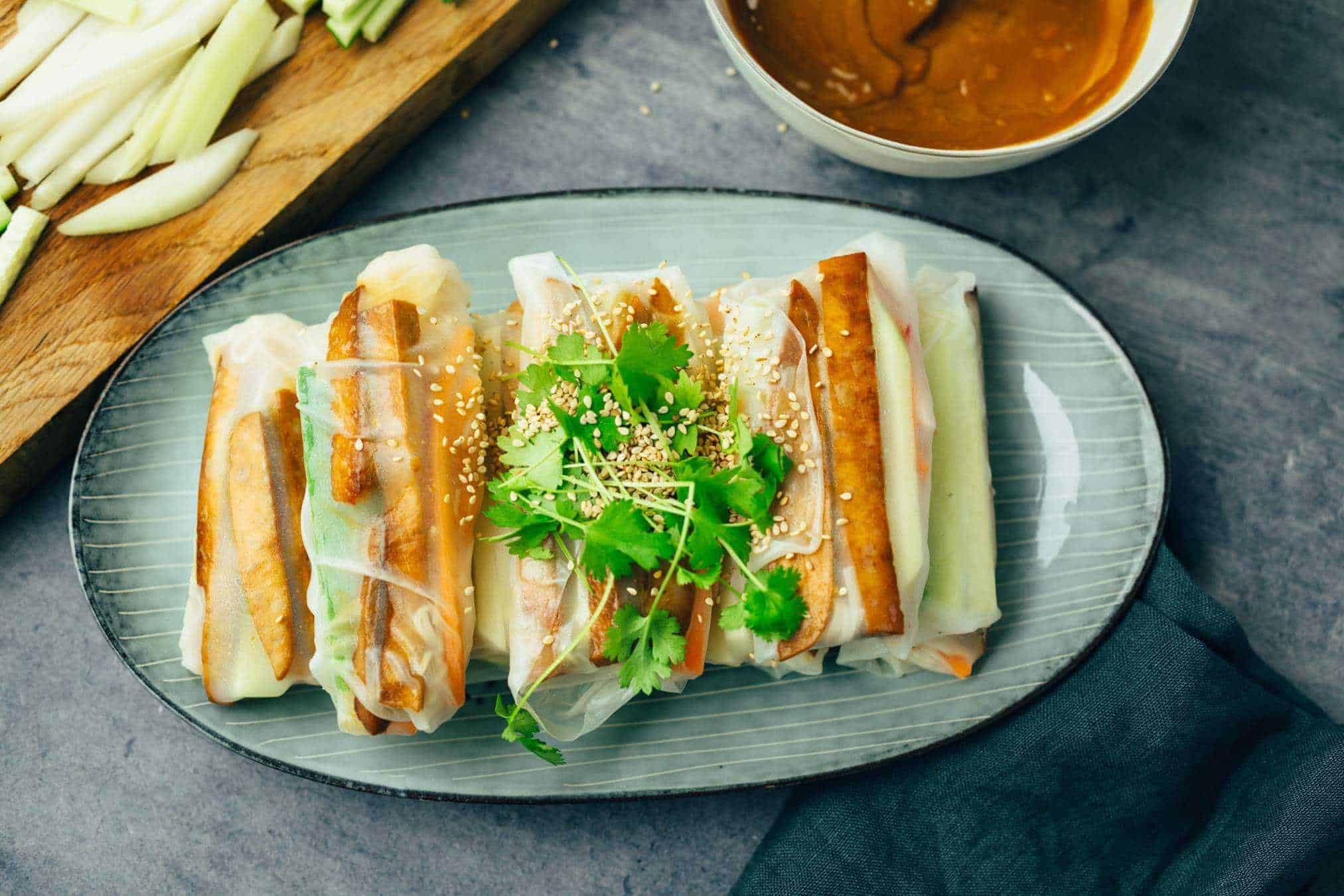 Ready to Roll?
Let's get going, yuhee! If you're still thinking of serving dessert, I'm thinking of the delicious, vegan caramel pudding . I do not use any other side dishes with this dish, because it makes it full! By the way, the dish is very suitable for a fun evening with friends, especially if you have one or the other coarse motorist with you, to whom the rolling is not so easy from the hand(sorry Chris!). You can have a little fun, can't you?
Spring Rolls with Marinated Tofu:
hearty
Summery
Healthy
Asian spicy
Full of healthy vegetables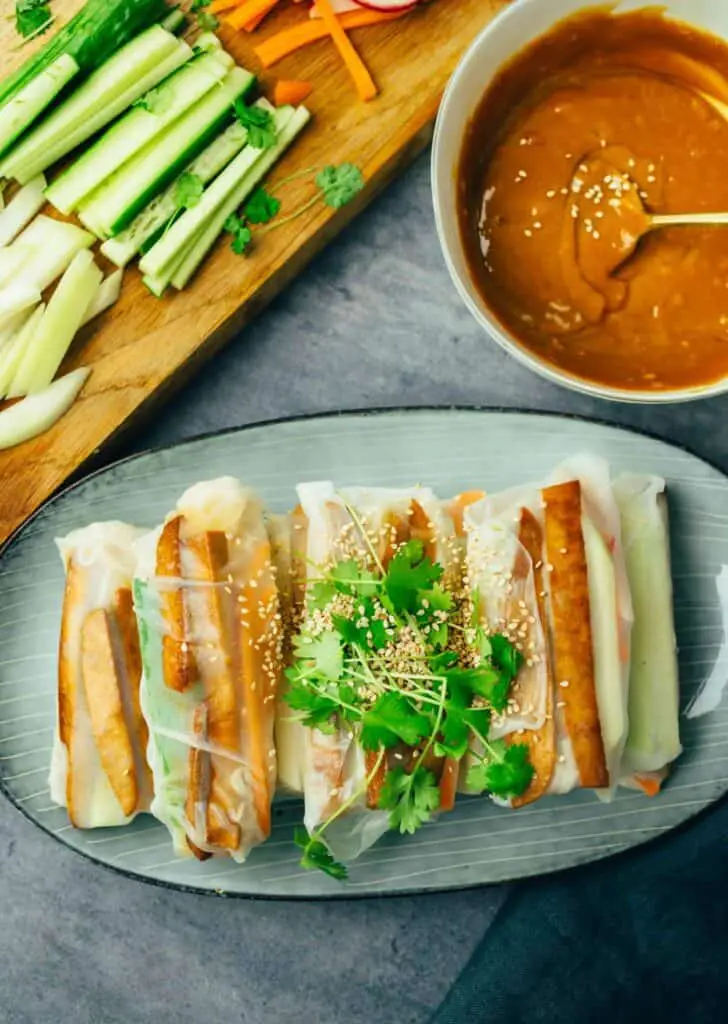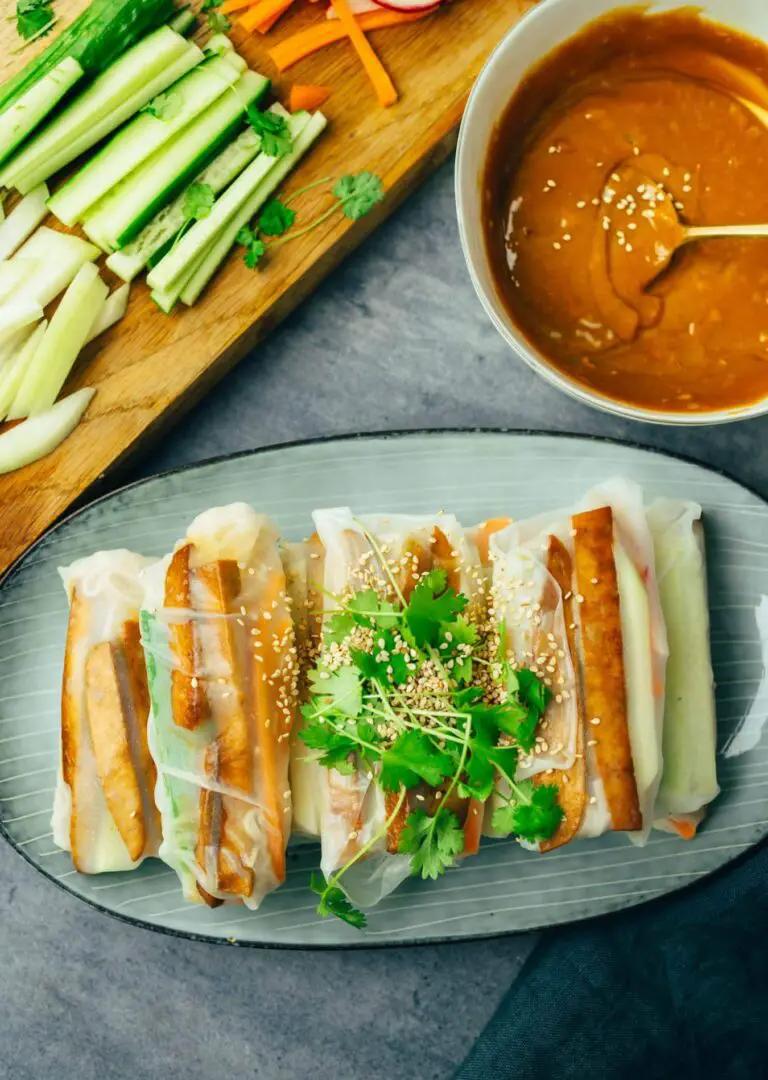 Well, Have you got a desire to this delicious Summer dish ? I wish you a lot of fun in recooking and of course a review at the bottom of this page. If you post a picture, use the hashtag #veganevibes.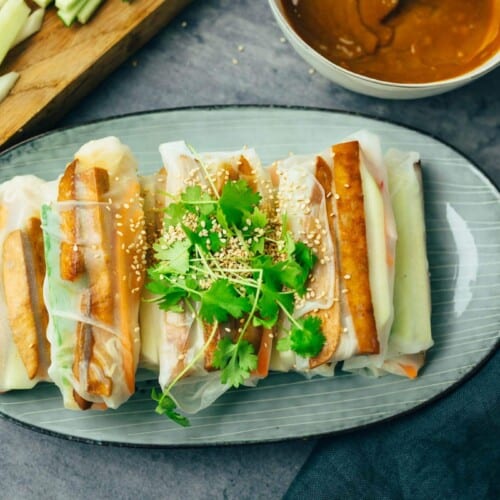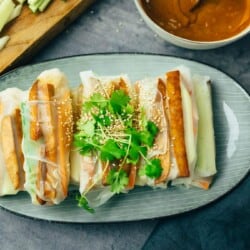 Spring Rolls with Marinated Tofu
Asian spiced, summer dish with marinated and then crispy fried tofu, lots of healthy vegetables and glass noodles. Topped off with a deliciously creamy sauce based on tasty cashew butter. A healthy, filling and aromatic dish for hot temperatures.
AUTOR: VEGANEVIBES
FOR THE SPRING ROLLS:
250

g

firm white tofu nature

dabbed dry and cut into fine strips (2 cups)

30

ml

maple syrup

15

ml

Sesame oil

15-30

ml

Coconut oil or other high heat frying oil

100

g

Glass noodles

2-3

Cups

Vegetables of choice

cleaned and cut into fine strips (I use carrots, cucumber, radish and kohlrabi, other options: Avocado, zucchini, red cabbage, mango, etc.).

optional: pickled Asian ginger

optional: sesame seeds

optional: fresh coriander leaf
FOR THE CASHEW DIPPING SAUCE:
½

Cup

Cashew nut butter or mush

30

ml

Tamari

or any other soy sauce

1-2

Bird Eye Chilies

30

ml

maple syrup

30

ml

Lime juice

some hot water for dilution
Anleitung 
Place tofu strips in a deep dish, marinate with tamari, maple syrup and sesame oil. Leave to infuse for 30 minutes.

250 g firm white tofu nature

In the meantimez clean the vegetables and cut them into fine, elongated strips. Set aside.

2-3 Cups Vegetables of choice

Prepare rice noodles according to package directions, rinse in cold water and set aside.

For the Cashew Dipping Sauce place all ingredients in a bowl or blender and stir/mix until a smooth sauce is formed. Dilute with hot water as needed.

30 ml Tamari,

1-2 Bird Eye Chilies,

30 ml maple syrup,

30 ml Lime juice,

some hot water for dilution,

½ Cup Cashew nut butter or mush

Heat a pan, put coconut oil or frying oil and fry tofu with marinade. Fry until the marinade has evaporated and the tofu is nicely browned and crispy. Remove from heat and set aside.

250 g firm white tofu nature,

30 ml Tamari or another soy sauce,

30 ml maple syrup,

15 ml Sesame oil,

15-30 ml Coconut oil or other high heat frying oil

Set up a small work station with the vegetables, the rice paper, a deep plate of lukewarm water, another clean plate or board, a clean kitchen towel, the tofu, and the rice noodles.

To roll, place one rice paper at a time in the lukewarm water, remove and soften on the kitchen towel for 1-2 minutes.

Place on empty plate, top with 1-2 strips of tofu, vegetables, rice noodles, cilantro and sesame seeds. First fold in two opposite sides. Then fold in the third side. Press to form a compact roll, then roll tightly over the fourth side.

Repeat (or have guests repeat until all ingredients are used).

Dip in the cashew dipping sauce and enjoy! Best fresh.
Notizen
NOTES /HELPFUL ACCESSORIES:
Nährwertangaben
Serving:
2
Rolls
Calories:
102
kcal
Carbohydrates:
13
g
Protein:
2
g
Fat:
4
g
Saturated Fat:
1
g
Sodium:
337
mg
Potassium:
26
mg
Sugar:
3
g
Vitamin C:
1.7
mg
Calcium:
40
mg
Iron:
0.7
mg