Simple dish with crunchy vegetables, crispy tofu and a creamy spicy peanut sauce.
Yeah, finally snow again! Our Huskies are happy like crazy and they just can't be stopped. To be honest, I personally also prefer white to gray. All the more I am looking forward to a trip into the forest with the scooter today. Huskies strapped to the front and Go! A real joy for the two, who already turned one year old on January 5. Where has the time gone? With this wintry mood and cold weather, I was once again craving a great Asian-inspired dish. Pad Thai! I wanted to do this for so long and now finally it's done.
VEGAN PAD THAI BABY!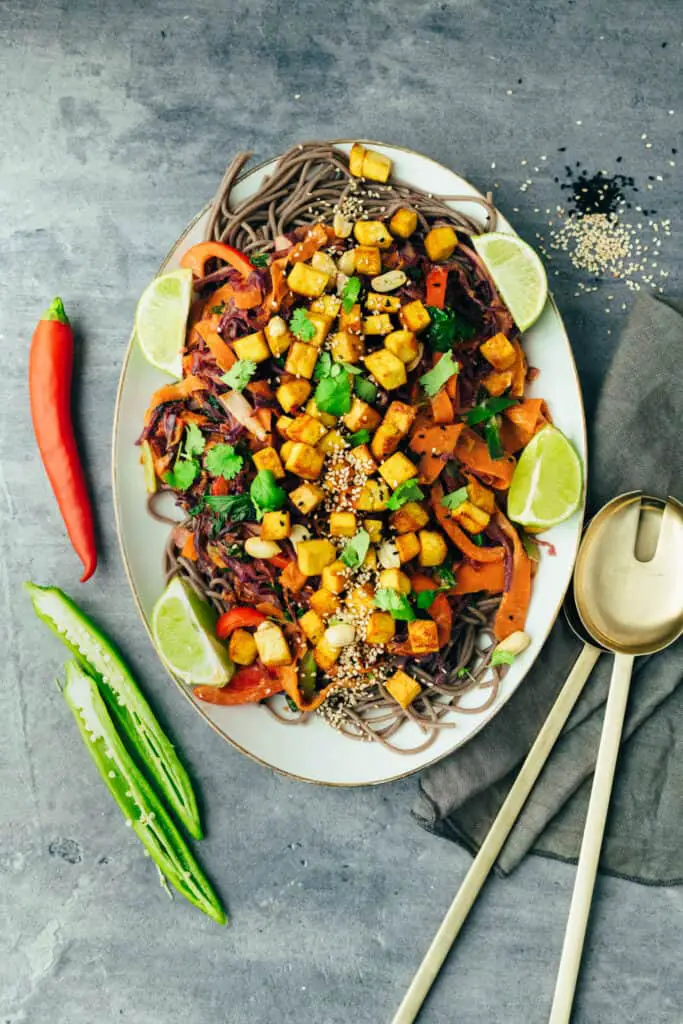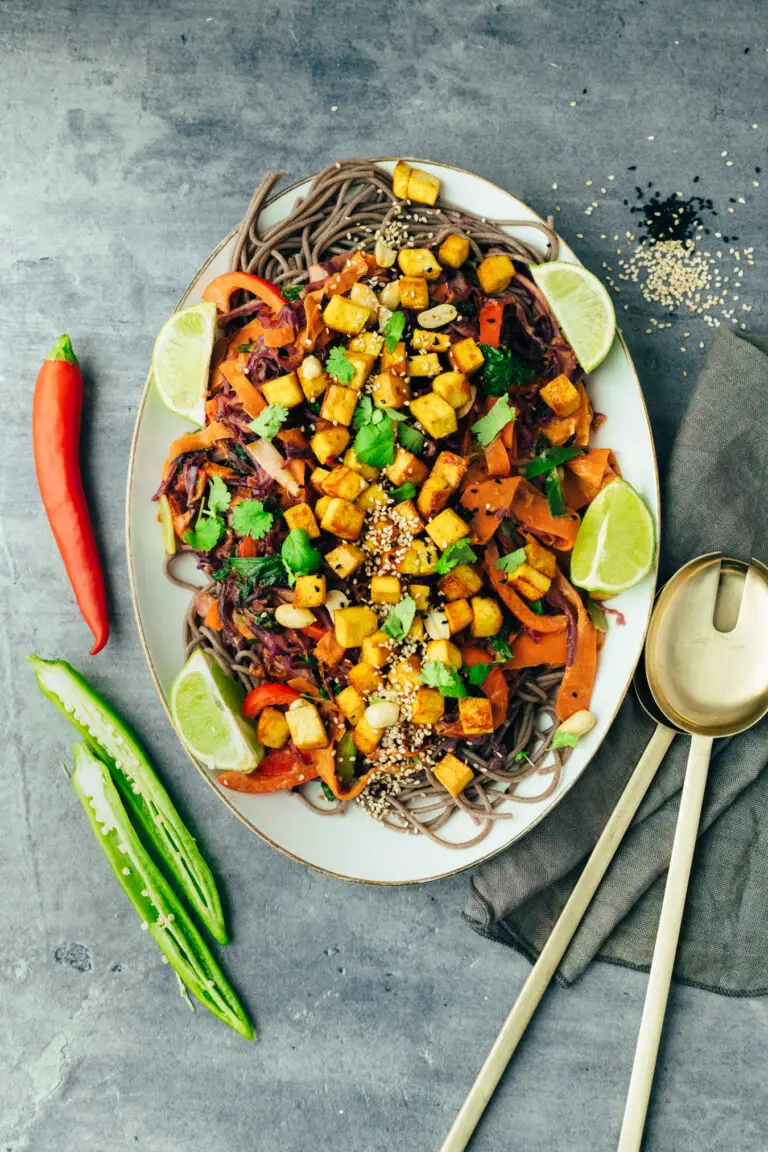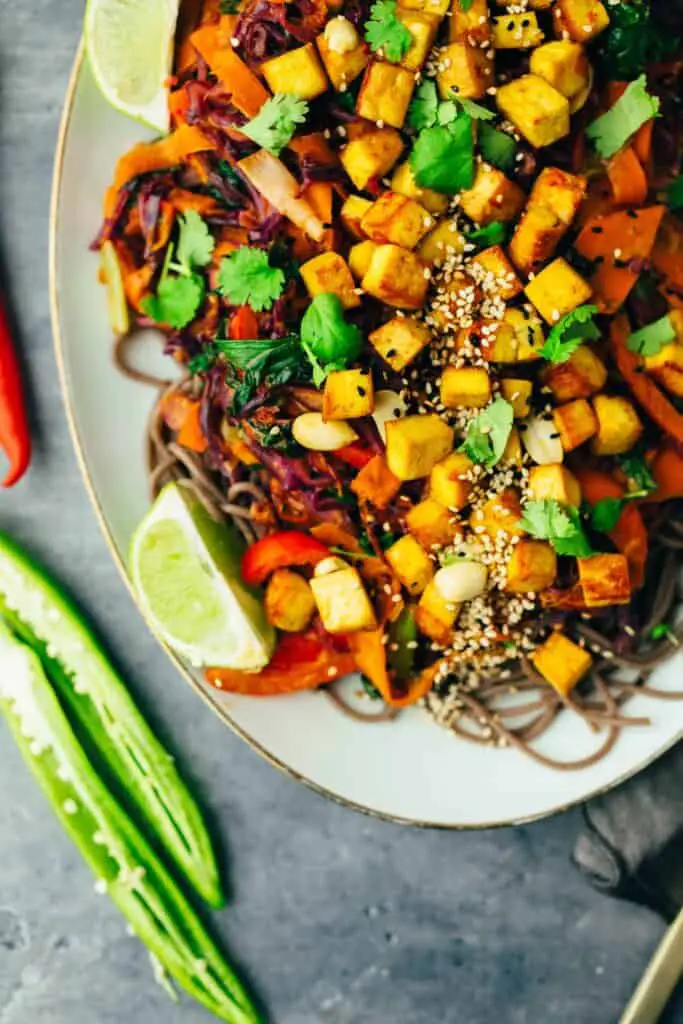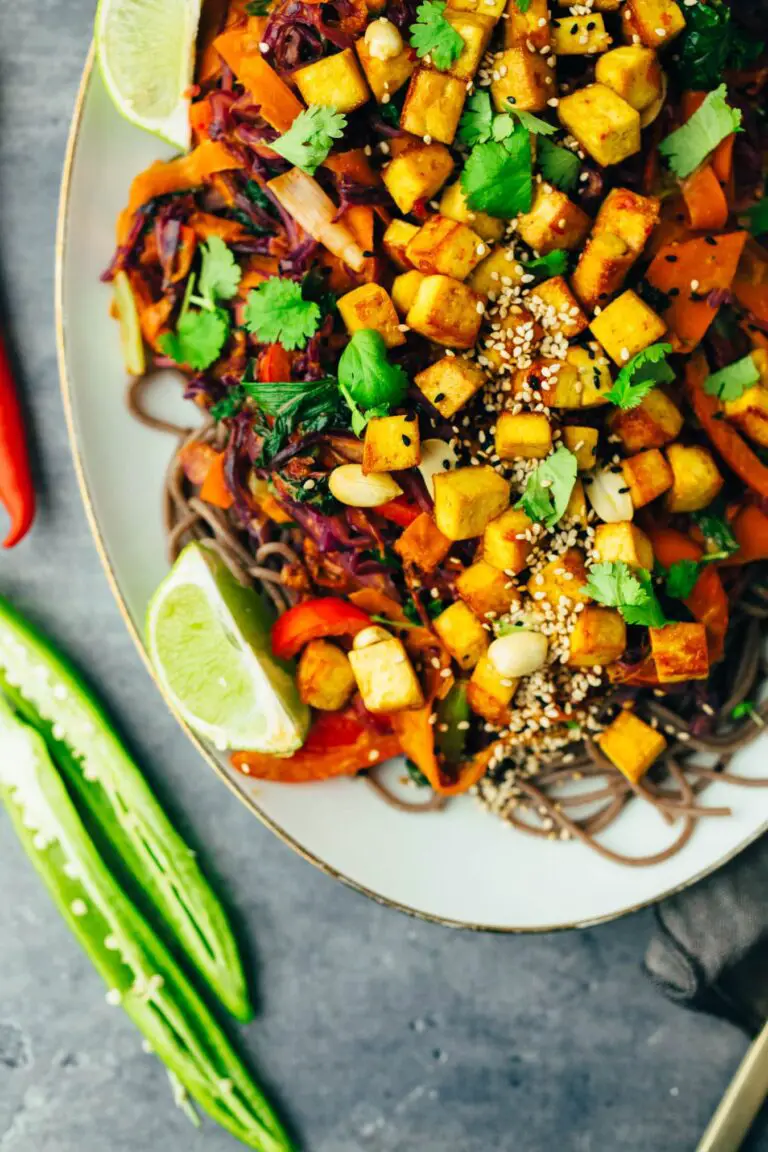 Mind you, the Pad Thai in this today's post is not an authentic one Recipe but based on the original. In our vegan version we use mainly No eggs are used. I also spiced it up with a bit more veggies and instead of regular pasta, I use buckwheat pasta made with whole wheat flour.
But let's just get started with the ingredient list. For the veggies we need chili peppers (fresh or Bird Eye dried), green onion, red cabbage, red bell bell pepper, carrots, kale, ginger and some frying oil. The creamy sauce is made with peanut butter, lime juice, tamari, bird eye chili and maple syrup. Now only the tofu is missing, which we marinate with Tamari , Bird Eye Chili, maple syrup and some turmeric.
ASIAN HEALTHY VEGAN – what more could you want?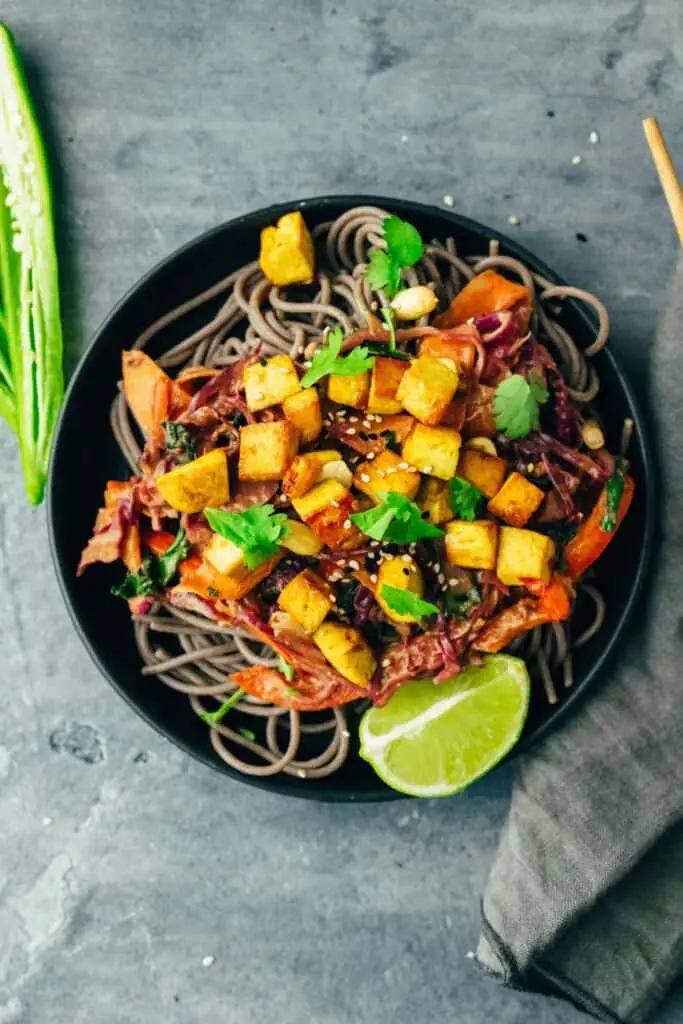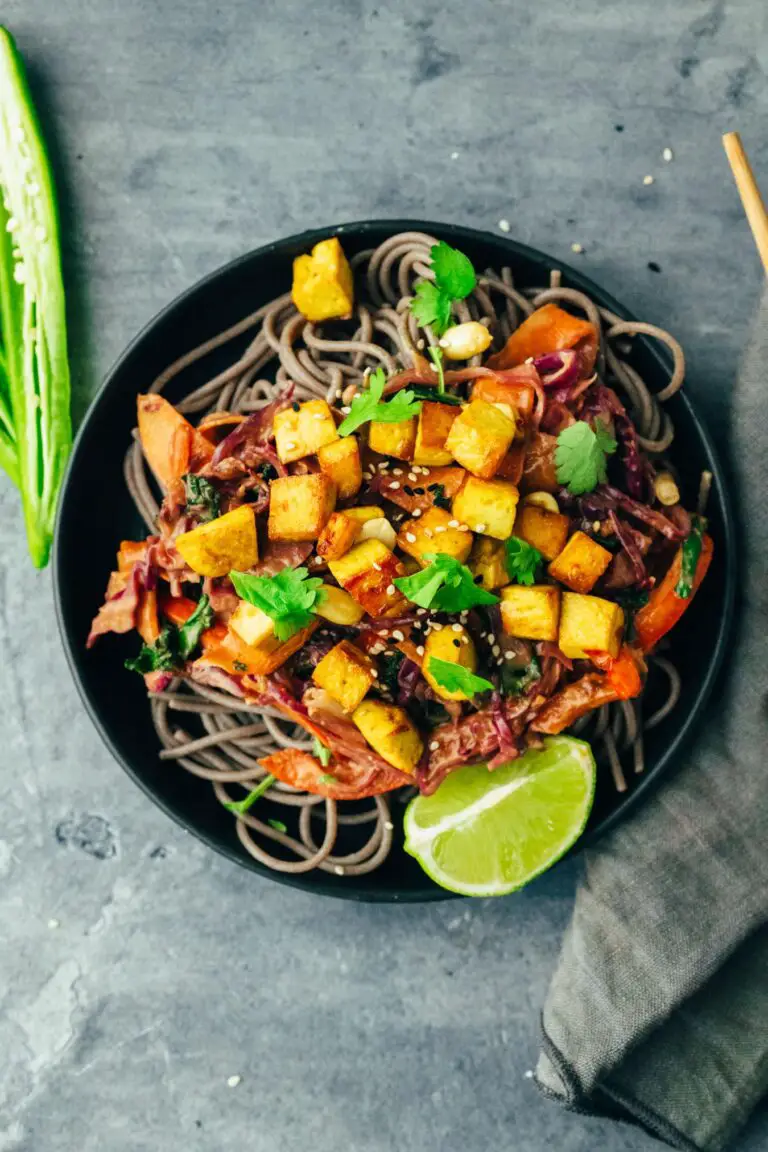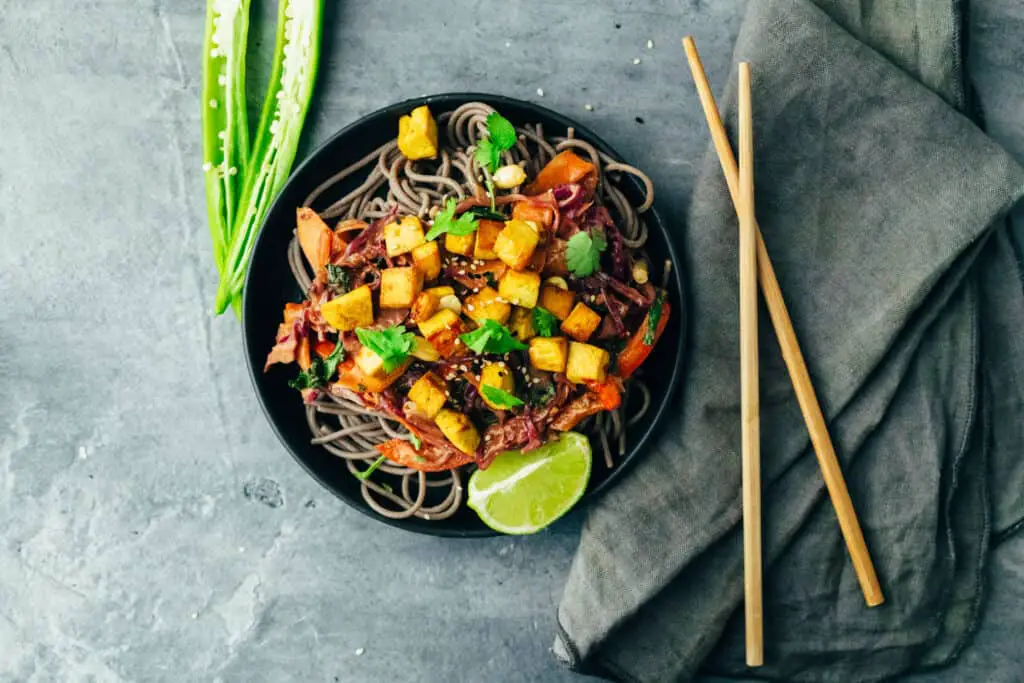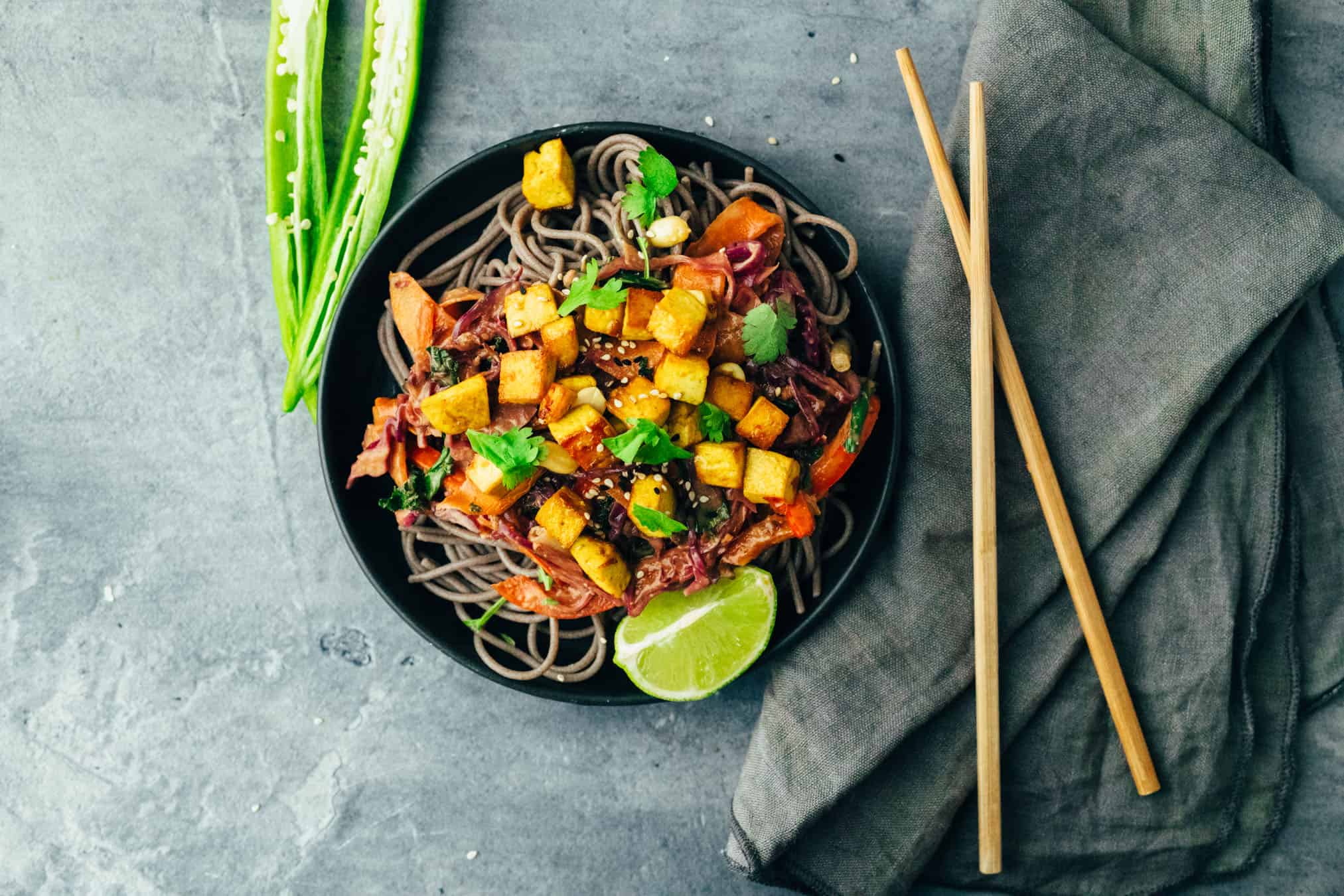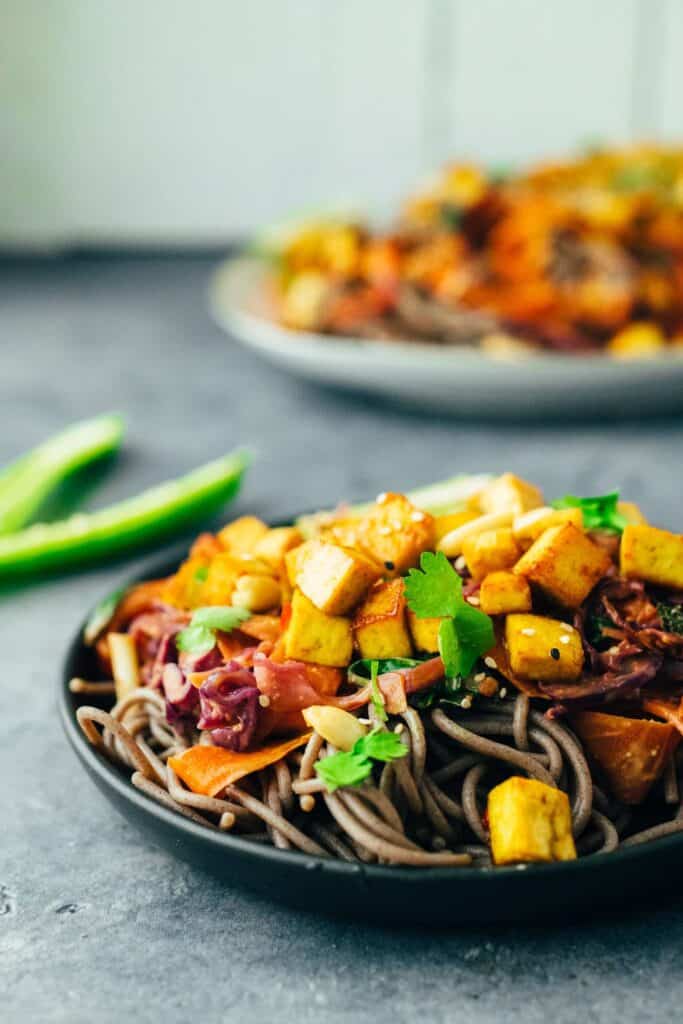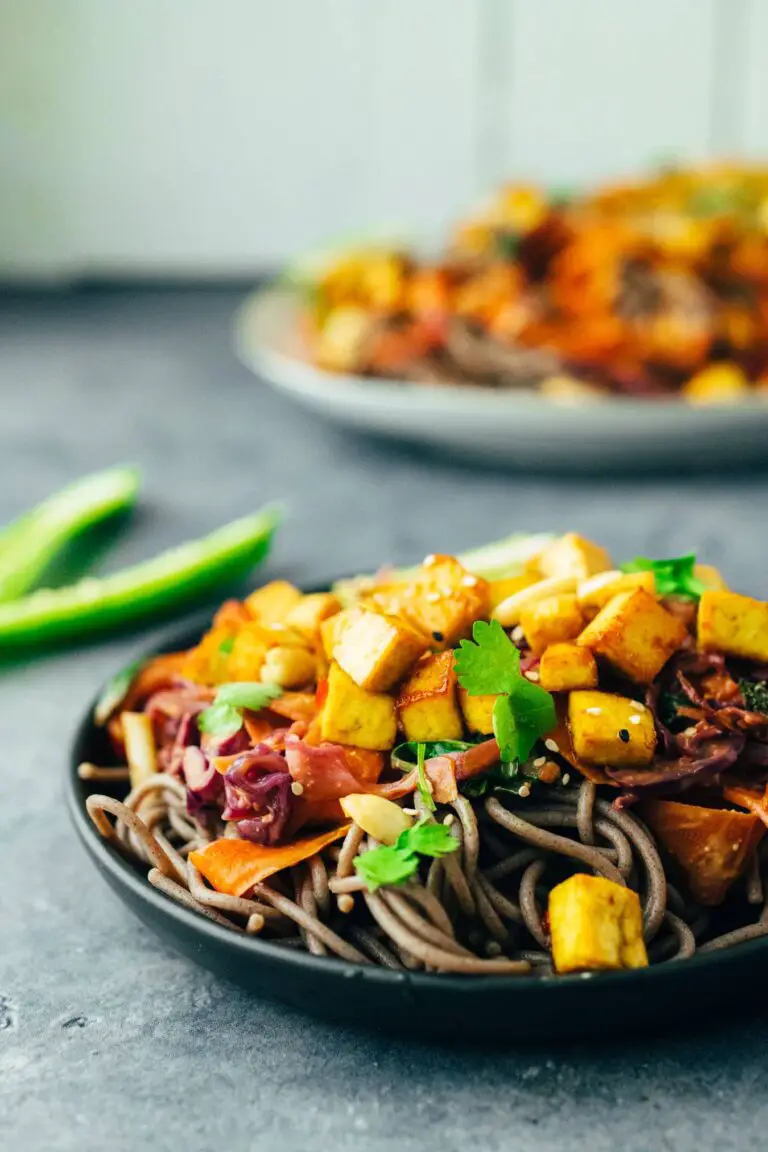 Buckwheat in da House
This dish really blew me away, mostly because it's so simple and tastes so amazing. With the vegetables you can vary according to preference, here just look what your fridge to hergibt. I also find the buckwheat noodles quite exciting, which simply bring a bit of variety. For those who have not yet really studied buckwheat, here is the most important information about this interesting grain:
rich in high-quality protein, B vitamins and minerals
especially rich in B1 (thiamine) for a well-functioning nervous system
rich in flavonoids (secondary plant substances) which can have a very positive effect on the health of blood vessels
gluten-free, so also particularly suitable for people with celiac disease
If you don't feel like peanut butter, all kinds of other nut butters are also suitable. Starting with almond paste, cashew nut paste, hazelnut paste, to sunflower butter. Whatever is your favorite variant here.
Pad Thai with creamy peanut sauce:
Asian
aromatic
High fiber
filling
simple to be produced
Get started with this delicious, spicy Pad Thai that you'll have ready in 35 minutes. I wish you a lot of fun in the recooking and look forward to a review at the bottom of this page. If you post a picture, use the hashtag #veganevibes.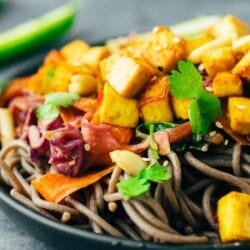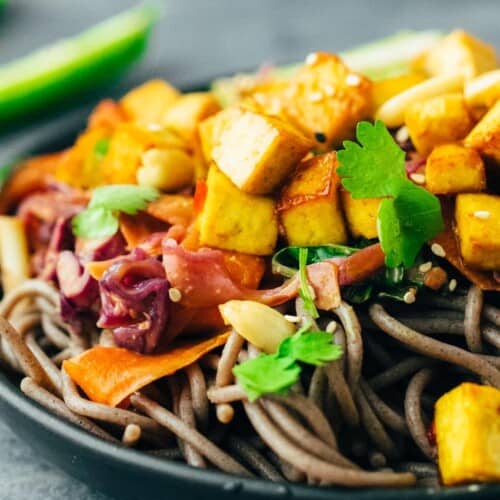 Pad Thai with creamy peanut sauce
Creamy, incredibly flavorful Pad Thai that you can have ready in 35 minutes. The creamy sauce of peanut butter, chili and tamari is just wonderful with the deliciously crunchy vegetables. A quick dish for every day that is incredibly delicious and reminiscent of your next Asian vacation.
AUTOR: VEGANEVIBES
Anleitung 
Remove tofu from packaging, wrap in a clean kitchen towel and weigh down for about 5 minutes. Unwrap, cut into cubes and place in a bowl. Marinate with tamari, chili and (optional) turmeric and set aside.

125 g Tofu,

15 ml Tamari,

1 Bird Eye Chili or other chili powder of your choice,

½ tbspn Turmeric,

Optional: a pinch of pepper

Cook buckwheat noodles al dente according to package instructions. Set aside.

FOR THE VEGETABLES heat a large pan, first sweat the oil, chili and garlic and then add the rest of the vegetables. Saute over medium heat for 15 minutes, stirring frequently.

15 ml Frying oil or other high heat oil,

1 fresh chili to taste,

2 Garlic cloves,

180 g finely chopped red cabbage,

120 g red bell bell pepper,

A small bunch of spring onion,

310 g Carrots,

1 Handful of kale,

6 g fresh ginger

Heat a second pan (alternatively, make room in the large pan) and add the tofu. Sauté on all sides.

In the meantime. FOR THE CREAMY PEANUT BUTTER SAUCE put all the ingredients in a blender (alternatively, work by hand) and blend everything well until a creamy sauce is formed.

45 ml Lime juice,

45 ml Tamari or another soy sauce,

1 Bird Eye Chili or other chili powder to taste,

15 ml maple syrup,

45 ml lukewarm water,

48 g Peanut butter

Pour sauce over vegetables and tofu and mix everything well. Add buckwheat noodles and mix once until everything is evenly coated with the creamy sauce.

1 Pack of buckwheat noodles or other Asian noodles to taste

Season to taste, add sesame seeds, black cumin, peanuts and coriander greens and serve.

Sesame and black cumin seeds to taste,

Fresh coriander greens to taste,

Peanut kernels to taste

Keep leftovers covered in the fridge for 2-3 days. Freeze within 1 month.
Notizen
Note: Calorie calculation without noodles!
* For dry pressing, wrap tofu in a clean kitchen towel or paper towel and weigh down with a heavy object (I always use my mortar here). Let stand for 5 minutes, then unwrap and process.
Nährwertangaben
Serving:
1
Portion
Calories:
207
kcal
Carbohydrates:
20
g
Protein:
9
g
Fat:
11
g
Saturated Fat:
4
g
Sodium:
961
mg
Potassium:
531
mg
Fiber:
4
g
Sugar:
10
g
Vitamin A:
14180
IU
Vitamin C:
71.9
mg
Calcium:
94
mg
Iron:
1.7
mg