Juicy banana cakewith Cream and in addition gluten free and without oil . Times have changed my dear ones, because some like the Cake with sugar the others sugar-free, with gluten, without gluten, with oil or margarine or completely without. Sometimes it's almost exasperating and you really don't know which new trend to chase anymore. Honestly, I prefer to test myself and try my way through all possible Dishes through. Just this Cake has surprised me again, because it comes so completely without the addition of oil and is still mega fluffy and juicy. What you can do with Bananas can do with bananas? Actually, I would be on my way to Austria right now and would be happy about a few days of skiing with friends, but unfortunately that will not happen. Tyrol decided yesterday to close all ski resorts and that means we all stay nice and well-behaved at home.
Juicy banana cake – without gluten and without oil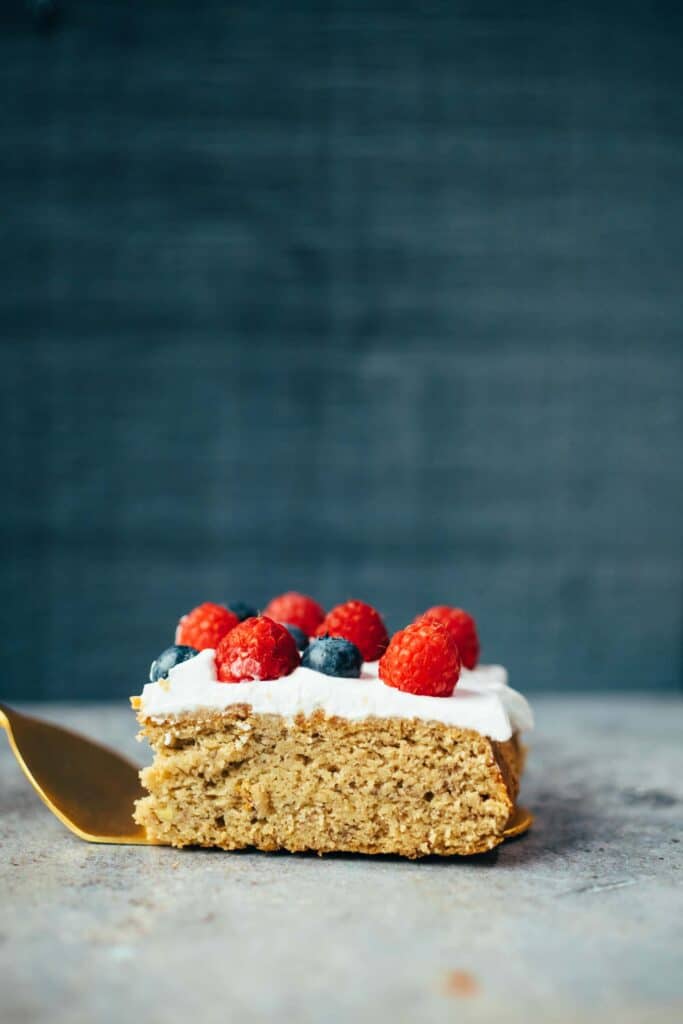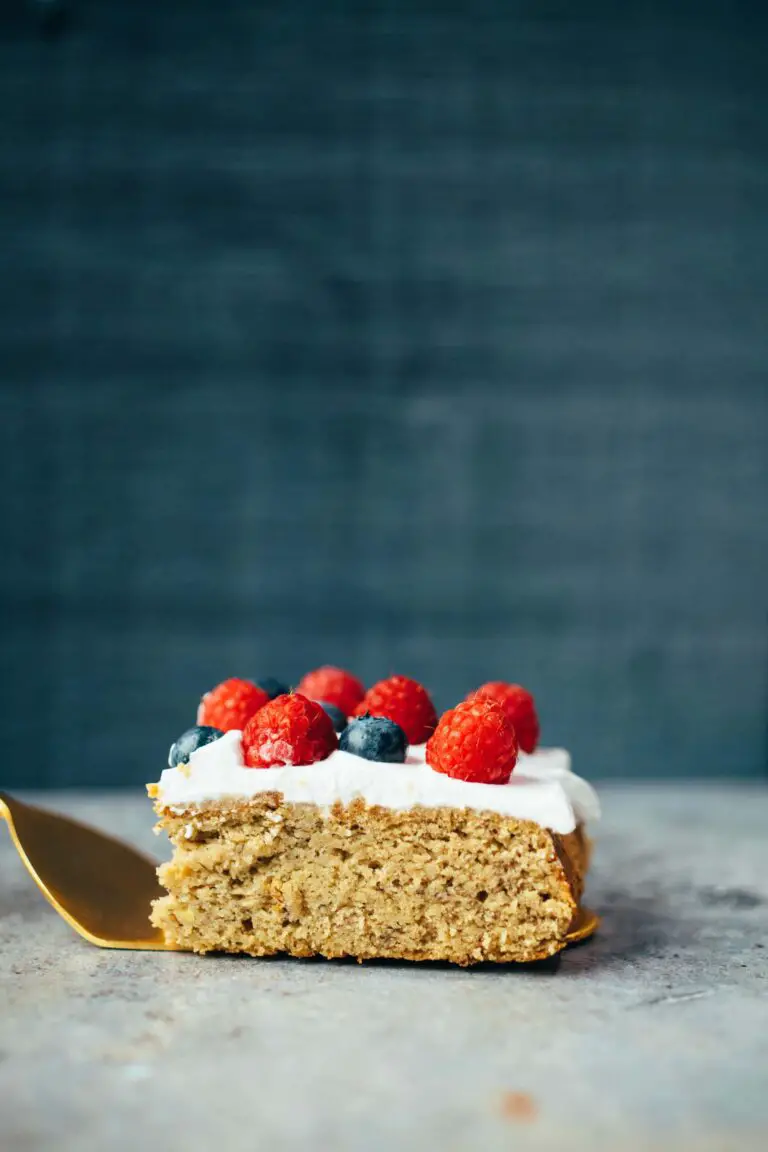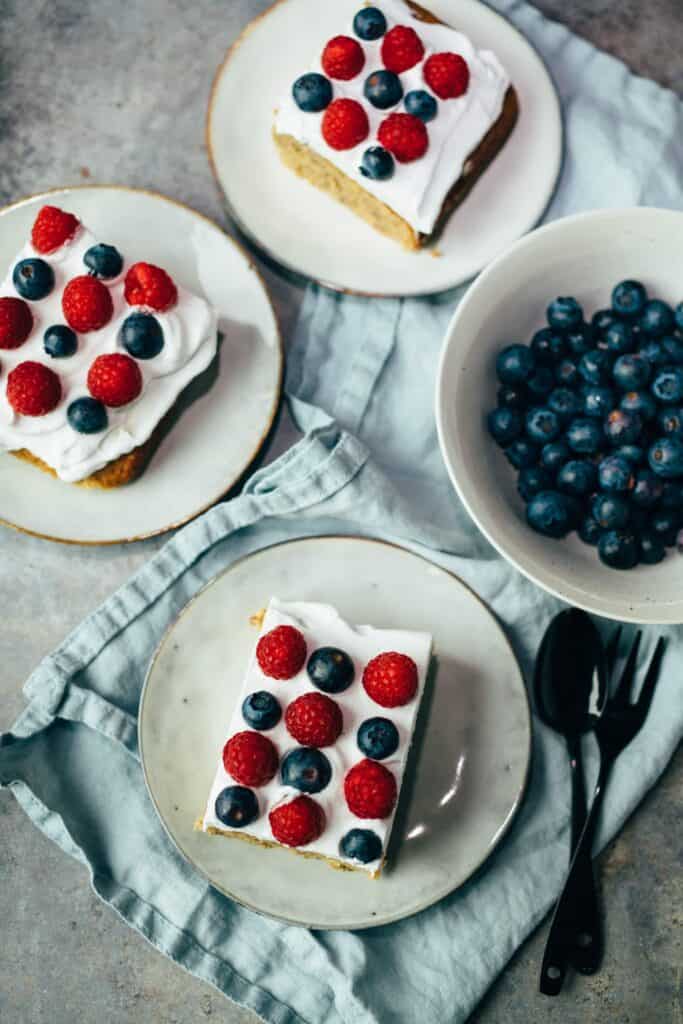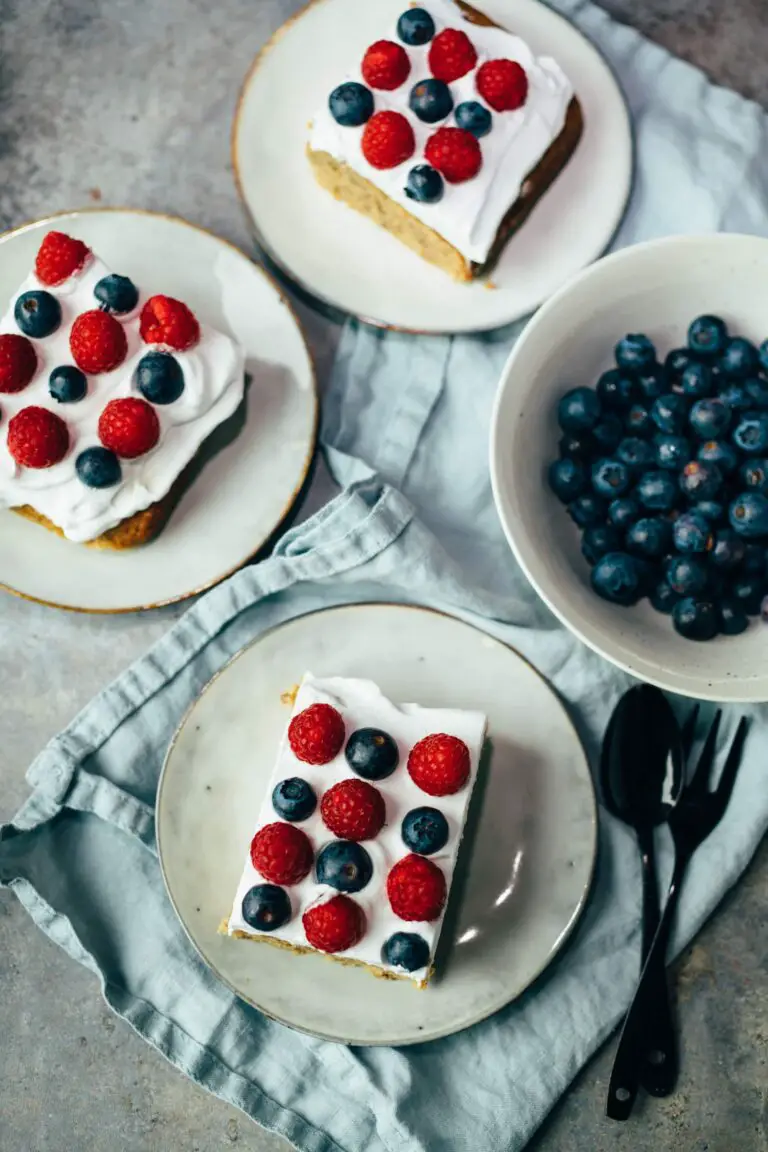 If I ever open a cafe, this cake will definitely be on the menu. Once again, it is made quickly and comes with few ingredients. If you happen to have two ripe Bananas lying around, then we can already get started. Vegetable milk, baking soda, apple cider vinegar, raw cane sugar, maple syrup, ripe bananas, apple pulp, buckwheat flour, almond flour, baking powder, cinnamon and bourbon vanilla.
As a topping I used once again the whipped cream from Bedda (*advertisingsince brand mention, but bought myself and no connection to the company). There were also fresh raspberries and blueberries. It's finally berry season again, I'm thrilled!
Vegan egg substitute or egg alternatives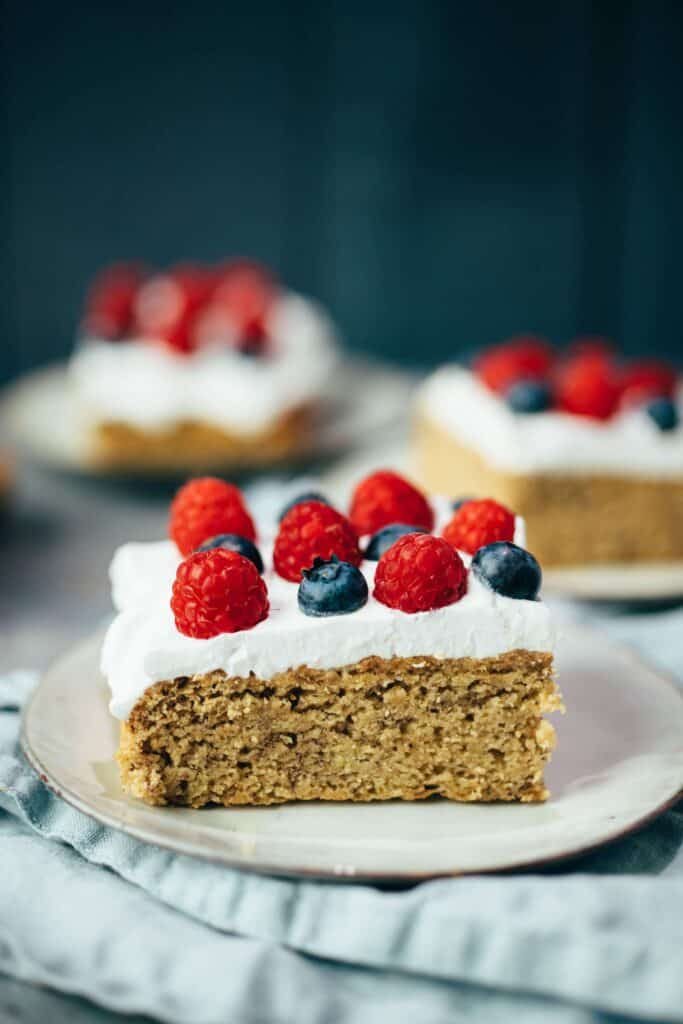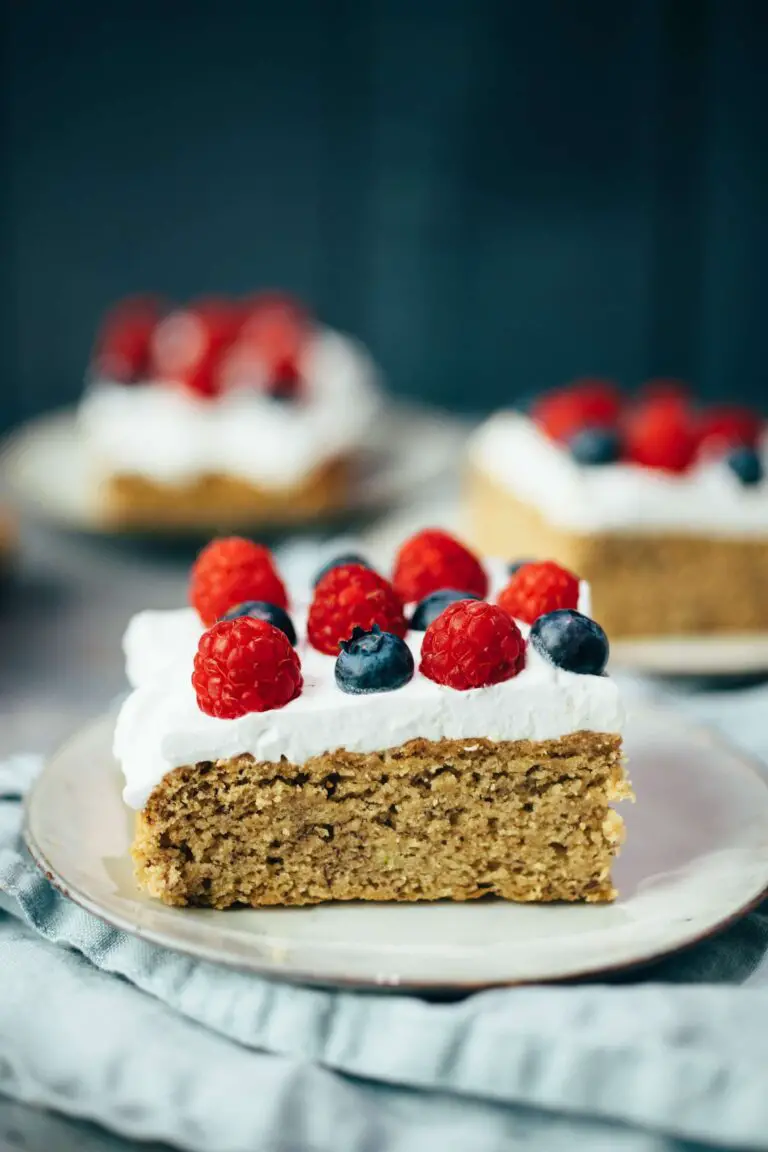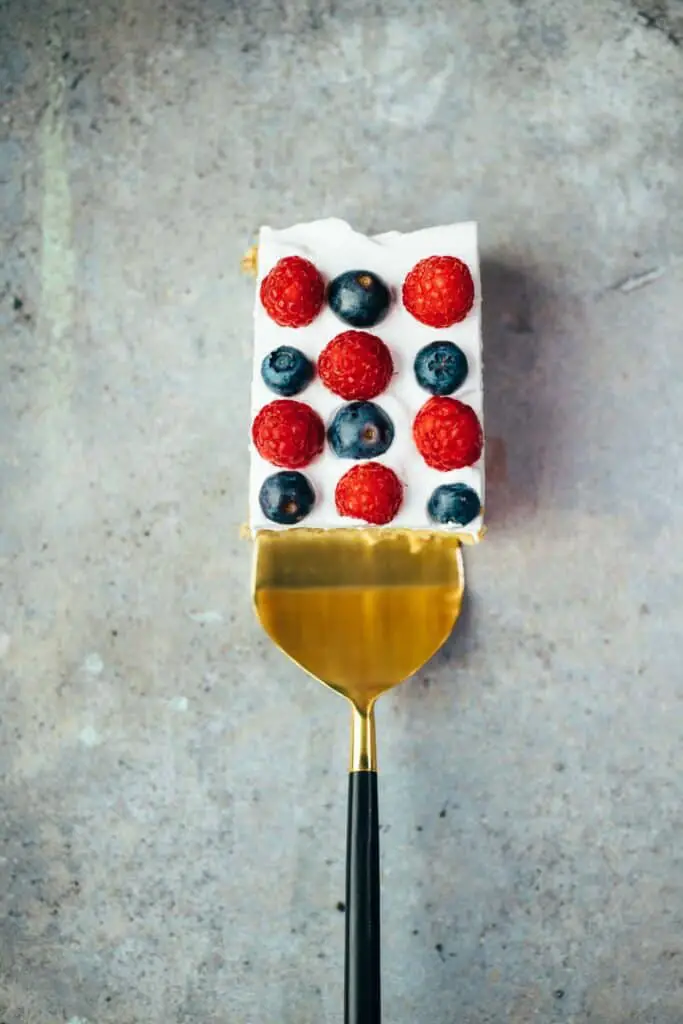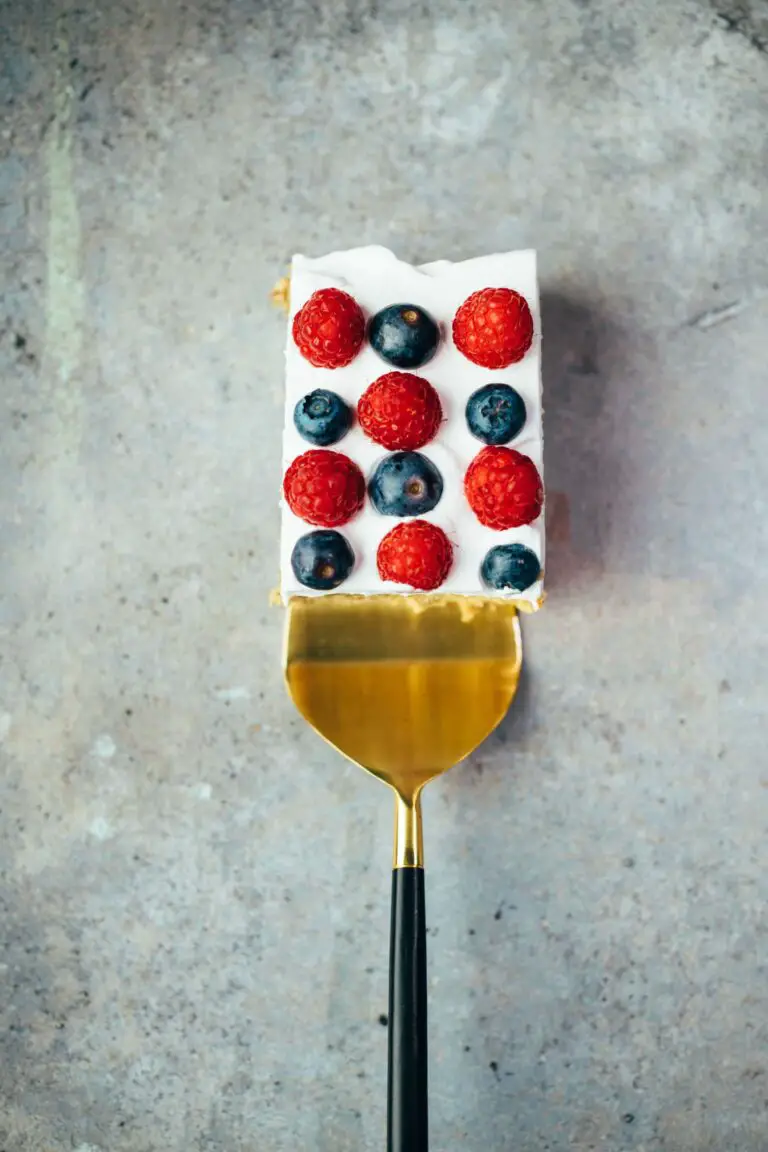 What should be wrong with a Egg be wrong? I've heard that a lot in the meantime, and I don't want to elaborate on it. If you want to learn more about the production conditions of eggs and what disadvantages the consumption of eggs can bring, you can find a lot of useful information at PETA, for example. This much I can say for sure though, you don't necessarily need eggs! It may be nostalgic to think of times gone by, when chickens still roamed free and humans snatched an egg here and there. Today you have many cheaper, animal and environmentally friendly ways to bake without egg. Here are my TOP TIPS for replacing eggs:
Flaxseed egg , more information about it you can find here
Ripe Bananas , mashed, provide a wonderful binding and sweetness in the dough
Apple pulp or applesauce
Aquafaba, more information you can find here … I use aquafaba rather as a substitute for beaten egg whites
Chickpea flour
Soy flour
Ready-made products from different manufacturers, which I use very rarely. Do you have experience? Then feel free to share them in the comments below
Then it can start now with our delicious and juicy Banana cake . I hope you enjoy baking and of course about a review at the bottom of this page. If you post a picture, use the hashtag #veganevibes.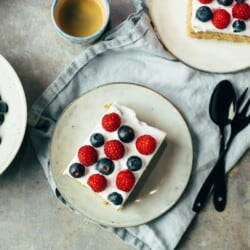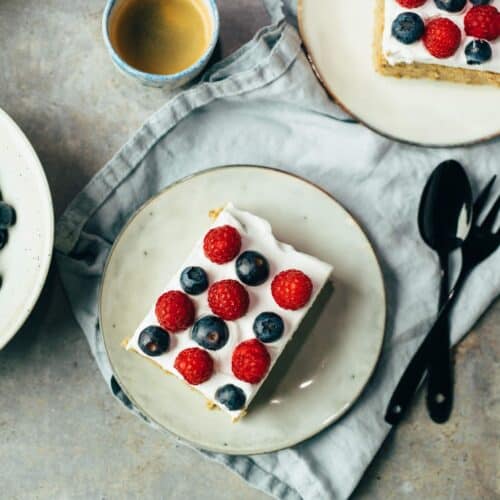 Juicy banana cake, oil free & gluten free
Simple, moist and fluffy banana cake, without the addition of oil or gluten. Optionally refined with cream and fresh berries. Very suitable for children.
AUTOR: VEGANEVIBES
TOPPING:
1

Pack Bedda cream

alternatively cashew cream or coconut cream
Anleitung 
Preheat oven to 180 degrees and line a 20x20cm loaf pan with baking paper (bottoms) and optionally brush the sides with a little margarine.

FOR THE CAKE Pour plant milk into a large bowl, add apple cider vinegar and baking soda. Stir briefly. The liquid should now foam slightly.

250 ml Plant milk,

½ tbspn Baking soda,

7,5 ml Apple cider vinegar

Add mashed bananas, raw cane sugar, maple syrup, buckwheat flour, almond flour, apple pulp, baking powder, cinnamon and bourbon vanilla and stir well once until a uniform dough is formed.

2 medium banana,

120 g Raw cane sugar,

45 ml maple syrup,

180 g Buckwheat flour,

65 g Almond flour,

30 g Apple pulp,

1 tbspn Baking powder,

1 tbspn Cinnamon,

½ tbspn Bourbon vanilla

Check the consistency of the dough, it should be easy to put into the mold, but not too runny (see video). If too runny add more flour, if too solid add more vegetable milk.

NOTE: Gluten-free doughs are slightly more compact and not as liquid as doughs with gluten.

Pour into the pan, smooth and bake for

35 minutes

.

At the end of the baking time, use a wooden stick to check if the apple pie is done. If the wooden stick comes out "clean". If not, extend baking time another

10 minutes

and check again. Remove from oven and let cool completely.

Cut into 10 pieces and optionally serve with cream and berries.

Store in an airtight container at room temperature for up to 3 days.
Notizen
*Calorie calculation without cream and berry topping
Nährwertangaben
Serving:
1
Portion
Calories:
165
kcal
Carbohydrates:
32
g
Protein:
4
g
Fat:
4
g
Saturated Fat:
1
g
Sodium:
28
mg
Potassium:
141
mg
Fiber:
3
g
Sugar:
18
g
Vitamin A:
52
IU
Calcium:
69
mg
Iron:
1
mg