It's Monday again! The weekend was over so quickly, just incredible. Besides my Porridge there were a few other highlights. My brother was here visiting and brought me my belated birthday present, Donuts from my favorite donut store (at least in this universe). There is only one really gigantic store that bakes the kringle baked in fat in an incredible variety and that is Bramibal. Unfortunately, I've never been there in person, but I've apparently talked about it so often that my brother immediately took the opportunity to bring me a huge box of it. The weekend was saved in any case.
Give me some banana toffee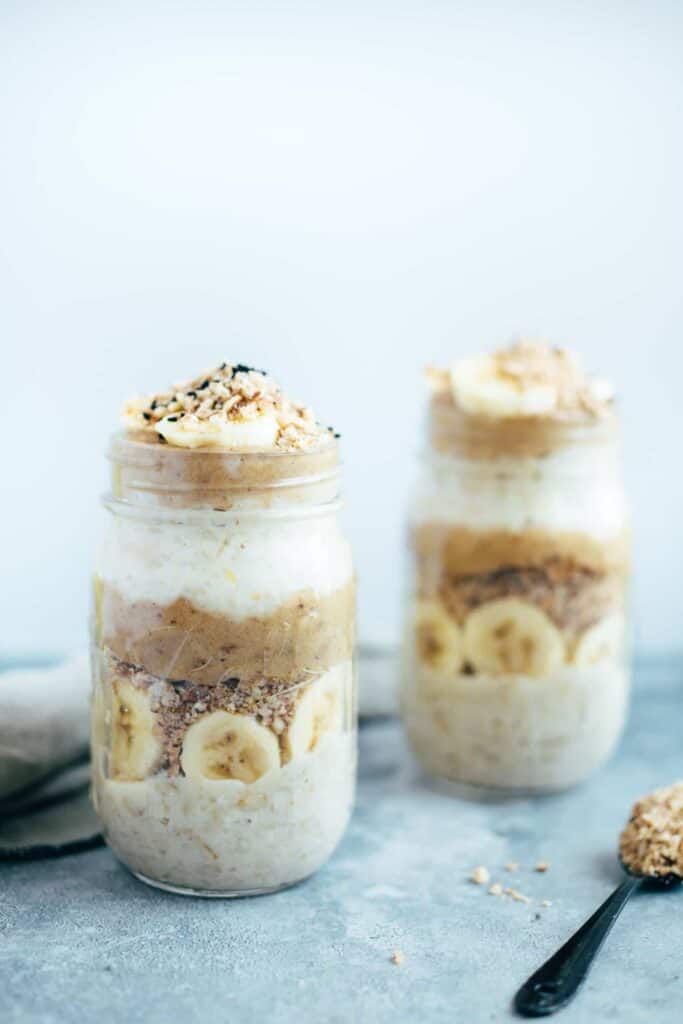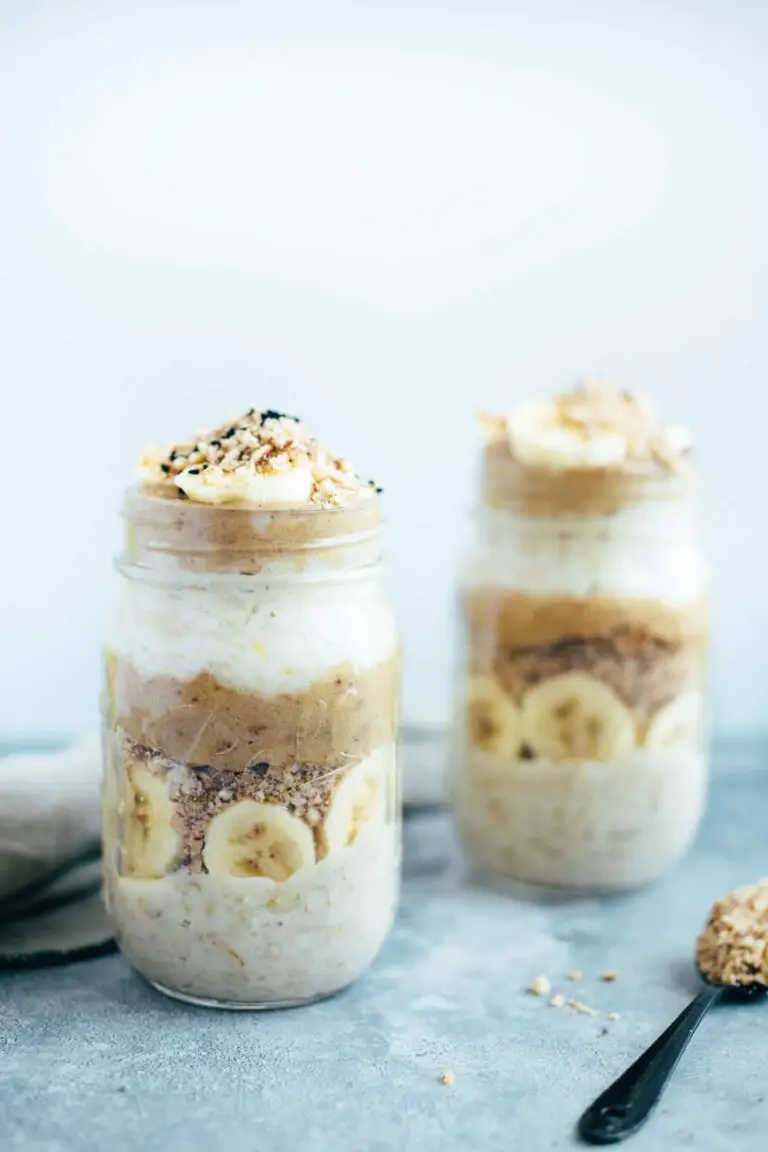 When you think of Porridge you often have such a bland image in your head with a bowl of oatmeal. Boring, isn't it? Thereby you can combine the healthy flakes so endlessly and also so that they really taste incredibly good. Long story short, I just got some inspiration and stuck with the idea of making a healthy fudge. Bananas, Medjool dates, coconut sugar, almond paste, vanilla and a pinch of salt. Put it all in a blender and you're done! Perfect with a nut crumble made with almonds, pecans, coconut flakes, coconut sugar and a pinch of cinnamon.
Nut crumble, sounds bomb!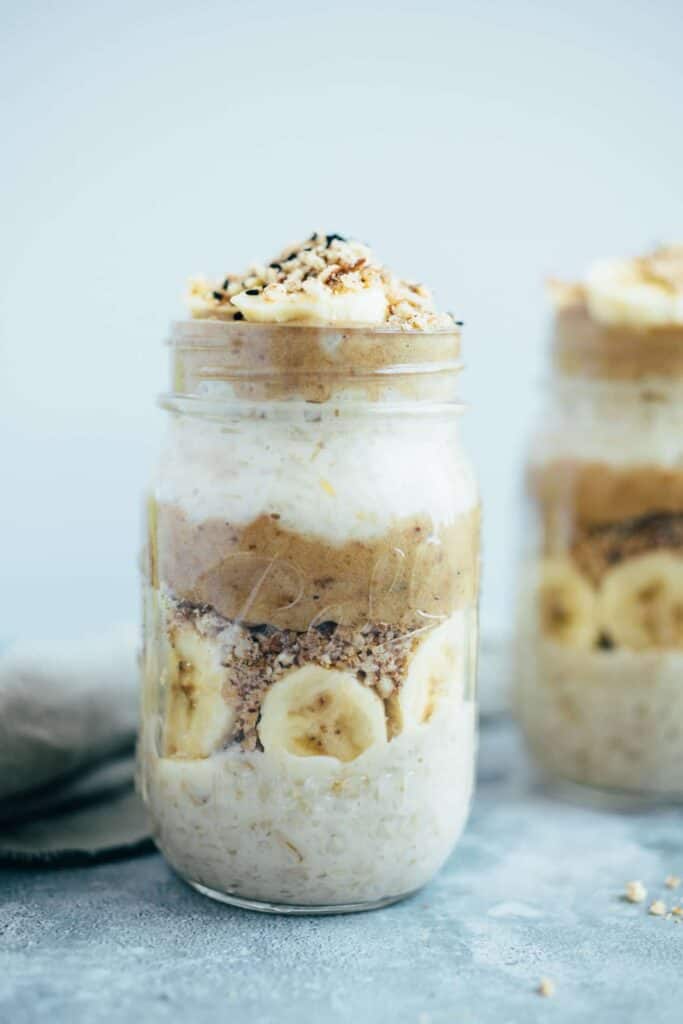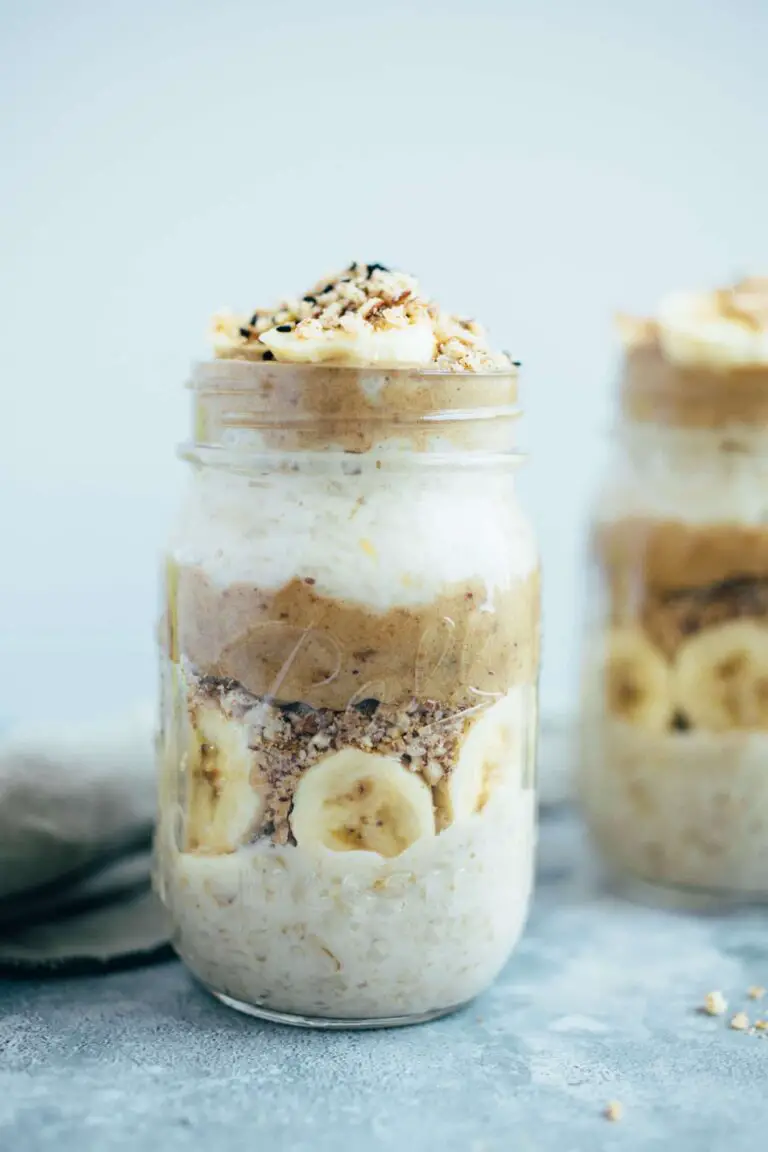 Already we are at the supposedly boring (but very healthy) part, the oatmeal. These are boiled together with Oat milk maple syrup and a little bourbon vanilla. Three, two, one, done! Once all three ingredients are ready, i.e. the nut crumble, toffee and oatmeal, then you can start assembling. Here you can give free rein to your creativity. I just layered everything in canning jars, perfect! But you can also serve it in a Bowl anything is allowed!
How healthy is oatmeal really?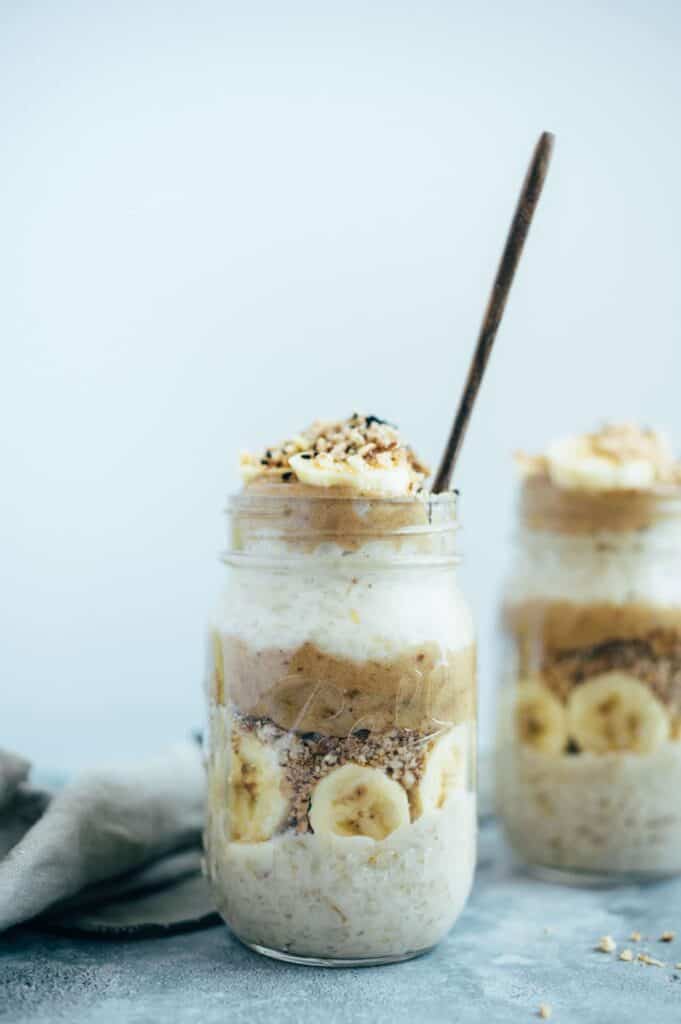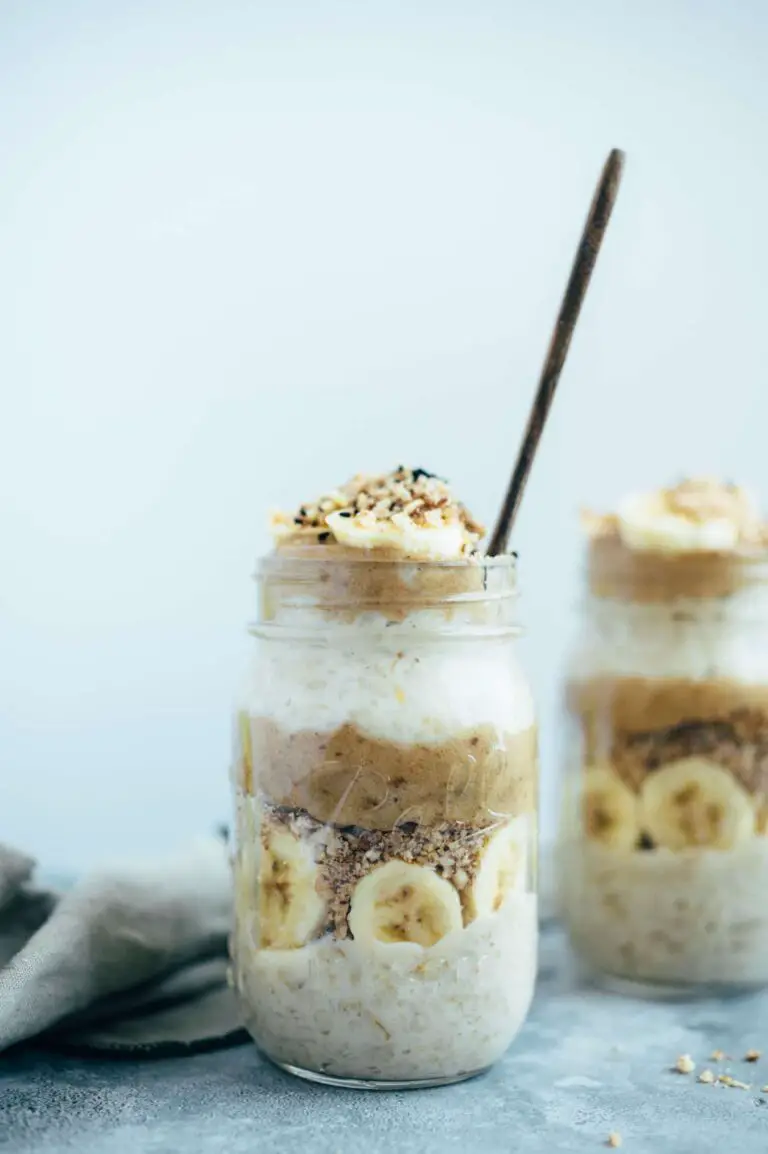 Oatmeal are rather an unspectacular food and you will certainly not find them in the superfood corner. At the same time they are cheap, filling and extremely healthy:
Oatmeal can have a positive effect on cholesterol and blood sugar levels (thanks to the beta-glucans it contains).
Carbohydrates consist of long chains that are broken down more slowly than simple sugars
rich in vitamins of the B group and magnesium
rich in iron
Sounds perfect? Is perfect. Rolled oats should have a permanent place in your pantry, it worthwhile.
The Banana Toffee Porridge is:
creamy
Caramel
full with healthy micronutrients
Naturally sweet
simple to be produced
Let's go with this caramel dream that will sweeten your day already in the morning. I wish you a lot of fun in recooking and of course a review at the bottom of this page. If you post a picture, use the hashtag #veganevibes.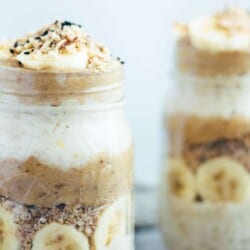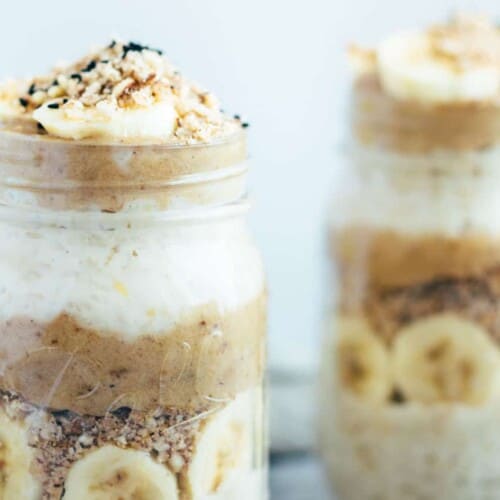 Banana Toffee Porridge
Satisfying, delicious and vegan porridge that makes you want more. Three layers of porridge, caramelized toffee and crunchy nut crumble make for an irresistible combination on the palate. Perfect as breakfast, snack or after a demanding workout.
AUTOR: VEGANEVIBES
Anleitung 
For the PORRIDGE place all ingredients in a small saucepan, bring to a boil, turn heat down to medium and simmer for a few minutes until desired consistency is reached. If necessary, add a little more vegetable milk. Remove from heat and set aside.

375 ml Almond milk or another vegetable milk,

30 ml maple syrup,

1 tbspn Bourbon vanilla,

90 g Oatmeal

For the NUT CRUMBLE put all ingredients in a blender and mix (pulse) until everything is well combined. Set aside.

18 g Pecans,

12 g Coconut flakes,

12,5 g Coconut blossom sugar,

½ tbspn Cinnamon,

18 g Almonds

The crumble after the mixes

FOR THE BANANA TOFFEE , put all the ingredients in the same blender and blend until creamy. Set aside.

3 Piece Medjool dates,

12,5 g Coconut blossom sugar,

15 g Almond paste,

¼ tbspn Bourbon vanilla,

¼ tbspn Sea salt,

2 Piece ripe bananas

Layer in canning jars: A layer of porridge, banana toffee and crumble. Repeat until everything is used up. Alternatively, serve in bowls.

Keeps 2-3 days in an airtight container in the refrigerator.
Nährwertangaben
Serving:
1
Portion
Calories:
539
kcal
Carbohydrates:
86
g
Protein:
8
g
Fat:
22
g
Saturated Fat:
5
g
Sodium:
586
mg
Potassium:
918
mg
Fiber:
10
g
Sugar:
61
g
Vitamin A:
223
IU
Vitamin C:
10
mg
Calcium:
392
mg
Iron:
2
mg