Apple pie with vanilla sauce, that makes my mouth water. Actually, I wasn't sure if I should make this Recipe should do at all. There are already two Apple pie recipes on veganevibes.de, but the one is special gluten free and the other one with Caramelized apple pieces . However, they both lack the really important thing and that is the vanilla sauce, which gives this recipe its very special kick. This makes it on the one hand Cake on the other hand a very great Dessert . I was in any case more than surprised how well it harmonizes together and on top there was also a blob of Cream . This time I did not make them myself, but tried the new cream from Bedda(advertising since brand mention, but bought myself). What this brand new cream is like and whether I can recommend it, you will find out further down in the text.
Vegan apple pie with custard? Yum!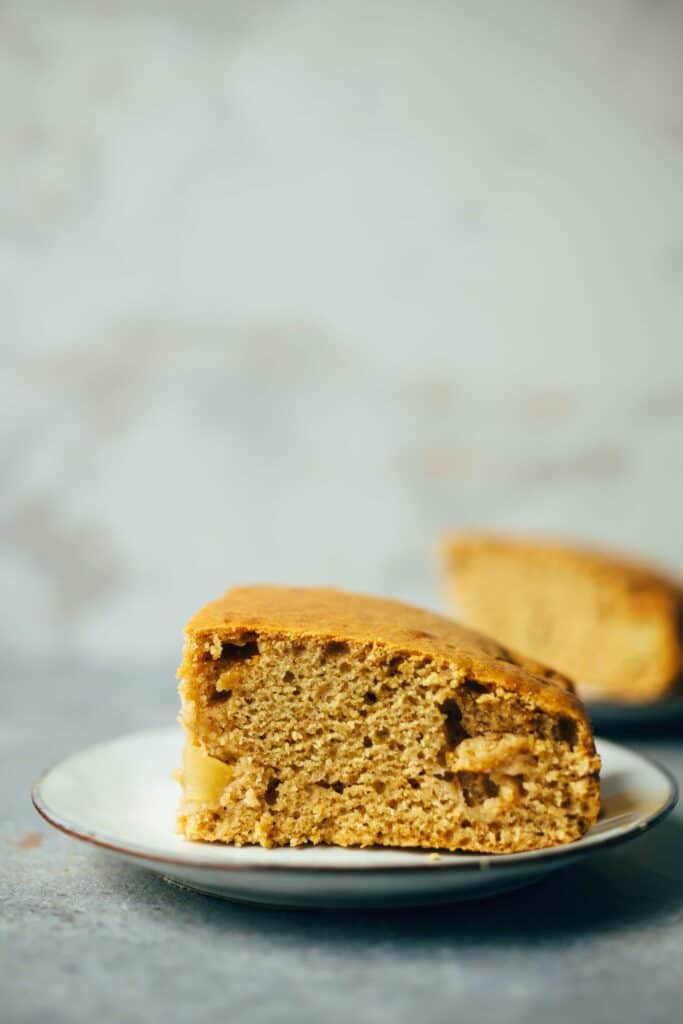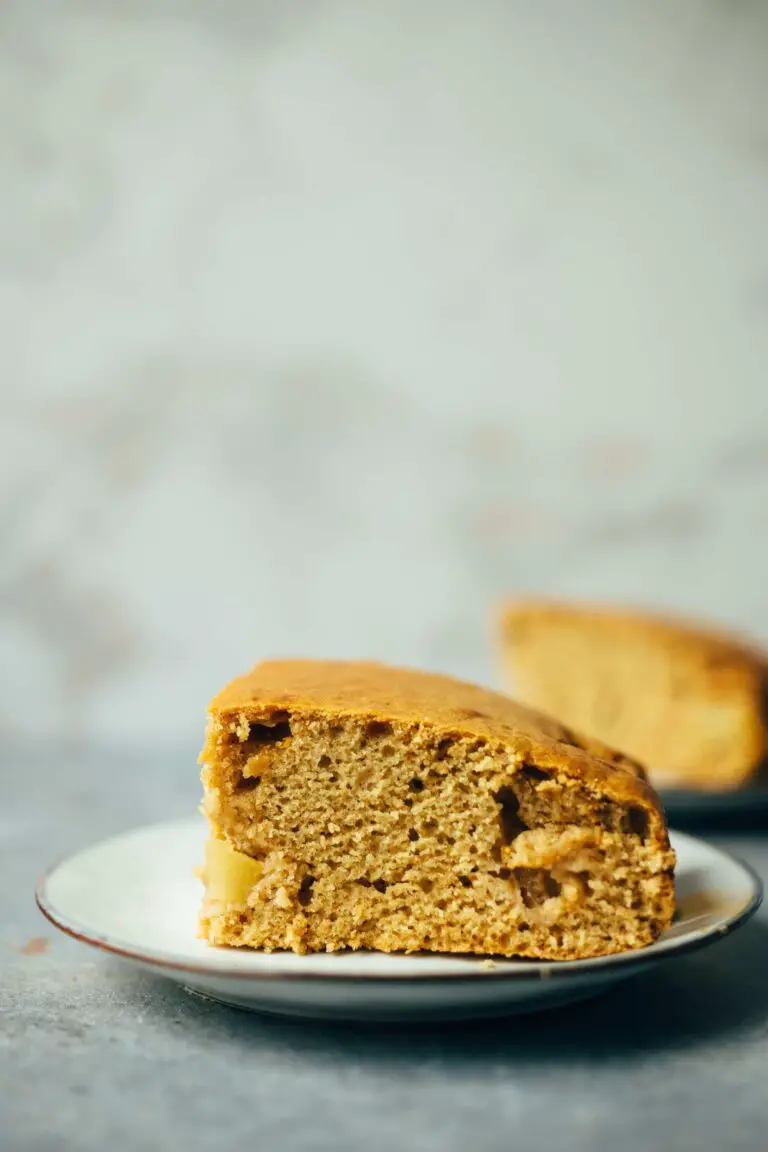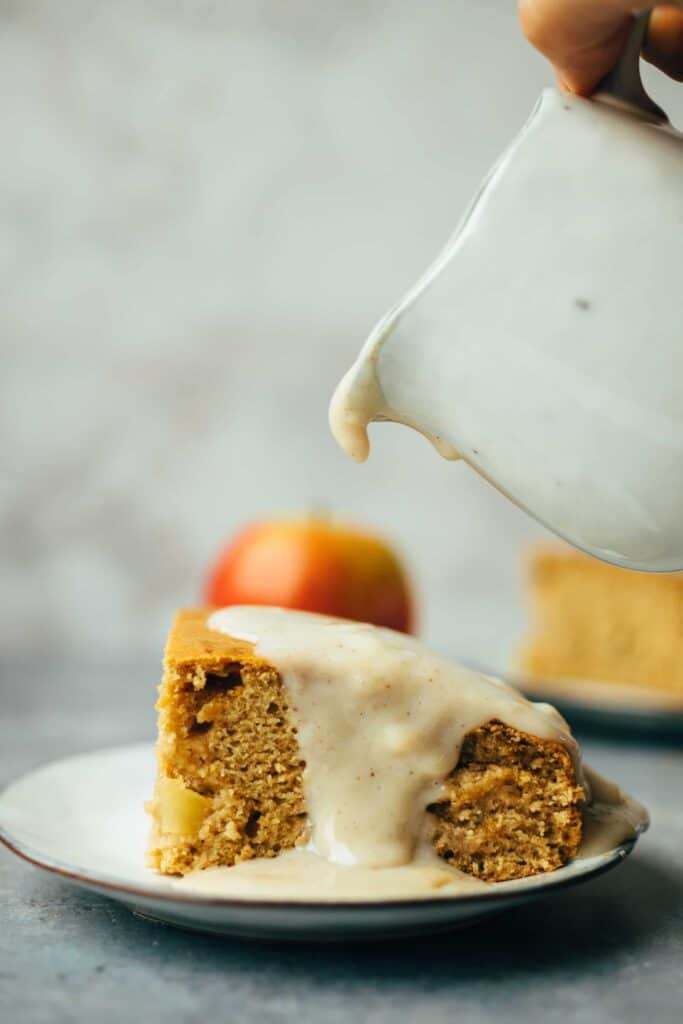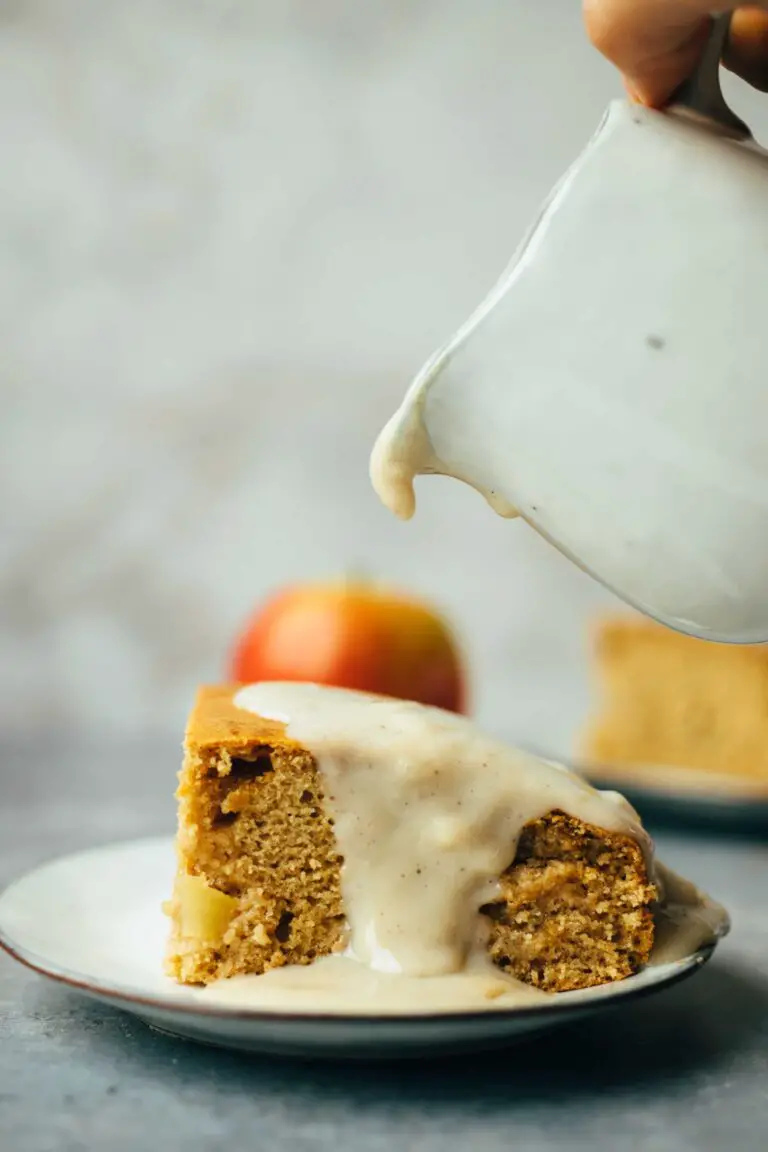 Our Apple pie could not be simpler, because it is a very simple Sponge cake . The baking impulse comes once again from the mixture of baking soda, Vegetable milk and apple cider vinegar. To this we add spelt flour, raw cane sugar, applesauce, oil, maple syrup, baking powder, bourbon vanilla, cinnamon and a pinch of salt. The apple pieces will be especially delicious if we roll them in coconut blossom sugar beforehand. This gives a great, caramel flavor.
The crowning glory of this simple, vegan apple pie is the custard, which couldn't be simpler. Plant milk , raw cane sugar, starch, bourbon vanilla and a pinch of salt. Bring to a boil once while stirring, let cool and the sauce is ready.
Vegan custard, simple, fast and delicious for your cake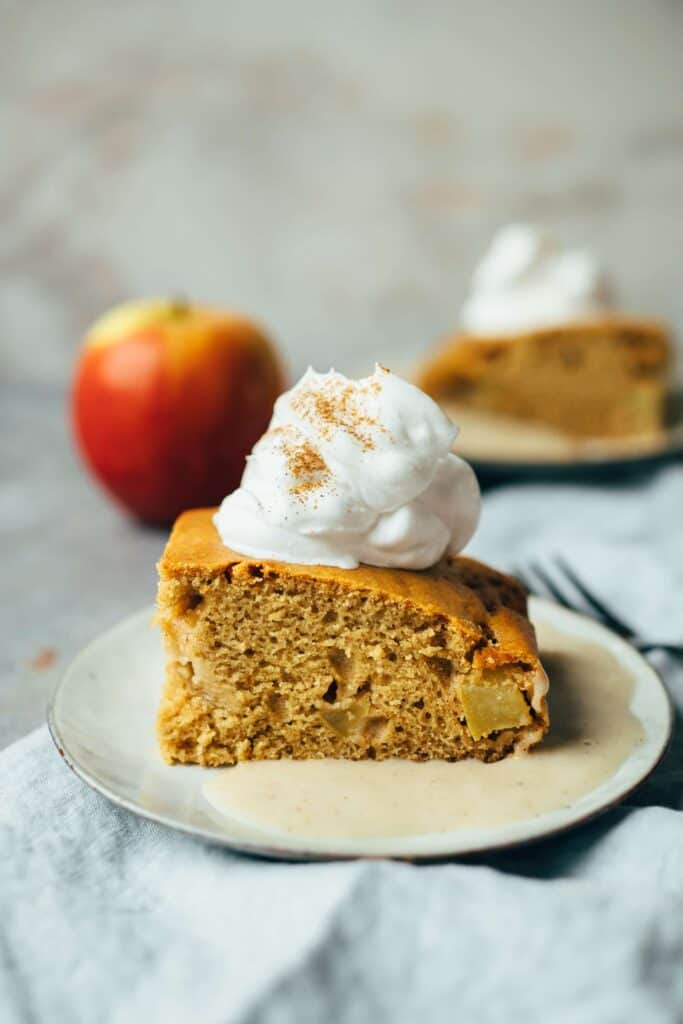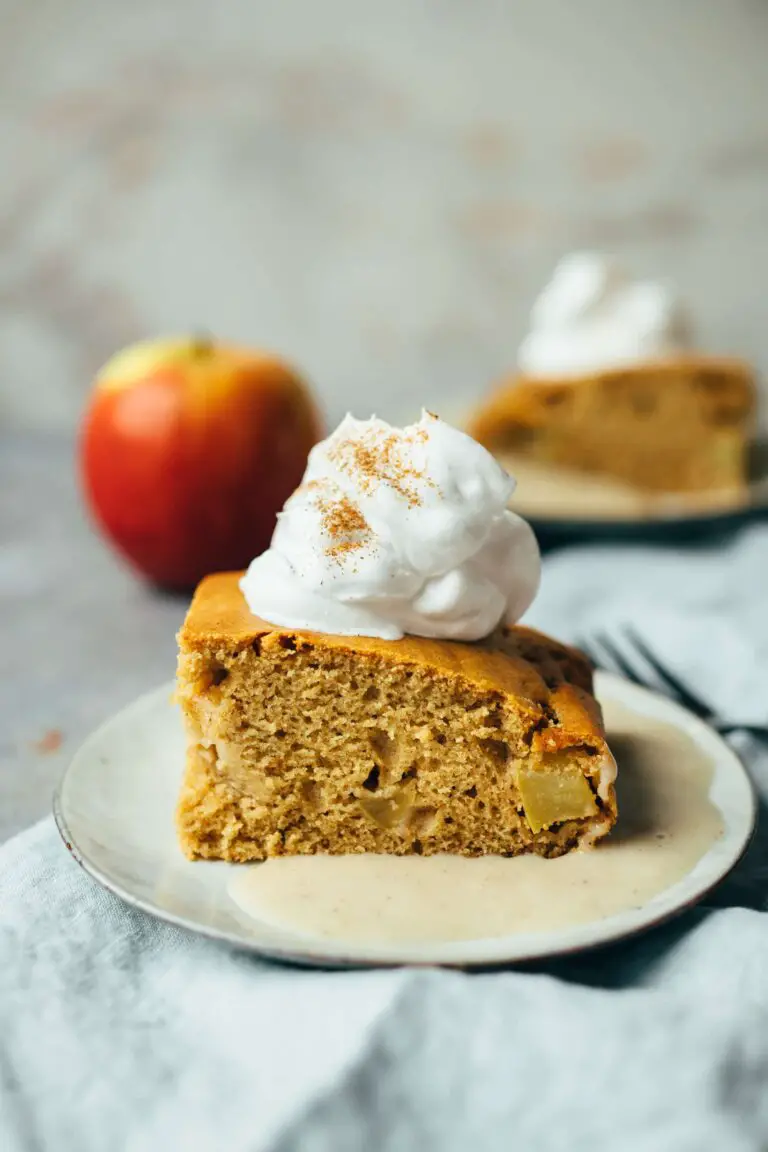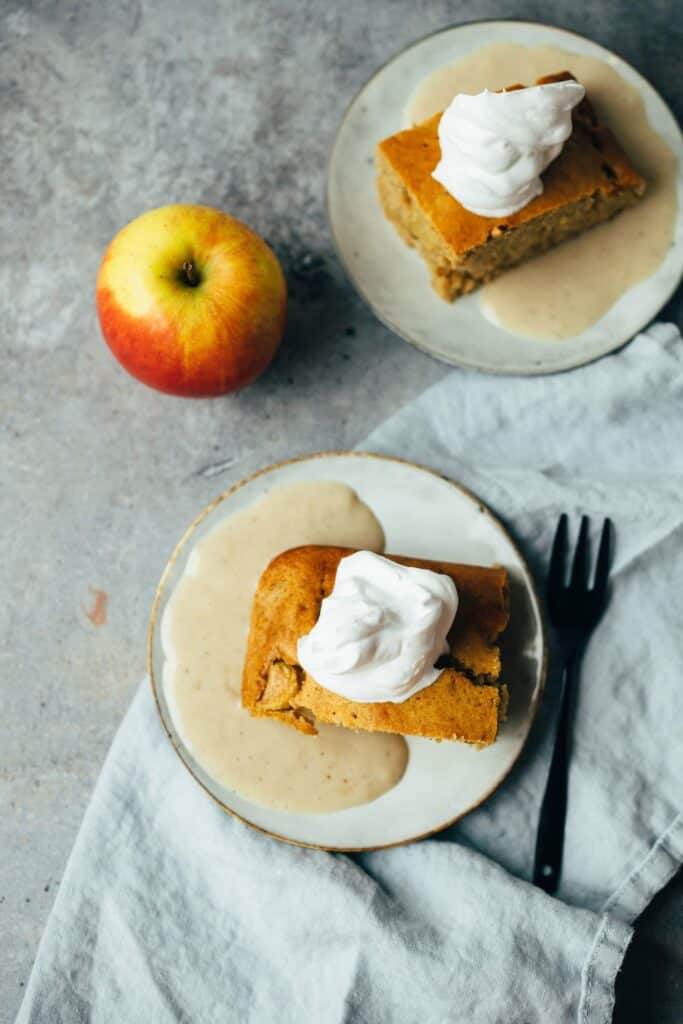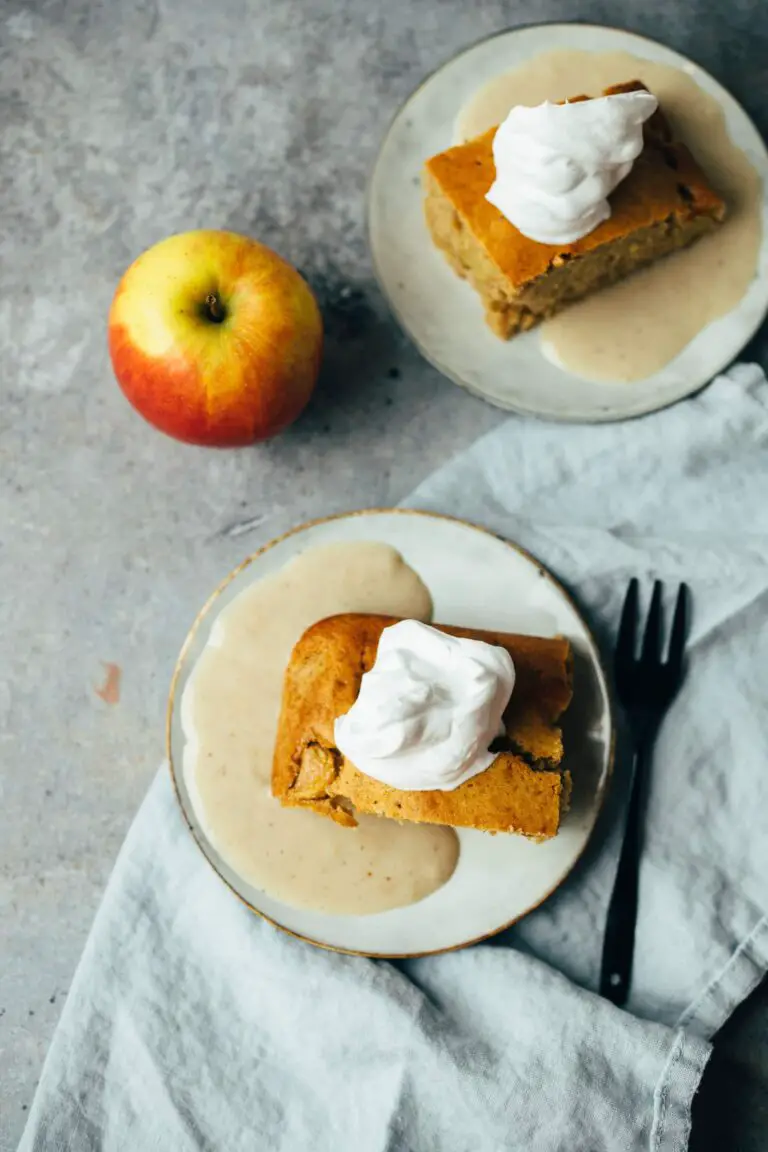 This Recipe does really well, especially when you need it fast. Who does not know it that spontaneous guests announce themselves and one may conjure up in a few hours what delicious on the table. I have been looking for a great cream alternative to my Cashew – and Coconut cream . Of course, these are also quite great creams, but I wanted to find something that I could take home"ready-made" from the supermarket shelf. There are already a few products on the market, but unfortunately I have not yet tested them all. Do you know of any great cream alternatives? Feel free to comment directly below in the comments section.
Vegan cream for whipping, does it really exist?
Without further ado, I decided to test the brand new vegan whipped cream from Bedda. I couldn't find them anywhere at first, until my dad kindly brought them for me from a local supermarket. The consistency looks quite ok at first glance and it says quite explicitly on the cup that you should shake it before opening. No sooner said than done I opened it and tried it once. It tasted very strange at first, sour and bitter. I was almost a bit disappointed and hardly dared to Cream to beat. The surprise was great, because after whipping the cream alternative was simply brilliant: Tasteless, slightly sweet, snow-white and extremely stable . All respect Bedda, the throw is successful.
Let's take a look at the ingredients, because those always worry me the most with industrial products:
Water in the first place, here I think no one has any objections
Vegetable fat unhardened 28% (sunflower and rapeseed), also ok if the fats have not been artificially hydrogenated
Glucose syrup , provides the necessary sweetness, harmless
Sweetener Sorbitol , belongs to the group of sugar alcohols and is harmless as long as one does not suffer from an intolerance.
Sodium stearoyl lactate (E 481) , emulsifier, no known adverse effects
Hydroxypropylmethylcellulose (E464) , thickening agent, harmless, acts like a dietary fiber in the human organism, is water-soluble and can be easily excreted again
Polysorbate (E435) , emulsifier and stabilizer, is considered harmless
Sodium citrate (E331) , acidity regulator, considered harmless
Table salt
CONCLUSION: A lot of E-numbers, however, there is no reason to worry, because all ingredients are considered safe. Although I lean more towards the homemade cream alternatives, whipped cream is a really great alternative to Cream from coconut milk or Cashews .
Then it can go off now with our delicious Apple pie with vanilla sauce. I hope you enjoy baking and of course about a review at the bottom of this page. If you post a picture, use the hashtag #veganevibes.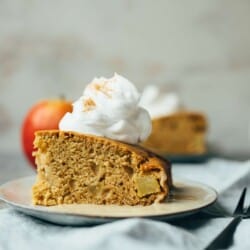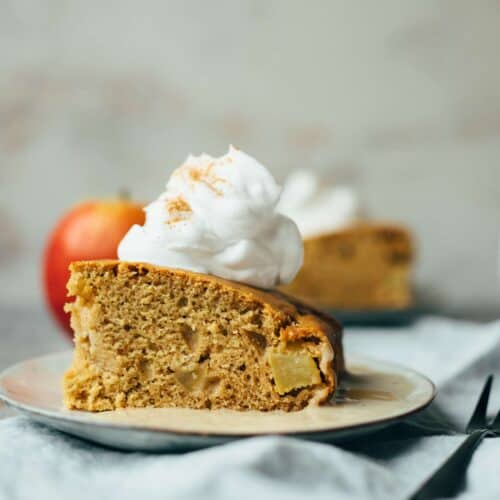 Apple pie with vanilla sauce
Simple, moist and fluffy apple pie, topped off with a fine custard and a dollop of cream. Perfect for the vegan coffee party.
AUTOR: VEGANEVIBES
Anleitung 
Preheat oven to 175 degrees and line a 20x20cm loaf pan with baking paper (bottoms) and brush the sides with a little margarine.

Place apple cubes in a bowl, add coconut blossom sugar on top and mix well once until apples are combined with sugar. Set aside.

1 Piece medium apple,

30 g Coconut blossom sugar

FOR THE CAKE Pour vegetable milk into a large bowl, add apple cider vinegar and baking soda. Stir briefly. The liquid should now foam slightly.

250 ml Plant milk,

½ tbspn Baking soda,

7,5 ml Apple cider vinegar

Add fine spelt flour, apple pulp, baking powder, raw cane sugar, maple syrup, frying and baking oil, cinnamon, bourbon vanilla and salt. Stir until a smooth dough is formed.

204 g fine spelt flour,

30 g Apple pulp,

2 tbspn Baking powder,

67 g Raw cane sugar,

45 ml maple syrup,

60 ml Frying and baking oil,

1 tbspn Cinnamon,

½ tbspn Bourbon vanilla,

1 Pinch of salt,

¼ tbspn Bourbon vanilla

Check the consistency of the dough, it should be easy to pour into the mold, but not too runny (see video). If too runny add more flour, if too solid add more vegetable milk.

Fold in apple pieces.

Pour into the boxes, smooth and bake for

45 minutes

.

In the meantime, prepare the VANILLESAUCE. Place vegetable milk, raw cane sugar, cornstarch, bourbon vanilla, and salt in a small saucepan and stir with a whisk until starch is completely dissolved.

¼ Cups Almonds,

250 ml Plant milk,

30 g Raw cane sugar,

7 g Cornstarch,

¼ tbspn Bourbon vanilla,

1 Pinch of salt

Bring to a boil, stirring constantly, simmer for 2-3 minutes, remove heat and allow sauce to cool.

At the end of the baking time, use a wooden stick to check if the apple pie is done. If the wooden stick comes out "clean", remove from oven and let cool completely.

Cut into 8 pieces and serve with vanilla sauce and cream.

15 g Coconut blossom sugar

Store in an airtight container at room temperature for up to 3 days.
Nährwertangaben
Serving:
1
Piece
Calories:
284
kcal
Carbohydrates:
48
g
Protein:
4
g
Fat:
9
g
Saturated Fat:
1
g
Sodium:
61
mg
Potassium:
145
mg
Fiber:
4
g
Sugar:
25
g
Vitamin A:
130
IU
Calcium:
143
mg
Iron:
2
mg