Onlya few days until Christmas . Somehow it's the same every year, first you don't think about it, suddenly everyone turns the wheel and you're already sitting with the family at the Christmas table . The air is permeated with a subtle smell of incense, it gets dark early and all over the city the decorated Christmas trees are shining. The only question that remains is which Menu to serve to the invited guests. Not everyone is vegan on the road, but if you jump over your shadow for once and cross the sausages off your shopping list, I have a really great one for you today Menu suggestion .
Panna cotta once different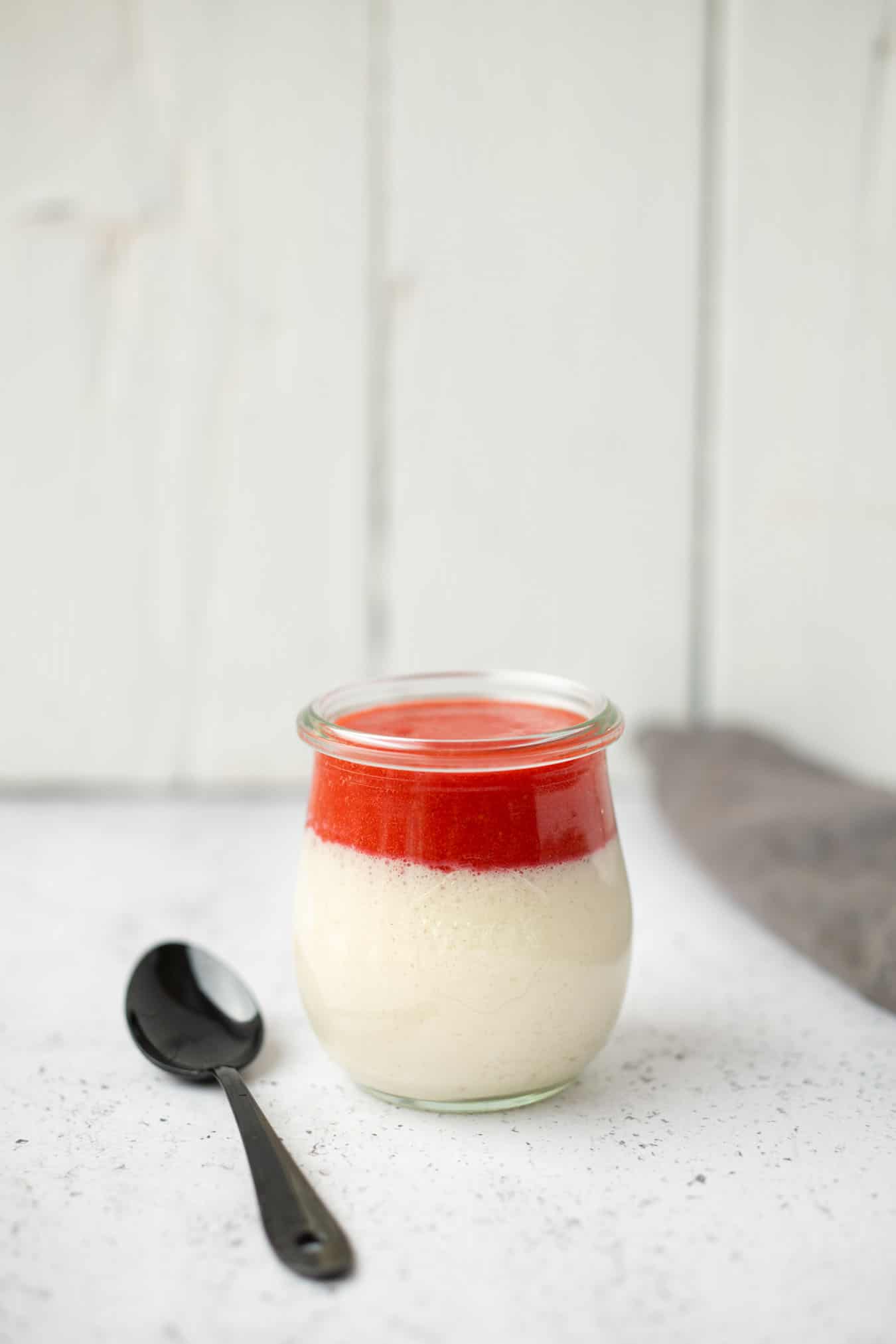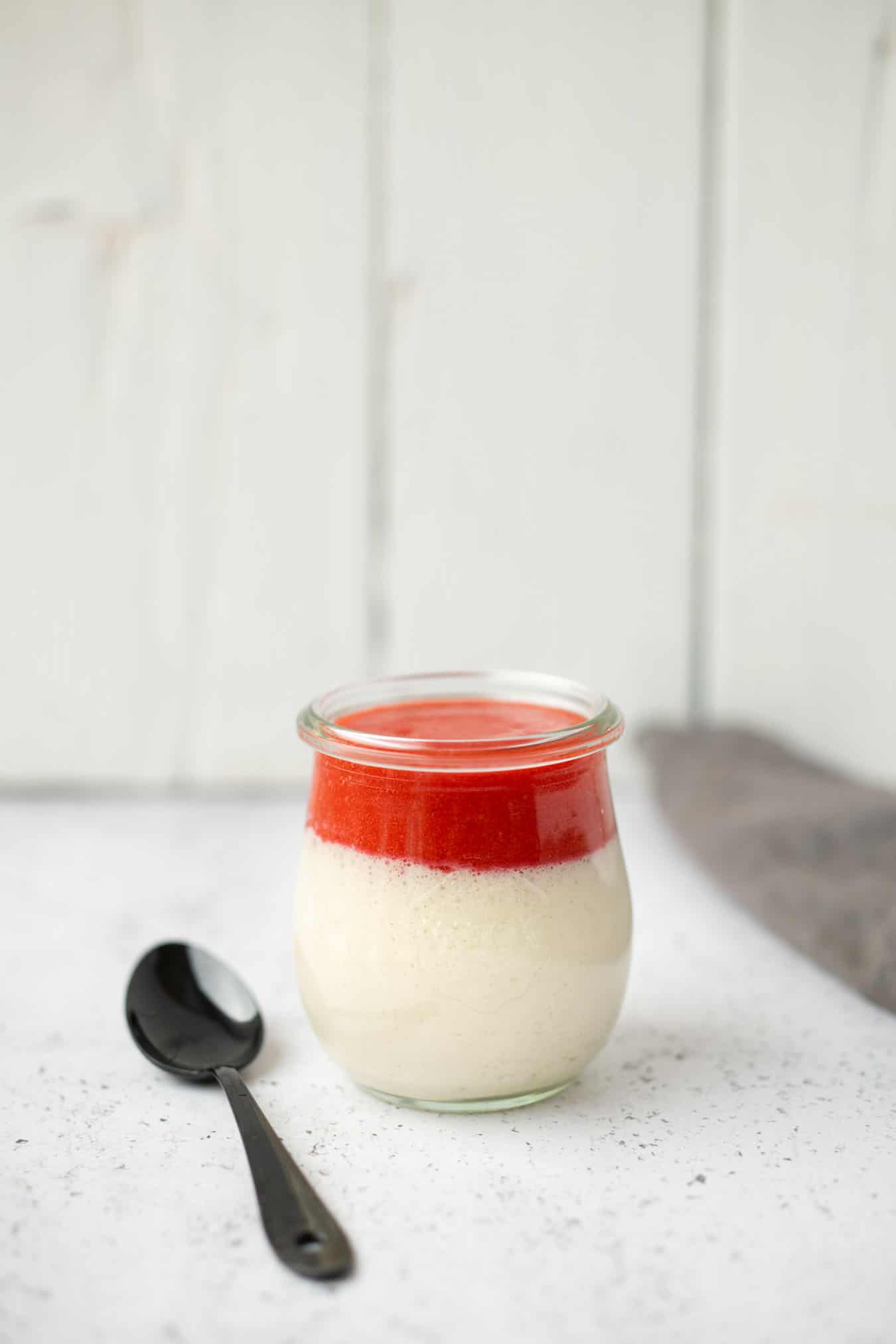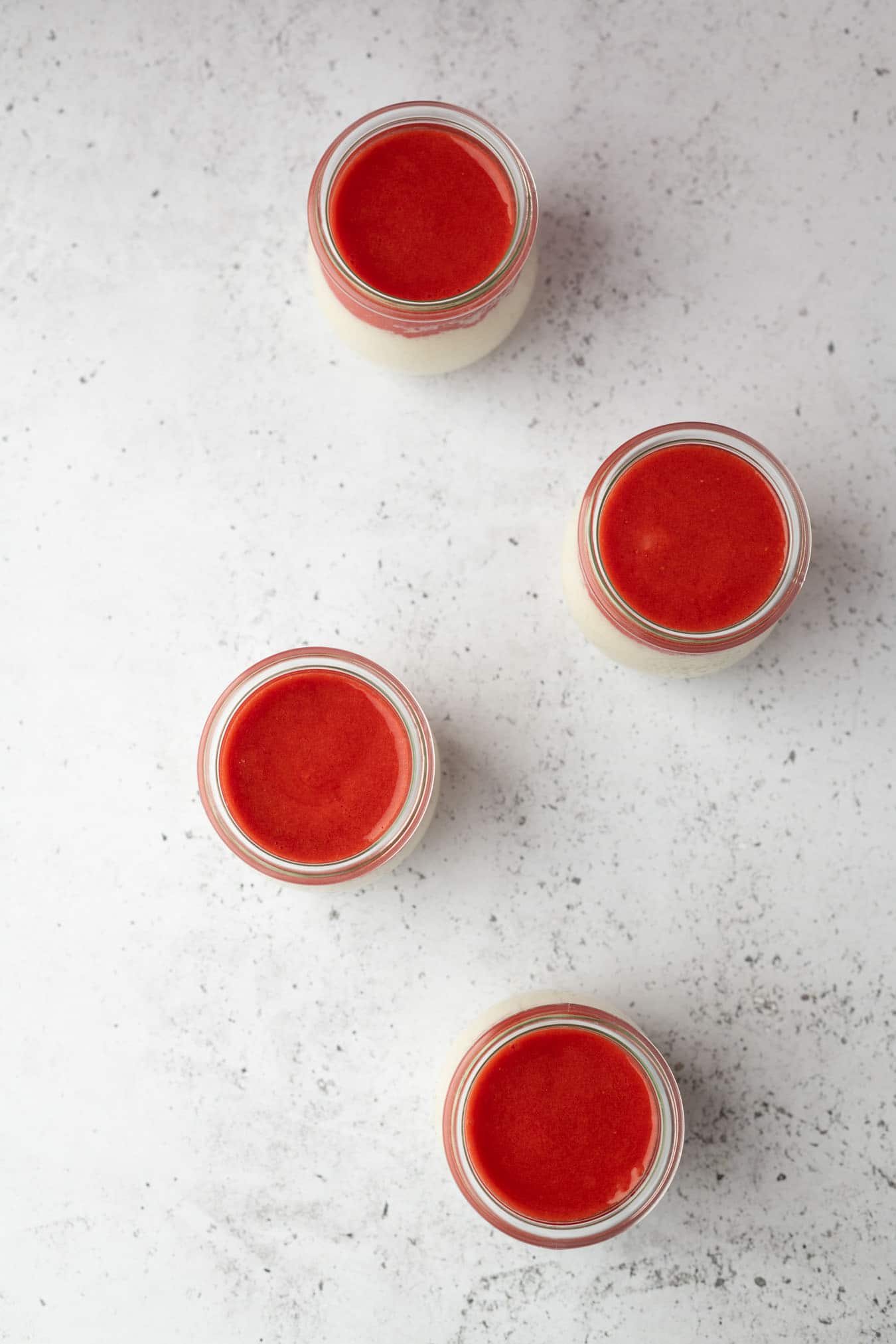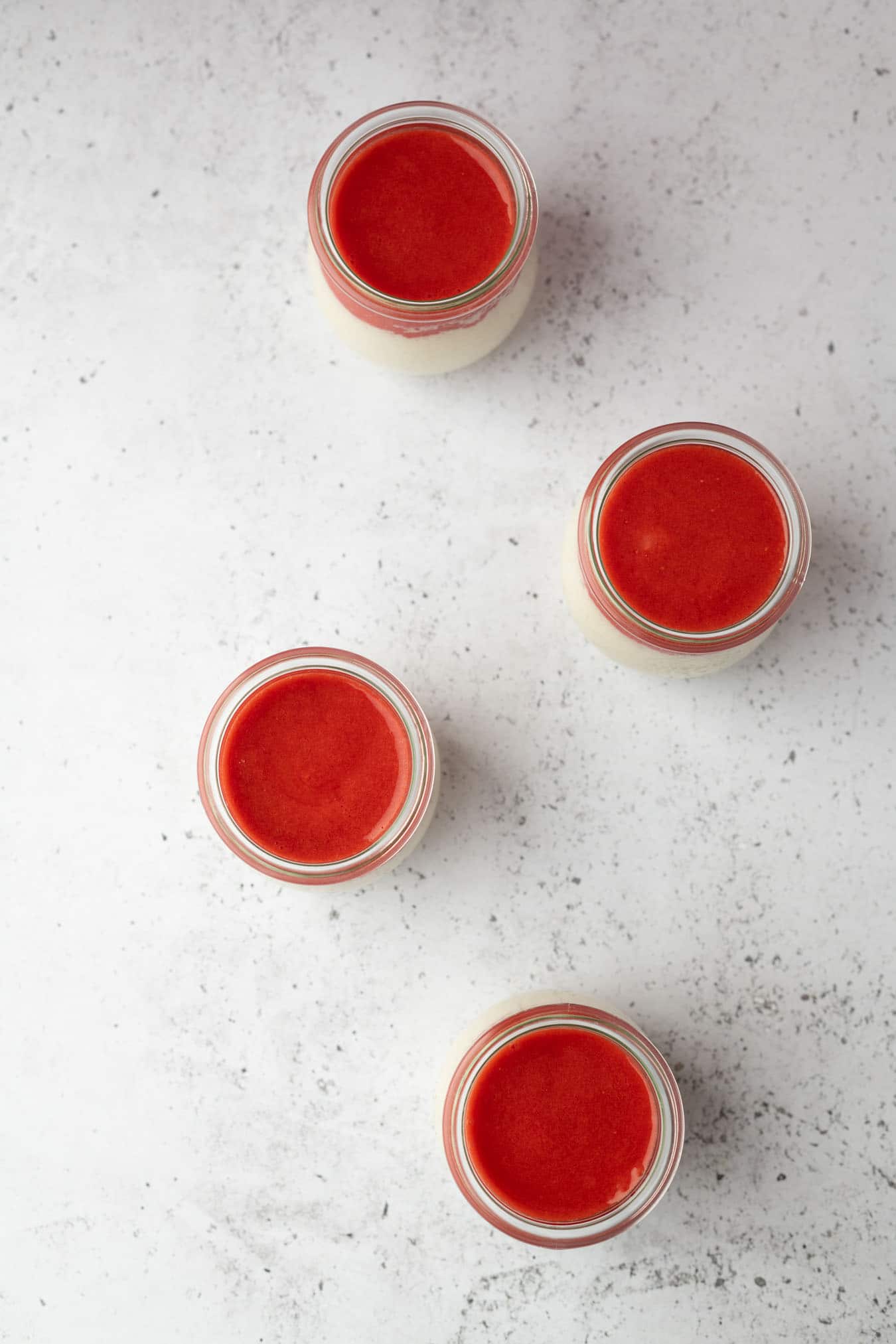 A panna cotta is especially good if you are expecting guests. The main reason is that you can prepare it wonderfully. In addition, it is not heavy in the stomach, is pleasantly fruity-sweet and for such a small, sweet sin almost everyone still has room. The very best part is that you only need 5 ingredients. Who says I'm cheating? Yes, ok, the five ingredients actually refer to the panna cotta alone and not the Strawberry sauce . For this, two more ingredients come on top.
Prepare vegan pannacotta with strawberry sauce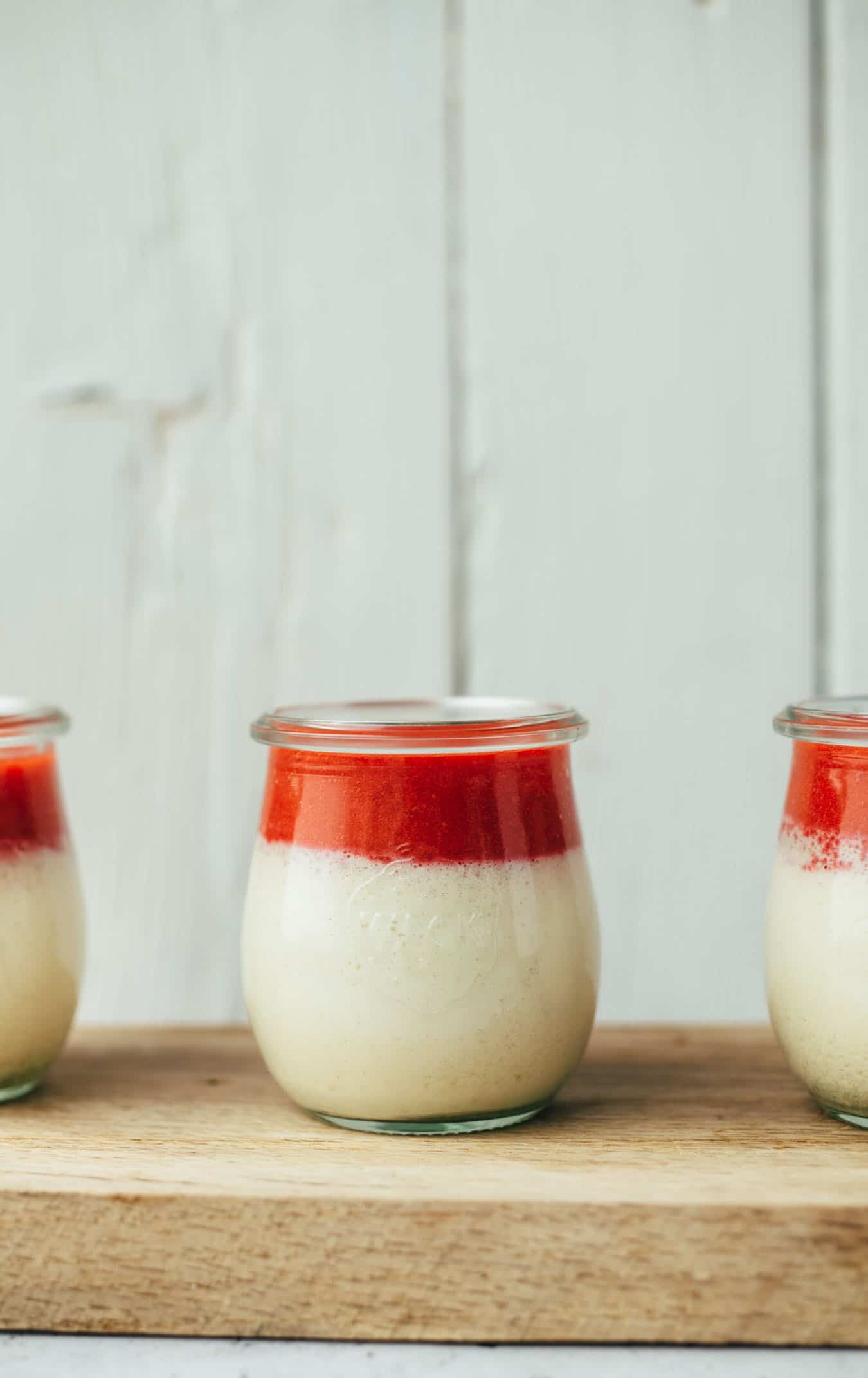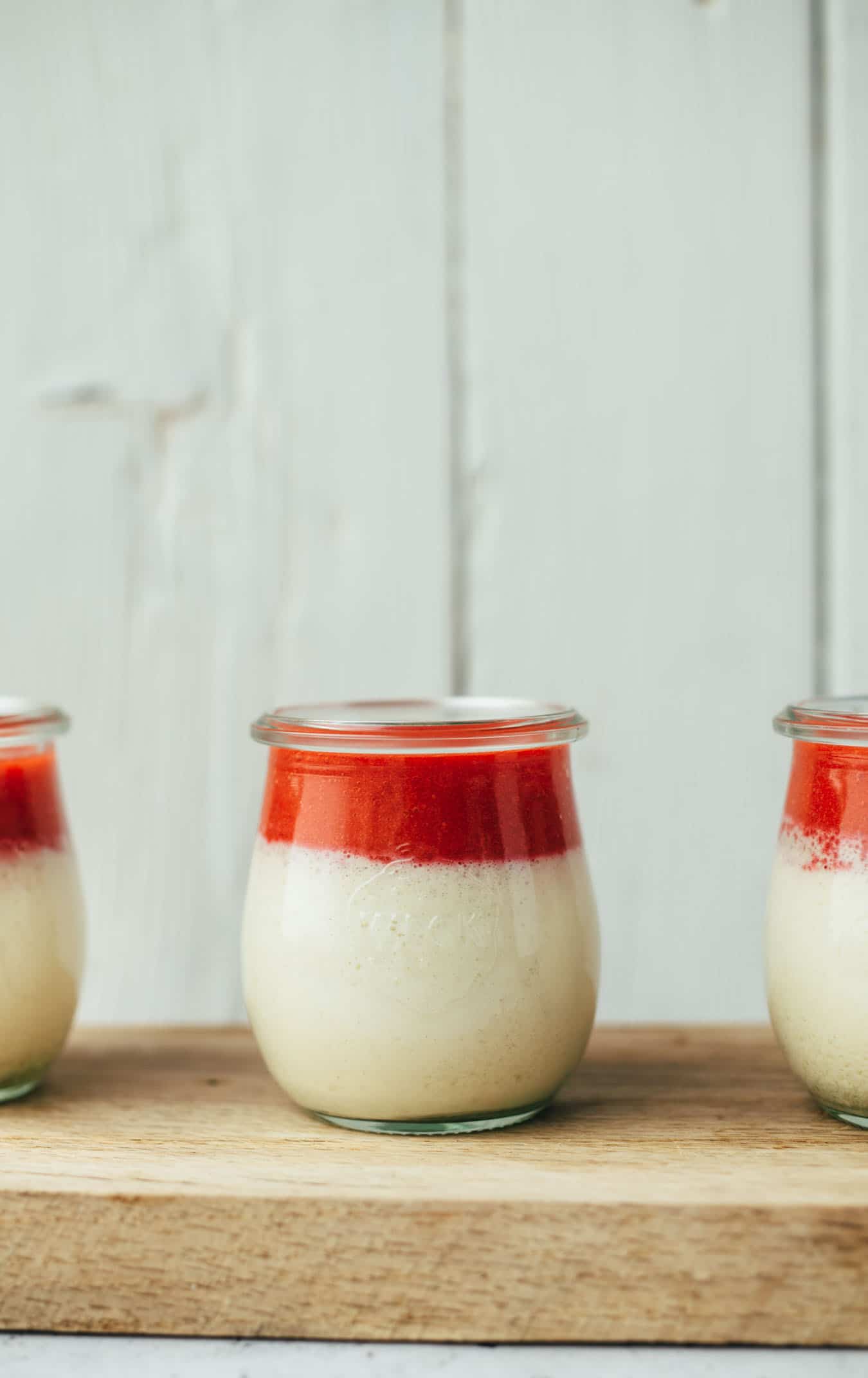 Silken tofu, soy milk or another Vegetable milk , powdered sugar, bourbon vanilla and agar agar. These were the ingredients for our panna cotta. Let's move on to the strawberry sauce, frozen Strawberries , powdered sugar and a little squeeze of lemon juice. It will not be more! And it won't get any more complicated, I promise. Perhaps you are now wondering what agar agar actually is and what we need it for here. I'm sure you're familiar with good old gelatin, which is in a great many dishes. This is made from animal ingredients, who would like to read in more detail here can find a great article about it at VEBU https://vebu.de/essen-genuss/pflanzliche-alternativen/vegane-bindemittel-geliermittel/.
Let's get back to our vegetable gelling agent, agar agar. What is it and where does it come from?
Pure vegetable gelling agent
Is obtained from dried seaweed
Contains valuable fiber and minerals
Is calorie-free and completely tasteless
Does not require sugar to gelatinize
Sounds great and is also great. So we don't need an animal to make our recipe today, and we also provide ourselves with valuable minerals. Fits! The only question is how to use agar agar correctly, here is my little guide:
Be careful with the dosage, because agar agar is full of power and you need very little for a great result. An approximate guide size is 6 sheets of gelatin, which is equivalent to ¾ teaspoon of agar agar powder.
Agar agar only gels when it is boiled, so it is not suitable for raw foods.
Once properly boiled, agar agar gels beautifully at room temperature.
If you want to go into more detail, you can find even more info on the exact processing here. https://de.wikihow.com/Agar-Agar-verwenden
Let's get back to our Christmas menu. As an appetizer I recommend my Pear salad with caramelized pecans and dried cherries. After that it will be hot and hearty with my vegan roast in a delicious sauce and finally there is, well who guesses right? The panna cotta with strawberry sauce.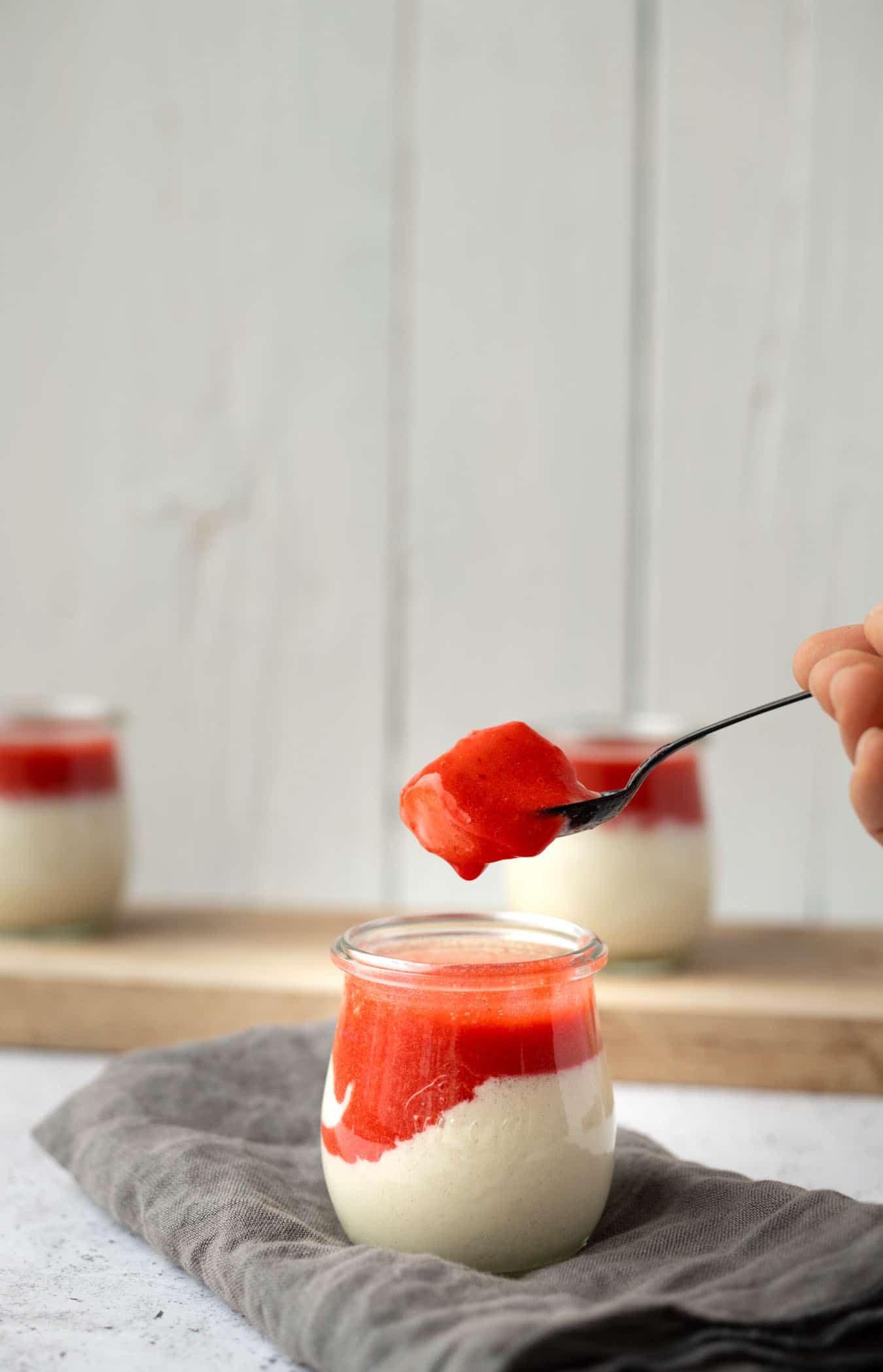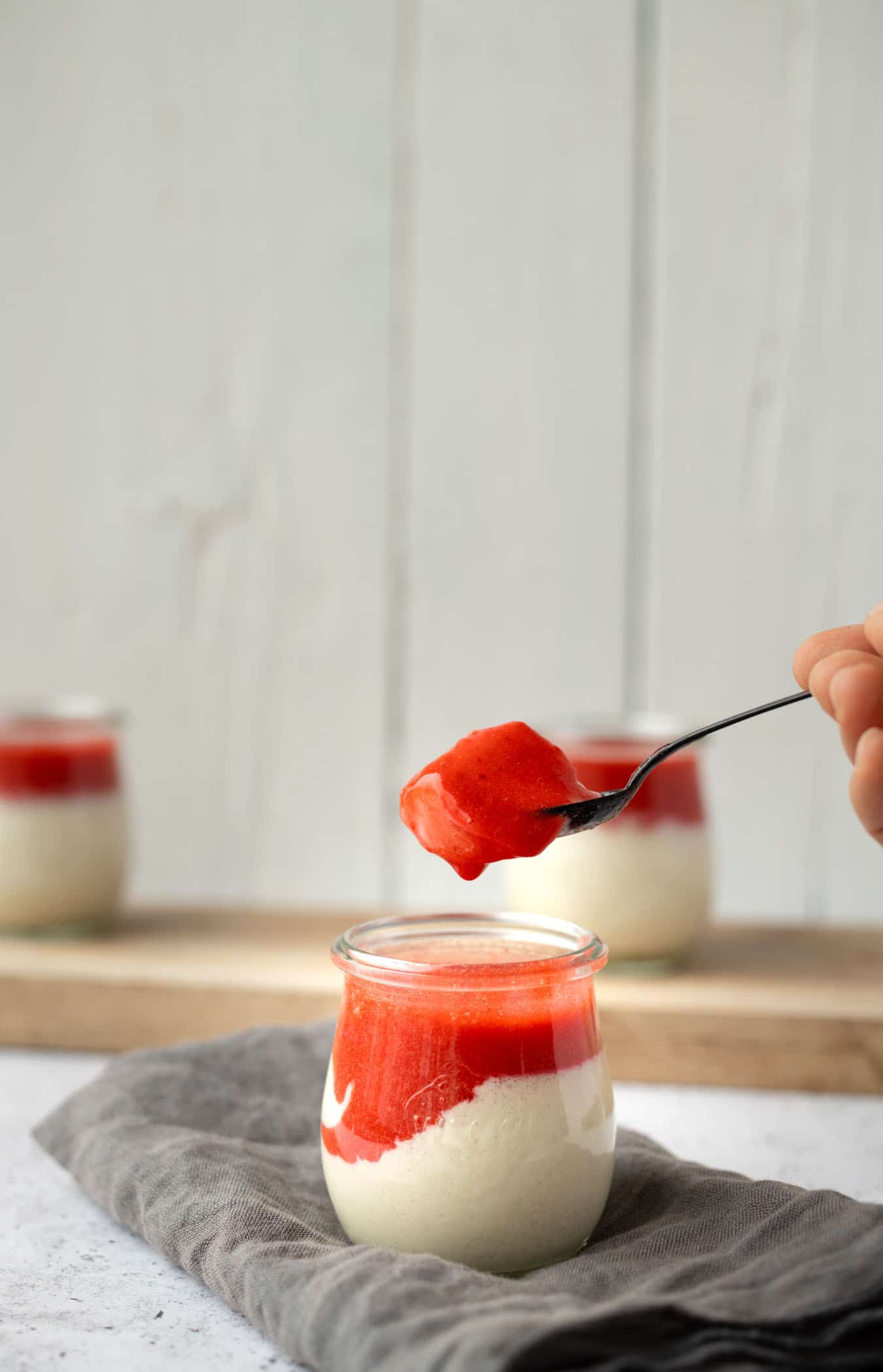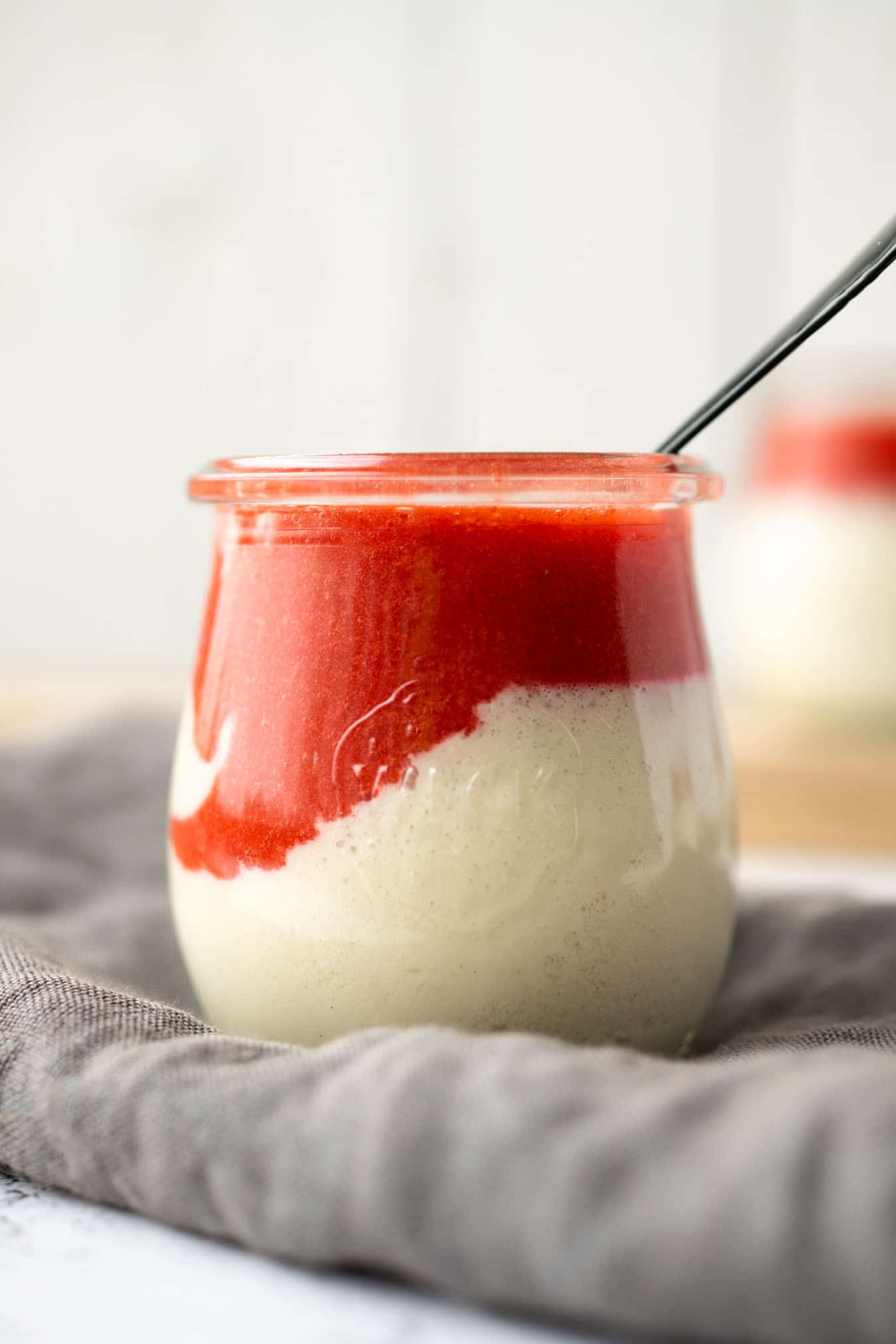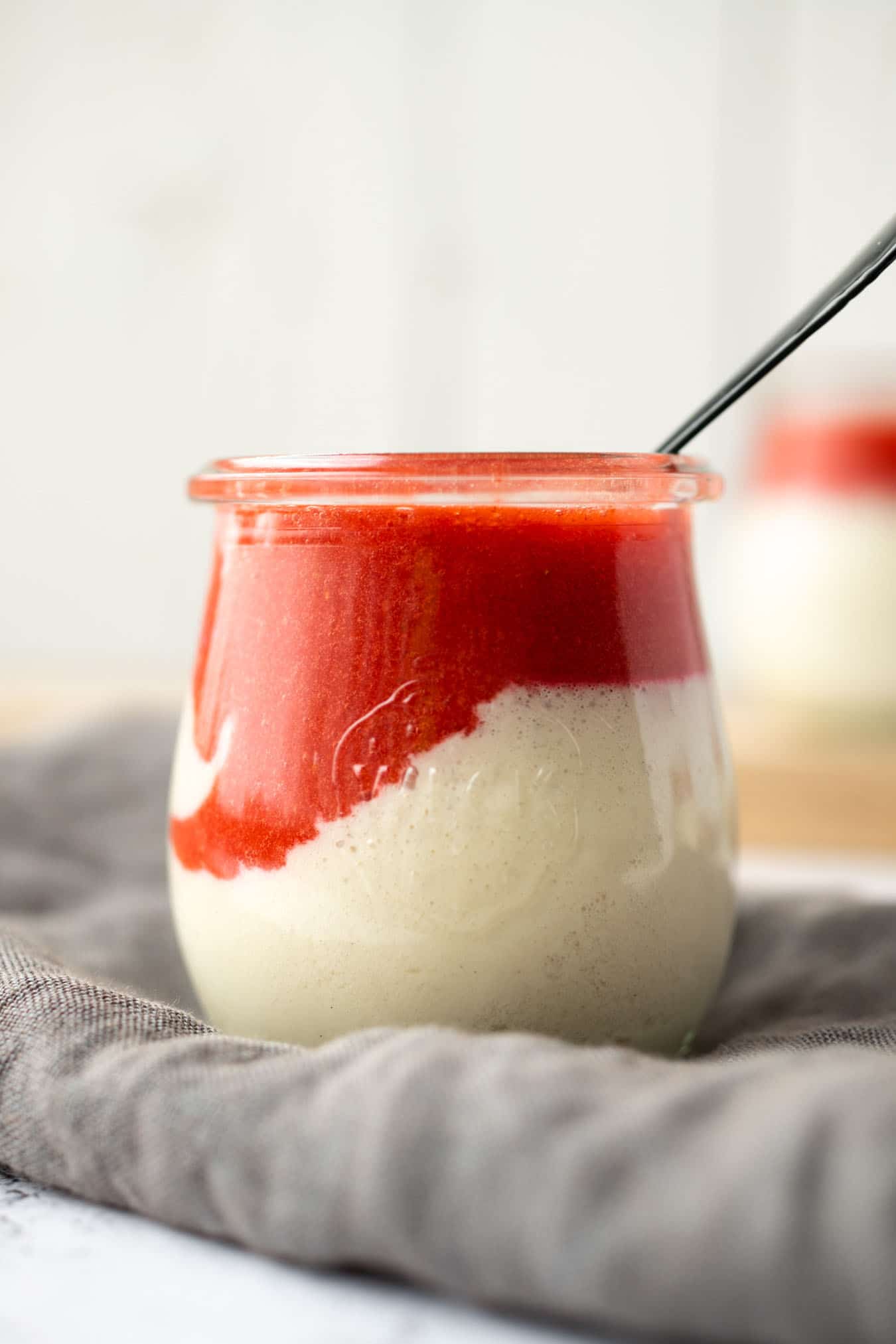 Vegan panna cotta with strawberry sauce (5 ingredients):
Quickly made
fruity
Naturally sweetened
Easy to manufacture
Creamy
If you love this delicious dessert as much as I do, I'd love a review at the very bottom of this page. If you post a picture, use the hashtag #veganevibes.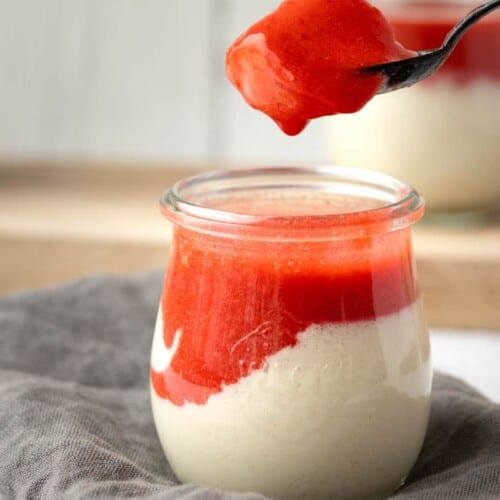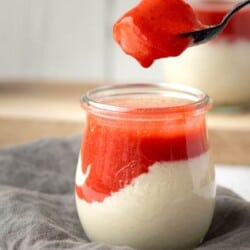 Panna cotta with strawberry sauce
Easy instructions for making vegan panna cotta with strawberry sauce, the perfect dessert with only 5 ingredients. .
AUTOR: VEGANEVIBES
FOR THE STRAWBERRY SAUCE:
200

g

Strawberries frozen

or fresh depending on the season

3

tbspn

Powdered sugar

or other sweetener of choice

7,5

ml

Lemon juice
Anleitung 
Remove strawberries from freezer and allow to thaw.

For the PANNA COTTA place all ingredients in a high-powered blender and blend once for 30-60 seconds to a fine liquid.

150 g Silken tofu,

200 ml Soy milk or another plant milk,

3 tbspn Powdered sugar or another,

½ tbspn Bourbon vanilla ground,

1 tbspn Agar Agar Powder

Pour the liquid into a small saucepan and bring to a boil, stirring until just before boiling point. Remove from heat, let stand one minute and immediately pour into four dessert glasses.

Cool a little at room temperature, put in the refrigerator and leave to set for at least an hour in total.

While the panna cotta is setting, make sauce.

FOR THE STRAWBERRY SAUCE Place strawberries, powdered sugar and lemon juice in a high-powered blender and blend to a fine puree.

3 tbspn Powdered sugar,

7,5 ml Lemon juice,

200 g Strawberries frozen

Finally, pour the puree over the panna cotta and enjoy immediately or return to the refrigerator.

Keeps up to 3 days sealed in the refrigerator (if then there are still some).

TIP: If you want to serve the panna cottas in a perfect condition, it is best to prepare them a day in advance. If it sits too long, the strawberry sauce may seep down into the panna cotta. This does nothing to the taste, but the optics.
Nährwertangaben
Serving:
1
Portion
Calories:
172
kcal
Carbohydrates:
31
g
Protein:
9
g
Fat:
1
g
Sodium:
25
mg
Potassium:
147
mg
Fiber:
3
g
Sugar:
8
g
Vitamin A:
195
IU
Vitamin C:
40.3
mg
Calcium:
146
mg
Iron:
2.5
mg