Quiche with green Asparagus , a dream! Yesterday I was lucky enough to go shopping in Ingolstadt. There are also great organic stores in Regensburg, but Basic's vegetable department and assortment simply tops everything. It is an absolute feast for the eyes to walk through this market and I would love to have a credit card with no limit so I could pack it all in without batting an eye. But then it's not that easy for me and I keep an eye on my budget. The most wonderful thing for me is the fact that almost all fruits and vegetables (with a few exceptions) are unpackaged. I always carry my vegetable nets and bread bags and haven't used a single paper bag since. It would be so easy to save packaging, wouldn't it? The green Asparagus has attracted me in any case extremely and there are also two packages landed in my cart.
Quiche with green asparagus (Gluten Free)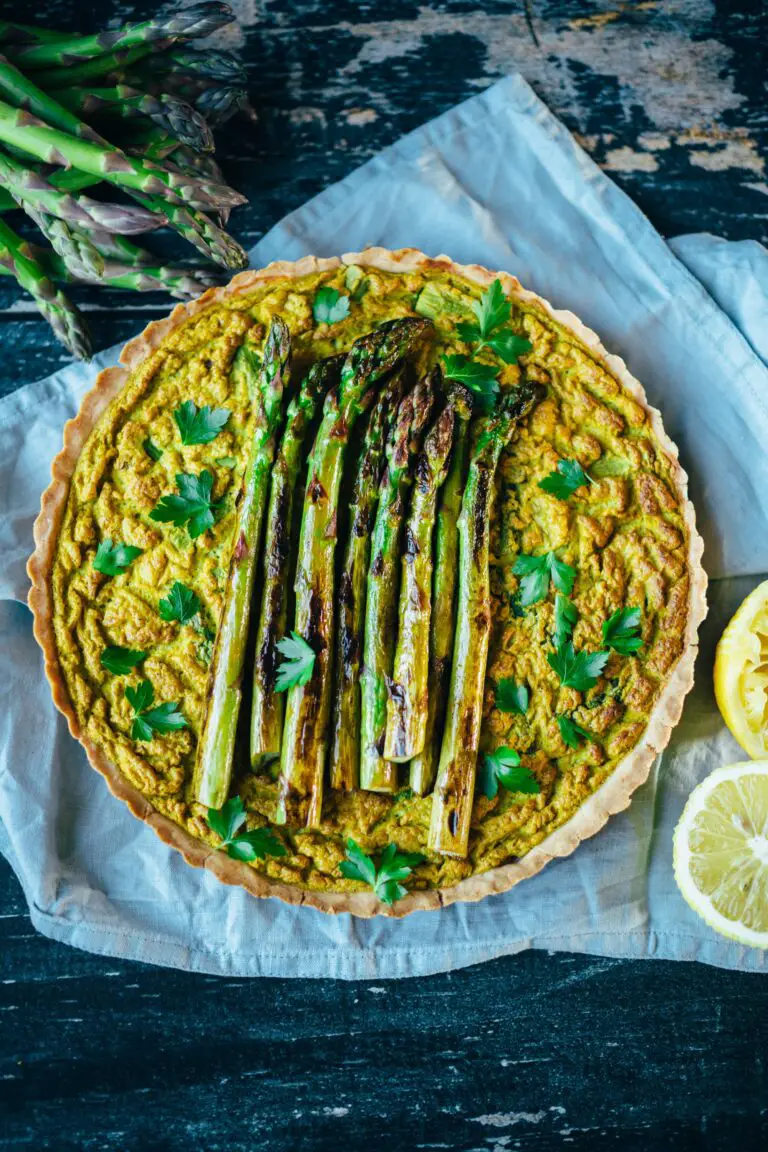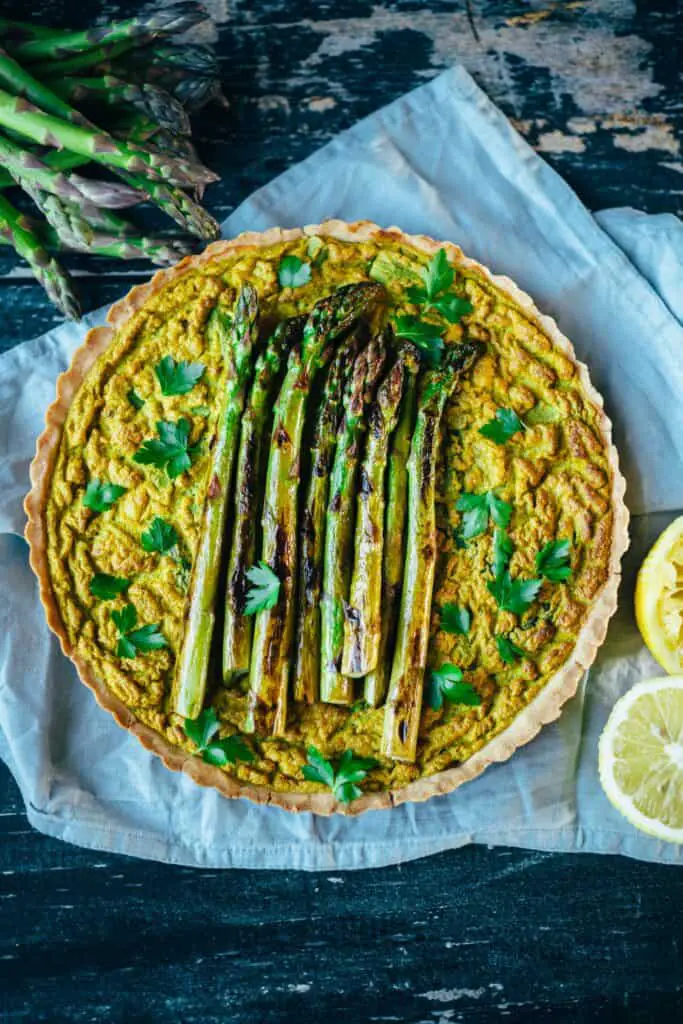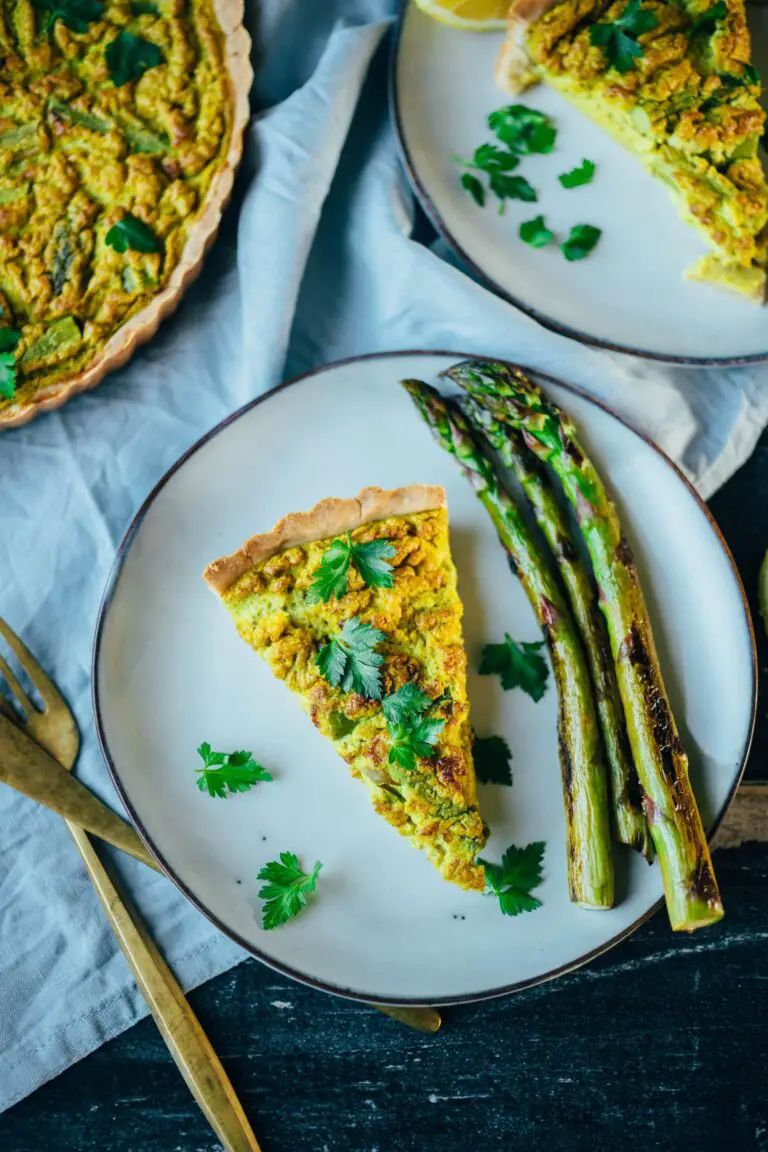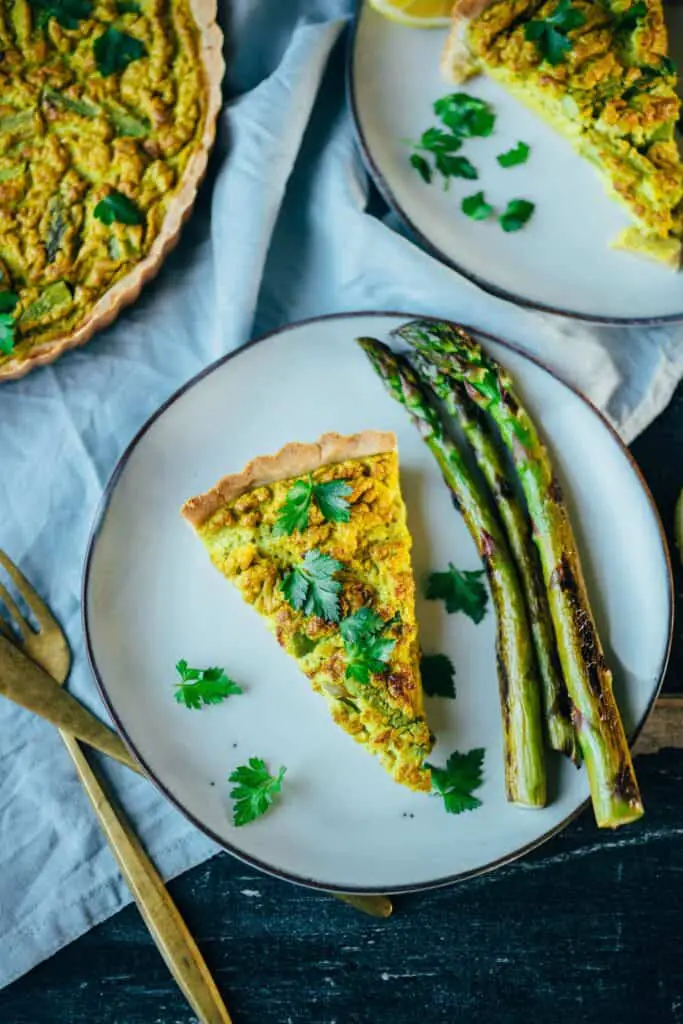 There is already one Spinach Quiche on my site, but it is made with a spelt flour dough. This time the dough is gluten free based on my gluten free flour mix , vegetable margarine, salt, Xathan gum and ice cold water. Once the dough is formed, it also goes directly into the mold and is lovingly pressed into it with your hands.
TIP: Prepare the dough a day in advance and put it in the refrigerator. This will save you a lot of time the next day, you can put the filling directly in and off you go into the oven.
The filling consists of Silken tofu , corn starch, nutritional yeast, a little turmeric (this provides a slightly yellowish color), lemon juice, basil, thyme, nutmeg, pepper, a little lemon zest and salt. The only thing missing is the asparagus, half of which I put into the Quiche and bake with it. The other half I grill in a pan or on the grill and thus get a visual highlight on the quiche. Otherwise the Asparagus spears sink into the quiche and would not look so good to the eye.
White and green asparagus – what is the difference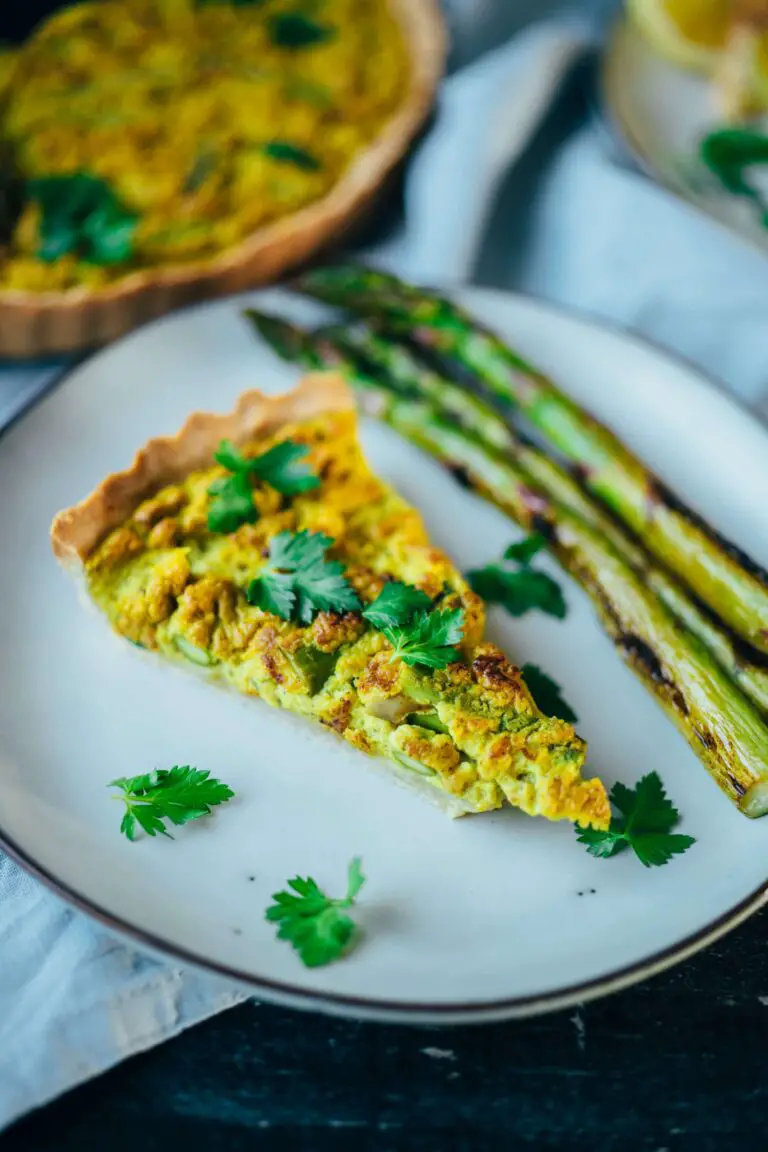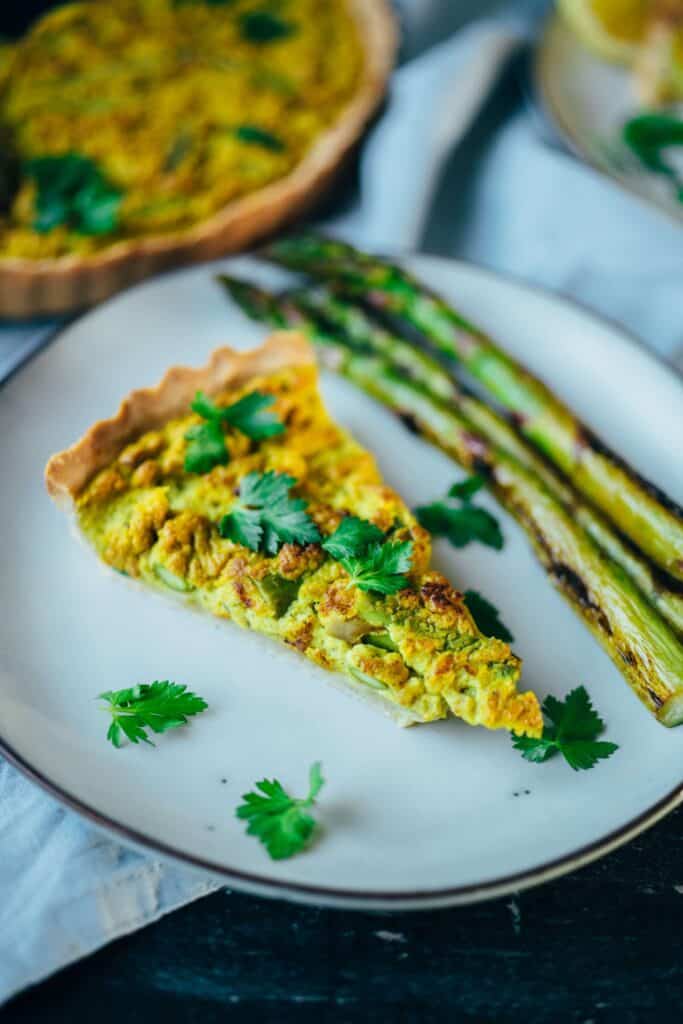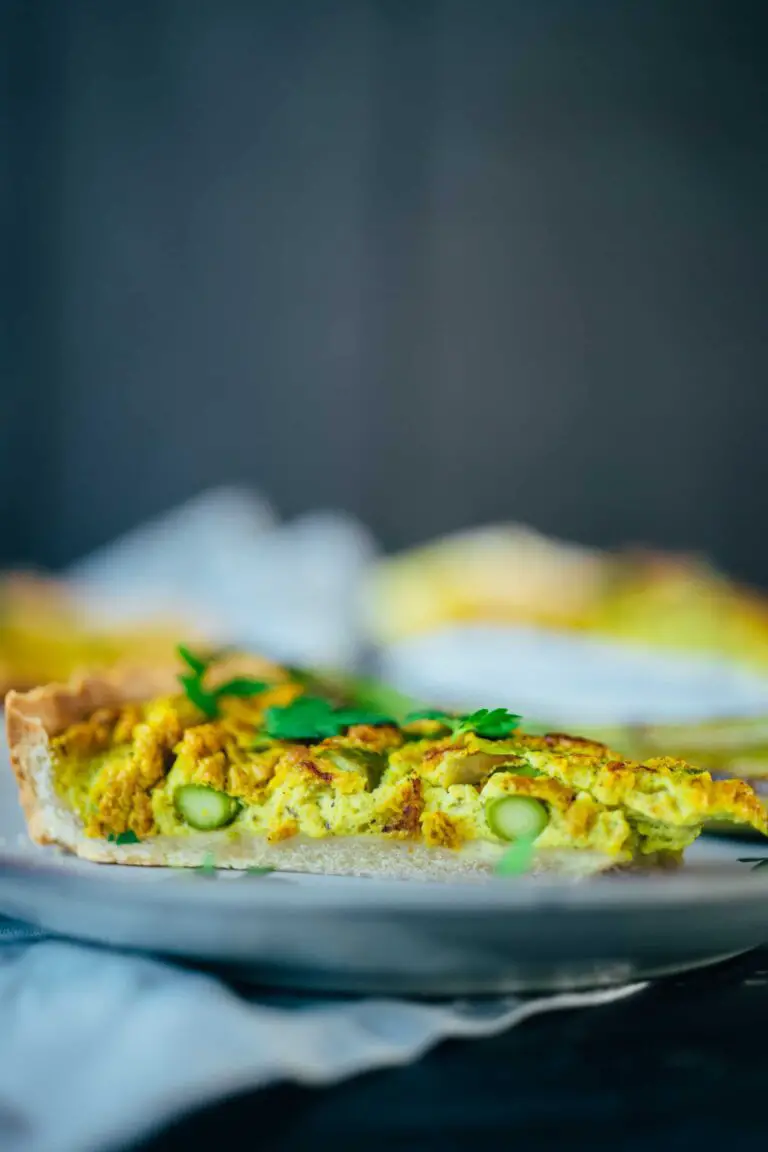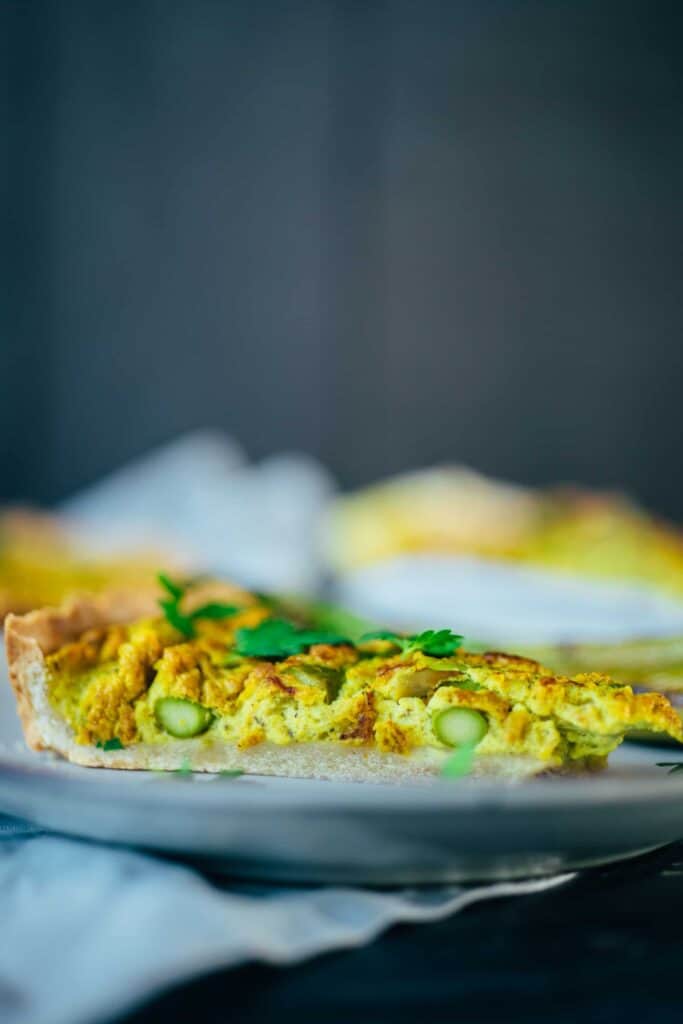 Gotcha! To be honest, for a long time I didn't know what exactly the difference between white and green asparagus was. There are of course differences in taste and also in preparation. I have summarized everything you need to know here:
Already about 3000 BC people have eaten asparagus, and in Egypt. Archaeologists could find evidence of this
There are about 130 different varieties of asparagus
The asparagus shoots are eaten, which – if left to grow – would grow into a bush.
White asparagus is harvested as soon as the stalks break through the ground and are therefore also white because they have not yet been able to photosynthesize.
The lace turns purple when it has already been allowed to soak up a little sun
The green asparagus, on the other hand, has already had plenty of sun and photosynthesized, giving it its characteristic color
TIPS FOR THE STORAGE OF ASPARAGUS
Asparagus best to enjoy as fresh as possible and not store unnecessarily long. If you still don't have time to process it right away, wrap it in a damp cloth and it will keep fresh for 2-3 days in the vegetable drawer of the refrigerator. Simply place green asparagus in a glass of water (similar to herbs) and process as quickly as possible. Washed, peeled and cut asparagus keeps Up to eight months in the freezer . So if you ever have a hankering for asparagus in the winter, now's the time to fill your freezer.
If today you do not feel like Asparagus then I recommend you my creamy pasta with green asparagus , white asparagus with vegan béchamel sauce , pizza with ricotta and green asparagus , or the salad with strawberries and green asparagus .
The quiche with green asparagus is:
aromatic
creamy
crispy bottom
filling
Easy to manufacture
Let's go with this delicious and gluten-free Quiche . I wish you a lot of fun with the re-cooking and am happy about a review at the bottom of this page. If you post a picture, use the hashtag #veganevibes.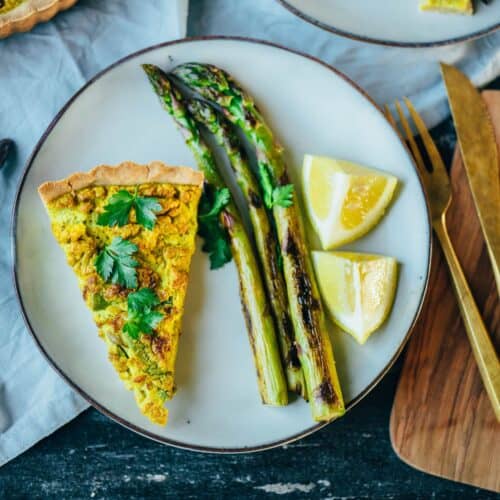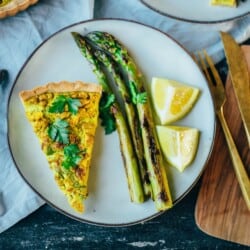 Quiche with green asparagus (gluten free)
Delicious quiche with crispy gluten-free base, with a delicate filling of silken tofu, asparagus and herbs. Along with a side salad, a wonderful lunch or dinner.
AUTOR: VEGANEVIBES
FOR THE GLUTEN-FREE FLOOR:
FOR THE FILLING:
400

g

Silken tofu

corresponds to one package

7,5

g

Cornstarch

1 TBSP.

1

tbspn

Basil

dried or a handful fresh

½

tbspn

Garlic granules

or 1-2 cloves of garlic fresh

½

tbspn

Thyme and other herbs of choice

fresh or dried

¼

tbspn

Nutmeg

3

tbspn

Nutritional yeast

2

tbspn

Lemon juice

1

tbspn

Lemon peel freshly zested or dried

Salt and pepper to taste

½

tbspn

Kala Namak

optional

300

g

green asparagus

put about 2/3 in the filling and 1/3 for decoration
Anleitung 
FOR THE GLUTEN-FREE BASE put the gluten-free flour, salt, xanthan gum and margarine in a large bowl and mix with your hands as well as you can (see video). Add cold water and work into a smooth dough. The dough should look like in the video.

250 g gluten free flour mix,

1 tbspn Salt,

½ tbspn Xanthan Gum,

90 g vegan margarine,

75 ml ice cold water

Immediately pour the dough into the tart pan and work it into the pan with your hands. Pull up a little on the sides and poke a few holes with a fork to prevent bubbling.

Cover and refrigerate, preferably overnight.

FOR THE FILLING Place silken tofu, cornstarch, basil, garlic granules, thyme, nutmeg, nutritional yeast, lemon juice, lemon zest, salt, pepper, and (optional) Kala Namak in a high-powered blender and blend to a fine cream.

400 g Silken tofu,

7,5 g Cornstarch,

1 tbspn Basil,

½ tbspn Garlic granules,

½ tbspn Thyme and other herbs of choice,

¼ tbspn Nutmeg,

3 tbspn Nutritional yeast,

2 tbspn Lemon juice,

1 tbspn Lemon peel freshly zested or dried,

Salt and pepper to taste,

½ tbspn Kala Namak

Prepare asparagus spears (see video), to do this, take each asparagus spear in your hand, hold it by the two ends and press down until the spear breaks. Put away the broken part at the end of the asparagus, continue processing the longer part (see video). Cut two-thirds into pieces, cut in half and set aside. Leave one third whole and set aside.

Preheat oven to 200 degrees convection.

Remove gluten-free base from refrigerator and pour in filling. Add the two-thirds asparagus that has been halved and cut into pieces to the filling.

Put the quiche in the oven and bake for 30 minutes.

Meanwhile, roast the remaining one-third asparagus spears on the grill or in a lightly oiled pan for about five to seven minutes on all sides and set aside.

Remove quiche from oven, let set for 5-10 minutes, garnish with grilled or roasted asparagus spears. Cut into pieces, decorate on plates and enjoy with your choice of side dishes!

Best fresh or cut into pieces and freeze for up to a month.
Nährwertangaben
Serving:
1
Portion
Calories:
779
kcal
Carbohydrates:
112
g
Protein:
32
g
Fat:
24
g
Saturated Fat:
4
g
Sodium:
262
mg
Potassium:
398
mg
Fiber:
12
g
Sugar:
11
g
Vitamin A:
580
IU
Vitamin C:
22
mg
Calcium:
232
mg
Iron:
9
mg