Somehow quiches have always appealed to me, however I always found them quite elaborate. Therefore, I have made myself on the search for a really great Recipe made that is geling safe and still tastes really good. Actually, I had made the calculations for four people, however, my husband and I ate everything immediately. The hunger was just too big and the shooting took too long. Why don't you finish up, my husband says to me in a forced, yet loving tone. My hunger was at least as great as his. Our conclusion was… mega! So let's go mes Dames et Monsieurs, let's make this delightful French classic together.
I love this tingle in your belly button – or just give me a piece of quiche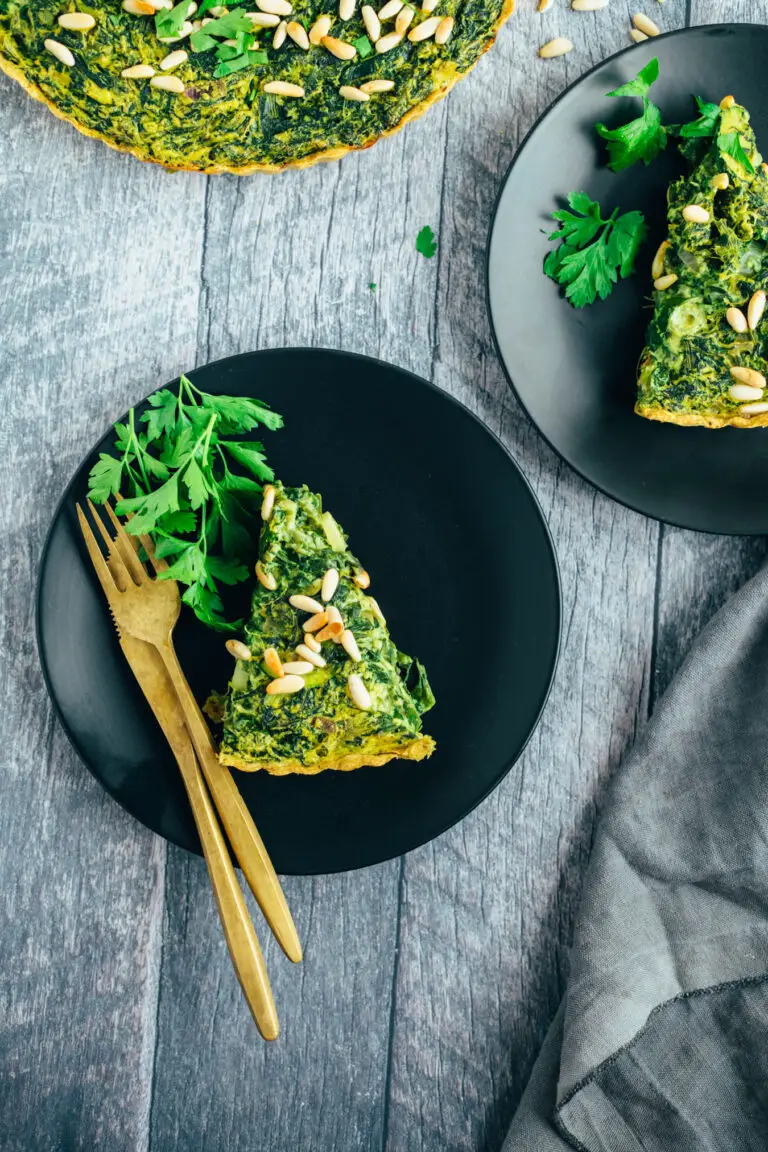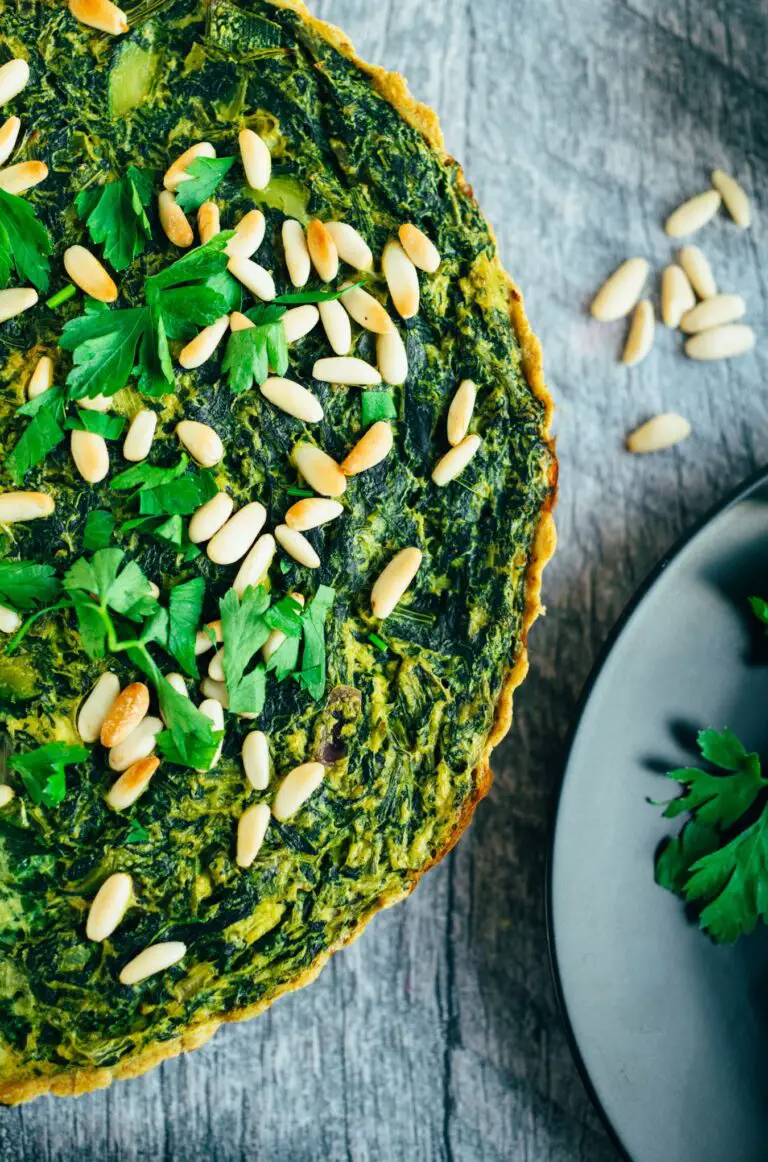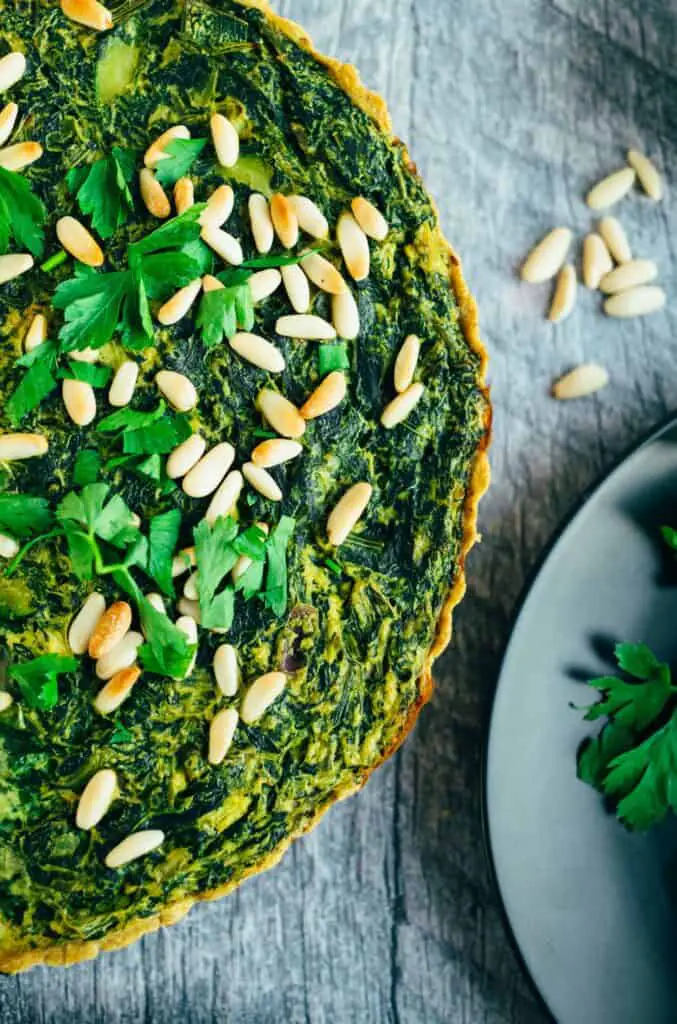 Today, however, it's not about a well-known German beer that tingles so beautifully in the belly button. The only thing the commercial has in common with ours today Court is France. Yes, the lady from the commercial and today's recipe have their origins in our French neighbors. More precisely, the quiche comes from Lorraine and consists of a shortcrust pastry filled with a spicy filling of eggs, Milk , vegetables and other all sorts. We omit the eggs and milk, of course, and replace them with Silken tofu .
But first it's time for the base, a shortcrust pastry made of flour (I use half whole spelt flour and half fine spelt flour type 630), vegan margarine, Flaxseed egg , salt and a little turmeric (for a slightly yellowish color). The filling consists of onion, garlic, green onion, Spinach (fresh or frozen), Silken tofu , starch, nutmeg, salt and pepper to taste.
TIP: It is best to prepare two casseroles at once and bake them one after the other. You can then freeze some portions right away and always have a delicious, healthy Dish at home, if it must go times fast.
What is silken tofu and how healthy is it actually?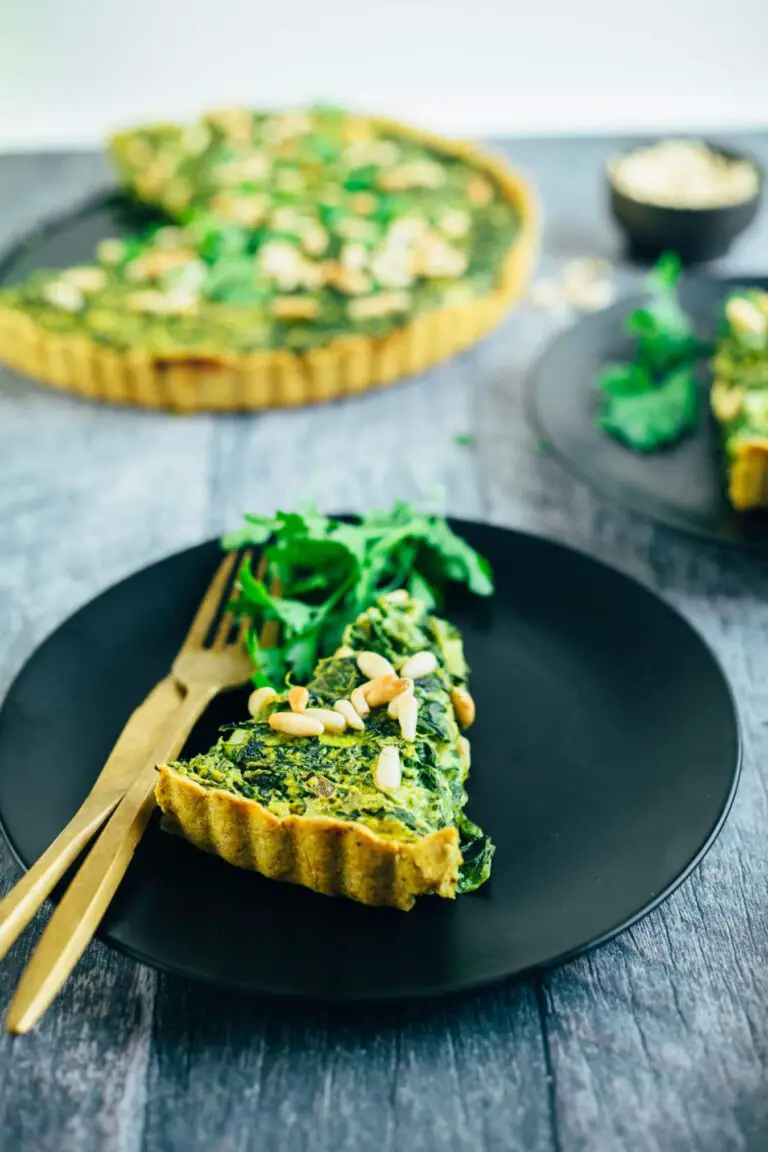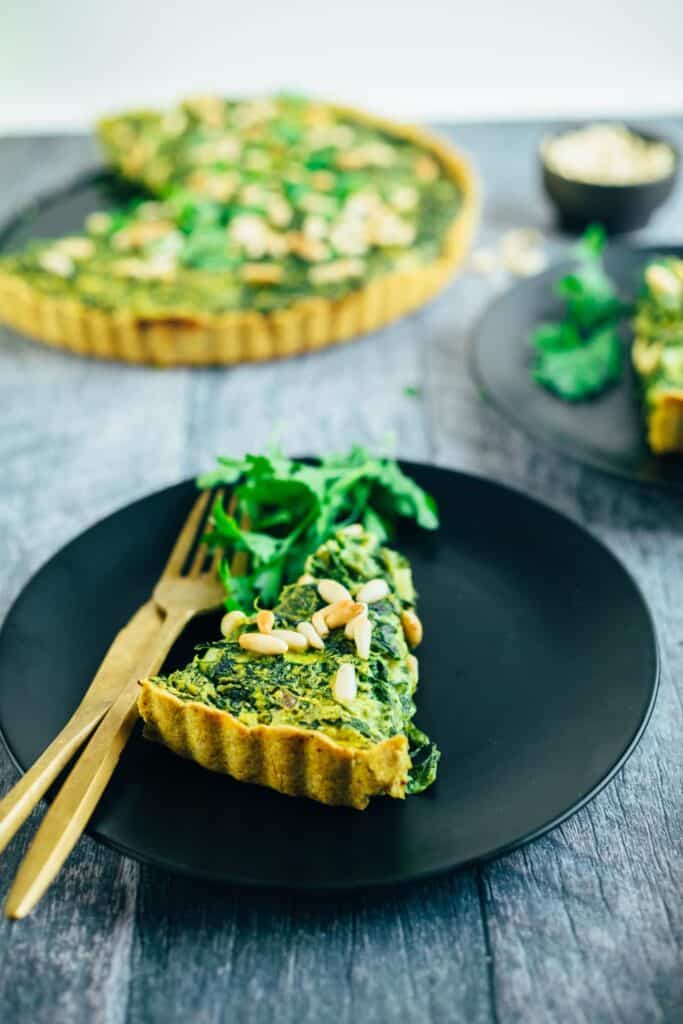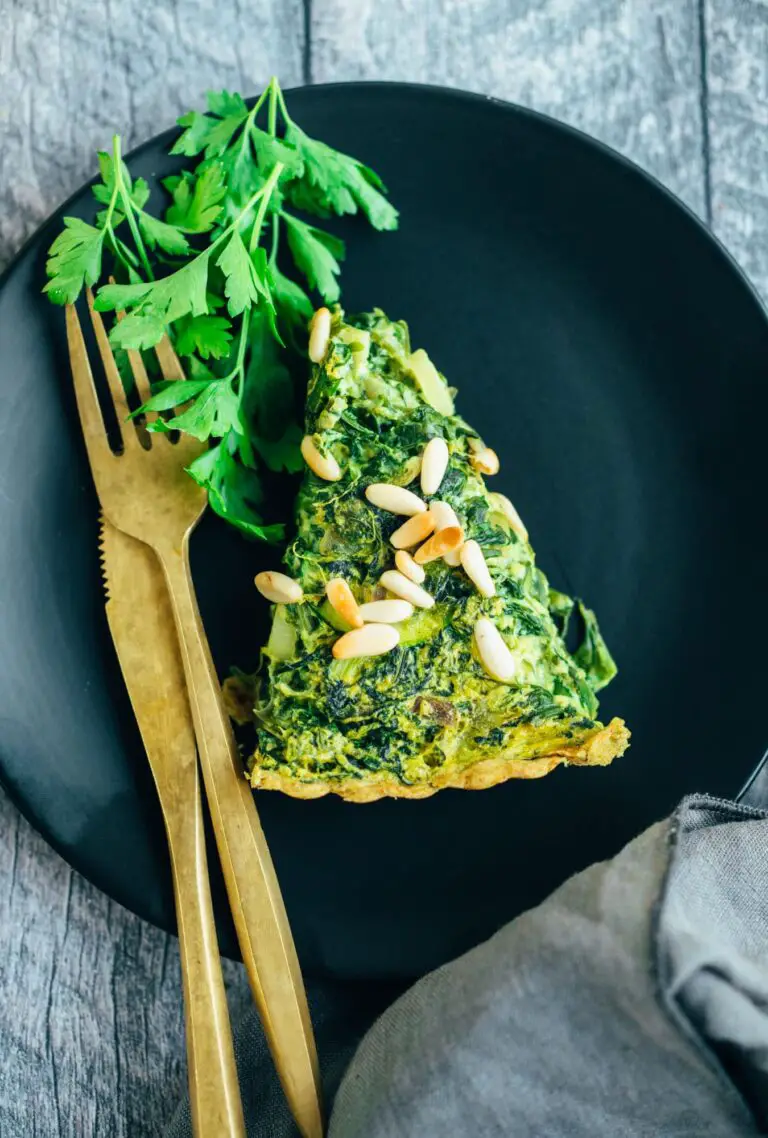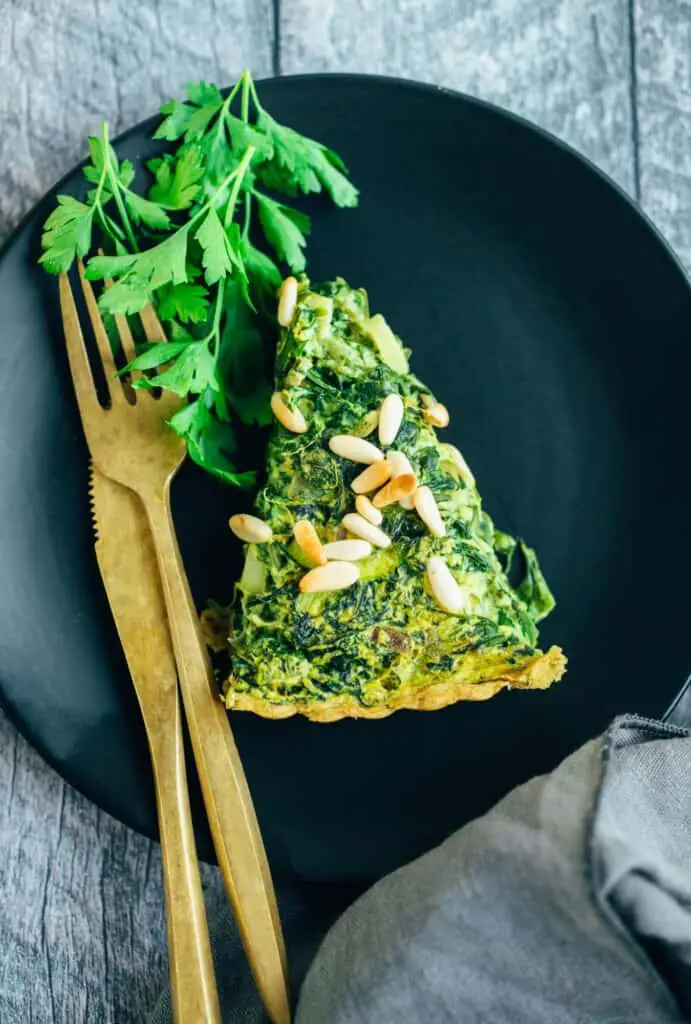 Tofu is now available in many different variations. Smoked, fermented and refined with a wide variety of spices. A very special way of preparation is the preparation of Silken tofu . It is softer and more watery than conventional tofu, thanks to its water content of almost 80%. A classic tofu, on the other hand, has a water content of about 50%. Silken tofu is not pressed and therefore reminds a bit of jello. It is most often used in the preparation of dips, creams and desserts. Like to try my vegan scrambled eggs , Chocolate dessert , Cheesecake or Panna Cotta , all based on silken tofu.
Whether pressed or soft, tofu is definitely healthy:
Especially rich of vegetable protein
Magnesium, Calcium, copper
B vitamins
Iron
Essential Amino acids
If you serve the vegan quiche as a menu, then I recommend a salad to it, best with a delicious Balsamic dressing and for dessert (in keeping with the French theme) a Mousse-also-Chocolate Tarte .
The simple spinach quiche is:
Creamy filled
aromatic
Spicy
filling
simple to be produced
Let's get started with this delicious French oven dish. I wish you a lot of fun with the re-cooking and am happy about a review at the bottom of this page. If you post a picture, use the hashtag #veganevibes.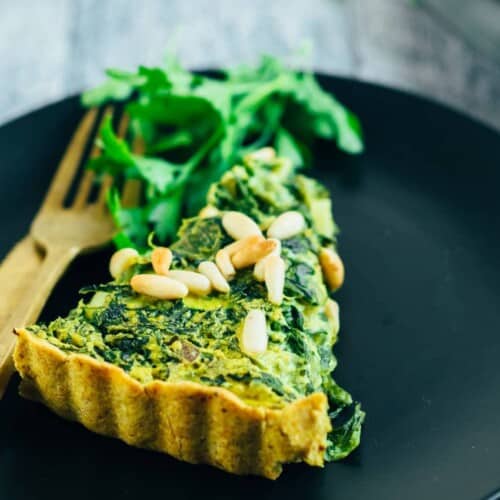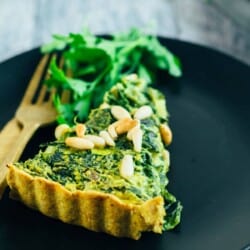 einfache Spinat Quiche
Vegane Quiche mit einer cremigen Füllung aus Seidentofu, Spinat und Frühlingszwiebeln. Ein feiner Mürbeteig macht das französische Gericht perfekt. Ideal als leichtes, aber sättigendes Hauptgericht, perfekt zum Portionieren, Einfrieren und wieder Aufwärmen. Voll mit gesunden, pflanzlichen Protein.
AUTOR: VEGANEVIBES
FÜR DEN MÜRBETEIG:
1

Stück

Leinsamen Ei (siehe gesondertes Rezept)

190

g

Mehl

ich verwende ½ feines helles Dinkelmehl Typ 630 und ½ Dinkelvollkornmehl, alternativ funktionieren auch andere Mehle und meine glutenfreie Mehlmischung

80

g

vegane Margarine

ich verwende Bio-Alsan

½

TL

Salz

¼

TL

Kurkuma
FÜR DEN SPINAT:
15

ml

Brat- und Backöl

alternativ ein anderes hocherhitzbares Öl, falls Öl frei mit Gemüsebrühe ablöschen

1

Stück

rote Zwiebel

geschält und fein gewürfelt

2

Stück

Knoblauchzehen

geschält und gepresst oder fein gewürfelt, optional 1 TL Knoblauchpulver

450

g

Spinat

tiefgefroren, alternativ frischen Spinat verwenden

60

g

Frühlingszwiebel

in feine Ringe geschnitten

125

ml

Gemüsebrühe

zum Ablöschen, für mehr Geschmack
ZUM SERVIEREN:
Basilikum oder andere frische Kräuter nach Belieben
Anleitung 
Spinat aus dem Gefrierfach nehmen und auftauen.

Tarte, bzw. Mürbeteigform vorbereiten, (optional einfetten und mit Mehl ausstäuben)

Ein Leinsamen-Ei in einer großen Backschüssel vorbereiten. 1 EL gemahlenen Leinsamen mit 3 EL sehr warmen Wasser verrühren und kurz andicken lassen.

Mehl, Margarine, Salz und Kurkuma dazugeben und mit den Händen zu einem gleichmäßigen Teig verarbeiten. Abdecken und für 30 Minuten in den Kühlschrank stellen.

1 Stück Leinsamen Ei,

190 g Mehl,

80 g vegane Margarine,

½ TL Salz,

¼ TL Kurkuma

In der Zwischenzeit den SPINAT vorbereiten. Dafür eine große Pfanne mit Bratöl erhitzen, Zwiebel, Knoblauch, Spinat und Frühlingszwiebel hineingeben und 3-5 Minuten glasig dünsten. Mit Gemüsebrühe ablöschen. Beiseitestellen.

1 Stück rote Zwiebel,

2 Stück Knoblauchzehen,

450 g Spinat,

60 g Frühlingszwiebel,

125 ml Gemüsebrühe,

15 ml Brat- und Backöl

Für die TOFU FÜLLUNG Seidentofu, Maisstärke, Kurkuma, schwarzen Pfeffer, Muskat und Salz in einen leistungsstarken Mixer geben und zu einer gleichmäßigen Masse verarbeiten.

7,5 g Maisstärke,

½ TL Kurkuma,

½ TL schwarzen Pfeffer,

¼ TL Muskat,

Salz nach Belieben,

400 g Seidentofu

TOFU FÜLLUNG zu dem SPINAT in die Pfanne geben und einmal kräftig verrühren, bis sich alles gut verbunden hat. Beiseitestellen.

Ofen auf 220Grad Ober- und Unterhitze vorheizen.

MÜRBETEIG aus dem Kühlschrank nehmen, in die Form geben und mit den Händen plattdrücken. An den Seiten ein wenig hochziehen und von innen gegen die Form pressen. Mit einer Gabel ein paar Löcher einstechen, um Blasenbildung zu vermeiden.

TOFU-SPINAT-FÜLLUNG hineingeben und einmal glattstreichen. Mit Pinienkernen bestreuen und in den Ofen geben.

30 Minuten backen und aus dem Ofen nehmen. Die Quiche ist fertig, wenn die oben und an den Seiten goldbraun gebacken ist. Die Pinienkerne sollten ebenso schön gebräunt sein.

Im Idealfall

10-15 Minuten

stehen lassen und erst dann anschneiden.

Auf Teller portionieren, mit frischen Kräutern garnieren und servieren.

Pinienkerne nach Belieben als Topping,

Basilikum oder andere frische Kräuter nach Belieben

Reste 2-3 Tage abgedeckt im Kühlschrank aufbewahren. Alternativ portionieren, einfrieren (bis zu 1 Monat).
Nährwertangaben
Serving:
1
Portion
Calories:
740
kcal
Carbohydrates:
111
g
Protein:
30
g
Fat:
21
g
Saturated Fat:
4
g
Sodium:
273
mg
Potassium:
760
mg
Fiber:
11
g
Sugar:
11
g
Vitamin A:
10699
IU
Vitamin C:
54
mg
Calcium:
316
mg
Iron:
11
mg