Say CHEESE -CAKE " Cheesecake ", actually I'm a big fan of original New York Cheesecake. We even had that one at our wedding party. Really greasy with lots of real cream cheese (yes, we weren't 100% vegan back then). The American version always has a fruity sauce with it, mostly made of Strawberries . The German version is usually served with a lot of cream and consists mainly of a lot of quark, a handful of eggs and milk.
Vegan cheesecake with strawberry sauce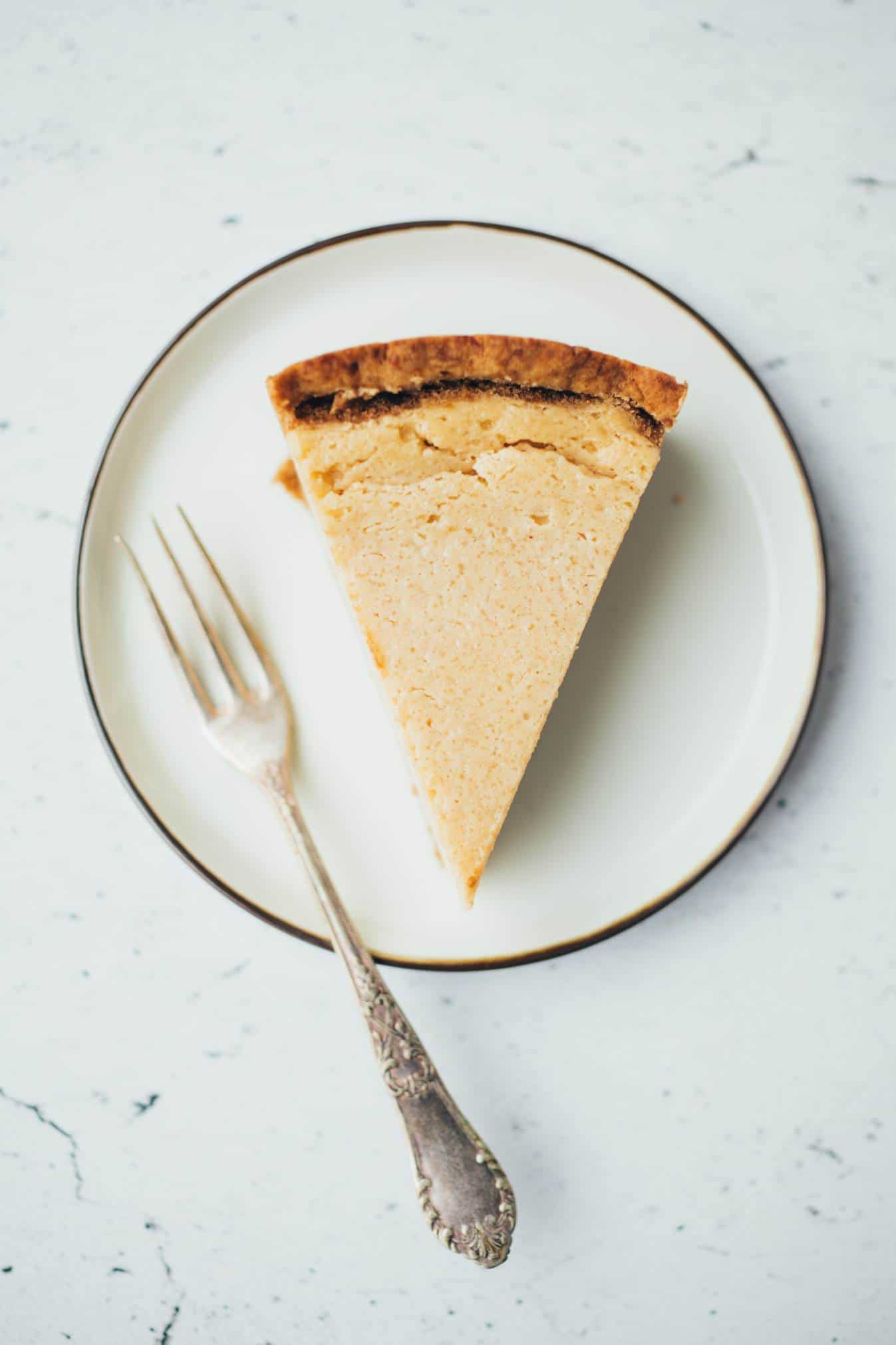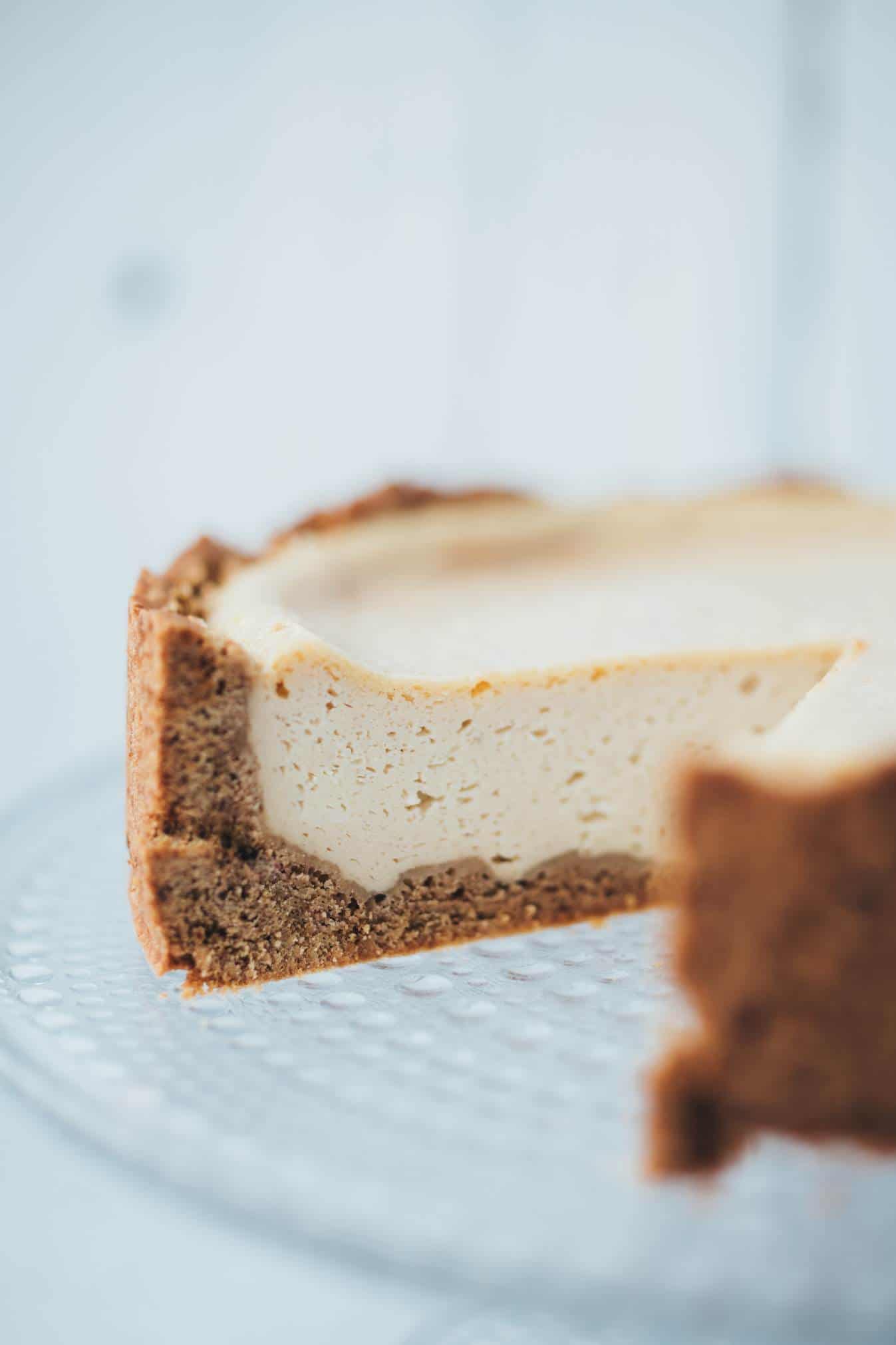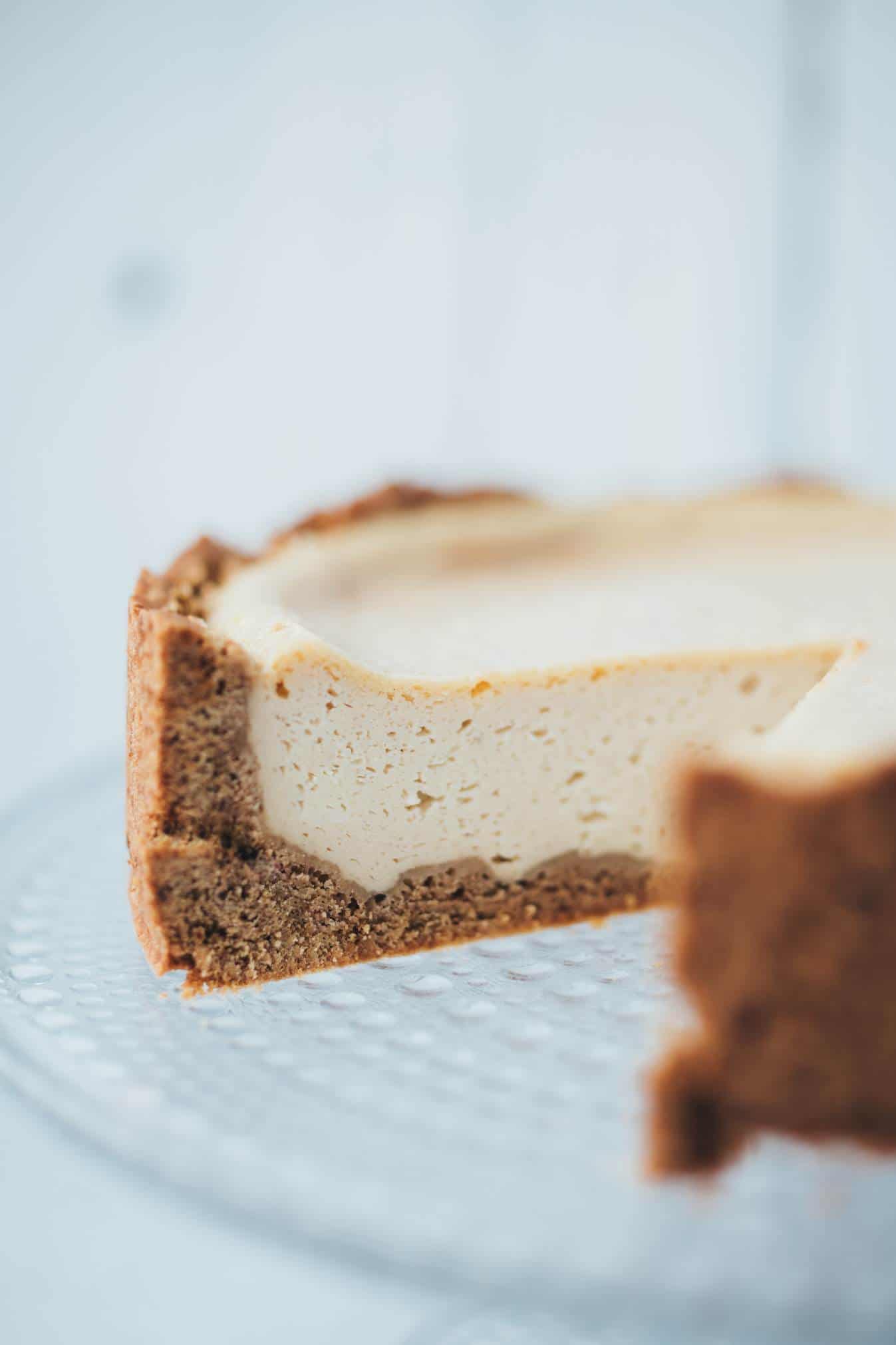 Cheesecake strengthens German-American friendship
My variant could almost be called a hybrid. The Cake itself is more like the German cheesecake. The strawberry sauce has its origin in the New York Cheesecake. But no matter, combining is allowed and the main thing is that it tastes good, right? It was especially important to me to keep the ingredients as simple and original as possible and it should be gluten-free. However, you can always use spelt flour if you prefer and you have no intolerance.
This recipe is a cross between NY Cheesecake and German counterpart
The cheesecake is fun and tastes really heavenly. The base of fine gluten free flour and a mild sweetness from raw cane sugar. The topping with deliciously creamy soy yogurt, silken tofu, raw cane sugar, vanilla and the aroma of freshly grated lemon zest. But what exactly is Silken tofu ? There was a time when I didn't know what to do with it. Tofu Tofu is super versatile and a great source of protein. But silken tofu?
Here is some information about silken tofu:
Consists of Soy , water and natural coagulant
Difference from tofu is the higher liquid content
Its creaminess makes it particularly suitable for desserts, cakes, breakfast dishes like Scrambled Tofu and much more.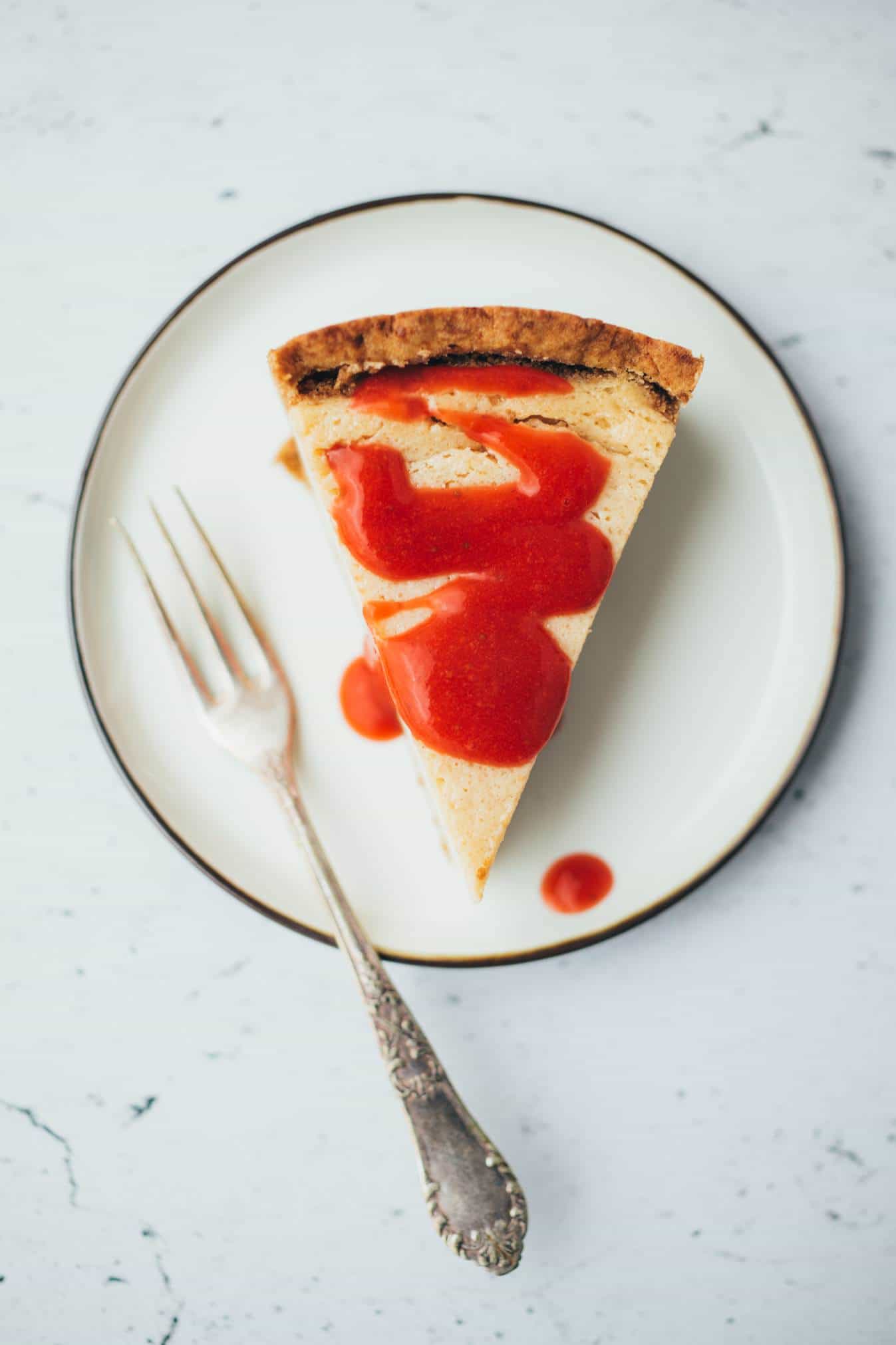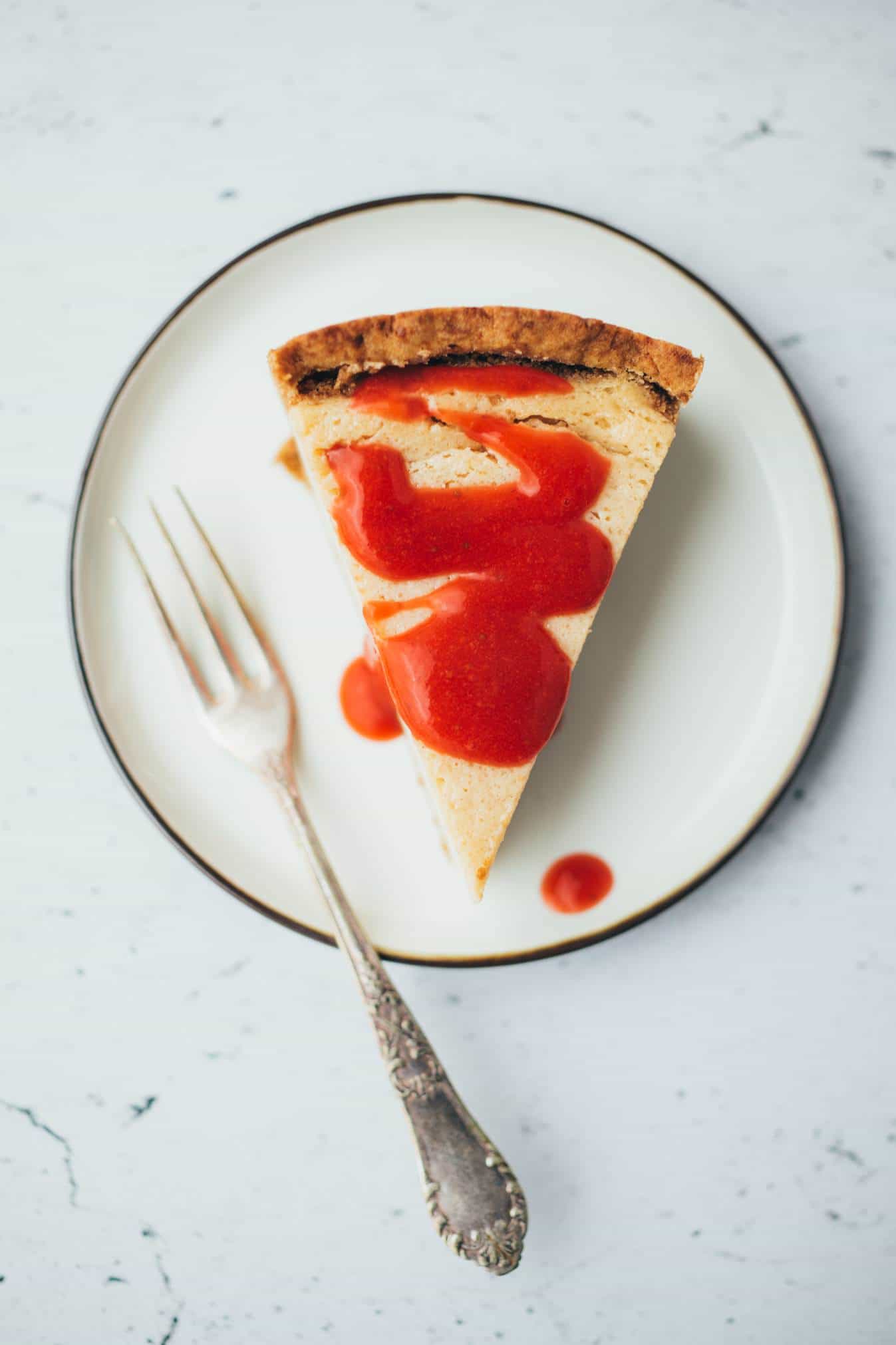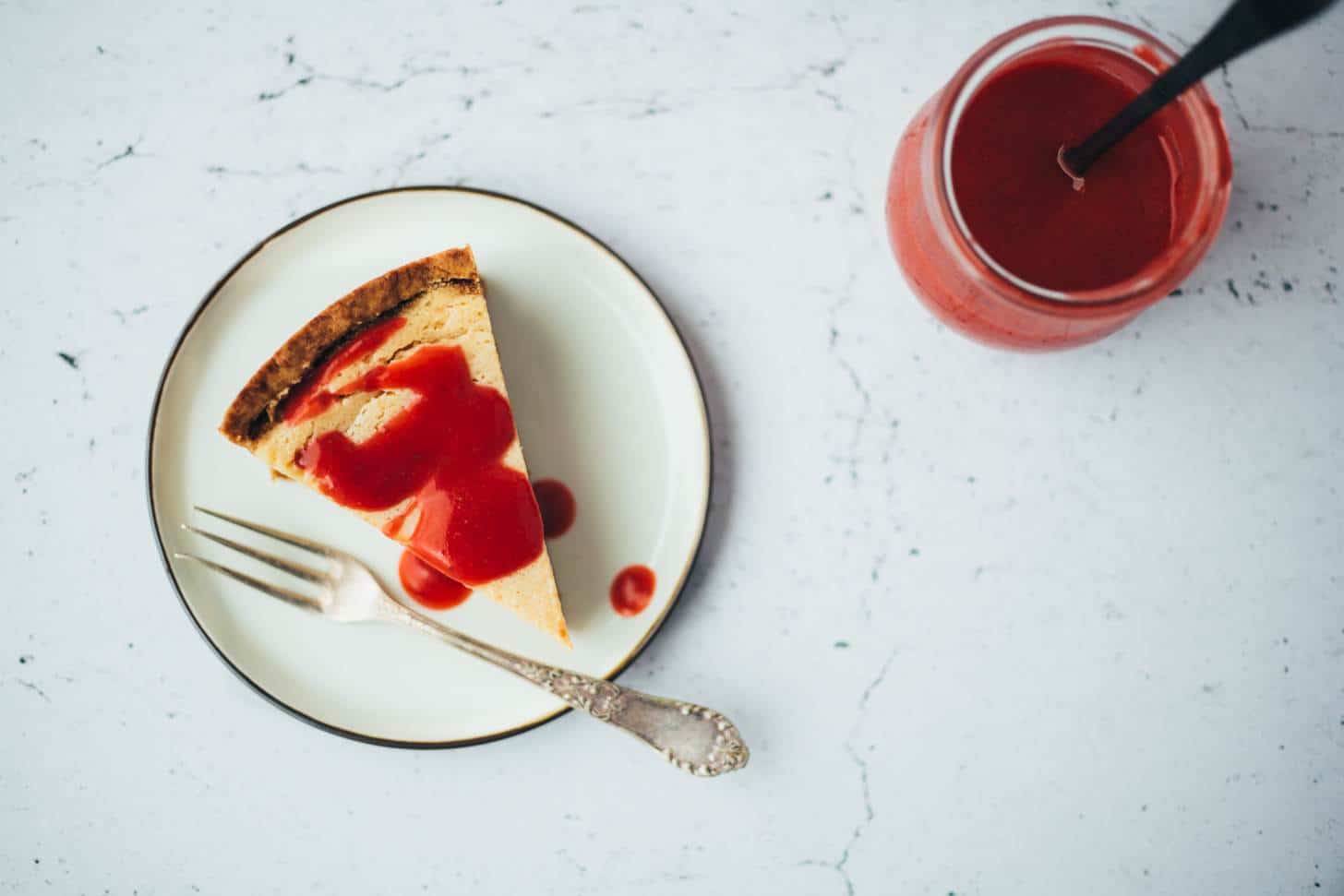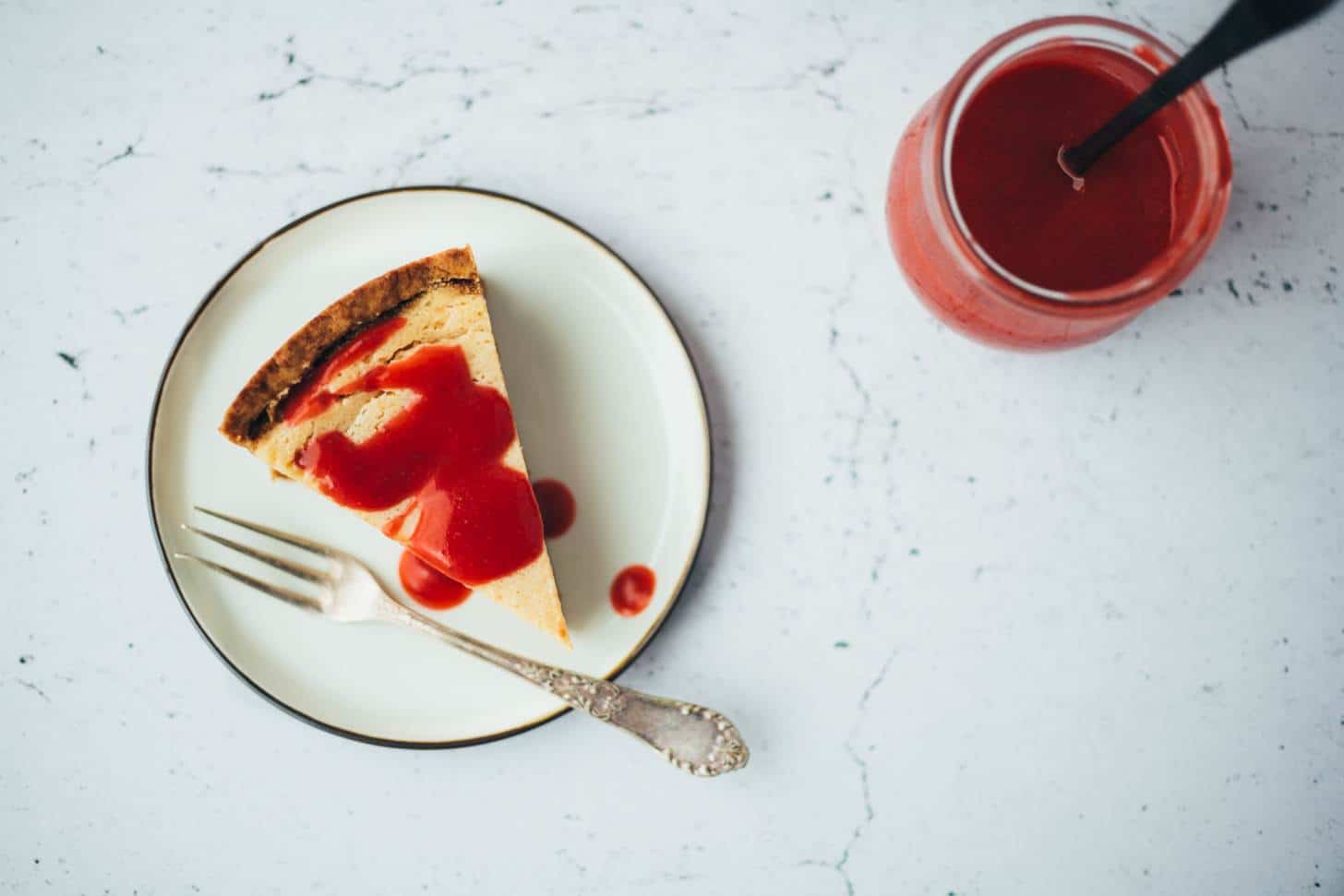 Important to know: I use a springform pan with 20cm diameter. This is the ideal size for us, since we are usually two, or with guests maximum 6 people. But if you have a large family, or expect many guests, you can also make double the amount and use a springform pan with 26cm diameter. If you like, you can also bake twice the amount in 2 springform pans of 20cm diameter each and freeze one cake. Then at least a full package of silken tofu and soy yogurt is consumed.
Perfect with a vegan golden milk or a simple hot chocolate . Instead of the strawberry sauce, for the German version you can also make a vegan coconut cream for the german version.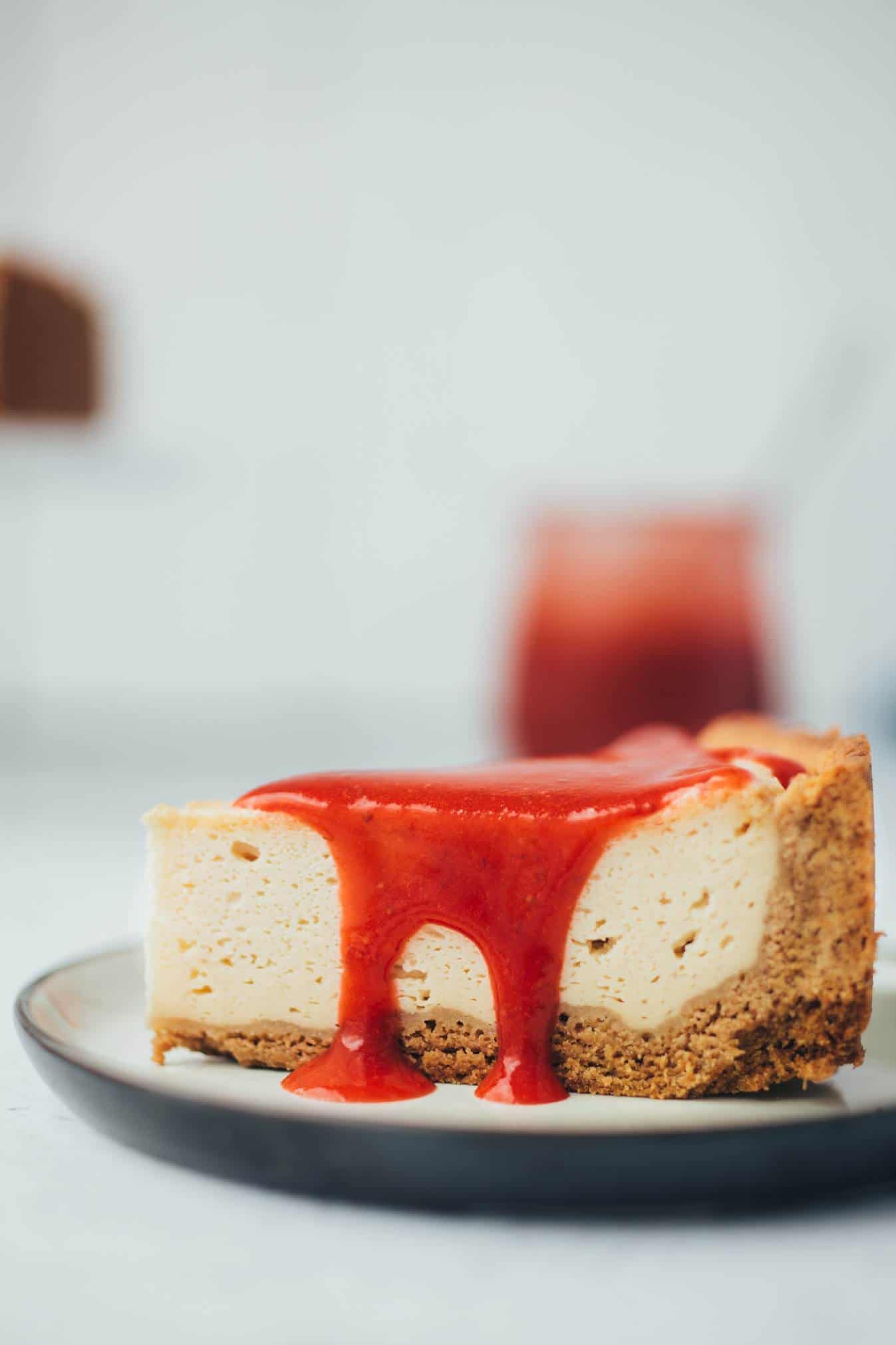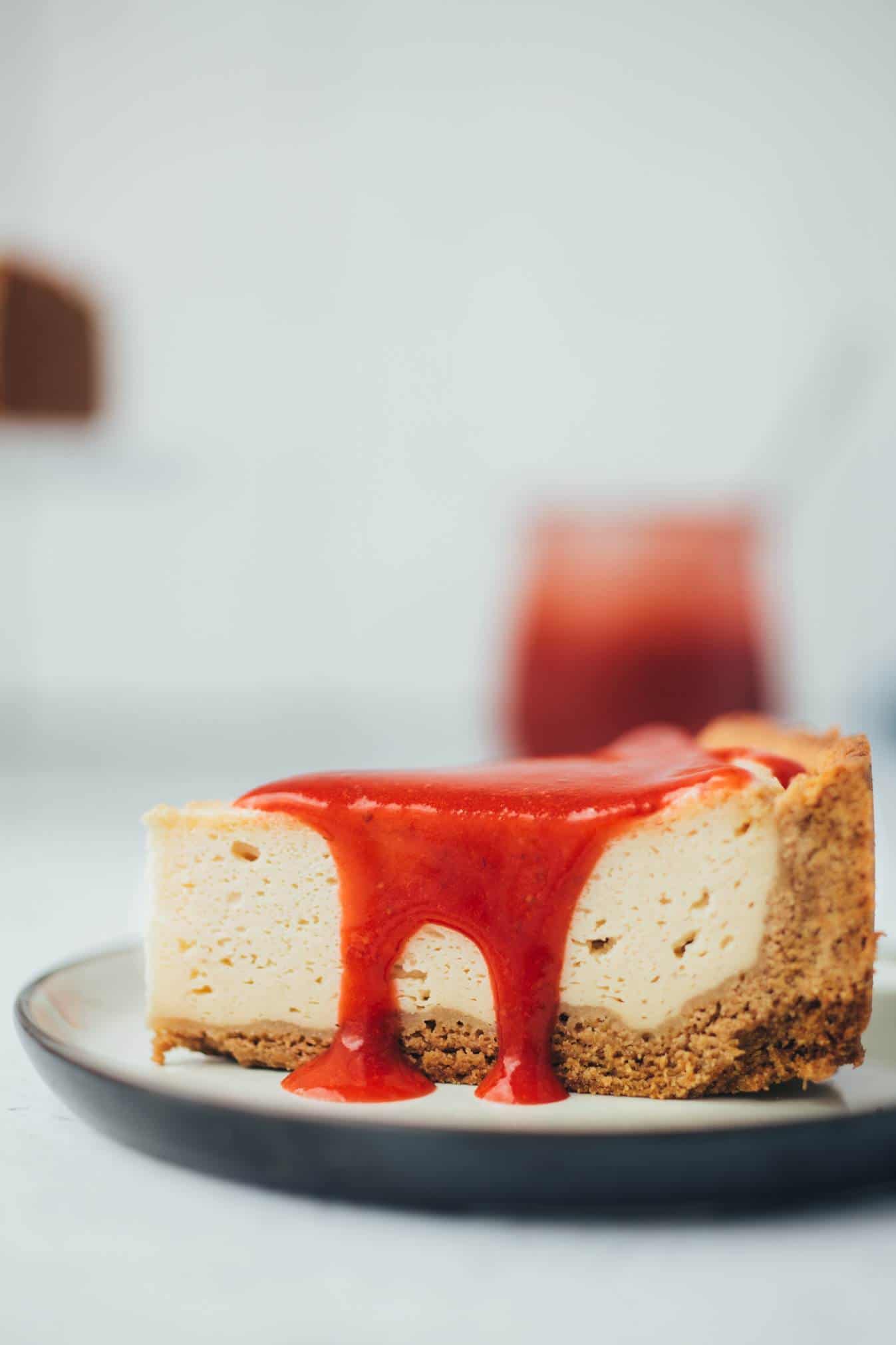 I hope you are now in the mood for a delicious piece of cheesecake with fruity Strawberry sauce. If yes, then I wish you much fun with the Nachbacken and of course about a review at the bottom of this page. If you post a picture, use the hashtag #veganevibes.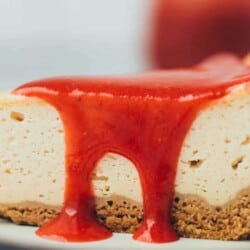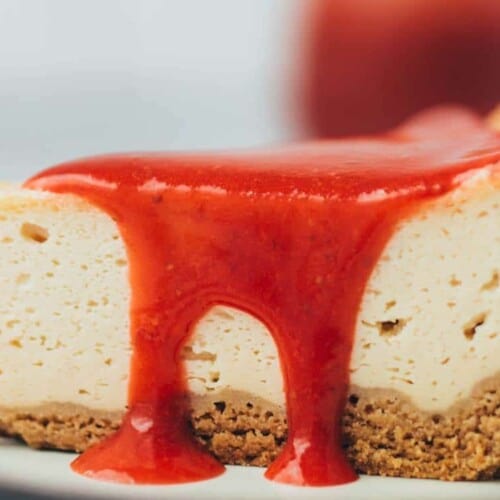 Einfacher veganer Käsekuchen mit Erdbeersauce
Eine herrliche Kombination aus deutschem Käsekuchen und NY Cheesecake mit mürben glutenfreiem Boden und einer leckeren Füllung aus Seidentofu und Sojajoghurt. Der Feinschliff ist eine 5-Zutaten Erdbeersauce, die dem veganen Käsekuchen eine wunderbar fruchtige Note verleiht.
AUTOR: VEGANEVIBES
FÜR DEN BODEN:
125

g

glutenfreie Mehlmischung oder feines Dinkelmehl

Typ 630

50

g

kalte Margarine

½

TL

Backpulver

35

g

Rohrohrzucker

1 – 1 ½

EL

Wasser
FÜR DIE FÜLLUNG:
250

g

Sojajoghurt oder einen anderen pflanzlichen Joghurt

200

g

Seidentofu

Ich verwende den von Taifun, gibt es bei Alnatura im Kühlregal (von Taifun)

60

g

Margarine

40

g

Maisstärke

30

g

Agavendicksaft

75

g

Rohrohrzucker

1

EL

Zitronensaft

Abgeriebene Schale einer Bio-Zitrone
Anleitung 
Den Ofen auf 175 Grad vorheizen und 1 Backpfanne oder Springform mit 20cm Durchmesser mit etwas Kokosnussöl einfetten. Alternativ bei Verwendung einer Springform den Boden mit Backpapier bedecken und nur die Seiten leicht einfetten (optional).


FÜR DEN MÜRBETEIG

alle Zutaten in der Küchenmaschine oder per Hand zu einem gleichmäßigen, leicht krümeligen Teig verarbeiten. Falls der Teig zu krümelig ist, einfach ein wenig Wasser dazugeben. Teig in die Springform geben und mit den Händen gleichmäßig auf dem Boden und hoch an die Ränder verteilen. In den Kühlschrank stellen und mit der Füllung weitermachen.

125 g glutenfreie Mehlmischung oder feines Dinkelmehl,

50 g kalte Margarine,

½ TL Backpulver,

35 g Rohrohrzucker,

1 – 1 ½ EL Wasser

FÜR DIE FÜLLUNG

alle Zutaten in eine Schüssel oder einen Hochleistungsmixer geben und zu einer homogenen Creme verrühren. Falls Du mit dem Handrührgerät arbeitet, zuerst Margarine und Zucker verarbeiten und dann alle weiteren Zutaten nach und nach hinzufügen. Beim Hochleitstungsmixer einfach alle Zutaten der Reihe nach in den Mixbehälter geben und circa 30 Sekunden auf höchster Stufe cremig mixen.

250 g Sojajoghurt oder einen anderen pflanzlichen Joghurt,

200 g Seidentofu,

60 g Margarine,

40 g Maisstärke,

30 g Agavendicksaft,

75 g Rohrohrzucker,

½ TL gemahlene Bourbon Vanille,

1 EL Zitronensaft,

Abgeriebene Schale einer Bio-Zitrone

Abschmecken und je nach Geschmack noch etwas Agavendicksaft für mehr Süße dazugeben. In die mit dem Mürbeteig ausgelegte Springform gießen.


Auf mittlerer Schiene 35-40 Minuten backen. Der Kuchen ist fertig, wenn die Füllung am Rand reich goldbraun geworden ist. Im Zweifel Ofen ausschalten und noch weitere 10-15 Minuten bei Nachwärme im Ofen stehen lassen.


Vollständig auskühlen lassen.


In der Zwischenzeit

ERDBEERSAUCE

zubereiten. Dafür alle Zutaten in einen kleinen Topf oder Saucier geben, umrühren und auf mittlerer Hitze mit geschlossenem Deckel circa 10 Minuten langsam erhitzen und auftauen. Einmal für 1-2 Minuten aufkochen lassen und Hitze wegnehmen. Beiseitestellen und abkühlen lassen. Wer mag kann einen Teil der Sauce oder die ganze Menge einmal im Hochleistungsmixer ganz fein pürieren.

300 g gefrorene Erdbeeren,

30 ml Wasser,

2 EL Maisstärke,

2 EL Rohrohrzucker,

1 EL Zitronensaft

Kuchen in 8 Stücke schneiden, auf dem Teller mit Erdbeersauce beträufeln und genießen!


Hält bis zu 3 Tage im Kühlschrank und 1 Monat im Gefrierfach.

Nährwertangaben
Serving:
1
Stück
Calories:
615
kcal
Carbohydrates:
117
g
Protein:
13
g
Fat:
13
g
Saturated Fat:
2
g
Sodium:
136
mg
Potassium:
74
mg
Fiber:
9
g
Sugar:
56
g
Vitamin A:
490
IU
Vitamin C:
30.5
mg
Calcium:
108
mg
Iron:
3.9
mg