When I shot the mole cake a week ago, there was such a "Corona Virus" that I wasn't very interested in it yet. Meanwhile, I listened to a podcast on NDR and the smart virologist gave great tips, for example that you should always get a beer from a closed bottle in the pub. Oh great, I thought to myself, and at that moment I was totally frustrated because we had to cancel our ski vacation. I can't go to Austria now because of such a virus, I thought to myself. At that time, I was not aware of how blatant the story about the virus was going to be. Meanwhile, the whole of Tyrol is under quarantine and people condemn each other as "irresponsible" or a "beer in the park is still okay". Let's face it, we will never know who or what put this virus into the world and sent us on forced leave. One thing is for sure, you can do a lot against the bad mood in your own four walls, like for example a mole cake bake. Are you with us?
Vegan mole cake, what?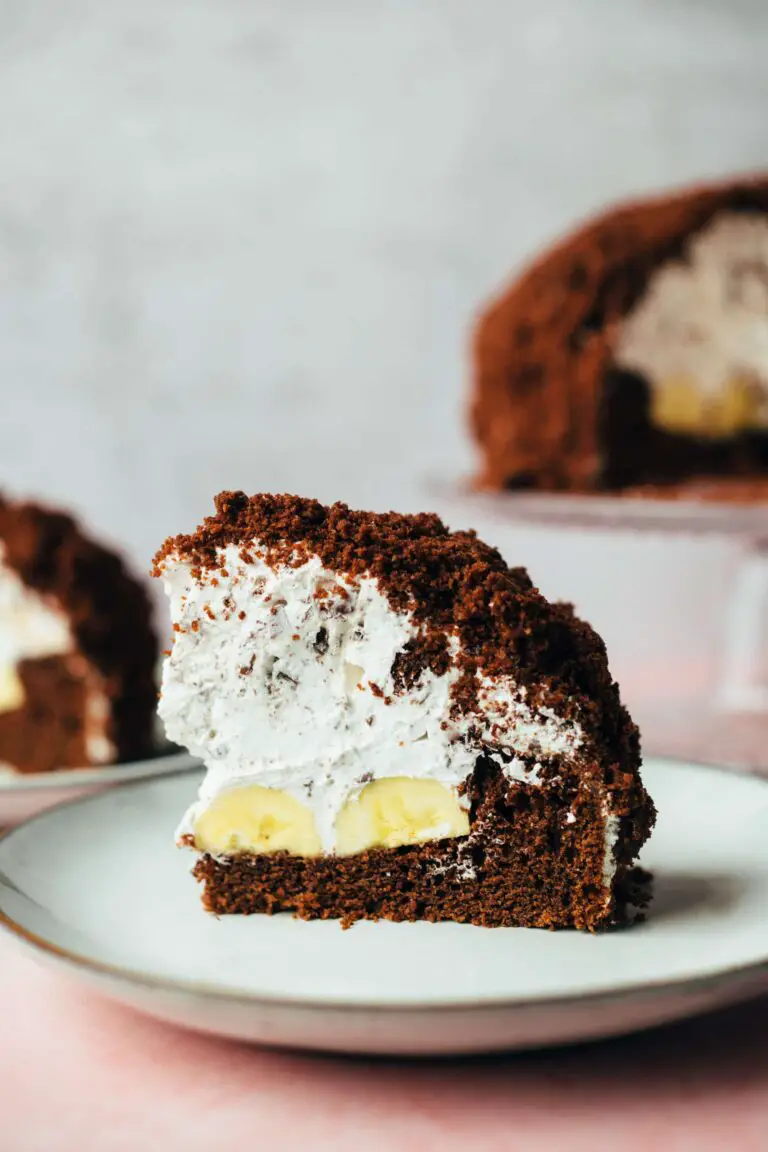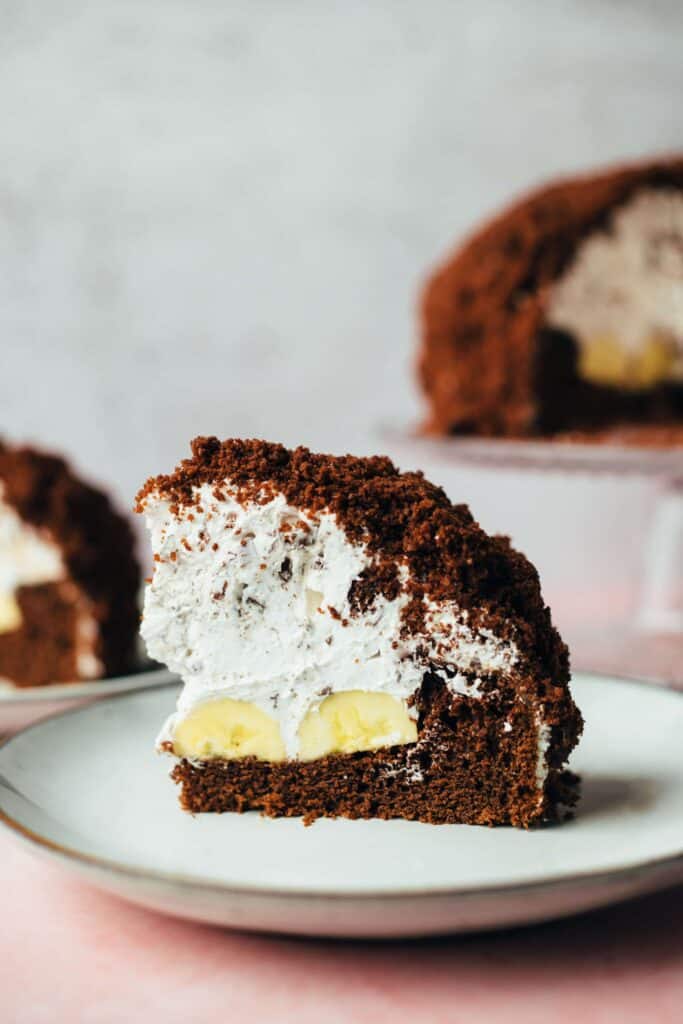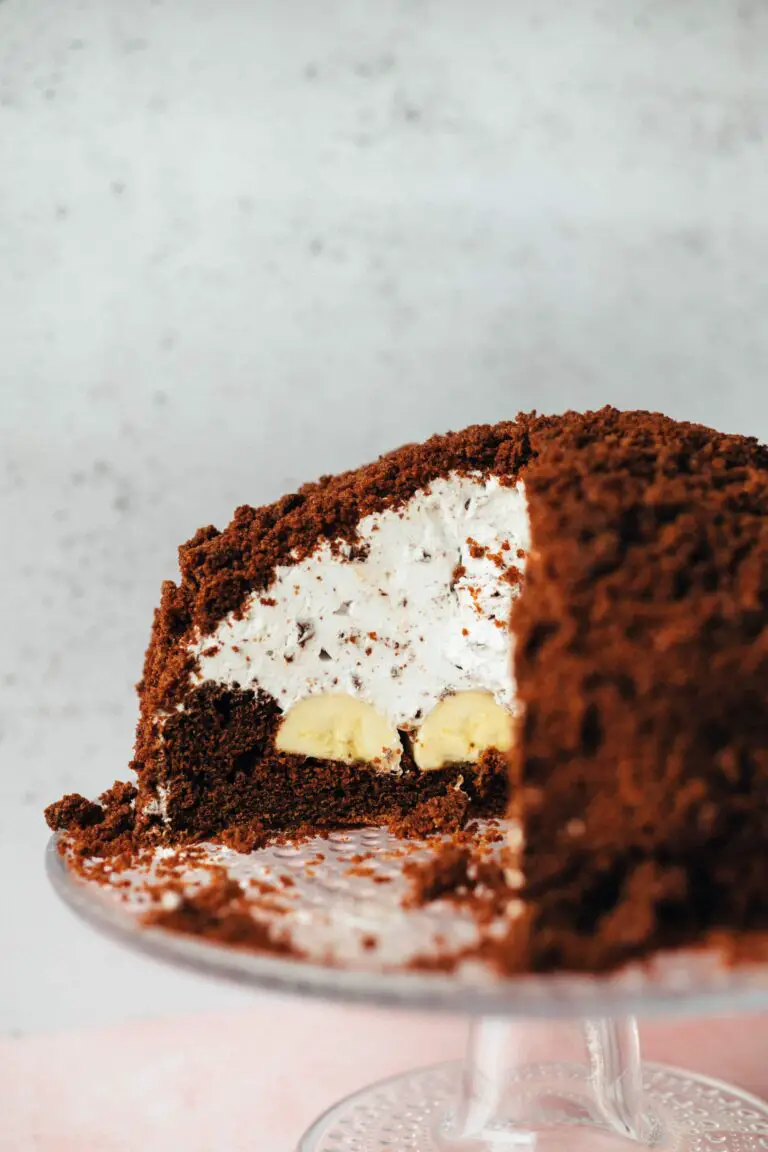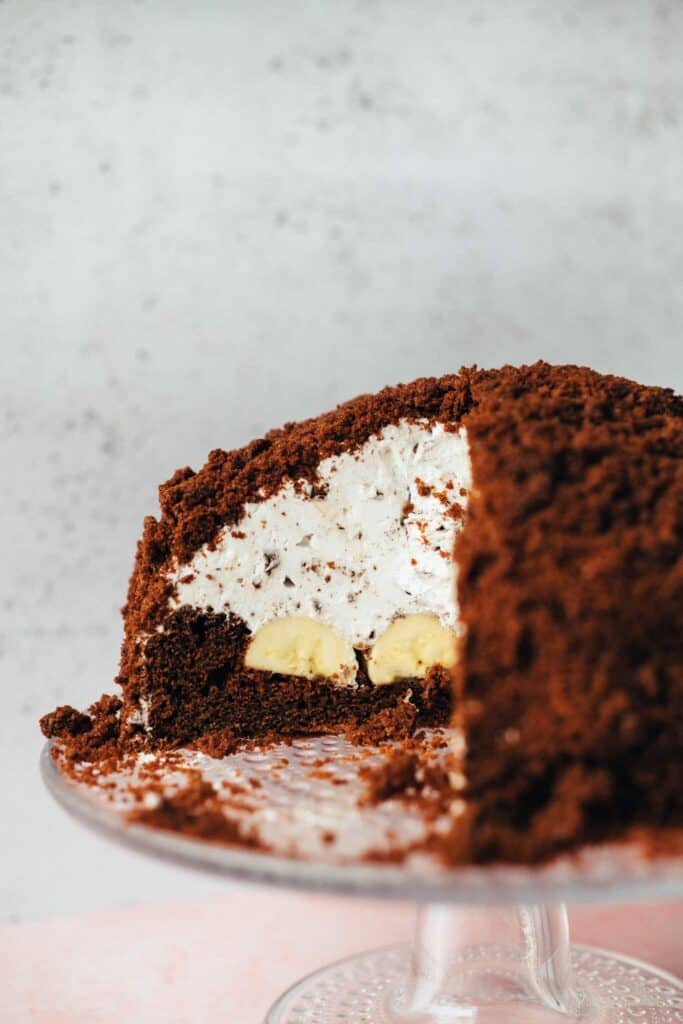 If I'm being completely honest, I haven't made a mole cake many times in my life. However, the basics for making it were present right away. Chocolate cake Bake the cake, let it cool, scrape out the filling, fill with Cream and chocolate chips and decorate with crumbs. Stop. I forgot the banana, which is spread on the bottom and gives the filling that certain something again.
For the chocolate base you need Vegetable milk , apple cider vinegar, baking soda, melted margarine or baking oil, applesauce, spelt flour, cornstarch, cocoa powder, raw cane sugar, baking powder and salt. Mix everything well and put in the oven.
For the filling you need a portion of Cream here I have once again used the Bedda (advertising because brand name but no connection to the company) used was satisfied by the stability of the. There was a point deduction for taste, because the cream tasted a bit bitter to sour at room temperature. As soon as it was cool, however, you didn't notice any of that. I'll keep trying new cream variations over the next few weeks and share my experiences with you. For this cake a homemade Coconut cream would also be conceivable, a Cashew cream unfortunately does not work because it is not stable enough.
The filling consists of Cream chocolate chips and Bananas . Spread crumbs of dough on top and the mole cake is ready.
This vegan mole cake makes whimsy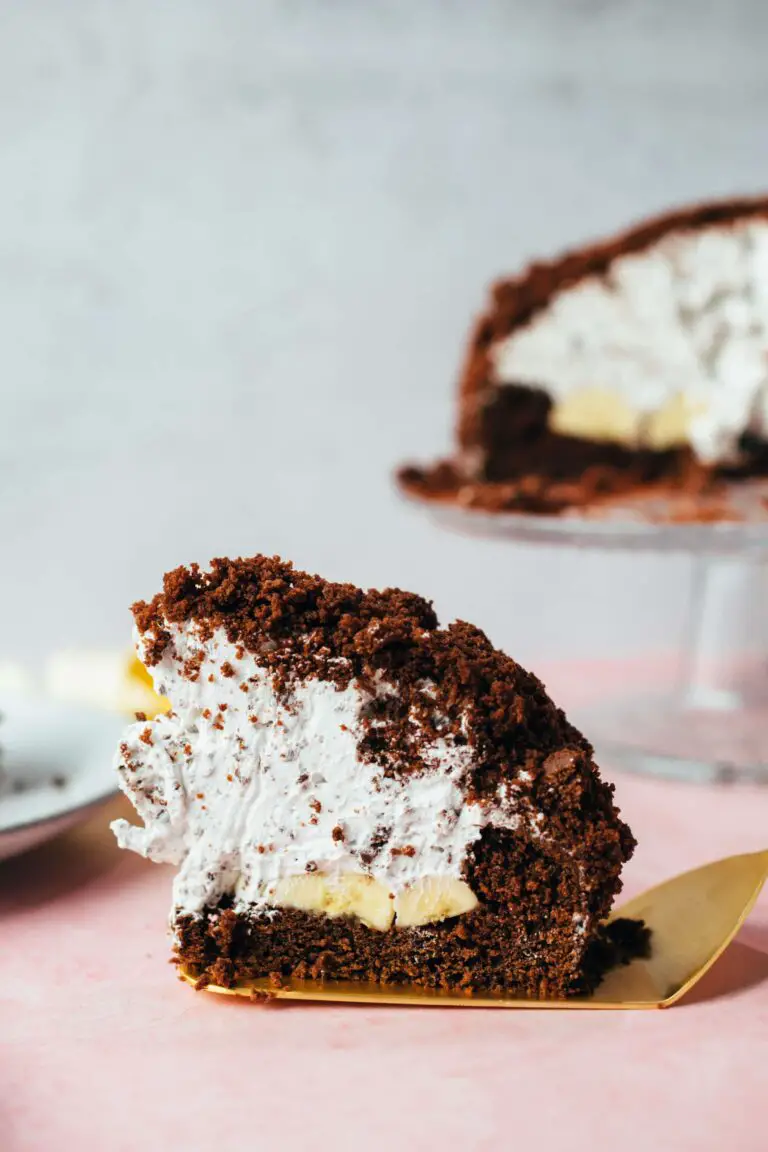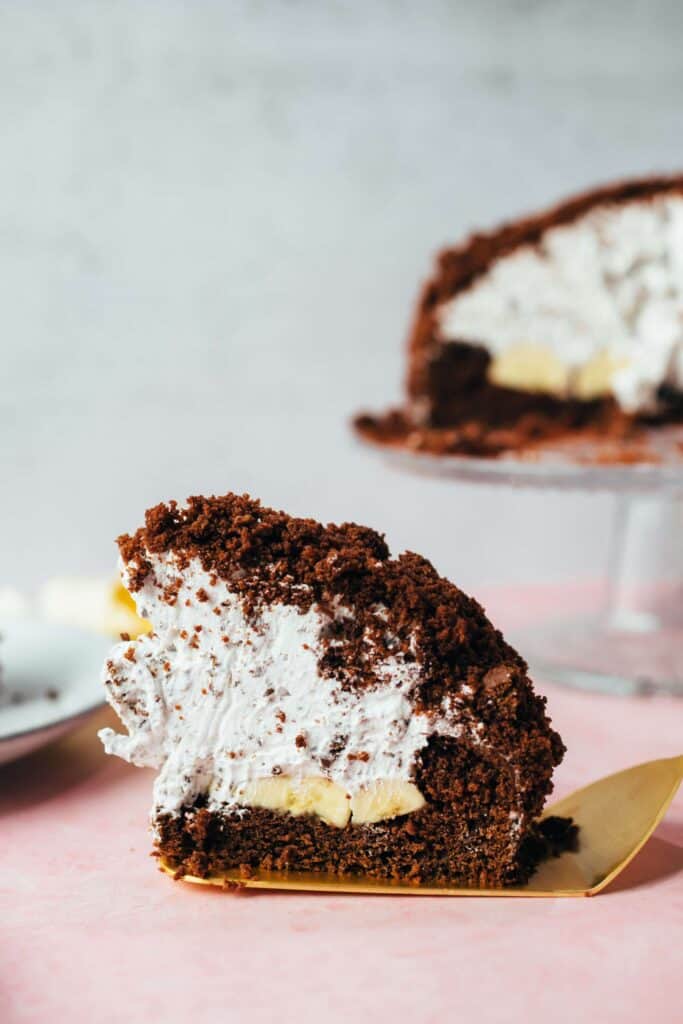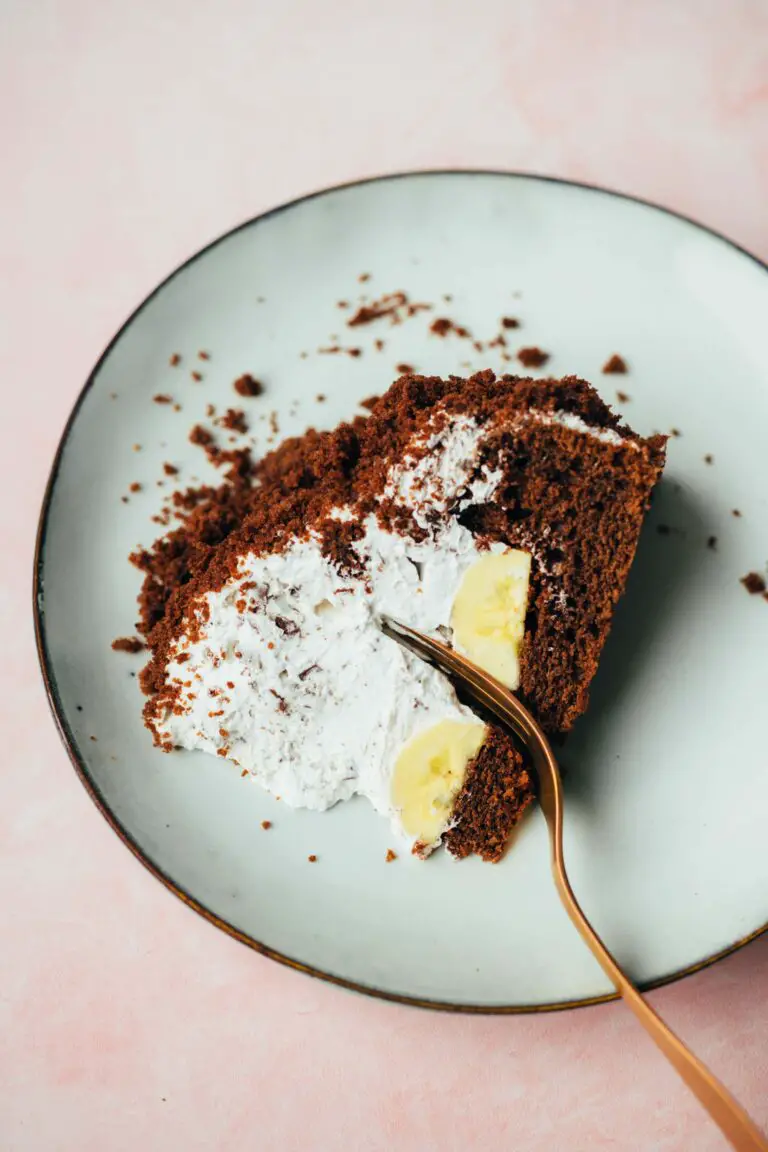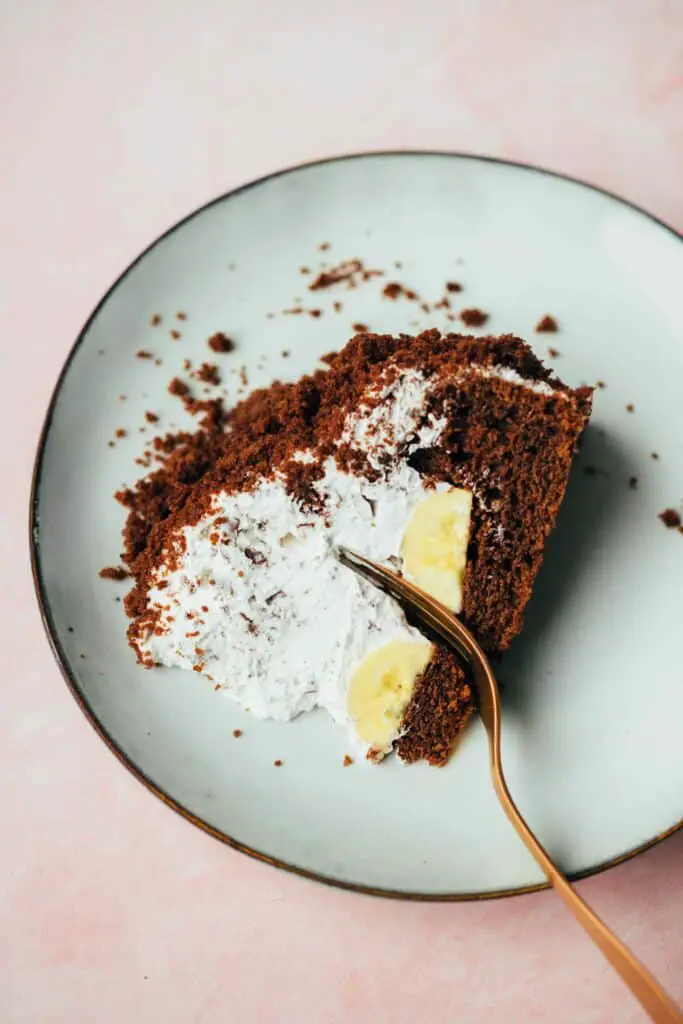 The preparation is really simple and the result phenomenal, yet I have summarized the most important tips & tricks for you here:
Baking pan always grease well and/or line the bottom with baking paper. There is nothing worse than having to scrape the finished cake out of the pan.
Always good Let cool before you fill the cake. Otherwise, the cream filling is more likely to become a rushing stream, and no one wants that.
Select cream that really stable is. I'm actually also more the "natural" type and prefer to stay away from E-numbers and additives. However, in this case, it must become solid. It worked very well for me with Bedda whipped cream. If you have any further tips, please let me know.
Cake is best to store covered in the refrigerator, then you also have maximum long pleasure.
If it should not be the mole cake today, but something else, then I recommend my Pumpkin pie with walnuts , Chocolate banana cake with cashew frosting or simple Tiramisu cake .
Let's go with this juicy mole cake. I hope you enjoy baking and of course about a review at the bottom of this page. If you post a picture, use the hashtag #veganevibes.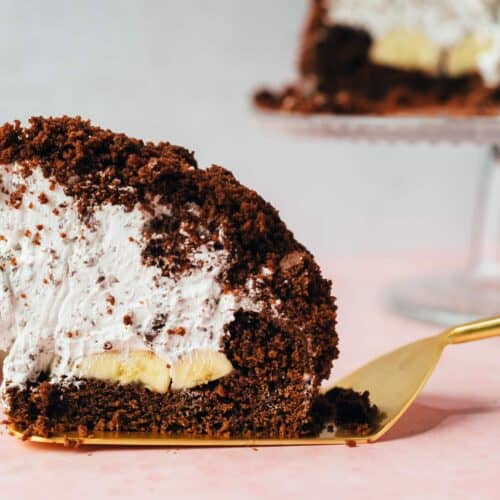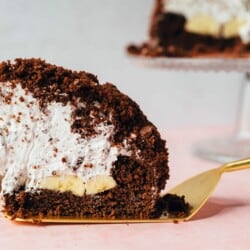 Mole cake
Simple mole cake filled with bananas, cream, chocolate chips and topped with chocolate dough crumbs. Optional gluten free. The perfect vegan cake for the whole family.
AUTOR: VEGANEVIBES
FOR THE FILLING:
300

g

vegetable whipping cream

Equivalent to 2 cups Bedda whipped cream, alternatively use another cream of your choice

2

Packs cream stiffener

optional, not necessary with Bedda whipping cream

2

tbspn

Powdered sugar

90

g

dark vegan chocolate

½ cup, coarsely chopped

2

Piece

medium bananas

peeled and halved

¼

tbspn

Bourbon vanilla
Anleitung 
Preheat oven to 180 degrees and line a 20cm diameter springform pan with baking paper (bottom) and brush the sides with a little margarine.

FOR THE CAKE BASE Pour vegetable milk into a large bowl, add apple cider vinegar and baking soda. Stir briefly. The liquid should now foam slightly.

150 ml Plant milk,

½ tbspn Baking soda,

7,5 ml Apple cider vinegar

Add melted margarine, applesauce, flour, cornstarch, cocoa powder, raw cane sugar, baking powder and a pinch of salt. Stir with a whisk until a uniform dough is formed. Depending on the type of flour, the dough can use a little more almond milk (if too firm) or more flour (if too runny). See consistency in the video.

100 g melted margarine,

125 g Applesauce,

225 g Flour,

2 tbspn Cornstarch,

30 g Cocoa powder,

100 g Raw cane sugar,

½ tbspn Baking powder,

1 Pinch sea salt

Pour into the springform pan and bake in the oven for 35 minutes. At the end of the baking time, check with a wooden stick if the bottoms are ready. If the wooden stick comes out "clean", the bottom is ready. Remove from oven and let cool completely.

Beat cream with a hand mixer or food processor until stiff. Optionally and as needed, add cream stiffener. Stir in powdered sugar and vanilla. Set aside.

300 g vegetable whipping cream,

2 Packs cream stiffener,

2 tbspn Powdered sugar,

¼ tbspn Bourbon vanilla

Fold in coarsely chopped chocolate. Set aside.

90 g dark vegan chocolate

Using a spoon, scrape the top layer of the chocolate cake and place in a bowl. Set aside. SEE VIDEO !!!

Line up banana halves on bottom of scraped cake.

Spread cream on top and form into a mound.

Crumble remaining cake batter with hands and spread on top of cream dome.

TIP: Place cake in the refrigerator and allow to set.

Portion, arrange on plates and enjoy!

Store in an airtight container in the refrigerator for up to 3 days. Best fresh.
Nährwertangaben
Serving:
1
Piece
Calories:
251
kcal
Carbohydrates:
35
g
Protein:
3
g
Fat:
12
g
Saturated Fat:
4
g
Cholesterol:
1
mg
Sodium:
114
mg
Potassium:
140
mg
Fiber:
2
g
Sugar:
18
g
Vitamin A:
344
IU
Vitamin C:
1
mg
Calcium:
33
mg
Iron:
2
mg