The word fruitcake sounds a bit ambiguous at first. Fruits, on the one hand, can be fresh, ripe fruits. On the other hand, but also delicious dried fruit and this is exactly what we want to turn to today. I once stocked up on some great dried fruit a while back. Starting with pineapple, mango, papaya (these are rather the more exotic varieties) through the usual apple rings, raisins and sour cherries. At some point I got the idea again to make something really delicious out of it and came across a fruit cake. Of course once again not vegan but I have interpreted it vegan and voila, it has become something quite tasty.
Vegan fruit cake … irresistibly delicious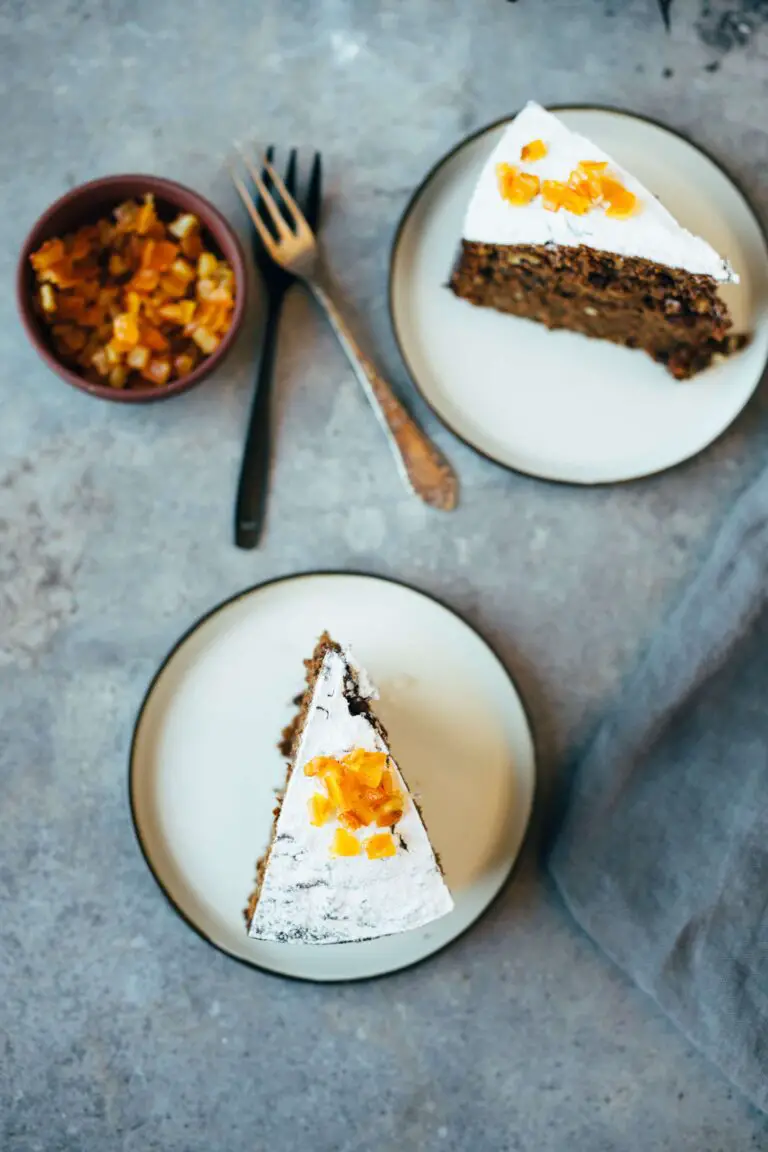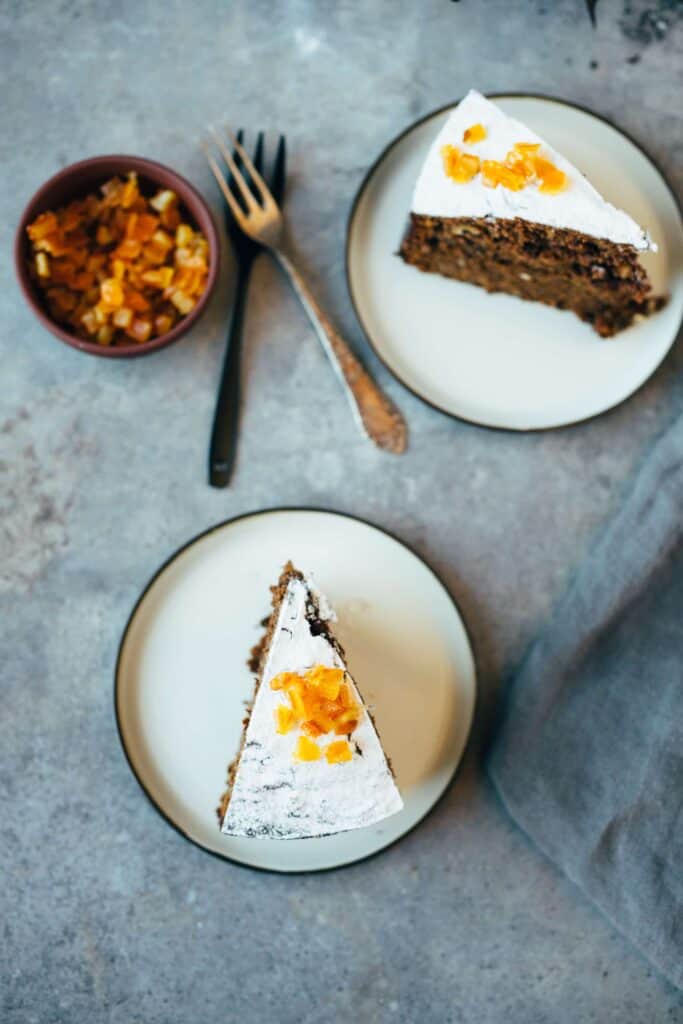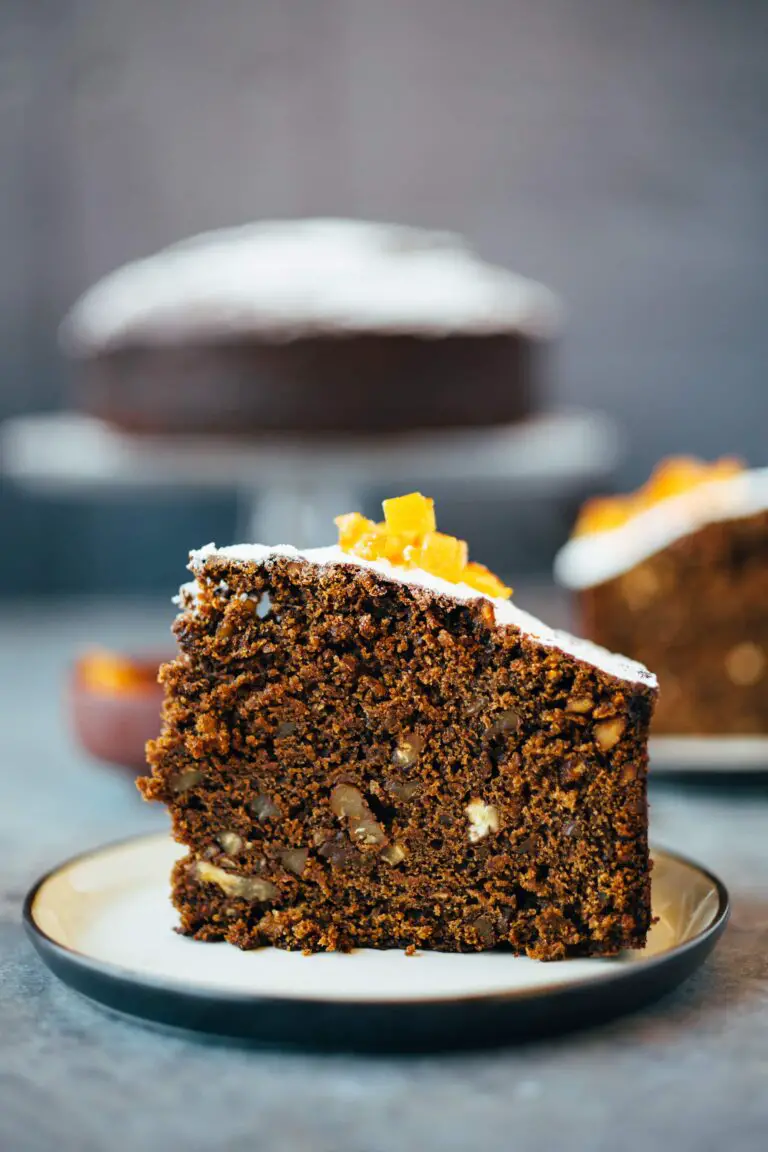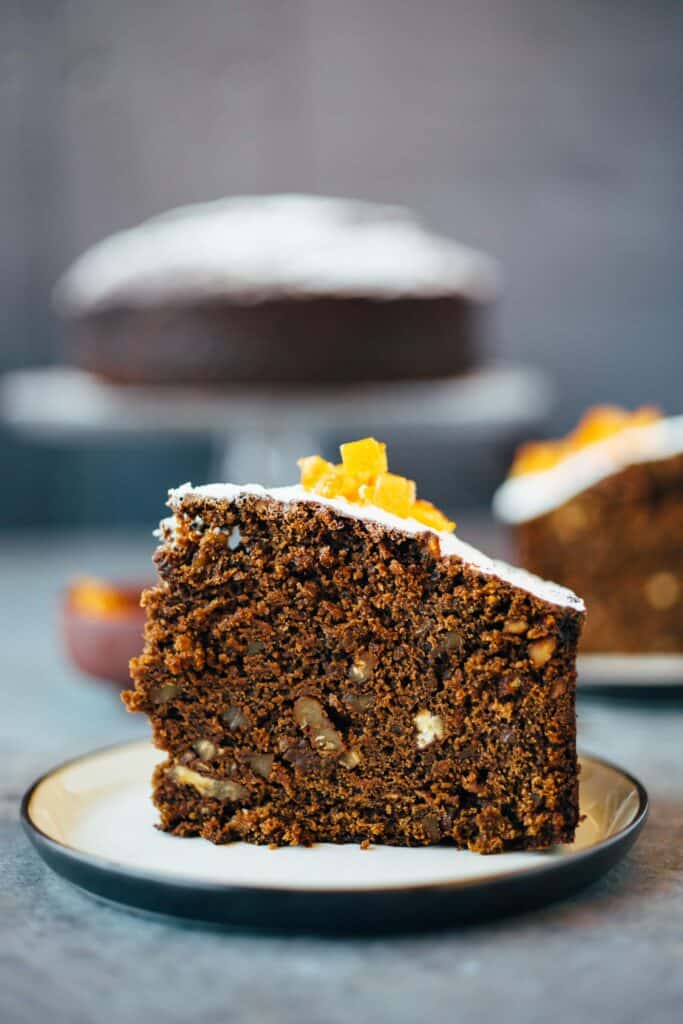 This time it is a little different Cake because it does not fit into the classic Cake scheme fits. I would say that the consistency of the cake is between Gingerbread and Sponge cake . Substantial it is definitely and above all it tastes 100% like Christmas . This is ensured by the Spices and also the molasses. Molasses? Yep, sugar cane molasses is something very fine and healthy. It is actually produced as a by-product in the production of raw cane sugar and sugar beets and, in my view, is totally underestimated.
What is molasses and what is it used for?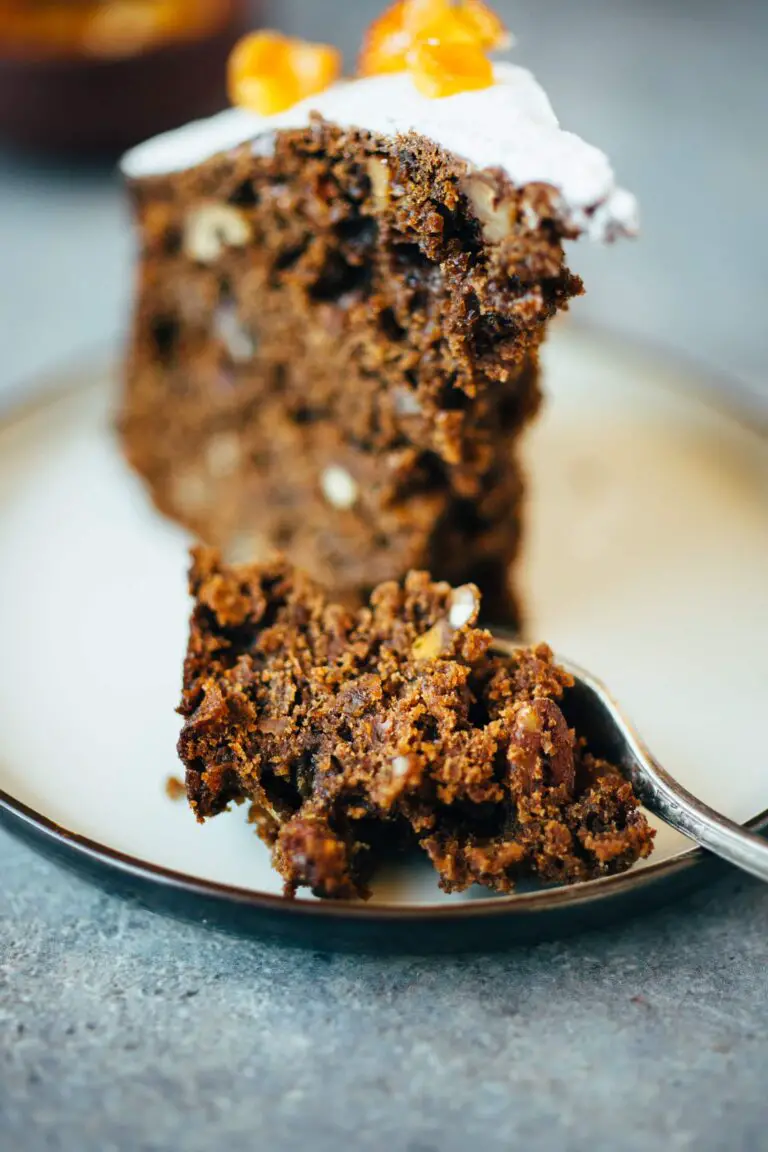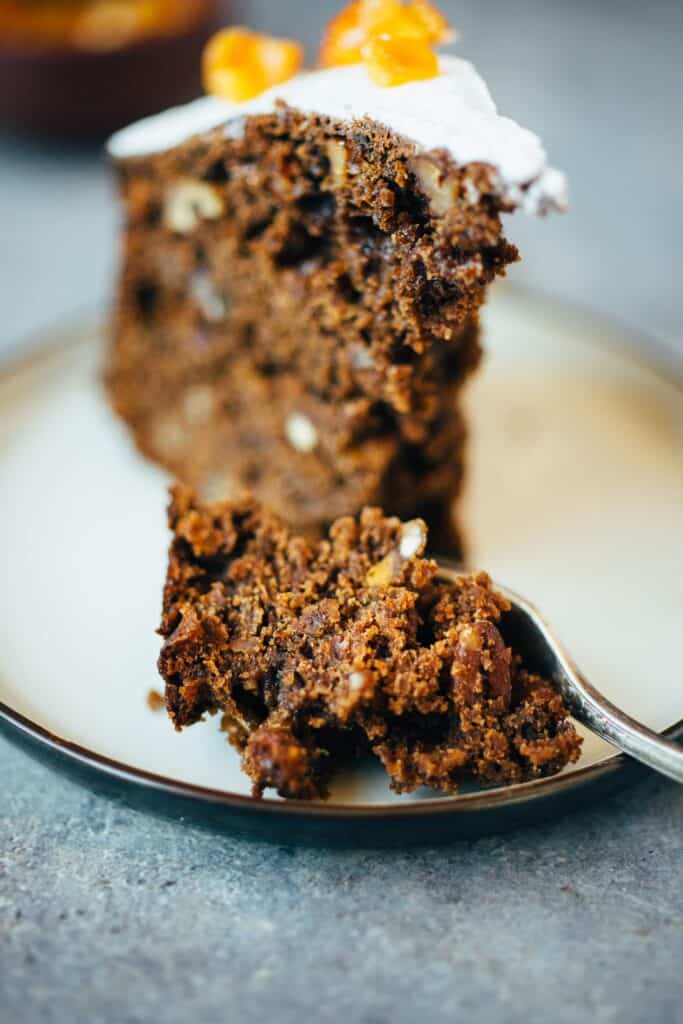 Molasses is a thick, dark brown sugar syrup, with hardly any sugar crystals but the more minerals it contains. Here are a few interesting facts about this wonderful dark syrup:
Contains a high content of secondary plant substances
Rich in Vitamins, minerals, trace elements
Rich in Amino acids (leucine & histidine)
Provides important B vitamins
Rich in iron
Molasses is wonderful as an alternative sweetener, whether in beverages, yogurts and desserts. In addition, it also adds a great flavor to savory dishes, such as in my Shepherd's Pie . In addition, it does very well in baking and comes in my Gingerbread cookies and Pumpkin Ginger Cookies for use.
Vegan fruity fruit cake Christmas Vibes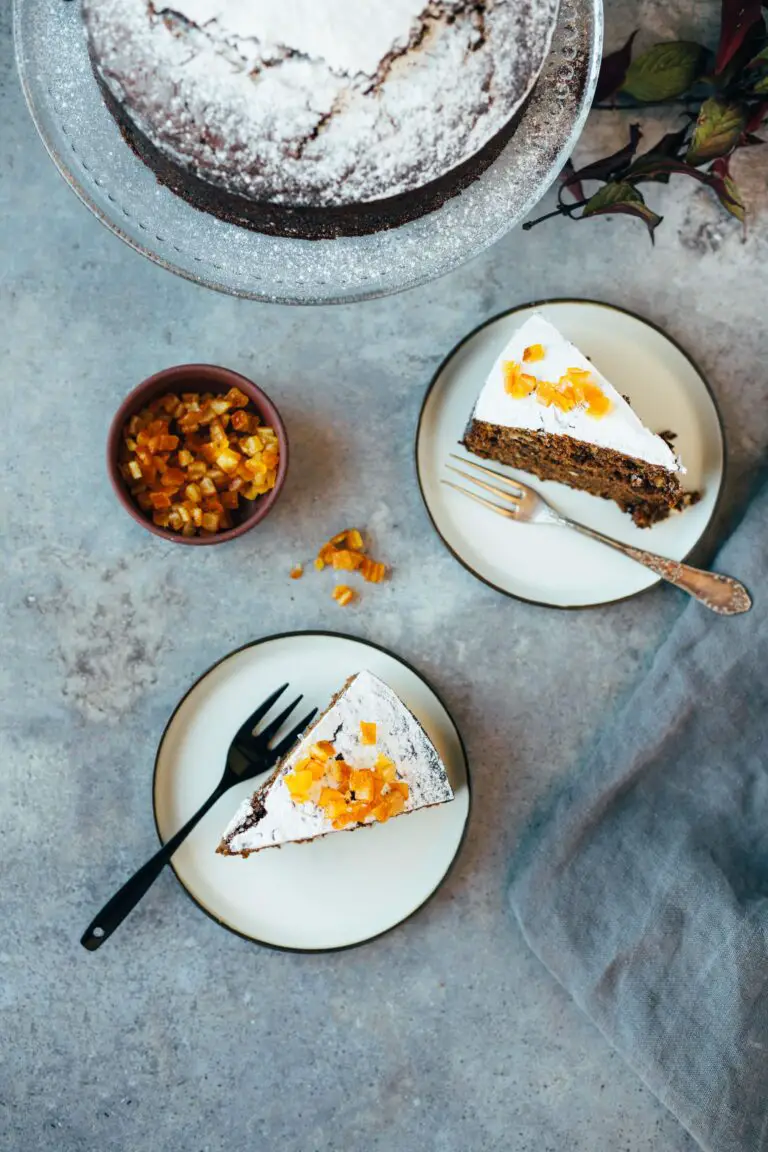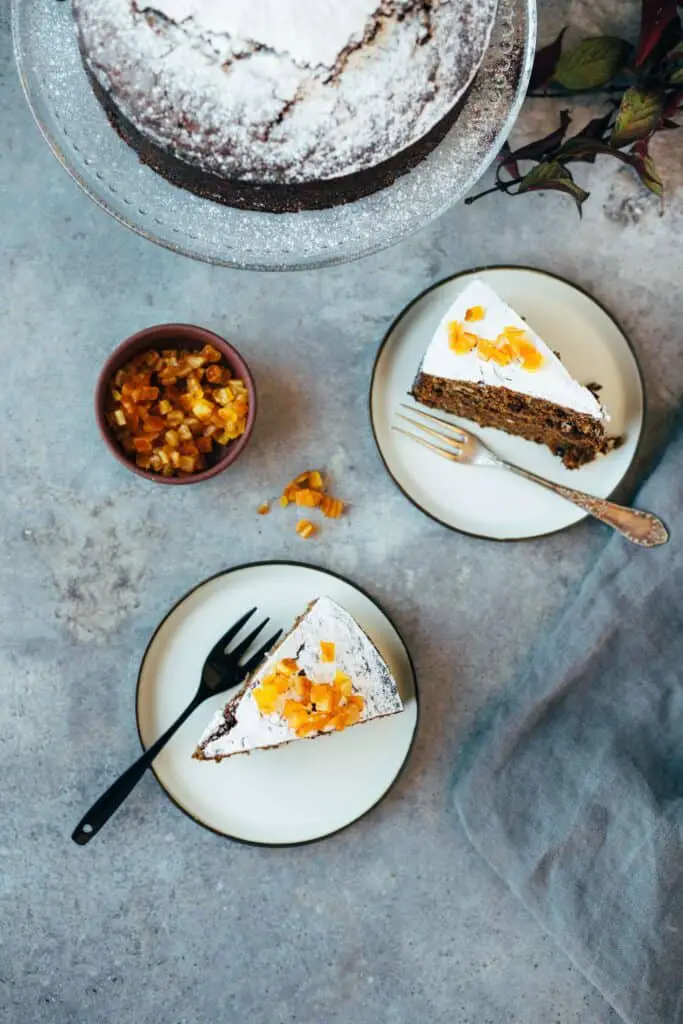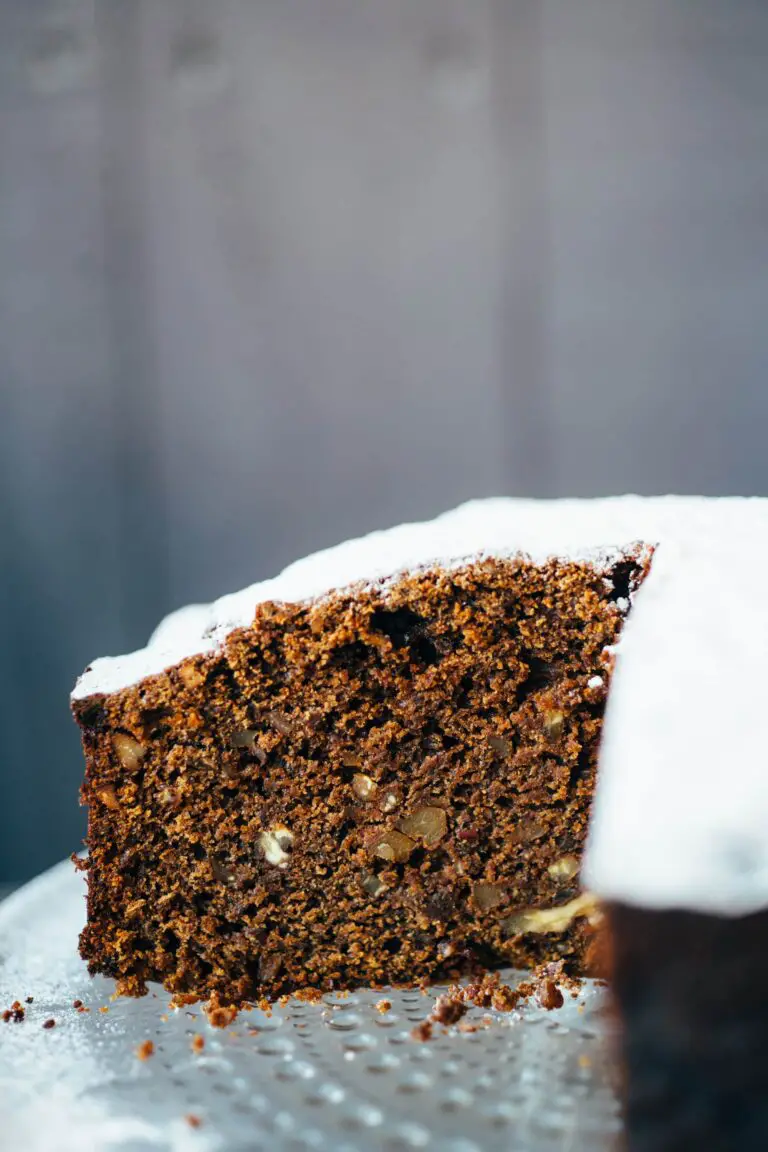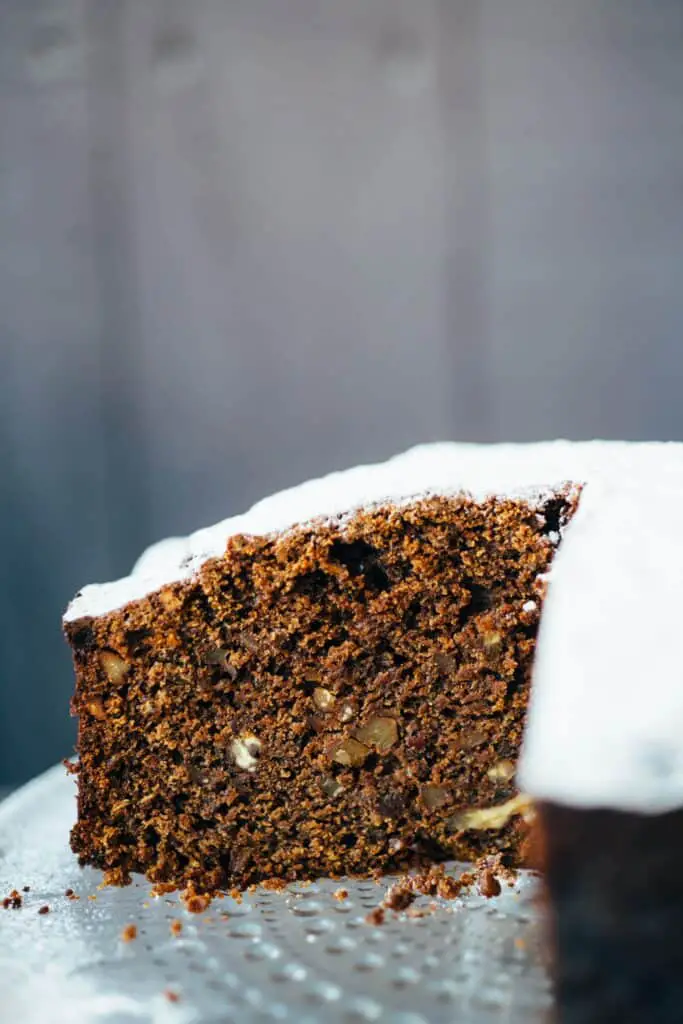 Let's get to the ingredients, Almond milk , baking soda and apple cider vinegar give the Cake the necessary driving force. spelt flour (or mine gluten free flour mix ) Baking powder, Flaxseed egg , raw cane sugar (replaced or combined with coconut blossom sugar or cane sugar), ginger powder, cinnamon, cloves, nutmeg, allspice, oil, molasses, mixed dried fruits and nuts, orange juice and a pinch of salt.
There is not so much to consider in the production, but I have summarized the most important tips & tricks here:
Slightly extended baking time, due to the use of pickled dried fruits and nuts: For me, the baking took 1 hour 5 minutes at 175 degrees convection. Depending on the oven and the flour used, this may be longer or shorter. Here it is best to work with the chopstick method .
Always grease the baking pan well and/or line the bottom with baking paper. There is nothing worse than having to scrape the finished cake out of the pan.
Always wrap, otherwise the cake will dry out easily. I hardly dare to say it, but suitable for this is aluminum foil (sorry not sustainable) or another airtight sealable box.
Ideal accompaniment is a chai latte , hot chocolate or golden milk .
Need some inspiration for your Christmas menu?
Here you will find a summary for delicious vegan Christmas recipes.
Let's get started with this Christmas cake. I hope you enjoy baking and of course about a review at the bottom of this page. If you post a picture, use the hashtag #veganevibes.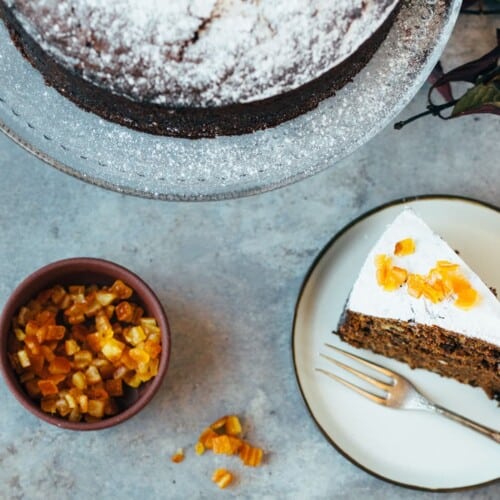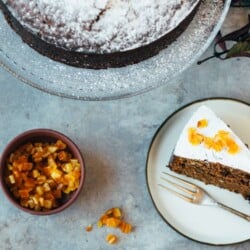 Christmas fruit cake
Simple, vegan, moist and aromatic Christmas fruitcake. Easy to make and long lasting.
AUTOR: VEGANEVIBES
Anleitung 
Coarsely chop dried fruit and nuts and place in a bowl with the orange juice. Stir once, cover and let steep. (Soak for at least 2 hours, or overnight).

Preheat oven to 175 degrees and line a 20cm diameter springform pan with baking paper (bottoms) and brush the sides with a little margarine.

FOR THE CAKE Pour almond milk into a large bowl, add apple cider vinegar and baking soda. Stir briefly. The liquid should now foam slightly.

113 ml Almond milk,

½ tbspn Baking soda,

7,5 ml Apple cider vinegar

Add spelt flour, baking powder, flaxseed, cane sugar, cinnamon, ginger powder, cloves, nutmeg, allspice, oil, molasses and a pinch of salt. Stir with a whisk or wooden spoon until a uniform dough is formed.

200 g Flour,

2 tbspn Baking powder,

2 tbspn Flaxseed,

150 g Raw cane sugar,

1 tbspn Cinnamon,

½ tbspn Ginger powder,

½ tbspn Cloves,

¼ tbspn Nutmeg,

½ tbspn Allspice,

75 ml Frying and baking oil,

2 tbspn Sugar cane molasses,

1 Pinch sea salt

Strain fruits and nuts (save soaking juice).

225 g Dried fruits and nuts mixed

Finally, add the fruit and nuts preserved in orange juice to the batter. DO NOT use the soaking water, otherwise the dough will be too watery.

Depending on the type of flour, the dough can use a little more soaking juice (if too solid) or more flour (if too liquid). See consistency in the video.

Pour into the springform pan and bake for 1 hour. At the end of the baking time, use a wooden stick to check if the bottoms are done. If the wooden stick comes out "clean", the bottoms are ready. Remove from oven and let cool completely.

Sprinkle with powdered sugar, cut into 12 pieces and serve.

optional cashew cream,

optional coconut cream

Store in an airtight container at room temperature for up to 14 days .
Nährwertangaben
Serving:
1
Piece
Calories:
227
kcal
Carbohydrates:
42
g
Protein:
3
g
Fat:
7
g
Saturated Fat:
1
g
Sodium:
62
mg
Potassium:
307
mg
Fiber:
2
g
Sugar:
26
g
Vitamin A:
47
IU
Vitamin C:
11
mg
Calcium:
84
mg
Iron:
1
mg