C upcakes !!! Have you ever looked out of the window today? Yes! I only see gray in gray and you know what helps me best? A delicious hot chocolate and a really good Cupcake . I admit, these gingerbread cupcakes are not for the faint of heart. why? Well, if you count calories or are signed up for Wheight Watchers, it's best not to read any further. In today's recipe only one thing counts and that is the taste and enjoyment. I definitely have to watch myself stop and stuff. Therefore, I immediately took a precaution and gave away some of the sweet hours. I do hope that everyone enjoyed it.
Vegan cupcakes, who else?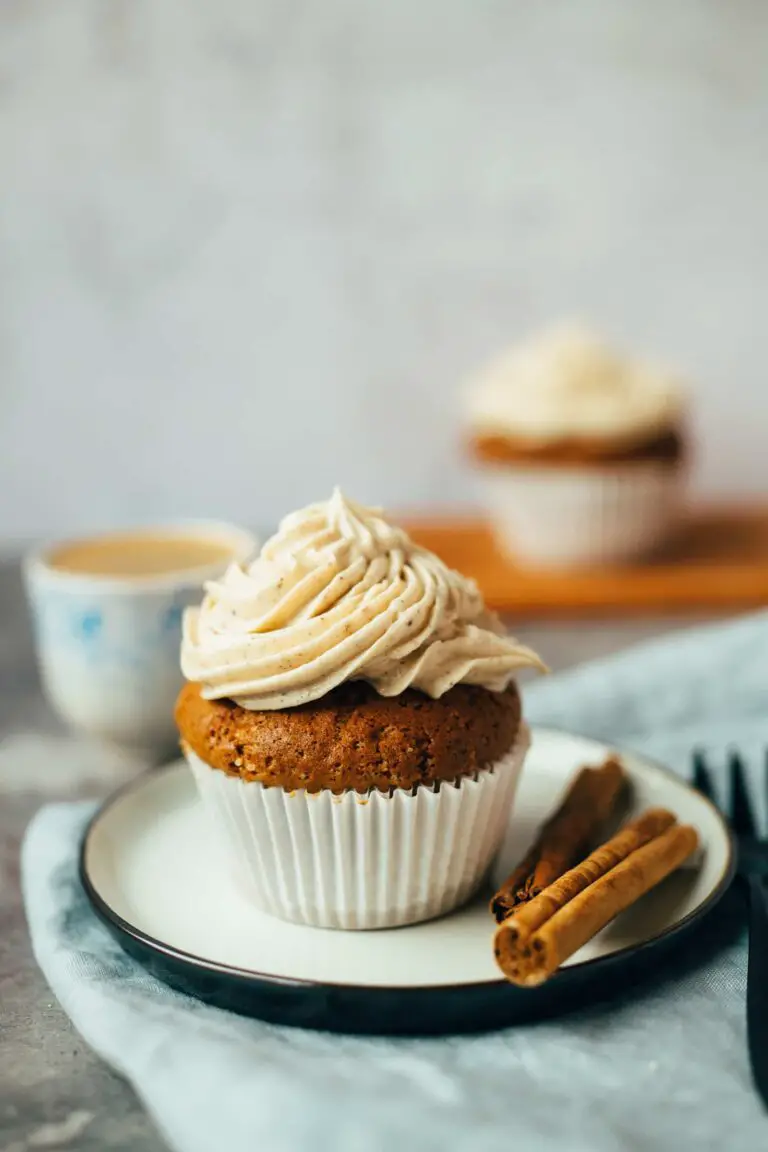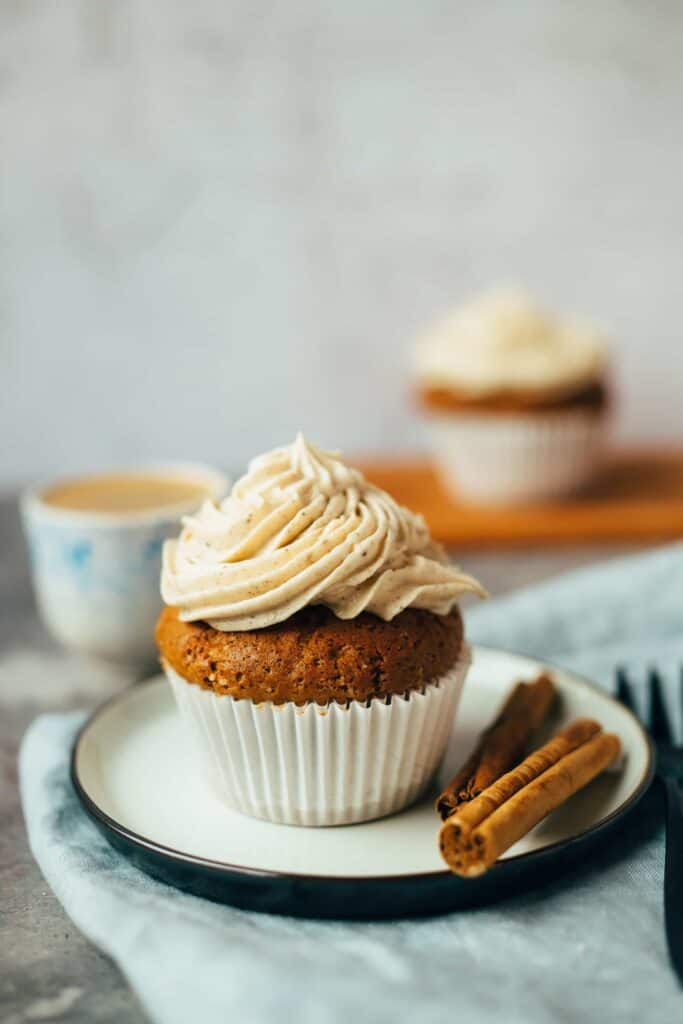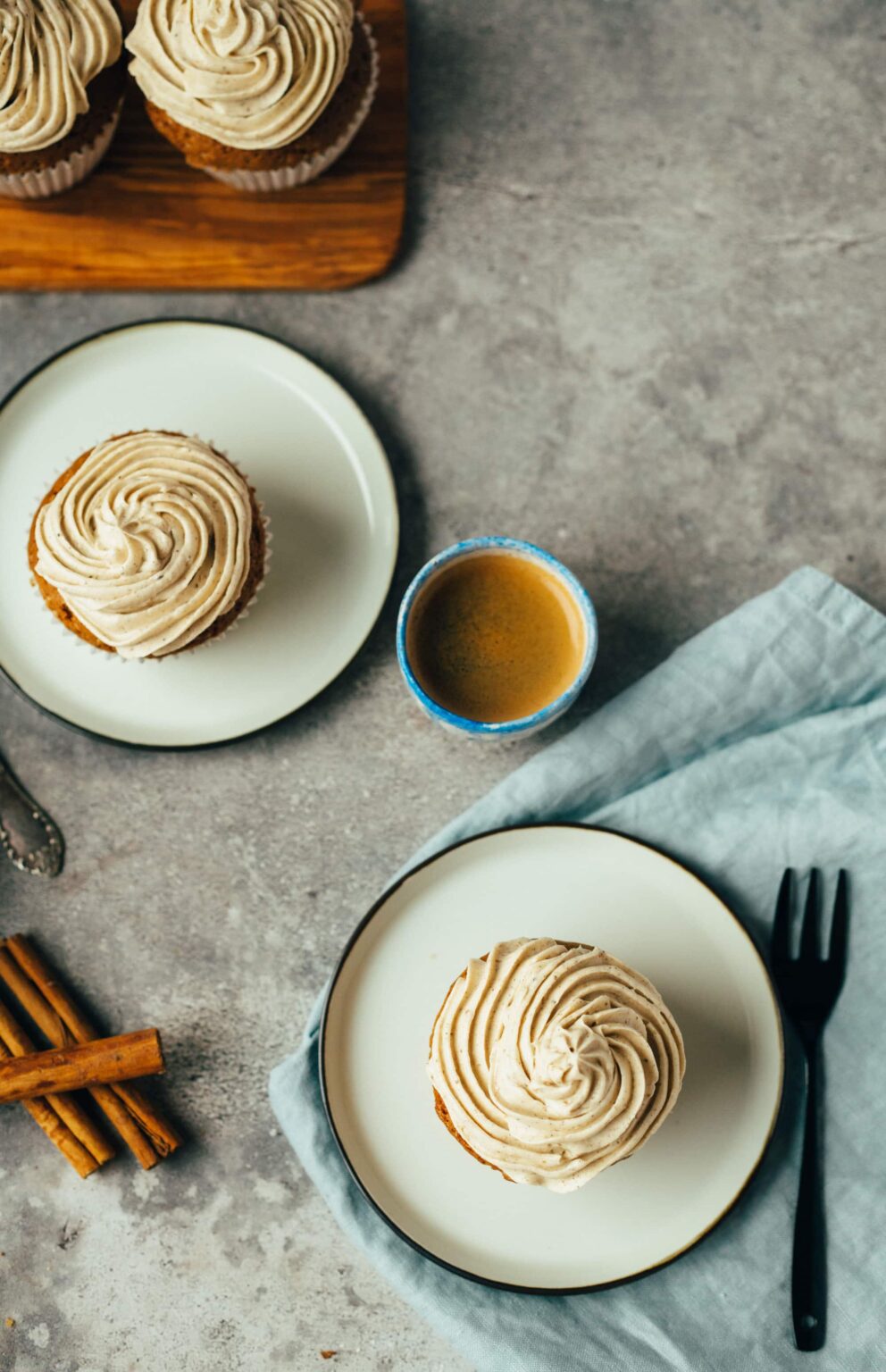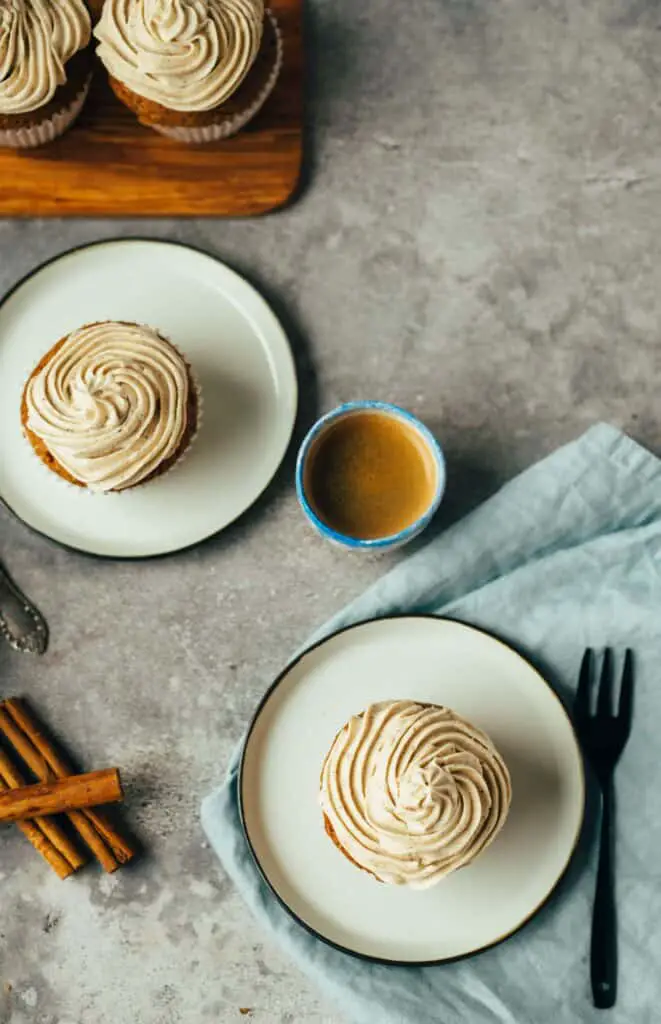 Our today's Recipe divides into two steps, once the dough for the cupcakes and once the buttercream. The dough consists of. Vegetable milk , apple cider vinegar, baking soda, spelt flour (or gluten free flour mixture ), raw cane sugar, maple syrup, baking powder, gingerbread spice, vanilla, pinch of salt and baking oil.
Who has weak nerves in Punkto calorie counting can stop at this point and Muffins make from it. Just sprinkle a little powdered sugar on top and you're done. For the hardy of us, we continue with the buttercream. Vegan margarine, powdered sugar, maple syrup, gingerbread spice, vanilla and salt.
Nobody starts counting calories at Brammibals either, right?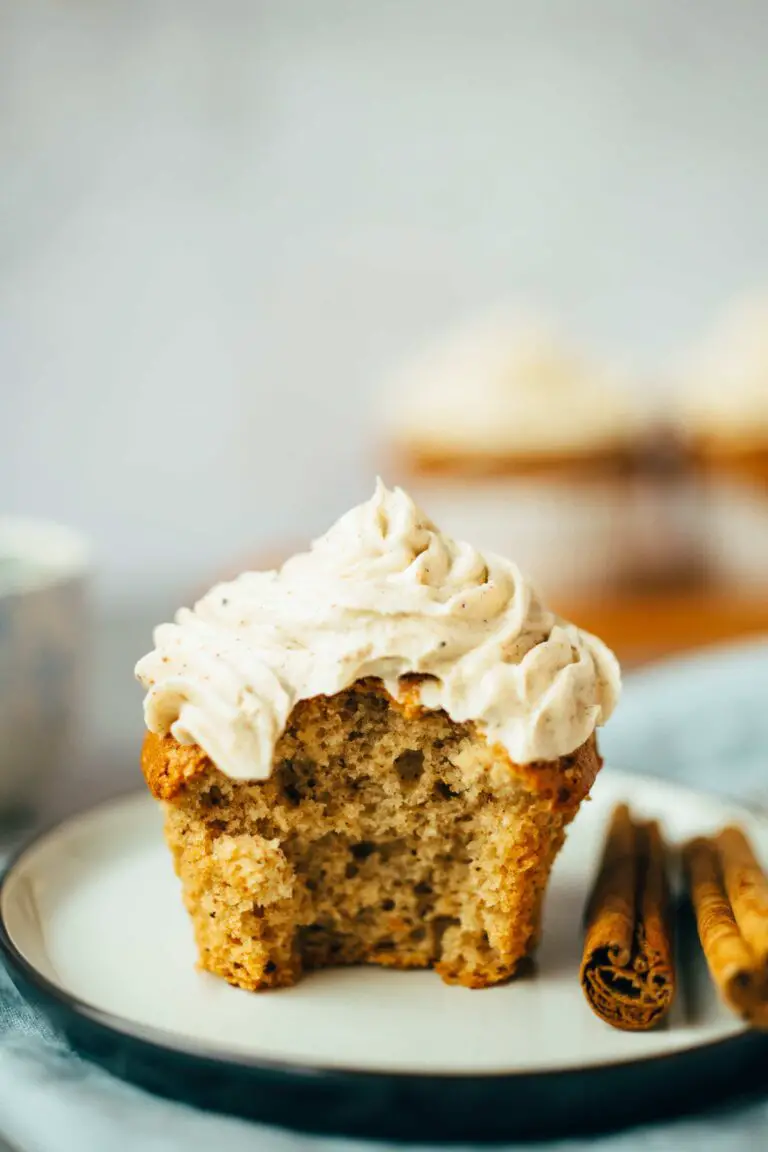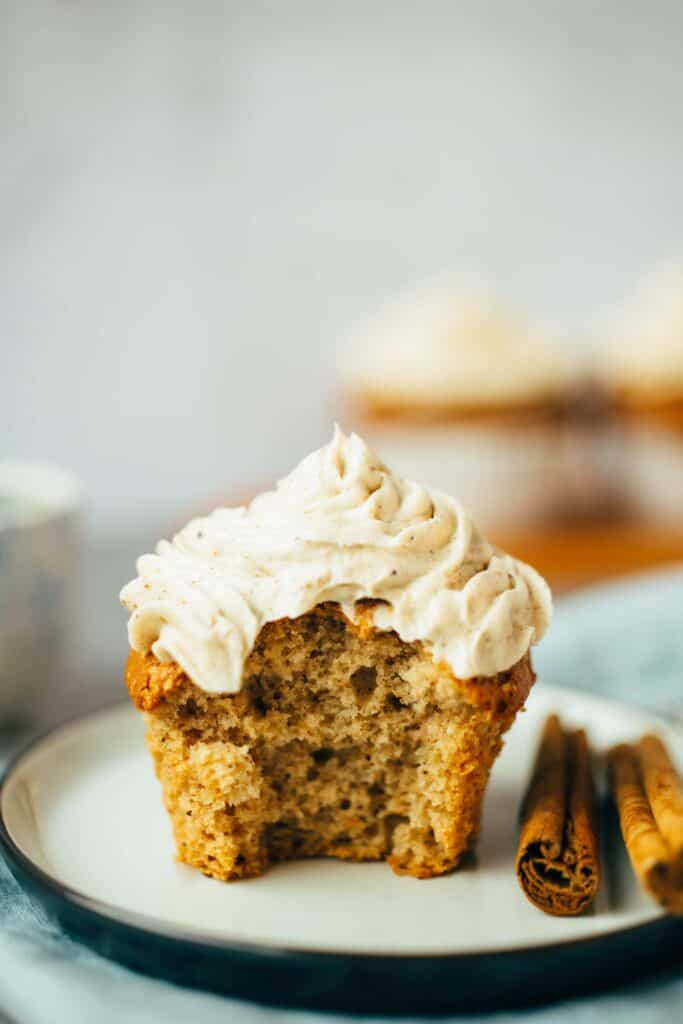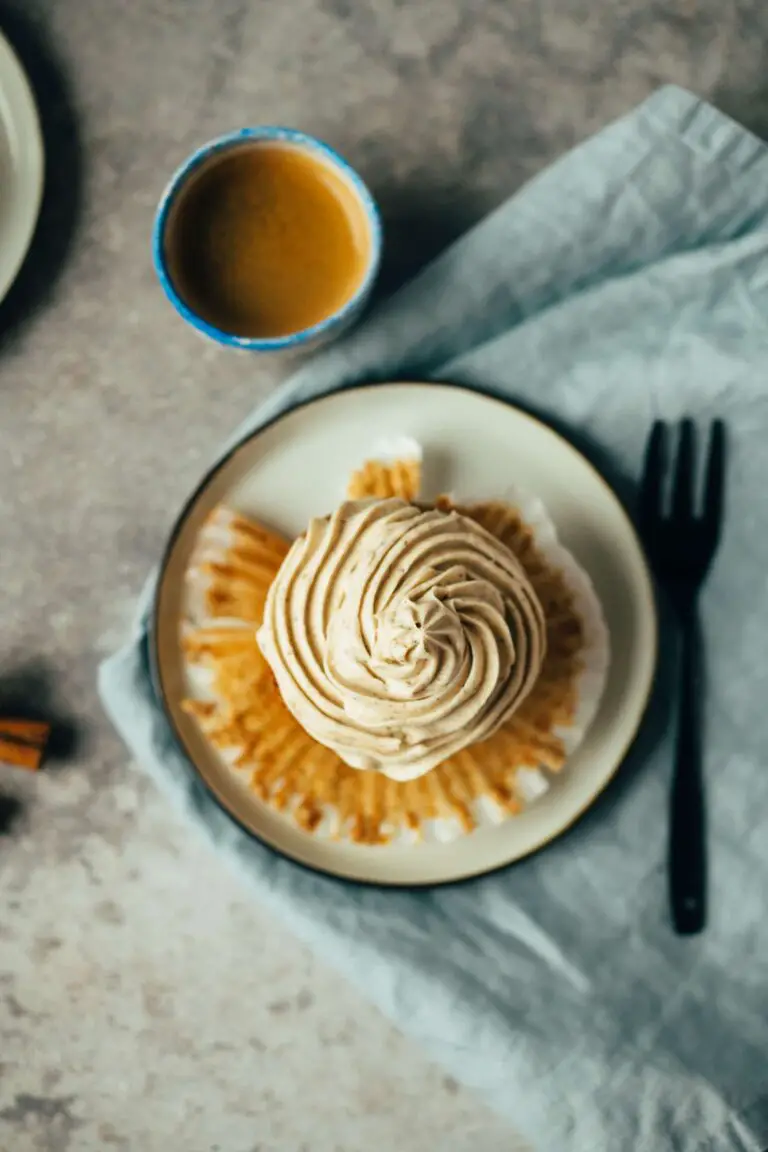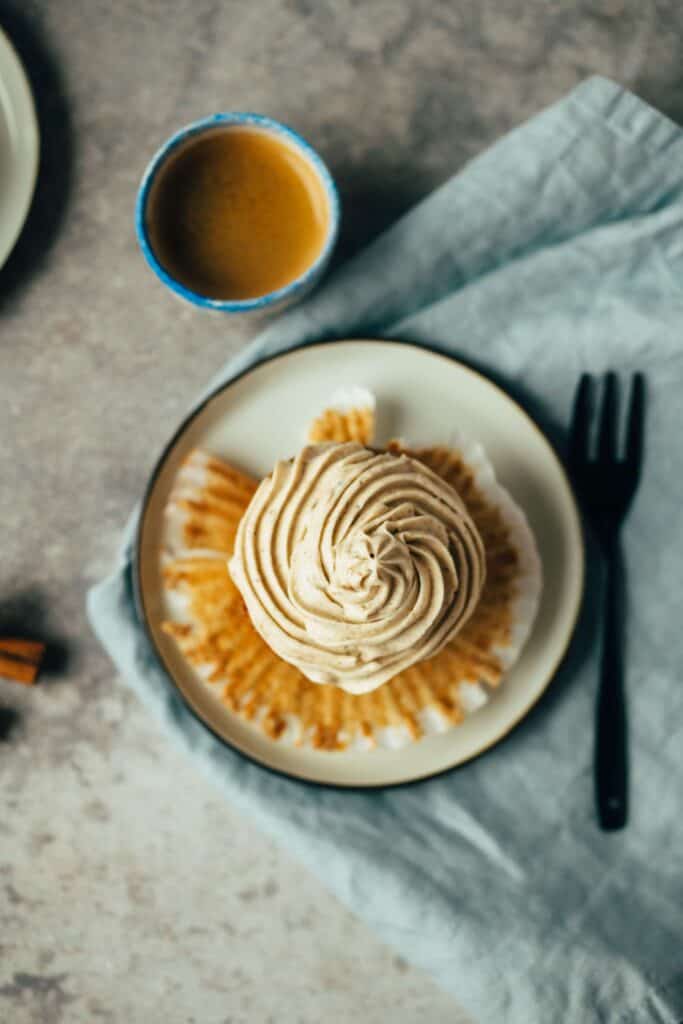 What can actually go wrong not much in the manufacture of these beauties. To be on the safe side but here are the most important tips and tricks so that the whole thing can be done safely. succeeds:
PREHEATING: I don't like to waste electricity, but the oven should definitely be well preheated. Otherwise, the baking time may extend indefinitely and the result will not be reliable.
MUFFIN FOOD: Here it is essential to pay attention to good quality. I once bought some really cheap paper cups, never again! I just couldn't get the paper off the dough. That is why I have linked you some below in the equipment that really work. I don't recommend baking without ramekins, unless you feel like spending half an hour peeling the muffins out of the pan.
MUFFINFORM: If you don't want to use paper molds, I recommend a silicone mold. It's super long lasting, non-toxic too. Silicone consists of silicon, which is extracted from sand, for example, and is absolutely harmless according to current knowledge.
LET COOL: Remove the Muffins remove from the oven and be sure to let cool completely. Or do you want your fine buttercream to melt right away? No thanks! So let cool and after decorating store in the refrigerator or freeze immediately.
What goes with our sweet beauties? One Golden milk , Hot Chocolate or Pumpkin Spice Latte . If you want to make a dessert out of it (for example for a Christmas menu ), you can add a Scoop of vanilla ice cream to it.
The gingerbread muffins are:
Loose & Light
Christmas seasoned
Perfectly sweet
Vegan & on Wish gluten free
irresistible
Are you ready for this sweet sins ? I wish you a lot of fun baking and of course a review at the bottom of this page. If you post a picture, use the hashtag #veganevibes.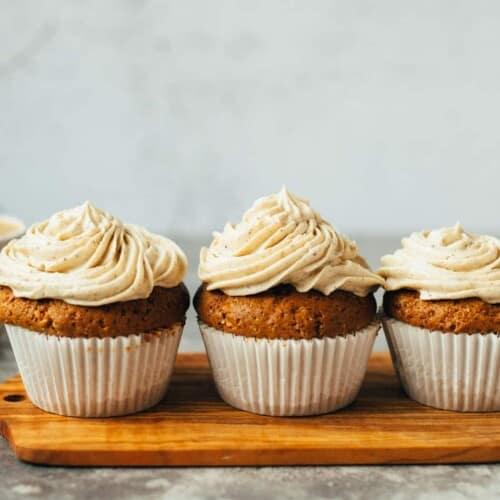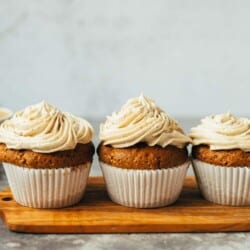 Gingerbread cupcakes
Christmas cupcakes, vegan and gluten-free on request. Fluffy, sweet and delicately flavored with a topping of fine buttercream.
AUTOR: VEGANEVIBES
Anleitung 
Preheat the oven to 175degrees and line a muffin baking tray with muffin cups for 12 muffins or use a silicone mold.

FOR THE MUFFINS provide a large bowl, pour in almond milk, add baking soda and vinegar and stir with a spoon. The liquid should now begin to foam.

120 ml Almond milk or other unsweetened plant milk,

1 tbspn Apple cider vinegar,

1 tbspn Baking soda

Add fine spelt flour, raw cane sugar, maple syrup, baking powder, gingerbread spice, bourbon vanilla, oil and sea salt and whisk until a fine dough is formed.

230 g fine spelt flour or gluten-free flour mix,

65 g Raw cane sugar,

120 ml maple syrup,

2 tbspn Baking powder,

2 tbspn Gingerbread spice,

½ tbspn Bourbon vanilla ground,

¼ tbspn Sea salt,

65 ml Frying and baking oil

Small lumps of dough are not a problem as they dissolve during baking.

NOTE: Do not stir too long, otherwise you will stir the leavening power of the natron out of the dough again. If the dough is too liquid, add a little more flour. If too thick, add a little more flour. Watch video for optimal consistency.

ALTERNATIVE: If you are using a high-powered blender (dough program), place all ingredients in the blender jar in the order as above and run the program once.

Divide batter evenly among muffin cups with a spoon.

Put in the oven and bake for

25 minutes

. Insert wooden chopsticks and if it comes out clean, the muffins are done. Otherwise, extend baking time again and test again after 10 minutes.

Remove from oven and allow to cool completely. IMPORTANT: Muffins must be cold before decorating.

FOR THE FROSTING put all the ingredients in a mixer (or use a hand mixer) and mix until a fine cream is formed.

312 g Organic powdered sugar,

80 ml maple syrup,

1 tbspn Gingerbread spice *,

1 tbspn Bourbon vanilla ground,

1 Pinch of salt,

227 g vegan margarine

Pour into a piping nozzle and decorate muffin with an even motion from outside to inside.

Nibble immediately and enjoy!

Store remainder (if any) in an airtight box in the refrigerator for up to one week. Can be kept frozen for up to one month.
Notizen
*Mix gingerbread spice yourself: 35g cinnamon, 9g cloves, 1g nutmeg, 2g cardamom, 2g ginger mix together and put in an airtight jar.
Nährwertangaben
Serving:
1
Piece
Calories:
430
kcal
Carbohydrates:
58
g
Protein:
3
g
Fat:
22
g
Saturated Fat:
3
g
Sodium:
280
mg
Potassium:
113
mg
Fiber:
3
g
Sugar:
41
g
Calcium:
59
mg
Iron:
1
mg