Again, we're on the topic of blackberries, which we're also using in our Peanut Butter & Jelly Muffins today. I had yes in the last recipe a quick, simple Jam made of it and exactly this comes today to use. We still have such an incredible amount of blackberries, it's insane. Today I will harvest fresh once again, bake and then invite quite a few friends and acquaintances for coffee. They all have to eat at least two pieces and if they don't manage that, then I'll pack them half a piece. Cake one.
Peanut Butter and Jelly Muffins, Yummy!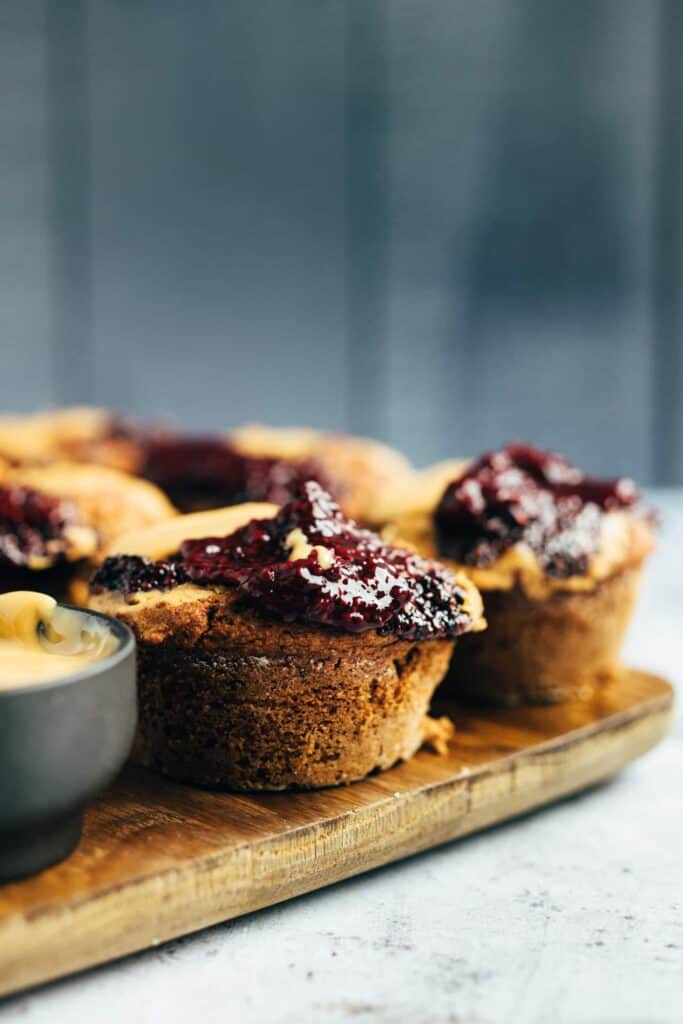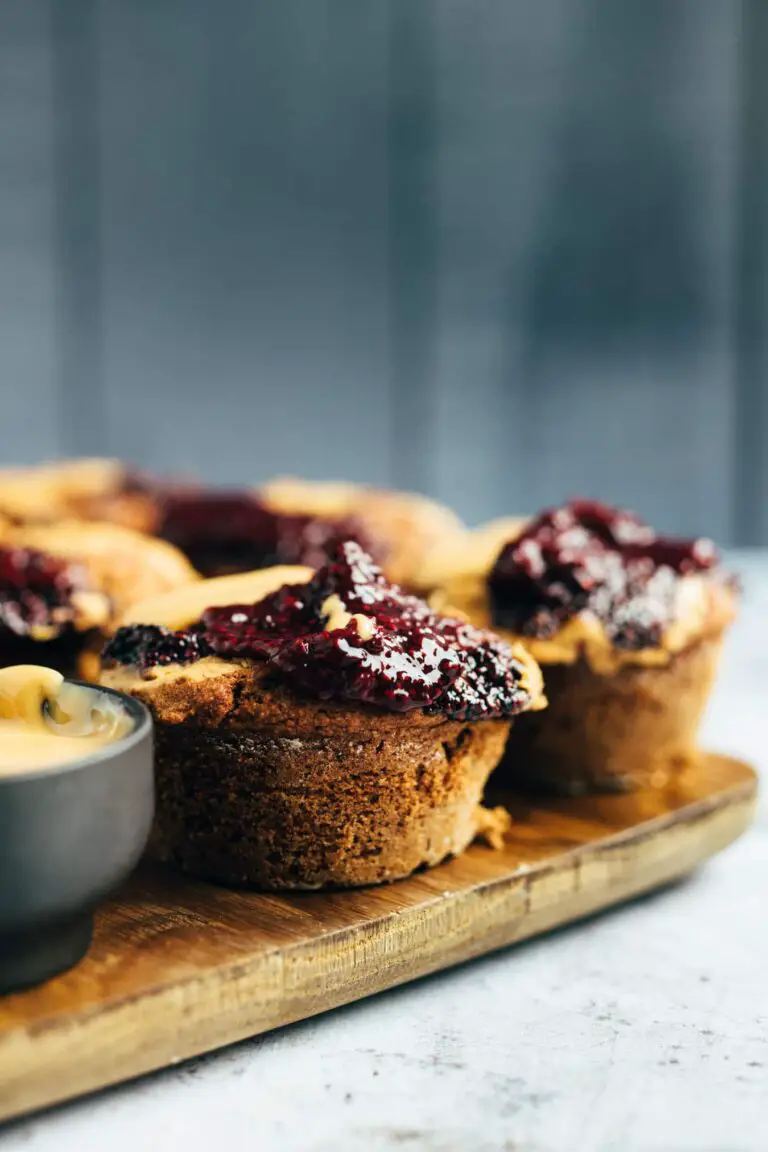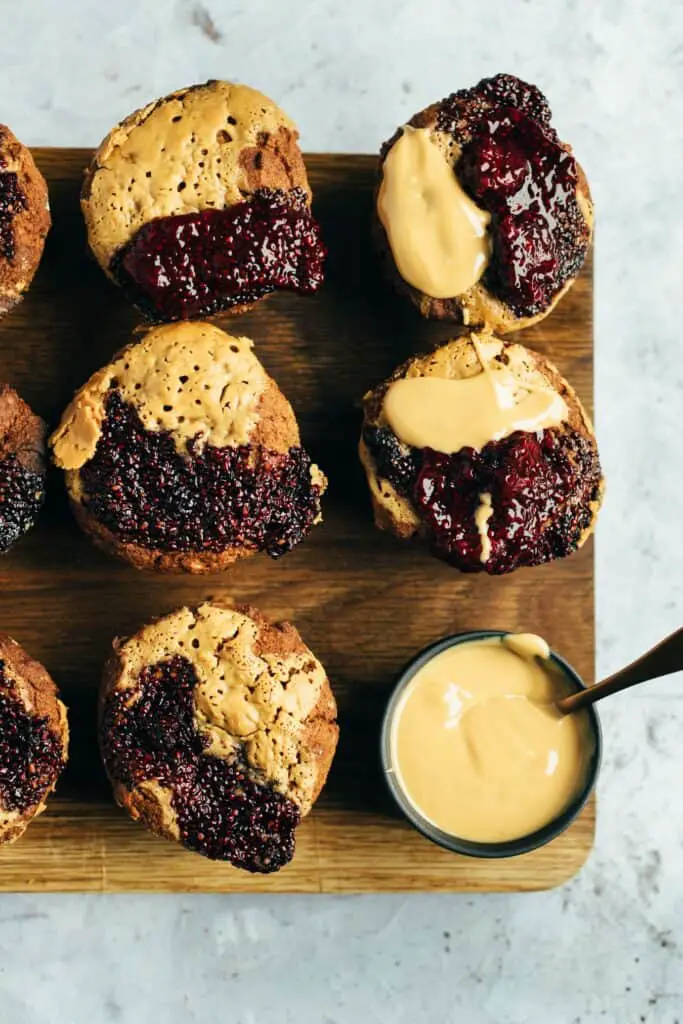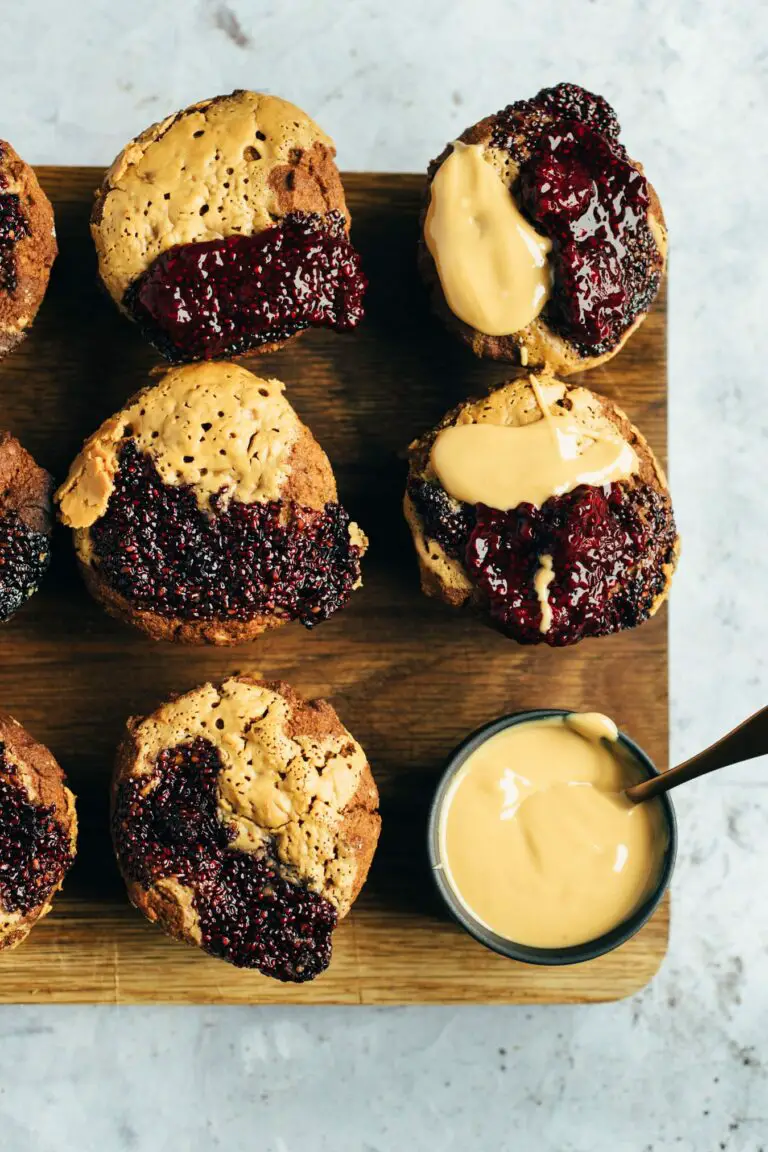 Let's get back to our Muffins , they taste almost like a Peanut Butter & Jelly Sandwich. It always reminds me back to the days when I stayed in cheap B&Bs in New York. There was always the same standard breakfast. Peanut butter, jelly, light toast and coffee. Not exactly substantial, but if you do not have much budget just great. Our recipe today tastes like it, but there are not many other similarities. The reason for this is the high quality ingredients that have a high nutrient density. I also always use as little sugar as possible and try to make everything else as healthy as possible.
I can not say no to vegan muffins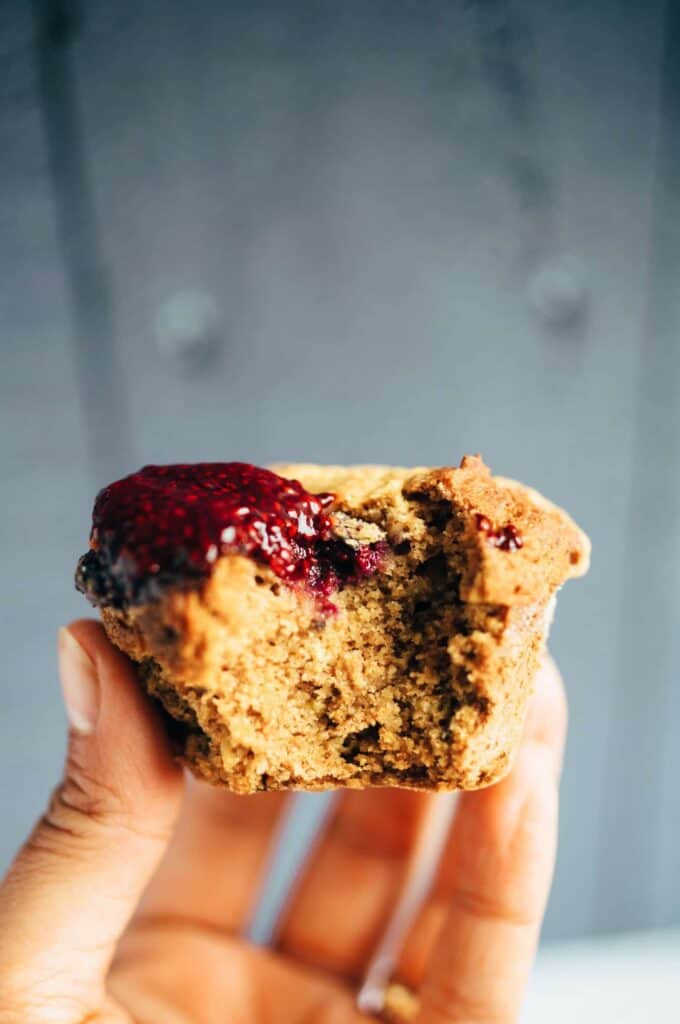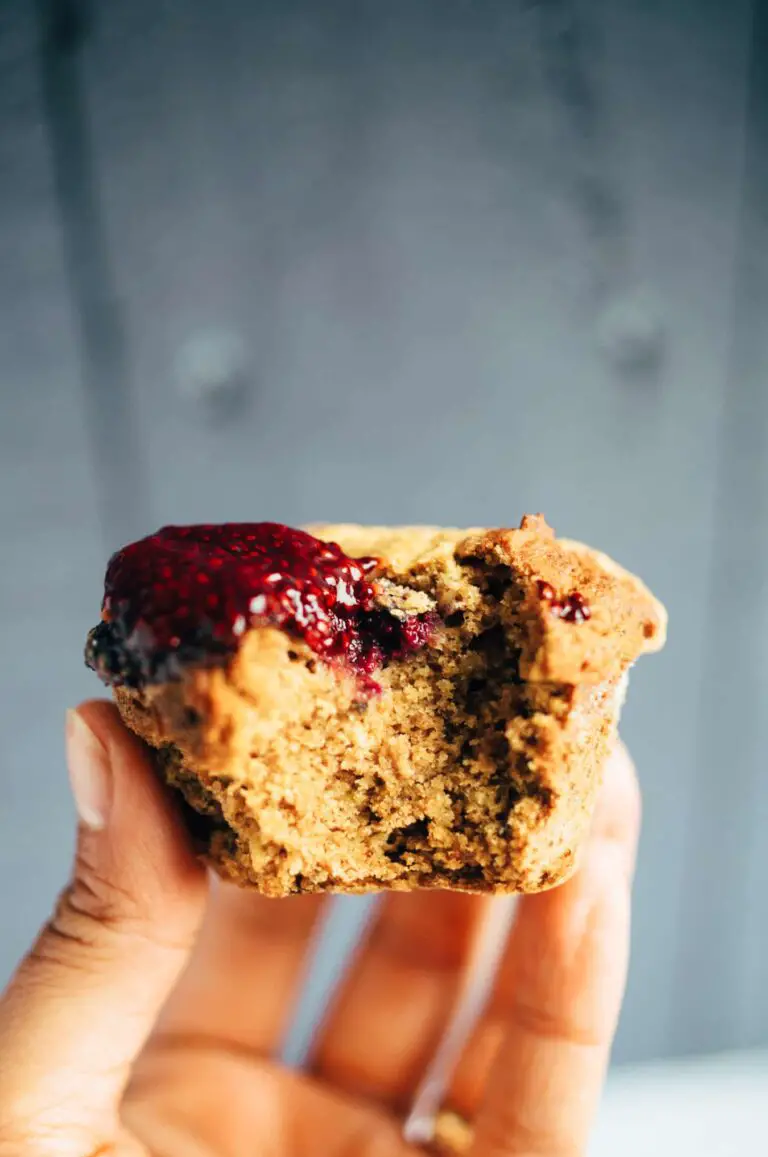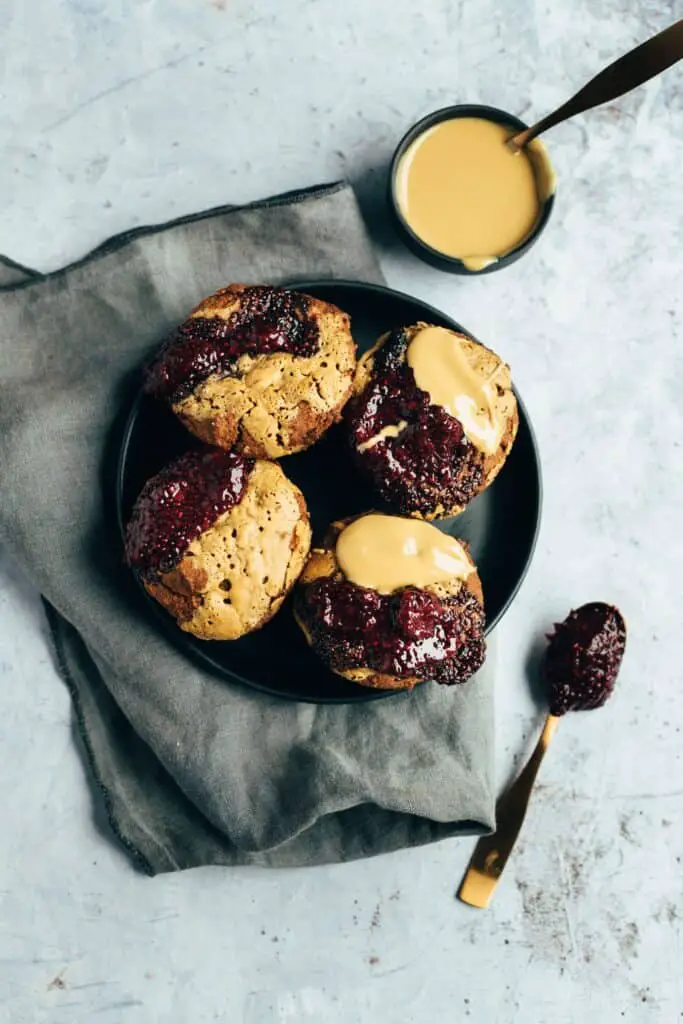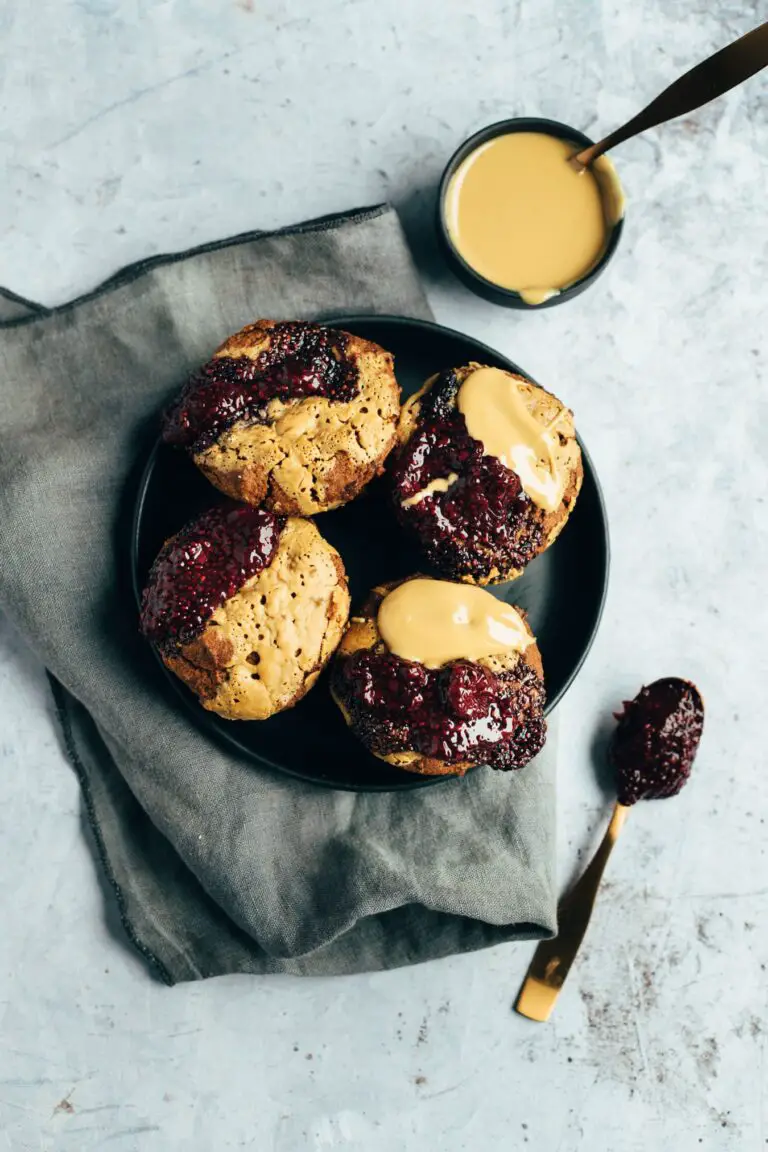 Flaxseed eggs , almond milk, baking soda, apple cider vinegar, maple syrup, raw cane sugar, baking oil, apple pulp, peanut butter, almond flour, spelt flour, baking powder, rolled oats and a pinch of salt. The whole thing is topped with my simple Blackberry Chia Jam and peanut butter. Of course, you can use any other jam as you like.
TIP: Instructions on how to make Flaxseed eggs you can find here. In addition, I wanted to write a sentence about the difference between applesauce and applesauce. Applesauce already has added sugar and apple puree has no added sugar. I always buy apple pulp in organic quality, because I want to determine for myself how much sugar I add.
What goes with our sweet beauties? One scoop of vanilla ice cream one Cup of golden milk or because the weather is moving towards autumn again, a Anti-cold tonic .
We summarize: The muffins take just 45 minutes, including prep time, and come together with only a few ingredients. 1 bowl, 1 muffin baking sheet and go!
The Peanut Butter & Jelly Muffins are:
Loose & Light
Super fruity with slight acidity (jam)
Perfectly sweet
Vegan & on Wish gluten free
Fast and uncomplicated to produce
Well, are you ready for the P&J sins? I wish you a lot of fun baking and of course a review at the bottom of this page. If you post a picture, use the hashtag #veganevibes.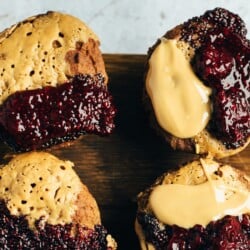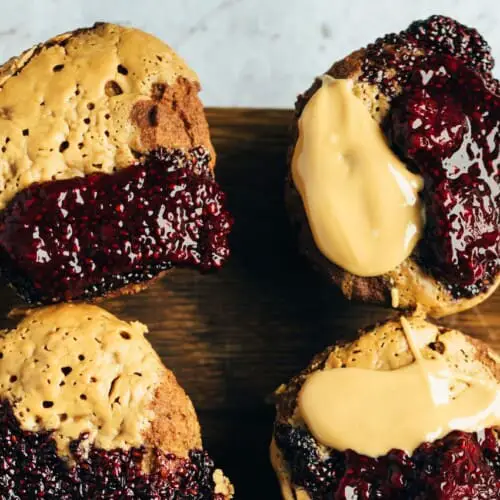 Peanut Butter & Jelly Muffins
Incredible 1-Bowl Peanut Butter & Jelly Muffins, vegan and gluten-free upon request.
AUTOR: VEGANEVIBES
TOPPING:
60

g

Peanut butter

(one tsp per muffin)

60

g

Blackberry chia jam

(one teaspoon per muffin), or another jam of your choice
Anleitung 
Preheat the oven to 175degrees and line a muffin baking tray for 12 muffins with muffin cups, or lightly grease and dust with flour if needed.

Prepare flaxseed eggs in a small bowl. Set aside.

For the dough: In the meantime, provide a large bowl, pour in almond milk, add baking soda and vinegar and stir with a wooden spoon. The liquid should now begin to foam.

60 ml Almond milk or other unsweetened plant milk,

1 1/2 tbspn Baking soda,

1 tbspn Apple cider vinegar

Add maple syrup, raw cane sugar, frying and baking oil, apple pulp, peanut butter, almond flour, spelt flour, rolled oats, flaxseed eggs and sea salt and whisk until a fine dough is formed.

2 Piece Flaxseed eggs,

60 ml maple syrup,

65 g Raw cane sugar,

60 ml Frying and baking oil,

190 g Apple pulp,

130 g Peanut butter,

50 g Almond flour,

112 g cups fine spelt flour or gluten-free flour blend,

¼ tbspn Sea salt,

60 g Oatmeal

Small lumps of dough are not a problem as they dissolve during baking.

NOTE: Do not stir too long, otherwise you will stir the leavening power of the natron back out of the dough.

ALTERNATIVE: If you are using a high-powered blender (dough program), place all ingredients (except oatmeal) in the blender jar in the order listed above and run the program once. Stir in rolled oats only at the end.

Divide batter evenly among muffin cups with a spoon.

Spread 1 teaspoon each of jam and peanut butter as a Topping on top of the muffins.

60 g Peanut butter,

60 g Blackberry chia jam

Put in the oven and bake for

30 minutes

. Turn off oven and leave muffins in oven for another 10 minutes, using reheat. Remove from the oven and allow to cool completely.

Store remainder (if any) in an airtight box in the refrigerator for up to one week. Can be kept frozen for up to one month.
Nährwertangaben
Serving:
1
Portion
Calories:
260
kcal
Carbohydrates:
27
g
Protein:
6
g
Fat:
16
g
Saturated Fat:
2
g
Sodium:
123
mg
Potassium:
133
mg
Fiber:
3
g
Sugar:
17
g
Vitamin A:
5
IU
Vitamin C:
1
mg
Calcium:
27
mg
Iron:
1
mg