Apples, apples, apples, everywhere I look I see. Apples ! This year the harvest is just phenomenal. You can't eat them all just like that. Store? Well, at least a part. What am I supposed to do with the rest? Again Cake or something else? Something that is easy to do and is in the oven in no time. Of course, the sprinkles must not be missing. I hope you find the little particles as delicious as I do. Let's get started.
Vegan apple muffins with cinnamon crumble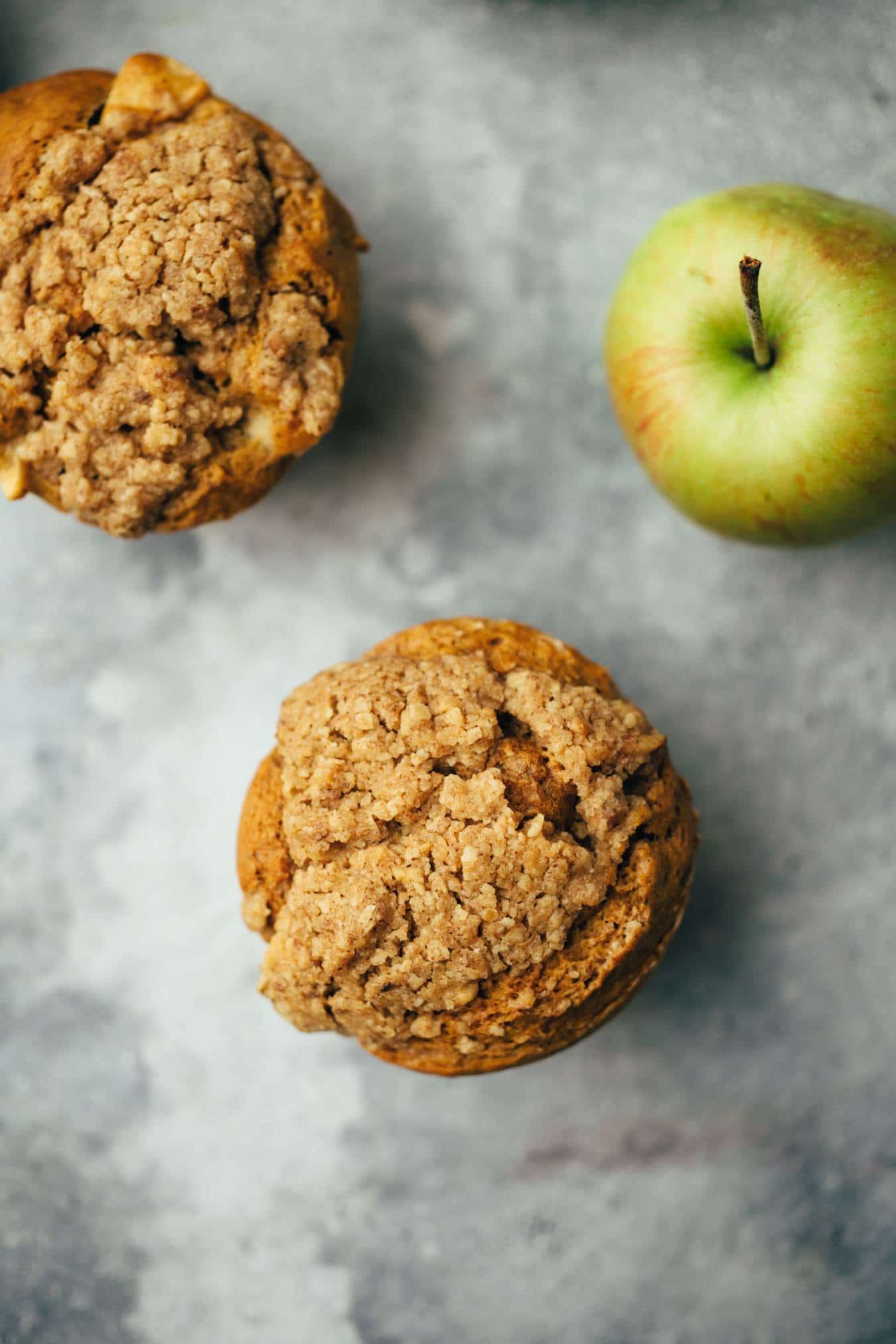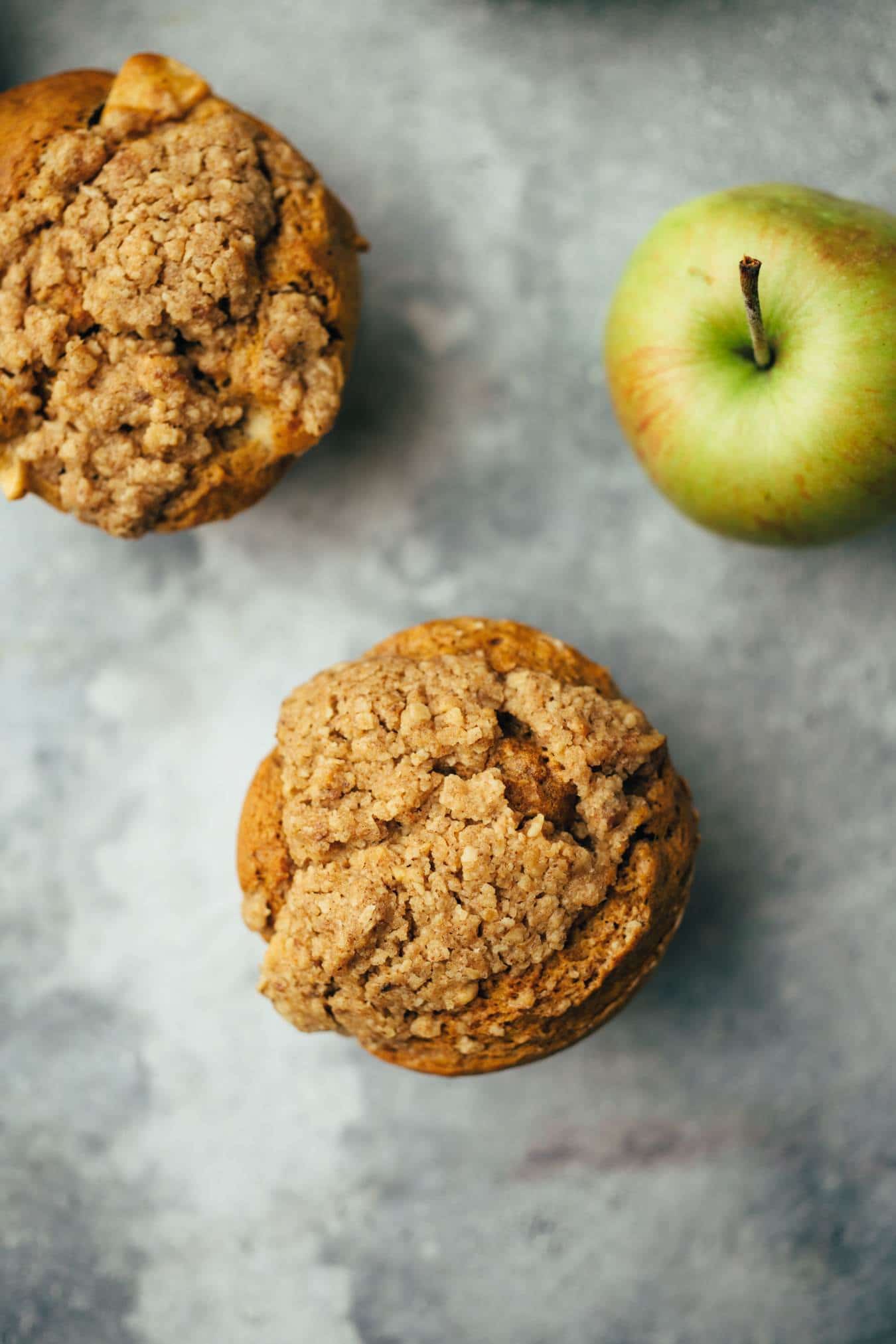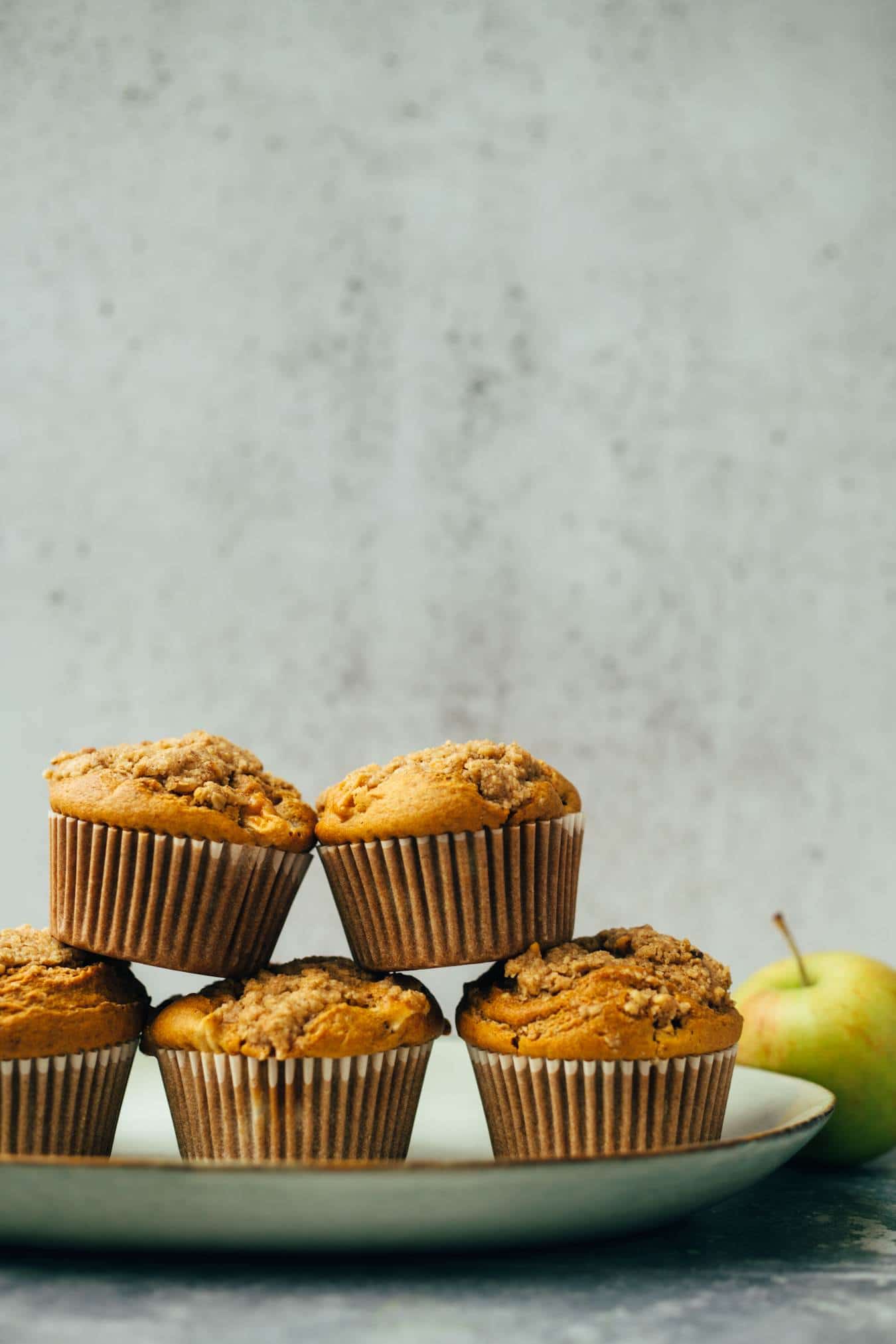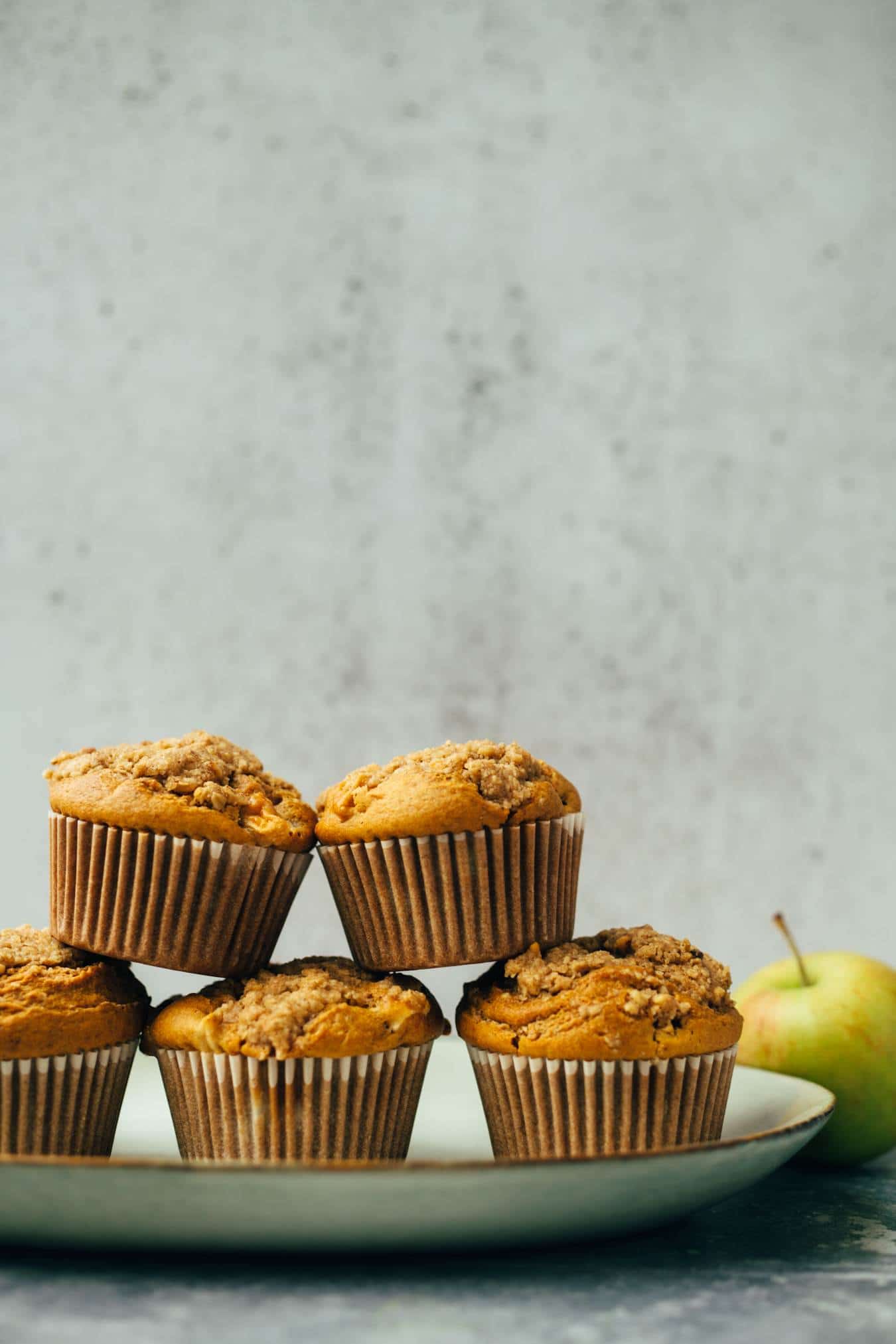 An Apple a day keeps the doctor away – Delicious apple muffins
Do you know the saying? Apples are said to be very healthy and I have summarized all the important facts for you in my new blog article summarized. But back to the basics, our new Muffins recipe. Of course, with delicious cinnamon crumble. They give the little beauties their final touch.
For the Muffins You don't need much for the batter, starting with a flaxseed egg for good binding, fine spelt flour or gluten-free flour blend, sea salt, baking powder, baking soda, apple cider vinegar, raw cane sugar, bourbon vanilla, plant milk, applesauce and 1 ½ cups of apples, grated or chopped.
The Good News? The dough does not need any oil at all and still tastes juicy and full-bodied.
The crumbles consist of tasteless oil, fine spelt flour or gluten-free flour mixture , oat flakes, walnuts, cinnamon and raw cane sugar. Well, is the water in your mouth already running together?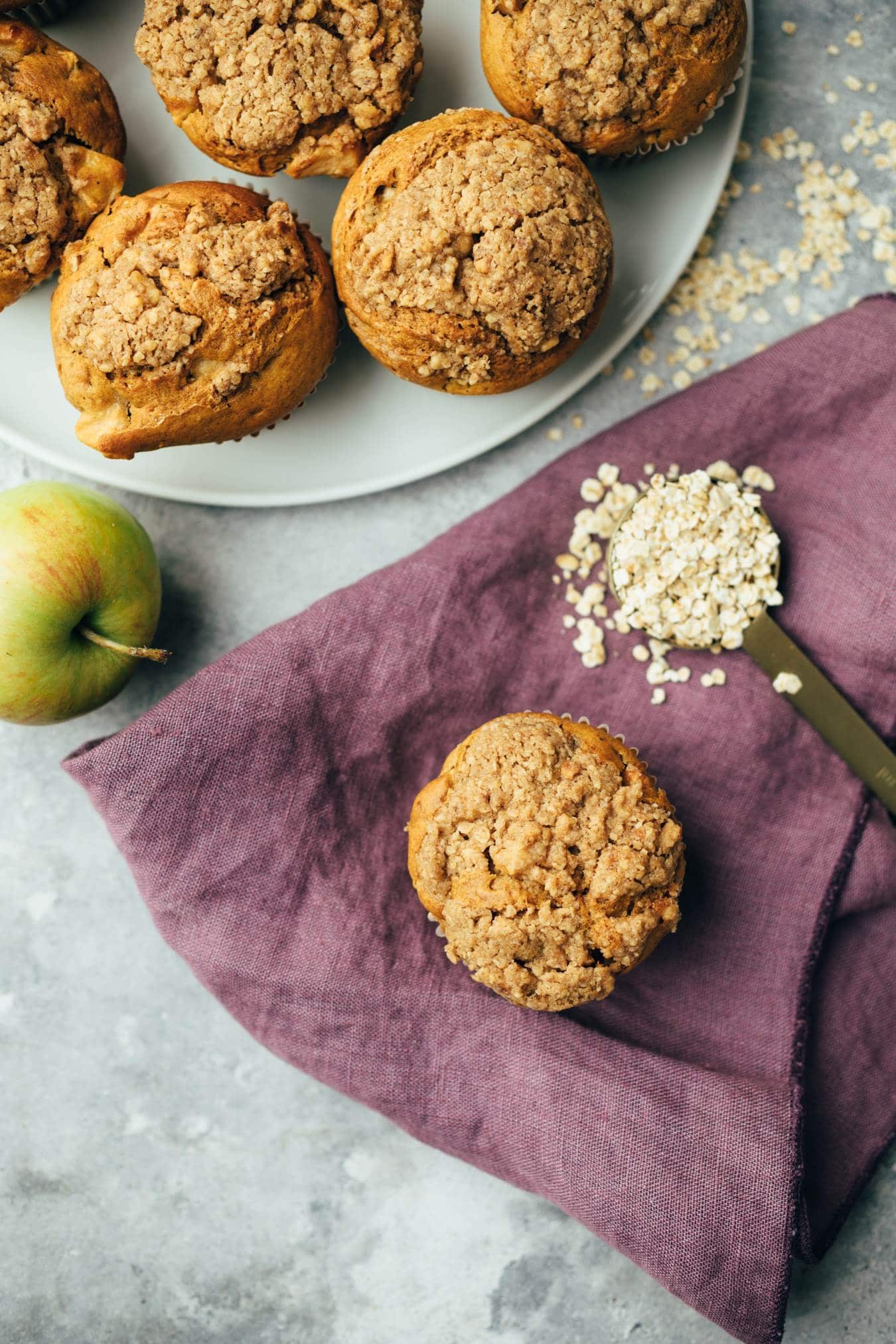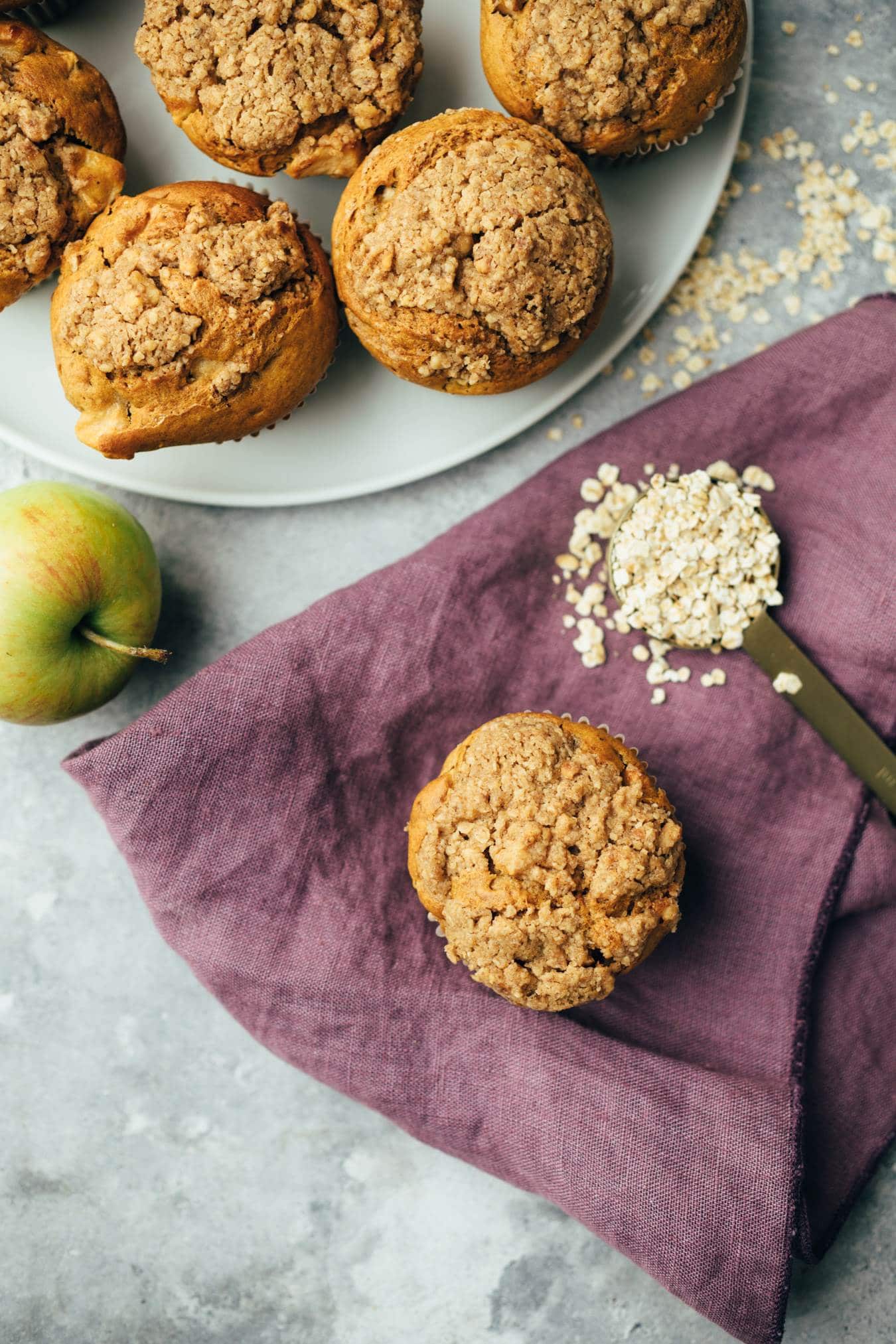 Surely you are wondering why I use applesauce in the dough this time. It is an excellent Egg substitute in vegan cooking and provides a great binding and juiciness. The apple flavor really doesn't interfere here either, though it also dissolves during baking in other recipes and is a great neutral binder.
What goes well with our apple muffins? One Scoop of vanilla ice cream is my favorite combination. Alternatively, they taste wonderful with powdered sugar with a cup of coffee, Golden Milk or a creamy Chocolate Chia Smoothie .
We summarize: The muffins take just 35 minutes, including prep time, and get by with 10 ingredients. 2 bowls, 1 muffin baking sheet and go!
Apple muffins with cinnamon crumble (vegan, lactose-free):
Locker & Fluffig
Super fruity with slight acidity (apples)
Perfectly sweet
Vegan & gluten free on request
Extremely fast to produce
Well, are you ready for these little sweet sins? I wish you a lot of fun with Recipe and of course about a rating at the bottom of this page. If you post a picture, use the hashtag #veganevibes.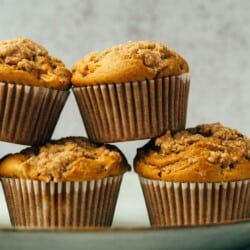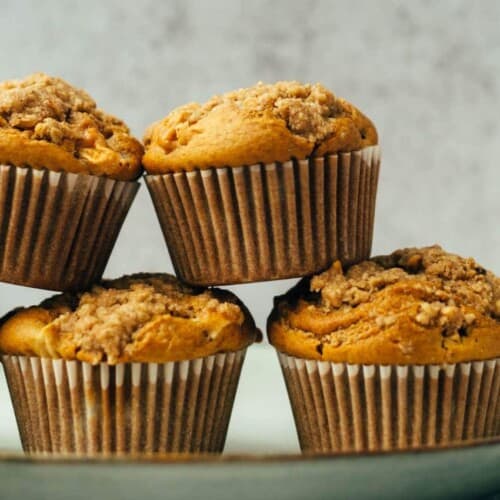 Apple muffins with cinnamon crumble (vegan)
Incredibly moist apple muffins with delicious, crunchy cinnamon sprinkles. Vegan and gluten-free on request. Fluffy, fruity with a light, pleasant acidity from the light acidity of apples.
AUTOR: VEGANEVIBES
Anleitung 
Preheat the oven to 175degrees and line a muffin baking tray for 12 muffins with muffin cups or lightly grease if needed.

Flaxseed egg

put on and infuse for 5 minutes. I set the egg in the large baking bowl right away.

First FOR THE CRUMBLE Mix all ingredients together in a large bowl until well combined. If you like it finer (like me) grind crumble smaller in a food processor.

40 g fine spelt flour or gluten-free flour mix,

17 g Oatmeal,

24 g Walnuts,

1 tbspn Cinnamon,

1 ½ tbspn Raw cane sugar or another sugar,

Optional: 1/2 tsp ground ginger,

45 ml Frying and baking oil

The next step is to MUFFIN DOUGH finish. For this, add the almond milk, baking soda, and apple cider vinegar to the flaxseed egg and mix briefly. The liquid should now begin to foam.

255 ml Almond milk or other unsweetened plant milk,

1/2 tbspn Baking soda,

1 tbspn Apple cider vinegar,

1 Flaxseed egg

Add flour, applesauce, baking powder, sea salt and vanilla and stir well again. Not too much, otherwise you will stir out the driving force of the natron again.

115 g Raw cane sugar,

340 g cups fine spelt flour or gluten-free flour blend,

130 g Applesauce,

2 tbspn Baking powder,

¼ tbspn Sea salt,

½ tbspn Bourbon vanilla ground

As a final step, add the apple pieces or grated apple and fold in.

ALTERNATIVE: If you are using a high-powered blender (dough program), place all ingredients in the blender jar in the order as above and run the program once.

Divide with a spoon into the muffin moulds evenly.

Finally, spread the crumbles evenly over the dough with a spoon.

Put in the oven and bake for 25 minutes. Make a chopstick test. If time permits, turn oven off and leave muffins in oven for 10 more minutes, using reheat. Remove from the oven and allow to cool completely.

Optionally sprinkle with powdered sugar and garnish with a scoop of vanilla ice cream.

Store remainder(if any) in an airtight box in the refrigerator for up to one week. Can be kept frozen for up to one month.
Notizen
NOTES /HELPFUL ACCESSORIES:
Nährwertangaben
Serving:
1
Muffin
Calories:
214
kcal
Carbohydrates:
34
g
Protein:
4
g
Fat:
6
g
Sodium:
48
mg
Potassium:
36
mg
Fiber:
4
g
Sugar:
10
g
Vitamin C:
0.1
mg
Calcium:
35
mg
Iron:
1.6
mg