Apple time is the most beautiful time? yes? I think so, especially when you consider how versatile these little power fruits are. I was looking for a delicious dessert with apples that (pretty much) everyone would enjoy. Since I am a big fan of nuts Vanilla ice cream and apples, the idea was already born. Then just combine and voila, here is the dessert of your dreams. Really funny, because unknowingly I already did it once about two years ago. At the time I had friends over (and still my old kitchen) and it went over really well. Well then, it's time for a revival.
Caramelized nuts just always go …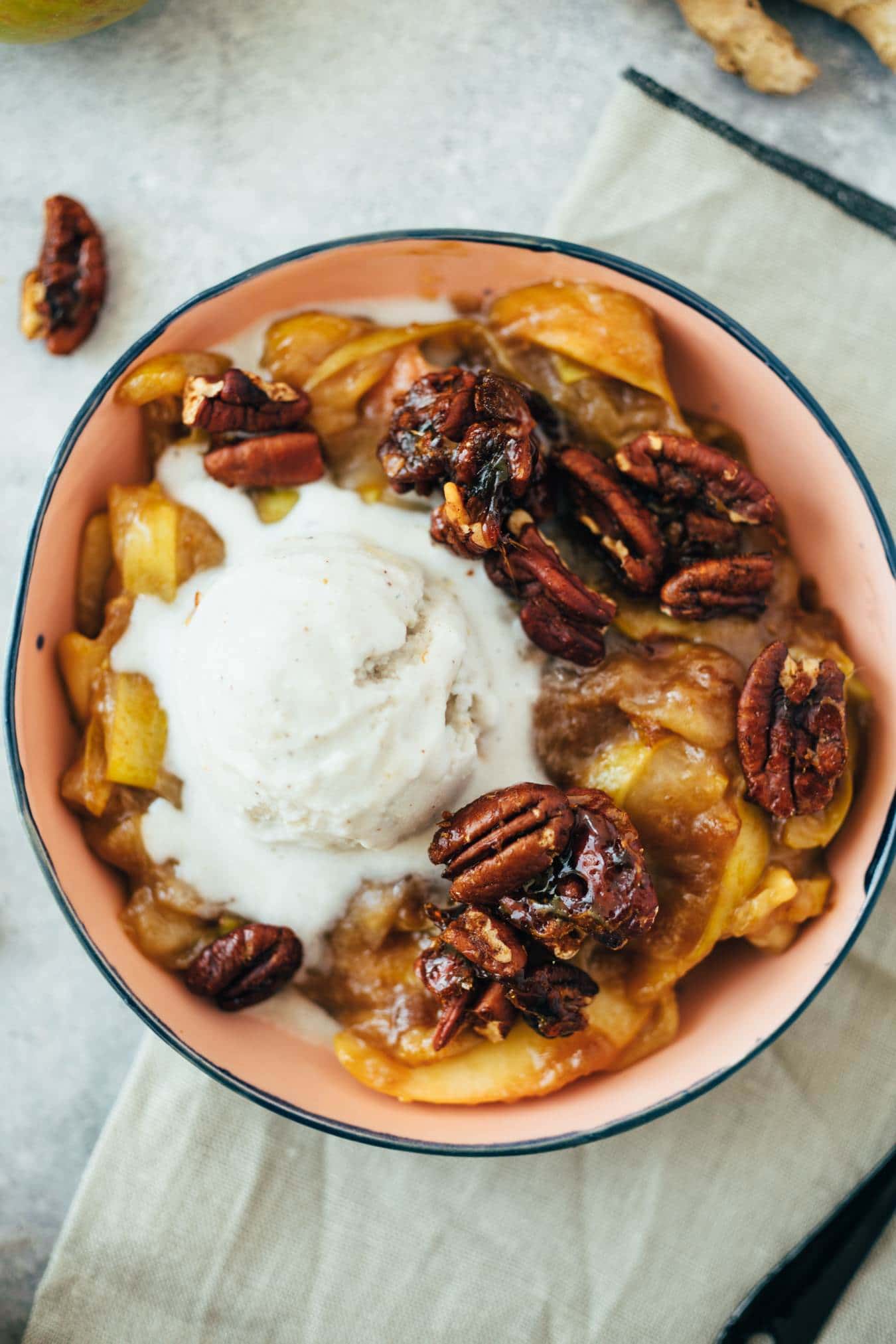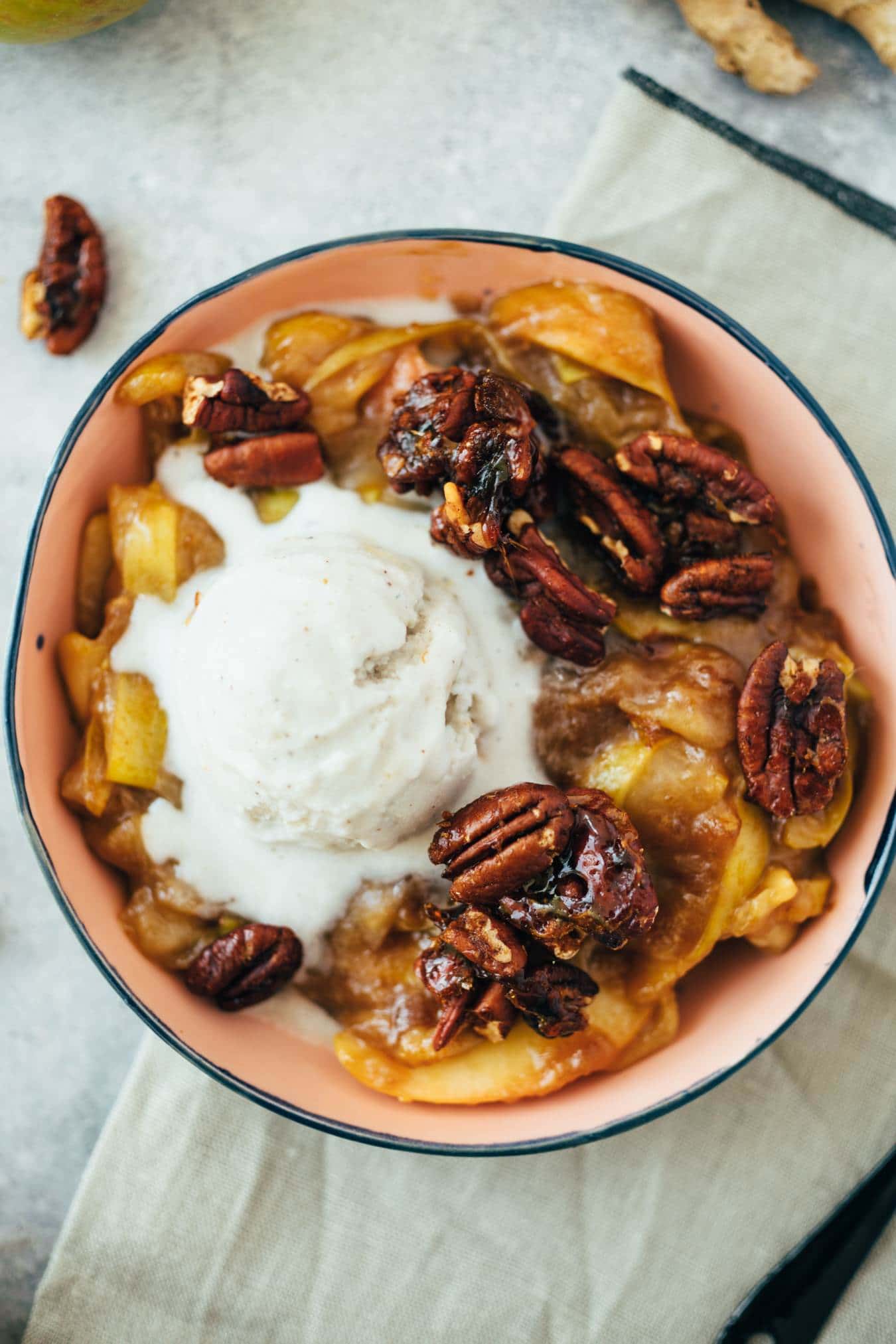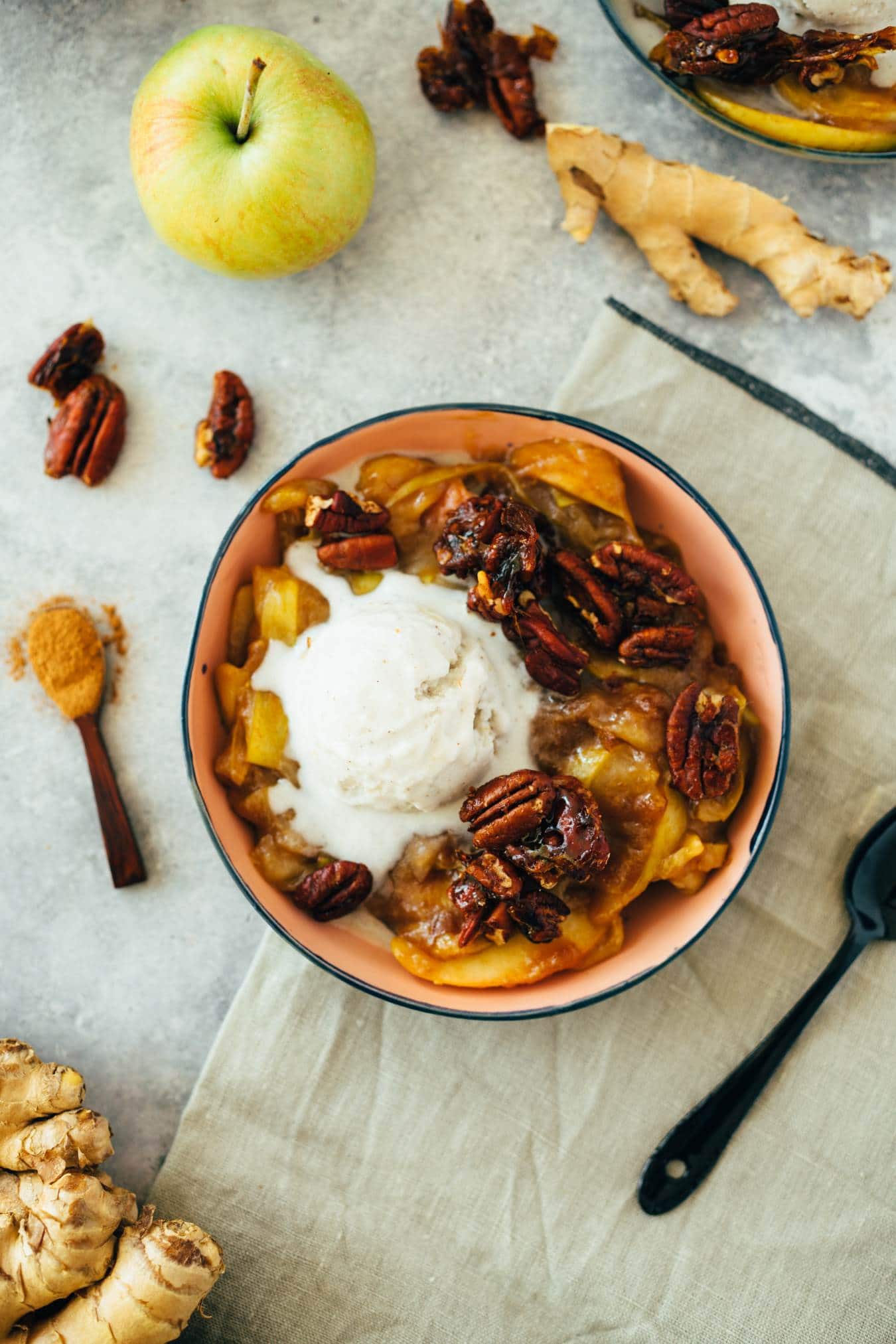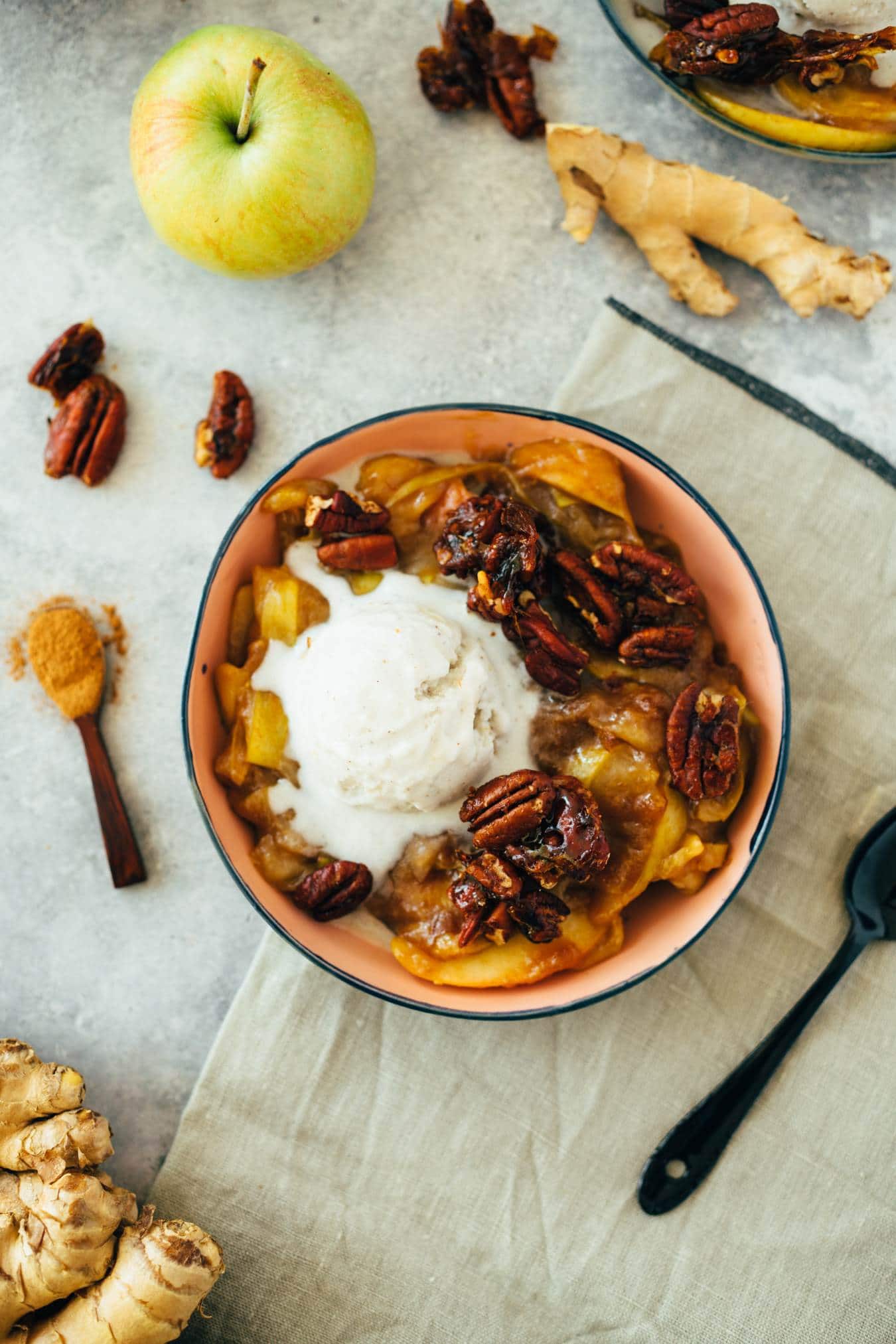 30 minutes and a handful of ingredients, that's all you need. Let's start with the apples, here goes almost any variety. However, you should do a little taste test beforehand, because the beauties should not be too sour. Otherwise, you run the risk of your blackheads making a face as if they had just swallowed a pack of fizzy drinks. Gala, Granny Smith, magpie are just a few varieties that fit wonderfully. The apples are then just quartered, sliced and caramelized with coconut sugar, cinnamon, ginger and a little lemon juice in a pan and cooked until soft. Cornstarch ensures that everything thickens nicely and becomes almost a bit creamy.
I'm getting (vegan) nuts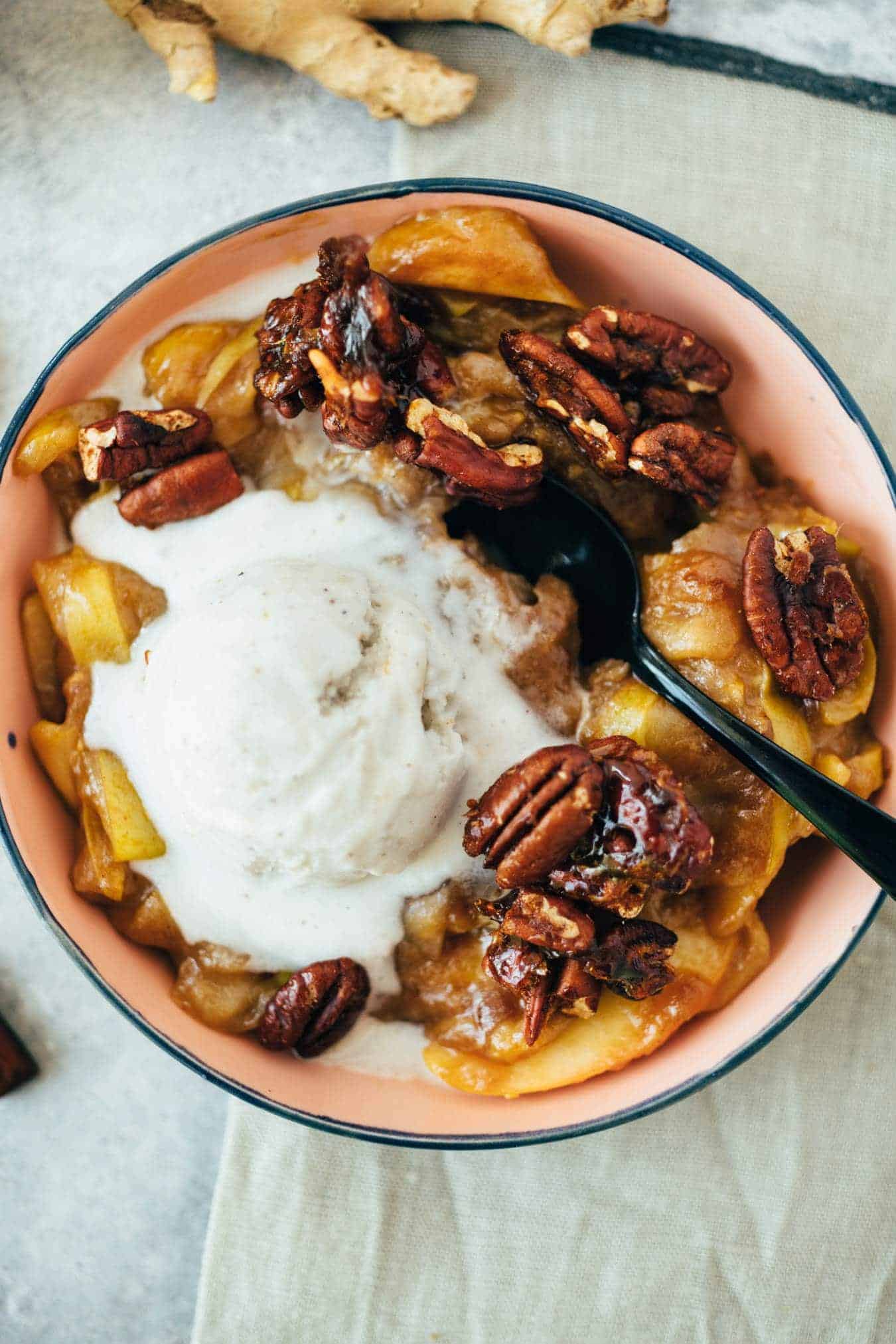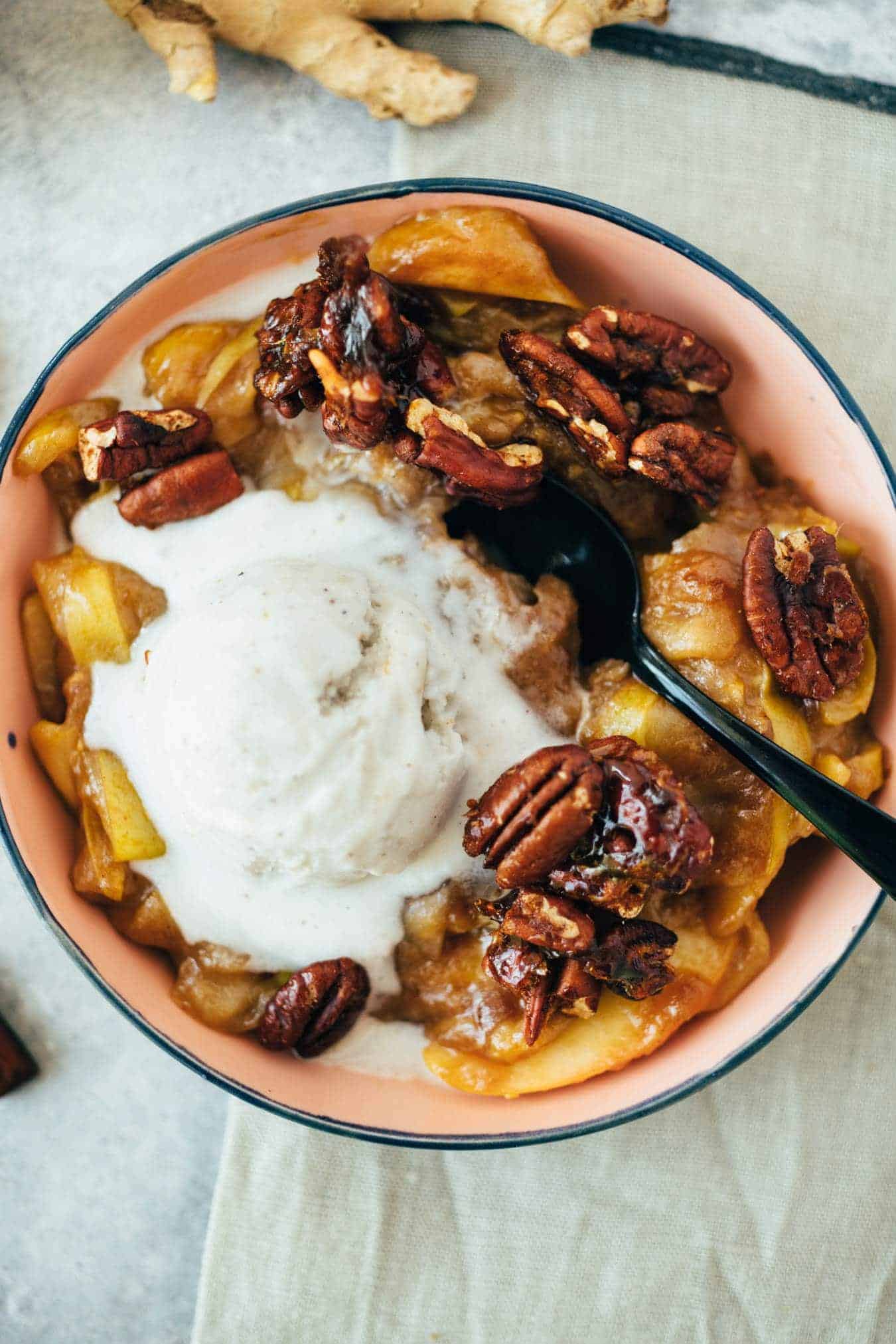 The apples cook away and in parallel the pecans stew in the oven. Thanks to the coconut blossom sugar and maple syrup, this develops a great caramel layer that is simply irresistible. Actually, you don't even need the rest, because the caramelized nuts are simply heavenly.
And how does the whole thing now become an irresistibly delicious Dessert ? By adding a few more scoops homemade vanilla ice cream on top and maybe topping with Coconut cream topping. So now that's enough of all the theory, I'd say let's go ahead and indulge in this delicious, brilliant dessert composition. Who's in?
Simple dessert with caramelized apples and pecans:
Caramel
fruity
Naturally sweetened
Easy to manufacture
Nutty-crunchy
If you like this Dessert or the dessert as much as I do, then I would be happy to receive a review at the very bottom of this page. If you post a picture, use the hashtag #veganevibes.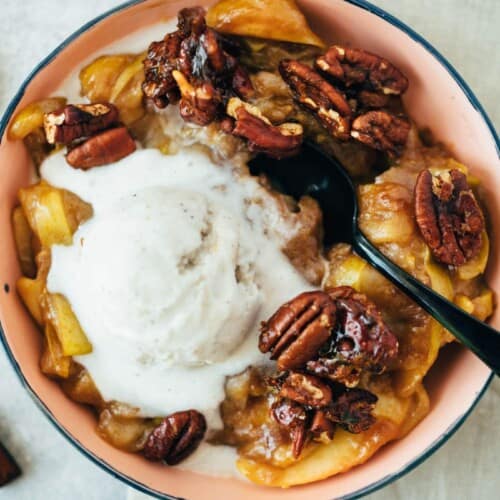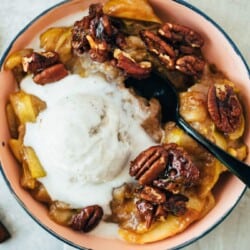 Simple dessert with caramelized apples and pecans
Simple instructions for making a delicious dessert with delicious caramelized apples and pecans. Perfect to finish a vegan menu, or just in between on a whim. Delightfully sweet with a slightly tart note from fruity apples. Ready in 30 minutes.
AUTOR: VEGANEVIBES
FOR THE CARAMELIZED PECANS:
FOR THE CARAMELIZED APPLES:
600

g

Apples

quartered, core removed and cut into slices

36

g

Coconut sugar

1

tbspn

Cinnamon

ground

½

tbspn

Ginger

ground or fresh ginger

15

ml

Lemon juice

1

tbspn

Corn starch for thickening

alternatively locust bean gum or agar agar (follow dosage instructions on the respective product)
Anleitung 
Preheat the oven from 175 degrees and line a baking tray with baking paper.

Pecans in a large bowl, add frying oil, maple syrup, coconut blossom sugar, cinnamon, vanilla and (optional) sea salt. Stir until the nuts are evenly coated with the other ingredients.

100 g Pecans,

15 ml Frying oil or other high heat oil,

30 ml maple syrup,

12 g Coconut blossom sugar,

¼ tbspn Cinnamon,

½ tbspn Bourbon vanilla ground,

optional: a pinch of sea salt

Put on the baking sheet and bake for 10-15 minutes. Be careful, do not let it burn and check it from time to time. If in doubt, reduce heat slightly. When the baking time is over, remove from the oven and let cool completely.

While pecans are caramelizing in the oven, prepare apples.

Heat oil in a medium saucepan, add apples. Add coconut blossom sugar, cinnamon, ginger, lemon juice and cornstarch. Stir well until all ingredients are mixed. Cover and let soften over low to medium heat for

10-15 minutes

. Stir from time to time.

15 ml Frying oil or other high heat oil,

36 g Coconut sugar,

1 tbspn Cinnamon,

½ tbspn Ginger,

15 ml Lemon juice,

1 tbspn Corn starch for thickening,

600 g Apples

Once the apples are soft and thickened, season again.

Divide into dessert bowls, garnish with vanilla ice cream and coconut cream (optional) and top generously with caramelized nuts. enjoy!

Creamy vanilla ice cream,

A portion of coconut cream

Nuts keep up to 3 weeks airtight (if there are any left). Apples best fresh.
Nährwertangaben
Serving:
2
Servings
Calories:
753
kcal
Carbohydrates:
80
g
Protein:
5
g
Fat:
51
g
Saturated Fat:
15
g
Sodium:
51
mg
Potassium:
559
mg
Fiber:
12
g
Sugar:
58
g
Vitamin A:
190
IU
Vitamin C:
17.2
mg
Calcium:
69
mg
Iron:
1.6
mg