Let's go, there's no time to lose. When I mean lightning fast, that's the way it should be. All joking aside, take a quick breath and then you're ready to go. Perhaps you have already noticed that I live in the country. Right now berry season is starting and I am overjoyed because I get to harvest fresh berries every day. Starting with Currants , about Strawberries , raspberries and soon blackberries. Once again I was in the kitchen in front of the freshly harvested raspberries and thought of muffins, since I had little time. Perfect!
Vegan Raspberry Muffins – 1-2-3 Ready!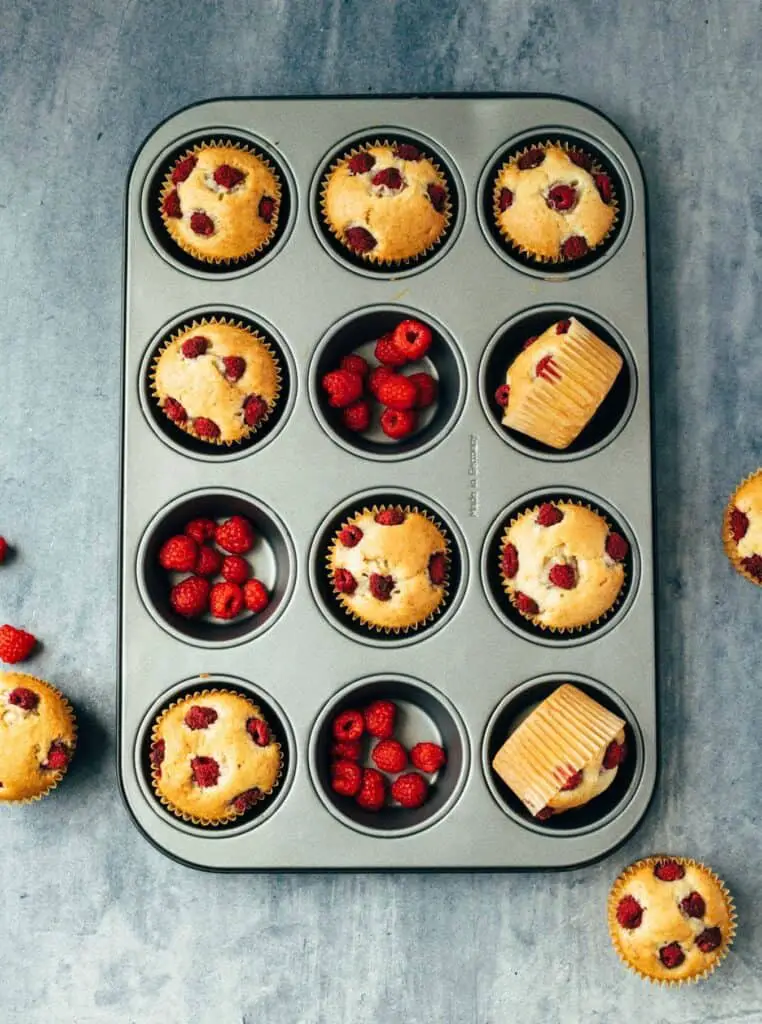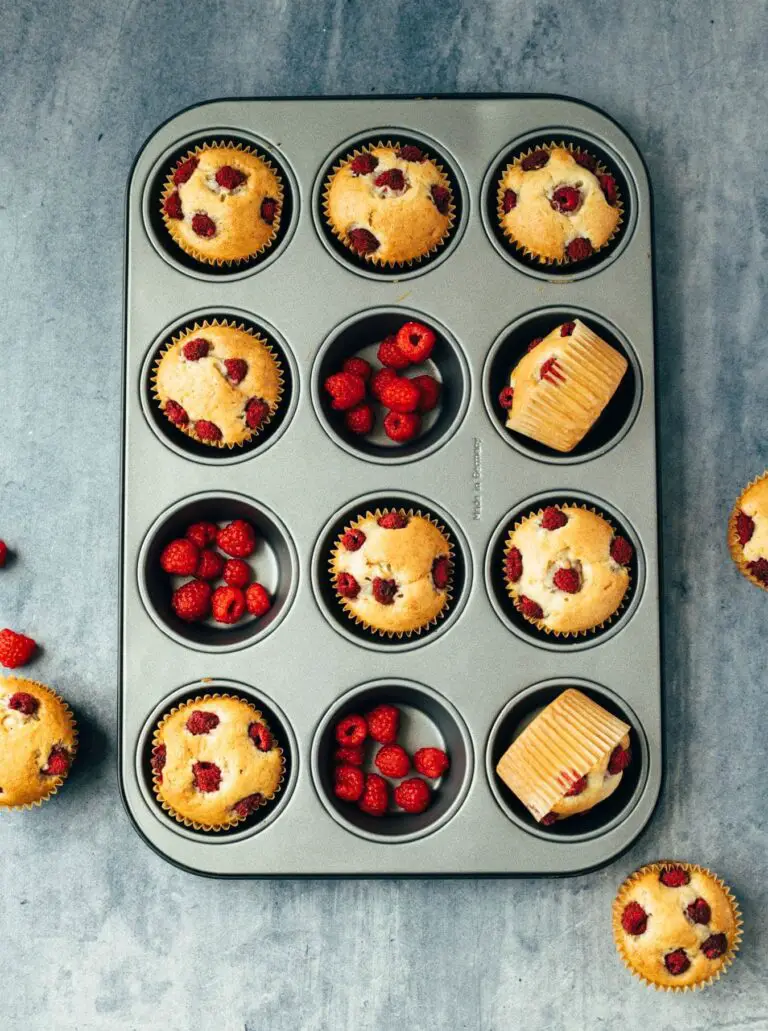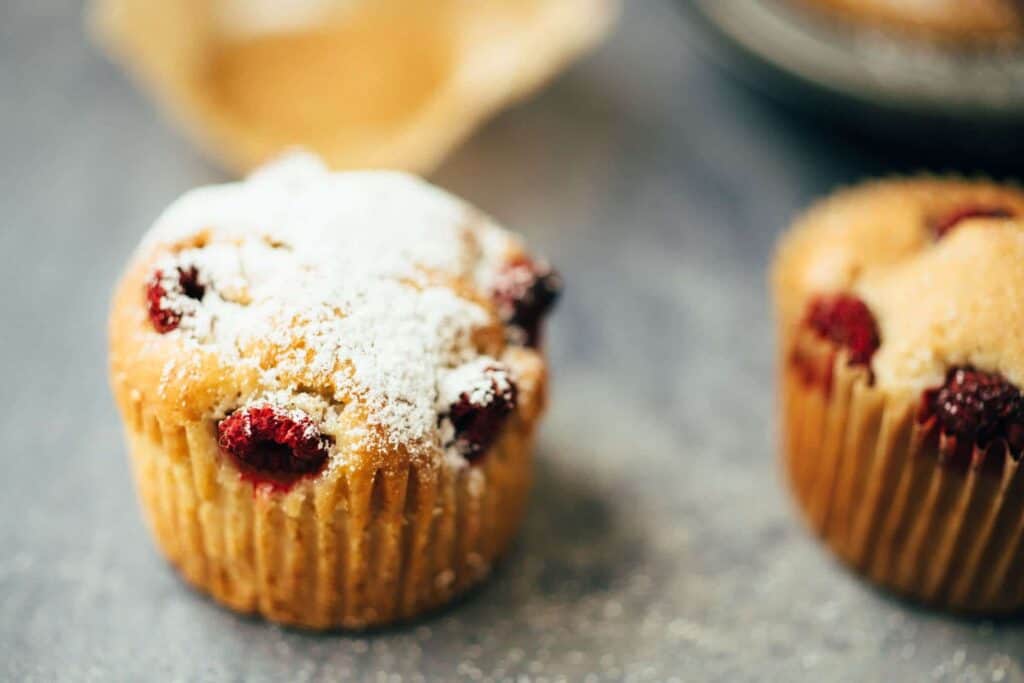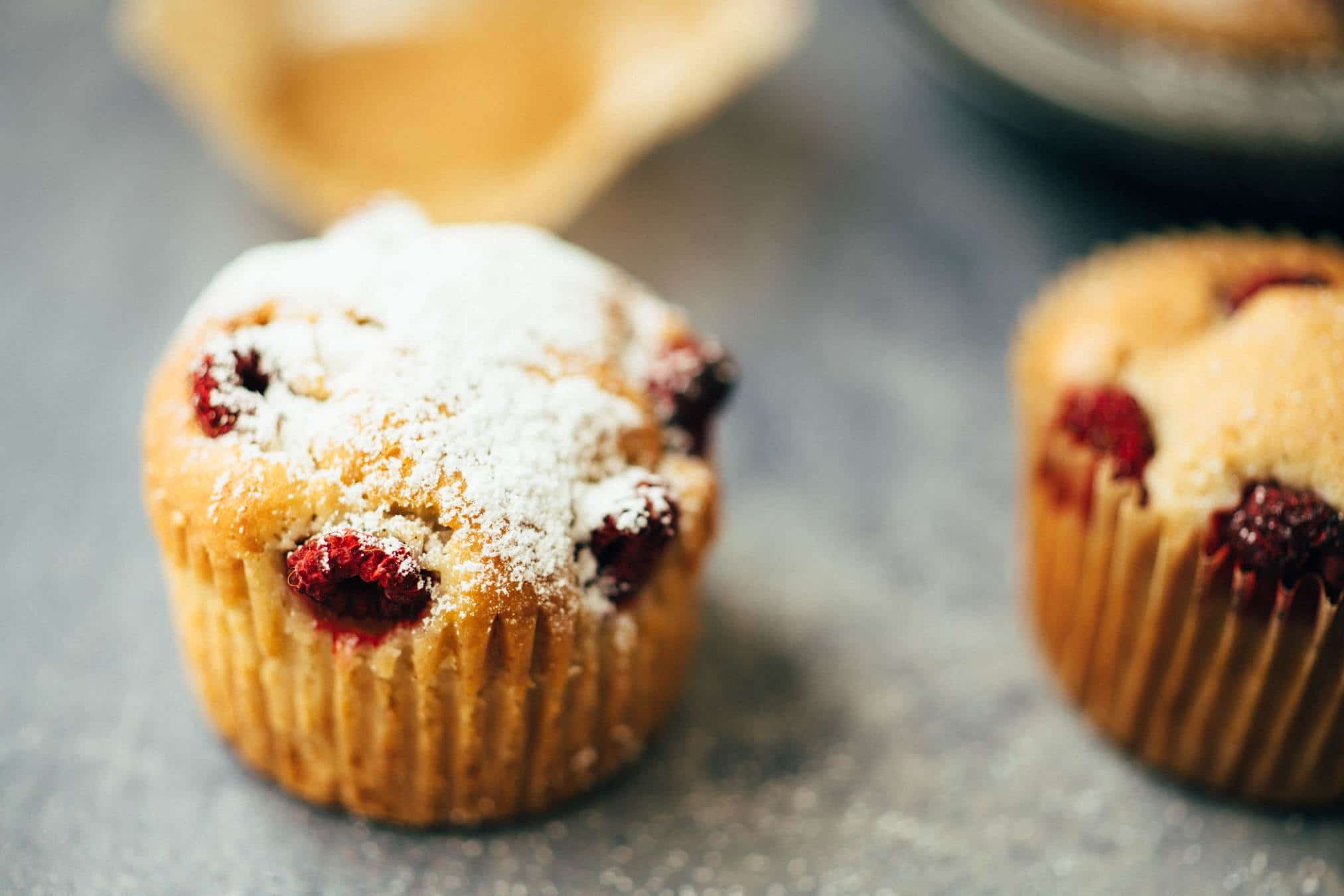 The basis is always a good flour, here I use a fine spelt flour. However, the Muffins also excellent with my gluten-free flour mix. Then we need a leavening agent, here I use baking soda in combination with apple cider vinegar. Raw cane sugar, a banana for better binding, some bourbon vanilla and homemade almond milk. Oh yes, I must not forget the freshly harvested raspberries, of course. You're ready to go.
Vegan baking, even if it has to go really quickly
The first and most important rule, if you want to do it quickly, is to preheat the oven. How many times have I stood in the kitchen and been annoyed that I forgot this simple step. Muffin tray Out, muffin tins in. Then the fuss would be over. The only thing missing is the dough. Here I use more and more often my Blendtec (advertising, because brand name), because it is incredibly fast and easy with the dough program. Perhaps there is also a bit of imagination, since it is not slower in a bowl and simple stirring by hand.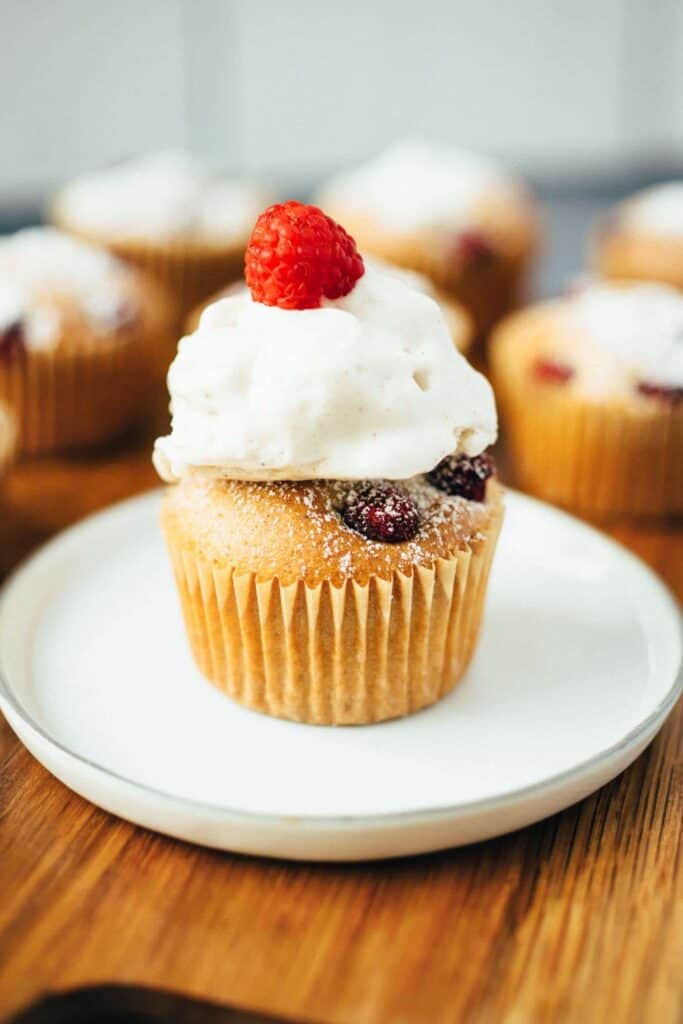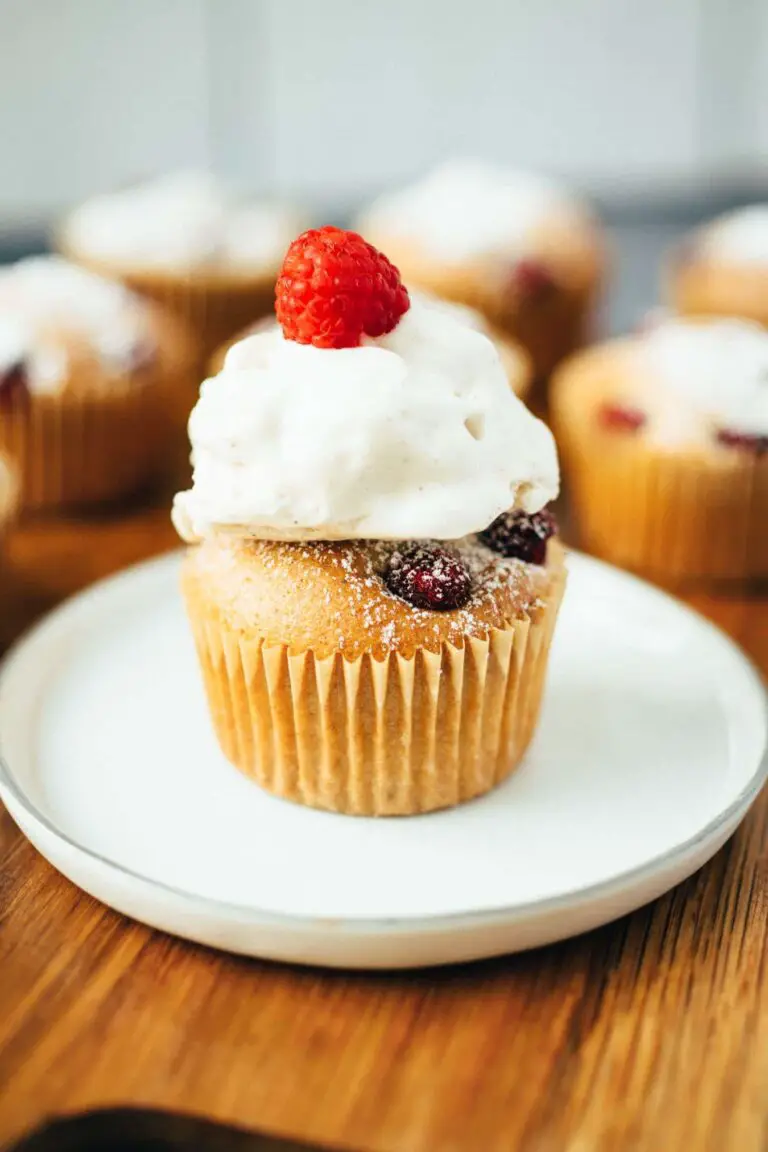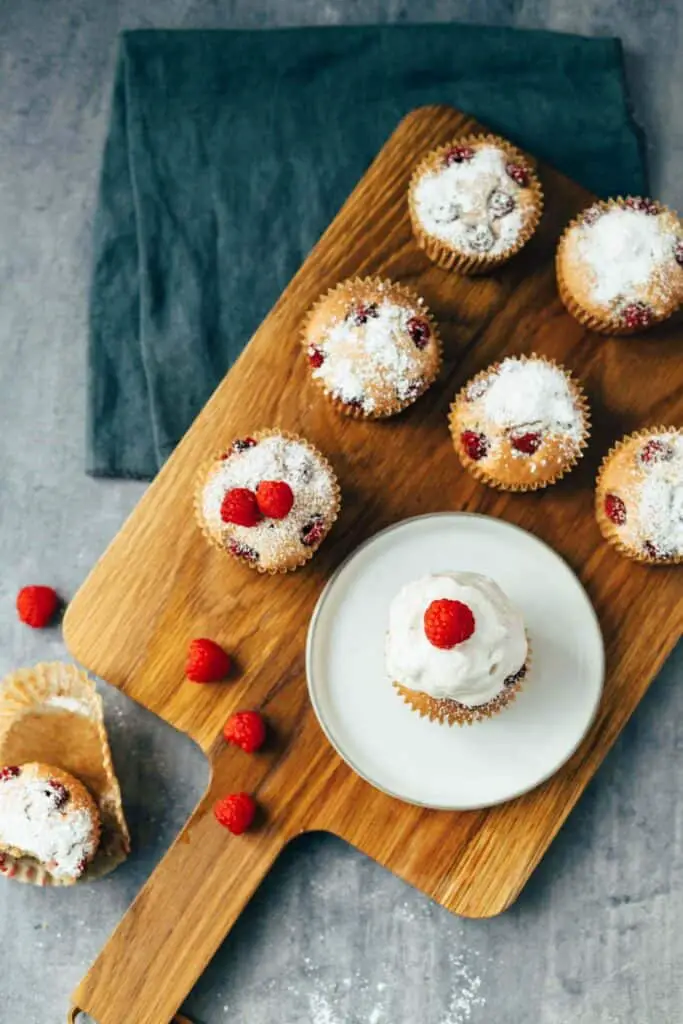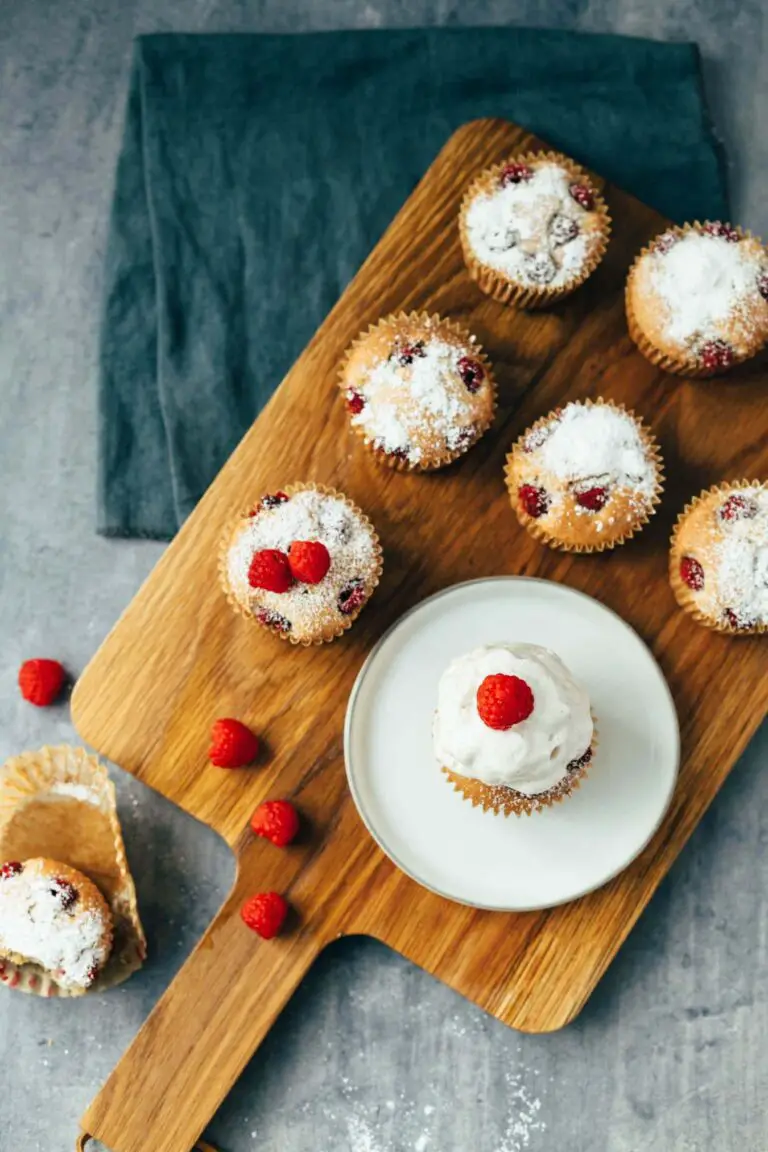 Perhaps at this point a word about raspberries. What actually makes them so healthy?
Rich in vitamin C and provitamin A (immune system & vision)
Particularly rich in anthocyanins (antioxidant) protects against free radicals
Resveratrol (good for the cardiovascular system)
Phenolic acid (is said to have an anti-cancer effect)
Very high content of iron
That was already the most important summary. Unfortunately, not all of the above ingredients are heat resistant and are lost during baking. That's why it's always worth saving a handful of fresh berries and simply snacking on them as a raw food.
What goes with our lightning fast beauties? One scoop Vanilla ice cream is my favorite combination. Alternatively, they taste wonderful with powdered sugar with a cup of coffee, Golden Milk or a creamy Chocolate Chia Smoothie .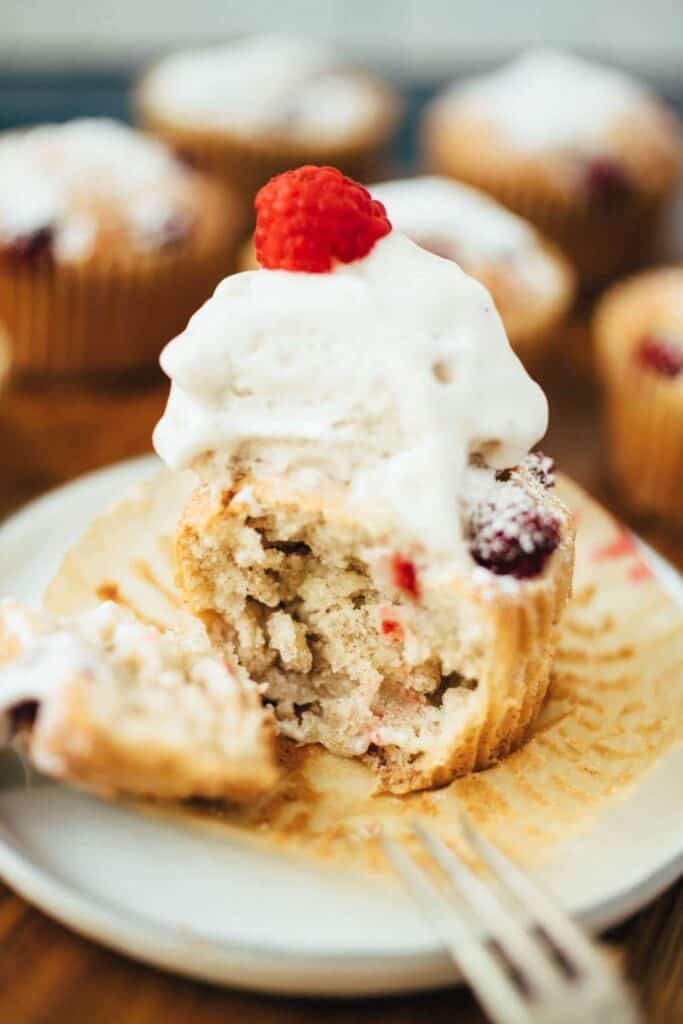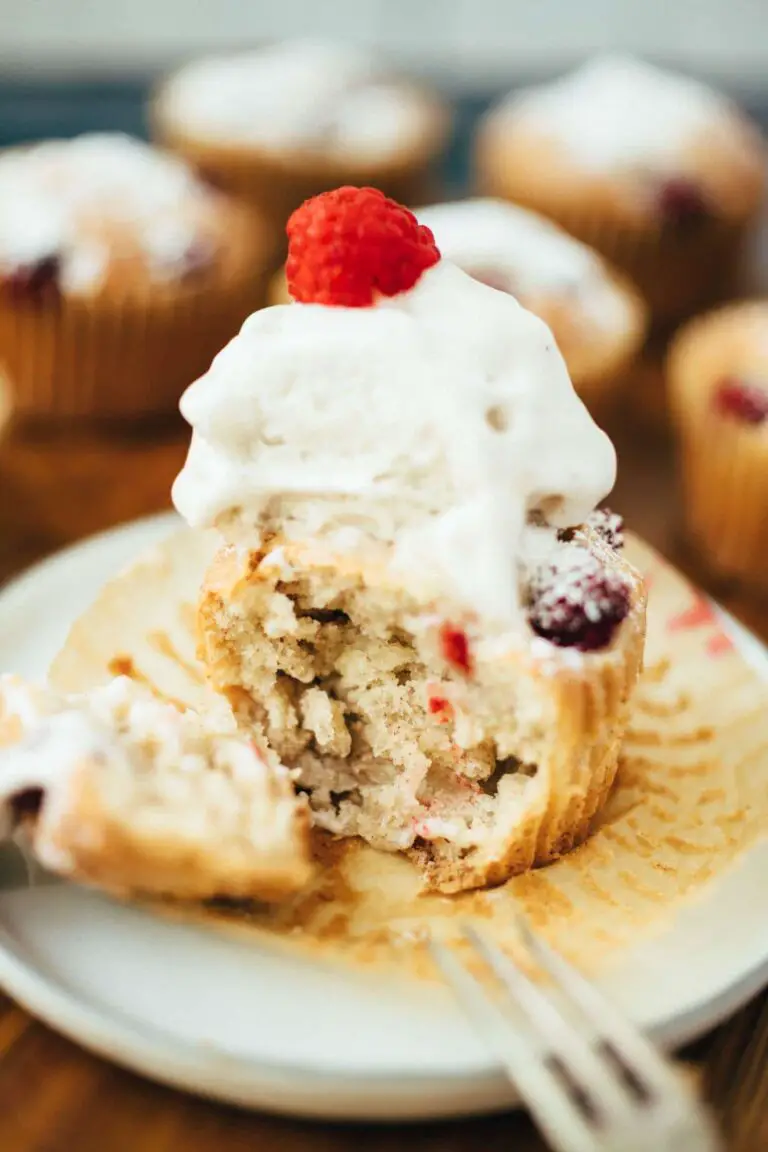 We summarize: The muffins take just 45 minutes, including prep time, and get by with 10 ingredients. 1 bowl, 1 muffin baking sheet and go!
The raspberry flash muffins are:
Locker & Fluffig
Super fruity with slight acidity (raspberries)
Perfectly sweet
Vegan & gluten free on request
Extremely fast to produce
Well, are you ready for the raspberry sins? I wish you a lot of fun baking and of course a review at the bottom of this page. If you post a picture, use the hashtag #veganevibes.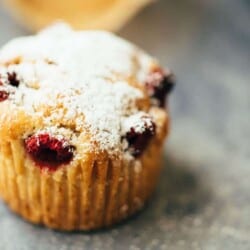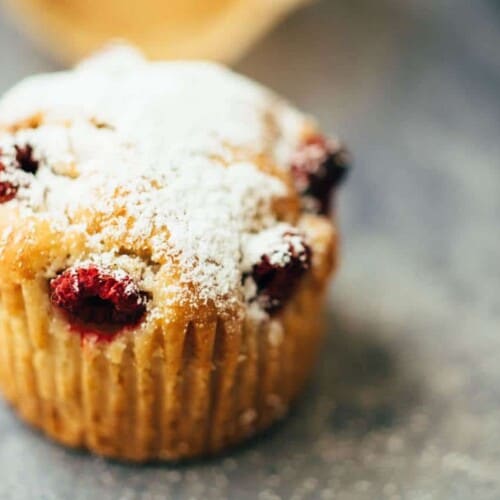 Raspberry flash muffins (45 minutes)
Incredible 1-bowl raspberry muffins, vegan and gluten-free on request. Fluffy, fruity with a light, pleasant acidity from raspberries.
AUTOR: VEGANEVIBES
OPTIONAL:
Organic powdered sugar to taste

Homemade vanilla ice cream with aquafaba

Fresh raspberries
Anleitung 
Preheat the oven to 175degrees and line a muffin baking tray for 12 muffins with muffin cups or lightly grease if needed.

Melt coconut oil in a small saucepan over low heat.

Meanwhile, provide a large bowl, pour in almond milk, add baking soda and vinegar and stir with a wooden spoon. The liquid should now begin to foam.

160 ml Almond milk or other unsweetened plant milk,

½ tbspn Baking soda,

1 tbspn Apple cider vinegar

Place a sifter over a large baking bowl, sift in flour or gluten-free flour mixture. Add sugar, banana, coconut oil, sea salt and vanilla and stir until well combined.

225 g Raw cane sugar,

240 g cups fine spelt flour or gluten-free flour blend,

1 Banana,

¼ tbspn Sea salt,

115 ml Coconut oil,

½ tbspn Bourbon vanilla ground

Small lumps of dough are not a problem as they dissolve during baking.

NOTE: Do not stir too long, otherwise you will stir the leavening power of the natron back out of the dough.

ALTERNATIVE: If you are using a high-powered blender (dough program), place all ingredients in the blender jar in the order as above and run the program once.

Divide with a spoon into the muffin moulds evenly.

Place 3-5 raspberries per muffin in the pan. If you like the raspberries juicier, press the berries in really well until they are covered with batter. Alternatively, leave them on the surface, but then they tend to become drier.

200 g fresh raspberries (peel)

Put in the oven and bake for

30 minutes

. Turn off oven and leave muffins in oven for another

10 minutes

, using reheat. Remove from the oven and allow to cool completely.

Optionally sprinkle with powdered sugar and garnish with a scoop of vanilla ice cream.

Organic powdered sugar to taste,

Fresh raspberries,

Homemade vanilla ice cream with aquafaba

Store remainder(if any) in an airtight box in the refrigerator for up to one week. Can be kept frozen for up to one month.
Notizen
NOTES /HELPFUL ACCESSORIES:
Nährwertangaben
Serving:
1
Muffin
Calories:
244
kcal
Carbohydrates:
37
g
Protein:
3
g
Fat:
10
g
Saturated Fat:
8
g
Sodium:
37
mg
Potassium:
66
mg
Fiber:
4
g
Sugar:
20
g
Vitamin A:
10
IU
Vitamin C:
5.2
mg
Calcium:
20
mg
Iron:
1.1
mg